NFC West:

2013 Week 10 STL at IND
September, 2, 2014
Sep 2
8:00
AM ET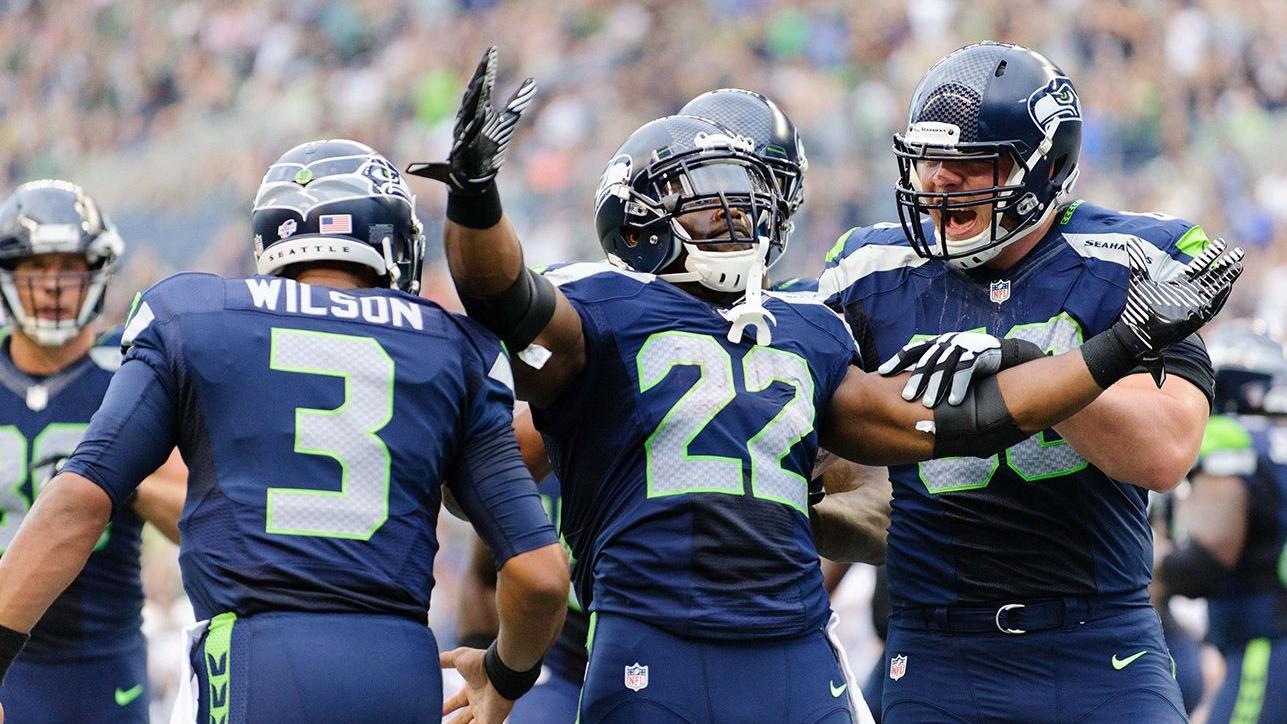 ESPN.com
Seattle Seahawks
reporter Terry Blount makes his game-by-game picks for the 2014 season.
Week 1: Green Bay Packers
All the pregame hype will center around the so-called Inaccurate Reception, the controversial Hail Mary catch by Golden Tate two years ago that won the game over the Packers at Seattle on a Monday night. Tate has moved on to Detroit, but the Seahawks now have too many weapons for the Packers to stop, no Hail Mary required. Prediction: Win
---
Week 2: at San Diego Chargers
The Chargers better hope they play a lot better than they did in the preseason game at Seattle, a 41-14 victory for the Seahawks on Aug. 15. San Diego will play better, but not good enough to beat a much better team. Prediction: Win
---
Week 3: Denver Broncos
The Broncos and their fans got a tiny bit of meaningless Super Bowl revenge in the preseason opener with a 21-16 victory over the Seahawks in Denver. Enjoy it while it lasts, boys. Repeating that outcome in Seattle is not an option. Prediction: Win
---
Week 5: at Washington Redskins
Traveling coast to coast to play on the road for a Monday night game is a tough task against any NFL opponent, and even tougher against quarterback Robert Griffin III. But the Seahawks catch a break in this one by coming off a bye week with plenty of time to prepare and be fresh for the journey. Prediction: Win
---
Week 6: Dallas Cowboys
Cowboys owner Jerry Jones gave Seattle a little bulletin-board material last month when he said the Seahawks were to blame for the increase in penalty flags during the preseason. There won't be near enough flags against Seattle for the Cowboys to win this one. Prediction: Win
---
Week 7: at St. Louis Rams
Any division game in the NFC West is a rugged battle. The Rams have a defensive line that gave the Seahawks problems a year ago. But they aren't strong enough overall to beat Seattle, even at home in their out-of-date dome. Prediction: Win
---
Week 8: at Carolina Panthers
The Seahawks were fortunate to win the season opener at Charlotte a year ago. That Panthers team was better than this one, but back-to-back road games against very physical defensive teams will end the Seattle winning streak. Prediction: Loss
---
Week 9: Oakland Raiders
Coming off their first loss of the season and returning home against an outmanned opponent, is there any doubt? Prediction: Win
---
Week 10: New York Giants
The Seahawks easily defeated the Giants 23-0 last year in New Jersey, a dress rehearsal for their Super Bowl victory at the same location -- MetLife Stadium. The Seahawks won't need a rehearsal to roll past the Giants in this one. Prediction: Win
---
Week 11: at Kansas City Chiefs
This likely will be a low-scoring game between two strong defensive teams. Odds are against any team that has to try to win by matching its defense against the Seahawks' D. Prediction: Win
---
Week 12: Arizona Cardinals
The last time the Cardinals played at CenturyLink Field was last December when they handed the Seahawks a 17-10 loss. That won't happen again unless the Seahawks get caught looking ahead to the 49ers game. The Seahawks don't look ahead. Prediction: Win
---
Week 13: at San Francisco 49ers
It's a Thanksgiving night, national TV game in the 49ers' shiny new stadium against the hated Seahawks. If San Francisco can't win this one, its time as a championship contender is over. Prediction: Loss
---
Week 14: at Philadelphia Eagles
This is the toughest part of the season for the Seahawks with back-to-back road games against likely playoff contenders. But the 10 days between games will help and be enough of a cushion to keep Seattle from losing two in a row. Prediction: Win
---
Week 15: San Francisco 49ers
This is a game that could decide which team wins the NFC West. No way the Seahawks lose to the 49ers twice in three weeks, especially not in front of a rabid full house of 12s. Prediction: Win
---
Week 16: at Arizona Cardinals
The Cardinals probably will be fighting for a playoff spot, and the Seahawks already will be in at 12-2. That difference will be just enough for Arizona to win at home in the same stadium where the Seahawks will win the Super Bowl a few weeks later. Prediction: Loss
---
Week 17: St. Louis Rams
For the second consecutive year, the Rams close the regular season in Seattle. And for the second consecutive year, the Seahawks will beat them without much trouble. Prediction: Win
---
Predicted Record: 13-3
November, 10, 2013
11/10/13
8:15
PM ET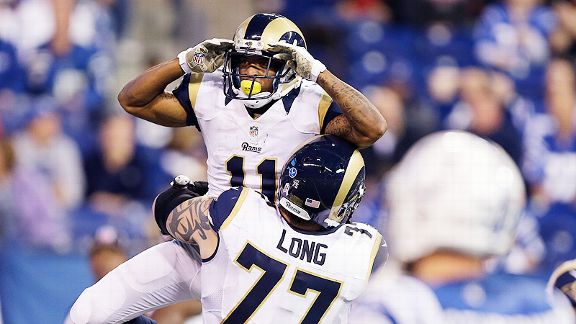 AP Photo/Darron CummingsTavon Austin racked up 314 all-purpose yards and three TDs, all of which went for 55 yards or longer.
.
INDIANAPOLIS --
Tavon Austin
, the
St. Louis Rams
' rookie receiver and returner, announced his presence to the NFL by telling his teammates to get away from a bouncing football. Tavon time was about to begin.
A little more than 12 seconds and 98 yards after ignoring his own advice, Austin found himself standing in the
Indianapolis Colts
' end zone, ball in hand and ready to celebrate his first NFL punt return for a touchdown.
"He got the football in his hands and I found myself saying, 'Get away, get away, get away,'" Rams coach Jeff Fisher said. "And I went from 'Get away, get away, get away' to 'Go, go, go.'"
And go, go, go was about all Austin did in the Rams' stunning
38-8 victory
over the Colts on Sunday at Lucas Oil Stadium.
Austin added touchdown catches of 57 and 81 yards to the goody bag from his coming-out party. By the time Austin was through, he had 314 all-purpose yards, the second most in franchise history, and his 98-yard punt return was the second longest in Rams history and tied for third longest in NFL history.
Austin's three touchdowns also put him in some elite company when it comes to big plays by young players. He, Randy Moss and Gale Sayers are the only rookies to score three times in a game from 50 yards out or more. And in posting 140 or more yards from scrimmage and 140 or more yards as a punt returner, Austin joined Carolina's
Steve Smith
as the only players in league history to hit those numbers in a game.
"When he's able to catch the ball in space, as you can see, it's a race and he always wins," guard
Rodger Saffold
said.
In previous incarnations of readily apparent breakthrough performances, Austin and his teammates have found themselves reflexively stopped in their tracks.
There was the 84-yard punt return for a touchdown against Dallas called back for holding and the 63-yard touchdown catch against Carolina erased by a tripping penalty. Those are just two of the big plays Austin has seen tossed by the wayside in his first NFL season.
Even as Austin sprinted toward the end zone on each of his three touchdowns, there was an overwhelming instinct to look around for something yellow on the field.
"Tavon did the same thing everybody does," Saffold said. "As soon as he crosses the end zone, we all look like this and make sure there's nothing on the ground."
The result of those mishaps has been frustrating for all parties.
"It's kind of difficult but it all boils down to patience," Austin said. "I have been fishing for eight weeks, and hopefully it's my time right now. But if it's not, I have just got to keep working hard in practice and wait for another time."
For the Rams, there would be no better time than the present for Austin to become a threat capable each week of single-handedly wrecking games.
During the three-game losing streak the Rams finally stopped Sunday, they consistently found themselves a big play or two short of a win, especially in the past two. With almost no margin for error, they came up empty each time.
In the absence of those game-changing plays, many eyes have turned to Austin. The Rams traded up to draft him with the No. 8 overall selection in April's NFL draft. Fair or not, the expectations with that lofty status ask for a quick return on investment even if history suggests it's a difficult task for a rookie at Austin's position.
Earlier this week, Rams defensive end
Chris Long
-- a player who knows all about exaggerated expectations -- offered some advice to Austin, telling him to be patient and not to force anything.
The message was simple: Austin's big day would come; it was just a matter of time.
"Nobody in this locker room was looking at Tavon like, 'You haven't done this or that,'" Long said. "That's a lot of the outside world. In this locker room we know what kind of a commodity he is for us. Even if they take him away, that helps us. He forces them to make adjustments, that helps us. If he continues to work hard, he's going to be a real big player in this league."
Austin clearly took Long's advice.
"I definitely knew things were going to come," Austin said. "That's just me being patient and being true to myself. I keep working. I'm just glad I got the opportunity."
With six games remaining in the season and a large hill to climb to make it interesting, the more opportunities Austin gets, the better.
November, 10, 2013
11/10/13
5:45
PM ET
INDIANAPOLIS -- Observed in the locker room after the
St. Louis Rams
' 38-8
win
against the
Indianapolis Colts
.
Never comfortable:
The Rams jumped all over the Colts in the first half, taking a 28-0 halftime lead. That dominant performance would have most teams feeling pretty confident about walking away with a win, but the feeling on the Rams' side was a bit more tenuous.

Fisher
Given Indianapolis quarterback
Andrew Luck
's propensity for amazing fourth-quarter comebacks -- he has 10 in less than two full NFL seasons -- the Rams found themselves wondering how many points would be enough.
"What kept going through our mind is Andrew's comebacks, his comebacks, his comebacks, and it's never enough points," Rams coach Jeff Fisher said.
Field-position dominance:
It might fly under the radar on a day when so many things went right for the Rams, but one thing they did that they haven't done much of this season is own field position. Outstanding kickoff coverage for the Rams combined with questionable decision-making by Colts kick returners
David Reed
and
Dan Herron
left the Colts starting eight of their 14 drives inside their 20, including three inside their 10. A number of Rams pointed out the advantage created by the kickoff coverage after the game.
Bad bye:
Fisher stuck by the old coaching cliché that there's never a bad time for a bye week, but a few players in the locker room made it clear they wished they had a game next week. After a disappointing three-game losing streak, those Rams wanted a chance to carry over any momentum generated by a convincing victory.
November, 10, 2013
11/10/13
3:59
PM ET
INDIANAPOLIS -- A few thoughts on the
St. Louis Rams
'
38-8 win
over the
Indianapolis Colts
:

What it means:
The Rams have been waiting for a big breakout game from rookie receiver/returner
Tavon Austin
after making him the first skill-position player picked in the NFL draft in April. After a series of near misses, many of which were caused by penalties, Austin announced his presence in the league with a resounding proclamation. The Rams moved to 4-6 with the convincing victory, and although any hopes of a postseason run remain in the pipe-dream category, this game provided some tangible evidence of progress. As the youngest team in the league, that's the most important thing as the Rams build toward the 2014 season. The Rams' 30-point win was their second overwhelming win against an AFC South opponent on the road this season and their largest margin of victory since a 31-point win in Week 13 of 2003, when they beat Minnesota 48-17.
Stock watch -- rising:
There were a few choices here, but Austin is the obvious winner. Austin has been frustrated by the penalties that have kept him from breaking out and has had his share of drops. All of that seemed to vanish in the period of time it took Austin to cover the distance of one of his lightning-strike touchdowns. Austin finished with 314 all-purpose yards. He is one of only three players in NFL history to have three touchdowns of 55 yards or more.
Stock watch -- falling:
Running back
Isaiah Pead
. Maybe it's not possible for his stock to drop any further, but Pead remains buried on the depth chart and did nothing to help his cause against the Colts. While Pead didn't get any carries or touches with the offense, he managed to pull off the oh-so-rare taunting penalty on the game's opening kickoff. Mind you, the kickoff went for a touchback and there was no reason to taunt anyone on said play. As for the running back part of the job description,
Zac Stacy
remains the primary runner and
Benny Cunningham
, banged-up thumb and all, continues to get carries as his backup.
The mighty Quinn:
Perhaps lost in Austin's breakthrough game was the performance of a player having a breakthrough season. Defensive end
Robert Quinn
set the tone for the game by sacking quarterback
Andrew Luck
on the game's opening drive and causing a fumble that
Chris Long
recovered and returned 45 yards for a touchdown. That gave the Rams a 7-0 lead they would never relinquish. Quinn added another sack and has 12 sacks and five forced fumbles on the season. He's clearly the Rams' best defensive player, and it might be time to start thinking about where he ranks in the league.
What's next:
Most coaches will say there's never a bad time for a bye week, but one has to wonder whether the Rams wouldn't mind to try to ride the wave of this performance for another week or two. Regardless, the Rams are off next week before a home date with the
Chicago Bears
on Nov. 24.