NFC West:

2013 Week 10 Upon Further Review
November, 11, 2013
11/11/13
8:00
AM ET
SAN FRANCISCO -- A review of four hot issues from the
San Francisco 49ers
'
10-9 loss
to the
Carolina Panthers
:
[+] Enlarge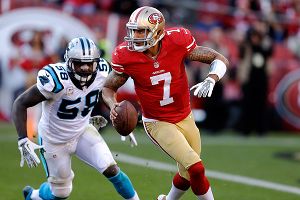 AP Photo/Ben MargotAs Colin Kaepernick and the offense go, so go the 49ers. And on Sunday, just about nothing went well.
Offense sputters:
The 49ers lost this game on offense. The defense was terrific, but the offensive was lackluster, especially in the second half. All the 49ers had to show for the game was three first-half field goals. The 49ers had just 45 total yards in the second half, and quarterback
Colin Kaepernick
threw for 91 yards and was sacked six times, a season high. The 49ers had just 4 yards on 14 plays in the fourth quarter. Ultimately, the 49ers' success depends on their offensive production. In their six wins, the 49ers have scored at least 31 points. However, in their three defeats, the 49ers have scored in single digits.
Third-down defense sags:
The 49ers' defense was very good; the Panthers scored on a broken play and a long field goal. But the 49ers were not perfect on defense. A major reason the Panthers won this game was the third-down success of quarterback
Cam Newton
. He was 6-for-8 on third-down passes in the second half. This is an area the 49ers immediately have to address with
Drew Brees
and New Orleans looming.
Smith being eased back in:
49ers linebacker
Aldon Smith
played about 12 snaps Sunday. Most of his action was as an inside defensive lineman on third down. It was Smith's first action since Week 3. The 49ers are easing Smith back into game action after he spent five weeks at an alcohol treatment center. He said after the game that he understands the decision, but wants to play more. He said he hopes to be a full a participant next week in New Orleans. I'd think as long as everything remains positive for Smith, he will get more playing time next week.
Returning switch:
Not surprisingly, the 49ers made a switch at returner.
Kyle Williams
, who struggled badly against Jacksonville in Week 8 before the team''s bye week, has been replaced on punts and kickoffs.
LaMichael James
was the punt returner Sunday and
Anthony Dixon
returned kicks. I'd expect the switch to continue.
November, 11, 2013
11/11/13
8:00
AM ET
INDIANAPOLIS -- A review of four hot issues from the
St. Louis Rams
' 38-8
win
against the
Indianapolis Colts
:
Tavon Time:
Rookie receiver/returner
Tavon Austin
is one of the biggest storylines in the league, let alone for the Rams, coming out of this one. He had 314 all-purpose yards in a breakthrough performance.
Austin's efforts nearly single-handedly put the Colts away and gave the Rams a much-needed big-play element that has been sorely lacking this season, and for the better part of the past decade.
[+] Enlarge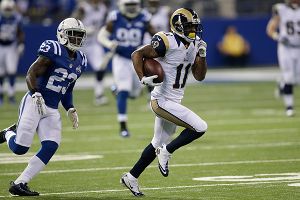 AP Photo/AJ MastReceiver Tavon Austin delivered 314 all-purpose yards in St. Louis' rout of the Colts.
Still only 10 games into his rookie season, Austin has plenty of room to improve. Though it's unlikely he'll be able to repeat Sunday's effort on a regular basis, giving opponents the knowledge he can should help open things up for others.
As efficient as it gets:
Since he took over as the starter three weeks ago, quarterback
Kellen Clemens
has never been asked to throw the ball all over the field. There were no expectations of monster statistical games.
No, the Rams want Clemens to take care of the ball, manage games and make plays when the opportunity arises. Well, they couldn't have asked for much more than what he did Sunday.
Clemens posted the first triple-digit quarterback rating of his career at 140.6 as he threw for 247 yards and two touchdowns while completing only nine passes. More impressive was the damage Clemens did on third down, where he completed 7 of 9 for 229 yards, two touchdowns and six first downs.
St. Louis would gladly take six more performances like that from Clemens to close out the season.
Saffold stands in:
Rodger Saffold
made his first career start at right guard Sunday in place of injured starter
Harvey Dahl
. According to Saffold, it was his first start inside since he was a seventh grader in Ohio.
With only a week to get acclimated to the position, Saffold acquitted himself pretty well. Coach Jeff Fisher was pleased with Saffold's performance at first glance, and Saffold said he felt surprisingly comfortable given his relative lack of experience inside.
In their ongoing effort to put the five best linemen on the field at the same time, don't be surprised if the Saffold-at-guard experiment continues.
Win with Quinn:
Defensive end
Robert Quinn
got Sunday's win started with a big play when he sacked Colts quarterback
Andrew Luck
and forced a fumble.
Chris Long
recovered the fumble and scored the first touchdown of his career.
Later, Quinn would add another sack, and was his usual disruptive self the rest of the game. Quinn has 12 sacks and five forced fumbles this season.
Quinn has made it crystal clear that he's the Rams' best and most productive player, but with each passing week, he's making a stronger case that his name needs to be in the mix among greater honors, such as defensive player of the year.
November, 11, 2013
11/11/13
8:00
AM ET
A review of four hot issues from the
Seattle Seahawks
'
33-10 victory
against the
Atlanta Falcons
:
[+] Enlarge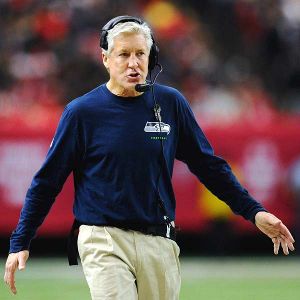 Dale Zanine/USA TODAY SportsHead coach Pete Carroll has guided the Seahawks to a five-game consecutive win streak, following Sunday's 33-10 victory at Atlanta.
Road winners:
No matter what happens the rest of the way, the Seahawks are guaranteed a winning road record this year in the regular season. The last time that happened (in 2005, when they went 5-3 on the road), they went to the Super Bowl. The only other time Seattle had a winning record on the road was 1984 (they also went 5-3); during that postseason, they lost at Miami in the second round. Seattle is 5-1 on the road this season, so a win in either San Francisco or New Jersey against the
New York Giants
would set a team record.
Wagner gets it done:
Middle linebacker
Bobby Wagner
took some heat in the media last week as the man most responsible for the defense's poor performance against the run in the previous two games. There was even some speculation that
K.J. Wright
might start in the middle for Wagner on Sunday. But Wagner was back to his usual toughness in the middle against Atlanta. He led the team with nine solo tackles, helping the Seahawks hold the Falcons to only 64 yards rushing.
Browner and McDaniel injured:
It wasn't all good news for Seattle on Sunday. Cornerback
Brandon Browner
left the game in the first half with a groin injury. Defensive tackle
Tony McDaniel
left the game with a hamstring injury. Seattle coach Pete Carroll said after the game he didn't know the status of either player at this point. McDaniel's injury put the Seahawks down three defensive linemen Sunday because
Red Bryant
was out with a concussion and rookie
Jordan Hill
was out with a biceps injury.
Respectful jersey swap:
Seattle cornerback
Richard Sherman
doesn't think much of Atlanta receiver
Roddy White
, but Sherman has the utmost respect for Falcons tight end
Tony Gonzalez
, who will end his legendary NFL career at the end of the season. Sherman asked for Gonzalez's jersey after the game, so they swapped shirts. "He's a [future] Hall of Famer and he's been a great player in the league for a long time," Sherman said of Gonzalez. "You always respect great players. You respect the game in that sense. It's an honor to play against him." Gonzalez chuckled about the jersey exchange: "That's what happens when you're an old guy and they know it's your last run. I'm glad I got [Sherman's jersey]. He's on his way. He's such a good player."
November, 11, 2013
11/11/13
8:00
AM ET
A review of four hot issues from the
Arizona Cardinals
' 27-24
win
over the
Houston Texans
.
Ellington
Andre Cat:
Last year it was the Pat Cat. This year it'll be the Andre Cat. The Cardinals unveiled a Wildcat package Sunday with rookie running back
Andre Ellington
behind center. He took three straight snaps early in the third quarter, running for 12 yards on two of them and handing off to
Patrick Peterson
on the third.
"It was a little bit different flavor," Ellington said.
Ellington ran it in college, but was surprised when coach Bruce Arians introduced the package Monday. Arians will only run the Wildcat if his quarterback isn't on the field, he said. But don't expect Ellington to throw the ball. It's not his forte, the rookie added.
Expect more of it, maybe a little spicier, throughout the season, Ellington said.
"It was a good little change of pace," Arians said.
Adjusting on the fly:
At halftime, the Cardinals heard about how much they were letting the Texans move the ball. And they did something about it. Arizona allowed 41 total yards in the second half -- 32 passing and just 9 rushing. They turned the Texans into a one-dimensional team, taking away the run and turning up the pressure on quarterback
Case Keenum
.
"I thought he had a lot of time in the first half, patting the ball back there and [we] couldn't cover him quick enough," linebacker
Daryl Washington
said. "So we was able to come out [in the] second half and play our game of football."
Bethel
Bethel blocks:
Even when they prepared specifically for
Justin Bethel
, the Texans couldn't stop the second-year gunner from having an impact on special teams. Bethel blocked his second career field goal with four seconds left in the first half, coming off the left side. It turned out to be the difference in the Cardinals' 27-24 win.
"You never know," he said. "You never know what could happen. I made the play, it happened and I'm just happy we won."
Texans interim coach Wade Phillips said his team singled Bethel out, but even then Houston couldn't block him.
"[No.] 31 is the guy that we emphasized," Phillips said. "It's the guy that we've got to stop because he's the field goal blocker, and he did it."
Just enough:
Ellington had 15 touches Sunday -- 11 rushes and two catches -- which was mostly in line with his past few games. He had 55 yards on the ground and 18 yards through the air, but Arians feels that's the right mix for now.
"I think it's right where it needs to be," Arians said. "He had plenty again today."
Rashard Mendenhall
fumbled late in the fourth quarter as the Cardinals were trying to seal the win, but that didn't diminish Arian's belief in his starter. It's still the same.
"Oh yeah," Arians said. "There's no doubt."
NFC WEST SCOREBOARD
Thursday, 9/4
Sunday, 9/7
Monday, 9/8