NFC West:

2013 Week 13 STL at SF
December, 1, 2013
12/01/13
11:30
PM ET
SAN FRANCISCO -- The view from the bottom of the NFC West Division is nothing new to the
St. Louis Rams
.
Looking up at some combination of Arizona, Seattle and San Francisco has become a fall tradition in St. Louis, a tradition being upheld by the 2013 edition of the team. After Sunday's 23-13 loss to the Niners, St. Louis now sits two games behind the Cardinals just to get out of the basement, let alone the six-loss differential with the first-place Seahawks.
Last season's Rams centered their progress on the foundation of improvement within the division after they went 4-1-1 and left teams with plenty of bumps and bruises along the way.
[+] Enlarge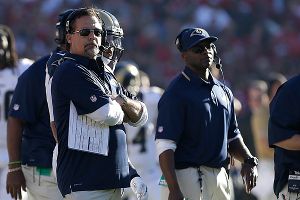 AP Photo/Tony AvelarJeff Fisher's Rams have made strides, but continue to struggle in one of the NFL's toughest divisions.
But Sunday's loss to the Niners wasn't really all that close as San Francisco dispatched the Rams in rather workmanlike fashion behind a dominant defense and an opportunistic offense.
The loss raises the perfectly legitimate question of just how much focus the Rams need in the binoculars to see how far they must travel to be a contender in perhaps the league's toughest division?
"Well, I think we've got to look at this game and see what went right, but I think right now clearly Seattle is the team to beat in our division, and that's a really good football team out there (the Niners), so yeah we've got a ways to go," coach Jeff Fisher said.
Not a whole lot went right for the Rams in their rematch with the Niners. They mustered 312 yards of total offense, but 92 came on the final drive when the Niners had backed off many of their starters.
The Rams' defense, which had been creating big plays in the team's recent wins, only found ways to allow some while helping the Niners with silly penalties. The Rams finished with 11 infractions for a whopping 105 yards.
The running game, the centerpiece of the Rams' recent success, managed 114 yards with a 4.4 yards per carry average, but couldn't get revved early in the game to create offensive balance.
"We went into the ball game knowing that it was going to be a slug-out, kind of physical game up front," Fisher said. "We liked to think we could carry on what we've been doing over the past couple weeks, but for some reason we didn't match up well against them today."
The truth might actually be that the Rams don't match up that well with the Niners on most days, at least not yet. Despite plenty of evidence to the contrary in 2012 when the Rams managed to go 1-0-1 against the Niners and outscored them by three over 10 hard-fought quarters, they didn't come anywhere near that in two meetings this season.
This season, the Rams lost both games in rather convincing fashion as they were outscored by a total of 34 points and outgained by 208 total yards.
After Sunday's loss, the Rams didn't have the shame they had from the 35-11 defeat in the first meeting, but it did drop them to 1-3 against division foes with two road games to play.
"Any loss you feel (bad), but I would say the first one was an embarrassment and this one was kind of like 'We just didn't get it done at the end of the day,'" defensive tackle
Kendall Langford
said.
The first loss to the Niners was probably the team's rock bottom, the game that spurred plenty of in-house changes on both sides of the ball. Sunday's loss wasn't as bad, which is at least one positive to take from a game otherwise devoid of glaring ones.
"Not today," middle linebacker
James Laurinaitis
said. "In that game there today, I didn't think the couple scores that they beat us by was a resemblance of kind of that gap. It's still, 'how do we play against Arizona? How do we play against Seattle?' Then we'll know. We'll know then after those games.
"After that Thursday night game, I felt extremely embarrassed about the performance. This game, I thought our front seven played pretty well, our DBs were out there flying around trying to make some plays. But we just couldn't come up with the plays. Unfortunately, they did. You've got to tip your cap to them."
So if the Rams went from embarrassed to not quite good enough, how far are they from consistently contending with established powers like the Niners and Seahawks?
Maybe not as far as they were in September, but still not close enough.
December, 1, 2013
12/01/13
11:19
PM ET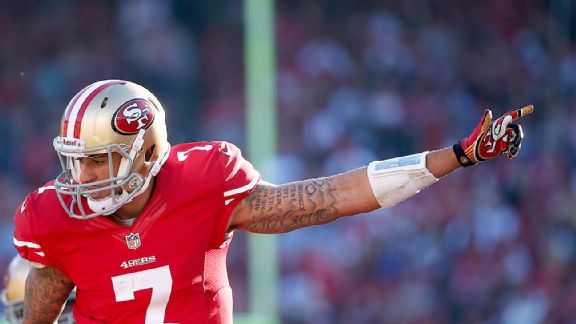 Stephen Lam/Getty ImagesColin Kaepernick had one of his better games this season with a full complement of receivers.
SAN FRANCISCO -- What's wrong with
Colin Kaepernick
?
It has been a common theme this year in media and fan circles.
After seeing him with a full complement of offensive weapons Sunday for the first time this season, that line of questioning may dissipate.
Kaepernick looked calm, cool, confident and efficient in the
San Francisco 49ers
'
23-13 victory
over
St. Louis Rams
on Sunday as San Francisco sent the rest of the NFC an early-December message: A healthy 49ers' offense is a dangerous offense.
It's no coincidence Kaepernick looked far from being a detriment Sunday. Star receiver
Michael Crabtree
made his 2013 season debut after being out with a torn Achilles he suffered in May. For the first time since the Super Bowl, Kaepernick had a full cache of weapons. It was also the first time the team's top three receivers -- Crabtree, tight end
Vernon Davis
and
Anquan Boldin
-- played together.
If this group (as well as fourth option
Mario Manningham
, who played little Sunday because the 49ers used a lot of double tight-end sets) can stay healthy, it will be extremely dangerous down the stretch for the 49ers, who are 8-4 and in control of the sixth and final NFC playoff seed heading into the final quarter of the season.
And it will probably make Kaepernick, in his first full season as the starting quarterback, look as good as he did during last year's Super Bowl run.
"Colin was dynamic," San Francisco offensive lineman
Adam Snyder
said after the game. "He's been good all year, but give him these weapons and he is going to get a lot done."
He did Sunday, going 19-of-28 for 275 yards. There's no doubt, Kaepernick is more comfortable with a full complement of receivers.
In Week 4 against St. Louis (playing without Crabtree and Manningham), Kaepernick went 8-of-15 for 96 yards against the Rams' standard four-man rush. According to ESPN Stats & Information, against the same pressure Sunday, Kaepernick was 15-of-20 for 233 yards and a touchdown pass.
When facing a non-blitzing situation during the first 11 games of the season, Kaepernick completed 57.9 percent of his passes, averaged 7.2 yards per attempt and threw six interceptions. Against a four-man rush Sunday, he completed 75 percent of his passes, averaged 11.7 yards per attempt and was not intercepted.
Kaepernick's success against the Rams' standard pass rush, considered one of the best in the league, will likely force opposing defensive coordinators to consider different approaches and perhaps decide to blitz more often. That could create more opportunities for this offense.
That's the beauty of Crabtree's return for Kaepernick and the 49ers' offense. He opens up schematic advantages and secondary reads for the 49ers that simply were not there earlier in the season and made Kaepernick's job more difficult.
With Crabtree back (he had two catches for 68 yards), the pressure instantly came off Boldin and Davis. Boldin had one of his best games with the 49ers, with nine catches for 98 yards, and he may be the key to this offense in the final weeks.
He will no longer get the brunt of the defensive coverage, as he excels as a second or third option. He showed that Sunday.
"It's about time he gets double-teamed now," Boldin joked, speaking of Crabtree. "When you have a guy like that on the other side, it definitely relieves pressure off of you. It frees you up to just go out and play ball. It's good to have him back."
Last season, Crabtree was targeted on 34 percent of the 49ers' offensive plays. It was the second highest rate in the league. That opened up opportunities for Davis, a star in the final six games of last season. Those chances opened up Sunday as well. Davis had four catches for 82 yards and a touchdown.
Inside the 49ers' walls, the team has supported Kaepernick, feeling good about his play and his field maturation amidst the challenges. Now, after seeing Crabtree's impact on the offense and how he can help Kaepernick, there is serious excitement.
"We can only get better," San Francisco fullback
Bruce Miller
said. "Colin's been great all season and having all of the guys back are just going to make him better."
December, 1, 2013
12/01/13
10:15
PM ET
SAN FRANCISCO -- Always a realist and one of the few athletes unafraid to keep tabs on the bigger picture,
St. Louis Rams
linebacker
James Laurinaitis
was well aware of the already thin margin for error his team faced if it wanted to sneak into the postseason.
Having reached December, the time of the year when wild scenarios are being tossed around and the
Playoff Machine
is cranking at full gear, the Rams' formula was simple: win out and they'd have a shot to keep playing.
[+] Enlarge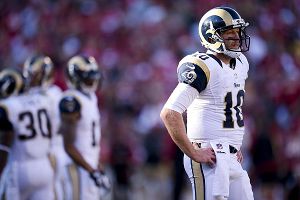 Paul Kitagaki Jr./Sacramento Bee/MCT via Getty ImagesSunday's loss in San Francisco put the Rams in a hole that will be difficult for them to climb out of.
Winning out would have meant winning five in a row to get to 10-6 and into a crowded NFC playoff picture. In reality, the loss of quarterback
Sam Bradford
on Oct. 20 was probably the death knell, but after Sunday's
23-13 loss
to the
San Francisco 49ers
, whatever hopes the Rams still harbored probably faded away for good.
The Rams now sit a full three games behind San Francisco for the final wild-card berth with four games to play.
A frustrated Laurinaitis acknowledged the long shot that still remains until the Rams are officially and mathematically done, but he had already shifted his focus to what the goal now has to be. It's not much different than the original, just with one less win and one more loss on the ledger.
"I still think we've got to be 9-7," Laurinaitis said. "That's got to be the mentality. Hey, 9-7, winning season. We can't have it be under .500 or anything like that. We've got to say, 'Hey, 9-7.' And it doesn't get any easier."
Indeed it doesn't, as the Rams have a trip to Arizona, a team playing well of late, waiting next week, followed by home games against New Orleans and Tampa Bay before closing the season at Seattle.
That isn't to say the Rams are throwing in the towel. Not that any team or player would admit to being out of the mix before the people crunching the numbers tell them they are, but offensive lineman
Rodger Saffold
is unwilling to concede anything for the final four games.
"I still think we have a chance," Saffold said. "I'm not putting anything behind this team. We are just going to go in as if there is no tomorrow, so I expect us to once again have that fire on the inside and come out and practice to the best intensity of this team, what we are capable of, and as you guys know, after we have a loss we come out fighting even harder. This is going to be a really, really tough week next week. "
By the time the Rams head to the Pacific Northwest for the season finale, it's almost certain they won't have much to play for in terms of postseason spoils. Still, there is much to be gained in the final quarter of the regular season.
As the youngest team in the league, the Rams have to find a way to continue to get better. In some ways, the final four games need to be something like a child's growth chart. The Rams need to measure out a little taller after every week.
The Rams have quietly believed that 2014 is the year they could target for a breakthrough. With that in mind, visible progress is of the utmost importance in the final month. The Rams have to be a better team at the end of December than they were in November, much like they did last month, and how they did in October after September.
Growth may not necessarily come in the form of wins and losses. As Laurinaitis pointed out, the Rams play a tough slate down the stretch. But some sort of tangible progress for key youngsters at safety, cornerback and receiver would go a long way in determining the shape of the offseason.
It also means finding a way to pin down and create some level of consistency from week to week. The Rams were rarely in Sunday's loss to the Niners.
Playing top teams like the Saints and Seahawks and an improving Arizona gives the Rams ample opportunity to show that they have the car in drive rather than stuck in neutral or, worse, reverse.
"I think for everybody individually you've got to see the green arrow pointing up," Laurinaitis said. "You have got to look back at the end of the season and say, 'Did I get better each and every game?' I think right now in some of our young players you see that, and I think overall as a team we have got to see that. So this one hurts, it stings because I believe everybody in this locker room came in expecting to win, and we'll go out next week and have the same feeling. We've got to pick it up and just make plays when they present themselves."
December, 1, 2013
12/01/13
7:21
PM ET
SAN FRANCISCO -- A few thoughts on the
St. Louis Rams
' 23-13
loss
to the
San Francisco 49ers
.

What it means:
Now that the Rams sit at 5-7 on the season, any flicker of playoff hope they had has essentially vanished in the competitive NFC. They're a full three games behind San Francisco for the No. 6 spot in the conference and still trail a handful of other teams just to get into the mix. Any reasonable person wouldn't have expected the Rams to win their final six games to get into the playoff hunt, but at least now those dreams can be put to bed.
In the bigger picture, the Rams again found out just how far they have to go to become a contender in the powerful NFC West Division. After two impressive wins against Chicago and Indianapolis, the Niners knocked out the Rams with relative ease for the second time this season.
Stock watch -- up:
Punter
Johnny Hekker
-- There's not much to choose from after another mostly ugly outing for the Rams, but Hekker was excellent again in this one and deserves praise for the work he's done all season. He averaged 48.8 yards per punt, and the 49ers mustered only two returns for 5 yards.
Stock watch -- down:
Rams pass-catchers -- As is the case in a loss like this one, there's plenty to choose from here. But it's worth pointing out some of the costly drops and missteps from the Rams' receivers and tight ends. Receiver
Chris Givens
had a few, and tight end
Jared Cook
also missed some catchable passes. Quarterback
Kellen Clemens
wasn't very accurate, but that's nothing new. In recent weeks, his pass-catchers have at least been hanging on to the ones that are catchable.
Penalty-palooza:
After accumulating just four penalties against Chicago, the Rams made up for lost time against the 49ers. They committed 11 penalties for 105 yards and were particularly guilty in the first half. In the opening 30 minutes, the Rams had seven infractions for 60 yards. Most of those were against the defense, effectively keeping the San Francisco offense moving and allowing the 49ers to build a 10-point halftime lead.
What's next:
The Rams return to St. Louis for a few days before heading west for the second consecutive week with a trip to Arizona to take on the Cardinals. While St. Louis has little chance to leapfrog the 49ers, the game against the Cardinals at least provides an opportunity for it to start crawling out of the NFC West basement.
December, 1, 2013
12/01/13
7:20
PM ET
SAN FRANCISCO -- A few thoughts from the
San Francisco 49ers
'
23-13 victory
over the
St. Louis Rams
:

What it means:
The 49ers strenghened their hold on the sixth and final spot in the NFC playoffs and improved their record to 8-4. NFC West rival Arizona lost in Philadelphia, to drop to 7-5. The 49ers dominated, and it was their seventh victory of the season by double digits. They are now 6-0 against teams with losing records. The 49ers struggled against the Rams in 2012, going 0-1-1. This season, the 49ers beat the Rams by a combined score of 58-24.
Stock watch:
49ers receiver
Michael Crabtree
made his season debut, and his impact was immediately felt. Receiver Anquan Boldin and tight end
Vernon Davis
got open more, and quarterback
Colin Kaepernick
looked comfortable and confident. It's no coincidence.
Injuries continue:
It wasn't all great news for the 49ers. Standout left tackle
Joe Staley
left the game early with a right knee injury. It was quickly determined that he would not return to the game. Right guard
Alex Boone
moved to left tackle, and rookie
Joe Looney
took over for Boone. The team is already playing without standout guard
Mike Iupati
, who has a knee sprain.
What's next:
The 49ers host bitter NFC West rival Seattle. The Seahawks have a stranglehold on the NFC West, but this game is important for the 49ers, who have been blown out in the past two games against Seattle. Not only do the 49ers need to compile wins, but they also have to send the Seahawks a message in case they meet in the postseason.