NFC West:

2013 Week 13 Upon Further Review NFC
December, 3, 2013
12/03/13
8:00
AM ET
SEATTLE -- A review of four hot issues from the
Seattle Seahawks
' 34-7 victory against the
New Orleans Saints
:
Bennett
Wilson
Big plays galore:
Monday night was a big-play extravaganza for the Seahawks. The biggest play probably was the 22-yard fumble recovery by defensive lineman
Michael Bennett
, grabbing the ball in the air after defensive end
Cliff Avril
knocked it out of
Drew Brees
' hand. Other big plays included a 60-yard catch and run by tight end
Zach Miller
and a 52-yard deep throw to
Doug Baldwin
when
Russell Wilson
burned the New Orleans all-out blitz.
Happy homers:
The Seahawks have won 14 consecutive homes games. They haven't lost at CenturyLink Field since the end of the 2011 season. Over that span, Seattle has outscored its opponents by an average score of 31-13 and has a plus-21 turnover margin. Wilson, of course, is unbeaten at home, having thrown 29 TDs and only six interceptions at the CLink.
Brees-less:
All you have to do to understand just how good the Seattle defense played Monday night was to look at some key stats involving Brees. After throwing for at least 200 yards in 43 consecutive games, Brees had only 147 yards passing. And here's the stat that seems impossible to believe: Brees did not complete a pass all night that was thrown more than 15 yards downfield. He was 0-for-8 on those throws. He had completed at least three passes downfield of more than 15 yards in every game this season before Monday night.
Unflappable Russell:
Wilson was at his best Monday night when the Saints tried to attack and pressure him. When New Orleans sent five or more pass-rushers at him, Wilson completed 8 of 9 throws, including two for touchdowns and an 18.9-yard average per pass. Wilson is tied for the second-best quarterback rating against added pressure at 84.3. He has a 99.9 QBR against added pressure in each of his past three games. Wilson was a perfect 3-of-3 passing for 66 yards and a touchdown when the Saints blitzed a defensive back.
December, 2, 2013
12/02/13
11:47
AM ET
A review of four hot issues from the Arizona Cardinals'
24-21 loss
to the
Philadelphia Eagles
.
Making progress:
Cardinals coach Bruce Arians doesn't consider Sunday's ugly performance a step back. It just means there's different areas to work on.
Peterson
"There is still a lot of progress," Arians said. "We lost the game. Progress doesn't [stop] because you lost a game. We won four in a row, that's a lot of progress, and like I said, we have a big game in the division next week [against the
St. Louis Rams
] and we'll come back and hit the practice field."
When will the Cardinals begin?
"Tomorrow," Arians said after the game.
Return policy:
Sunday wasn't the best day for
Patrick Peterson
. Of the Eagles' eight punts, he returned just one for 3 yards, called three fair catches and let the Eagles down the other four. However, they didn't go as smoothly as it seems. One of the punts Peterson let Philly down bounced off
Javier Arenas
' shoulder and was recovered by
Antoine Cason
, who then fumbled his return, which the Eagles recovered. But the Cardinals were reunited with the ball after it was ruled Cason was down. Peterson waved off another return after he claimed he heard the referee blow the play dead from behind him, but the Eagles were flagged for an illegal substitution.
Officially unhappy:
Arians wouldn't use it as an excuse, but there was no denying the Cardinals' unhappiness with the officiating.
"I'll say this," Arians said, unprompted. "Refereeing did not determine us losing the football game. We didn't make enough plays."
But when prodded, Arians said he couldn't reflect on the officiating immediately after the game.
"I'll watch the tape," he said. "I don't make any comments on officials until after I watch the tape. What I see on the JumboTron sometimes doesn't come out from what's on tape."
Slow motion:
Throughout the week leading up to Sunday's game, the hottest topic of conversation was about the Cardinals figuring out ways to combat the Eagles' tempo. Arizona worked specifically on substitution patterns during practice, so it could get the right personnel on the field.
But after the game, the Cardinals weren't impressed with the Eagles' supposed fast tempo.
"They were faster in practice," Arians said. "They averaged 25 seconds to call a play. That's not bad."
The Eagles entered the game running plays at a league-fast clip of 23 seconds per play.
December, 2, 2013
12/02/13
8:00
AM ET
SANTA CLARA, Calif. – A review of four hot issues from the
San Francisco 49ers
'
23-13 win
over the
St. Louis Rams
:
Crabtree
Crabtree effect:
The 49ers were waiting all season for standout receiver
Michael Crabtree
to return from a torn Achilles he suffered in May. When he came back Sunday, the 49ers were not disappointed. He caught two passes, including one that went for 60 yards, and his presence opened up routes for
Anquan Boldin
and
Vernon Davis
and made quarterback
Colin Kaepernick
a more productive player. This bodes well for the stretch run.
Defense dominates:
The San Francisco defense has been playing at a championship level essentially all season. In recent weeks, though, it has upped its game. Spanning the final half of last week's win at Washington and the first half against the Rams, the 49ers' defense allowed 103 yards and three points.
Austin not a factor:
St. Louis rookie star
Tavon Austin
averaged fewer than 17 yards per kick return and had one punt return for 10 yards. He added 35 yards combined on four catches and one carry. Austin has been explosive in recent weeks. Keeping him from making big plays was a focal point for the 49ers, and they did their job.
Run game stumbles:
San Francisco's run game has faltered in recent weeks.
Frank Gore
had 42 yards on 15 carries Sunday and lost his third fumble of the season. In the past three games, Gore has 121 yards on 41 carries. I wouldn't say it's a problem, but the 49ers definitely would like to see Gore regain his normal pace of production. For the season he has 821 rushing yards and is averaging four yards a carry.
December, 2, 2013
12/02/13
8:00
AM ET
SAN FRANCISCO -- A review of four hot issues from the
St. Louis Rams
' 23-13
loss
to the
San Francisco 49ers
:
All but eliminated
: In a purely mathematical sense, the Rams remain in the NFC playoff picture at 5-7, but for all intents and purposes, Sunday's loss wiped out any remaining hope the Rams had of making the postseason. To get in the mix, the Rams would need to win out to finish 9-7 and then top it off with an incredible amount of help from about a half dozen teams.
Instead, the Rams will play their final four games with a focus on making more improvements with an eye toward 2014. Rams brass has quietly viewed 2014 as the team's possible breakthrough year, but for that to happen they need their young team to continue taking positive steps in that direction in the season's final month.
[+] Enlarge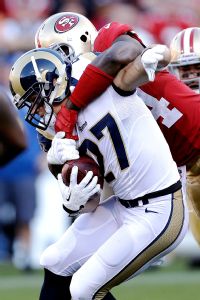 AP Photo/Marcio Jose SanchezMatt Giordano is tackled for a loss by Anthony Dixon on a fake punt.
Rough day for offense:
There weren't many good things to take away from Sunday's game for the Rams as a whole, but especially for the offense. Quarterback
Kellen Clemens
was under siege for most of the day, and when he was able to throw it, he missed on some passes he should have hit. When Clemens did throw an accurate ball, he was victimized by about six drops from his pass catchers.
The run game, which had been so successful in recent weeks, also wasn't able to get rolling. The final rushing numbers (114 yards, 4.4 yards per carry) didn't look bad, but much of that success came when the game was already lost. The Rams ran six plays and did not pick up a first down in the first quarter.
Line dancing:
The Rams have had their share of injuries along the offensive line this season, but they hadn't reached a point where they almost ran out of healthy options until Sunday, when center
Scott Wells
left with an ankle injury just before the half and did not return. Later, left tackle
Jake Long
suffered a concussion and also did not return.
That left the Rams scrambling for help with
Tim Barnes
getting his first extended look in the middle in a regular-season game.
Shelley Smith
jumped in at right guard with
Rodger Saffold
kicking back out to left tackle. It remains to be seen how much time Wells and Long will miss, but the Rams' line appears poised to do even more shuffling with those injuries and the impending return of guard
Harvey Dahl
.
Second guessing:
With his team trailing 16-6 early in the fourth quarter, Rams coach Jeff Fisher called for a fake punt deep in Rams territory. The trickery backfired when safety
Matt Giordano
was unable to get the pitch to receiver
Stedman Bailey
on a reverse and the Niners tackled him for a loss of 5. The Niners took over at the Rams' 17 and scored on the next play to make it 23-6 and seal the win.
Fisher took the blame for the call after the game, acknowledging that he was trying to give his team a spark given the aforementioned offensive struggles, but also said that it may not have been the best time or location for the call.