NFC West:

2013 Week 14 SEA at SF
December, 8, 2013
12/08/13
11:33
PM ET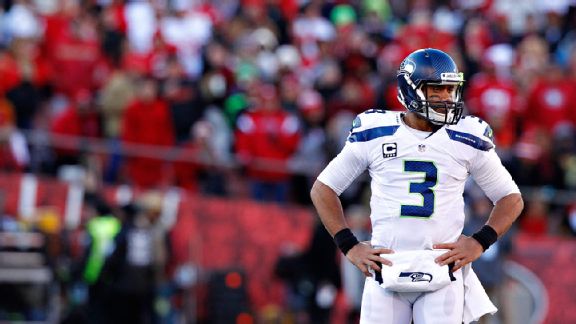 Cary Edmondson/USA TODAY Sports"We should have won it," Russell Wilson said, echoing the Seahawks' version of events Sunday.
SAN FRANCISCO -- The
San Francisco 49ers
got it done, winning
19-17
over the
Seattle Seahawks
in archaic Candlestick Park. If you think it made a statement or caused the Seahawks to shiver with fear, think again.
San Francisco was the better team on this day, but the best team lost.
The home team, playing in front a frenzied crowd in a game it had to have against its archrival to stay in good playoff position, won it with a field goal in the final minute.
"Penalties killed us today," Seattle defensive lineman
Michael Bennett
said. "But you can't make too much of it. This is a tournament, one game at a time, and the ultimate goal is the Super Bowl."
The Seahawks still firmly believe they are on the right path to get there. Losing a close one to the 49ers didn't place any doubts in their heads. And there's no way the 49ers walked away from this one and honestly said to themselves, "Oh yeah, we're better than they are."
The Seahawks, now 11-2 and still needing only one victory in the final three games to clinch the NFC West crown, walked away firmly believing they're the better team, despite the slight hiccup Sunday.
And they're right. San Francisco (9-4) did nothing more than hold serve, barely, thanks to some sloppy play by the team that had beaten them by a combined score of 71-16 in the previous two meetings.
All this game proved is that Seattle can't have nine penalties for 85 yards and get a punt blocked, and still beat a strong team on the road.
"It was a terrific, hard-fought football game, just a slugfest," Seattle coach Pete Carroll said. "It was one of those types of games where one play can make a big difference. But we couldn't get out of our own way with the penalties. That dictated the flow of the game."
Seattle entered the game with a seven-game winning streak. They now have lost twice this season, by a total of eight points.
"We should have won it," Seattle quarterback
Russell Wilson
said. "The penalties really hurt us offensively and got us off schedule. We play so physical that sometimes those calls are going to go against us. But we have to eliminate that."
Neither team led by more than six points Sunday. The lead changed hands six times. Seattle led 17-16 before a 51-yard run by
Frank Gore
gave the 49ers the field position they needed to set up a winning field goal, a 22-yarder by
Phil Dawson
with 26 seconds to go.
"We fought hard all the way, but they got the big run at the end that gashed us," Seattle free safety
Earl Thomas
said. "We didn't take care of the little things today, and when that happens, anyone can beat you. We just were not disciplined enough against a good team. But you can't let a game like this one define you, and it doesn't."
In the locker room afterward, the Seahawks kept saying the same thing over and over.
"All our goals are still in front of us," defensive end
Red Bryant
said, a nine-word statement that was the theme of the moment. "It was a great game to be in and you have to give them credit. They made the plays to win the game, but we can handle it. We'll lick our wounds and be just fine."
In other words, no big deal. The 49ers won it. A soft "congratulations" came from the Seahawks, but with a look in their eyes that said, "Now, catch us if you can."
"It's good to get this out of the way now," Seattle receiver
Doug Baldwin
said. "We knew it would be a hard-fought battle because they are a good football team. But it's really about us taking care of our business now. That's all that matters."
Cornerback
Richard Sherman
, who was called for defensive holding twice (one of which was declined), sat at his locker without the least bit of concern.
"This doesn't change anything for us," Sherman said. "They got some fortunate penalty calls and that was the difference. It happens sometimes. When you lose like that it's hard to be upset.
Maybe the worst news of the day for Seattle was that linebacker
K.J. Wright
suffered a broken foot, an injury that Carroll said likely would sideline him at least six weeks.
[+] Enlarge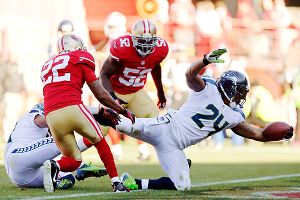 Brian Bahr/Getty ImagesMarshawn Lynch scored a touchdown in the first half, but for the game he was held to 3.6 yards per carry.
And guess what his teammates were thinking? That Wright could return for the Super Bowl.
"The season wasn't going to end today, one way or the other," Carroll said. "Everything is still out there for us."
Unless the Seahawks have a total collapse in the final three games, including the last two at home against Arizona and St. Louis, they are going to have home-field advantage in the playoffs. Seattle has won 14 in a row at CenturyLink Field.
Had the Seahawks come to Candlestick and stunk up the place, as New Orleans did last week at Seattle, maybe they would have some concerns. That didn't happen. Aside from the penalties, they played pretty well in a tough environment. The defense gave up one touchdown. Wilson completed 15 of 25 passes for 199 yards and one touchdown. His only interception was a desperation deep throw at the end of the game.
This was like one hitless game in a season in which your slugger has a .350 average and 30 homers.
"We're still in great position," Wilson said. "There's no panic. We just need to stay positive."
Keeping a positive attitude is not a problem for this team.
"You can't win them all," Wilson said. "The goal is winning the last one."
December, 8, 2013
12/08/13
11:15
PM ET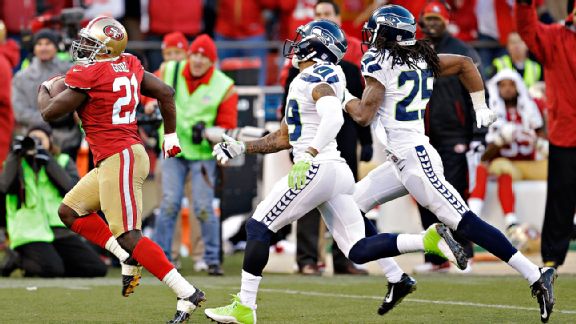 AP Photo/Ben MargotFrank Gore's 51-yard run in the fourth quarter set up the 49ers' winning field goal.
SAN FRANCISCO -- As players dispersed onto the field Sunday afternoon after a physical battle that cemented this as one of the NFL's finest rivalries, many
San Francisco 49ers
had a message for the
Seattle Seahawks
.
"We told them on the field that we will see them again," San Francisco guard
Alex Boone
said after his 49ers
won 19-17
on
Phil Dawson
's 22-yard field goal with 26 seconds remaining. "We said, 'See you up there.' And it's going to be another battle."
Did the Seahawks agree with the 49ers' plans for a future meeting?
"Yes, they said, 'See you again,'" Boone said.
Yes, the 49ers and the Seahawks both have business to do before a potential postseason meeting, but the players are on to something. These two teams are on a collision course for the playoffs.
So the 49ers have about a month to figure out how to win in Seattle.
There is no doubt that San Francisco's win Sunday was important and impressive.
But whether the 49ers won or lost Sunday, what truly matters is whether they can win in Seattle, where it is tough for any team to beat the Seahawks. And at 11-2, Seattle is on pace to have the home-field advantage throughout the NFC playoffs.
The 49ers know this: In losses at Seattle last December and in Week 2 this season, they were outscored by a combined 71-16 margin. However, if these teams meet again, the 49ers will focus on the success they had Sunday.
They 49ers were the better team and deserved to win on Sunday. They made more plays.
"The way they've beaten us the last two times up in their place, this kind of felt like a must-win for us," San Francisco left tackle
Joe Staley
said.
This type of victory has been a long time coming for the 49ers, who are now 9-4. Entering the day, they were 1-4 against teams with winning records and 7-0 against teams with losing records or .500 records. Last month, when the 49ers went from 6-2 to 6-4, they lost to Carolina and to New Orleans by a total of four points. They could have easily won both games.
Had this game gone Seattle's way and ended in a one-point loss for the 49ers, that would have stuck with San Francisco heading into the postseason. The 49ers now know they can beat a good team and get out of a close game with a win.
Perhaps that's why the San Francisco locker room was so raucous afterward. It was, by far, the most boisterous this group has been after a win this season.
"We knew this was going down to the last second," Boone said. "They just had to stay calm and get it done."
The 49ers had started talking about this game as soon as the St. Louis game was over last week. That's unusual. But the 49ers have been looking forward to the chance of redemption since they were crushed in Seattle in September. Boone had said the 49ers couldn't "overthink" the matchup. Tight end
Vernon Davis
said the 49ers couldn't be "overwhelmed" by the task.
Throughout the week, San Francisco appeared relaxed and focused. It paid off Sunday.
The Seahawks took a 17-16 lead with 6:25 to go. Memories of the losses to the Panthers and Saints came rushing back.
However, the 49ers, who were held scoreless in the second half to that point, embarked on a long drive -- fueled by a 51-yard run by
Frank Gore
-- to set up Dawson's game winner.
While the team reveled in the win, 49ers coach Jim Harbaugh was clearly drained. He was asked whether he enjoys this rivalry.
"'Enjoy' is not the word I'd use," Harbaugh said. "It's like going to dentist's chair and getting three hours of root canal … this is only for the tough."
San Francisco is definitely tough. Once again, the 49ers' defense played at a high level. Seattle quarterback
Russell Wilson
was harassed all game and never got comfortable. According to ESPN Stats & Information, Wilson was just 2-of-8 on passes 10 yards or longer.
"They might have a better record than us," San Francisco safety
Donte Whitner
said. "But when playoff time comes, you have to look out for the 49ers."
The 49ers are on pace to be the sixth and final seed in the playoffs. They hold a one-game lead in the chase. San Francisco will play at Tampa Bay in Week 15, then close Candlestick Park against Atlanta on a Monday night before traveling to Arizona for what could be a playoffs-or-bust game.
Although the 49ers are not certain to make the playoffs, another date with Seattle seems inevitable.
December, 8, 2013
12/08/13
7:40
PM ET
SAN FRANCISCO -- A few observations from the
San Francisco 49ers
'
19-17 win
over the
Seattle Seahawks
on Sunday:
What it means:
The 49ers got the stink of two bad back-to-back losses to Seattle off their minds. This was a great game, and it will serve the 49ers well heading into the postseason. They proved they could beat a good team. The 49ers were 1-4 against teams with winning records going into Sunday's game. The 49ers are now 9-4, and the Seahawks fell to 11-2. Could we see a rubber match in Seattle in January? I would be surprised if we don't.

Dawson is hot:
49ers kicker
Phil Dawson
had four field goals, including a 22-yarder with 26 seconds to go. He has made 20 straight field goal attempts, a team record.
Stock watch:
Anquan Boldin
continued to benefit from the presence of
Michael Crabtree
. Boldin had six catches for 93 yards. He had nine catches last week. This could be a key component for the 49ers moving forward.
Gore comes through:
Frank Gore
, who had three straight slow games, had a 51-yard run on the 49ers' final drive to setup Dawson's game winner.
Third-down defense wanes:
The 49ers' defense has been terrific all season, but if there has been an issue, it is the occasional lapse on third down. The Seahawks made three big conversions on third down. It's something the 49ers need to clean up.
Flag day:
This was a physical game and it wasn't always clean. The Seahawks were penalized nine times for 85 yards and the 49ers seven times for 70 yards.
What's next:
The 49ers travel to Tampa to play the Buccaneers. Tampa Bay has improved lately. It is 4-9 and 3-4 at home. The 49ers are 7-0 against teams with losing records.
December, 8, 2013
12/08/13
7:35
PM ET
SAN FRANCISCO -- A few thoughts on the
Seattle Seahawks
' 19-17
loss
to the
San Francisco 49ers
on Sunday at Candlestick Park:

What it means:
Seattle's NFC title goals will have to wait at least one more week. The 49ers showed they can get it done, at least at home, against the best team in the league and their division rivals. This was a game the 49ers needed to win much more than the Seahawks did, and it showed.
Stock watch:
Seattle's run defense failed when the Seahawks needed it the most on a 51-yard run by
Frank Gore
late in the fourth quarter that set up the winning field goal for the 49ers. … It was clear early on that the
49ers
were going to test Seattle cornerback
Byron Maxwell
, and he took his lumps at times. But he also came up with a touchdown-saving interception in the third quarter, the first pick of his NFL career. … Seahawks receiver
Golden Tate
had another solid day, with six receptions for 65 yards and a 38-yard punt return that set up a third-quarter field goal.
Costly penalties:
The Seahawks have won games this season despite their penchant for too many penalties, but it hurt them Sunday on the road against a quality opponent.
Willson's best game:
Maybe he was happy about his Rice Owls on Saturday clinching their first conference title in more than a half century. Whatever it was,
Luke Willson
had his best day as a pro. The rookie tight end had a big first half with two catches for 68 yards, including a 39-yard touchdown in the second quarter when he ran right by 49ers linebacker
Patrick Willis
and was wide-open over the middle.
What's next:
The Seahawks play their final road game of the regular season against the
New York Giants
at MetLife Stadium. A victory would give Seattle a franchise-best six road wins this season. The Seahawks hope this game is a preview of the place where they will return in six weeks for the Super Bowl.