NFC West:

2013 Week 14 Upon Further Review
December, 9, 2013
12/09/13
8:00
AM ET
TEMPE, Ariz. -- A review of four hot issues from the
Arizona Cardinals
'
30-10 win
over the
St. Louis Rams
.
Palmer rested:
After not throwing a single pass in practice all week to rest an injured throwing elbow,
Carson Palmer
registered the second-best completion percentage in Cardinals history Sunday.
He completed 27 of 32 passes, or 84.4 percent, which was the next highest to Kurt Warner's NFL record 92.3 percent in 2009. It helped that Palmer started 11-for-11.
"I didn't know that and I didn't feel that way," Palmer said. "I really didn't think about it. I was thinking about the lull we had at the beginning of the second half and being a little frustrated with that."
Fitzgerald
Palmer
Back in a groove:
It's been a while since
Larry Fitzgerald
had double-digit receptions. Almost two years, to be exact. But as Palmer found a rhythm, so did Fitzgerald, catching all 12 of his targets for 96 yards.
"We just had a good connection," Fitzgerald said. "Everything worked pretty good. As a whole throwing the ball, I think we were pretty effective and we were able to move the ball up and down the field."
Fitzgerald's 12 catches were his most since Week 17 of the 2011 season, and one shy of his career high of 13. He's hit that mark twice, last in Week 6 of 2009 at Seattle. His 12 catches are tied for the most this season among receivers who caught all their targets, according to ESPN Stats & Information. Fitzgerald knew how close he was to matching his career high.
"I'm very aware all the time of where I'm at," Fitzgerald said. "But the game was out of reach at that point and I never put myself in front of my team. We did what we needed to do. Hopefully, I can get 13 or 14 next week."
How the West was won:
It took only 15 months, but the Cardinals won an NFC West game, finally. The last time they changed a 0 to a 1 in their division standings was in Week 1 of the 2012 season, in Seattle quarterback Russell Wilson's debut. It's been a long ride since.
"We knew that if we just do what we're supposed to do, we are a good enough team to win games," defensive end
Calais Campbell
said. "We just did our part and played the game the way we're supposed to and limited our mistakes and it shows how good we can be."
It's a monkey off their backs, coach Bruce Arians said.
"And you guys can write about something else now," he added.
Not Cook-ing:
There were two focal points for the Cardinals this past week: defensive end
Robert Quinn
and tight end
Jared Cook
. Both torched Arizona in Week 1 and both were cooled Sunday, especially Cook.
Cook had 141 yards and two touchdowns in their first meeting but finished with just 49 yards on three receptions.
"I thought our guys did a really good job of matching and mixing and staying with him this time," Arians said.
December, 9, 2013
12/09/13
8:00
AM ET
A review of four hot issues from the
Seattle Seahawks
'
19-17 loss
to the
San Francisco 49ers
:
Penalties a problem:
The Seahawks have said all year the only way they can lose is if they beat themselves. It's true, and their Achilles' heel all season has been penalties. Seattle is one of the most penalized teams in the NFL, partially because of their physical and aggressive style of play. But the Seahawks also take way too many careless penalties. Most of the time they are good enough to overcome them, but not on the road against a good team like the 49ers. Seattle had nine penalties for 85 yards, and several of them killed big plays for the offense or kept drives alive for San Francisco. It's the one weak area of the team that has to improve.

Lynch
Unleash the Beast:
Marshawn Lynch
now has gone three consecutive games without topping 100 yards rushing. He ran for 72 yards on 20 carries Sunday, giving him 171 yards rushing on 53 carries in the last three outings for an average of 3.2 per carry. Those are not Beast Mode numbers. His 11-yard touchdown run was the only rushing first down the Seahawks had Sunday, although a penalty nixed one 15-yard run. Defenses are keying on Lynch, but Seattle still needs to win the line of scrimmage and overpower teams up front
Wright hurt:
Outside linebacker
K.J. Wright
suffered a broken foot in the first half and may be out for the rest of the season. Coach Pete Carroll said he thought it was at least a six-week recovery time, which might mean he could return for the Super Bowl if Seattle makes it. But the Seahawks will have to make a decision whether they want to carry Wright on the active roster with the hope of getting him back, or go ahead and place him on injured reserve, which would end his season.
Malcolm Smith
will move into the starting lineup for Wright. Smith is a solid contributor who has started four games this year and has played in all 13.
Sherman, Thomas, where are you?
Free safety
Earl Thomas
and cornerback
Richard Sherman
are the leaders of the Seattle defense and two of the best defensive backs in the league, but neither man has an interception in the last five games after picking off four each in the first eight games. The Seahawks rely on these guys to come up with big plays. They need to step up in the last three games of the regular season.
December, 9, 2013
12/09/13
8:00
AM ET
SANTA CLARA, Calif. -- A review of four hot issues from the
San Francisco 49ers
' 19-17
win
over Seattle:
[+] Enlarge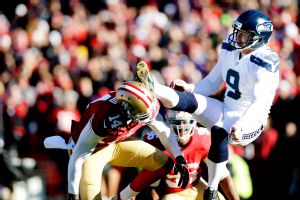 AP Photo/Marcio Jose SanchezKassim Osgood's blocked punt led to a field goal.
Gore comes through:
In the previous three games, the San Francisco 49ers' ground game struggled. Sunday, though, it helped fuel the win over the Seahawks. Starter
Frank Gore
had a 51-yard run on the 49ers' final drive to set up the game-winning field goal. According to ESPN Stats & Information, the 49ers had 137 rushing yards before contact. It was a season worst for the Seattle defense.
Osgood factor:
San Francisco's special teams are much improved. That has helped the 49ers all season, and Sunday was no different. Special teams ace
Kassim Osgood
had a blocked punt in the first quarter, which led to a field goal. Had Osgood not blocked the punt, the 49ers may not have won this tight game. Osgood has been making plays all season, but this one was his biggest.
Dawson is on fire:
Speaking of outstanding special teams play, kicker
Phil Dawson
continues to be one of the 49ers' most vital players. He had four field goals Sunday, including the game winner with 26 seconds remaining in the game. Dawson has made 20 straight field goal attempts. He has been a major upgrade over
David Akers
.
Message sent:
Niners guard
Alex Boone
said 49ers players told Seattle players after the game that they will see them in Seattle in the postseason. It could happen. If so, the 49ers will be confident based on this performance. Yes, the 49ers have been beaten by a combined score of 71-16 in the past two games in Seattle, but Sunday's win shows San Francisco can still play with the Seahawks.
December, 9, 2013
12/09/13
8:00
AM ET
GLENDALE, Ariz. -- A review of four hot issues from the
St. Louis Rams
' 30-10
loss
to the
Arizona Cardinals
:
Officially official:
The moment the Rams lost quarterback
Sam Bradford
to a season-ending knee injury back in Week 7, it became quite clear they would have little shot to reach the postseason this year. A loss to San Francisco last week made it a 99 percent certainty that they wouldn't. Sunday's loss took away any remaining hope for even the most optimistic of the Rams' faithful.
The Rams dropped to 5-8 with the loss and are out of possibilities for postseason play, something they are no stranger to. The Rams have now missed the playoffs in every season since 2004 and are almost certain to finish last in the NFC West.
Penalty party:
For the second consecutive week, the Rams tallied 11 penalties. Those penalties cost the Rams 90 yards this week and 105 last week. This week's penalties moved the Rams from a tie for fifth in total penalties for the season into third place all by their lonesome. They have 98 penalties this season, trailing only Seattle and Tampa Bay.
Dahl
Rams players put the blame on themselves for the errors and though there has been consistent insistence that many of the penalties called on them have been incorrect, the fact remains that the Rams continue to rack up costly flags. Worse, the Rams are not good enough to overcome them.
All the right moves:
Harvey Dahl
returned to the lineup this week, settling in at his normal spot at right guard. Coach Jeff Fisher said it's a general rule for a player not to lose his starting job to injury, thus Dahl's return to his usual spot. Small problem is Dahl's return meant uprooting
Rodger Saffold
, who had settled in nicely at the position in Dahl's absence.
So the Rams set about working a three-man rotation on the right side of the line with Saffold as the one constant in a swingman role. Dahl started at right guard with Saffold at right tackle followed by Saffold at right guard with
Joe Barksdale
at right tackle. While the thinking of getting Dahl back in the lineup is fine, it's a bit perplexing why the Rams refuse to find a place for Saffold that doesn't continuously disrupt continuity on the line. Saffold played well at guard and could have a future there. Why not let him play on the left side and see if he can settle in for the final games before he hits free agency this offseason?
Running in place:
Without Bradford's services, the Rams have had a simple offensive formula to get victories from week to week. Run the ball, take care of it and take advantage when chances for big pass plays arise. The key, however, has been the first step in that process, the whole run the ball thing.
For the most part, they've been able to do that with rookie
Zac Stacy
leading the way, but Arizona's highly ranked run defense ensured Stacy and the Rams went nowhere Sunday. Stacy's 25 yards on 14 carries was by far his worst output since becoming the starter, and though he scored a touchdown and
Tavon Austin
posted a 57-yard run, the Rams were stuck in neutral most of the day. The rest of the offense felt the effects.