NFC West:

2013 Week 15 Upon Further Review NFC
December, 16, 2013
12/16/13
8:00
AM ET
A review of four hot issues from the
Seattle Seahawks
' 23-0
victory
over the
New York Giants
:
Baldwin fueled by critical article:
A USA Today story
last week said the Seahawks receiving corps, without
Percy Harvin
and
Sidney Rice
, could be the team's downfall in the playoffs. Receiver
Doug Baldwin
took offense to that story, going into a four-letter-word tirade in the locker room after his big day. Baldwin had six receptions and a 12-yard TD Sunday. "People continue to think we're just average," Baldwin said. "Well, they need to do some research. We have one of the most diverse receiving corps in the NFL." Seattle has four receivers with at least four TD receptions, and Baldwin has five.
[+] Enlarge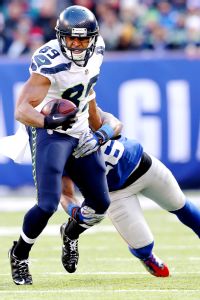 Photo by Elsa/Getty ImagesDoug Baldwin had six catches for 71 yards and a touchdown against the Giants.
All about the D:
This was the first shutout for the Seattle defense since the 58-0 victory over at home against Arizona on Dec. 9, 2012. It was the first shutout on the road in more than eight years. The last one was 42-0 victory at Philadelphia on Dec. 5, 2005, during Seattle's only Super Bowl season. Giants' quarterback
Eli Manning
had a career-worst five interceptions. Four of those interception came on 10 passes thrown more than 10 yards downfield.
Depth galore:
The Seahawks started the game without three defensive starters -- cornerback
Brandon Browner
, weak-side linebacker
K.J. Wright
and defensive tackle
Tony McDaniel
, who was sick Sunday and played only a few plays. That doesn't include Browner's backup,
Walter Thurmond
, who was serving the third game of a four-game suspension for a substance-abuse violation. Thurmond may not be the starter when he returns considering how well
Byron Maxwell
is playing with three interceptions in the last two games, including two Sunday. Reserve cornerback
Jeremy Lane
had five tackles on defense, and two other on special teams. Linebacker
Malcolm Smith
had five tackles, including one for a loss, as Wright's replacement.
Very special teams:
The third phase of this team continues to shine. Kicker
Steven Hauschka
was 3-for-3 in field goals Sunday making him 30-of-31 this season. His only miss was blocked at Indianapolis. Punter
Jon Ryan
doesn't have a lot of long punts, but that doesn't matter. Only one of his seven punts Sunday was returned, and that was only 4 yards. He had three punts inside the 20. Punt returner
Golden Tate
tied the team record Sunday with seven returns, but the remarkable part of that number is he averaged 10.4 yards per return. Tate will make you gasp at times back there, and also make a bad decision every now and then, like his fair catch at the 7 in the first half. But he's a threat to break one every time he catches the ball, and his returns are a big factor in Seattle winning the field-position battle in most games.
December, 16, 2013
12/16/13
8:00
AM ET
ST. LOUIS -- A review of four hot issues from the
St. Louis Rams
'
27-16 victory
against the
New Orleans Saints
:
Quinn again:
Rams defensive end
Robert Quinn
had already established himself as the team's best defensive player in 2013, and with each passing week he's making a better case that he's the league's best.
Quinn
Quinn forced Saints coach Sean Payton to toss out the game plan early and continued to punish any blocker put in front of him throughout the Rams' victory. Quinn had five tackles, two sacks, a tackle for loss, two quarterback hits, two forced fumbles and a fumble recovery.
For the season, Quinn leads the NFC in sacks with 15 and the NFL in forced fumbles with eight. This is the definition of a breakout season for one of the game's emerging stars.
Stacy steps up:
It's no secret that the Rams' success in 2013 has been directly tied to their ability to run the ball successfully. Rookie
Zac Stacy
has been the key to that success, and after a couple of down weeks, he rebounded nicely against the Saints.
Stacy rushed for a combined 97 yards in losses to San Francisco and Arizona the past two weeks. He had 106 in the first half against the Saints and finished with 133 yards on 28 carries with a 40-yard touchdown run.
Since becoming the starter in Week 5, Stacy has averaged 88.6 yards in the team's five wins.
On target:
Toughness and leadership are qualities Rams quarterback
Kellen Clemens
has regularly displayed since becoming the starter in Week 7. Accuracy is not.
So when Clemens started Sunday's game by completing 10 of his first 13 passes, it seemed like just a matter of time before the ball started hitting the turf consistently. It never happened.
Clemens completed 14 of 20 for the game, a 70 percent completion rate which is the highest of his career to date. The Rams grabbed an early lead behind Stacy's running, leaving Clemens with little to do, but he made the most of his opportunities, posting a 95.7 QBR.
Turnover time:
It's been said and written time and again that no single statistic is more indicative of a team's performance than the turnover differential. That certainly holds true for the Rams.
St. Louis created three takeaways (two interceptions, one fumble recovery) and coughed up none on offense to finish plus-three against the Saints. That they won given that turnover output should come as no surprise. The Rams are plus-three or better in five of their six wins this season and have not lost when they've been on the positive side of the takeaway battle.
December, 16, 2013
12/16/13
8:00
AM ET
NASHVILLE, Tenn. -- A review of four hot issues from the
Arizona Cardinals
' 37-34
win
over the
Tennessee Titans
.
Javier Arenas
must want the Cardinals to play in cold-weather cities more often. For the second time this season he had at least three kick returns.
On Sunday, he returned those kicks for 72 yards, his second-highest total of the season. At the rate he's been going, Arenas didn't expect to return more than one, maybe two kicks -- if he even had the opportunity to return any.
Arenas
"It was the wind conditions," Arenas said. "It's cold outside so he had a couple bad kicks. It shocked me as well.
"It felt pretty good. Great opportunity to get a lot of kicks and get a feel for it as opposed to once every two or three weeks."
Leading the way:
Followers of the Cardinals are used to
Bobby Massie
substituting in on offense as an eligible receiver. But when No. 66 was announced twice Sunday, a few eyebrows were raised.
Nose tackle
Alameda Ta'amu
entered the game as a fullback to lead the way for
Rashard Mendenhall
, and on both plays Mendenhall scored. It was the first time Ta'amu had lined up at fullback since high school, and it didn't take long to remember what to do: put your head down and go.
He hopes to get another opportunity to block for Mendenhall, but he hopes Mendenhall will actually use him. On both runs, Mendenhall didn't follow Ta'amu's lead.
Was the big man mad?
"I mean ..." Ta'amu hesitated, then laughed, "yeah."
Game-winning machine:
Sunday marked the 11th game-winning field goal of
Jay Feely
's career and his second this season. He hit from 41 yards with 10:22 left in overtime to clinch the win. Feely's last game winner was in Week 3 at Tampa Bay.
It was the fifth game winner of longer than 40 yards.
Road warriors:
Cardinals coach Bruce Arians didn't care about stats or "anything else." He just wanted to get a win on the road.
"It's hard to get a win on the road in the NFL, but we did," Arians said.
Only three of the Cardinals' nine wins have come on the road, but if you asked
Darnell Dockett
where he'd go to play a game, he doesn't discriminate.
"I don't care if you go to the Middle East, South America, as long as you get a win, it doesn't matter," he said.
December, 16, 2013
12/16/13
8:00
AM ET
TAMPA, Fla. -- A review of four hot issues from the
San Francisco 49ers
' 33-14
win
over the
Tampa Bay Buccaneers
:
[+] Enlarge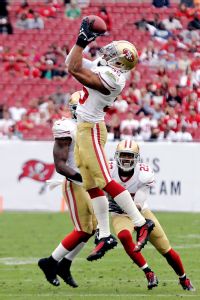 AP Photo/Chris O'MearaEric Reid displayed his IQ by not attempting to score on this interception.
Avoiding the trap:
This was an impressive win because the 49ers continued to roll no matter the circumstance. San Francisco won its fourth in a row in a date that had all the makings of a letdown game. It came a week after the 49ers' biggest win of the season, a home win over Seattle. The team had to travel cross-country to play a losing team in a 10 a.m. PT start. Yet, the 49ers never trailed. It was a complete team win. San Francisco is now 10-4 and can clinch a playoff berth next week.
Crabtree makes amends:
49ers receiver
Michael Crabtree
almost ruined a crucial 17-play, 10-minute drive in which the 49ers extended their lead to 23-14 with four minutes to go Sunday. But he ended up saving it. Crabtree was penalized 15 yards for throwing a ball in frustration; it put the 49ers in a big hole, but three plays later, he kept the drive alive with a big first-down catch on third-and-12.
Smart rookie:
San Francisco first-round pick
Eric Reid
has been impressive all season. What stood out to me about the LSU product from the beginning of the season was his polish. He looked like a five-year veteran in his first game. Sunday, he flashed his Football IQ once again. Late in the game, he had an interception deep in Tampa Bay territory. He had a free path to the end zone, but the game was in hand. The rookie simply dropped to the grass to get the 49ers' offense back on the field. He admitted giving up a sure touchdown wasn't easy, but it was for the best for the team. That's a special player.
Injury update:
Crabtree had his hand examined after the game and fullback
Bruce Miller
said he had a stinger. Both players said after the game that they are fine. Miller will be examined Monday, but he said he doesn't believe his injury is overly serious.