NFC West:

2013 Week 16 ARI at SEA
December, 22, 2013
12/22/13
11:55
PM ET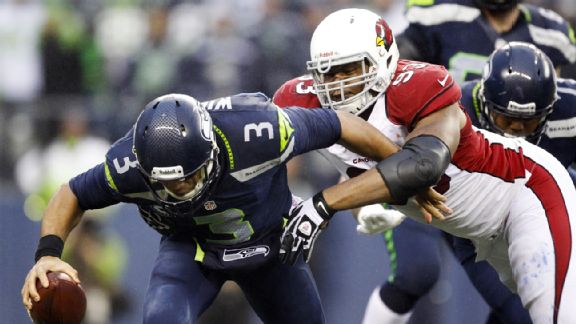 Joe Nicholson/USA TODAY SportsThe Cardinals' defense sacked Russell Wilson four times and limited him to 108 passing yards.
SEATTLE -- When
Steven Hauschka
's foot connected with the ball for the opening kick of Sunday's Cardinals-Seahawks game, neither team knew what was happening three time zones away.
The New Orleans-Carolina game wouldn't be over for another two minutes, meaning, unless word spread on the sideline, the Cardinals wouldn't know how much Sunday's game truly meant until halftime, if they found out at all.
Nobody knew, Cardinals defensive end
Calais Campbell
said.
But as history has written it, the Panthers won, which, for the next 3 hours, 9 minutes, meant Arizona was playing for its postseason life. Lose and the Cards would be eliminated, rendering Week 17 against San Francisco meaningless. Win and, with help, the playoffs would still be a possibility.
The Cardinals found themselves in unfamiliar territory. They were the focus of the football world briefly, holding the mighty Seahawks down by their wrists and eventually putting a foot on their throat in a 17-10 victory. To many outside the West Coast, Arizona is associated with offense simply because its coach, Bruce Arians, is widely considered an offensive genius.
But to those in the know, this team isn't anything without its defense. It quietly became the league's top-ranked unit against the run heading into Seattle, but it's a well-built, well-rounded and talented group that proved Sunday that no matter how bad the offense is, the defense will give
Carson Palmer
as many chances as he needs to win the game.
Which is exactly what happened.
After the Cardinals held Seattle quarterback
Russell Wilson
to a career-low 108 passing yards and slowed running back
Marshawn Lynch
to a crawl in the second half, Arizona got one last pass out of Palmer -- after four interceptions. He hit
Michael Floyd
along the left sideline of the end zone for a 31-yard touchdown that gave the Cardinals their most important win since
Kurt Warner
was quarterback.
"We didn't want to have to rely on [the defense] as much as we did today," Cardinals wide receiver
Larry Fitzgerald
said. "But that's what being a team is all about -- when a group is struggling, the other one picks it up. That's what the defense did for us a lot of times today."
Regardless, for the first time since 2009, the Cardinals won a game in December that meant something and are in the playoff picture. And they did it by stopping a locomotive that many didn't think would slow down until MetLife Stadium in February. And, now, Seattle is facing a possibility of not even winning the NFC West after its franchise-best 14-game home winning streak was snapped.
"Don't get no better than that," Arians said. "It's why you play the game. Come into a venue like this -- fantastic venue, great fans -- and win, that's why you play the game. That's why we all grew up playing this game."
But nobody on that field grew up thinking they were going to throw a season-high four interceptions in a make-or-break game. That was the reality Palmer lived Sunday, giving the ball away three times inside the Seattle 36 -- twice deep in the end zone.
Instead of entering the second quarter potentially up 14-0, Arizona had two of its first three possessions curtailed because of the picks. Yet, while Arizona wasn't scoring, neither was Seattle. The Seahawks didn't get on the board until 78 seconds into the second quarter.
"I guess that one defies the odds," Arians said. "You usually don't turn it over four times and win on the road. Well, when your lines of scrimmage dominate the game offensively and defensively, you're gonna have a chance."
A winning chance at that. While Palmer reverted back to his old ways, throwing four picks for the third time in his career, it was the defense that shouldered the burden of last year's 58-0 embarrassment and this October's loss for Arizona.
None of that has been forgotten.
Last Monday, a day after the offense shined in a win over the Titans, the entire defense gathered at the Cardinals' practice facility in Tempe on what was supposed to be a Victory Monday. Instead of celebrating, however, the defense was studying.
The Cardinals watched tape of the Seahawks against San Francisco and St. Louis, two teams that played Seattle tough this season.
"Everybody was in there talking," cornerback
Patrick Peterson
said. "[We were] making sure we understood what these guys wanted to do and making sure we didn't let them get out to an early jump like we did in the first game [this season]."
For about two hours, the defense -- no coaches were allowed -- broke down film, discussed the matchups and prepared. During that meeting and another defensive players-only meeting Friday, the consensus was to put a lot of the responsibility on the Cardinals' front seven.
"And they came out on top again," Peterson said.
Arizona sent pressure Wilson's way from the middle of the line and off the edges, causing the 5-foot-11 quarterback fits when he tried to find receivers, especially around the 6-foot-8 Campbell, who sacked Wilson twice. And when Wilson finally scrambled away, more often than not, he was surrounded by a bevy of defenders from all three levels.
[+] Enlarge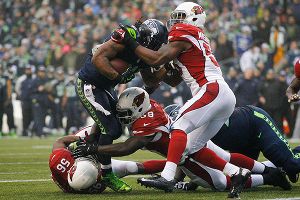 Joe Nicholson/USA TODAY SportsSeattle RB Marshawn Lynch was held in check by the Cardinals' No. 1-ranked run defense.
Wilson completed 11 of 27 passes for 108 yards, a touchdown and an interception while getting sacked four times.
"For us to step in there and get pressure and get some three-and-outs, and get them frustrated, that was huge for us because it really showed that we came to play," Campbell said.
Arizona knocked Seattle off its offensive equilibrium all day. The Seahawks were 2-for-13 on third down and had just 10 first downs. They managed just 192 yards, the second time they've been held to fewer than 200 this season.
To win on the road this late in the season, a little luck needs to be mixed with skill.
After
Malcolm Smith
returned a Palmer interception to the Cardinals' 3 later in the second quarter, it was almost a foregone conclusion that Lynch would power it in for a touchdown to give Seattle the lead and momentum heading into halftime. He bulldozed his way to the 1, and then Arizona stopped him on second and third down from the 1 before a formation penalty forced Seattle's field goal attempt to move back to the 6. Then Hauschka bounced the chip shot off the left upright, keeping the score tied at 3.
Seattle had seven three-and-outs, three drives of four-and-out, a drive of six plays and one of just a single play, on which Cardinals linebacker
Karlos Dansby
picked off Wilson on a controversial call after the ball bounced off Seattle receiver
Doug Baldwin
's arm.
But that wasn't even the most impressive part of the defense's day.
Lynch had 60 yards on 11 carries in the first half. He kept the Cardinals working, churning his legs for yards after contact throughout the first two quarters. Then they stopped.
Lynch wasn't going to be the reason Arizona lost. He had just 11 yards on seven carries in the final 30 minutes after the Cardinals stopped him where he couldn't start.
To Dansby -- who's making his case for defensive player of the year with 109 solo tackles, 6.5 sacks and four interceptions (two returned for touchdowns) -- stopping Lynch revolved around one idea.
"Hit him. We had to put a hat on him," Dansby said. "We got somebody in front of him, and everybody else rallied to the ball. That is the name of the game, get to the ball. That is what we were saying all week long. Somebody storm up, and everybody else rally to the ball."
The Seahawks didn't have an off game on their own. Everything that went wrong was forced by Arizona's defense, which needed a win like this, on the road, to validate the previous 14 games.
Even though they're not yet attending the playoff party, the Cardinals proved here that they'll be worthy of an invite.
"We showed," Peterson said, "that we can play with the best of them."
December, 22, 2013
12/22/13
10:58
PM ET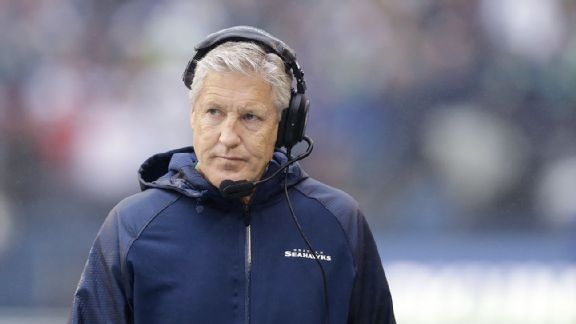 AP Photo/Elaine ThompsonSeahawks coach Pete Carroll saw his team held to 192 yards at home by a stingy Arizona defense.
SEATTLE, Ariz. -- It was supposed to be Clinch Sunday for the
Seattle Seahawks
and their rabid fans.
There was a hitch in the clinch celebration.
The
Arizona Cardinals
played the role of the Grinch who stole Christmas week.
For the rest of the NFC contenders, enjoy your reprieve. Seattle was inept on offense Sunday, had 102 yards on nine penalties, and failed to hold the lead late in the game, giving you life to fight another week.
In an old-fashioned defensive smackdown, with two NFC West teams slugging it out like it was 1999 (or maybe 1959), the Cardinals prevailed
17-10
. Arizona is now 10-5 and still in the playoff picture.
The Cardinals came to Century Link Field, the place where no visitor had won in two years, and outmuscled the most physical team in the league.
"It was two defenses just duking it out all day," Seattle coach Pete Carroll said. "You have to give [Arizona credit]. They played really well on defense, harder and tougher than we wanted them to be."
An opponent playing harder and tougher than Seattle is a surprise. The Seahawks sat in the dressing room afterward saying it didn't matter, and it won't if they win next weekend at home against St. Louis. But one look in the players' faces and it was clear they were stunned.
Seattle's 14-game home winning streak was over to a team it was favored to beat by 10 points, and the Seahawks didn't see it coming. A game one week from now that could have been a glorified practice session is now a showdown for everything they have worked for all season.
"We can't harp on this," Seattle free safety
Earl Thomas
said. "This is no time to panic. Everything we've worked for is still right in front of our face. There's not anything different."
Well, a few things are much different than most people thought. The Seahawks have lost two of their past three after going 11-1. And the offense hasn't looked overly impressive, even in the 23-0 win against the
New York Giants
last week.
For the first time all season, quarterback
Russell Wilson
and the Seattle offense looked overwhelmed.
"You have to credit their defense," said Wilson, who was 11-of-27 passing for only 108 yards and was sacked four times. "But we can play better and we can do better. We had some opportunities to make some big plays, but for whatever reason, we were a little bit off."
That might be understating it just a tad. In a game that could have clinched the NFC West title and home-field advantage throughout the playoffs, the Seattle offense looked completely out of sync and unable to find any answers to the rugged Cardinals' defense.
"It's impossible not to feel frustrated," said Seattle tight end Zack Miller, whose 11-yard TD catch in the fourth quarter was the only time the Seahawks reached the end zone. "But we still control our own destiny."
After the 34-7 victory against New Orleans on Monday night three weeks ago, that destiny seemed assured. The Seahawks appeared Super Bowl bound.
That destiny is a little in doubt now. This game left some questions to answer, and it also had some head-scratching moments near the end.
What was a magnificent defensive battle became a sideshow circus of bizarre calls in the fourth quarter.
Two big calls went against Seattle. First, an apparent fumble by Arizona running back
Rashard Mendenhall
at the Seattle 16 was reviewed, but upheld as called as no fumble.
"We could not determine the status of the runner's knee," referee Scott Green said. "The ball does come loose, but we never got a [video] shot that showed the status of his knee or any other part of his body being down, so therefore, you go with the call that was made on the field."
The Cardinals kicked a field goal moments later to go up 9-3.
Later came a controversial interception on Seattle's last possession, when a pass intended for
Doug Baldwin
appeared to hit the turf, bounce in the air and was ruled an interception by
Karlos Dansby
.
"Again, we didn't have indisputable evidence that it hit the ground," Green said. "Therefore, we went with the call as it was made on the field, which was an interception."
However, maybe the craziest play of the game went Seattle's way. After the Seahawks tied it 9-9 on the pass from Wilson to Miller, Hauschka's extra-point attempt was blocked.
But Hauschka got another chance when the Cardinals were flagged for lining up over the center, which isn't allowed. Hauschka made the second attempt and the Seahawks led 10-9 with 7:26 to go.
But don't say Seattle lost this game because of the officiating. They lost because the Cardinals' defense was dominant.
So were the Seahawks -- until the end. After keeping Arizona out of the end zone all game, the Seahawks' defense couldn't do it when it mattered most. The Cardinals drove 80 yards and scored on a 31-yard touchdown pass from
Carson Palmer
to
Michael Floyd
on a third-and-six.
The home-field magic was over.
"If there is one thing I've learned, you're going to have ups and downs in life," Wilson said. "At the end of the day, we still have to win the next game. That's doesn't change for us. We lost this one and we shouldn't have lost it. We've had a really good season, and we just have to finish strong. Now the last game of the season is a championship game. It doesn't get any better than that."
December, 22, 2013
12/22/13
7:19
PM ET
SEATTLE -- A few thoughts on the
Seattle Seahawks
' 17-10
loss
to the
Arizona Cardinals
Sunday at Century Link Field:

What it means:
Seattle's 14-game home winning streak ends, and the Seahawks fail to clinch the NFC West title or home-field advantage in the playoffs. Seattle (12-3) will have another shot at it next weekend. This was the first home loss for the Seahawks since the final home game of the 2011 season.
Stock watch:
Just an old-school defensive smackdown. Both defenses were dominant. Neither team scored a touchdown until the fourth quarter. The Seahawks had four interceptions, and the Cardinals held Seattle to only 192 total yards and 89 yards passing.
Ball insecurity for Turbin:
Backup running back
Robert Turbin
had replaced
Jermaine Kearse
earlier this season on kickoff returns, a decision coach Pete Carroll said he made for "ball-security reasons." That didn't work out well Sunday when Turbin fumbled without being touched on a return in the second half. He also fumbled on an earlier return, but the review showed he was down before the ball came loose. Receiver
Doug Baldwin
replaced Turbin in the fourth quarter and had a 37-yard return on his first attempt.
Interception kings:
The Seahawks now have 26 interceptions for the season and nine in the past two games.
Richard Sherman
had two picks, giving him a league-best eight interceptions, which just may propel him past teammate and free safety
Earl Thomas
for NFL defensive player of the year honors.
What's next:
In what it hoped would be a
meaningless game and a chance to rest some starters, Seattle ends the regular season at home against the
St. Louis Rams
in a must-win to guarantee home-field advantage and win the division title.
December, 22, 2013
12/22/13
7:17
PM ET
SEATTLE -- A few thoughts on the
Arizona Cardinals
' 17-10
win
over the
Seattle Seahawks
:

What it means:
When Arizona needed it most, the Cardinals' defense stepped up. Once Carolina beat the
New Orleans Saints
, the Cardinals controlled their postseason destiny: win and they would still be in the hunt; lose and they'd be done. While the offense continued to look shaky, especially behind
Carson Palmer
's four interceptions, the defense played one of its best games of the season. Its game plan to stop
Russell Wilson
worked, as Arizona's pass rush overwhelmed him and the rush defense lived up to its top-ranked billing, stopping
Marshawn Lynch
in the second half. All the while, the Cardinals' offense plodded along, waiting for a chance until Palmer hit
Michael Floyd
for a 31-yard, winning touchdown late in the fourth quarter.
Stock watch:
Arizona's defense played as one effective unit throughout the game, limiting Wilson's ability to run and make plays with his feet. But the Cardinals' secondary came to play, jelling as a unit without
Tyrann Mathieu
or
Rashad Johnson
to keep Seattle's wide receivers from getting open. While there have been many similar team efforts this season, Sunday's trumped everything because of how each facet played off the others. The pass rush got to Wilson with ease, forcing the 5-foot-11 quarterback to throw past 6-foot-8
Calais Campbell
. Then the linebackers stuffed Lynch, and the secondary caused the Hawks' offense to pause because nobody was open.
Picked off:
Palmer had a rare game, even by his standards. Sunday was the third time in Palmer's career that he threw four interceptions. Four is too many by anyone's standard, but it was where he threw them that hurt as much as how many. Two were thrown deep in the end zone, and a third was deep in Cardinals territory. Palmer single-handedly blew strong opportunities for the Cards to put points on the board.
End of the rainbow:
All the Skittles in the world couldn't help Lynch in the second half. He had just 71 yards against the No. 1-ranked run defense in the league -- 11 in the second half. Arizona stuffed Lynch with gang-tackling, not allowing him to break loose. Arizona's defense made him a nonfactor in the second half and forced Wilson to throw the ball, which he eventually found a rhythm doing.
What's next:
The Cardinals host San Francisco in their regular-season finale at 4:25 p.m. ET Sunday at University of Phoenix Stadium.
December, 22, 2013
12/22/13
8:00
AM ET
RENTON, Wash. --
Seattle Seahawks
free safety
Earl Thomas
knows the Arizona offense he will see Sunday is much better than the one he saw two months ago in the 34-22 Seahawks' victory on the road.
Thomas said the biggest difference is the improvement in quarterback
Carson Palmer
.
"He's just gotten more familiar with the offense," Thomas said. "He's playing at his peak right now, and their offense is doing some intricate details they didn't do the first time we played them."
Thomas
Palmer completed only 10 of 20 passes and had two interceptions in Week 7 against the Seahawks. But he was under constant pressure from the Seattle pass-rushers, who sacked him seven times.
The offensive line has improved for the Cardinals over the past two months and given Palmer more time to throw. Arizona has won six of its past seven games since the Seattle loss, improving to 9-5, and the better blocking up front has led to some big plays from receivers
Larry Fitzgerald
and
Michael Floyd
.
But stopping big plays is what the Seattle defense does best. The NFL categorizes it as explosive plays or GAP -- game altering plays. It's any pass of 16 yards or more, and any run of 12 yards or more.
"I pay attention to the explosives," said Thomas, when asked which defensive statistic is most important to him. "That's my job as the free safety. I want to be the best in the league at stopping those."
The Seahawks are No 1 in fewest GAPs allowed this season with 76. And they easily are the league best in passing explosives, having allowed only 47 in 14 games.
Seattle leads the league in interceptions with 22, but the Seahawks also lead the NFL with 13 interceptions on passes outside the numbers. Seattle has allowed only five touchdown passes this season on throws outside the numbers.