NFC West:

2013 Week 2 SFO at SEA
September, 16, 2013
Sep 16
3:52
AM ET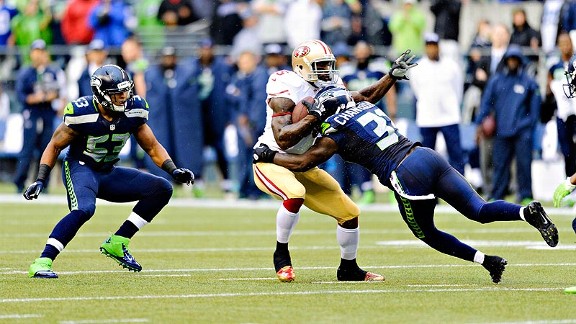 Steven Bisig/USA TODAY SportsSeattle stuck it to the 49ers again and has now outscored them 71-16 in the past two meetings.
SEATTLE -- A one-hour lightning show, about as rare around these parts as a bad cup of coffee or cheap salmon, delayed the inevitable in the showdown of NFC West powers.
The game between the
Seattle Seahawks
and the
San Francisco 49ers
-- bitter West Coast rivals and possibly the two best teams in the NFL -- was a 0-0 standoff when the thunderstorms halted play late in the first quarter.
Almost four hours later, it was a decisive
29-3 Seahawks victory
, an early-season thumping in the battle for bragging rights in the NFC.
"A lot of pundits and ignorant idiots thought we were gonna lose this game," Seattle cornerback
Richard Sherman
said in a postgame NBC interview. "Don't doubt us."
It's only Week 2 in a long NFL season, but the Seahawks sent a clear message Sunday night after the downpour that they are the team to beat in the NFC.
Well, for anyone who stayed up to see it. The game ended close to 1 a.m. on the East Coast.
The Seahawks didn't exactly stress out about things during the weather delay. They might as well have gone to a spa.
"I took a shower," quarterback
Russell Wilson
said. "I decided I wanted to start fresh and clear my mind when we came back out."
"I listened to some music, hung out with the defensive linemen and did some dance moves," Sherman said. "I had a good time."
When the lightning stopped and the teams returned to the field, the loudest crowd around was ready and waiting. Who knows what the Guinness World Records folks need to make an official entry, but unofficially, the record crowd of 68,338 spectators set a sound record for an outdoor stadium at 136.6 decibels.
"I've been coaching for a long time, but I've never heard a crowd like that," Seattle coach Pete Carroll said. "What an amazing night. It was unbelievable for the crowd to elevate things and sustain it like that. It was so much fun to be in the stadium. Our guys felt it."
The 49ers may not have felt it, but they certainly heard it.
"It's very, very loud," 49ers tight end
Vernon Davis
said. "But I'm not going to make that the reason we lost the game."
San Francisco lost the game because of the relentless Seattle defense that forced five 49ers turnovers and held one of the best offenses in the NFL out of the end zone one week after San Francisco scored 34 points on Green Bay.
Receiver
Anquan Boldin
, who had 13 catches for 208 yards a week ago, had one reception for 7 yards Sunday night. Sherman made Boldin his special project of the night.
"I asked [Carroll] to give me the challenge," Sherman said of covering Boldin. "I wanted to follow him. I studied film of him all week. The key is being physical with him. He's a great player, so I wanted to contain him."
Sherman had one of two fourth-quarter interceptions for the Seahawks. After his return down the sideline, he danced with the SeaGals, the Seattle cheerleaders.
"It was just a little tryout for me," Sherman said.
Niners quarterback
Colin Kaepernick
failed in this tryout against the Seattle defense. He threw for 412 yards and three touchdowns last week, but went 13-for-28 for 127 yards with three interceptions and no touchdowns Sunday night.
The Seahawks have taken up where they left off last year when the defense allowed the fewest points in the league. Seattle has given up a total of 10 points in the first two games.
You can win a lot of games that way, even when the offense sputters. Wilson started the game 1-for-9 passing but completed seven of his final 10 throws, including a 51-yard pass to
Doug Baldwin
.
"I missed a couple of throws early that I don't normally miss," Wilson said. "But we just keep plugging away, one play at a time."
Wilson got plenty of help this time from running back
Marshawn Lynch
. After rushing for only 43 yards on 17 carries last week at Carolina, Lynch was back to Beast Mode, rushing for 98 yards on 28 carries. Lynch had two touchdowns on the ground and one on a 7-yard reception when he tiptoed into the end zone.
At times, this game was as ugly as the weather, with lots of penalties on both sides and lots of sloppy play.
"It was not clean and we had our problems, but it didn't matter tonight," Carroll said. "The defense was on it. We did everything we needed to do on defense."
It helped having defensive end
Cliff Avril
on the field for the first time. He forced a Kaepernick fumble on a sack.
And it didn't seem to matter that cornerback
Brandon Browner
was out for the second consecutive game.
Walter Thurmond
, his replacement, deflected a pass near the goal line in the first quarter that
Earl Thomas
intercepted.
Seattle now has outscored the 49ers 71-16 in the past two meetings. That won't mean much when the two teams meet again in San Francisco on Dec. 8, but what does Sunday's convincing win say about the Seahawks right now?
"We have a chance to do something great," Thomas said. "That's all it says. If we stay humble and keep preparing like were doing, we'll be fine."
September, 16, 2013
Sep 16
12:55
AM ET
SEATTLE -- A few thoughts on the Seattle Seahawks'
29-3 win
over the
San Francisco 49ers
:

What it means:
The Seahawks (2-0) have early control of the NFC West. They needed this win more than the 49ers (1-1) because it is was a home game. The 49ers are going to have to make sure they beat the Seahawks in San Francisco on Dec. 8. This game was intense and closer than the score indicated. But the Seahawks outplayed the 49ers, who were surprisingly flat offensively. The 49ers have to find their offensive spark and clean up the ridiculous penalties that have plagued them the past two weeks. The NFC West race is far from over, but the Seahawks, who haven't lost at home since 2011, struck first and loudly.
Stock watch:
Lots of downward pointing here. Quarterback
Colin Kaepernick
was never comfortable and more of a detriment than a help to his team. San Francisco receiver
Anquan Boldin
had one catch after 13 last week against Green Bay. The 49ers were very sloppy. They were penalized 12 times for 121 yards and have 23 penalties this season. San Francisco had four personal-foul penalties, which is inexcusable.
Lynch a difference-maker:
Seattle running back
Marshawn Lynch
had another big game against the 49ers. He had 98 yards on 28 carries and scored three touchdowns (two rushing, one receiving). On a day when both quarterbacks were off, Lynch was the difference.
Injuries mount:
San Francisco nose tackle
Ian Williams
broke his ankle in the first quarter, according to ESPN's Adam Schefter. The 49ers confirmed that Williams has an ankle injury, but not the severity. He appeared to be hurt on a low block by Seattle guard
J.R. Sweezy
. The 49ers can't be pleased. Williams was coming into his own. It will mean more opportunities for free-agent pickup
Glenn Dorsey
. Also, rookie safety
Eric Reid
left the game in the second quarter because of a possible concussion and tight end
Vernon Davis
left late with a hamstring injury. Both will be monitored this week. Defensive end
Ray McDonald
was also hurt late.
What's next:
The 49ers host Indianapolis on Sunday. It will be a reunion for San Francisco coach Jim Harbaugh and Colts quarterback
Andrew Luck
. Harbaugh coached Luck at Stanford prior to coming to the 49ers. The Colts are 1-1. They lost at home to Miami on Sunday. It will be the Colts' first road game of the season.
September, 16, 2013
Sep 16
12:49
AM ET
SEATTLE -- A few thoughts on the
Seattle Seahawks
'
29-3 victory
over the
San Francisco 49ers
Sunday night at CenturyLink Field:

What it means for the Seahawks:
Seattle gets the early upper hand against its NFC West rival in a game between two of the best teams in the NFL on a strange night that included an hour-long weather delay in the first half. It's only two weeks into the season, but the Seahawks sent a message that they are the team to beat in the NFC.
Stock watch:
The Seahawks' defense is taking up where it left off last season, when it allowed the fewest points in the league. Seattle has allowed only 10 points in the first two games of 2013, holding the 49ers to a field goal a week after they scored 34 points against Green Bay. After 13 receptions against the Packers,
Anquan Boldin
had one catch for seven yards against the Seahawks. The "Legion of Boom" secondary had three interceptions -- one each for
Earl Thomas
,
Richard Sherman
and
Kam Chancellor
.
"Beast mode" is back:
After a disappointing effort in the first game,
Marshawn Lynch
got the running game going and scored three touchdowns Sunday night, two rushing and one receiving.
Okung injured:
The Seahawks lost Pro Bowl offensive tackle
Russell Okung
to a foot injury in the first half.
Paul McQuistan
moved from left guard to Okung's left tackle spot and struggled in the first half with 49ers linebacker
Aldon Smith
, but McQuistan improved in the second half.
Attendance record:
The crowd of 68,338 was the largest ever for a Seahawks game at CenturyLink Field, topping by seven spectators the previous mark (from 2007, against the 49ers).
What's next:
The Seahawks play host to Jacksonville next Sunday, a game that brings back former Seattle defensive coordinator Gus Bradley, who left at the end of last season to become the Jaguars coach.