NFC West:

2013 Week 3 Upon Further Review NFC
September, 2, 2014
Sep 2
8:00
AM ET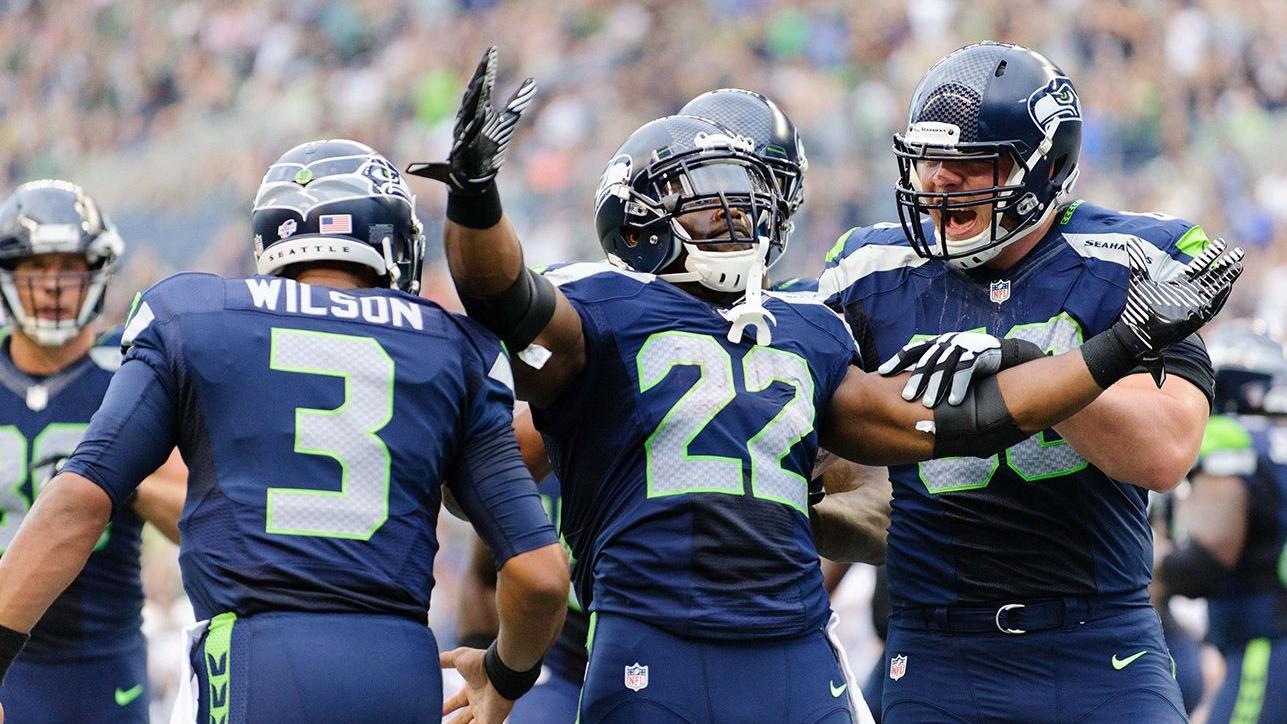 ESPN.com
Seattle Seahawks
reporter Terry Blount makes his game-by-game picks for the 2014 season.
Week 1: Green Bay Packers
All the pregame hype will center around the so-called Inaccurate Reception, the controversial Hail Mary catch by Golden Tate two years ago that won the game over the Packers at Seattle on a Monday night. Tate has moved on to Detroit, but the Seahawks now have too many weapons for the Packers to stop, no Hail Mary required. Prediction: Win
---
Week 2: at San Diego Chargers
The Chargers better hope they play a lot better than they did in the preseason game at Seattle, a 41-14 victory for the Seahawks on Aug. 15. San Diego will play better, but not good enough to beat a much better team. Prediction: Win
---
Week 3: Denver Broncos
The Broncos and their fans got a tiny bit of meaningless Super Bowl revenge in the preseason opener with a 21-16 victory over the Seahawks in Denver. Enjoy it while it lasts, boys. Repeating that outcome in Seattle is not an option. Prediction: Win
---
Week 5: at Washington Redskins
Traveling coast to coast to play on the road for a Monday night game is a tough task against any NFL opponent, and even tougher against quarterback Robert Griffin III. But the Seahawks catch a break in this one by coming off a bye week with plenty of time to prepare and be fresh for the journey. Prediction: Win
---
Week 6: Dallas Cowboys
Cowboys owner Jerry Jones gave Seattle a little bulletin-board material last month when he said the Seahawks were to blame for the increase in penalty flags during the preseason. There won't be near enough flags against Seattle for the Cowboys to win this one. Prediction: Win
---
Week 7: at St. Louis Rams
Any division game in the NFC West is a rugged battle. The Rams have a defensive line that gave the Seahawks problems a year ago. But they aren't strong enough overall to beat Seattle, even at home in their out-of-date dome. Prediction: Win
---
Week 8: at Carolina Panthers
The Seahawks were fortunate to win the season opener at Charlotte a year ago. That Panthers team was better than this one, but back-to-back road games against very physical defensive teams will end the Seattle winning streak. Prediction: Loss
---
Week 9: Oakland Raiders
Coming off their first loss of the season and returning home against an outmanned opponent, is there any doubt? Prediction: Win
---
Week 10: New York Giants
The Seahawks easily defeated the Giants 23-0 last year in New Jersey, a dress rehearsal for their Super Bowl victory at the same location -- MetLife Stadium. The Seahawks won't need a rehearsal to roll past the Giants in this one. Prediction: Win
---
Week 11: at Kansas City Chiefs
This likely will be a low-scoring game between two strong defensive teams. Odds are against any team that has to try to win by matching its defense against the Seahawks' D. Prediction: Win
---
Week 12: Arizona Cardinals
The last time the Cardinals played at CenturyLink Field was last December when they handed the Seahawks a 17-10 loss. That won't happen again unless the Seahawks get caught looking ahead to the 49ers game. The Seahawks don't look ahead. Prediction: Win
---
Week 13: at San Francisco 49ers
It's a Thanksgiving night, national TV game in the 49ers' shiny new stadium against the hated Seahawks. If San Francisco can't win this one, its time as a championship contender is over. Prediction: Loss
---
Week 14: at Philadelphia Eagles
This is the toughest part of the season for the Seahawks with back-to-back road games against likely playoff contenders. But the 10 days between games will help and be enough of a cushion to keep Seattle from losing two in a row. Prediction: Win
---
Week 15: San Francisco 49ers
This is a game that could decide which team wins the NFC West. No way the Seahawks lose to the 49ers twice in three weeks, especially not in front of a rabid full house of 12s. Prediction: Win
---
Week 16: at Arizona Cardinals
The Cardinals probably will be fighting for a playoff spot, and the Seahawks already will be in at 12-2. That difference will be just enough for Arizona to win at home in the same stadium where the Seahawks will win the Super Bowl a few weeks later. Prediction: Loss
---
Week 17: St. Louis Rams
For the second consecutive year, the Rams close the regular season in Seattle. And for the second consecutive year, the Seahawks will beat them without much trouble. Prediction: Win
---
Predicted Record: 13-3
September, 23, 2013
9/23/13
2:00
PM ET
An examination of four hot issues from the
Seattle Seahawks
'
45-17 victory
over the
Jacksonville Jaguars
:
[+] Enlarge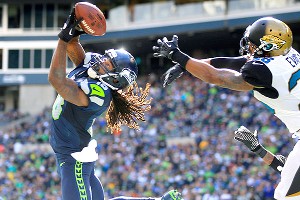 AP Photo/Stephen BrashearSidney Rice pulled in two touchdown passes in a 45-17 rout of the Jaguars.
A cleaner and better offense:
The Seahawks offense accomplished two big goals Sunday of cutting down on senseless penalties and getting off to a better start, especially in the passing game, than in the first two games. Seattle had only three offensive penalties for 20 yards.
Russell Wilson
threw four touchdown passes, including three in the first half, and
Tarvaris Jackson
also had a touchdown throw.
Was Pro Bowl tackle Russell Okung missed?:
Well, not much when you play a team as weak as the Jaguars, but the real question is whether it will hurt the Seahawks in coming weeks against better opponents. First up are the
Houston Texans
and monster defensive lineman
J.J. Watt
.
Paul McQuistan
had some good moments and some bad moments Sunday in Okung's left tackle spot. "He did alright and hung in there pretty nice," Seahawks coach Pete Carroll said of McQuistan. Carroll was happy rookie tackles
Michael Bowie
and
Alvin Bailey
got to play in the lopsided game. "To have a chance to get them in the game was awesome," Carroll said. "They got significant playing time."
An abundance of riches on the defensive line:
With the return of defensive end
Chris Clemons
, who looked good in pressuring the quarterback on passing downs, the Seahawks have a scary bunch up front. The coaches had a goal in the offseason to shore up the pass rush with free-agent acquisitions, and it worked. Defensive end
Michael Bennett
has been sensational. He had 1.5 sacks Sunday and a tackle for loss.
O'Brien Schofield
has been a solid contributor, starting at linebacker Sunday for injured
Malcolm Smith
. And defensive end
Cliff Avril
is another pass-rush specialist who adds to the attacking defense. Defensive end/linebacker
Bruce Irvin
will add to the depth in two weeks when he returns from suspension.
Staying focused:
The Seahawks pounced on the Jaguars from the outset, not allowing for any type of letdown or lack of effort against a lesser opponent. Seattle led 31-0 before Jacksonville scored. The Jaguars had only 20 yards rushing in the first half and only 44 yards passing. Seahawks running back
Marshawn Lynch
had 55 yards rushing in the first quarter on nine carries. Seattle came out smoking and had the game won by halftime, when they were up 24-0. The final score is misleading because the Seahawks were playing mostly reserves in the second half, and all of Jacksonville points came in garbage time long after the outcome was decided.
September, 23, 2013
9/23/13
12:30
PM ET
A review of four hot issues from the
Arizona Cardinals
' 31-7
loss
to the
New Orleans Saints
:
No stopping Jimmy:
The Cardinals shouldn't feel bad. Saints tight end
Jimmy Graham
is doing this to everyone he plays against. He finished with 134 yards and two touchdowns on nine catches, and just abused whoever the Cardinals sent out to defend him. However, stopping big tight ends has been troublesome for the Cardinals this season without linebacker
Daryl Washington
.
"I mean, he's tough," cornerback
Patrick Peterson
said. "He's a big body. It's hard to cover those big-body guys, especially by him being a basketball player. He knows how to maneuver his body real well and he did a great job of boxing us out and going up and getting the ball.
"All Drew has to do is throw it in his vicinity."
Everyone knew he was good when he averaged 65 yards per game, but he's at another level thus far in 2013, averaging 119 per game.
[+] Enlarge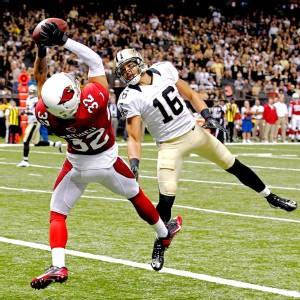 AP Photo/Bill HaberRookie Tyrann Mathieu, who intercepted this pass, is looking like a third-round steal.
Third-down progress?:
Winning can heal a lot, such as last week's 1-for-11 performance on third down. However, a loss and a 5-for-13 day on third downs? That won't please anyone. The Cardinals can't seem to figure out how to get first downs when the down marker rolls to third. Palmer was 3-for-11 on third-down dropbacks against New Orleans, according to ESPN Stats & Information. Just on third downs, Palmer was 4-for-9 for 46 yards, threw for three first downs and was sacked twice. And the Cardinals aren't looking for their best receiver on third downs, either. In the past two weeks, Palmer has targeted Fitzgerald just once on third downs in each game.
Mathieu proving himself:
Three games, three big plays. The cream of the rookie class may be rising from the third round.
Tyrann Mathieu
proved he doesn't just make big plays in the NFL, but he does it on the biggest stage. Sounds familiar? It's the storyline of his career. Mathieu had another play Sunday, intercepting
Drew Brees
in front of Mathieu's hometown crowd at the Superdome. Mathieu downplayed the pick, but it was hard to ignore the media attention he received. He could be the biggest steal of the 2013 draft when it's all said and done.
When it rains it pours:
Any time a player
tweets the words
, "God has a plan," attached to a photo of his foot on a private jet, it can't be good. Those words and that photo came from linebacker
Sam Acho
, one of three starters left Sunday's game and didn't return. He was out with an ankle injury, while linebacker
Lorenzo Alexander
suffered a foot injury and safety
Rashad Johnson
left the game with a finger issue. Injuries are a part of the game, and they can quickly derail a season (see: 2012), but the Cardinals have enough depth at those positions to help make up for their losses. With how poorly the offense played after that initial touchdown, the injuries were adding insult to literal injury.
September, 23, 2013
9/23/13
12:30
PM ET
A review of four hot issues from the
St. Louis Rams
'
31-7
loss to the
Dallas Cowboys
on Sunday.
Falling behind:
Getting off to a slow start has been an ongoing problem for the Rams in the first two weeks, but they raised (lowered?) the bar on themselves Sunday in Dallas.
[+] Enlarge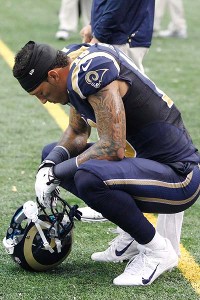 Tim Heitman/USA TODAY SportsWide receiver Austin Pettis, who had two receptions for 20 yards and one touchdown, reacts to the Rams' Week 3 loss in Dallas.
At halftime, the Rams trailed 17-0 with only 18 yards of offense and a single first down while having allowed allowed 202 yards and 12 first downs. It's hard to pinpoint why the Rams can't get off to a good start, but it's a problem they better fix in a hurry.
Defensive regression?:
The Rams were off to a good start defending the run in the first two weeks, limiting Arizona and Atlanta to 61 yards per game on an average of 2.9 yards per carry. Dallas running back
DeMarco Murray
erased any of that goodwill by trampling the Rams once again with 175 yards and a touchdown.
Pass defense was the primary issue for the Rams in the first two games, but the Cowboys didn't even need to attack St. Louis through the air. Supposedly the strength of the team this season, the Rams' defense has shown more signs of regression than progress through three weeks.
Running in place:
Starting running back
Daryl Richardson
left the game early after aggravating a foot injury and did not return. No matter, the running game picked up where it left off in the first two weeks, which is to say it was essentially nonexistent for the third week in a row.
Yes, the Rams fell behind early and were forced to throw to try to catch up, but even before that, the Rams showed no signs of a running game ready to break out. They attempted 12 runs and gained 35 yards, with the longest rush coming on an 11-yard gain by
Isaiah Pead
.
Suddenly,
Steven Jackson
"only" rushing for in the neighborhood of 1,000 yards doesn't sound so bad.
Special flags:
Jeff Fisher didn't agree with the majority of the four special teams penalties that went against his team last week in Atlanta, and it remains to be seen how he'll feel about the three more that went against the Rams on Sunday.
Nevertheless, those penalties happened, and this time, they were even more costly because the Rams earned two apparent infractions that wiped out a punt return for a touchdown by
Tavon Austin
. Field position remains a problem, and the biggest reason for it continues to be the team's penalty issues.
September, 23, 2013
9/23/13
12:00
PM ET
A review of four hot issues from the
San Francisco 49ers
' 27-7
loss
to the
Indianapolis Colts
:
Time without Smith:
It takes a major story to overshadow a second straight blowout loss by the defending NFC champion. After Sunday's loss, star pass rusher
Aldon Smith
vowed to restore his personal life. Team CEO Jed York announced Smith is leaving the team for an indefinite amount of time. Smith, who turns 24 Wednesday, was arrested on suspicion of drunk driving Friday morning. He is expected to seek treatment.
[+] Enlarge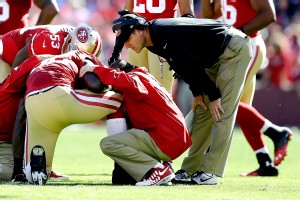 AP Photo/Ben MargotPatrick Willis left Sunday's game with a groin injury. The 49ers have a quick turnaround with a game on Thursday.
Banged-up stars:
Smith may not be the only key 49er not on the field Thursday night at St. Louis as they try to stop the bleeding. Star tight end
Vernon Davis
missed Sunday's game with a hamstring injury. It was his first missed game in six years. Also, late in the third quarter, star inside linebacker
Patrick Willis
left with a groin injury. It will be very difficult for him to return on a short week.
Michael Wilhoite
would likely replace Willis.
Kaepernick looks lost:
Quarterback
Colin Kaepernick
was brilliant in Week 1 at home against Green Bay. But his production has sagged in the past two games. He looked rattled, lacked confidence and was far from the superstar he looked like two weeks ago. It's not all Kaepernick's fault. The 49ers' receivers, other than
Anquan Boldin
, did not help him Sunday against the Colts and Kaepernick missed Davis. But here's the deal: Elite quarterbacks find a way to get the job done in bad situations. Kaepernick needs to show he can.
Run defense sags:
For years, the 49ers' toughness has been represented by their stout run defense. Sunday, the Colts had their way on the ground. They ran for 179 yards and three touchdowns on the ground. It was the highest mark the 49ers allowed in three seasons. Two years ago, San Francisco allowed three rushing touchdowns all season.