NFC West:

2013 Week 5 JAC at STL
October, 7, 2013
10/07/13
12:30
PM ET
An examination of four hot issues from the
St. Louis Rams
' 34-20
win
over the
Jacksonville Jaguars
:
[+] Enlarge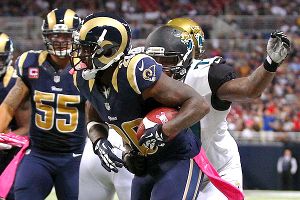 Dilip Vishwanat/Getty ImagesDarian Stewart's fumble recovery helped the Rams secure the win over the Jaguars.
A must not lose:
Credit to the Rams for doing exactly what they should do against winless Jacksonville: win. It didn't matter if they were playing the Jaguars, the '85 Bears or a high school team. The Rams needed a victory in the worst way after losing to Atlanta, Dallas and San Francisco.
In the postgame locker room, the Rams did not seem to have any delusion this was a cure-all or the season magically has been righted. Instead, there was an understanding that the win was important but there is still a lot of work to be done.
Giving new meaning to special:
The team's special-teams units continue to rack up penalties at a record pace, adding six more for 53 yards Sunday. One of those wiped out another long punt return from
Tavon Austin
.
For the season, the Rams now have 17 special-teams penalties for 145 yards on 101 plays. To put that in perspective, the offense and defense have combined for 16 penalties for 143 yards on 653 snaps.
At this point, a solution does not seem to be evident.
Stacy the starter?
In desperate need of a spark in the run game, the Rams found it in rookie bowling ball
Zac Stacy
. There was nothing flashy about Stacy's 14-carry, 78-yard performance but he was effective.
Stacy brings the hard-charging style that coach Jeff Fisher has always liked and showed the ability to get yards after contact that had been missing. Although he did it against Jacksonville's 32nd ranked run defense, he appears to be the best option from among the team's five running backs right now.
Stacy waited four games to get his first career start. His wait will be much shorter for No. 2.
Takeaway time:
For the first time this season, the Rams came out on the plus side of the turnover battle against the Jaguars. Two interceptions and a fumble recovery led to 14 points for the Rams, ultimately making up the final margin.
Since Fisher's arrival, the Rams are 3-1 when they are plus-3 or better in turnover margin. Each time, they have come out with a minimum of 13 extra points than the opponent.
The Rams defense has yet to show it can consistently stop teams so if it could develop a trend of getting turnovers and either scoring on the return (as safety
Matt Giordano
did) or turning it into offensive points right away (as they did following safety
Darian Stewart
's fumble recovery), it would go a long way toward more wins.
October, 6, 2013
10/06/13
7:30
PM ET
ST. LOUIS -- Whether rookie
Zac Stacy
turns out to be the
St. Louis Rams
' long-term answer at running back won't be determined for a long while.
But for one day at least -- even against Jacksonville's league-worst rush defense -- Stacy was the cure for what's ailed the Rams' running woes.
"I thought Zac did a great job today," quarterback
Sam Bradford
said. "I think he showed everyone what he was about. He ran hard, he ran physical, he ran downhill. I don't think you could ask for much more from him today."
[+] Enlarge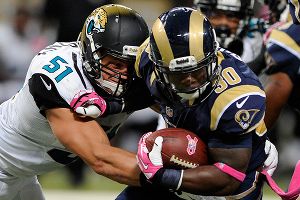 AP Photo/L.G. PattersonZac Stacy brings a physical element to the Rams' running game that had been missing.
After teasing some adjustments to the running game after a performance that yielded 18 yards on 19 carries against San Francisco, Rams coach Jeff Fisher followed through by taking the reins from
Daryl Richardson
and handing them to Stacy as the rookie from Vanderbilt made his first career start.
For most of last week, it was Stacy getting the bulk of the work with the first-team offense. Later in the week, the Rams informed him he'd be the starter. Undeterred by the moment, the workmanlike Stacy simply went about his business against the Jaguars.
Although his day ended a bit earlier than he would've liked after leaving with a late rib injury, Stacy finished with 78 yards on 14 carries. His longest gain was 12 yards, which means he was moving forward more often than not when he got his chances.
Unlike the other backs on the roster, Stacy brings a more powerful running style that had been missing in the first four weeks. The Rams were 30th in the league in yards after contact going into Sunday's game with an average of 1.15 yards after contact per rush.
Yes, the offense had struggled to run block entering the game but Richardson,
Isaiah Pead
and
Benny Cunningham
hadn't exactly been running through arm tackles or making defenders miss in the open field. Stacy didn't do much of the latter Sunday but he did plenty of the former.
"He was just running very physical," receiver
Austin Pettis
said. "I think that was the biggest thing that we needed. We were kind of secondary running in the first couple games and it wasn't working out for us. Whether it was a 10-yard run or a 2-yard run, he was sticking his nose in there and making sure he was going to get some yards for us positively. I think that opened up so much for us offensively."
Stacy's 78 yards were more than the Rams had posted in their Week 2 game against Atlanta, a 69-yard outing that was the team's best performance until Sunday. Acting as the jump-starter for the running game, Stacy keyed a rushing performance that yielded 143 yards on 36 carries. That average would've been even better were it not for some late Bradford kneel downs.
"It's definitely a confidence booster for the run game," Stacy said. "Coach Fisher, he loves that physical type of runner and that's one thing that we all emphasize in the running back room. We want to bring that physicality out there on the field so it was pretty much what we emphasized all week."
To be sure, one solid performance against the league's worst rushing defense doesn't mean the Rams have found the magic potion to suddenly be the power running team they once were with
Steven Jackson
at running back.
There's little doubt that Stacy brings more of that physical presence than any of his fellow backs and has at least earned another start next week in a game that should be right up his alley against Houston.
"It's one game but that's pretty much the mentality I have week in, week out, being productive, being consistent," Stacy said.
So long as Stacy continues to do what he did Sunday, he'll be doing something else consistently: starting.
October, 6, 2013
10/06/13
6:30
PM ET
ST. LOUIS -- Looking back at three things worth watching from the
St. Louis Rams
' 34-20 win against the
Jacksonville Jaguars
on Sunday.
1. Revving the run. No, seriously this time.
[+] Enlarge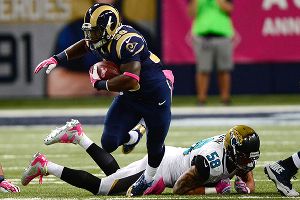 Jeff Curry/USA TODAY SportsZac Stacy had arguably the best performance for a Rams running back this season.
For the first time since the Atlanta game, the Rams showed some signs of life in the running game as rookie
Zac Stacy
got the start.
Stacy didn't break any particularly long runs or even score a touchdown but he showed a knack for falling forward after contact and even made a couple of tacklers miss.
The results were enough to keep the offense somewhat balanced and keep some drives moving. He finished with 78 yards on 14 carries, an average of 5.6 yards per attempt.
Yes, Jacksonville had the worst rush defense in the league entering the game but the Rams had the worst rush offense. Stacy provided a spark.
2. Slowing the run.
While Jacksonville's run defense entered Sunday as the worst in the league, it's rushing offense was better only than the Rams. The hope for the Rams was that they'd be able to get the ship righted against the Jaguars after San Francisco and Dallas gashed them for an average of 206 yards the past two weeks.
For most of Sunday's game, the Rams showed marked improvement, holding Jacksonville to 46 yards on 14 first-half carries but Jacksonville found a little room in the second half, gaining 50 yards on 11 tries as it tried to mount a late comeback.
Either way, the Rams fared much better against the run in holding the Jaguars to 3.8 yards per attempt on 25 tries and, at least for this week, stopped the bleeding.
3. Secondary first priority.
The Rams were banged up in the secondary with injuries to safety
T.J. McDonald
and cornerback
Cortland Finnegan
forcing them to play three safeties in the nickel package in the form of
Rodney McLeod
(as the slot corner),
Matt Giordano
and
Darian Stewart
.
That personnel grouping was on the field often against Jacksonville and though it was far from perfect, it was enough to come up with some big plays, especially Giordano and Stewart.
After the Rams got burned for a long touchdown in the first quarter, Giordano answered with a gift-wrapped interception he returned 82 yards for a touchdown to tie it up.
Later, Stewart forced and recovered a fumble to set up a touchdown gave the Rams a 17-10 lead they'd never relinquish. In the unofficial pressbox statistics, Giordano had four tackles and a pass defended to go with his pick-six and Stewart chipped in six tackles and the aforementioned forced fumble and recovery.
October, 6, 2013
10/06/13
4:08
PM ET
ST. LOUIS -- A few thoughts on the
St. Louis Rams
'
34-20 win
against the
Jacksonville Jaguars
.

What it means:
The Rams did exactly what they were supposed to do, defeating lowly Jacksonville, though they found a way to make it interesting, particularly early in the game.
Given the struggles of the Jaguars, it's difficult to glean much from this in terms of what it means for the Rams big picture. They did many of the things they've been struggling to do better but again, the opponent clouds the picture.
Still, the Rams needed a win to break their three-game losing streak and they got it.
Stock watch, up:
RB
Zac Stacy
. His longest run went for 12 yards and he finished with only 78 yards on his 14 carries but that's not the point. The Rams' running game has been nonexistent most of the season and Stacy at least showed the ability to keep piles moving, make an occasional tackler miss and actually gain yards after contact. He may have hit 100 yards if not for a late rib injury.
Stock watch, down
: The special-teams units. It'd be hard for the stock of the return teams to drop much further but the coverage units had been strong most of the season. On Sunday, the Rams' special teams were responsible for six penalties for 53 yards, including one that wiped out a long return from
Tavon Austin
.
Johnny Hekker
also had a punt blocked. The Rams have more penalties on special teams than they do on either offense or defense through five games.
Turnovers key:
The final score made it look like a fairly comfortable win for the Rams but the numbers actually tilt quite favorably to Jacksonville. The difference, as is often the case, was turnovers.
Safety
Matt Giordano
took a gift interception 82 yards for a touchdown and the Rams turned a
Darian Stewart
fumble recovery into a
Lance Kendricks
touchdown. That's a step forward for a team that hasn't often made the most of such chances this season.
The scarier thought for Rams fans is what might have happened without those takeaways.
What's next:
The vacation is over as the Rams have a difficult two-game road trip against Houston and Carolina. From there, they return home to play Seattle on Monday night to reach the midway point.

NFC WEST SCOREBOARD
Friday, 8/22
Saturday, 8/23
Sunday, 8/24