NFC West:

2013 Week 6 Upon Further Review NFC
October, 14, 2013
10/14/13
3:22
PM ET
A review of four hot issues from the
Arizona Cardinals
' 32-20 loss to the
San Francisco 49ers
.
[+] Enlarge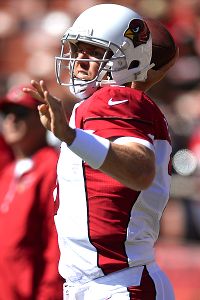 Thearon W. Henderson/Getty ImagesAfter a rocky start, Carson Palmer found a nice rhythm Sunday.
There is an offense:
All it took for the Cardinals offense to come to life were two interceptions by quarterback
Carson Palmer
in the game's first six minutes. Then it was like a switch was flipped and Palmer was making passes we haven't seen since the first couple weeks of the season. He was threading needles and lofting fades perfectly over defenders -- both types of passes that were picked off at various times this season. And Arizona coach Bruce Arians went to the run game early in the second half, which provided a much-needed balance and slowed the pass rush, giving Palmer more time in the pocket to make better passes. It's all a domino effect.
Stick figures:
Arians has shown a penchant for going to rookies on third down. He has done it with running backs
Stepfan Taylor
and
Andre Ellington
, and wide receiver
Jaron Brown
. But that might need to change. Arians -- like every other coach -- teaches his players to run third-down routes to the sticks, meaning the first-down marker. Each time Palmer went to one of the rookies Sunday on third down, they came up a yard short. Granted, the Niners were sitting back on defense, keeping their secondary on the first-down line, but the rookies couldn't get the first down and drives faltered. They need to be taught to run their routes a yard or two past the sticks.
Long day on D:
Try
running into someone at full speed at the same level for three straight hours. Oh, you can't? Neither can a defense. The Cardinals began to wear down in the third and fourth quarters because they were on the field so much. After a while they couldn't do the simplest of tasks, such as run the assigned scheme. Even Arians said the defense was on the field for too long, a sign the offense couldn't hold on to the ball enough. But don't ask Arians if his defense ran out of gas. "You can't run out of gas. There is no such thing as run out of gas. Just kick somebody's ass and you'll be all right and you'll get off the field."
Two points now or later?
Arians has always been a creative mind, but he might have outsmarted himself Sunday. He went for two midway through the third quarter and used cornerback
Patrick Peterson
as the quarterback in a gadget play, the same one Peterson ran against Detroit. But Peterson held on to the ball a moment too long and missed an open
Larry Fitzgerald
in the back of the end zone. But Arians went for two a little early. Had he taken the extra point, the Cardinals would've been within one, then within eight. All manageable down the stretch.
October, 14, 2013
10/14/13
2:00
PM ET
An examination of four hot issues from the
Seattle Seahawks
20-13
win
over the
Tennessee Titans
:
[+] Enlarge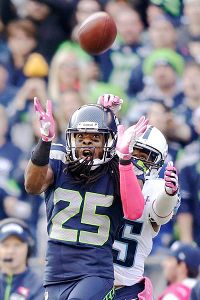 AP Photo/Scott EklundRichard Sherman and the defense held the Titans offense to just two field goals Sunday.
Defense corrects recent problems:
Seattle's defense did not allow the Titans to reach the end zone. The only touchdown for Tennessee came of a 77-yard return by
Jason McCourty
of a botched field-goal attempt on the last play of the first half. The defense held Tennessee to two field goals, and the Titans rushed for only 66 yards on 20 carries. And the Seahawks' defense didn't give up the big plays that have hurt them the past two games. "We cleaned up the things we needed to clean up," said cornerback
Richard Sherman
, who had one of two Seattle interceptions.
Pass blocking is improving:
Quarterback
Russell Wilson
was sacked twice Sunday, but one was a running play for no gain.
Max Unger
returned at center and coach Pete Carroll was pleased overall. "Solid, he said. "A good job in pass protection. They gave Russell a ton of time. He ran when he needed to as opposed to when he had to. I thought it was the best pass protection in the last few weeks. I think Max had something to do with it, for sure."
Browner take a seat:
Cornerback
Brandon Browner
was having a hard time covering Tennessee receiver
Kendall Wright
in the first half, so the coaches took him out of the game and inserted
Walter Thurmond
, who started the first two games this season when Browner had a hamstring injury. "We just gave [Browner] a break," Carroll said. "They were going after him. We have plenty of guys to play and I wanted to make sure we were fresh. I had a chance to talk to [Browner] about some of the stuff that was going on in the first half. I just told him we were going to go with the other guys for a little bit. Brandon is an excellent football player. He did a nice job in the second half."
Help is coming on offense:
Carroll emphasized some of the issues the offense is having likely will improve soon with players who will get back on the field, including tight end
Zach Miller
and receiver
Percy Harvin
. "We have some guys that are going to juice us up in a couple of weeks," Carroll said. "Zach will be back next week for sure. Percy is coming around the corner." Miller missed the past two games with a hamstring injury. Harvin has yet to play a game in a Seahawks uniform after undergoing hip surgery Aug. 1.
October, 14, 2013
10/14/13
12:30
PM ET
HOUSTON -- A review of four hot issues from the
St. Louis Rams
' 38-13
win
over the
Houston Texans
:
Stacy's the one:
Two weeks into his tenure as the Rams' starting running back, rookie
Zac Stacy
has proved he should be getting the bulk of the work. Stacy's fearless style allows him to run between the tackles with the type of abandon that moves the chains and allows the Rams to have a much-needed second dimension for the offense.
[+] Enlarge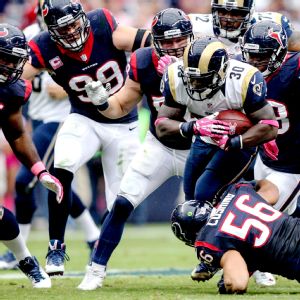 Troy Taormina/USA TODAY SportsZac Stacy is averaging 2.42 yards after contact per carry the past two weeks.
Stacy finished Sunday with 18 carries for 79 yards and is averaging nearly 4.9 yards on the 32 carries he's had the past two weeks. Stacy's ability to pick up yards after contact has helped him convert eight first downs over the past two weeks and average a solid 2.42 yards after contact per carry.
Maybe Stacy won't wow anyone with speed or dazzle with moves in the open field, but his straightforward, no-nonsense style is exactly what the Rams need.
Special teams surprise:
The Rams' issues with special teams penalties have been well documented, especially in this space, but when credit is due, it needs to be given. The Rams showed improved discipline on special teams, committing just one infraction (an illegal procedure penalty for kicking the ball out of bounds on
Greg Zuerlein
) though they didn't have many punt-return opportunities.
Still, the Rams' coverage units have quietly been outstanding all season, and that surfaced Sunday as the group scored a touchdown while covering a kickoff when linebacker
Daren Bates
recovered a fumble and returned it 11 yards for the score.
Run D woes:
It can be hard to nitpick a team when it wins, but it's not really nitpicking when the one weakness the Rams showed was so glaringly obvious. To nobody's surprise, Houston gashed the Rams for 153 yards on the ground with an average of 5.1 yards per carry. Aside from a bit of progress last week against Jacksonville, run defense has been an ongoing issue.
The Rams did a good job of keeping the Texans out of the end zone, but they are now 31st in the league in run defense, allowing 130.5 yards per game on the ground. With teams like Carolina and Seattle lurking, the Rams need to find solutions sooner rather than later.
Red zone success:
It seems as though the Rams have been dealing with red zone issues, especially on offense, for the better part of the past decade. Quietly, that appears to have changed in the first six weeks of this season. They converted all three trips inside the 20 into touchdowns against Houston and now sit third in the league in red zone efficiency, scoring a touchdown two thirds of the time.
The defense has been fairly solid in its own right, holding opponents to a red zone efficiency of 52.4 percent, 13th in the league. That unit denied Houston on four of its five trips inside the Rams' 20.
October, 14, 2013
10/14/13
12:00
PM ET
SANTA CLARA, Calif. -- A review of four hot issues from the
San Francisco 49ers
' 32-20
win
over the
Arizona Cardinals
:
Davis has huge game:
Tight end
Vernon Davis
had a brilliant game with eight catches for 180 yards. He tied for the third-most yards by a tight end in a game in the past 20 years. San Francisco quarterback
Colin Kaepernick
connected with six other receivers for a total of 72 yards. The 49ers' passing game revolves around either Davis or
Anquan Boldin
. Sunday, Davis carried the day as he had 171 receiving yards in the first half.
[+] Enlarge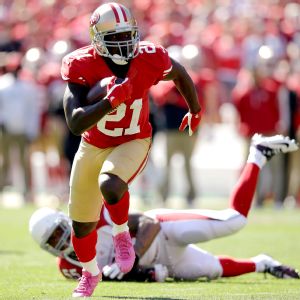 Ezra Shaw/Getty ImagesFrank Gore rushed for 101 yards on 25 carries against the Cardinals.
Grinding the meat:
The 49ers' had 149 yards rushing and starter
Frank Gore
had 101 yards on 25 carries. Gore is averaging 104.3 yards over the past four games. The 49ers are 3-1 in those games. The 49ers relied on the ground game on an 18-play, 89-yard drive that culminated in a touchdown to give San Francisco a nine-point lead late in the game. Coach
Jim Harbaugh
said the 49ers were "grinding the meat" during the drive.
Rookies continue turnover craze:
The rookie class is making a difference for San Francisco. First-round pick
Eric Reid
had an interception and a fumble recovery. Third-round pick
Corey Lemonier
had a sack for a safety and forced a fumble. The 49ers forced four turnovers. They have created 10 turnovers in the past three games.
Discipline continues to get better:
The 49ers were penalized just four times on Sunday. They have been flagged a total of seven times in the past two games after being flagged 39 times in the first four games. Earlier in the season, San Francisco was committing silly penalties (especially on defense) at an alarming rate. They hurt the team in losses to Seattle and Indianapolis. It seems like they have cleaned the issue up, which is vital moving forward.