NFC West:

2013 Week 7 SEA at ARI
October, 18, 2013
10/18/13
3:15
AM ET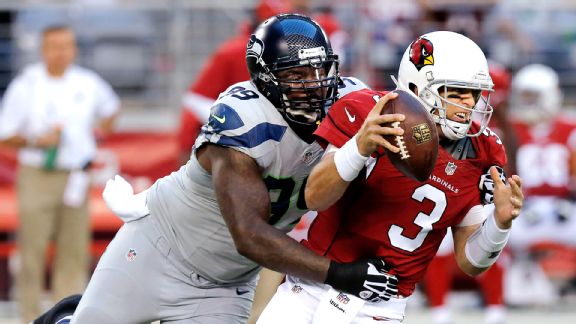 AP Photo/Ross D. FranklinThe Arizona offensive line allowed Carson Palmer to be sacked seven times on Thursday.
GLENDALE, Ariz. -- Maybe now Bruce Arians sees the dominance in Seattle and San Francisco that everyone else has talked about.
Before he took over as Cardinals coach, Arians had the bravado of a man trying to revive a lifeless franchise. Upon signing quarterback
Carson Palmer
, Arians said the Cardinals' quarterback room "is as strong as any in the National Football League." Upon signing running back
Rashard Mendenhall
, Arians said he could "carry a team to a Super Bowl." At least twice, Arians called former left tackle
Levi Brown
"elite."
And then in August, in the middle of training camp, Arians questioned the well-documented success of his new NFC West rivals.
"I don't see the dominance that everybody else talks about," he said. "One of those teams may be. It still has to be played on Sunday."
After a week that started with a 32-20 loss at San Francisco on Sunday and ended with a
34-22 defeat
at the hands of Seattle on Thursday, Arians saw first-hand that the top of the division is good. Very good.
But, more so, he found out how far his team has to go to be on their level.
There are parts of this Cardinals team that exude dominance. The defense has regularly flexed its muscle and did so again Thursday, slowing Seattle to 135 yards on the ground -- its second-lowest output this season -- and holding
Russell Wilson
to his third-worst passing outing of the year in terms of QBR. The defense created 10 of the Cardinals' 22 points, setting the offense up at the Seattle 3- and 15-yard-lines after creating turnovers. The first led to a touchdown and the second a field goal.
But while the defense was doing its part, the offense continued to sputter.
For the second consecutive game, the Cardinals had an NFC West foe within striking distance but couldn't find a way to overtake it. They're like a song on repeat that gets louder each time it plays. The issues at hand aren't anything new -- interceptions and an inability to protect Palmer or run the ball -- but they're prohibiting Arizona from making a legitimate run at the NFC West.
Fix them and the Cardinals aren't 3-4 with Atlanta coming to the desert in 10 days. But how do you fix them?
After a 5-11 season in 2012, the Cardinals thought a new coach, new offense, new quarterback and a (mostly) new offensive line would solve at least some of the problems. But the rebuilding process has been slow, and this season is already looking a lot like the last.
Fixing this team is easier said than done, but it starts and ends with the offensive line.
[+] Enlarge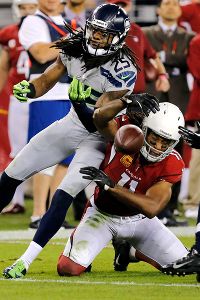 AP Photo/Ross D. FranklinLarry Fitzgerald was targeted just five times, and finished with two catches for 17 yards.
The Cardinals are struggling with simple football. They haven't been dominating the line of scrimmage, which prevents them from establishing a run game. If the Cardinals could run the ball it would spread the defense and water down the pass rush, which means left tackle
Bradley Sowell
wouldn't have been dealing with the swell of
Chris Clemons
,
Cliff Avril
and
Bruce Irvin
coming in waves Thursday. It would also give Palmer more time to throw and make better decisions.
It's like dominos. If the men up front can't establish themselves at the line of scrimmage, the whole offense begins to crumble. Thursday, Palmer was getting hit early in the first quarter. It ended seven sacks later. In early October, the Cardinals thought a change at left tackle would be the answer. They traded Brown and moved Sowell in as starter. General manager Steve Keim predicted Sowell would take his lumps, but nobody expected him to struggle this mightily.
"I don't know if they're figuring me out or whatever, (but) you get into third-and-long all game, you get into the 2-minute drill in the middle of the third quarter, and it's one-on-one battle," Sowell said. "They don't honor the run, it's one-on-one battles.
"We're passing every play, I've just got to buckle down and do a little bit better job."
Palmer continues to force balls into holes, and twice Thursday he turned receivers into defensive backs. Palmer's first pick, with Arizona down 7-0, derailed a drive in the first quarter that had already picked up 24 yards, including a third-down conversion. His second, with the Cards down 24-13, did almost the exact same thing. But when the protection breaks down, Palmer isn't able to make plays on the run.
Mendenhall was supposed to be the veteran running back that gave the Cardinals a reliable option they haven't had in the past. As the season has worn on, the running game has shown glimpses of potential, but 30 yards on 18 carries Thursday isn't enough in this league.
Blame has been put on the new offense installed by Arians. It's too complex. The playbook is too big. It has too many formations. And while there are still instances of players, especially receivers, looking like they don't know where to line up seven weeks into the season, the scheme isn't to blame.
In the glimpses we've seen, Arians' offense can look like the well-oiled machine it was in Pittsburgh and Indianapolis. Palmer has made the plays. But like everything that's built, it needs a foundation. And for the Cardinals, that's the offensive line.
When the line improves, the offense will begin to build. Until then, however, the top of the NFC West will seem as far away as the top of a skyscraper.
October, 18, 2013
10/18/13
3:00
AM ET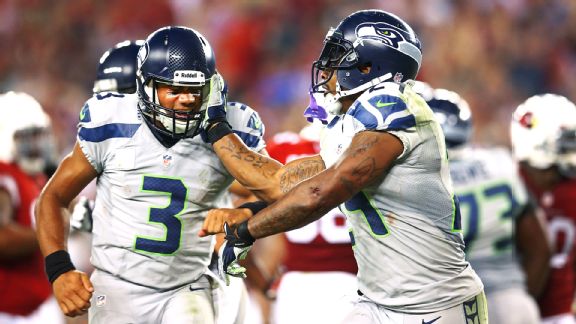 Mark J. Rebilas/USA TODAY SportsRussell Wilson didn't let his fumbles get him down, and ended up with three TD passes and the win.
GLENDALE, Ariz. --
Russell Wilson
fumbled three times Thursday night and lost two of them, which resulted in 10 points for the
Arizona Cardinals
.
If that's what you take away from his performance, you've greatly missed the point. You just have to see it to believe it.
Despite constant pressure that caused Wilson to take a beating, the
Seattle Seahawks
quarterback was remarkable once again in leading his team to a
34-22 victory
at University of Phoenix Stadium.
Wilson threw three touchdown passes and no interceptions, completing 18 of 29 throws for 235 yards and ending the night with a 122.1 passer rating. And while those numbers won't wow anyone -- Wilson is not going to put up the gaudy stats of a
Peyton Manning
or a
Drew Brees
-- he is going to do whatever it takes to win.
"It's an honor to play alongside him," Seattle receiver
Golden Tate
said about Wilson. "He's grown tremendously. I'm very proud of him. He's such a dangerous quarterback with his speed and his arm. He's definitely our leader."
Yes, Wilson has a lot of help. He plays on one of the best teams in the NFL. His running back,
Marshawn Lynch
, rushed for a rugged 91 yards and dragged would-be tacklers down the field at times.
His receivers made huge plays -- a leaping touchdown grab by tight end
Zach Miller
, a touchdown and a drive-saving scoop-catch by
Sidney Rice
and 77 receiving yards for Tate. And the Seattle defense had a season-high seven sacks along with two interceptions.
Wilson, as always, gave his teammates all of the credit. He praised Rice for getting open consistently and said it was huge to have Miller back. Of Lynch, he asked, "Can anybody be any tougher?"
Yes, one man can. Wilson is the guy who makes this team special, the one player who each week overcomes every obstacle placed in front of him.
"Russell does what he does,'' Rice said. "He extends plays, gets outside the pocket and gets first downs. He just makes plays happen."
The last time Wilson played in this stadium was the first game of his NFL career, a 20-16 loss in last season's opener. He is 18-6 since that day.
"I think I've grown so much since then," Wilson said. "And our football team has grown, too. We're just trying to be the best team every week."
Seattle coach Pete Carroll marvels at what he sees from Wilson.
"I don't know what we would do without him," Carroll said. "We would be a much different team. I don't know how you can measure it at this point. He has become such a special aspect of our team. He's instrumental to everything we do."
There might not be another player in the NFL whose statistical numbers are less reflective of how much he does and how well he does it. Wilson consistently makes the key play that keeps a drive alive and puts points on the scoreboard.
Here are just two examples from Thursday night:
On their first possession, the Seahawks had a first down at the Arizona 31-yard line. Wilson was pressured out of the pocket, something that happens most of the time with an offensive line that's missing both starting tackles. Wilson rolled to his right but was running backward to avoid the defenders chasing him. Nevertheless, he let fling a perfect pass downfield to a streaking Rice, who made the catch near the sideline for a touchdown.
Try that sometime -- while running backward, throw the ball 40 yards forward right to where it needs to be.
But that wasn't Wilson's most athletic play of the night. That came on a third-and-3 at the Arizona 48 when Seattle held a slim 17-13 lead in the third quarter. Cardinals linebacker
Daryl Washington
chased down Wilson, who had scrambled to his left. Washington had him. Wilson was going down. But a split second before he hit the turf, Wilson somehow shoved a pass to Miller for a 6-yard gain and a first down to keep a touchdown drive alive.
"That was a huge play," said Arizona coach Bruce Arians. "Most quarterbacks, the referee would have blown that down. But Wilson is such a great athlete that the referee let him continue playing."
Wilson was sacked three times Thursday, but that doesn't come close to expressing the punishment he took from the Cardinals' defensive line. Officially, Arizona had nine quarterback hits, and Wilson also was knocked flat on his back by defensive end
Calais Campbell
on a failed fourth-and-1 quarterback sneak.
The Cardinals knocked the ball out of Wilson's hands three times, recovering it twice. One came at the Seattle 5-yard line, setting up a touchdown. Another led to an Arizona field goal.
Wilson never wavered. He never became flustered. He never does. He gets up, shakes it off and comes right back at you every time.
"Russell is always accountable," Tate said. "He comes out the next series ready to sling it. He didn't let those turnovers affect the way he plays."
Tate stopped and shook his head, then said: "You just have to admire him."
October, 18, 2013
10/18/13
1:10
AM ET
GLENDALE, Ariz. -- Observed in the locker room after the
Arizona Cardinals
'
34-22 loss
to the
Seattle Seahawks
:
No QB considered:
Cardinals coach Bruce Arians never considered replacing quarterback
Carson Palmer
despite two interceptions, mainly because Arians didn't think the interceptions were entirely Palmer's fault. The first, Arians contended, was an "obvious pass interference" while the second was a poor decision.
Sowell
Taking the heat:
Left tackle
Bradley Sowell
didn't shy away from questions about his rough outing. He sat in front of his locker and answered everything thrown his way. The consensus was that when the Cardinals were forced to pass, Seattle was able to rear back and bring the pressure on Sowell without regret.
As it comes:
Wide receiver
Andre Roberts
was targeted three times in the first quarter and then not again until late in the game, but he wouldn't complain. Roberts said that even though, as a receiver, he wants the ball on every possession, he's content with whatever comes his way.
No sleep until a win:
Palmer doesn't expect to sleep as he dissects the loss and replays every decision, good and bad, all night.
October, 18, 2013
10/18/13
1:00
AM ET
GLENDALE, Ariz. -- Observed in the locker room after the
Seattle Seahawks
'
34-22 win
over the
Arizona Cardinals
:
High-fives for the defense:
Seattle had a season-high seven sacks among eight players. "We're taking advantage of all our depth,'' said linebacker
K.J. Wright
. "The rotation is really good. Everybody is getting a piece of the action."
Browner
Praise for Wilson:
Receiver
Golden Tate
is amazed at what he continues to see from
Russell Wilson
, who threw three touchdown passes despite being under constant pressure. "He's grown tremendously," Tate said. "I'm very proud of him and very happy to be playing with him. He's such a dangerous quarterback with his speed and his arm. He's definitely our leader."
Sherman teases Browner:
Richard Sherman
was giving fellow cornerback
Brandon Browner
a hard time about stumbling and falling down before reaching the end zone on what would have been a 50-yard pick-six. "I'm giving his knees a hard time," Sherman said, looking at Browner. "His knees collapsed on him. But that's my boy. He's known pay dirt before, so he wanted to let
Marshawn [Lynch]
get another touchdown."
October, 17, 2013
10/17/13
11:50
PM ET
GLENDALE, Ariz. -- A few thoughts on the
Seattle Seahawks
'
34-22 victory
over the
Arizona Cardinals
on Thursday night at University of Phoenix Stadium:

What
it means:
The Seahawks move to 6-1 this season and 2-0 in the NFC West. And forget about the theory that Seattle can't get it done on the road. The Seahawks are 3-1 away from home this season and 6-2 since last December. The 34 points Thursday were the most on the road this season for Seattle.
Stock watch:
Russell Wilson
fumbled three times, losing two deep in Seattle territory that led to 10 points for Arizona. But believe it or not, Wilson had another exceptional game. He was under enormous pressure most the night, and still Wilson threw three touchdown passes, ran the read-option to perfection and made one remarkable completion on third down as he was falling down to keep a touchdown drive alive.
Browner trips himself:
Cornerback
Brandon Browner
made a third-quarter interception at the 50 and appeared headed for a pick-six. Only one problem. He tripped and fell down just before reaching the end zone. No doubt his teammates will rib him about it. Even coach Pete Carroll was laughing at Browner on the sideline, but it was a huge interception that led to a 31-13 Seattle lead. Cardinals quarterback
Carson Palmer
had picked on Browner all game, but tried it one time too many.
Sack-happy:
The Seahawks' defensive front had its best game of the season, with seven sacks among eight players.
Prime-time heroes:
The Seahawks now are 7-1 in games on Monday, Sunday and Thursday nights since Carroll took over as coach in 2010.
What's next:
The Seahawks will take a well-deserved three days off before returning to practice to prepare for a Monday night game in St. Louis on Oct. 28, another NFC West matchup. The big news of the week could be wide receiver
Percy Harvin
returning to practice in some capacity, which would bring tons of media attention as to whether Harvin might play at St. Louis. That's unlikely, but speculation will be rampant.
October, 17, 2013
10/17/13
11:49
PM ET
GLENDALE, Ariz. -- A few thoughts on the
Arizona Cardinals
' 34-22
loss
to the
Seattle Seahawks
.

What it means:
There are few things that will help this offense besides a personnel change. Yet again, the defense put the Cardinals in position to make a splash, even pull off an upset, but the offense couldn't capitalize. The season is seven games old and routes are still not being run properly as receivers can still be seen asking one another for help. The defense took a little while to come to life, but when it did it played like one of the league's top units despite having to battle Seattle running back
Marshawn Lynch
.
Stock watch:
Calais Campbell
played Thursday as if he didn't just walk out of a Bay Area hospital on Sunday after suffering a bruised spine. The defensive end seemed to be everywhere, blowing up the line of scrimmage to help the Cardinals force Seattle quarterback
Russell Wilson
to lose two fumbles. He seemed hesitant at first but was able to shake the nerves and perform, proving his status as an elite player.
Finding his groove:
Linebacker
John Abraham
was signed as the NFL's active sacks leader with 122, but he entered Thursday's game without any this season. That changed early in the third quarter when Abraham got the first of two on the day. With Abraham finding his sack rhythm, it's just another weapon on the Cards' defense and a handy one coming from the outside.
Unprotected sacks:
Yet
again, protecting
Carson Palmer
was among the primary issues dogging the Cardinals. Palmer was sacked a season-high seven times by the Seahawks. With every game left tackle
Bradley Sowell
plays, the book gets written on how to beat him. Seattle appeared to have read it. Sowell was blown by at least twice by defensive end
Chris Clemons
.
What's next:
The Cardinals have nine days off before hosting the
Atlanta Falcons
on Oct. 27 at University of Phoenix Stadium.

NFC WEST SCOREBOARD
Friday, 8/22
Saturday, 8/23
Sunday, 8/24