NFC West:

2013 Week 8 Upon Further Review
October, 29, 2013
10/29/13
12:30
PM ET
ST. LOUIS -- A review of four hot issues from the
St. Louis Rams
'
14-9 loss
to the
Seattle Seahawks
.
The final sequence:
Much to the credit of quarterback
Kellen Clemens
and the Rams offense, they put together an impressive drive on the game's final possession. A drive that started at their 3 put them within a yard of a game-winning touchdown and a play to pull off the upset in regulation. The final drive had proved to be a clinic on run-pass balance with seven called runs and six called passes (one was nullified by a Seattle penalty). All of those play calls had worked well and the continued use of the run game had Seattle off balance. It all made sense. Until the final play. On fourth-and-goal at the 1, the Rams called for a pass that coach Jeff Fisher said was designed to give Clemens multiple options while getting the ball out of his hand fast. Running back
Zac Stacy
was injured earlier in the quarter but had run twice on the drive for 26 yards. After getting his sprained ankle rewrapped, there was some confusion on the sideline on third down. He entered on fourth down, though, and it looked like at the very least he could serve as a decoy. Instead, the Rams split him out wide, leaving no threat of the run in the backfield with Clemens against a blitzing Seattle defense which sold out to get after the quarterback. From there, Clemens' read was to throw what amounts to a touch pass to receiver
Brian Quick
in the corner of the end zone. It fell incomplete and the Rams lost, leaving many Rams fans still scratching their heads.
[+] Enlarge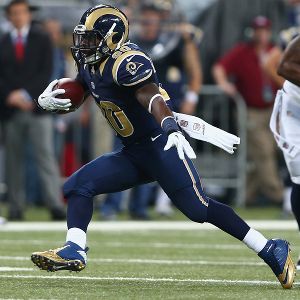 Andy Lyons/Getty ImagesZac Stacy rushed for 134 yards in Monday night's loss to the Seahawks.
A big miss:
It's probably unfair to put much of the blame for Monday night's loss on Rams kicker
Greg Zuerlein
. Zuerlein had been perfect entering the game and already had been good on all three of his field goal tries. But when he offered up his first miss of the season -- a 50-yarder that doubled as his longest try of the year -- you couldn't help but feel it would be costly. As it turned out, Zuerlein's miss was crippling because the offense proved incapable of scoring a touchdown to overtake Seattle on that final drive. Had Zuerlein connected on the 50-yarder, the Rams would have had a chip shot to win it on the final drive.
Stacy's the guy:
Entering Monday night's game, Stacy's early success had come into question because it came against porous run defenses such as Jacksonville and Houston. With the help of an offensive line that was blowing Seattle's sixth-ranked run defense off the ball, Stacy erased all doubt Monday night. Known for getting yards after contact, Stacy had big enough holes most of the night that he was able to rely on his vision and balance more than ever as he recorded 90 of his 134 rushing yards before contact. For the Rams' sake, they better hope Stacy's ankle injury isn't anything serious because he's really settling into a groove.
Defense isn't enough:
The Rams defense put on a show Monday night, racking up seven sacks and holding Seattle to 135 yards and seven first downs. Take away the 80-yard touchdown by
Golden Tate
and it was nearly a flawless performance from that group. That's what makes the loss that much harder to swallow. Seattle became the first team since the 2010
Miami Dolphins
to win a game while posting 135 yards or less and seven or fewer first downs in a game. That's what happens when you are minus-2 in the turnover battle and fail to score a touchdown on four trips into the red zone.
October, 29, 2013
10/29/13
11:00
AM ET
A review of four hot issues from the Seattle Seahawks'
14-9 victory
against the
St. Louis Rams
:
[+] Enlarge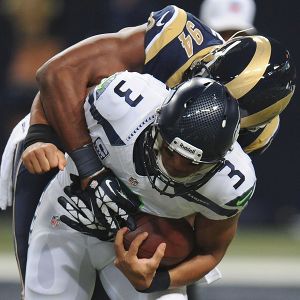 Michael Thomas/Getty ImagesRussell Wilson was under heavy pressure Monday night, getting sacked seven times.
A disaster up front on offense:
Russell Wilson
was sacked seven times Monday night, the most in his career. Wilson has been sacked 19 times in the past five games, which still doesn't tell the story of how often he gets hit and how much he is under siege. The Seahawks coaches try to portray this in a positive light, saying it will get better, but it isn't getting better. Playing backups at both tackle spots is only part of the problem. No one on the line is playing well. Something needs to change now. The team can't just wait around for starters
Russell Okung
and
Breno Giacomini
to return from injuries.
Lynch unhappy:
Marshawn Lynch
had only eight carries Monday night for 23 yards, and it was clear on the sideline near the end of the game that he wasn't very happy about it. Neither was coach Pete Carroll. "He's a competitor and he wants the ball," Carroll said of Lynch. "He didn't have a chance tonight because we didn't get him the football enough. He was frustrated and I was, too." Everything revolves around the power running game for the Seattle offense, so it's miraculous that the team won when it had only 44 yards rushing on 15 carries. It was a bit of a surprise that returning fullback
Michael Robinson
didn't have more of an impact.
Tate good and bad:
Seattle wouldn't have won this game without wide receiver
Golden Tate
, who scored both touchdowns for the Seahawks, including a stellar 80-yard catch and run when he out-fought the defender for the ball, then set sail for the end zone. But he also made a classless gesture of taunting the safety who was chasing him for the last 20 yards of the run. Tate later apologized, saying he let the emotions of the moment get the best of him. "I've got to represent the team a little better than that," Tate said. "I have to act like I've been there before. And it hurt our special teams [with the 15-yard penalty on the kickoff]. It won't happen again. It was a lesson learned."
Defense tough in the red zone:
The Seattle defense had a rare bad game against the run, giving up 200 yards rushing to a Rams team that was struggling previously at running the football. But the defense got it done when it counted the most. St. Louis was 0-for-4 inside the red zone, settling for field goals the first three trips before a goal-line stand by Seattle at the end of the game preserved the victory. Linebacker
Bruce Irvin
had an outstanding game with nine tackles, including one sack, and an interception on a deep sideline pass, a spot where Irvin wasn't asked to cover anyone in the past.
October, 28, 2013
10/28/13
2:00
PM ET
A review of four hot issues from the
Arizona Cardinals
' 27-13 win over the
Atlanta Falcons
.
[+] Enlarge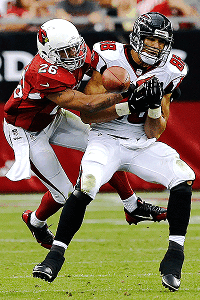 AP Photo/Rick ScuteriSafety Rashad Johnson helped Arizona shut down star Atlanta TE Tony Gonzalez on Sunday.
Fast Teddy in the house:
Cardinals coach Bruce Arians made it clear that
Teddy Williams
wasn't signed to be a threat at receiver. Arizona has plenty of those. Williams was signed as a gunner to complement
Justin Bethel
, but Arians likes to take advantage of speed when he has it. Thus, the Cardinals implemented a play for Williams to take the top off Atlanta's defense. It worked, but almost too well. Williams had to slow down to catch a 51-yard pass, which the Falcons weren't expecting.
"I don't know if they knew who he was," Arians said. "I knew he could run. I didn't know if he could catch.
"I'm just happy he caught it. I'm really happy he caught it. I was holding my breath. I know he was holding his."
Containing a tight end:
It's no secret tight ends have been the Cardinals' lone defensive liability, but they were able to limit Atlanta's
Tony Gonzalez
to three catches for 26 yards. Arizona did it by rotating defenders on him, that way the Falcons couldn't adjust their plans according to coverage. Arizona mixed traditional defenses on Gonzalez with gimmick schemes, such as lining up two defenders on him like a punt situation.
"It was a team effort -- team defense, playing with great technique on the back end, defensive line getting pressure," linebacker
Karlos Dansby
said. "We did it together."
Time off needed for Fitz's hammy:
He might've said he's fine, but
Larry Fitzgerald
's hamstring hasn't been at 100 percent for a while and it showed again Sunday. He had 48 yards and a touchdown on four catches. Arians said Fitzgerald played a solid game. But Fitz can't wait for the bye.
"I'm glad we're going into the bye to get some time to really get after it and nip it in the bud and have smooth sailing for the next eight games," Fitzgerald said. "That would be ideal for me."
Ellington still looks to Mendenhall:
Despite staking his claim for the starting running back job, rookie
Andre Ellington
still sees it as
Rashard Mendehall
's. When Mendenhall returns, Ellington said it won't be hard to accept a lesser role -- if he does.
"Rashard is our bell cow," Ellington said. "He's our leader in the room. This guy earned that respect. I'm waiting for him to get healthy and get out there and make plays."