February, 25, 2013
2/25/13
12:53
PM ET
Recent updates regarding
Alex Smith
's trade status do not include a couple key details: which team would acquire the
San Francisco 49ers
quarterback and at what price.
The
Kansas City Chiefs
have been mentioned consistently as a potential trade partner. That provides us with a starting point for projecting value.
Andy Reid is the Chiefs' new head coach. John Dorsey is their new general manager. Both were previously with organizations that participated in quarterback trades.
In 2011, Reid's
Philadelphia Eagles
sent
Kevin Kolb
to Arizona for cornerback
Dominique Rodgers-Cromartie
and a 2012 second-round draft choice.
In 2010, the Eagles sent quarterback Donovan McNabb to Washington for a 2010 second-round choice and a 2011 fourth-rounder.
In 2004, the Eagles traded A.J. Feeley to Miami for a 2005 second-round choice.
Those trades involved Reid's team parting with a quarterback. The Eagles did not acquire prominent quarterbacks by trade during his tenure with the team.
Those trades suggest Reid might value a viable quarterback as being worth a second-round choice, at least.
Other factors can affect the price, of course. In this case, the 49ers face an April 1 deadline for paying a $1 million bonus to Smith and guaranteeing his $7.5 million salary for 2013. That could make the 49ers a little more eager to complete a deal. It could empower the Chiefs or other teams to wait out San Francisco. However, teams serious about acquiring quarterbacks might prefer getting a deal done to risking the player for what could be a small gain in the end.
Dorsey, meanwhile, was with the
Green Bay Packers
for most of the past two decades. He also spent a short time with Seattle under Mike Holmgren. Dorsey was with the Packers when Green Bay traded quarterbacks Mark Brunell,
Matt Hasselbeck
and Aaron Brooks.
In 1995, the Packers got third- and fifth-round picks from Jacksonville for Brunell.
In 2001, the Packers sent Hasselbeck and the 17th overall choice in the draft to Seattle for the 10th overall choice and a third-round pick. Seattle spent the equivalent of
a high second-round choice
for Hasselbeck.
The 2000 trade involving Brooks netted a 2001 third-round choice from New Orleans. The teams also traded additional players. Green Bay landed linebacker K.D. Williams. The Saints got tight end Lamont Hall.
Based on precedent, the 49ers should be looking to get a second- or third-round choice from the Chiefs for Smith, should they do a deal with Kansas City.
San Francisco already owns a league-high 11 choices in the 2013 draft. The team figures to gain compensatory choices as well.
For those reasons, and because Smith has a mixed record in the NFL, a deal involving a conditional choice could make the most sense. In that case, the 49ers would be looking at a higher 2014 choice if Smith played well for his new team.
January, 29, 2013
1/29/13
1:07
PM ET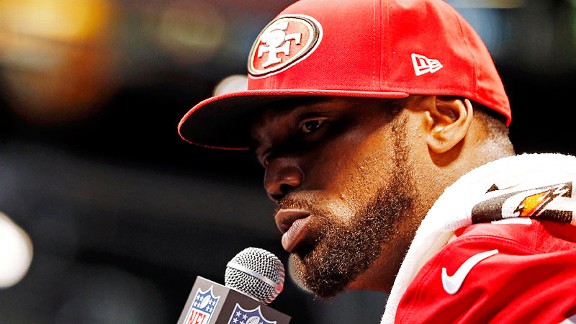 Derick E. Hingle/USA TODAY SportsThe 49ers' Randy Moss doesn't lack self-confidence during Tuesday's Super Bowl media day.
NEW ORLEANS -- One day after
San Francisco 49ers
coach Jim Harbaugh
took on President Barack Obama
, receiver
Randy Moss
challenged
Jerry Rice
's status as the NFL's greatest receiver.
Wait, weren't the AFC champion
Baltimore Ravens
supposed to be the big talkers during Super Bowl week? They're multiple-syllable underdogs at this point.
Moss stole the show at Super Bowl media day by declaring himself the greatest receiver of all time.
"I think I'm the greatest receiver to ever do it," Moss said. "Because I think back when Jerry was playing -- and no disrespect to Jerry Rice, because he's arguably the greatest -- but for me to be able to go out here and change and revolutionize the game from a single safety to a Cover 2 safety and dropping three guys deep and dropping four guys deep and still be able to make it happen? That is why I really hold my hat on that, that I really feel in my heart and in my mind that I am the greatest receiver to ever play this game."
If Rice had the greatest career of any receiver in NFL history, which seems indisputable based on longevity and raw numbers, Moss at his best was arguably the most feared.
Moss was faster. I think he was more athletic. If both receivers were to line up on opposite sides of the formation while in their prime, defenses would face a dilemma. I think they would fear Rice more on shorter and intermediate routes. I think they would fear Moss more on deeper routes.
Rice benefited from beginning his career under Bill Walsh and spending most of it with either
Joe Montana
or
Steve Young
throwing passes to him. That doesn't diminish his achievements, in my view.
Rice dominated. He reached 1,000 yards receiving 14 times. Moss did it 10 times. Rice scored at least nine touchdowns in a season 12 times. Moss did it nine times. Each had nine seasons with at least 10 touchdowns. Rice had four seasons with at least 1,500 yards. Moss had one. Rice had six seasons with at least 1,400 yards. Moss had four.
Moss also played with a couple of Hall of Fame-caliber quarterbacks in
Tom Brady
and
Brett Favre
, but the years he spent with them were exceptions, not the norm.
Brad Johnson
,
Randall Cunningham
,
Jeff George
,
Daunte Culpepper
,
Todd Bouman
, Spergon Wynn,
Gus Frerotte
,
Kerry Collins
, Andrew Walter,
Aaron Brooks
,
Matt Cassel
,
Vince Young
,
Alex Smith
and
Colin Kaepernick
have also thrown passes his way.
To this point, Rice's status as the greatest has been pretty much assumed. Those with a strong grasp of league history might acknowledge Don Hutson's achievements as unique. However, Rice is an overwhelming choice as the best receiver in NFL history.
An ESPN.com panel
featuring Raymond Berry, Boyd Dowler, Mike Holmgren, Ken Houston,
Warren Moon
,
Keyshawn Johnson
and Ted Thompson voted Rice first and Moss second in anonymous voting five years ago.
"Jerry Rice, he's so obvious, it scares me," Dowler said at the time.
April, 23, 2012
4/23/12
10:51
PM ET
The
San Francisco 49ers
twice lost close games against New Orleans in the Superdome when the Saints were
allegedly eavesdropping
on visiting coaches from 2002-2004.
Coincidence? Evidence of malfeasance?
"There's something missing here,"
said Bill Polian
, the ESPN analyst and former longtime NFL executive. "I don't know what kind of competitive advantage you can get."
The report by "Outside the Lines" cites people familiar with the Saints' game-day operations as saying Mickey Loomis, the Saints' general manager, had the ability to monitor opposing coaches from his private box during home games.
NFC West teams played three games at the Superdome during the period in question.
The 49ers suffered a 35-27 defeat at New Orleans in 2002 after the Saints outscored them 22-3 in the fourth quarter. They also suffered a 30-27 defeat there in 2004 after Aaron Brooks found Donte Stallworth for a 16-yard touchdown with 1:01 remaining. Also in 2004, the
Seattle Seahawks
claimed a 21-7 victory at New Orleans.
The NFL has already suspended Loomis, a former longtime Seahawks executive, for the first eight games of the 2012 season as punishment for his handling of the Saints' bounty situation.
The allegations against Loomis are damaging whether or not the Saints realized any in-game advantages.
"Mickey would have to know the verbiage of every other opposing team in order to translate it, and then he would have to do it instantly and find some way to communicate with his coaching staff and get it down to the field in time for it to be useful," Polian said. "That would be very difficult to do, in my opinion."
The Saints have strongly denied the allegations.
Steve Mariucci (2002) and Dennis Erickson (2004) were the 49ers' head coaches for the NFC West defeats in question. Erickson and Loomis worked together in Seattle years earlier.
Another NFC West alum, Jim Haslett, was the Saints' head coach at the time.
January, 9, 2012
1/09/12
9:15
AM ET
The
New Orleans Saints
are going to hear about their 0-4 road record in the playoffs. The record is misleading, but not necessarily irrelevant heading into their divisional-round game against the
San Francisco 49ers
at Candlestick Park.
A look back through those four defeats can provide some context:
The 0-4 road record sounds bad, and it is, but only two of those defeats came with Brees and coach Sean Payton on the New Orleans payroll. The Saints were much better offensively in 2011 than they were last season or in 2006. What will that mean Saturday?
November, 14, 2011
11/14/11
7:53
PM ET
The
Arizona Cardinals
' 2-0 record this season and 4-2 overall mark with
John Skelton
starting at quarterback has stirred debate over how the team should proceed once
Kevin Kolb
is healthy.
Coach Ken Whisenhunt announced no decision Monday. There would have been no advantage in doing so.
Kolb's toe and foot may or may not be healthy enough for him to play against San Francisco in Week 11. Either way, the team isn't likely to give up on Kolb after only seven games. Two inconsistent, but ultimately victorious, starts from Skelton do not compel a change. Skelton has shown enough to remain a factor in Arizona.
The Cardinals will be facing a 49ers defense more formidable than the ones Arizona faced in beating St. Louis and Philadelphia over the last two weeks.
Whisenhunt could always use Kolb's injury to give Skelton another start, letting the organization gather additional information on Skelton while Kolb's condition improves. Kolb could serve as the backup, coming off the bench only if needed. And if the Cardinals were to upset the 49ers with Skelton behind center, Whisenhunt would have a good "problem" to solve next week.
I've thought Skelton has appeared more comfortable than Kolb has appeared. He's been slightly better than Kolb, in my view, and his fourth-quarter touchdown passes have given him traction in the debate. But just as it's too soon to write off Kolb, it's too soon to suggest Skelton is the answer. But if you're really serious about arguing for Skelton, here's a gift from ESPN Stats & Information: Skelton has four touchdowns in seven attempts with no sacks in the red zone, while Kolb has three touchdowns in 19 attempts with four sacks.
For perspective, I've used
Pro Football Reference
to create a chart showing where Skelton fits among quarterbacks with similar experience since 1995. Each quarterback was in his first or second season of playing. Each was 22-24 years old at season's end. Each has started at least four games and attempted between 150-250 passes. Each has played 10 or fewer total games.
July, 14, 2010
7/14/10
10:02
AM ET

Matt Maiocco of CSNBayArea.com
says Vernon Davis' low-keyed approach toward his contract situation is refreshing and one reason the 49ers are taking him to London as a representative of the organization. Davis has always worked hard. He just needed to become more consistent in his demeanor and in his catching. Maiocco: "In 2007, then-offensive coordinator Jim Hostler did one thing well: He made it a priority to get the ball into Davis' hands. The 49ers' passing game was horrendous that season. The team's combined passer rating was an abysmal 64.3. Davis caught 52 passes. Sure, he had a few drops along the way. But 52 receptions from a second-year tight end on a team that struggled to complete a pass was quite an accomplishment. The next season, Mike Martz came in with a different approach. Because seven-step drops were such a large portion of his approach, Martz kept Davis in as a blocker in a lot of passing situations. There were games in which he was involved in the pass route fewer than 50 percent of the time. As a result, Davis was targeted for fewer passing attempts than he caught the previous season under Hostler. How did Davis react? He did not complain publicly."
Matt Barrows of the Sacramento Bee
says Davis has become a face of the franchise. Barrows: "Davis, it seems, has become the 49ers' go-to player not only when they need a touchdown on the field but when they need to sell the team and the league off of it. And why not? He's confidant (just ask him), he's good-looking (just ask him), he's eager to please and he has a seemingly inexhaustible supply of energy. Patrick Willis may have received a whopping contract extension through 2016 that makes him the face of the franchise this offseason. But it's Davis, whose contract expires after the 2010 season, who has been showing his face around the globe this year. He's not only an offensive MVP, he's a PR MVP."
Taylor Price of 49ers.com
says Tom Rathman and Joe Staley are among those offering expertise to youth football campers.
Howard Mintz of the San Jose Mercury News
updates the 49ers' efforts to build a new stadium in Santa Clara.

Danny O'Neil of the Seattle Times
passes along a chat transcript featuring these thoughts on whether Seattle overpaid for quarterback Charlie Whitehurst: "Actually, this particular dead horse called me personally last week to request -- politely of course -- that the beatings stop. I can understand your point, Chuck, and particularly when you compare it to what Philadelphia got McNabb, I certainly agree that there's a compelling case to be made the Seahawks overpaid. But the package didn't come out of left field, either. It was similar to the packages that Green Bay got in trading backups who were seen as potential starters. Guys like Mark Brunell, Aaron Brooks and this Hasselbeck character, too. Ultimately, the measure of whether it was worth it is Whitehurst's performance on the field. Is he capable of being an NFL starting quarterback? If the answer turns out to be no, then, yes, Seattle gave up too much."
Clare Farnsworth of seahawks.com
profiles special-teams coach Brian Schneider. Farnsworth: "No matter what positions he coached, Schneider always has been involved with special teams. It happened at USC last season. It has happened again with the Seahawks. It's a strange twist for the former linebacker from Pomona High School in Arvada, Colo., and Colorado State, because he had not played special teams since his freshman year in college."
John Morgan of Field Gulls
says the Seahawks' interest in 3-4 defensive personnel comes amid great demand for such players across the league, making it harder to find good ones. Also from Morgan: "Long story short, I think Seattle will allow a lot of passing yards. If the formula works, Seattle will counter that weakness with a strong run defense and a rapacious secondary. The linebackers will neutralize the underneath passing game and the safeties will keep big plays in check. The Seahawks will attempt a bend but don't break defense, and this time next year, have hopefully reloaded at pass rusher."

John Hageman of the Minnesota Daily
reports from Larry Fitzgerald's camp through the eyes of former University of Minnesota receiver Eric Decker. Hageman: "The camp is modeled on Cris Carter's FAST program, which was co-founded by Fitzgerald's trainer Bill Welle and has been held on the Minnesota campus for two years. In addition to the immense amount of conditioning involved in the camp, Decker said he has been learning some of the technical aspects of being a receiver."
Darren Urban of azcardinals.com
provides
a link
to download the Cardinals' 2010 media guide.
Also from Urban
: Four Cardinals players were born the year the team moved to Arizona from St. Louis. John Skelton, A.J. Jefferson, Andre Roberts and Beanie Wells couldn't tell Roy Green from Neil Lomax. Urban: "The Cardinals have been around since 1898 and are charter members of the NFL that emerged 22 years later. But these days, for these four players, the history is a little more shallow than that. For Wells, his first thoughts of the franchise are Emmitt Smith's arrival in 2003. Same with Skelton, who grew up in New Mexico, where the Cardinals are geographically the closest team but where everyone was a Cowboys' fan. Lomax? No. Roy Green? Nah. Roberts does know about former Cardinals' running back Stump Mitchell, but even that is sort of cheating -- Roberts attended The Citadel, from where Mitchell is the highest-profile NFL product."

Jeff Gordon of stltoday.com
offers a chat transcript featuring some Rams-related thoughts. Gordon: "Chris Long made nice strides last season, but I believe the Rams could really maximize his production by moving him around with different looks up front this year. Perhaps they can find a pure speed rusher in the pile of DE prospects they are bringing to camp."
Turf Show Times' VanRam
provides a transcript from an interview with Rams quarterback Sam Bradford. Bradford: "I feel very good with where I'm at right now. I feel like I made a lot of progress during OTAs and minicamp. I feel like I've become a lot more comfortable in the huddle calling plays from the line of scrimmage, going through my reads. But I think it's just like anything else -- the more you do it, the more comfortable you become. I expect that as training camp comes, and as we get into two-a-days, the more reps I get, the more comfortable I'll become. So I look forward to getting to training camp and getting those reps."
October, 10, 2008
10/10/08
9:39
AM ET
Posted by ESPN.com's Mike Sando
Gary Plummer of the 49ers' radio team says the 49ers' defensive players aren't trusting one another, leading to big plays. He draws on personal experience in saying Eagles running back Brian Westbrook won't be effective if he plays through a rib injury. And he says the 49ers' defensive front gets pushed around when it plays a 3-4. Interesting stuff.
Matt Barrows of the Sacramento Bee quotes 49ers offensive coordinator Mike Martz in defense of tight end Vernon Davis. Martz says Davis helps create opportunities for teammates.
John Crumpacker of the San Francisco Chronicle says Davis is frustrated after catching only five passes through five games. Fellow tight end Delanie Walker also has only five catches.
Kevin Lynch of Niner Insider quotes Manny Lawson as saying the 49ers are simplifying their defense. Some of the coverages had gotten a little complicated, with cornerback Walt Harris playing safety and giving up that deep ball to Randy Moss.
Matt Maiocco of the Santa Rosa Press-Democrat says the 49ers' defense lacks an identity after five games.
Darren Urban of azcardinals.com says veteran Cardinals running back Edgerrin James is mentoring rookie Tim Hightower.
Also from Urban: Cardinals cornerback Eric Green busts on rangy rookie Dominique Rodgers-Cromartie for eating only mashed potatoes and cookies. "That's why he's 125 pounds," Green said. Rodgers-Cromartie weighs more than that, but he's about as skinny as NFL players come.
More from Urban: Former Cardinals offensive lineman Leonard Davis returns to the desert as a member of the Dallas Cowboys.
Dan Bickley of the Arizona Republic says it would be a shame for the Cardinals if Dallas fans packed University of Phoenix Stadium in Week 6.
Kent Somers of the Arizona Republic says the Cardinals are bracing for the Cowboys' ground game. "Big-boy pads" are needed.
Also from Somers: Do not expect Anquan Boldin to play against the Cowboys.
Scott Bordow of the East Valley Tribune says the Cardinals need to win some games before they complain about fans selling tickets, particularly in rough economic times.
Mike Tulumello of the East Valley Tribune says the Cowboys' circus is coming to town.
Clare Farnsworth of the Seattle Post-Intelligencer checks in with Seattle receiver Koren Robinson for a scouting report on Packers receiver Greg Jennings, a big-play threat with the potential to hurt the Seahawks' struggling defense.
Also from Farnsworth: Newly signed quarterback Travis Lulay was eating at a steakhouse in Missoula, Mont., when the Seahawks called.
Michael Steffes of Seahawks Addicts takes a look at the team's problems in pass coverage.
Frank Hughes of the Tacoma News Tribune quotes Seahawks safety Deon Grant as saying defensive players are trying to do too much instead of trusting one another.
Also from Hughes: Missing practice again means Matt Hasselbeck hasn't been able to develop a rhythm with an ever-changing group of Seattle receivers.
Danny O'Neil of the Seattle Times says the Seahawks aren't happy with their production in the return game.
Also from O'Neil: Seattle needs more from Pro Bowl linebacker Lofa Tatupu, who hasn't played for a losing team in 18 years.
Jose Romero of the Seattle Times suggests Robinson might make his 2008 receiving debut for the Seahawks against his former team.
VanRam of Turf Show Times says the Rams need a massive makeover on defense, with emphasis on linebacker, safety and cornerback.
Jim Thomas of the St. Louis Post-Dispatch says Jim Haslett expects to do a better job as a head coach in his second shot at the job. As Saints coach, Haslett said he erred in sticking with struggling quarterback Aaron Brooks when Jake Delhomme was on the bench.
Bill Coats of the St. Louis Post-Dispatch says second-year defensive lineman Adam Carriker is learning a new technique. He is playing less nose tackle and more 3-technique, which means he can focus more on getting up the field.
Also from Coats: Steven Jackson, on pace for 80 receptions, wants more production in the ground game.
Steve Korte of the Belleville News-Democrat also checks in with Jackson.
Also from Korte: New Rams tight end Daniel Fells has suffered from "some sort of a virus" this week.