July, 29, 2014
Jul 29
2:00
PM ET
EARTH CITY, Mo. -- The
St. Louis Rams
have made it through the collectively bargained opening days of training camp. Now the real football can begin.
With a practice scheduled for 4:30 p.m. ET Tuesday, the Rams are set to put on the pads for the first time in this camp. Here's a look at some things I'll be watching as the physical contact and, presumably, the intensity takes a step up.
Catching up
It's pretty normal for the defense to be well ahead of the offense in the opening days of camp, but it's fair to say that if you play offense, especially on the line, in St. Louis, the pads aren't coming on a moment too soon. The hope is that adding pads will help neutralize things a bit and the offensive line will be able to go toe to toe with the dominant defensive line on a more consistent basis. So far, the defense has been so aggressive that it's been difficult for quarterback
Sam Bradford
and the top offense to get much of anything going. In most of the team drills, Bradford hasn't even had time to throw, and when he has, he's often done it in the face of a defender or two. Rams coach Jeff Fisher intimated that the No. 1 offense and No. 1 defense won't square off as much as they did during the opening days of camp, either. That could be a positive development for the top offense, which needs to get into a rhythm and gain some confidence as preseason games draw closer. If the starters begin seeing more backups opposite them, the real loser is the poor second-string offensive line charged with stopping the first-team defensive line.
One-on-one
My personal favorite drill to watch in training camp is the one-on-one pass-rushing drills. I pay attention to the lines before the pads come on, but you can't really get a feel for them until the pads are on. So even though the pass-rush drills take place during seven-on-seven passing drills, I often find myself gravitating toward the big men on the other end of the field. That won't change this year. I'm most interested to see how the two first-round picks fare in these drills -- offensive lineman
Greg Robinson
and defensive tackle
Aaron Donald
. Robinson had the unfortunate task of getting tossed in against
Robert Quinn
in the opening days, and he's expected to take reps at tackle and guard in these drills so we should get to see him try his hand against Quinn again and against Donald as well. As for Donald, I'm curious to see if the addition of pads will slow him down any (my guess: a resounding no), and I want to see him against
Rodger Saffold
on the inside. A good look at new defensive tackle
Alex Carrington
and some of the young linemen jockeying for position will also be worth watching.
Getting physical
There's been plenty of hype surrounding receiver
Kenny Britt
since his arrival and his performance in organized team activities and even in the early days of camp. Some of that has trickled down to other wideouts such as
Brian Quick
,
Stedman Bailey
and
Tavon Austin
. But it's been difficult to evaluate how they're really faring since the cornerbacks have been unable to do what many expect them to under the guidance of defensive coordinator Gregg Williams. Which is to say, they haven't really been able to be as physical in press coverage as perhaps Williams wants them to be. One-on-one, seven-on-seven and team drills should give us a better glimpse at not only what Williams wants to do coverage-wise, but also a better gauge of what's real and what's not when it comes to receiver potential for the season.
July, 25, 2014
Jul 25
8:00
PM ET
EARTH CITY, Mo. -- A daily review of the highlights from
St. Louis Rams
training camp:

May, 15, 2014
May 15
5:00
PM ET
EARTH CITY, Mo. -- Before last Thursday night, if you wanted to come to the conclusion that the
St. Louis Rams
had a "type" when it comes to their defensive tackles, it would have been easy to see what it was.
The tackles brought in since the arrival of coach Jeff Fisher and general manager Les Snead in 2012 all cut an imposing shadow.
Michael Brockers
is 6-foot-5, 326 pounds,
Kendall Langford
checks in at 6-6, 313 pounds,
Matt Conrath
is 6-7, 284 pounds and newly-signed
Alex Carrington
is 6-5, 301 pounds. The only outlier is
Jermelle Cudjo
, who is 6-2, 304 pounds, but he is also the line holdover from the previous regime.
If those measurements were your sole way of viewing what the Rams value at the position, you probably were a bit surprised when they used the 13th overall pick in the NFL draft on defensive tackle
Aaron Donald
. Donald is listed at just under 6-1, 285 pounds. In a land of giants, Donald doesn't seem to fit.
[+] Enlarge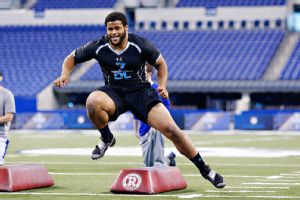 Joe Robbins/Getty ImagesRams rookie defensive tackle Aaron Donald makes up for a lack of size with agility and athleticism.
And that's precisely the point.
"His game is not size," Snead said. "I think his game is speed, quickness. So I think getting bigger really doesn't help him, and one of the reasons we were fine with the pick is he's short so he always has leverage and he's just a strong kid. He had very high, I forget his bench reps, but it translates to the field. He knows how to use his hands, get low and take on a double team. ... His game is to penetrate."
In adding Donald, the Rams are getting the exact genre of defensive tackle that they've lacked. On a defensive line flush with talent, Donald provides a pass-rushing, penetrating style that has drawn comparisons to the likes of Cincinnati's
Geno Atkins
and former Vikings defensive tackle John Randle.
Tired of having to bump ends
William Hayes
and
Eugene Sims
inside all the time to collapse the pocket on passing downs, the Rams clearly made adding more push up the middle an offseason priority.
They signed Carrington after having discussions with other possible free-agent fits such as
Antonio Smith
and
Henry Melton
. In the pre-draft process, they hosted seven possible fits for the interior, Donald included.
But none of those players come with the resume of Donald. He won every major award for which he was eligible in 2013, including the Nagurski (nation's top defensive player), the Bednarik (defensive player of the year), the Outland (nation's best interior lineman) and the Lombardi (nation's top lineman or linebacker).
Those awards came after a season in which Donald posted 28.5 tackles for loss, the most in college football's Bowl Subdivision, and 11 sacks.
All of that was enough to land Donald in the top eight of the Rams' draft board, according to Fisher. Most teams say they were "surprised" when a player they draft falls to them but in this case, the Rams really meant it.
"We were," Fisher said. "Les' guys did a great job with the research and we felt like there was a pretty good chance that he would disappear, and then a couple things happened. We were rubbing our lucky coin and he was there."
Donald will join a line where he won't be asked to carry such a heavy load right away. The Rams' defensive linemen accounted for 47 sacks in 2013, the most by any group in the NFL. Flanked by ends like
Robert Quinn
,
Chris Long
, Hayes and Sims, Donald should see fewer double-teams on passing downs, where his immediate contributions will likely reside.
"I'm real excited just to have those veteran guys like that around me," Donald said. "I can learn from them and if I need something, anything answered that I feel like I'm struggling with, I can ask those guys and they can push me and help me to take my game to another level, so I'm real excited about it."
Donald's production despite a lack of size compared to others at his position can be directly attributed to his athleticism. Donald ran the 40-yard dash in 4.68 seconds and bench pressed 225 pounds 35 times at the scouting combine. On Tuesday, he told ESPN.com that he can dunk a basketball on a regulation 10-foot rim and has been able to do so since about his sophomore year of high school.
Adding to that athleticism is the type of technique that had Fisher gushing soon after drafting Donald.
"[He] is very, very productive; he's an outstanding young man," Fisher said. "He's way ahead in hand use on the line of scrimmage. He does an outstanding job with his hands."
May, 10, 2014
May 10
6:35
PM ET
»
NFC wrap-ups
:
East
|
West
|
North
|
South
»
AFC
:
East
|
West
|
North
|
South
EARTH CITY, Mo. -- A wrap-up of the
St. Louis Rams
' draft.
Best move:
Putting football aside, the Rams made a historic move in using the 249th overall pick on Missouri defensive end
Michael Sam
. Sam became the first openly gay player drafted to the NFL. There will be plenty of time to discuss how he fits the defense, his chances of making the roster and everything else a draft pick entails. But for now, the Rams should be applauded for taking an important step that will have a lasting impact well beyond the confines of a football field.
[+] Enlarge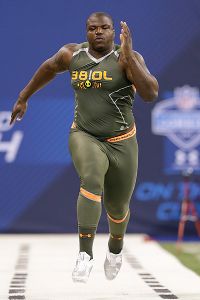 AP Photo/Nam Y. HuhThe Rams strengthened both lines with their two first-round picks, starting with offensive tackle Greg Robinson at No. 2 overall.
Best move, II:
Using their two first-round picks to bulk up on the lines. The Rams could have gone many ways with the Nos. 2 and 13 picks in the first round, and there were other avenues that would have been fine, but they showed a lot of self-awareness by staying at those spots and grabbing Auburn offensive lineman
Greg Robinson
and Pittsburgh defensive tackle
Aaron Donald
. The NFC West is the toughest, most physical division in football. Most games in this league are won up front, but all games in the NFC West are. It's not going to be easy to outmuscle the likes of the
San Francisco 49ers
,
Seattle Seahawks
and
Arizona Cardinals
, but the Rams proved capable of it two seasons ago before taking a step back last season. The first two picks are a sign they don't intend to have their lunch money stolen as often in 2014.
Riskiest move:
Waiting until the sixth round to take a quarterback. There, the Rams selected Southern Methodist's
Garrett Gilbert
. In the run up to the draft, the Rams insisted that not only did they want to get a quarterback, they wanted to land someone capable of pushing starter
Sam Bradford
. Apparently, they didn't feel too strongly about that. The Rams should be set at the backup spot with free-agent addition
Shaun Hill
on the roster, but the future of the position remains up in the air. Bradford has two years remaining on his contract but needs to prove his durability and produce at a higher level for a full season before the team commits to him for the long haul. It's not impossible for Gilbert to develop into a solid backup, but counting on him to provide a possible long-term solution or push Bradford for the job is folly.
Most surprising move:
Spending a third-round pick on running back
Tre Mason
. This isn't to say the Rams didn't need help at the position. Starter
Zac Stacy
has had issues with minor injuries costing him a series here or a quarter there.
Benny Cunningham
has flashed potential, but the sample size is small. This isn't anything against Mason, who is a good back with outstanding college production. It's just more of a surprise that the team went with a back with more pressing needs to be filled. The Rams insist Mason was too much value to resist, but it's fair to wonder whether they could have waited to get a back capable of contributing. After all, they landed Stacy in the fifth round a year ago.
File it away:
Keep an eye on Missouri cornerback
E.J. Gaines
, the team's first sixth-round pick, taken at No. 188 overall. The Rams drafted
Lamarcus Joyner
to handle the nickel duties, and he'll step in right away at that spot, but Gaines played outside on both sides and showed the flexibility to play inside for the Tigers. That versatility should give Gaines a chance to contribute right away and potentially become the primary backup at all three spots. Gaines started 37 games in his career, including a strong performance against Texas A&M receiver
Mike Evans
in a 2013 matchup. Evans had just four catches for 8 yards in that game. Although A&M quarterback
Johnny Manziel
wasn't at full strength, Gaines earned rave reviews for that performance from scouts in the pre-draft process. Gaines was a sixth-round pick, so expectations won't be too high, but that also puts him in position to exceed the ones that exist.
May, 10, 2014
May 10
12:35
AM ET
EARTH CITY, Mo. -- For the past two years under coach Jeff Fisher and general manager Les Snead, the
St. Louis Rams
have undergone a complete reconstruction of a roster that was one of the worst in the league.
On Friday night, the Rams offered two more indications that they are saying goodbye to frantically moving down in the draft to accumulate picks and hello to a brave new world in which the chronically trade-happy decision makers can sit still and simply select the best player available.
"It's been, I don't want to say easy, but it's been good," Fisher said. "The board is good, the value is there and we feel good about where we are and we also feel good about finishing strong tomorrow."
The Rams threw their first curveball of this year's draft Friday night when they opted to pass on more obvious needs and choose a running back in the third round.
Not that the Rams couldn't use another back, but the selection of Auburn running back
Tre Mason
with the 75th overall pick was a prime example of the prism through which the team now views itself. Almost since arrival, Fisher, Snead and most others associated with the Rams quietly held to the idea that 2014 would be the team's breakthrough season.
That vow moved closer to a promise this offseason as the previously silent notion became an open discussion. A mostly inactive free-agent period offered one clue that the Rams believe the current roster is close to taking the next step.
The first three rounds of this draft has offered more evidence.
With other positions of more clear need available to them with the 75th pick, the Rams selected Mason to add to a backfield in which
Zac Stacy
, the team's leading rusher a year ago, already resides.
When asked why the Rams opted for Mason with the third-round choice, Fisher offered a telling response in making it clear that Mason was too much value to turn down.
"That was the nature of the pick," Fisher said. "That's where we are right now is we just couldn't pass him up."
In the Rams' first two drafts under Snead and Fisher, the team made six draft-day trades, moving down four times and up twice. Aside from a late-round deal in 2013 to land Stacy, all of those deals have been in the early rounds of the draft.
The idea was simple: accumulate as many picks as possible even if it meant sacrificing possible quality in favor of quantity. If the success of a draft pick is a veritable coin flip, the Rams wanted to flip as many coins as possible.
The progress on the field has been evident as a team that won 15 games over the previous five seasons won 14 the past two years but it still has been far from enough. A lack of true difference makers the caliber of star defensive end Robert Quinn has kept the Rams from reaching the next level.
Nobody knows for sure whether players like Mason, Auburn offensive tackle
Greg Robinson
, Pittsburgh defensive tackle
Aaron Donald
or defensive back
Lamarcus Joyner
will turn into that type of player, but the stay-at-home attitude the Rams have adopted for most of this draft would indicate they believe roster spots are hard to come by and game changers were there to be had in their original spots.
Perhaps in fear of developing a nervous tick by having to wait so long to make some sort of deal, Fisher and Snead did make one deal on Friday night, trading up three spots to nab Joyner at No. 44 overall before Tennessee could pick him. Even that move indicates the Rams are placing a premium on the player rather than a pile of picks.
It's a trend that will continue Saturday when the Rams make their remaining seven choices.
"We're going to look at our roster, who fills a role and whatever role that is, if it helps us become a more successful team, that's kind of what you try to do," Snead said. "You'll have fun with the last picks."
For the first time in awhile, the Rams' insistence that they're close is backed by their actions. Only time will tell if they're right.
May, 9, 2014
May 9
11:20
AM ET
EARTH CITY, Mo. -- The
St. Louis Rams
might have caught some by surprise when they chose Pittsburgh defensive tackle
Aaron Donald
with the 13th pick in Thursday night's first round of the NFL draft.
Donald
But for those paying attention, the Rams have been in search of a certain style of defensive tackle to join the rotation, a style they don't currently have. Which is to say they wanted a 3-technique tackle capable of collapsing the pocket.
Donald's statistics strongly indicate he fills that role. This isn't about being disappointed with
Michael Brockers
or
Kendall Langford
's performance, it's about finding a complement to them. Donald had 11 sacks and led the nation with 28 1/2 tackles for loss last year. The Rams wanted someone who can come in on third down and sure passing situations to wreak havoc while Langford and Brockers handle run-stuffing duties.
It also allows the Rams to use
William Hayes
more at defensive end instead of having to move him around so much. That helps the defensive line rotation.
While Donald's numbers speak for themselves, let's turn it over to someone who has watched him play quite a bit. ESPN's Notre Dame/ACC reporter Matt Fortuna offered this scouting report:
"Aaron Donald was the best defensive player in college football last season. As Pitt was quick [and correct] to remind us, he may have been the game's best defensive lineman in recent memory. The school sent out graphics last season comparing Donald's campaign to that of Ndamukong Suh's famed 2009 season at Nebraska, and Donald's more than stacked up.

Donald's trophy case speaks for itself, as does the fact that he had a tackle for loss in all but one game last season (a Nov. 9 win over Notre Dame). One can argue he single-handedly took the Panthers to the postseason in their first year of ACC play, as his 3 1/2 tackles for loss, two quarterback hurries and blocked extra point in a 17-16 win at Syracuse on Nov. 23 notched win No. 6 for his team. His performance in a Nov. 2 loss at Georgia Tech may have been more impressive, with the defensive tackle notching six tackles for loss against a Yellow Jackets team that ran just 63 offensive plays — meaning nearly 10 percent of said plays ended with Donald making a stop behind the line of scrimmage.

Of course, there were other numbers that often got thrown last fall whenever someone spoke of Donald — 6-foot-1, 285 pounds. While the frame is less than ideal for an interior lineman, Donald has proven through both his play and his combine performances that the issue should be mitigated, as he possesses a strong first step and great leverage, with a work ethic that should compensate for his physical shortcomings."
May, 9, 2014
May 9
7:00
AM ET
EARTH CITY, Mo. -- Much has been made of
St. Louis Rams
coach Jeff Fisher's history of passing on offensive linemen in the first round as a head coach. Entering Thursday night, Fisher had held 17 picks in the first round as a head coach and never selected one in the opening round.
But Fisher long insisted that his avoidance of linemen in the first was not intentional and more a matter of circumstance. His Titans/Oilers teams had players like Brad Hopkins entrenched in their spots.
[+] Enlarge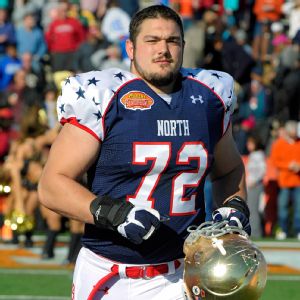 AP Photo/G.M. AndrewsThe Rams pursued avenues to land Zack Martin, which would've given them two offensive linemen from their first-round haul.
On Thursday night, Fisher bucked the trend and darn near blew it away completely by taking not one but two big uglies for his offensive line.
After using the No. 2 overall pick on Auburn offensive tackle
Greg Robinson
, the Rams were surprised to see a few of their favorite targets tumble down the board to their second pick at No. 13. Pittsburgh defensive tackle
Aaron Donald
was ultimately too much value for the Rams to pass up but had he been gone, the Rams would have gone the way of San Francisco circa 2010 and doubled down on offensive linemen.
The target was Notre Dame's
Zack Martin
, a player the Rams had been eyeing as a possible pick for some time. Even after passing on Martin, though, the Rams almost made the boldest of moves to add him to the haul that already included Robinson and Donald.
"We actually made an effort just a few minutes ago to go back up to try to get Martin but we were unsuccessful," Fisher said.
After the Rams took Donald, Chicago drafted Virginia Tech cornerback
Kyle Fuller
and Pittsburgh grabbed Ohio State linebacker
Ryan Shazier
. The Rams commenced conversations with Baltimore at No. 17 about moving up for Martin.
That would have meant a move from the second round at No. 44 overall and probably cost the Rams a boatload of picks or, perhaps, a first-round pick in 2015.
"It would've been pricey but worth it," Fisher said. "It was a good pick for the Cowboys."
Dallas quickly stamped out that possibility by drafting Martin at No. 16. Another player the Rams really liked at No. 13, Alabama linebacker
C.J. Mosley
, remained on the board and also had the Rams' attention but the Ravens took him right after Martin went to the Cowboys.
"They all went," general manager Les Snead said. "I had left and then I came back and said, 'Mosley went right after Martin.' When we got down to two, it was those three. Donald was No. 1 and it worked out for us."
As for a possible trade with the No. 2 pick, Snead said nothing ever got too serious though Buffalo, which eventually traded up to No. 4 from No. 9, did inquire.
"They were probably the one team that was the most motivated," Snead said.
May, 8, 2014
May 8
11:45
PM ET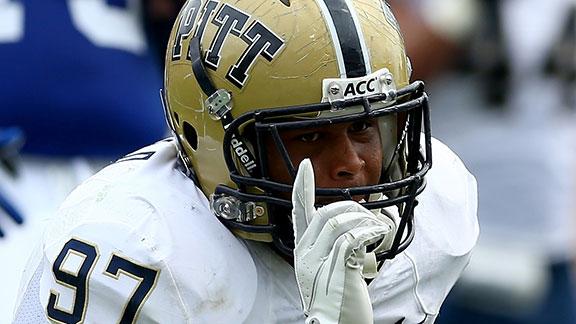 EARTH CITY, Mo. -- In the roughest neighborhood in the NFL, the NFC West, you're either the bully or the one being bullied. There's no in-between.
After sitting still at Nos. 2 and 13 to make their picks, it's clear the
St. Louis Rams
would like a change in role.
Eschewing their annual tradition of making first-round trades and the almost two-decade history of coach Jeff Fisher not taking an offensive lineman in the first round, the Rams dedicated their Thursday night to adding players who are more likely to take your lunch money than surrender it.
As widely predicted, St. Louis took Auburn offensive tackle
Greg Robinson
at No. 2. And in a move that came as a great surprise even to them, the Rams chose Pittsburgh defensive tackle
Aaron Donald
with the 13th pick. Robinson was the first offensive tackle selected and Donald the first defensive tackle.
[+] Enlarge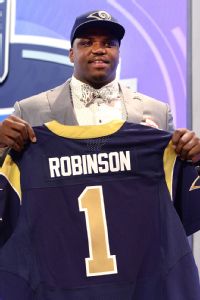 Allen Kee/ESPN ImagesGreg Robinson is likely to begin his NFL career on the inside at guard.
The explanation for the moves didn't come with much sizzle but there's plenty of steak.
"We felt like we definitely needed to address both sides of the ball upfront," Fisher said. "I really felt like this was the best thing for our football team right now."
General manager Les Snead put a finer point on it.
"Football teams, you build from the inside out," Snead said. "I always say that's when you are building your foundation. At the end of the day, when you lay your foundation for your skyscraper it's probably the least exciting thing that you do but that's the thing that holds that skyscraper up for a lot of years. But it was definitely a strategy to say 'You know what, we're going to get our foundation stronger' and I think that's going to help us."
This draft came with nobody bigger, badder or more equipped to do battle in the NFC West than Robinson. At 6-foot-5, 332 pounds, Robinson is the football version of Deebo from the movie "Friday." He takes what he wants when he wants it, especially in the running game.
While Robinson's pass protection will need refining, he'll have plenty of time to get it right under offensive line coach Paul Boudreau as he's likely to begin his NFL career on the inside at guard. For a team that finished the season getting owned upfront by Seattle to the tune of 18 yards on 13 carries, Robinson is a much-needed hammer.
"We felt like Greg was a piece of the puzzle that's going to help us control that line of scrimmage," Snead said. "In our division, you have got to be physical. All three of those teams have really good front sevens."
[+] Enlarge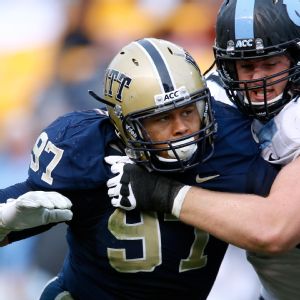 AP Photo/Keith SrakocicOpponents can expect Aaron Donald to make himself a presence in their offensive backfields.
Donald isn't as physically imposing as Robinson but wreaks plenty of havoc of his own. Donald uses quickness off the ball and strong hands to spend large chunks of time in the offensive backfield. Donald finished 2013 with 11 sacks and a nation-leading 28.5 tackles for loss.
Most expected Donald to go in the top 10 but the Rams had him in their top eight players, making him too good to pass on at No. 13.
While defensive tackle wasn't the most pressing need, the Rams did lack a three-technique capable of pushing the pocket consistently. The 6-foot, 285-pound Donald is one of the rare prospects with natural skills in that realm.
Adding a fourth first-round pick to an already strong defensive line might seem excessive but to that, Snead offered three simple words.
"Feed the beast," Snead said. "Feed the beast."
Snead was referring specifically to the defensive line but he might as well have been talking about the team at large.
The Rams still have plenty of work to do to make up ground in the rough and tumble NFC West but Thursday's picks offered proof the Rams don't plan on being pushed around anymore.
May, 8, 2014
May 8
9:52
PM ET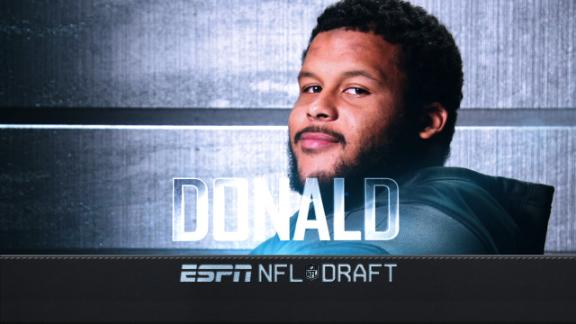 EARTH CITY, Mo. --
The pick:
Aaron Donald
, defensive tackle, Pittsburgh

My take:
On the surface this looks like an obvious best-player-available choice, but the Rams clearly viewed defensive tackle as more of a need than others after spending much of the pre-draft process scouting the position. Donald is the best defensive tackle in the draft and a pure three-technique with premium pass-rush skills. When I mocked Donald to the Rams in our NFL Nation mock draft earlier this week, I made the pick believing it was not only a great value, but a great fit. Donald gives the Rams the type of defensive tackle they don't have. They have big run-stuffers in
Michael Brockers
and
Kendall Langford
. What they don't have is someone who can push the pocket on a consistent basis. Donald provides that after posting 11 sacks and 28.5 tackles for loss in 2013.
Win the line:
There's no denying the obvious overtones of the Rams' first two picks. The
Seattle Seahawks
proved that you have to win the line of scrimmage to win in the West, and San Francisco and Arizona dominated the Rams in that regard in the Rams' divisional road trips last year. Adding Donald to the defensive line and Robinson to the offensive line should boost the Rams' chances of keeping up with the powerful fronts the other three teams possess. Expect Donald to step in as part of the rotation right away, especially on passing downs.
What's next:
The Rams' decision-makers might be developing a bit of a nervous tick after not making a trade in the first round, but they still have 10 more picks to make over the next two days. Expect secondary and receiver to get some much-needed attention as we head into Friday.
May, 8, 2014
May 8
1:30
PM ET
EARTH CITY, Mo. -- We've finally arrived at draft day and the next few hours will provide our final chances at speculating on what could happen instead of evaluating what has happened.
With that in mind, let's make the most of that time and go through five scenarios that could play out for the
St. Louis Rams
with the No. 13 pick when they come on the clock tonight. Since there are many more possibilities at 13, we'll do our best to narrow them down.
It's been awfully difficult to sift through the smoke in this pre-draft process, but these are the five things I believe the Rams will consider for the 13th pick in order of how I think the team will prioritize them.
1. Trade down
Manziel
Once again, this is general manager Les Snead and coach Jeff Fisher we're talking about here. They have traded every first-round pick they have had since arriving in 2012. There is no reason to think they wouldn't do so again.
It's harder to project who teams could target in a move up here, but if one of the top players falls, there are plenty of teams that could look to move up. A top quarterback such as Texas A&M's
Johnny Manziel
or Central Florida's
Blake Bortles
might draw some attention, as could a top offensive lineman like Notre Dame's
Zack Martin
or Pittsburgh defensive tackle
Aaron Donald
.
If they make a trade, the Rams could still likely have their pick of a top cornerback, safety, linebacker or another position of need.
2. Draft a top player who surprisingly falls
Donald
Much has been made of the potential for the Rams to draft Manziel. While it's likely he'll be gone by this point, if he does fall, don't be surprised if the Rams pull the trigger on him with this pick (though a trade could also materialize). There are other top players who seem destined to go in the 12, but could slide to St. Louis and become intriguing options.
In our
NFL Nation mock draft
, Donald slipped to 13 and I chose him for the Rams. I think they would do the same if he somehow made it to them but again, that is not expected because three-technique tackles capable of rushing the passer are so hard to find.
3. Draft the best player available
Mosley
This isn't much different than the above category with this exception: in this instance, I'm not accounting for a player who would be regarded as a surprise should he fall to this spot. Heading up the list of players worth watching at this spot is Alabama linebacker
C.J. Mosley
. He hasn't been linked to the Rams much in the pre-draft process (though our Todd McShay has mocked him to St. Louis a couple of times) but I've been told the Rams think highly of him and believe he could be the perfect final piece to round out their linebacking corps.
Martin is another player who fits this mold and could be an easy pick for the Rams here, especially if they don't take a tackle with their earlier pick.
4. Draft a top cornerback

Dennard
It is not often that needs meet value perfectly, but this is one spot in the draft where that could happen. The Rams seem content with
Janoris Jenkins
and
Trumaine Johnson
as starters but they have also spent plenty of time vetting the top cornerbacks in this year's draft. Oklahoma State's
Justin Gilbert
, Michigan State's
Darqueze Dennard
and Virginia Tech's
Kyle Fuller
are among the names that paid pre-draft visits to Rams Park, and it's possible all could be available at this point.
If that's the case, the Rams could have a decision to make if they choose to go this direction. Although Dennard is believed to be the best scheme fit, I believe the Rams might view Gilbert as the better player. Adding a top corner here would certainly help a secondary in need but it seems other top players at positions of lesser need would have to be gone first. A first-round corner feels more likely in a trade down scenario but the Rams could go that direction here if there isn't a better value here.
5. Draft a safety

Clinton-Dix
Most signs indicate that the Rams aren't sold enough on either of the top two safeties -- Louisville's
Calvin Pryor
or Alabama's
Ha Ha Clinton-Dix
-- to draft one at No. 13 considering the other options that figure to be available. Again, this seems like an alternative possibility should the Rams find a trade-down partner with this pick. For what it's worth, I believe the Rams actually prefer Pryor to Clinton-Dix, but most indications are that they are more likely to wait until the second or third round to pick this position.
May, 7, 2014
May 7
8:00
AM ET
EARTH CITY, Mo. -- On Tuesday afternoon, I joined my 31 NFL Nation colleagues in participating in our mock draft.
The mock draft allowed for trades and was predicated on what we think the teams we cover will do rather than what we should do. The results, with a surprise at the top,
allowed for a some curveballs
.
We
discussed each pick in the chat
and I offered some explanations for my rationale behind taking Auburn offensive tackle
Greg Robinson
and Pittsburgh defensive tackle
Aaron Donald
with picks 2 and 13, respectively, there.
But to clear things up, here's a few leftover thoughts on each pick:
The Rams could go a lot of different ways at No. 2 with Robinson, Texas A&M's Jake Matthews and Clemson receiver Sammy Watkins among the options. And yes, Texas A&M quarterback Johnny Manziel would fit into that mix as well. But ultimately, I believe the Rams, if they can't make a trade and Jadeveon Clowney is off the board, will take Robinson. He's the type of hammer they'd love to add to their smash mouth offensive ideology and could become the long-term answer at left tackle after spending a season at guard (or right tackle). The Rams ran the ball well for most of the season in 2013 but they struggled mightily against the stout defenses of Seattle, San Francisco and Arizona in three road trips at the end of the year. Having Robinson should help them take on those physical defenses.
With the Donald pick, it simply was a matter of taking the player that was the best player on the board and too much value to pass on. But also, just because the perception is there that the Rams don't need a defensive tackle, they've showed a ton of interest in the position in the run up to the draft. They would particularly like to have a three-technique who can get after the quarterback. Donald fits the bill and would add a whole new element to an already excellent defensive line.
For the record, I don't expect Donald to fall to 13. I'll have more thoughts on more realistic possibilities on Thursday.
No, those two picks aren't sexy, they might not draw rave reviews or grades and I would personally take Watkins at 2 and roll the dice that a top tackle is there at 13 (Notre Dame's Zack Martin was the only one available in this scenario). But this is the NFC West division. Win the line of scrimmage or die trying.
I.C.Y.M.I.
A roundup of Tuesday's Rams stories appearing on ESPN.com. ... In the
Ram-blings
, we began the day with a look at the wisdom in using a first-round pick on a quarterback to have a chance at exercising the fifth-year option on one. ... Next, we continued
our prospect profiles
with a look at Mizzou running back Henry Josey. ... In the second to last part of the
draft preview series
, we turned our attention to the group of safeties. ... After that, I provided some
quick hit thoughts
on the Rams and quarterback Johnny Manziel. ... After the Rams pre-draft news conference, I offered the
thoughts of the Rams' decision makers
on Manziel and Bradford.
Elsewhere:
Good read from David Fleming on Manziel's
image rehabilitation
via Instagram.
At 101sports.com, Chris Mortensen
discusses
the Manziel to the Rams rumors.
In the same corner of cyberspace, Randy Karraker
makes the case
for the Rams to take Watkins.
At stltoday.com, columnist Bryan Burwell writes the Rams
must go with a tackle
not a quarterback.
Bernie Miklasz
weighs in
on Manziel-Mania.
Former Ram Marshall Faulk
picked
Manziel and Martin with the two Rams picks in the NFL Network mock draft.
NFL.com names Snead as one of seven
general managers under pressure
going into the draft.