March, 25, 2011
3/25/11
12:20
PM ET
Ken Whisenhunt is right when he says
Levi Brown
takes more criticism as a high draft choice than he would take as someone selected later in the process.
That's the way it works. The highest picks in a draft class should outperform their peers.
[+] Enlarge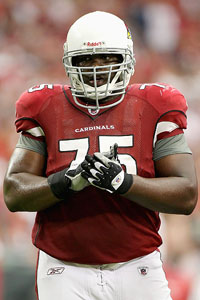 Christian Petersen/Getty ImagesLevi Brown, drafted fifth overall in 2007, can still become an "outstanding" player according to Ken Whisenhunt.
The
Arizona Cardinals
don't need anyone to remind them that they selected Brown over some All-Pro performers, including
Adrian Peterson
and
Patrick Willis
. But it's not as though Brown, a player with 56 consecutive regular-season starts, qualifies as a flat-out bust, either. He moved to left tackle from the right side last season and will stay there.
"He improved last year," Whisenhunt said this week from the NFL owners meeting in New Orleans. "As a left tackle, it's not an easy position to move from right tackle. He will continue to get better. He is a talented football player. The biggest thing he has struggled with is the consistency of his play. But a lot of times you are under the microscope more because you were the fifth pick in the draft."
I would rank Brown, chosen fifth overall in 2007, somewhere around 20th out of 32 first-round picks that year.
Brown has obviously or arguably outperformed the following first-round selections from 2007:
JaMarcus Russell
,
Jamaal Anderson
,
Ted Ginn Jr
.,
Amobi Okoye
,
Adam Carriker
,
Justin Harrell
,
Jarvis Moss
,
Aaron Ross
,
Reggie Nelson
,
Brady Quinn
,
Anthony Gonzalez
and Craig Davis.
Gaines Adams
, chosen fourth that year, passed away after Tampa Bay traded him to Chicago.
The following first-rounders from 2007 have obviously or arguably outperformed Brown:
Calvin Johnson
,
Joe Thomas
,
LaRon Landry
, Adrian Peterson, Patrick Willis,
Marshawn Lynch
,
Darrelle Revis
,
Lawrence Timmons
,
Leon Hall
,
Michael Griffin
,
Dwayne Bowe
,
Brandon Meriweather
,
Jon Beason
,
Anthony Spencer
,
Robert Meachem
,
Joe Staley
,
Ben Grubbs
and
Greg Olsen
.
"The reason we drafted Levi where we did was because we had him rated high enough to go in that position, but we also felt like we had to develop our offensive line and defensive line at that point, because that is where the most critical component of your team," Whisenhunt said. "That is the only way you are going to have a chance to compete. Levi has been a good player. He is often criticized, but I think that comes with being the fifth pick, and I don't understand how you evaluate offensive linemen, because they are not catching passes or running touchdowns in."
Whisenhunt said he thought Brown can and will become an "outstanding" player.
"Any time an offensive lineman gets drafted that high, especially in a fantasy football world where people want you to get dynamic playmakers, you are going to face some kind of criticism," Whisenhunt said. "I have to give Levi some credit. As tough as it's been, he hasn't let it affect him. He has continued to work and get better and I think this will be a big year for him. This is a chance for him to show that he can play this position very well."
January, 28, 2011
1/28/11
6:31
PM ET
Mock drafts have become useful more for the discussions they promote than for how many picks wind up matching actual draft results.
Let's face it, there's no way to know for sure which direction a given draft will head.
The chart breaks out NFC West picks from two recent mocks.
Mel Kiper Jr. has been doing this for a while. Perhaps you have heard of him. Rob Rang does good work for CBSSports.com. I've been consulting him on draft-related stuff for most of the past decade, and keep coming back.
Perceived needs drive mock drafts, especially early in the process.
One pick stands out from these mocks: Florida guard Mike Pouncey to Seattle, Rang's projection if a quarterback does not fall to the Seahawks.
The Seahawks' general manager, John Schneider, has been with teams that used six first-round choices for offensive linemen over the years:
Russell Okung
(2010) and
Chris McIntosh
(2000) to Seattle;
John Tait
(1999) and
Victor Riley
(1998) to Kansas City; and
John Michels
(1996) and Aaron Taylor (1994) to Green Bay.
November, 19, 2008
11/19/08
12:00
PM ET
| | |
| --- | --- |
| | |
| | Scott Rovak-US PRESSWIRE and Rich Kane-US PRESSWIRE |
| | Will the Giants running game be able to keep Kurt Warner and Arizona's explosive receivers off the field? |
Posted by ESPN.com's Mike Sando
The Arizona Cardinals keep taking steps.
They finished 8-8 last season, their best record since 1998.
They outlasted Dallas in Week 6 this season when the Cowboys were 4-1, an outcome that helped establish Arizona as tough to beat at home.
They gained confidence on the road during a 27-23 defeat at Carolina in Week 8. Arizona has outscored opponents by 37 points over its last 14 quarters away from University of Phoenix Stadium.
The Cardinals have exorcised demons in prime time and at Seattle's Qwest Field over the last two weeks.
Podcast: Football Today

Today's focus is on the Cardinals as Jeremy Green talks with Mike Sando, who tells us

Arizona could be the first team since 1998 to clinch a playoff spot with only eight wins.
The next step -- finding a way to beat the 9-1 New York Giants on Sunday in Glendale -- might qualify as a leap if the Cardinals can make it happen.
"I'm picking them over the Giants this week because they possess the ball and their defense is never on the field for sustained periods," said ESPN's Trent Dilfer, the last quarterback to beat the Cardinals at University of Phoenix Stadium. "They don't get to third down. You see defenses change and Kurt Warner and [offensive coordinator] Todd Haley have an answer. You see perfect defensive plays against them and it's a 12-yard gain."
That's all good, but the Cardinals haven't faced an opponent as complete as the Giants.
"I don't think the Giants are going to have much of a problem," said Tag Ribary, who joined Scouts Inc. this year after evaluating talent for the Carolina Panthers in recent seasons. "What they did to Baltimore doesn't get enough credit at all. The No. 1 run defense in the league and they put 200 up on them. It's unthinkable, almost."
Until recently, unthinkable meant the Cardinals having a shot at clinching a playoff spot in Week 12. A victory over the Giants could make it happen. At 7-3, Arizona stands third in the NFC with six games to play.
"If they can beat the Giants and then get the Eagles on Thursday night, they could be in the hunt to play at home through the playoffs," Keith Kidd of Scouts Inc. said. "I don't think that will happen, but they could be the No. 2 or No. 3 seed. They can win a playoff game at home." (Read Kidd's take on the matchup between the Cardinals' defense and Giants' offense here.)
The Cardinals arguably haven't had a game as meaningful as their Giants matchup in a decade. Dilfer, Ribary and Kidd joined Hot Topic respondents in helping us break it down 10 ways, and then some.