February, 27, 2013
2/27/13
8:00
AM ET
Good morning. We've moved the NFC West chat from Thursday to Wednesday this week. This one will begin at 3 p.m.
Here is the link
.
Thursday doesn't work this week because I'll be traveling to Boston that day for the
MIT Sloan Sports Analytics Conference
, which begins Friday.
NFC West executives Kevin Demoff (St. Louis Rams) and Paraag Marathe (San Francisco 49ers) are among those
listed as speakers
this year. They will be joining Scott Pioli and Aaron Schatz on a panel discussing football analytics.
I'll be participating in a Saturday discussion called "ESPN's Use of Analytics in Storytelling."
July, 25, 2012
7/25/12
11:00
AM ET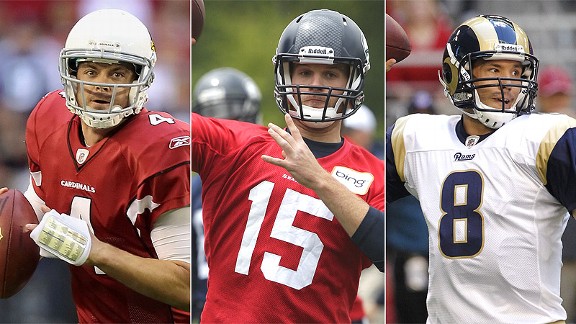 Getty Images/AP PhotoQuarterback play will be something to keep an eye on in the NFC West this season.
San Francisco 49ers
fans were skipping along toward training camp when Aaron Schatz threw the book at them.
The book, all 574 pages of it, knocked some of them
off their stride
.
How could anyone familiar with the defending NFC West champions project only seven victories for the coach Jim Harbaugh's second season? After all, the 49ers are bringing back all of their most important players -- Harbaugh's mighty men, as the coach likes to call them -- from a squad that went 13-3 and nearly reached the Super Bowl.
Here is the deal: Even Schatz himself, lead author of the 2012 Football Outsiders Almanac, believes the 49ers will outperform the modest expectations set forth by his book's widely cited win projection system.
"Subjectively, I'd expect the 49ers to win the division at 9-7," Schatz said Tuesday during an hour-long conversation on all things NFC West.
Anyone interested in more fully understanding the projection system can find an explanation, plus detailed reports for every NFL team, in the almanac Football Outsiders made
available for sale
recently.
I've singled out key points for consideration here and will run through one per NFC West team, supplemented as needed with material from my conversation with Schatz.
Arizona Cardinals

The point:
Kevin Kolb
should be an easy choice over
John Skelton
as the team's starting quarterback.
Yes, the Cardinals posted a 5-2 record when Skelton started and a 3-6 mark when Kolb was in the lineup. Skelton was even the primary quarterback during one of those victories credited to Kolb. (He performed rather impressively during an upset over the 49ers after a concussion sidelined Kolb early in the game.)
The disparity in win-loss records largely accounts for coach Ken Whisenhunt's decision to let Skelton compete with Kolb for the starting job in camp. But the way Schatz sees things, that thinking ignores the context for each player's performance.
"Skelton got away with close wins playing an easier schedule, and the idea that he had more wins and therefore is a better quarterback, no way," Schatz said. "Should there be a battle between Kolb and Skelton? No, it's silly."
For evidence, the almanac points to the schedule. The
New York Giants
,
Pittsburgh Steelers
and
Baltimore Ravens
were on the schedule right before an injury to Kolb opened the door for Skelton. The Cardinals then played St. Louis twice and the then-struggling
Philadelphia Eagles
with Skelton in the lineup. And they needed some miraculous plays, including punt returns for touchdowns from
Patrick Peterson
, to eke out victories over the Rams.
The assessment shoots down Skelton more than it endorses Kolb, but there are obvious reasons for the organization to take a longer look at Kolb this season.
Kolb had very little prep time following his acquisition last summer. Injuries kept him off the field for long stretches. The team also invested millions in Kolb. The point is basically that Skelton, despite his 5-2 starting record, hasn't shown enough for the team to disregard all those factors.
"Frankly," the almanac concludes, "even if Kolb or Skelton does a reasonable job, the Cardinals will still be in the market for a franchise quarterback in the 2013 draft."
Seattle Seahawks

The point:
History suggests new quarterback
Matt Flynn
will be at least serviceable, and probably better than that, despite extremely limited evidence (two career starts, 132 career attempts).
Schatz,
writing recently for Insider

, allowed that sample size generally means a great deal. But in looking at Flynn's 480-yard game for Green Bay against Detroit, a performance complete with six touchdown passes, Schatz made a basic conclusion.
"Bad quarterbacks simply don't have games that good, even as flukes," he wrote.
For evidence, Schatz noted that
Tom Brady
,
Drew Brees
,
Carson Palmer
,
Aaron Rodgers
and
Ben Roethlisberger
were the only other quarterbacks with similar performances over the past five years.
"Going back to 1991," Schatz wrote, "the worst quarterback who had a single game this good was
Scott Mitchell
. As bad as Mitchell was at times, he also threw for more than 4,000 yards with 32 touchdowns and 12 interceptions in 1995. Seattle would gladly take those stats from Flynn."
The almanac actually projects slightly more victories for Seattle than for San Francisco (the mean projection is 7.2 for each, but the Seahawks' total is slightly higher). But much will hinge upon something that is uncertain: how good Flynn might become. Talk of rookie
Russell Wilson
possibly winning the starting job in camp didn't resonate with Football Outsiders, even if the
Lewin Career Forecast
suggests "Wilson can win in the NFL if he has an offensive coordinator who knows how to take advantage of his skills."
San Francisco 49ers

The point:
There's almost no way the team will approach its 13-3 record from last season.
In
covering this ground
previously, I noted that the 13 teams finishing with 13-3 records from 2004 through 2010 had won 8.3 games on average the following season. Three finished better than 9-7. Over the same period, the 19 teams finishing 13-3 or better all finished with lesser records the next year. The average drop was 4.1 victories per team.
Schatz's reasoning for projecting a drop takes into account historical data.
"Teams that improve dramatically from one season to the next do tend to settle to previous levels in the third year," he said. "That is exacerbated for the 49ers by having the quality of their team wrapped up in defense and special teams. Offense tends to be most consistent from year to year. Special teams is the least consistent of the units. Defense is second. The 49ers' defense and special teams are likely to come back to the pack."
Schatz also thinks the 49ers were unusually healthy on defense last season, and that they'll most likely be less healthy in 2012. The 49ers current and former leadership put together their roster, particularly the defense, with size in mind. Former general manager Scot McCloughan, borrowing from Ron Wolf, believed bigger players held up better over the course of a season. The thinking intrigued Schatz, whose company tracks injury information. By combining injury information with data for size, might we have an easier time predicting injuries for certain players and teams?
"It's an interesting theory," Schatz said. "There are teams that no doubt have a record of better health. The 49ers do not quite count as one of those teams. They have been healthy on defense three of the last four years. Dallas is a team that tends to suffer fewer injuries. Kansas City was a team. Cleveland tends to suffer more. New England has suffered more than average and gotten away with it."
St. Louis Rams

The point:
Quarterback
Sam Bradford
wasn't all that much worse last season than he was as a rookie.
Bradford's individual passing stats were worse, but Rams fans worried about their team's franchise quarterback should find some consolation in Football Outsiders' analysis.
Basically, the Rams suffered injuries on a level nearly unprecedented over the past decade, all while facing a schedule that was tougher than anticipated.
Football Outsiders uses a metric called "Adjusted Games Lost" to measure injury impact. The 2011 Rams suffered a league-worst 110 AGL, which the almanac equates to "losing seven key players for the year in training camp." Only the 2009
Buffalo Bills
(122.8 AGL) fared worse since 2002.
Meanwhile, the Rams became the first team since at least 1991 to go from playing the NFL's easiest schedule one season (2010, when the Rams were 7-9) to playing the hardest.
"On average," the almanac reads, "the 10 teams since 1991 with the biggest year-to-year rise in strength of schedule had 4.1 fewer wins."
The Rams declined by five victories from 7-9 to 2-14.
None of this means Bradford will lead the Rams to prominence. The evidence does suggest, though, that the Rams faced unusually difficult obstacles last season.
"Everything points to them being in process," Schatz said.
The upcoming season should be one of discovery, in other words. Absent some of those unusually difficult obstacles, the Rams will have an easier time evaluating their personnel. They'll find out more about Bradford, tackle
Jason Smith
, tight end
Lance Kendricks
and other potentially key players. They'll learn about their wide receivers and outside linebackers.
"In the end, though, the team's ultimate fate will lie in the hands of [coach Jeff] Fisher's first acquisition in St. Louis, offensive coordinator Brian Schottenheimer," the almanac predicts.
That is a subject for another day.
July, 23, 2012
7/23/12
8:00
AM ET
Good morning. I'm looking forward to renewing acquaintances in the comments section after a couple weeks away.
First, let's throw out a few subjects for conversation.

Brian McIntyre of NFL.com
says Seahawks defensive end Chris Clemons saw his 2012 base salary shrink from $4 million to $3 million after skipping a mandatory minicamp last month. McIntyre: "Knowing that his failure to appear for the minicamp would result in a loss of 2012 income, either through forfeiture or fines, can be taken as a sign of how serious Clemons is about receiving a new contract."
Noted:
I question whether Clemons knew so much salary would be at stake. Not many players sacrifice 25 percent in potential income over a three-day non-contact camp. Clemons can be difficult to read, however. Clemons changed his mind after initially informing coach Pete Carroll that he planned to attend that camp. I'd expect Clemons to report in time for training camp. The Seahawks practice Saturday.
Clare Farnsworth of seahawks.com
says assistant coach Brian Schneider is pleased with his special-teams units.
Noted:
Analysts will measure first-round draft choice Bruce Irvin more by his sack total than anything else, but he could be a player to watch on special teams. We've seen other first-round picks around the division make impact plays in that area. First-round defensive end Robert Quinn was a threat to block punts for the Rams last season. Irvin should have similar capabilities based on his speed.

Kent Somers of the Arizona Republic
points to O'Brien Schofield as the key variable for the Cardinals at linebacker this season. Somers: "If Schofield has a breakout season, the Cardinals linebacking corps is set up for years to come. If he doesn't, they will need Clark Haggans to play like he's 25 instead of 35, or for Quentin Groves to step up."
Darren Urban of azcardinals.com
lays out 10 questions for the team heading into training camp.
Noted:
Urban raises all the good ones. The quarterback situation is obviously primary, but health at running back stands out as one to watch. The team needs Beanie Wells to hold up long enough for Ryan Williams to make what the Cardinals hope will be a complete recovery from a torn patella. Urban: "The reality is that the Cards expect both to be ready for the regular season, enough so that the only veteran added in the offseason was Javarris James -– a longshot to make the team at best. LaRod Stephens-Howling and Alfonso Smith are the other two backs who will have a role, but the Cards need Williams and Wells. If they are ready to play, it's a very nice tandem to have."

Bryan Burwell of the St. Louis Post-Dispatch
raises five Rams-related questions heading toward camp.
Noted:
The first three questions directly or indirectly relate to quarterback Sam Bradford. That's appropriate.
Also from Burwell
: serious questions about alcohol-related driving arrests involving athletes in St. Louis and elsewhere. Burwell: "This is the very thing that NFL commissioner Roger Goodell recently warned all 32 teams to be on guard for as their players headed off into the short break between the end of organized offseason workouts in June and the start of training camps at the end of July. Last month, Goodell sent out a league-wide memo specifically warning front offices to reinforce to their players about the dangers of driving while impaired."
Noted:
This one is worth expanding on separately. More to come.

Matt Maiocco of CSNBayArea.com
sees potential parallels between current San Francisco 49ers franchise player Dashon Goldson and former one Aubrayo Franklin. Maiocco: "This could serve as a cautionary tale for all franchise players. Franklin was entering his eighth NFL season when the 49ers tagged him. Goldson is entering his sixth season. Goldson wants to earn the kind of long-term contract that never came for Franklin. ... Goldson must do whatever he believes will give him the best opportunity to have a strong season. Because if he does not have a strong season, he may never get a long-term contract."
Noted:
The 49ers lack proven alternatives at safety beyond Goldson and Donte Whitner, but they know Goldson will almost certainly report in time for the season. And they know Goldson will have ample incentive to perform in the absence of long-term security. This situation favors the 49ers.
Also from Maiocco
: It's no sure thing the 49ers will give a long-term extension to any current players before or during the 2012 season.
Cam Inman of the San Jose Mercury News
raises five 49ers-related questions heading into camp.
Matt Barrows of the Sacramento Bee
expects Joe Looney and Darius Fleming to open 49ers camp on the physically unable to perform list.
Kevin Lynch of the San Francisco Chronicle
explains why Football Outsiders' Aaron Schatz expects the 49ers' win total to plummet in 2012. More on this later in the week.