May, 25, 2011
5/25/11
3:05
PM ET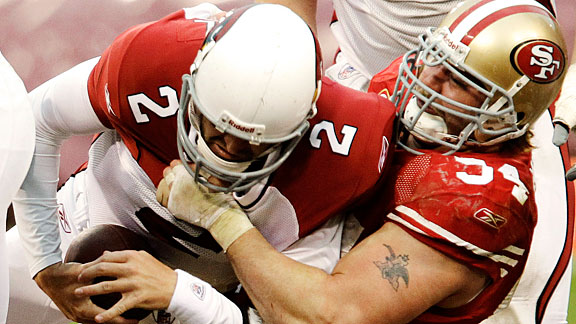 AP Photo/Paul SakumThe 49ers' Justin Smith has collected 8.5 of his 21.5 sacks after the third quarter since 2008.
The try-hard guy, long revered by NFL fans for overcoming physical limitations with all-out effort, has not been universally loved.
Established veterans with a feel for how to practice during long, demanding regular seasons can become resentful when the try-hard guy's misplaced fury produces unwanted collisions.
So, for the sake of clarity, the try-hard guy is excused from this conversation about pass-rushers so relentless, they wear down opponents over the course of a game.
We're talking about players with enough talent to command significant playing time, many as high draft choices or big-ticket free agents. We're talking about the
San Francisco 49ers
'
Justin Smith
, one of two NFC West players to receive votes in
ESPN.com's Power Rankings
for defensive players.
Patrick Willis
was the other.
"Justin Smith is a relentless player who wears down opponents by coming after them each and every play,"
BigBrad184
wrote in response to
this item
Wednesday morning. "I don't have any stats to back this up, but it seems like he often gets many of his sacks in the fourth quarter because of the fatigue he causes to offensive lineman."
Interesting thought.
"Maybe breaking out Smith's sacks by quarter over the past few years is a project for Sando,"
BigBrad184
concluded.
Done deal. John Fisher of ESPN Stats & Information responded to my request for the statistical evidence
BigBrad184
was seeking. Smith does rank among the NFL leaders for fourth-quarter sacks in recent seasons, but two other NFC West players, including one of Smith's teammates, rank higher on the list.
More on the results in a bit. First, a look at the methodology.
Fisher provided a file with quarter-by-quarter sack totals for every player since 2001. I filtered the information to consider:
The last three seasons. There was no sense comparing totals for eight-year veterans against players entering the league more recently. At the same time, three seasons was long enough to pile up adequate numbers.
Players with at least 10 sacks. This reduced qualifying players from 668 to 99, a more manageable number featuring more "name" players.
Late-game production. I then divided the remaining 99 players' fourth-quarter and overtime sack totals by their total sacks, producing percentages that might tell us which players tend to wear down opponents.
The 49ers' Smith collected 8.5 of his 21.5 sacks in fourth quarters or overtimes since 2008. That worked out to 39.5 percent, which ranked 22nd among the 99 qualifying players.
Philadelphia's Darren Howard, who did not play in 2010, led the way with 75.8 percent of his sacks (11.5 of 16.5) after the third quarter. He was on the Eagles' roster for two of the three seasons in question and never played even half the defensive snaps in either year. But he was highly effective as a situational player, at least when measured by sack totals. Only
Jared Allen
(15) and
Joey Porter
(14) had more total sacks after the first three quarters.
There was no way to tell whether players with higher late-game sack percentages had more or better late-game opportunities for reasons unrelated to being relentless. Players operating within superior schemes or alongside better teammates certainly benefited. Overall, players collected more sacks in second and fourth quarters, no surprise given that teams attempted 6,130 additional passes during those quarters over the past three seasons, a likely reflection of two-minute situations.
The San Francisco 49ers' Parys Haralson (52.9 percent) and the
St. Louis Rams
' Chris Long (48.6 percent) ranked highest in fourth-quarter sack percentage among current NFC West players with at least 10 sacks over the past three seasons. Haralson was seventh in the league. Long was ninth. Former 49er Tully Banta-Cain was 10th (48.4 percent), while Arizona's Joey Porter (44.4 percent), St. Louis'
Fred Robbins
(44.4 percent), ex-Seahawk
Lawrence Jackson
(44.0 percent) and current Seahawk
Chris Clemons
(41.0 percent) ranked among the top 20.
Were these guys merely slow starters? Were they strong finishers? Did they wear down opponents over the course of games? The numbers do not answer those questions definitively, but they provide a starting point for discussion.
I was also interested in seeing which players collected a disproportionate number of sacks earlier in games. They were, at best, tone setters. At worst, they failed to finish or failed to adequately wear down opponents. The previous disclaimers applied to them as well.
As the chart below shows, three of the 10 qualifying players with the lowest percentages of late-game sacks have NFC West roots.
Arizona's Calais Campbell has 5.5 of his 13 sacks in first quarters, but only one in fourth quarters or overtimes. The 49ers' Manny Lawson collected 11 of his 12 sacks in the first three quarters. Darryl Tapp, traded from Seattle to Philadelphia in the deal for Clemons, has 4.5 sacks in each of the first two quarters, but only two in second halves (one after the third quarter).
A few other observations with an eye toward the NFC West:
Porter (six) and Campbell (5.5) rank among the top seven in most first-quarter sacks. The 49ers' Smith is right behind with five.
Arizona's Darnell Dockett has nine of his 16 sacks in second quarters. Eight players have more second-quarter sacks over the past three seasons, but all are edge-rusher types. Dockett plays end in a 3-4 scheme.
Pittsburgh's James Harrison and LaMarr Woodley are a third-quarter nightmare for opposing quarterbacks. Harrison leads the NFL with 15.5 sacks in third quarters. Woodley is second with 12. Former Cardinal Calvin Pace ranks in the top 10 with 7.5.
Porter and Allen are tied for the most fourth-quarter sacks in the NFL over the past three seasons. Each has 14 (Allen also had one in overtime). DeMarcus Ware and Robert Mathis are next with 13.5, followed by Dwight Freeney and Julius Peppers with 12.5.
Back to the original question: Is the 49ers' Smith a relentless player who wears down opponents, producing fourth-quarter payoffs?
He might be, but he produces well enough across all quarters to transcend the try-hard label and probably even the relentless label as well. He's a beast.
August, 6, 2010
8/06/10
2:58
PM ET
Ethan from Chicago writes:
Mike, I am a Rams fan living in Chicago and I am craving good football this year, but I just don't see it for the Lambs. This regime is clueless and will be out of a job after another disaster this year. Last year, Billy Devaney confessed in an interview that even his family members were questioning why there wasn't a viable backup to
Steven Jackson
. Well, he had all offseason to correct that problem and did NOTHING.
Jason Smith
may end up being a serviceable tackle, but the No. 2 pick in the draft? BUST! Finally, Ike Bruce coaching the Bears? One of the classiest Rams of all time (and a Hall of Famer) was cast aside by Devaney, Steve Spagnuolo, etc. And where are the playmakers and pass-rushers on this team? Thinking about this upcoming season already has me sick to my stomach.
Mike Sando:
Whoa, Ethan, did you move to Chicago with Mike Martz? Are you guys roommates or something? Let's separate fair criticism from understandable (but possibly unfair) ranting. Devaney told the St. Louis Post-Dispatch before training camp that
the Rams still might add a veteran backup runner
before the regular-season opener. They could add a player released from another team, or they could ramp up their pursuit of
Brian Westbrook
. Also, Steven Jackson is holding up very well so far in training camp, it appears, so the backup position might not be quite as urgent of a concern. Still, if the Rams fail to act and running back becomes a serious problem, your criticism will be fair.
On the Jason Smith front, let's not declare him a bust after one injury-affected season. Let's also evaluate his selection in the context of which other players the Rams could have drafted.
Tyson Jackson
and
Aaron Curry
were the next two players selected.
Mark Sanchez
was taken fifth, but the Rams already had millions in guaranteed money committed to
Marc Bulger
, so the timing was not ideal. And they wound up getting
Sam Bradford
the next year. Smith, Jackson, Curry ... they're all promising players still finding their way. None turned around the fortunes of his franchise in one year.
On the Isaac Bruce front, I think he's a better fit for Chicago because the Bears are running the offense he ran during his prime years (and even with the 49ers later). The Rams have reached out to Dick Vermeil. They've showed a willingness to hire prominent former players for the coaching staff when the fit was right (Nolan Cromwell, who has vast experience in West Coast offenses). They've even saluted past Rams teams by hanging banners throughout their facility. I'm not going to trash the Rams for not hiring Bruce as a coaching intern. They did re-sign him and let him retire as a Ram, after all.
You're justified in feeling queasy about the upcoming Rams season. I think it's going to be a rough one. But if Bradford looks the part and some of the younger players around him show meaningful progress, you can at least feel better about the future.
---
Colton from Friendsville, Pa., writes:
Hey Mike, I've been hearing buzz about undrafted rookie
Stephen Williams
. Before camp, I had never heard his name. Can you tell me something about him?
Mike Sando:
Yes, I noticed Williams at Cardinals camp. He's quite tall (6-foot-5) and very rangy (208 pounds). The Cardinals do like what he offers. I think Williams would be an ideal candidate for the practice squad unless he plays well enough as a receiver during the exhibition season to command a roster spot, or unless he shows outstanding talent on special teams.
---
Levin from parts unknown writes:
Sando, I appreciate the great coverage of the NFC West and 49ers in particular. If I may make one request, it would be for some coverage on how the 49ers are doing in the running game. Obviously,
Frank Gore
is a great back, but what did the blocking look like? Was it much improved and holes actually created, unlike much of last season? Also how are
Glen Coffee
and
Anthony Dixon
looking? All the write-ups I see from you and everyone else who gets access to practices tend to concentrate solely on the passing game. That is understandable, since that is the unknown part of the offense and the key to the 49ers' season, but the run game should get some coverage (especially the blocking of the OL). Thanks.
Mike Sando:
Thanks, Levin.
Mike Iupati
jumps out right away. He will upgrade their run blocking. Center
Eric Heitmann
has been missing practice after suffering a stinger injury. Right guard
Chilo Rachal
missed some time after suffering from dehydration.
Anthony Davis
is finding his way at right tackle. The running game is very much a work in progress in terms of that line coming together. I appreciate the reminder to focus on it and will take a longer look at Coffee and Dixon over the next couple days (I'll be at 49ers practices Friday and Saturday).
---
Julian from Oak Harbor, Wash., writes:
Hey Mike, love what you've done so far for the Cards' posts over the course of training camp. I know
Matt Leinart
has question marks, but one thing I didn't see in your articles was anything definitively positive or negative. So I ask, is there anything specific that you noticed that had improved in Matt? Arm strength, accuracy, footwork, timing, field vision, etc.? Anything at all that grabbed your attention? As always Mike, thanks for the hard work and dedication you put into you posts.
Mike Sando:
Astute observation, Julian. I came away from my time in Arizona thinking the same thing. Isn't there something more definitive to say about this guy. There was no "wow" factor to the way he ran the offense. Neither was there a feeling he couldn't handle the job. That's what I mean when I say there comes a time when Leinart must play well enough for people to take notice and say, "That's a guy the Cardinals need to lead their offense." We have not seen it yet.
---
Scott from Germantown, Md., writes:
Hi Mike, lifelong Seahawks fan out on the East Coast. Any chance the Seahawks will jump to sign
Aaron Schobel
now that he's released? It would seem to me that he could work in Pete Carroll's hybrid defensive front as either defensive end, outside linebacker or the Leo position. Any chance of this happening? We're going to need some kind of pass-rush if we're going to win any games.
Mike Sando:
The fit does appear perfect. He had 10 sacks for a really bad team last season. He would probably give the Seahawks what they wish they could still be getting from
Patrick Kerney
. The feeling early, though, is that Schobel might be more likely to land with the
Houston Texans
. He has a farm near Houston and his family is there. It's still early in the process. Stay tuned.
August, 5, 2010
8/05/10
10:15
AM ET
The Seahawks' contract agreement with former
Indianapolis Colts
defensive tackle
Quinn Pitcock
comes shortly after
Indy released Pitcock
from its reserve/did not report list. The Colts no longer hold rights to Pitcock, freeing him to revive his career elsewhere.
Taking a chance on Pitcock cannot hurt. He was a third-round draft choice in 2007, suffered injury problems and retired somewhat mysteriously after one NFL season.
If the Seahawks are interested in Pitcock, why not see whether former
Buffalo Bills
defensive end
Aaron Schobel
might want to change schemes and locations? Schobel did not report to the Bills, who eventually waived him. Mike Reiss of ESPNBoston.com
makes a strong case
for the
New England Patriots
considering Schobel. Seattle could use pass-rush help, obviously, and Schobel did have 10 sacks last season. I'd be interested in hearing Pete Carroll's take on the potential fit.
September, 3, 2008
9/03/08
10:30
PM ET
Posted by ESPN.com's Mike Sando
Jim Moore of the Seattle Post-Intelligencer takes a look at Mike Holmgren through the eyes of the Seattle coach's four daughters. This is a fun read with two classic family photos (1,2). His daughters live and die with Seahawks games, and they despise bad refs -- just like their dad. These women know football. As daughter Calla said: "We got after him a couple years ago because we thought he was getting a little bit predictable (with his play-calling). We were like, 'You know, there are only so many times you can run a draw.' "

Bill Coats of Around the Horns quotes Rams coach Scott Linehan as saying receiver Torry Holt is much healthier than he was a year ago. "Rejuvenated" was the word Linehan used. The Rams absolutely, positively need a healthy Holt to attack defenses down the field.
Jeff Gordon of stltoday.com takes a big-picture look at the Rams heading into their season opener at Philadelphia. He says Linehan is coaching for his job, and it shows.
Danny O'Neil of the Seattle Times exposes Bills defensive end Aaron Schobel for failing to remember Walter Jones' name during a conference call. Players can be funny that way. I remember asking Jones about a prominent rookie several years ago. Jones had never heard of him. Players can keep a narrow focus. They don't see the game the way we do. An older veteran might not even know the names of some younger teammates.
49ers.com carries Mike Nolan's interview transcript, in which the coach explains why he thinks the team is improved: "I think because we're more established at the quarterback position, I believe, than a year ago. We have more depth. I feel more encouraged by the offense's production in the preseason. The maturity on defense has taken another step."
Dan Brown of 49ers Hot Read provides details from general manager Scot McCloughan's meeting with reporters today. McCloughan said he was surprised to see J.T. O'Sullivan win the starting job at quarterback. He also cited frequent coordinator changes for hindering Alex Smith's development. Brown includes the full interview transcript. It's a good read.
Clare Farnsworth of the Seattle Post-Intelligencer catches up with the left side of the Seahawks' offensive line. Guard Mike Wahle, signed in free agency, is making Jones' job easier. Jones: "Not to take anything away from the other guys, but man, Mike Wahle is the real deal. From the first day he stepping in there, the difference has been amazing. I don't have to worry about what's going on next to me."
Frank Hughes of Seahawks Insider wonders if Deion Branch is taking a risk by returning seven months after ACL surgery. Branch practiced today. He might not play Sunday, but he could be back for the second or third game. His teammate, Bobby Engram, underwent ACL surgery in mid-October 2000. Engram was back on the field in early June 2001. Each situation is different. We don't know enough about Branch's knee to know the risks.