January, 15, 2015
Jan 15
1:00
PM ET
EARTH CITY, Mo. -- After a last-minute change of heart by the
San Francisco 49ers
left
Denver Broncos
offensive coordinator Adam Gase without their head-coaching position, he's quickly become one of the hottest commodities on the coaching market.
And the
St. Louis Rams
apparently moved quickly to express interest Thursday morning, as ESPN NFL Insider Adam Schefter reported the Rams have requested an offensive coordinator interview with Gase.
St. Louis Rams requested permission for OC interview with Broncos OC Adam Gase, a finalist for 49ers HC job.

— Adam Schefter (@AdamSchefter) January 15, 2015
Gase would obviously have plenty of appeal for the Rams, and they are absolutely doing the right thing by seeking an interview with him. While some like to solely credit
Peyton Manning
for Denver's offensive success, Manning often points to Gase as one of his favorite coaches and speaks highly of Gase at every turn. With Gase in charge of the offense, the Broncos set NFL offensive records in 2013 and finished second in the league in scoring and fourth in total offense in 2014.
The question isn't whether Gase would be a good hire so much as it is whether the Rams can land him. In that regard, there is no shortage of competition.
The 49ers reached out to Gase to make him offensive coordinator after passing him over for the head-coaching job, and the Broncos spent time with Gase on Wednesday discussing their head-coaching job. The
Jacksonville Jaguars
and
Oakland Raiders
have also expressed at least some level of interest in Gase for their offensive coordinator openings.
And it's the
Atlanta Falcons
that seem to loom largest in this. The Falcons have already interviewed Gase for their head-coaching job, and though it appears they prefer either Detroit defensive coordinator Teryl Austin or Seattle defensive coordinator Dan Quinn for that job, both coaches have expressed interest in bringing in Gase as offensive coordinator. To that end, the Falcons are expected to put in a formal interview request with Gase for the offensive coordinator position.
Clearly, that might just be a matter of housekeeping since Atlanta has already talked to him and knows him from the interview for the head-coaching job. With a quarterback in
Matt Ryan
and other talented young pieces like receiver
Julio Jones
and offensive lineman
Jake Matthews
in place in Atlanta -- combined with the Rams' potential relocation hovering over the franchise to go with a coaching staff that needs to win in 2015 -- the Falcons would seem to be the more appealing job.
Of course, if the Rams' re-hiring of defensive coordinator Gregg Williams last year taught us anything about the coaching carousel, it's to never rule anything out. Things can always change, so we can't categorically say the Rams won't be a player here.
But where things stand now, it would seem things will indeed have to change for the Rams to have a chance to land Gase.
January, 13, 2015
Jan 13
8:00
AM ET
There are so many moving parts to the situation in Denver that you must first take off your red and gold glasses for a moment before pondering -- if you were Adam Gase, would you rather stay put with the Broncos and go for the head gig in a place you've worked the past six years, or come to Santa Clara and take over the
San Francisco 49ers
.
Manning
Would you rather coach
Peyton Manning
, or
Colin Kaepernick
? Work for John Elway, or Jed York and Trent Baalke?
Of course, nothing has been offered, not in the Mile High City nor in Silicon Valley. Not yet.
But with everything being so fluid with the Broncos less than 24 hours
after head coach John Fox and the team parted ways
, and Gase reportedly set for a second interview with the Niners, there would seemingly be many things to consider for Gase, who was an offensive assistant with the 49ers in 2008 and is reportedly up for consideration to be elevated by the Broncos.
Gase was Denver's receivers coach in 2009 and 2010 before serving as the quarterbacks coach the next two seasons.
In his first year as the Broncos' offensive coordinator, in 2013, Denver set an NFL record for most points scored in a season (606) and scored the most touchdowns in league history (76) while averaging 37.9 points per game and 457.9 yards.
This past season, Denver had the No. 4-ranked total offense and was the AFC's highest-scoring team with 482 points.
But of course, this was all with Manning under center, and he can make a lot of people look smart.
And therein lies the potential rub.
Gase is purportedly very close to Manning, and if Manning decides to return to Denver for another run at a ring, that could sway Gase to stay put. But if Manning retires, maybe Gase decides it is time to move on for the next challenge.
York said he wanted a "teacher" as his next coach. And while Fox, who turns 60 next month, would seemingly fit that profile (hey, he even has white hair like Bill Walsh did), he is a defensive-minded coach.
Gase, who turns 37 in March, may not have that professorial acumen, but he did tutor Tim Tebow as the Broncos' QB coach in 2011. I'm not saying Kaepernick is Tebow (I've always thought that Terrelle Pryor's skill set more closely resembled that of Tebow) but if Gase could get something out of Tebow (the Broncos did win the AFC West that season), perhaps he can jumpstart Kaepernick.
You know, as a "teacher," of sorts.
August, 20, 2014
8/20/14
7:00
PM ET
ENGLEWOOD, Colo. – While it would be nice for the
Denver Broncos
to get running back
Montee Ball
into a preseason game for a few snaps, get him a carry, see him run through some contact, his real target date to be ready to go is still Sept. 7, or the regular-season opener against the
Indianapolis Colts
.
Ball, who had an appendectomy Aug. 4, returned to the practice field Tuesday and did a little more on Wednesday, but as it stands now the Broncos' top running back is not expected to play in Saturday night's preseason game against the
Houston Texans
. And since the Broncos usually play few, if any, starters in the fourth preseason game, Ball's most likely return date is still the regular-season opener.
"Honestly, I don't know,'' Ball said after Wednesday's practice. "We literally play it by ear when the day comes as to how I feel in the morning, and [there's] no reason to rush right now. The most important thing I'm doing is staying in the playbook, listening to Peyton's adjustments, all that, staying in tune with everything and then contributing as much as possible.''
[+] Enlarge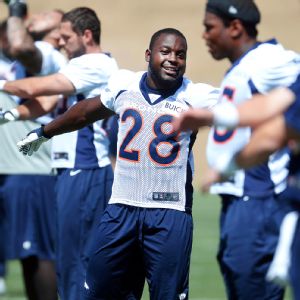 Ron Chenoy/USA TODAY SportsMontee Ball is working to gain weight he lost after having an appendectomy earlier this month.
Ball has been tabbed as the Broncos' lead back since the start of offseason workouts and quarterback
Peyton Manning
has consistently said the second-year back is ready for a far larger role in the offense than Ball had as a rookie in 2013. Last season, after being the Broncos' second-round pick in the 2013 draft, Ball finished with 559 yards rushing on 120 carries.
This year, the Broncos have big plans for Ball, so much so he might be the first Broncos back to top 250 carries in a season for the team since Reuben Droughns lugged it 275 times in 2004. So the practice rotation changed significantly when Ball felt abdominal pains in the early-morning hours just over two weeks ago.
With Ball out,
Ronnie Hillman
has taken most of the snaps with the starting offense, but
C.J. Anderson
and undrafted rookie
Juwan Thompson
, who has made a quality case to make the roster with his all-around work, also getting a selection of snaps with the regulars as well.
Given Ball's work in the rest of the offseason program, as well as early on in training camp, the Broncos do not feel compelled to rush him back into the lineup now when he is expected to be such a big part of their offense later.
"I don't know where he's really at right now,'' said offensive coordinator Adam Gase. "The trainers just let me know.''
Ball did some individual drills with the other backs Tuesday, but did not participate in much else during practice, the first of three this week with the Houston Texans. On Wednesday, Ball did slightly more, doing individual drills as well as a few snaps in 7-on-7 drills with the starters. Broncos head coach John Fox said the team would "continue to upgrade'' Ball's participation in practice during the remaining preseason practices, including one Thursday with the Texans.
Ball said Wednesday he had lost some weight during his recovery from the appendectomy and is working his way back to 215 pounds, where he was before training camp opened. That, too, is a factor in his full return to the lineup, but again, the Broncos' focus for Ball is not Saturday, it's the opener.
"[The weight] is slowly, slowly coming back,'' Ball said. "I actually like it. I feel a lot faster, a lot more agile. So I'm going to play around with it a little bit, see how it is.''
One offshoot of Ball's absence is it has allowed the Broncos to give a long look at the other backs on the roster in some first-team or second-team situations in team drills, carries those backs might not have received had the Broncos simply been working Ball with the starters much of the time.
The Broncos opened camp with a young group at the position – Hillman, entering his third season, is the most experienced – and with roster cuts looming, the team faces a decision about how many backs they will keep and who those backs will be after Ball and Hillman.
For his part, Ball said he's pointing to a full-speed start of the season, even though the waiting is indeed the hardest part.
"It's frustrating, just because it's a job that I love doing. It sucks — sitting on the sideline watching everybody else play and you're not contributing like you want to. We have a great training staff and they're doing a great job of bringing me along. … There's no pain at all. It's just now we're going to see how it is to take contact. We're going to see how it is. I'm sure we're going to do some things with that. … It's time to go. I'm here to play football, not to sit on the sideline.''
February, 2, 2014
2/02/14
10:30
PM ET
EAST RUTHERFORD, N.J. -- It has been at least 13 years and probably more since a team dominated a Super Bowl the way the
Seattle Seahawks
did Sunday night at MetLife Stadium, winning
43-8
over the
Denver Broncos
. They scored touchdowns on offense, defense and special teams -- all after recording a safety on the first snap of the game. And they didn't give up any points until the end of the third quarter after building a 36-0 lead. The result is a report card that would be the envy of an Ivy League college applicant.
PASSING OFFENSE





It was as good as it had to be. Russell Wilson's passer rating was 123.1, eight different players caught his passes and he wasn't sacked or intercepted. Seattle raced out to a huge first-half lead, so Wilson didn't need to put up gaudy stats to win. But he was 4-of-5 for 64 yards on third-down plays in the first quarter, when the game was still in doubt, and he was still flinging it around in the fourth quarter as the Seahawks padded their lead.
---
RUSHING OFFENSE





Marshawn Lynch struggled to find room against Terrance Knighton and a Broncos defensive front focused on stopping the run. But Seattle's yards-per-carry average got a boost from Percy Harvin's 15-yard and 30-yard runs on jet sweep plays, and Lynch was able to muscle into the end zone on second down from the 1-yard line after a pass interference penalty in the end zone set up the game's first touchdown.
---
PASSING DEFENSE





Broncos quarterback Peyton Manning won his fifth MVP award for a season in which he threw a record 55 touchdown passes. But he was a mess all night against Seattle's pass rush, throwing two interceptions. Led by Cliff Avril, Seattle's line moved Manning off his spot all night and batted down some key passes while the big, physical defensive backs made life miserable for Broncos receivers before and after the catch. The "Legion of Boom" lived up to its name, outmuscling the top-scoring offense in NFL history.
---
RUSHING DEFENSE





Total domination. And yeah, the Broncos had to get away from the run because they were down 15-0 before they had a chance to run their offense. But Seattle's front bottled up Knowshon Moreno and Montee Ball, holding Denver to 27 yards rushing on 14 carries, forcing a fumble (that Denver recovered) and stripping the Broncos of any chance to maintain any level of balance on offense.
---
SPECIAL TEAMS





Harvin barely played all season. Finally healthy, he was a difference-maker in the biggest game of his career. Seattle's 22-0 halftime lead looked tough to overcome, but the 29-0 lead they had 12 seconds into the half after Harvin's 87-yard kickoff return for a touchdown looked impossible. Seattle's kick coverage team held electric Denver return man Trindon Holliday in check.
---
COACHING





Give Pete Carroll the grade for the full year, as every move he made seemed to pay off. He had enough faith in his defense to let Manning start the game with the ball after he won the coin toss and to kick a first-quarter field goal instead of going for it on fourth-and-short inside the Denver 10. He also stayed aggressive even as his team was rolling early, calling timeout on a Denver fourth-and-2 from the Seattle 19 with 1:06 left in the first half. Seattle didn't even try to move the ball in the final minute after stopping the Broncos and taking possession, but it showed a coach in control of the game. You also have to hand Seattle defensive coordinator Dan Quinn the victory over Denver offensive coordinator Adam Gase in the matchup of hot head-coaching candidates.
January, 14, 2009
1/14/09
11:37
PM ET
Posted by ESPN.com's Mike Sando

Matt Barrows of the Sacramento Bee says the 49ers held a phone interview with Broncos assistant Pat McPherson, a candidate to coach quarterbacks for the 49ers. McPherson would likely coach the position if the team hired Broncos assistant Rick Dennison as offensive coordinator.
Matt Maiocco of the Santa Rosa Press-Democrat says the 49ers have discussed the possibility of hiring an offensive coordinator from within. Also, the Broncos might have interest in 49ers offensive assistant Adam Gase.
Daniel Brown of the San Jose Mercury News says McPherson served as position coach for Jake Plummer, who posted a 39-15 starting record with McPherson coaching the position.

Richard Obert of the Arizona Republic says the Cardinals continue to fight through personnel issues at tight end.
Also from Obert: Eagles quarterback Donovan McNabb trains in Arizona.
Mike Hlas of the Cedar Rapids Gazette checks in with former Redskins and University of Iowa defensive back Matt Bowen for scouting reports on Kurt Warner and McNabb. Bowen played with Warner and against McNabb.
Kent Somers of the Arizona Republic says Dominique Rodgers-Cromartie claims to be the fastest player on the Cardinals, and he's willing to back it up.
Darren Urban of azcardinals.com checks in with Steve Breaston, who disputes Rodgers-Cromartie's claim while declining to prove it until after the season.
Also from Urban: The Cardinals passed out shirts featuring a simple message. "PROVE IT," the shirts read.
Scott Bordow of the East Valley Tribune thinks Rodgers-Cromartie can become a perennial Pro Bowl cornerback.

Clare Farnsworth of the Seattle Post-Intelligencer shares his thoughts on changes to the Seahawks' coaching staff. Farnsworth: "Seeing [Gil] Haskell go is almost as difficult as watching Holmgren walk away. Like [Mike] Holmgren, Haskell is a good coach and an even better person. But [Greg] Knapp's name as the eventual O.C. surfaced a year ago, when [Jim] Mora was named the head-coach-in-waiting. Knapp and Mora worked together previously in San Francisco and Atlanta, and it was imperative that Mora have his 'own guy' running the offense because his expertise is on the defensive side of the ball."

Judd Zulgad of the Minneapolis Star-Tribune says Vikings defensive coordinator Leslie Frazier emerged from his Rams interview hopeful the team would hire him as head coach. Frazier: "I felt really good about the interview. I had no second guesses about, 'Maybe I should have said this or that.' I put everything out there that needed to be out there and now it's a matter of if I'm the right fit for what they're looking for."
John Clayton says the Rams' interest in Steve Spagnuolo and Jason Garrett shows money isn't a problem for the team in its search for a new head coach.