NFC West:

Adrian Clayborn
September, 12, 2014
Sep 12
8:00
AM ET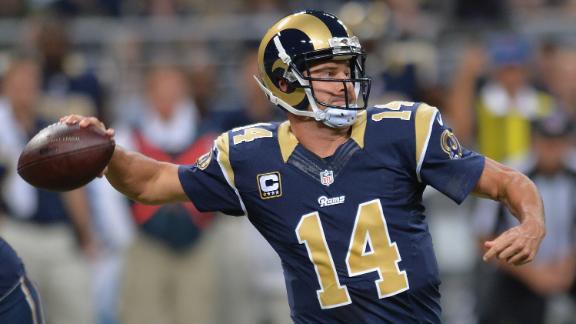 It's tough to call the second game of the season a "must-win" situation. But that might not be far off what the
St. Louis Rams
and
Tampa Bay Buccaneers
are facing this week.
Both teams are coming off embarrassing losses that could set the tone for disastrous seasons. But a victory in Week 2 could save a season -- at least for the moment.
ESPN Rams reporter Nick Wagoner and Buccaneers reporter Pat Yasinskas take a look at this matchup:
Yasinskas:
Nick, let's cut right to the chase. Are the Rams as bad as they looked against the Vikings in the opener?
Wagoner:
I don't think the Rams are as bad as they were in Week 1, but I can understand why some might view it that way. That isn't to say this team just had an off-day and is about to string 15 wins together. The issue in Week 1 boiled down to the Rams failing to do the things they believe they will do well this year. Namely, this is a team built to run the ball to set up play-action on offense and dominate defensively, but they didn't control the line of scrimmage well enough on either side of the ball to do that. On paper, this looked like an offensive line that could be really good if everyone is healthy -- but even healthy, it looked like an aging group unable to block basic four-man rushes.
Still, I expect the Rams to be more competitive this week, so long as they have veteran quarterback
Shaun Hill
back from a quad injury.
I suppose the best option now is to redirect back at you: The Bucs disappointed in Week 1 against a backup quarterback, and either way, they're going to see another this week against the Rams. Are they as bad as they showed against the Panthers? How do they bounce back?
Yasinskas
: The Bucs were horrible offensively for more than three quarters. Their defense, which is supposed to be a strong point, wasn't much better against Carolina backup
Derek Anderson
. There weren't a lot of good things to come out of the opener, and I'm not trying to make it out to be more than it was. But the Bucs did score 14 points in the fourth quarter, and they made it a game. It took a long time, but their offense finally showed some rhythm in the fourth and they had a chance to win at the end. Maybe this offense isn't that good, or maybe it just took some time to get things going in the right direction.
I know hopes were high with
Sam Bradford
, and that all changed with his injury. How much of a difference will it make if Hill is able to play?
Wagoner:
Let's be honest here: It's not like the Rams are choosing from a quarterback trio of Elway, Marino and Montana. But of the three they have on the roster, it's pretty clear Hill gives them the best chance to win at this point. He's a steady hand and actually got off to a pretty good start against the Vikings last week before a dropped screen pass and a bad throw that resulted in an interception just before the half. For what it's worth, Jeff Fisher said Hill was trying to throw that ball away but couldn't get it out of bounds because of the quad.
Either way, the Rams need Hill under center because the options behind him --
Austin Davis
and
Case Keenum
-- simply aren't going to get the job done. Of course, it won't matter who is under center if the offensive line doesn't perform better than it did the past week. That group has to give Hill time to throw and open some holes in the run game for this offense to have any chance of success against that Tampa defense.
Speaking of that defense, Lovie Smith once coordinated the group in St. Louis, and we all have a pretty good idea of what he likes to do. But now that he's back with the Bucs as the head coach, what are some wrinkles he's bringing to the table, and how good can that group be with guys such as
Gerald McCoy
and
Lavonte David
in the system?
Yasinskas:
McCoy and David are two excellent cornerstones around which to build the defense. But as we found out against Carolina, the Bucs need more than that. The key to a Smith defense is getting pressure from the front four, and the Bucs didn't do that against the Panthers. They came up with one sack (by McCoy) and got no pressure on the outside. Defensive ends
Adrian Clayborn
and
Michael Johnson
have talent, but they have to be more productive for Smith's defense to really work. If the defense gets pressure, the turnovers will flow. If it doesn't get pressure, the defense will be nothing more than ordinary. McCoy and David are the stars of the defense, but the Bucs need Clayborn and Johnson to really make things click.
Tampa Bay's offensive line is a huge question, and the Bucs might be without injured guard
Logan Mankins
. Like any quarterback,
Josh McCown
is going to struggle if he's pressured. Are the Rams capable of putting a lot of pressure on McCown? If so, that will stall Tampa Bay's offense.
Wagoner:
The strength of the Rams' defense is certainly found in the front four and the pass rush in general. Of course, that wasn't all that evident this past week against Minnesota. The Vikings only allowed one sack, and that came because of a botched snap. But Minnesota had a good game plan and made it a point to get the ball out quickly, which negated the Rams' pass rush. In fact, Vikings quarterback
Matt Cassel
averaged the fewest air yards per attempt of any quarterback in Week 1.
The Bucs know exactly what the Rams' pass rush can do after
Robert Quinn
gave them all kinds of headaches in the past year's meeting. But the Rams have to be better in coverage on underneath stuff if they want their pass rush to take off as it should.
McCown had some success throwing against the Rams last year when he was with the Bears, and the Bucs have a couple big, physical receivers on the outside. If things are going how the Bucs want, what type of challenges do they present to the Rams' defense?
Yasinskas:
Let's assume for a second the offensive line plays a decent game. If that's the case, McCown will have time to throw, and he has some nice targets to work with.
Vincent Jackson
,
Mike Evans
and
Austin Seferian-Jenkins
are all at least 6-foot-5. That creates all sorts of matchup problems for a secondary. Evans and Seferian-Jenkins are only rookies, but they can be impact players. Jackson is a proven receiver who probably doesn't get the recognition he deserves.
But like I said, the offensive line will be the key. If McCown has time to throw, he can be an efficient quarterback. If he doesn't have time, he'll show why he's been a backup most of his career.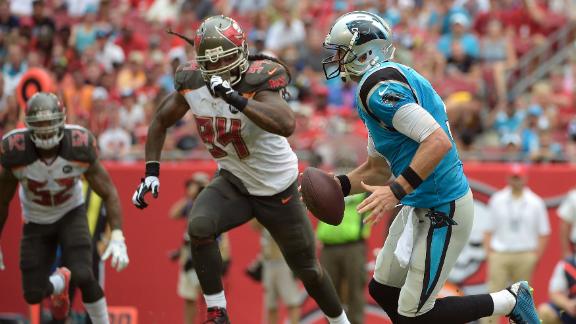 September, 26, 2013
9/26/13
12:00
PM ET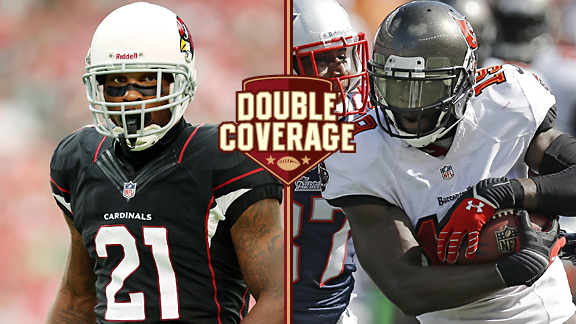 Getty ImagesMike Williams will be called on to help jump-start Tampa Bay's offense, while Patrick Peterson will be charged with helping to keep him in check.
The
Tampa Bay Buccaneers
aren't the only NFL team practicing in the Tampa Bay area this week.
The
Arizona Cardinals
are practicing at IMG Academy in Bradenton, Fla., as they get ready for Sunday's game.
Cardinals reporter Josh Weinfuss and Buccaneers reporter Pat Yasinskas talk about Sunday's game.
Yasinskas:
Josh, I know IMG has great facilities. The Buccaneers used them during the lockout, and the
Carolina Panthers
worked out there last year to avoid the congestion from the Democratic National Convention before playing the Bucs. But why did the Cardinals elect to come east early?
Weinfuss:
Having just adjusted to the two-hour time difference in New Orleans, Bruce Arians didn't want his players' bodies to get totally out of whack going back to Pacific time (technically, Arizona is on Mountain time, but the state doesn't change its clocks when the rest of the country does) and then five days later fly cross-country to the East Coast, another three hours ahead. I'm tired from thinking about it. This way, the Cardinals can adjust their body clocks to playing what would be a 10 a.m. home game in Arizona. We'll see whether it works. There's a pretty significant contingent inside the locker room that's not a fan of this, but those players might be after they realize what their bodies would have gone through. And then there's playing in the Florida humidity, which takes more than a day or two to adapt to. In Arizona, it's a dry heat (yeah, I know, everyone doubts it, but it really is), and the Cards neither practice nor play outside, so the added time in the elements could help.
Speaking of elements, is the Bucs' locker room in as much disarray right now as the perception makes people believe?
Yasinskas:
It might be in even more disarray than people realize.
Wednesday's news
that the Bucs are benching quarterback
Josh Freeman
in favor of rookie
Mike Glennon
was just more evidence of how much dysfunction is going on with this team. Freeman and coach Greg Schiano never were firmly on the same page, and Freeman's fate was sealed the moment Schiano used a third-round draft pick on Glennon in April. But the fact that Schiano now is going with "his guy" isn't going to instantly solve all the problems. Freeman is a popular figure in the locker room, and some teammates might not agree with his benching. There also have been multiple reports about players not liking Schiano's militaristic style. The Bucs have denied those reports, but I think there's something to them. I believe that where there's smoke, there's fire.
Speaking of coaching styles, it's early in the Arians era, but what is his persona and how has he been received by the players?
Weinfuss:
He's a no-nonsense type of guy, and the players love it. Well, maybe they loved it. Having a lackluster offense and starting 1-2 wasn't what this team projected out of Arians. There haven't been any signs of the players losing faith in their coach. They all raved about him during organized team activities, minicamp and training camp. The players appreciated his candidness with them. If they ever want to know where they stand, he'll tell them the truth, the whole truth and nothing but the truth. Whether they like it or not.
He has been there for only three games, but is the
Darrelle Revis
acquisition working out and how has he changed the Bucs' defense?
Yasinskas:
Revis has been everything the Bucs hoped for. They brought him in to fix a defense that led the league in passing yards allowed last season, and the early results have been good. Revis is the kind of player who makes those around him better, and his arrival really has helped strong safety
Mark Barron
. I'd imagine the Bucs will put Revis on
Larry Fitzgerald
for most -- or all -- of this game.
If Revis can neutralize Fitzgerald, do the Cardinals have enough other offensive weapons to win?
Weinfuss:
That's the $10,000 question. The short answer is yes, they do. The long answer is only if the other weapons -- most notably receivers
Michael Floyd
and
Andre Roberts
-- are not double-teamed. If they are and Revis can shut down Fitzgerald, it could be a long day for Arizona's offense. But Arians is a smart enough offensive mind, so I'm sure he has accounted for this. Expect tight end
Rob Housler
to play an integral role Sunday, and look for the Cardinals' stable of running backs --
Rashard Mendenhall
,
Alfonso Smith
,
Andre Ellington
and
Stepfan Taylor
-- to come out of the backfield for passes and to create mismatches.
Aside from Revis, how has the rest of Tampa Bay's defense looked?
Yasinskas:
The defense has been a bright spot for Tampa Bay. In addition to the secondary, linebackers
Mason Foster
and
Lavonte David
, defensive end
Adrian Clayborn
, and defensive tackle
Gerald McCoy
are off to very good starts. But the Patriots were able to run the ball against the Bucs, and Tampa Bay had trouble with the tight ends against the Jets and the Saints. The Bucs could be susceptible if Arizona can get some production from the running game or its tight ends.
December, 5, 2011
12/05/11
7:11
PM ET
A quick look through the NFL rookie sack leaders shows NFC West teams with three of the top 10 producers, led by the San Francisco 49ers'
Aldon Smith
with 9.5.
This is how it should be.
NFC West teams drafted two of the first three outside pass-rushers in 2011.
Denver's Von Miller, the first pass-rusher chosen, leads all rookies with 10. 5 sacks. The 49ers' Smith, drafted seventh overall, was the second outside rusher chosen. The St. Louis Rams' Robert Quinn, tied for eighth on the list with five sacks, was the third outside rusher chosen. Houston's J.J. Watt has more sacks than Quinn, but as a 3-4 defensive end, he's not a pure outside rusher.
Arizona's Sam Acho has outproduced his draft status as a fourth-round choice. Acho has five sacks in the Cardinals' past seven games, though three of Arizona's past four opponents have held him without one.
Sacks aren't the only measure of a pass-rusher's performance. The good ones tend to rack up a lot of them, however.
Charles Haley
holds the 49ers' rookie record since the NFL began tracking sacks in 1982. He had 12.5 sacks during the 1986 season.
Dana Stubblefield
had 10.5 sacks during 1993, his rookie season.
Smith needs 3.5 sacks over the 49ers' final four games to pass Haley. He has all 9.5 of his sacks in the 49ers' past nine games, including two during the 49ers' division-clinching victory over St. Louis on Sunday.
September, 1, 2011
9/01/11
10:19
AM ET
Nine of 12 dentists recommend brushing with -- wait, wrong survey. Let's try this again.
Nine of 12 ESPN.com football reporters are picking the
St. Louis Rams
to win the NFC West this season. Three others are taking the
Arizona Cardinals
. And that is only a small sampling of results from
our NFL predictions
for the 2011 season.
NFL divisional bloggers joined John Clayton, Adam Schefter, Matt Williamson, Ashley Fox and Jeff Chadiha in voting for eight division winners, two wild-card teams per conference, AFC champion, NFC champ, Super Bowl champ, coach of the year, MVP, top offensive rookie and top defensive rookie.
A quick look at voting results:
Super Bowl champ: Six of 12 votes, including mine, went for the New England Patriots. Chadiha and Seifert took Green Bay. Four other teams drew votes: New Orleans (Paul Kuharsky), San Diego (Dan Graziano), Pittsburgh (Fox) and the New York Jets (Bill Williamson).
AFC champ: Nine votes for New England. One apiece for the Chargers, Steelers and Jets.
NFC champ: Green Bay drew four votes, including mine. New Orleans and Philadelphia drew three votes apiece. Atlanta (Bill Williamson) and Dallas (Schefter) drew one apiece.
NFC West: I was among nine picking the St. Louis Rams. Chadiha, Kevin Seifert joined Graziano in picking the Arizona Cardinals.
NFC North: It was unanimous. Twelve votes for the Packers.
NFC South: Six for New Orleans, six for Atlanta. I took the Falcons.
NFC East: Eleven votes for the Eagles. Schefter took the Cowboys.
NFC wild cards: The Saints and Cowboys were my picks, in part because Dallas plays the NFC West this season. There were six votes for Atlanta, five for New Orleans, four for Dallas, three for Detroit, three for Tampa Bay, one for Minnesota (Chadiha), one for Philadelphia (Schefter) and one for the New York Giants (Yasinskas).
AFC West: Eleven votes for San Diego. Kuharsky took Kansas City.
AFC North: Eight votes for Pittsburgh, including mine. Four for Baltimore.
AFC South: Seven votes for Houston. Five votes for Indianapolis, including mine.
AFC East: I was among 10 voting for the Patriots. Graziano and Bill Williamson picked the Jets.
AFC wild cards: Baltimore and the Jets were my picks. There were eight votes for the Jets, five for the Ravens, four for the Steelers, three for the Colts, two for the Patriots, one for the Texans (Kuharsky) and one for the Chiefs (Bill Williamson).
Coach of the year: Bill Belichick was my choice. There were three votes for Jim Schwartz, two for Jason Garrett, two for Belichick and one apiece for Steve Spagnuolo (Kuharsky), Sean Payton (James Walker), Mike McCarthy (Clayton), Andy Reid (Chadiha) and Gary Kubiak (Pat Yasinskas).
MVP: I was among four voting for Aaron Rodgers. Philip Rivers drew three votes. Tom Brady and Michael Vick drew two apiece. Kuharsky cast the lone vote for Brees.
Offensive rookie: I was among nine voting for Julio Jones. There were two votes for Mark Ingram (Clayton, Schefter) and one for Cam Newton (Bill Williamson).
Defensive rookie: I was among nine voting for Von Miller. Adrian Clayborn (Kuharsky), Ryan Kerrigan (Graziano) and Jimmy Smith (Walker) drew one vote apiece.
Take these to the bank, but please do not try depositing them. I'm sure our perceptions will change -- "evolve" sounds better -- as these teams reveal more about themselves.
For me, the biggest challenge is following four teams so closely every day of the year, then trying to make sense of faraway teams that cross the radar screen far less frequently. I'm interested in your picks, too. Fire away.
August, 29, 2011
8/29/11
1:15
PM ET
Twenty-one 2011 first-round draft picks have started at least one preseason game this summer.
Seattle's
James Carpenter
is the only one from the NFC West to start so far. He has struggled in pass protection while showing promise in the running game. Like some other rookie offensive linemen -- Green Bay's
Derek Sherrod
comes to mind -- Carpenter is facing growing pains in his transition to the NFL.
Arizona's
Patrick Peterson
is the only player drafted among the top six overall picks without a start. He returned an interception 34 yards for a touchdown Saturday night. The Cardinals like their depth at cornerback. Coach Ken Whisenhunt also tends to make rookies earn their starting spots.
Greg Toler
's injury could lead to increased snaps for Peterson.
The two first-round NFC West pass-rushers,
Aldon Smith
(San Francisco) and
Robert Quinn
(St. Louis), are easing into their roles. Smith has at times looked like a favorite to start right away, but he continues working with the backups. The Rams have no plans to push Quinn into the starting lineup right away. They're set at defensive end. Quinn could use seasoning after missing the 2010 season.
Three of the 11 first-rounders without starts this summer have been sidelined by injuries:
Nick Fairley
(Detroit),
Prince Amukamara
(
New York Giants
) and
Jon Baldwin
(Kansas City).
.
April, 11, 2011
4/11/11
11:49
AM ET
Eric Dickerson, Marshall Faulk, Roger Craig, Sean Morey,
Sam Bradford
and
Takeo Spikes
are among the NFC West players and alumni scheduled to appear at the NFL Players Association's draft-related festivities in New York beginning April 28.
Hall of Famer and current
Seattle Seahawks
radio analyst Warren Moon, who played for Seattle before the team's move back to the NFC West in 2002, is also on the guest list revealed Monday.
The NFLPA took criticism when news broke that it
planned to discourage players from attending
the draft itself, but these events have been scheduled to give players flexibility should they choose to attend both.
"The series of events is a celebration of legacy -- of past, present and future football players coming together to honor those making the journey from prospect to professional," the NFLPA said in a news release.
The NFLPA has scheduled a welcome meeting and dinner with families for 4 p.m. ET on Thursday, the first day of the draft, which begins at 8 p.m. ET. Draft prospects attending would then have time to appear at the draft, should they choose to do so, as both will be headquartered in New York.
The NFLPA has scheduled media access for Friday from 8 a.m. to noon, followed by a lunch and dinner with reception at 4:30 p.m. A fitness and skills clinic is set for Saturday from 10 a.m. to noon in Harlem, followed by lunch and a party beginning at 9 p.m.
NFL teams generally fly first-round choices to their facilities in the day or two following the first round. Rules will allow that to happen again, despite the lockout. Players heading to their new teams' facilities for news conferences could miss NFLPA-sponsored events for Friday and/or Saturday.
The initial guest list, subject to change, features the following current and former NFL players:
Charlie Batch
,
Cornelius Bennett
,
Dwayne Bowe
, Bradford,
Ahmad Bradshaw
, Craig,
Zak DeOssie
, Dickerson,
Eddie George
, Faulk,
Felix Jones
,
Maurice Jones-Drew
,
Dustin Keller
,
Brandon Marshall
,
Kevin Mawae
,
Willie McGinest
,
Brian Mitchell
, Moon, Morey,
Shaun O'Hara
,
Ray Rice
,
Tony Richardson
, Spikes and
Mike Vrabel
.
The list of draft prospects includes
Prince Amukamara
,
Marvin Austin
,
Adrian Clayborn
,
Marcell Dareus
,
Nick Fairley
,
Blaine Gabbert
,
A.J. Green
,
Mark Ingram
,
Julio Jones
,
Cameron Jordan
,
Ryan Kerrigan
,
Corey Liuget
,
Von Miller
,
Rahim Moore
,
Cam Newton
,
Patrick Peterson
,
Robert Quinn
,
Aldon Smith
,
Daniel Thomas
and
J.J. Watt
.
March, 2, 2011
3/02/11
8:30
AM ET

Jim Thomas of the St. Louis Post-Dispatch
thinks the Rams would target defensive line in the first round of the draft if they did not select a wide receiver. Thomas: "Sure I think defensive line, particularly DE, becomes the most likely position at No. 14 if the WRs are gone. I've mentioned some of the names that probably will be there and could be on the Rams radar already -- DEs Aldon Smith, Adrian Clayborn, Cameron Jordan (and I guess, Ryan Kerrigan, too), and DT Corey Liuget. As for the bench press guy, Oregon State's Stephen Paea, you can't take a guy just because he's an excellent weightlifter. Paea didn't do any of the other combine workouts because of an injury, so it's a little harder to get a read on the guy." The Rams struck gold in free agency last offseason when they landed defensive tackle Fred Robbins from the Giants. Robbins played better than the Rams reasonably could have expected. James Hall was exceptional, too. Both players are getting up there in age, however. Adding talented young players to the line might help Robbins and Hall extend their careers while giving coach Steve Spagnuolo the depth he covets along the line.

Danny O'Neil of the Seattle Times
says Christian Ponder might be a better fit for the Seahawks than fellow college quarterbacks Ryan Mallett or Jake Locker. O'Neil: "I think he's a better athlete than people expected, he's a good fit for the West Coast offense. The fact he has had multiple surgeries on his throwing arm is a concern. He's like an injured pitcher, but I think he's a very intriguing possibility."
Also from O'Neil
: Seattle kickoff returner Leon Washington, who re-signed Tuesday, came at a bargain price when the team acquired him from the Jets. O'Neil: "In exchange for sliding down 97 spots in the final two rounds of the draft, the Seahawks got Washington, who beat the San Diego Chargers with two kickoff returns for scores in Week 3 and added a third kickoff return for a touchdown later in the season. No Seahawk had ever returned more than one kickoff for a touchdown in his Seahawks career before Washington."
Eric D. Williams of the Tacoma News Tribune
checks in with Brandon Mebane's agent, Chuck Price, for thoughts on negotiations between Seattle and the defensive tackle. Price: "They made it clear that they would like Brandon to stay," Price said. "And Brandon has made it clear that he'd like to be there. So we're really working hard to keep Brandon there."

Kent Somers of the Arizona Republic
says the Cardinals have no plans to release players this week. Somers: "Outside linebacker Joey Porter is due to make $5.75 million in 2011, but those paychecks don't come until the season starts. The Cardinals don't have to release Porter unless some sort of salary cap is in the place and they need the room. Since the Cardinals didn't spend much last year, that's probably not going to be necessary. Quarterback Derek Anderson likely won't return, either. He's due to make $4.1 million in 2011."
Also from Somers
: Adrian Wilson, who underwent surgery on Tuesday for a torn abductor, joins Cardinals teammate Lyle Sendlein among players whose performance suffered while they played through undisclosed injuries. Somers: "Sendlein suffered a severe left shoulder injury in the second game of the 2008 season, yet played through it. His effectiveness was hampered by a lack of strength in his left arm and shoulder, and he was criticized at times for poor play."
Darren Urban of azcardinals.com
reflects on news that Wilson played through the injury all last season. Urban: "Wilson stayed out there and played. Heck, he even played in the Pro Bowl banged up. And as everyone — including Wilson -- knows, it wasn't his best year. Was it because of the injury? Did it make that big of a difference? Wilson never let on anything was wrong. But it could have been a factor. We'll have to see the next time I talk to him. I'm sure A-Dub is looking forward to having that conversation."
Also from Urban
: an update on procedural moves involving Arizona players. Urban: "Wide receiver Steve Breaston confirmed an ESPN report he has been extended a tender offer, and I would assume the Cards are doing that for a handful of guys who potentially could qualify as restricted free agents. Again, it's housekeeping in a way, since everyone is in limbo until a new CBA is reached."

Eric Branch of the Santa Rosa Press-Democrat
reflects on Wally Yonamine's impact as the first professional football player of Asian descent. Yonamine, who passed away at age 85, also became the first American to play professional baseball in Japan after World War II. 49ers owner John York: "One day, I was surprised by an unknown caller on the telephone. Wally Yonamine reached out to me and asked that I present him into the Japanese American Sports Hall of Fame, in 2002. That phone call introduced me to a wonderful new friend and a man that is very important in 49ers history, the 49ers first Asian American player. Wally will be sadly missed by me and those with a love of 49ers history." More on Yonamine
here
.
Monte Poole of Bay Area News Group
says 49ers coach Jim Harbaugh deserves the benefit of the doubt on the quarterback front even though praising Alex Smith has rankled some fans. Poole: "Smith's career numbers aren't as bad as is suggested by the fan base's treatment -- an avalanche of boos, with an occasional trickle of support. Despite the handicaps of Neanderthal coaching, mostly ordinary wide receivers and the fact that the team's best deep threat is a 250-pound tight end, he has been an average quarterback. When Smith told me after the season finale that he didn't see himself coming back to San Francisco, I imagined fans cheering in the background. I was happy for Smith, who needs a fresh start, and the fans were happy for themselves and the 49ers. Now that Harbaugh is resorting to persuasion, visualizing a fresh start in San Francisco, Smith could have second thoughts. This new era will be much friendlier to quarterbacks."