February, 6, 2013
2/06/13
6:15
PM ET
Eight hours in a New Orleans Convention Center ballroom Saturday wasn't enough for Bernie Miklasz and me, so we hung out some more over the phone this week for his 101ESPN St. Louis radio show. Feel free to
eavesdrop

.
At issue, among other things: Pro Football Hall of Fame voting. Bernie and I were among the selectors meeting Saturday to vote on the 2013 class. We both think former
Arizona Cardinals
and
St. Louis Rams
defensive back
Aeneas Williams
has a very good chance in the future.
Williams was among 10 of the 15 modern-era finalists missing the cut this time. That happens every year. It doesn't mean all 10 were unworthy. Far from it. I'd expect quite a few of them to make their way to Canton eventually.
Williams and fellow NFC West alum Charles Haley made the final 10, often an indication they're headed for enshrinement at some point. Might former
San Francisco 49ers
owner Eddie DeBartolo Jr. join them? He's made the final 15 in consecutive years without advancing to the final 10, making it tough to say his candidacy has momentum at present.
Nineteen current Hall of Famers were enshrined as contributors: Bert Bell, Charles Bidwill Sr., Joe Carr, Al Davis, Jim Finks, George Halas, Lamar Hunt, Curly Lambeau, Tim Mara, Wellington Mara, George Preston Marsahll, Hugh Ray, Dan Reeves, Art Rooney, Dan Rooney, Pete Rozelle, Ed Sabol, Tex Schramm and Ralph Wilson Jr.
The 49ers had an NFL-best .633 winning percentage when DeBartolo owned the team from 1977 through 1999. That included .741 from 1981 through 1998. The 49ers won five Super Bowls during that period. They were .511 during the 10 seasons prior to DeBartolo's ownership and .425 in the 10 years after it.
October, 8, 2011
10/08/11
11:47
AM ET
Al Davis' legend will live long after
his passing at age 82
. A quick personal recollection:
[+] Enlarge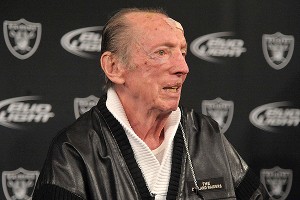 Kirby Lee/Image of Sport-US PresswireOne of the most important figures in NFL history, Al Davis stayed true to his team in all circumstances.
Colleague Bill Williamson and I were among several reporters standing in a hotel lobby at the NFL owners meeting in 2009. Davis was in failing health, but his mind remained sharp.
Using a walker, Davis made small talk as he approached deliberately and with great determination. When one of the reporters mentioned the massive contract Davis had handed to cornerback
Nnamdi Asomugha
a month or so earlier, Davis joked that Willie Brown, the Raiders' long-retired Hall of Fame corner, was asking for similar money.
Davis paused to gather himself. He asked each of us standing there to identify ourselves, at which point Davis would process the information as if determining our handshake worthiness. Each time, he would extend his hand and say, rather generously, what a pleasure it was to meet us.
This went on for a few moments before Davis turned his attention to Casey Pearce, who was standing nearby. Pearce works for the
St. Louis Rams
' media relations staff now. He worked for the
San Diego Chargers
at the time, but Davis had assumed he was one of the reporters gathered for the owners meeting.
Pearce introduced himself, and when he identified his employer as one of the Raiders' principal AFC West rivals, Davis reacted as only Davis could. He looked Pearce in the eye, sized him up from head to toe, pulled back his hand and said with a perfectly measured trace of competitive disdain, "We'll see you in the opener."
January, 20, 2011
1/20/11
10:36
AM ET
KNBR's Damon Bruce and I caught up on NFC West happenings, including Al Davis' bizarre attack on new
Seattle Seahawks
assistant Tom Cable, during our latest conversation.
Among the other subjects covered:
Bruce thought Seattle "came out flat" against the Chicago Bears, a surprise to him;
Losing the NFC title game would hurt the Bears more than it would hurt Green Bay;
That "nasty and vindictive" Davis news conference (Bruce's words) and whether the Seahawks would have hired Cable if Davis had spoken out earlier;
Josh McDaniels' expected impact on Sam Bradford in St. Louis;
Mel Kiper's draft projections for the San Francisco 49ers and whether the team might be more inclined to draft a quarterback in Jim Harbaugh's first season with the team.
Cue the audio
.
January, 19, 2011
1/19/11
9:35
AM ET

Bernie Miklasz of the St. Louis Post-Dispatch
thinks the Rams made a strong move in hiring Josh McDaniels as offensive coordinator. Miklasz: "I'm already tired of people whining about how this is a bad move based on McDaniels work in Denver as the head coach. Huh? The guy won't be the head coach here. He isn't the GM. McDaniels won't have the authority to make trades, cut players, set the roster. McDaniels is the Rams' offensive coordinator, period. He was the OC in New England and that seems to have worked out well, to say the least. He knew what his job was and stayed in it without straying into other areas. McDaniels was a bad head coach in Denver. And I would care about this if the Rams were bringing him in as head coach. But they are not doing that. Relax."
Jim Thomas of the St. Louis Post-Dispatch
passes along comments from McDaniels regarding Sam Bradford and Steven Jackson. McDaniels on Bradford: "I'm looking forward certainly to working with everybody there. Sam's an extremely talented player. He's a very accurate guy. Does a lot of things in the pocket well. Does things out of the pocket well. We'll hope to take the things that he did well this year and try to build on 'em as he goes into his second year."

Steve Kelley of the Seattle Times
says Jeremy Bates' firing as offensive coordinator kicked off what figures to be an offseason filled with surprises for the Seahawks. Kelley: "There is a disconnect between Pete Carroll's unvarnished postgame optimism following Sunday's smack-in-the-face at Chicago, and his actions the next day. Words won't fix the Seahawks. This building project Carroll inherited is going to take even more time than he thought. This offseason begins without an offensive coordinator, without a quarterback and with questions about players like right tackle Sean Locklear and center Chris Spencer."
Eric D. Williams of the Tacoma News Tribune
offers thoughts on why Bates was let go. Williams, after covering on-field struggles: "A more likely scenario for Bates moving on is his gruff personality not jibing with the culture Carroll wants to create in Seattle. Carroll is looking for a fresh perspective and a coach more willing to champion his offensive philosophy of balance and a physical run game." Williams also notes that former Oakland Raiders coach Tom Cable found a "soft landing" in Seattle as the team's offensive line coach. Cable grew up in the Northwest and went to Snohomish High School.
Lowell Cohn of the Santa Rosa Press-Democrat
outlines complaints from Raiders owner Al Davis regarding the Seahawks' new offensive line coach. According to Davis, two women raised abuse allegations against Cable during the 2009 season. According to Davis, Cable would fly in women to be with him on the road before games. Cohn: "I'd like to pause here and let out a rip-roaring, 'Yippee!!!!!!!!!!' I drove to Alameda for the usual boring new coach intro and now I was into hotel sex -- I certainly don't approve of the alleged abuse -- and I was into a steamy secret girlfriend hiding in the room and Cable flagrantly breaking the Raiders' co-habitation clause. I also was into scandal. I mean, sportswriting never gets any better than this. Never." Davis makes harsh accusations, delivered with obvious malice. Cable will surely face additional questions about the matters.
John Morgan of Field Gulls
thinks Green Bay's Joe Philbin and Houston's Rick Dennison could make sense as replacements for Bates given their coaching backgrounds. Hiring Cable as offensive line coach before hiring a coordinator makes it more important, in theory, for the team to find a coordinator with specific philosophical traits.

Matt Maiocco of CSNBayArea.com
updates 49ers coaching moves. Maiocco: "Ed Donatell, who spent last season as Denver Broncos secondary coach, will coach 49ers defensive backs, new Raiders coach Hue Jackson confirmed at his press conference Tuesday. Also, USC passing game coordinator and receivers coach John Morton has left USC to join Jim Harbaugh's coaching staff, said USC coach Lane Kiffin." Harbaugh is adding some experienced coaches to the defensive side. Vic Fangio and Donatell have been defensive coordinators in the NFL.
Also from Maiocco
: a review of the 2010 49ers, beginning with a look at the defensive line. Maiocco: "In a 3-4 scheme, these guys do the dirty work. The 49ers ranked sixth in the NFL in rushing yards allowed per game. The opposition averaged 3.5 yards per rushing attempt. Only the Pittsburgh Steelers were better."
Matt Barrows of the Sacramento Bee
checks in with draft analyst Rob Rang for a look at quarterbacks the 49ers might consider in the middle rounds. Rang on Florida State's Christian Ponder: "He's smart and he played in a demanding offensive system for the Seminoles. He doesn't have the arm strength of Ryan Mallett or the athleticism of Cam Newton, but he has just enough of each. He also has a long injury history and suffered a concussion that knocked him out of FSU's bowl game."
Eric Branch of the Santa Rosa Press-Democrat
updates 49ers coaching hires, noting that former coach Mike Singletary has officially become linebackers coach for the Vikings.

The Phoenix Business Journal
says the Cardinals plan to send out renewal notices for season tickets next month, before a potential lockout. The story notes: "The Cards kept most season ticket prices the same for the 2010 season and cut some prices. Cards season tickets ran $25 to $112.50 this season for non-club seats. That excluded a $5.25 per game ticket charge by University of Phoenix Stadium. While demand for ticket may be diminished by a possible lockout, the Cardinals do have home games against the Pittsburgh Steelers, Dallas Cowboys, Cleveland Browns and New York Giants. Those teams all have transplant fans in the Valley and region which will help demand."
January, 17, 2011
1/17/11
2:17
PM ET
Greg from Novato, Calif., writes:
Hey Sando, I post as
allenjr16
on espn.com, and I was wondering in terms of the 49ers, they need a QB and some other stuff as well.
Cornerback is one of those other things. Since the biggest name in the draft at that position is likely out of the 49ers' reach, how likely do you think the 49ers are to pay
Nnamdi Asomugha
? My thinking is that he is from the Bay Area originally and the pickup would allow the 49ers to move
Nate Clements
to free safety (since
Dashon Goldson
is going to expect a big unearned payday).
Also, do you think with the new defensive coordinator that the 49ers will change back to a 4-3 in which they are best suited, with
Isaac Sopoaga
,
Aubrayo Franklin
and
Ricky Jean-Francois
in rotation in the middle, and
Ray McDonald
,
Justin Smith
and
Parys Haralson
in rotation on the outside?
Regardless of those personnel changes, can you please comment on how the most successful coaches alter their schemes to match their players and not the other way around? I am sure there is information out there proving just that.
Mike Sando:
Good questions, Greg. The 49ers did spend in free agency several years ago as they sought to upgrade their roster. The team has more recently focused on re-signing its own players. That philosophy will probably continue with Trent Baalke as general manager.
Team president Jed York has been unwavering in saying the 49ers have enough talent in general, if not at quarterback. The 49ers are not a high-revenue team, they are playing in a dumpy stadium and they will be paying two head coaches with a lockout looming.
Put together those factors, throw in the fact that Oakland or another team might covet Asomugha and I'm thinking it's unlikely the 49ers go that route. I'm going to address Asomugha's situation in relation to the entire division at some point here. I'd be a little surprised if Al Davis let the NFL's best cornerback get away. Davis loves corners.
If Davis were willing to overpay Asomugha a couple years ago, why not again? Asomugha has held up his end. Letting Asomugha leave as a free agent would help return a compensatory draft choice to Oakland this offseason, perhaps, but that is no reason for a team to let its best player get away. If Asomugha wanted out, he would have tried to leave a couple years ago. The Raiders have only improved since then.
Oakland will have some tough financial choices.
Richard Seymour
's contract is also up. That could help Asomugha pop free. It's just not a slam dunk at this point.
As for the defensive scheme, yes, good coaches adapt. I tend to think most coaches adapt within their system, however. They generally do not scrap what they know best. You would not see Ken Whisenhunt suddenly adopting a West Coast offense. Jim Harbaugh would not suddenly switch to the Mike Martz offense.
Martz is a good example. The Bears have changed their style and some of their approach on offense, but they are still running Martz's system.
---
Mike from Seattle writes:
I know the Seahawks had to pass, but what happened to
Marshawn Lynch
in the second half? Never saw him again.
Mike Sando:
The situation at tight end and the Bears' stout run defense combined with the scoreboard to take Lynch out of the Seattle offense.
Justin Forsett
is often the preferred back from pass-oriented personnel groupings because he's quicker. Lynch is the power runner, but it's tough to play the power game with
Chris Baker
on injured reserve,
John Carlson
headed to the hospital and
Cameron Morrah
battling a turf-toe injury.
Seattle ran 13 snaps from 12 personnel (one back, two tight ends) when the Seahawks and Bears played in Week 6. I counted none Sunday. The Seahawks ran nine snaps from 22 personnel in Week 6. I counted one Sunday, but only with an extra offensive lineman as the second tight end. In Week 6, Lynch scored on a 1-yard touchdown run from 23 personnel. That wasn't even an option against the Bears in the rematch.
---
Brandon from Pullman, Wash., writes:
After watching the Seahawks game then the Jets-Patriots game, one thing immediately stood out to me -- the conditions of the fields. In Chicago, the field looked a sickly yellowish green that was clearly frozen solid.Yet in New England, a similarly northerly cold location, the field was a lush green that looked like a beautiful playing surface. Do the Bears need to fire their groundskeeping crew or what?
Mike Sando:
The Bears, like the
Pittsburgh Steelers
, share their field with local high schools. In a best-case scenario, they would change to FieldTurf or another surface better suited to for heavy use. My understanding, however, is that the Bears do not control every aspect of the playing surface.
---
Kevin from Maryland writes:
Who would you think is a better fit as the new offensive coordinator in St. Louis -- Josh McDaniels, Brad Childress or someone else?
Mike Sando:
I started out thinking the Rams should lean more toward maintaining continuity of scheme, which would favor Childress. I am increasingly leaning toward McDaniels as the more exciting hire. His offense might suit
Sam Bradford
at least as well.
One key, I think, would be making sure the Rams had a successor on staff in case a team gave McDaniels another shot at a head-coaching job. That might seem like a stretch given how things ended in Denver, but McDaniels struggled more with personnel decisions than with the tactical side, it seemed.
That's it for now. There were no new questions on the Cardinals this time. To clarify earlier items, however, note that
Larry Fitzgerald
's no-trade clause remains in place for the 2011 season. His deal with Arizona voids before the 2012 season. That negotiation will have significant ramifications for the Cardinals and the NFL.
January, 15, 2010
1/15/10
8:29
AM ET

Jim Thomas of the St. Louis Post-Dispatch
wonders whether Michael Vick could be an option at quarterback for the Rams. Thomas: "As long as Donovan McNabb and Kevin Kolb are in Philly, Vick won't get a chance to start for the Eagles. But what about St. Louis? What seemed totally far-fetched last summer, as Vick was about to get out of prison, no longer seems like such a longshot in St. Louis. Because Vick remains under contract with Philadelphia, Rams general manager Billy Devaney can't speak publicly on the topic. But Devaney has consistently said the team will explore all options to improve the club. He has made it a point in interviews to note that the 'four pillars' approach is being softened this offseason. In other words, the Rams are more likely to take a chance on a so-called 'character-risk' player than last year at this time. Devaney worked for the Atlanta Falcons before coming to St. Louis, so he's very familiar with Vick. In fact, Devaney visited Vick in prison while Vick was serving 18 months for running a dogfighting operation."
Also from Thomas
: The Rams have signed tight end Eric Butler and linebacker Dominic Douglas. Thomas: "Briefly promoted to the 53-man roster for a few days in late November following fullback Mike Karney's neck injury, Butler spent the rest of the season on the Rams' practice squad. Douglas spent seven games on the Rams' active roster, and five weeks on the practice squad."

Danny O'Neil of the Seattle Times
shares what he expects to happen with the Seahawks' coaching staff. Defensive line coach Dan Quinn is expected to stay. Defensive coordinator Gus Bradley also could stay. One thing to note: New coach Pete Carroll was with the Vikings when Monte Kiffin was there in the late 1980s. Kiffin mentored Bradley in Tampa Bay. That's part of what Carroll meant when he referred to the defensive coaching lineage he shares with some assistants from Jim Mora's staff.
Jason LaCanfora of NFL.com
says colleague Pat Kirwan could join the Seahawks as an assistant to new coach Pete Carroll, but not as a leading decision-maker. LaCanfora: "Carroll remains interested in close friend and former NFL personnel executive Pat Kirwan to be a part of the organization, but sources said the NFL.com analyst wouldn't be in a top personnel role. Instead, he would be an assistant to the head coach should he come to Seattle."

Bob McManaman and Kent Somers of the Arizona Republic
check in with Cardinals receiver Anquan Boldin, who missed practice again while recuperating from a sprained ankle. Boldin: "Everything is the same, nothing has really changed. It's better than it was a couple days ago, though, so I'm optimistic."
Also from Somers
: Ken Whisenhunt and Sean Payton have turned around losing programs.
More from Somers
: Expect Karlos Dansby to rake in big bucks this offseason. The $9.678 million Dansby earned this season wasn't bad, either.
Bob Young of the Arizona Republic
says the Cardinals' pass rush could be key against New Orleans. Defensive coordinator Bill Davis on Drew Brees: "He's such a quick decision-maker, and a guy like that, the ball is going to be out of his hand before you get to him. A lot of teams in the NFC tournament right now have quick decision-makers with high accuracy and a lot of weapons to go to. It's tough to sack guys like that. You can have the worst offensive line in the world - and they've got a good one - and he'll still make a quick decision and get rid of it. That's going to be a big challenge for us."

Matt Barrows of the Sacramento Bee
updates the 49ers' search for a special-teams coach, noting that Bobby April took a job with the Eagles. That means former Eagles special-teams coach Ted Daisher is available. Bruce DeHaven, the Seahawks' special-teams coach in recent seasons, also appears to be available.
Matt Maiocco of the Santa Rosa Press-Democrat
says his All-Pro vote at tight end went to Vernon Davis. Maiocco: "What pushed it over the top for me in Davis' favor was his blocking. In my opinion, he was the best all-around tight end in the NFL in 2009." Hard to disagree, although Davis' expanded role as a receiver meant he wasn't as involved in blocking. Davis was at times a dominant pass protector in 2008.
Tim Kawakami of the San Jose Mercury News
says former 49ers coach Steve Mariucci would be a good choice as the next coach of the Raiders. Kawakami: "For a while Tuesday, it looked as if USC was about to hire Mooch. But stunningly, Lane Kiffin swooped in from Tennessee to grab the Los Angeles mega-job. Believe me, nobody is more startled by this development than Al (Davis), who loves the USC program and, to put it mildly, does not love Kiffin. But now Mariucci is without a team. Gee, is there one out there? Mariucci has a good history with skittery quarterbacks, so Al might be able to envision a solid Mooch-JaMarcus Russell pairing; plus, with his 49ers background, Mariucci could sell some tickets."
September, 7, 2009
9/07/09
4:14
PM ET

Posted by ESPN.com's Mike Sando
Egravning from Santa Monica writes:
This might seem like an out-of-division comment, but trust me, if you root for the Rams, you hate the Patriots, and if you root for the Seahawks, you hate the Raiders. So, what do you make of this trade between the Patriots and the Raiders? I mean, an aging vet,
Richard Seymour
, for a 2011 first-round pick? And the Raiders are such a poorly run organization, we can almost assume that the Patriots will land a Top 5 guy. This is ridiculous!
There's no underestimating what Al Davis has contributed to the world of football, but it's time to take away the keys. The NFL needs to institute a fantasy-league rule whereby other owners can veto a trade. Davis has lost his mind, and competitive balance is at stake here.
Mike Sando:
That's a fun idea. Can you imagine the hostility that would create within the league if, say, the 49ers cast the deciding vote to block, say, the Cardinals from acquiring a player considered key to Arizona's success?
Regarding Al Davis, I've met Raiders fans who also feel he has lost the edge. While I do not know Davis, I did speak with him informally at the league meetings. He was physically frail, but mentally sharp. At least that was the impression I got. I was among several reporters kidding with him about paying all that money to
Nnamdi Asomugha
. Davis joked about how he was catching grief from "the great Willie Brown" -- the Raiders Hall of Famer who never made anywhere close to what Asomugha is making.
After several minutes, Davis asked each reporter to introduce himself. He shook each of our hands. The last reporter worked for the rival Chargers' Web site. Davis, upon learning this, withdrew his hand and said, "We'll see you in the opener." It was vintage Al and perfectly hilarious, evidence to me that his mind remained nimble. Remember, too, that people were saying the game had passed him by 10 years ago, before the Raiders returned to the Super bowl.
That doesn't mean Davis made the right move on Seymour. The move looks like a "win" for the Patriots and less promising for the Raiders. Seymour turns 30 in October and his contract expires after this season. The Raiders' recent draft record at the top hasn't been great, though, so perhaps a high pick in 2011 is less valuable to Oakland than even one good season from an excellent defensive lineman.
---
Josh from Richmond, Calif., writes:
Gene Wojciechowski's predictions
had the NFC West ending with 1-Seattle, 2-Arizona, 3-St. Louis, 4-San Francisco. I can respect Seattle bouncing back (it would be hard not to), I can see Arizona slipping a bit, I know St. Louis has a lot of room to do better than last year ... but San Francisco fourth? If San Francisco commits to the run and keeps the defense off the field,
Shaun Hill
won't have to throw more than 150 yards a game to win. It won't win them the division, but it should help them to finish ahead of the Rams (who will need to do a lot more than this to win some games) and possibly finish second. Your take?
Mike Sando:
Gene had the Rams third and said he thought five or six victories would not be out of the question for them. He then ranked the 49ers below the Rams, implying San Francisco would win fewer games. I'm with you. The 49ers should learn how not to lose this season. I'm not sure they'll learn how to win, but they shouldn't throw away games the way they did last season. And I think that's enough for them to beat out the Rams.
March, 26, 2009
3/26/09
10:52
AM ET
Posted by ESPN.com's Mike Sando

Kent Somers of the Arizona Republic says the Cardinals have not yet commenced contract talks with coach Ken Whisenhunt. Somers: "Whisenhunt hasn't brought the subject up with management, nor does he have plans to. Asked at the owners' meetings about his contract, Whisenhunt said he wasn't even thinking about it. General Manager Rod Graves referred questions about the subject to team President Michael Bidwill, who smiled and didn't respond to the question." Whisenhunt has three years left on his deal.
Also from Somers: The NFL owners' meeting included a video presentation complete with Super Bowl highlights. Whisenhunt had trouble watching.
Darren Urban of azcardinals.com says the team's new additions tend to have special-teams prowess. Somers asked Whisenhunt about that during the NFC coaches' breakfast Wednesday. Whisenhunt said special-teams play was a factor in the signings, but not necessarily a pivotal one.
Also from Urban: New Cardinals defensive coordinator Bill Davis takes a long-range view.
Revenge of the Birds' Hawkwind wonders what the Cardinals need more: Help on the offensive line or a running back. The running back probably provides more value at No. 31.

Steve Schrader of the Detroit Free Press says the 49ers weren't impressed by Matthew Stafford's attitude. This story revisits Bay Area reports stemming from the combine.
Paul Gutierrez of the Sacramento Bee checks in with Al Davis and Mike Singletary from the NFL owners' meeting. Both enjoyed a laugh or two.
Matt Maiocco of the Santa Rosa Press-Democrat says the 49ers and Marvel Smith could be moving toward an agreement. Also, Tony Wragge extended his contract through 2010.

Jim Thomas of the St. Louis Post-Dispatch checks in with Rams coach Steve Spagnuolo from the NFL owners' meeting. Not counting interim coaches, Spagnuolo is the Rams' first defensive-minded head coach since Ray Malavasi. So far, James Butler is the only defensive starter added during the offseason. Thomas: "Spagnuolo confirmed Wednesday that Will Witherspoon will open next week's minicamp at outside linebacker with Chris Draft at middle linebacker. At defensive end, he likes the experience that Leonard Little brings to the table and the high-energy approach of Chris Long."
Also from Thomas: Former Rams receiver Torry Holt plans to visit the Jaguars.

Eric Williams of the Tacoma News Tribune thinks the Seahawks need a running back with speed. Williams: "Don't get me wrong, [Julius] Jones is plenty fast. He ran a 4.51 40-yard dash time at the NFL Scouting Combine when he came out of Notre Dame in 2004. However, I'm thinking of guys like Chris Johnson with Tennessee (4.29), Felix Jones with Dallas (4.44) or Steve Slaton (4.44) with the Houston Texans, guys who can change the complexion of a game with one play by bursting through the line of scrimmage and sprinting past the secondary for a long touchdown run."
Chris Sullivan of Seahawk Addicts explains why he thinks Seattle fans aren't excited about Jones. Sullivan: "It also seems that many fans believe that [Maurice] Morris was the better back last year, but statistically that's not the case. They were basically on par with each other (4.41 ypc for Jones, 4.35 for Morris). Jones had two touchdowns, Morris had none; Jones had two fumbles lost, Morris had one. Call it even? I do."
March, 8, 2009
3/08/09
2:45
PM ET
Posted by ESPN.com's Mike Sando
Greg from Jacksonville writes: It sure is a shame that a hall of fame receiver who is 11th in league history in career receptions has to ask an organization to release him. You would think a team with an asset of that caliber would choose to make him happy rather than alienate him out of the gameplan. His receptions for yard percentages are more than any receiver in the past decade and his yards per game average is more than any receiver in history.
However, that is not what I want to talk about. Just because they will save a few million in salary cap, there is no excuse for the Rams to treat Torry Holt this way. There are few players left in this league that come to work everyday and consistently challenge the work ethic of everyone on the field without holding press conferences about it. His lack of off-the-field antics leads to his lack of publicity for the great things he did for this organization. Lets give credit where credit's due.
How about we give it up for a guy who wouldn't be caught dead talking trash about his team, even though they went 2 and 14. Even though each week he continued to put up hall of fame type numbers, his team continued to lose, but each week he showed up and performed. Guess what, you never saw him screaming at an offensive coordinator. Week after week, he tried his best to keep morale high on the sidelines, and regardless of the win loss percentage, sources say he did a pretty good job.
If anyone had every right to become a trash talking hot shot it would have been him, but he's not that guy, even though there is no question he had the stats to back it up. I hope he finds a suitable home soon, because any team would be lucky to have him.
Mike Sando: The way the Rams phased out Holt last season did not sit well with other players on the team. It was a factor in the Rams' demise last season, based on what I know. The new regime is not part of that. The new regime has a mandate to start over. I think that makes this a more natural time to part with Holt in a move that would benefit both parties. The Rams would benefit by clearing needed cap room and infusing youth into their roster. Holt would benefit by having a chance to catch on with a contending team.
While I agree that Holt was not a prima donna or troublemaker, he did clash with Scott Linehan during one well-publicized sideline dispute.
November, 6, 2008
11/06/08
4:12
PM ET
Posted by ESPN.com's Mike Sando
Goose from Seattle writes: Mike! Long time! Thanks for keeping the news rolling in, even though it hurts to keep reading stories about the hawks.. I had a couple of quick questions regarding D. Hall. First, has Al Davis gone completely senile? And what are the chances the Hawks pursue him and get rid of Jennings? Thanks again mike!
Mike Sando: Getting rid of Kelly Jennings wouldn't make a lot of sense, in my view, given that Jennings is certainly good enough to be a backup, and he could start if needed, and his contract is cap-friendly.
Teams need at least three good cornerbacks. I know Jim Mora has a good relationship with Hall. He might be able to manage Hall a little easier than another head coach might. Overall, though, Hall seems more flamboyant than the typical Tim Ruskell player.
---
Les from Gardnerville, Nev., writes:
Mike, I know the Rams' season is probably over. But, with DeAngelo Hall on the market...I believe the Rams should pick him up. I mean, we are hurting for a halfway decent corner anyways. What do you think?
Mike Sando: Yeah, I think the Rams have enough concerns at cornerback to consider adding a talented player at the position. I would be wary about opening the checkbook too wide for Hall at this point, however.
The Rams used a 2008 fourth-round pick on cornerback Justin King, who is out for the season after suffering a toe injury. That type of injury seems troubling for a cornerback. Tye Hill has struggled. He's hurt at present. Clearly, the Rams need to evaluate where they stand at the position. At least Ron Bartell seems to be developing.
October, 17, 2008
10/17/08
1:00
PM ET
Posted by ESPN.com's Mike Sando
Nicholas from New York writes: hey mike, long time reader, first time writer. do you think that tim ruskell needs to worry about his job up in seattle?
I really don't like how the nfl has so much turnover. I believe continuity is what makes great franchises but i cannot ignore some of his mistakes over the years... Hutchinson's loss i will never forgive. the past years would have been radically different if we held on to him. signing alexander to a huge deal ... drafting tiny corners in a league dominated by big recievers ... trading a #1 pick for a small reciever with pedestrian speed who cannot stay on the field. Sure, julian petersen and lofa tatupu and patrick kerney were good, but all of them are small which contributes to them getting worn down in gritty games.
signing like 8 backs in the offseason and paying them all wayyyy tooo much ... please stop the bleeding ... i hope holmgren can stay around and be the gm after he retires this year. he is the best thing to ever happen to this franchise!
Mike Sando: I don't think Tim Ruskell needs to worry about his job right now. I will attempt to provide some balance to your thoughts, which are naturally born of frustration.
All of your points make sense if the team is 1-4. Then, we must ask why the team is 1-4. If we think the injuries at receiver and quarterback are the difference between 1-4 and, say, 3-2, then we need to revisit the premise. I personally think an offense without such a drastic injury situation would have been enough for Seattle to win the home games against the 49ers and Packers, but not enough to reverse the other unfavorable outcomes.
The stability thing works both ways. Everyone wants stability, but if Shaun Alexander had gotten away, fans would be ripping Ruskell for failing to keep the league MVP. Even if Alexander had left and gotten hurt elsewhere, people would make the case that Alexander would have continued to flourish in the Seattle system. This would have been a reasonable point. The decision on Alexander had risks either way.
Five or six years ago, no one was emailing me to suggest Mike Holmgren should remain GM. I was getting a lot of email suggesting he should be fired as GM and even fired as head coach.
Let's wait to see what happens next season. If the team tanks, we'll have some more answers.