September, 21, 2014
Sep 21
3:00
PM ET
GLENDALE, Ariz. -- Quarterback Carson Palmer was ruled inactive for Sunday's game against the San Francisco 49ers.
It was a largely expected decision by the Cardinals, but on Friday coach Bruce Arians left the door open for Palmer to back up
Drew Stanton
if his right shoulder was feeling better. Third-string quarterback
Logan Thomas
will back up Stanton.
Defensive tackle Frostee Rucker is active after he and tight end Rob Housler worked out with head trainer Tom Reed during warm-ups. Housler was ruled inactive because of a hip injury. He didn't practice Thursday or Friday. Rookie Troy Niklas will get his first NFL start in Housler's place.
Also inactive was nose tackle Alameda Ta'amu, who played just four snaps last week, and recently signed linebacker Victor Butler. He was signed by the Cards on Tuesday. Rookie inside linebacker Glenn Carson was also inactive.
As Arians announced Friday, punter Dave Zastudil and linebacker Alex Okafor were inactive, as well.
August, 24, 2014
Aug 24
6:55
PM ET
GLENDALE, Ariz. -- Four
Arizona Cardinals
are not expected to play Sunday night against Cincinnati, among them safety
Tyrann Mathieu
.
Mathieu returned to practice Wednesday after spending about 8.5 months recovering from ACL and LCL surgery. On Friday, Cardinals coach Bruce Arians said he would evaluate Mathieu's chances of playing on Saturday.
The other Cardinals not expected to play were inside linebacker
Kevin Minter
(pectoral), guard
Jonathan Cooper
(toe) and nose tackle
Alameda Ta'amu
.
Ta'amu, who tore his ACL in Week 17 last year, also returned to practice Wednesday.
Minter was on the field about two hours before kickoff going through a series of running drills with Arizona strength and conditioning coach Buddy Morris. Linebacker
Kenny Demens
will fill in for Minter. Cooper will miss his second straight preseason game and is expected to be replaced in the starting lineup by
Ted Larsen
.
One name not on the list was outside linebacker
John Abraham
, who reported to training camp on Aug. 14.
August, 19, 2014
Aug 19
2:53
PM ET
It's hard to imagine
Alameda Ta'amu
getting lost in a crowd, but the
Arizona Cardinals
' back-up nose tackle has been flying under the radar since training camp began.
All thanks to a man almost half his size.
[+] Enlarge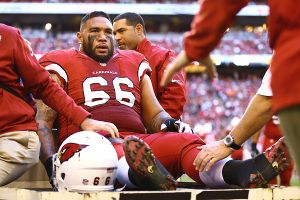 Mark J. Rebilas/USA TODAY SportsAlameda Ta'amu hasn't practiced with the Cardinals since tearing his ACL last season in Week 17.
Any time safety
Tyrann Mathieu
talked, he drew a gaggle of reporters. Any time he took a step closer to returning from an ACL and LCL injury, it was worthy of a story. They went on the Cards' preseason physically unable to perform list together on July 23 and were taken off simultaneously Tuesday. Through it all, Ta'amu just eased into the background while Mathieu was thrust into the spotlight. And with defensive tackle
Darnell Dockett
out for
the season with a torn ACL
, Ta'amu's return may end up being more important to the Cardinals' defense than Mathieu's.
Ta'amu, who tore his ACL in Week 17 last season, usually sits quietly on a stool at his corner locker in the Cards' locker room deep inside University of Phoenix Stadium playing his eclectic arrangement of music. The attention passes him by but he's on the verge of his own comeback.
Ta'amu has his mind set on playing in Arizona's season opener on Sept. 8, a goal that came closer to reality with the news that he can return to practice Wednesday. On Monday morning, Ta'amu said he was supposed to go through a teset with with trainers to help determine if he'd return week or next. The resuls obviously went well.
"The first game of the season is something that I'd really like to play in," Ta'amu said. "'Monday Night Football,' knee's feeling good. Trainer's saying I can do it and I trust him."
Ta'amu feels like his knee is strong enough to do everything. He can tell he's close to a return. Last week, Ta'amu hit tackling dummies for the first time since December. He could tell it's been eight months since he last played. The rust had built up.
"The more I kept hitting it I guess I was getting back into football mode with my body," he said.
But Ta'amu needs to feel comfortable enough with his knee to be sure he can lean -- and be leaned on -- by 700 pounds of offensive linemen when he gets double teamed.
Ta'amu said he's improved leaps and bounds from where he was four months ago, but he's more concerned about the physical side of his return more than the mental hurdles that can accompany a comeback. How his ability to penetrate will be affected has weighed on him. Last season, he finished with 13 tackles in 14 games. It'll be on his mind until he can take the field.
"The biggest issue is just trusting mindset, what I feel like I can do and can't do," he said.
"There's a lot to work on coming back."
July, 26, 2014
Jul 26
6:30
PM ET
GLENDALE, Ariz. – Seven months after he tore his ACL in Week 17, Cardinals nose tackle
Alameda Ta'amu
has his eyes set on a return.
Ta'amu said Saturday he's between 65-70 percent healthy and is optimistic about returning for the Cardinals' season opener against San Diego on "Monday Night Football."
"It feels really good," he said.
Ta'amu hasn't tested his knee in a game-like situation, meaning he hasn't practiced leaning on an offensive lineman. Conact drills may not begin until the second preseason game at the earliest.
But is six weeks enough time for Ta'amu to make up the remaining 35 percent?
He ran during the Cards' conditioning test Friday, although he wasn't competing against his teammates instead running under the watchful eye of a trainer.
"I just got to strengthen my knee up, make sure it's strong enough so I can go out and perform," Ta'amu said.
March, 6, 2014
Mar 6
5:40
PM ET
After the season, Arizona head coach Bruce Arians said he wanted the entire defense back, even though he admitted the likelihood of that happening wasn't very high.
The Cardinals began that process Thursday when they re-signed exclusive rights free agent nose tackle
Alameda Ta'amu
to a one-year deal. Bringing back Ta'amu, who started three games in place of
Dan Williams
while he dealt with the death of his father, shows how much the Cardinals valued Ta'amu. Even though he was a reserve, he was critical piece to Arizona's defensive success, especially against the run. By having two agile nose tackles, Arians was able to conserve their energy by using Ta'amu and Williams in a rotation. Ta'amu played 224 snaps in 2013 compared to Williams' 269.
Normally, backup nose tackles aren't a priority but Ta'amu played a level worth more than the $480,000 he made in 2013. He was signed off waivers on Sept. 1 and was inactive for the first two games of the season. Arizona activated Ta'amu for the Saints game in Week 3 because Williams left the team.
Arizona must also be pleased with the progress of Ta'amu's rehab from an ACL injury he suffered in Week 17 against San Francisco.
In 14 games, Ta'amu had 13 tackles.
But his quickness off the snap made him tough for offensive linemen to handle. He would push centers and guards far enough back to alter opponents' run schemes, which helped Arizona finish with the best run defense in the NFL.
February, 21, 2014
Feb 21
3:55
PM ET
TEMPE, Ariz. -- It's one thing for the
Arizona Cardinals
to want to get to the top. It's another for them to be on their way.
In the eyes of Arizona Cardinals general manager Steve Keim, his team spent 2013 closing the gap between themselves and the
San Francisco 49ers
and the
Seattle Seahawks
. A 10-6 season that finished with a 7-2 run and a bull rush toward the postseason still left Arizona sitting third in the division, but the Cardinals are as close as they have been since the recent resurgence of the Niners and the Seahawks.
Just how close are the Cardinals?
[+] Enlarge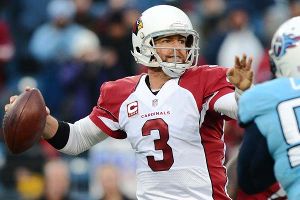 Don McPeak/USA TODAY SportsCarson Palmer and the Arizona offense found their groove in the second half of the season.
They have to consider the fact that their division is home to the now-defending world champion Seahawks, and both NFC Championship Game finalists.
"Moving forward, I felt like, on each side of the ball, we were at least two to three players away from being an upper-echelon team," Keim said during his NFL combine news conference Thursday in Indianapolis.
"I think it's a great litmus test to play those teams (Seattle, San Francisco and St. Louis) in those divisions, because it helps expose where your limitations are, where you feel like you need to improve," he added.
More often than not against the West, the Cards were exposed. Through the first two days of the combine, Keim and head coach Bruce Arians have talked about their needs for next season. Keim said two or three players on each side of the ball. On offense that could mean a left tackle and a tight end. On defense, that is a safety geared to stopping tight ends, another cornerback, and a back up defensive tackle.
It took Arians just one season to make the offseasons in the West a chess match. Whatever one team does, the others will counter -- even St. Louis.
Based on how 2013 went, however, Arizona knows it needs to stock up in a few areas to compete for a division crown, namely on the offensive line. Keeping quarterback
Carson Palmer
protected, especially against the defenses the Cardinals face six times a year, can be the difference between 10 wins and 12, or even 13.
"You have to be on your A-game at all times," Keim said. "All three teams that we're facing are very, very good defensively. You have to keep pace. It leaves very little room for error, not only in the draft but in free agency as well. You have to be physical on the offensive and defensive lines.
"You've got to have really good depth."
After facing each team once last year, Arians began to adjust. He kept nose tackle
Alameda Ta'amu
around for depth behind
Dan Williams
, which kept the defensive line fresh down the stretch. And Arians began to trim the playbook, which helped the offense finally click.
If Keim needed a measuring stick last season to see how far the Cardinals had come -- or how far they have to go -- it came in Seattle in Week 16.
The Seahawks hadn't lost at CenturyLink Field all season until Arizona's defense stonewalled running back
Marshawn Lynch
and cramped quarterback
Russell Wilson
to his breaking point on Dec. 22 in a 17-10 win. It was the last time Seattle lost last season.
"Obviously, going to Seattle and beating them up there showed signs that we were headed in the right direction," Keim said.
Said Arians: "The division we're in is a great division. You're battle-tested when you come out of it. The second half of the season, we competed very well in the division.
"If we were in the playoffs, we would have done some damage. We just didn't win enough games."
December, 16, 2013
12/16/13
8:00
AM ET
NASHVILLE, Tenn. -- A review of four hot issues from the
Arizona Cardinals
' 37-34
win
over the
Tennessee Titans
.
Javier Arenas
must want the Cardinals to play in cold-weather cities more often. For the second time this season he had at least three kick returns.
On Sunday, he returned those kicks for 72 yards, his second-highest total of the season. At the rate he's been going, Arenas didn't expect to return more than one, maybe two kicks -- if he even had the opportunity to return any.
Arenas
"It was the wind conditions," Arenas said. "It's cold outside so he had a couple bad kicks. It shocked me as well.
"It felt pretty good. Great opportunity to get a lot of kicks and get a feel for it as opposed to once every two or three weeks."
Leading the way:
Followers of the Cardinals are used to
Bobby Massie
substituting in on offense as an eligible receiver. But when No. 66 was announced twice Sunday, a few eyebrows were raised.
Nose tackle
Alameda Ta'amu
entered the game as a fullback to lead the way for
Rashard Mendenhall
, and on both plays Mendenhall scored. It was the first time Ta'amu had lined up at fullback since high school, and it didn't take long to remember what to do: put your head down and go.
He hopes to get another opportunity to block for Mendenhall, but he hopes Mendenhall will actually use him. On both runs, Mendenhall didn't follow Ta'amu's lead.
Was the big man mad?
"I mean ..." Ta'amu hesitated, then laughed, "yeah."
Game-winning machine:
Sunday marked the 11th game-winning field goal of
Jay Feely
's career and his second this season. He hit from 41 yards with 10:22 left in overtime to clinch the win. Feely's last game winner was in Week 3 at Tampa Bay.
It was the fifth game winner of longer than 40 yards.
Road warriors:
Cardinals coach Bruce Arians didn't care about stats or "anything else." He just wanted to get a win on the road.
"It's hard to get a win on the road in the NFL, but we did," Arians said.
Only three of the Cardinals' nine wins have come on the road, but if you asked
Darnell Dockett
where he'd go to play a game, he doesn't discriminate.
"I don't care if you go to the Middle East, South America, as long as you get a win, it doesn't matter," he said.
November, 21, 2013
11/21/13
8:45
PM ET
SANTA CLARA, Calif. --
Alex Boone
retaliated against
Alameda Ta'amu
and was fined.
Now he has his redemption.
According to a source close to the situation, Boone's $7,875 fine was rescinded upon his appeal. He was fined for slapping Ta'amu after the Arizona defensive lineman kicked him late in the Oct. 12 San Francisco home win. Ta'amu was fined $10,000 for his actions. It is not known if he appealed.
In other 49ers notes:
Green Bay linebacker
Clay Matthews
told
ESPN.com
his fine from Week 1 against the 49ers was reduced from $15,000 to $7,500. His late him on 49ers' quarterback
Colin Kaepernick
caused a melee.
The Bay Area News Group is reporting
the 49ers will not host any Monday or Thursday night games next year -- their first season Levi's Stadium in Santa Clara -- because of traffic reasons.
October, 18, 2013
10/18/13
1:00
PM ET
A review of four hot issues from the
Arizona Cardinals
'
34-22 loss
to the
Seattle Seahawks
.
Passing by:
When the Cardinals did find opportunities to throw the ball Thursday, their options included two familiar faces. Tight end
Rob Housler
caught all seven of his targets for 53 yards. And after starting the game with three quick catches,
Andre Roberts
wasn't targeted again until the second half, but he finished with five catches for 33 yards. In all, quarterback
Carson Palmer
completed passes to nine receivers including cornerback
Patrick Peterson
.
Michael Floyd
had a team-high 71 yards on six receptions.
[+] Enlarge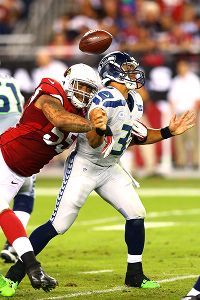 Mark J. Rebilas/USA TODAY SportsVeteran LB John Abraham's playing time and productivity have recently picked up for the Cardinals.
Sack sighting:
As if the Cardinals' defense wasn't good enough already, another dimension came to life Thursday night. Linebacker
John Abraham
got his first two sacks of the season. He came into this season as the NFL's active sack leader with 122. With Abraham finding a groove from the outside, the Cardinals now have another way to get to the quarterback. And with the middle being plugged by
Dan Williams
and
Alameda Ta'amu
, having Abraham off the edge could continue to create problems for offenses. Abraham was pleased with his performance, especially since his two sacks caused fumbles (one recovered by the Cardinals), but losing put a damper on his two-sack day.
Not a sack party:
In one
game, the Cardinals increased their sacks-allowed by more than 50 percent. They entered Thursday allowing 13, but four in the last three games, a steady improvement from the nine allowed in the first three. But against Seattle, Arizona gave up seven, giving them 20 for the season. After seven games last season, the Cardinals had given up 28 sacks. Eight Seahawks accounted for the sacks. Seattle had 16 heading into Thursday night.
Wake-up call:
The Cardinals' defense didn't seem to wake up until early in the second quarter when it forced the Seahawks into a turnover on downs after stopping them at the Arizona 43-yard line on fourth-and-1. Then it was like the Cardinals' alarm clock went off. On Seattle's next possession, Arizona linebacker
Matt Shaughnessy
strip-sacked
Russell Wilson
and Cards defensive end
Calais Campbell
recovered. Arizona continued to rub the sleep out of its eyes with another strip-sack of Wilson but the Seahawks recovered the fumble. The pressure the Cards' defense applied kept the offense in the game. Twice the defense set the Cardinals' offense up in prime position to score: once at the Seattle 3-yard line after Shaughnessy's strip-sack and the other at the Seattle 15 after Abraham's strip-sack.
October, 17, 2013
10/17/13
3:26
PM ET
TEMPE, Ariz. -- For all the concern and preparation that went into playing three mobile quarterbacks in as many weeks, it turns out they haven't been as much of an issue as expected.
And the Cardinals hope the same goes for Seattle's
Russell Wilson
on Thursday night.
Arizona slowed Carolina quarterback
Cam Newton
two weeks ago, limiting him to 25 yards on the ground, seven below his average. And on Sunday, San Francisco quarterback
Colin Kaepernick
ran for just 18 yards, about 13 under his weekly average.
[+] Enlarge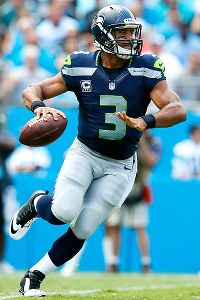 AP Photo/Damian StrohmeyerThe Cardinals' challenge on Sunday: Keep dangerous QB Russell Wilson in the pocket.
The Cardinals' defense has a lot to do with limiting both signal-callers from taking off on foot. Arizona is allowing just 3.46 yards per rush, the fourth best mark in the league. Wilson is averaging 5.9 yards per carry and is second on the Seahawks with 294 rushing yards.
Nose tackle
Alameda Ta'amu
said the Cardinals' defensive philosophy against running quarterbacks is to funnel them outside.
"Everyone knows their assignments and what we need to do to stop them," Ta'amu said. "A lot of the ways they like to escape was through the middle and me and [nose tackle] Dan [Williams] made it a point where that's where they're not going to try to escape.
"We're going to hold it down in the middle and hopefully push them out toward [defensive end] Calais [Campbell] and [defensive tackle Darnell] Dockett to let them do what they do best."
This week, Arizona defensive Coordinator Todd Bowles said he hopes Wilson wants to stay in the pocket. But with his reputation of liking to scramble, that's not likely. But as long as the Cardinals can contain Wilson out of the pocket and force him to throw, they might be in better shape than they expect.
Wilson's completion percentage this season outside the pocket is 52.8, down almost nine points from last season. He's thrown just one touchdown compared to two interceptions while on the move.
"It's like he's playing street football out there," Ta'amu said. "He doesn't give up on a play. He's trying to make something of every play.
"You just can't give up on him. He looks like he's going down but he's not. He likes to extend plays and make plays."