NFC West:

Alex Barron trade
September, 2, 2014
Sep 2
8:00
AM ET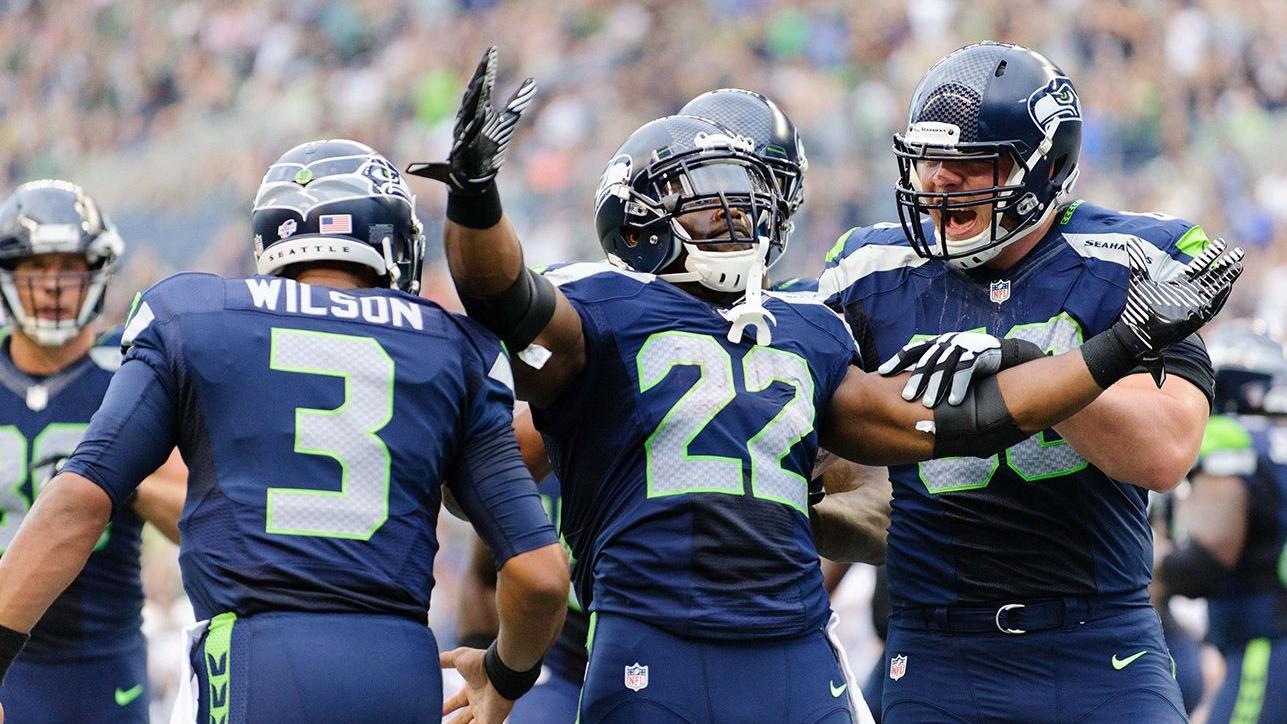 ESPN.com
Seattle Seahawks
reporter Terry Blount makes his game-by-game picks for the 2014 season.
Week 1: Green Bay Packers
All the pregame hype will center around the so-called Inaccurate Reception, the controversial Hail Mary catch by Golden Tate two years ago that won the game over the Packers at Seattle on a Monday night. Tate has moved on to Detroit, but the Seahawks now have too many weapons for the Packers to stop, no Hail Mary required. Prediction: Win
---
Week 2: at San Diego Chargers
The Chargers better hope they play a lot better than they did in the preseason game at Seattle, a 41-14 victory for the Seahawks on Aug. 15. San Diego will play better, but not good enough to beat a much better team. Prediction: Win
---
Week 3: Denver Broncos
The Broncos and their fans got a tiny bit of meaningless Super Bowl revenge in the preseason opener with a 21-16 victory over the Seahawks in Denver. Enjoy it while it lasts, boys. Repeating that outcome in Seattle is not an option. Prediction: Win
---
Week 5: at Washington Redskins
Traveling coast to coast to play on the road for a Monday night game is a tough task against any NFL opponent, and even tougher against quarterback Robert Griffin III. But the Seahawks catch a break in this one by coming off a bye week with plenty of time to prepare and be fresh for the journey. Prediction: Win
---
Week 6: Dallas Cowboys
Cowboys owner Jerry Jones gave Seattle a little bulletin-board material last month when he said the Seahawks were to blame for the increase in penalty flags during the preseason. There won't be near enough flags against Seattle for the Cowboys to win this one. Prediction: Win
---
Week 7: at St. Louis Rams
Any division game in the NFC West is a rugged battle. The Rams have a defensive line that gave the Seahawks problems a year ago. But they aren't strong enough overall to beat Seattle, even at home in their out-of-date dome. Prediction: Win
---
Week 8: at Carolina Panthers
The Seahawks were fortunate to win the season opener at Charlotte a year ago. That Panthers team was better than this one, but back-to-back road games against very physical defensive teams will end the Seattle winning streak. Prediction: Loss
---
Week 9: Oakland Raiders
Coming off their first loss of the season and returning home against an outmanned opponent, is there any doubt? Prediction: Win
---
Week 10: New York Giants
The Seahawks easily defeated the Giants 23-0 last year in New Jersey, a dress rehearsal for their Super Bowl victory at the same location -- MetLife Stadium. The Seahawks won't need a rehearsal to roll past the Giants in this one. Prediction: Win
---
Week 11: at Kansas City Chiefs
This likely will be a low-scoring game between two strong defensive teams. Odds are against any team that has to try to win by matching its defense against the Seahawks' D. Prediction: Win
---
Week 12: Arizona Cardinals
The last time the Cardinals played at CenturyLink Field was last December when they handed the Seahawks a 17-10 loss. That won't happen again unless the Seahawks get caught looking ahead to the 49ers game. The Seahawks don't look ahead. Prediction: Win
---
Week 13: at San Francisco 49ers
It's a Thanksgiving night, national TV game in the 49ers' shiny new stadium against the hated Seahawks. If San Francisco can't win this one, its time as a championship contender is over. Prediction: Loss
---
Week 14: at Philadelphia Eagles
This is the toughest part of the season for the Seahawks with back-to-back road games against likely playoff contenders. But the 10 days between games will help and be enough of a cushion to keep Seattle from losing two in a row. Prediction: Win
---
Week 15: San Francisco 49ers
This is a game that could decide which team wins the NFC West. No way the Seahawks lose to the 49ers twice in three weeks, especially not in front of a rabid full house of 12s. Prediction: Win
---
Week 16: at Arizona Cardinals
The Cardinals probably will be fighting for a playoff spot, and the Seahawks already will be in at 12-2. That difference will be just enough for Arizona to win at home in the same stadium where the Seahawks will win the Super Bowl a few weeks later. Prediction: Loss
---
Week 17: St. Louis Rams
For the second consecutive year, the Rams close the regular season in Seattle. And for the second consecutive year, the Seahawks will beat them without much trouble. Prediction: Win
---
Predicted Record: 13-3
May, 20, 2010
5/20/10
6:43
PM ET
Sometimes we're left with scraps this time of year.
Here's one from Rams coach Steve Spagnuolo, speaking to reporters in St. Louis regarding recently acquired linebacker
Bobby Carpenter
:
"He's more athletic than I thought. Now, I did work him out coming out of college. He reminded me of that the other day. He told me the workout was really long. I guess it was. He did some things today as the nickel 'will' linebacker that I thought kind of stuck out."
Rams fans will take it.
Earlier:
Carpenter-
Alex Barron
trade thoughts.
May, 17, 2010
5/17/10
1:58
PM ET
Jeremy Green of Scouts Inc. thinks the Rams' move to acquire
Bobby Carpenter
from the Cowboys will help the linebacker become a much more effective player.
Green's Insider piece
answers four questions in some depth, including one about Carpenter. Twenty-four of his 192 words on Carpenter: "Getting him back to a traditional 4-3 defense where he can just read and react on the weak side will be a huge help."
This is one of the few pro-Carpenter evaluations I've seen since the Rams acquired him from the Cowboys for
Alex Barron
. Thought I'd pass it along to balance out previous discussions.
Earlier:
Barron trade items
.
May, 11, 2010
5/11/10
1:00
PM ET
»
NFC Big Question
:
East
|
West
|
North
|
South
»
AFC
:
East
|
West
|
North
|
South
NFC West teams have acquired 10 veteran players by trade this offseason. Which one will have the greatest impact in 2010?
Let's define impact first.
[+] Enlarge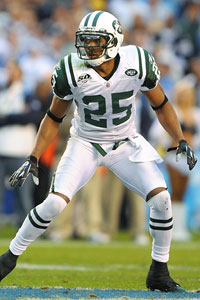 Kirby Lee/US PresswireSafety Kerry Rhodes is expected to start in Arizona.
Cardinals safety
Kerry Rhodes
, acquired from the Jets, has the best chance to finish the 2010 season with the most snaps played among players acquired by NFC West teams. He'll start and presumably be an every-down player on defense.
Seahawks running back
Leon Washington
and 49ers receiver
Ted Ginn Jr
. have the best chance to make an electrifying play or two, perhaps swinging a game in their team's favor. Washington first must overcome a broken leg. Ginn scored two touchdowns on kickoff returns for the Dolphins last season. He had a 53-yard TD reception last season and a 40-yard scoring run in 2008.
Charlie Whitehurst
, the quarterback Seattle acquired from San Diego, could make the greatest impact -- positive or negative -- based on the nature of his position. Early returns suggest
Matt Hasselbeck
will hold off Whitehurst for the starting job, but injuries have slowed Hasselbeck over the past two seasons. If Hasselbeck is banged up again, the Seahawks will presumably turn to Whitehurst.
A quick look at the veteran players NFC West teams have added and subtracted this offseason:
Arizona: added Rhodes; subtracted receiver Anquan Boldin.

St. Louis: added linebacker Bobby Carpenter and safety Kevin Payne; subtracted tackle Alex Barron and defensive lineman Adam Carriker.

49ers: added Ginn; subtracted quarterback Shaun Hill.

Seahawks: added Whitehurst, Washington, running back LenDale White, defensive end Chris Clemons, defensive tackle Kevin Vickerson and defensive end Robert Henderson; subtracted guard Rob Sims, defensive end Darryl Tapp and quarterback Seneca Wallace.
Seattle has been the busiest NFC West team in the trade market this offseason. I think that is because the Seahawks are the only team in the division with a new coaching staff and new general manager. They wanted to shake up the roster.
May, 10, 2010
5/10/10
5:48
PM ET
Newly acquired linebacker Bobby Carpenter, 26, should fit into the Rams quickly as one of the team's four linebackers from Ohio State.
Carpenter, speaking to reporters during a conference call Monday after the Cowboys traded him to St. Louis for Alex Barron, said he has already met with Rams coaches and gotten a feel for the building.
"Coming in here today and seeing how energetic everyone is, it's something I was not necessarily taken aback by, but it was refreshing to see that" after spending his first four seasons with an established Cowboys team, Carpenter said.
Carpenter expects to play outside linebacker for the Rams, but he said the coaches didn't tell him whether the weak or strong side would be his best fit. Carpenter has started only three games in four seasons, but he played about 40 percent of the Cowboys' defensive snaps last season, mostly as part of sub packages. He finished the season with 2.0 sacks. Carpenter suggested he could cover tight ends effectively.
Earlier:
What can Carpenter offer Rams
?
May, 10, 2010
5/10/10
3:52
PM ET
The Dolphins traded 2007 first-round choice
Ted Ginn Jr.
to the 49ers for little in return.

Carpenter

Barron
Miami seemed anxious to dump him.
The Rams and Cowboys are making similar moves by swapping 2005 first-round tackle
Alex Barron
for 2006 first-round linebacker
Bobby Carpenter
. Both players had worn out their welcomes.
The move makes sense for St. Louis on one level because Barron doesn't fit into the team's long-term plans, and he would have left after the 2010 season anyway. Might as well get something in return. Barron should have more value to the Cowboys than he would to the Rams because Dallas has shown an ability to piece together an effective offensive line using unwanted parts. Tackle
Marc Colombo
, disappointing as a first-round pick in Chicago, became a starter for the Cowboys. Guard
Leonard Davis
, disappointing as a first-round pick in Arizona, has gone to three Pro Bowls in three seasons since signing with the Cowboys.
What will the Cowboys get
out of Barron?
"I think the bigger question is how will an organization like the Rams get more out of Bobby Carpenter than a franchise like the Cowboys were able to?" tre_fizzle responded to the question above.
Good question. I haven't watched Carpenter play much NFL linebacker because Carpenter hasn't been a regular starter. He owns three starts in four NFL seasons.
"I don't see what St. Louis got out of the trade," Matt Williamson of Scouts Inc. said during a phone conversation Monday. "Carpenter has been a complete bust. He feels like a linebacker without a position. He almost looks like a 3-4 outside linebacker. He was a good pass-rusher at Ohio State, but he is too stiff to be a true edge rusher and too stiff to be a 4-3 outside linebacker. I understand he is a former first-round pick, but I haven't seen anything in the NFL that makes me think he can play linebacker."
Williamson sees this as a "great" trade for the Cowboys.
"I was with the Browns and I was in on interviews with Barron (coming out of college)," Williamson said. "He is not a self-starter. I can see why his act would get old. Getting out of St. Louis could do him a lot of good. Barron has legitimate first-round talent, he plays both tackle spots and the bottom line is he plays a much more demanding position. I just don't think you got anything back for the guy. I think Dallas became a much better football team and St. Louis became a slightly worse football team."
May, 10, 2010
5/10/10
2:37
PM ET
The Cowboys have had decent luck adding highly drafted offensive linemen from current NFC West teams.
Leonard Davis
, chosen second overall by the Cardinals in 2001, has gone to the Pro Bowl every season since signing with Dallas as a free agent in 2007. He never went to a Pro Bowl previously.
The Cowboys are a glamour team, so they're going to get more players named to Pro Bowls, but Davis was the first player
Patrick Willis
mentioned when I asked him last week to name the best guards he faces each year.
Dallas' acquisition of
Alex Barron
from the Rams gives the Cowboys another talented first-round choice with NFC West roots. The Rams selected Barron with the 19th overall choice in 2005. Barron has played well at times, but he has not been consistent. He has also ranked among the league leaders in penalties.
Some Rams fans I've heard from are a little nervous about losing Barron because they think the team will lack quality depth at tackle without him. Barron is probably a frustrating player to coach because he commits so many penalties and doesn't consistently play to his potential. Sometimes it's more comforting for a staff to know it can count on a less-talented player --
Adam Goldberg
comes to mind -- that to wonder what a more-talented player might do on a specific play.
At the same time, it's the job of a staff to get more from its players. The Cowboys have been able to do that with Davis. Can they do it with Barron?
May, 10, 2010
5/10/10
2:18
PM ET
Bobby Carpenter
becomes the fourth former Ohio State linebacker on the Rams' roster now that the
Alex Barron
trade is
done
.
The list: Carpenter,
Na'il Diggs
,
James Laurinaitis
,
Larry Grant
.
Hmmm. Andy Katzenmoyer is only 32. Wonder if he has anything left.
Side note:
The 49ers and Rams are tied with the Jets for most former Ohio State players on their roster (including unsigned restricted free agents). Each team has four.
May, 7, 2010
5/07/10
5:25
PM ET
The
St. Louis Rams
were of course happy to select
Alex Barron
with the 19th overall choice of the 2005 NFL draft.
"He is a terrific left tackle; he has the athleticism to do that," then-coach
Mike Martz said at the time
. "He is as close to
Orlando Pace
without being Orlando Pace in terms of that type of natural athleticism."
Times change. Coaches change. Front offices change.
A change might do Barron good. The Rams' starting left tackle last season signed his one-year tender as a restricted free agent Friday, clearing the way for the Rams to trade him to Dallas for linebacker
Bobby Carpenter
(a player Cowboys owner Jerry Jones once expected to
become a team leader
).
The question for the Rams is whether having Barron for one more year would be better than taking a chance on Carpenter, the assumption being that the Rams would not retain Barron for the long term after using early draft choices for
Jason Smith
and
Rodger Saffold
. The Rams' offensive line would have better depth this season with the durable, if inconsistent, Barron still in the mix.
The chart lists Barron as one of several tackles leaving the NFC West after the 2009 season.
Walter Jones
,
Mike Gandy
and Barron stand out as the three starting-caliber players on the list (at least when Jones and Gandy were healthy). I included
Tony Pashos
and
Brandon Frye
even though they were veteran backups.
NFC West teams added tackles
Russell Okung
(Seattle),
Anthony Davis
(49ers) and Saffold (Rams) among the top 33 choices in the 2010 draft. Saffold could also play guard.
May, 7, 2010
5/07/10
9:15
AM ET

Jim Thomas of the St. Louis Post-Dispatch
says Alex Barron would welcome the pending trade that would send him to Dallas for Bobby Carpenter. Thomas: "One detail the Rams could be negotiating is a one-time playing incentive of $1.9 million that Carpenter could receive this year. It looks like he would be the Rams' starting weakside linebacker in a trade, in which case the incentive would activate easily if Carpenter stays healthy. Carpenter also is due to earn a base salary of $1.19 million this year, the last year of his original rookie contract. Drafted 18th overall in 2006 out of Ohio State, Carpenter has been a disappointment with the Cowboys."
Also from Thomas
: where the Rams would be without Steven Jackson.
Jeff Gordon of stltoday.com
outlines five ways he thinks the Rams need to improve by Week 1. Gordon: "The Rams could have drafted a game manager (Colt McCoy) later in the NFL Draft and addressed another need in the first round. But the team went for (Sam) Bradford and his higher upside -– so now it needs to tailor its passing game to his strengths. It's time to get out of damage control mode and attack defenses. Wait a minute, you're thinking. Don't the Rams lack the receiving talent needed for a more aggressive scheme? (General manager Billy) Devaney dismisses this concern. The Rams did not go after proven receivers via free agency or trades. They drafted Gilyard, a potential slot receiver, but otherwise expressed satisfaction with the incumbents. If they are good enough to make plays down the field -- and apparently they are -- then they must be turned loose."
Brian Stull of 101ESPN St. Louis
offers details relating to the lawsuit Rams linebacker David Vobora has filed against a company that manufactures supplements.

Phil Barber of the Santa Rosa Press-Democrat
provides a transcript from Patrick Willis' recent appearance with Tom Tolbert on KNBR radio. Barber: "Willis told Tolbert that he could play every position on the basketball court in high school and averaged 18.2 points as a senior. He also cited WR Josh Morgan at the 49ers' best hoops player. Willis talked a lot of wrestling and Madden football with KNBR, acknowledging that he plays online and adding, 'I be whuppin' 'em, too.' "
Matt Barrows of the Sacramento Bee
updates 49ers-related contract situations. Barrows: "The 49ers have to set aside money in 2011 and beyond for a starting quarterback whether that person is (Alex) Smith or Smith's replacement. The 49ers are expecting Smith to take a big step forward this season and lead the team to the playoffs. If he does, he can expect to be rewarded. If he doesn't, the 49ers will have to find another franchise QB."
Matt Maiocco of CSNBayArea.com
offers this thought on Smith during a 49ers chat transcript: "Throughout his career, Alex has always tried to please people. I think he now lets things roll off his back a little better. His attitude has changed this offseason in the sense that he's not learning from a new coordinator. This is the first time there has been 100-percent carryover from one season to the next. I think that is reflected in his demeanor and confidence. But we're also five months from the beginning of the regular season. Ask me again in mid-October."

Clare Farnsworth of seahawks.com
says Jordan Babineaux has no problem moving to strong safety after the team drafted Earl Thomas. Farnsworth: "Since joining the team as an undrafted free agent in 2004, he had been a part-time starter at cornerback (four games in 2005) and strong safety (eight games in 2006) before stepping in at free safety last season. But most of his impact plays -- those that earned him the nickname 'Big Play Babs' -- came while lining up closer to the line of scrimmage as the third corner responsible for covering the slot receiver in the nickel defense. Now, with the arrival of Thomas and his coverage skills, Babineaux will be back playing closer to the action."
Ben Malcolmson of seahawks.com
passes along photos from Rod Mar showing various Seahawks working out as part of the offseason program.

Darren Urban of azcardinals.com
says suffering a torn ACL isn't nearly as serious these days thanks to advances in surgery and rehabilitation. Urban on Cardinals rookie O'Brien Schofield: "Schofield becomes easier to bet upon. Checked at the scouting combine and then rechecked a couple of times, Schofield underwent not only an ACL repair but also a repair of a torn lateral meniscus. By choosing to repair instead of cutting out the damaged meniscus, Schofield's recovery in the short-term will be slowed. But it will help his knee long-term by avoiding arthritic problems caused by losing the cartilage."
May, 6, 2010
5/06/10
2:10
PM ET
My thoughts taken from the recently completed
NFC West chat
:
Adam Schefter reports the Rams are close to sending Alex Barron to the Cowboys for linebacker Bobby Carpenter.

That would make sense. Barron is best suited to play left tackle, but the Rams drafted for that position when they selected Jason Smith second overall in 2009. The Rams also drafted another lineman, Rodger Saffold, atop the second round this year. Barron would have been playing on a one-year deal anyway, and then he likely would have been gone or out of their plans.

We recently discussed on the blog why the Rams' did not draft an outside linebacker. Carpenter would help their depth at the position, assuming he would play outside in a 4-3. He also has the size the Rams might like at linebacker.