June, 4, 2013
6/04/13
12:06
PM ET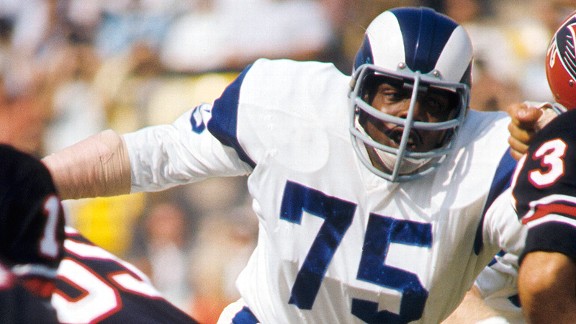 Long Photography/USA TODAY SportsDeacon Jones, a Hall of Fame defensive end, was the leader of the L.A. Rams' left side from 1961-71.
Quarterback Johnny Unitas and receiver Raymond Berry had been tormenting NFL Western Conference defenses with the deep ball when along came David "Deacon" Jones and a new wave of defensive linemen to spoil the fun.
"The main pattern we were using took three and a half seconds to throw it," Berry recalled during a 2008 interview. "I could run down 10 yards and break square in and three steps and I'd plant and take off back to the corner."
Unitas-to-Berry had set apart the Baltimore Colts for years. But life was changing for them in the early 1960s. Vince Lombardi began assembling the
Green Bay Packers
' championship defense. Jones,
who died Monday at age 74
, combined with Merlin Olsen to give the Los Angeles Rams arguably the most dominant left side in NFL history. In Detroit, meanwhile, the Lions had the great Alex Karras.
"What happened in our division is those three-and-a-half-second routes became history," Berry said. "In order to get the ball off when we played those people, and it represented six games, we would throw the ball in 1.8, 1.9 or 2.1 seconds at the most. Get it out of there. Because you couldn't keep people out of there."
At the time, rules governing holding prevented offensive linemen from slowing the rush by grabbing onto opponents' jerseys. Defensive linemen could slap offensive linemen on the side of the helmet to facilitate their rushes.
Jones, at 6-foot-5 and 272 pounds, refined the head-slap to a martial art.
"The head-slap was not my invention, but Rembrandt, of course, did not invent painting,"
Jones once said
.
The NFL would eventually legislate some of Jones' preferred tactics out of the game to promote passing and spare quarterbacks.
"

"Deacon Jones was a game changer."

"

-- Rams DE Chris Long
"The league has legalized what was considered holding when we played," Berry said. "I did a several-years study on how much time you had against a great pass-rush team. You had to get that ball out of there. Today, that has totally changed, giving quarterbacks one or two seconds of additional time."
Jack Patera played on the Baltimore Colts' defense with Hall of Fame defensive end Gino Marchetti before serving as a defensive line coach for the Rams beginning in 1963, Jones' second season. Patera coached the Rams' famed "Fearsome Foursome" line for five seasons. He later coached the "Purple People Eaters" line under Bud Grant in Minnesota.
Patera, now 79, knows defensive linemen, in other words. He's also honest and direct in his assessments. Carl Eller was as talented as they came, but didn't apply himself consistently. Jim Marshall was stronger, pound for pound, than just about anyone, and more consistent, too. Olsen was nearly perfect in everything he did -- an "A" student at his craft.
Then there was Deacon Jones.
"Gino Marchetti was the superb defensive end of my playing time and for David Jones, he was probably the best I had ever seen, consistently," Patera said Tuesday. "Jim Marshall was the most consistent player, but Deacon had him by a step or two in his overall performance."
Patera recalled Jones as a raw 14th-round draft choice and a player the Rams had initially considered at offensive tackle.
"He had all the speed and strength, but he had a stance like those 1920 pictures you see, guys squatting like a frog with their hand between their legs," Patera recalled with a laugh. "He didn't know anything about playing defense, but all he had to do was get his butt up in the air and let him take off. Once we got him in a stance where he could get off the ball, there wasn't a whole lot to teach him. Everything was very simple to him."
Jones played a great game and talked one, too. Former
Dallas Cowboys
tackle Rayfield Wright, a Hall of Famer, shared
a classic story
with Sports Illustrated about a 1969 matchup against Jones.
"As an offensive lineman, you're taught only to hear the quarterback's voice, nothing else," Wright told the magazine. "I'm listening in case there's an audible, and in the pause between 'Huts!' I hear a deep, heavy voice say, 'Does yo' mama know you're out here?' It was Deacon Jones."
Jones, an eight-time Pro Bowl choice, coined and popularized the term "sack" before the NFL tracked the stat officially. He laid the foundation for a rich tradition of Los Angeles and
St. Louis Rams
defensive ends and outside pass-rushers. Jack Youngblood,
Kevin Greene
,
Kevin Carter
,
Leonard Little
,
Chris Long
and all the others know the history and know Jones' founding role in it.
"Yes, there is a fairly strong brotherhood, especially Deacon and I and when Merlin was still with us -- a real strong bond," Youngblood said in an interview last year.
Youngblood and Jones were on the Rams together before the team traded Jones, clearing the way for Youngblood.
"Those were awfully big shoes to fill," Youngblood said. "Deacon had been All-Pro and the sack leader and the whole nine yards for so many years. I'm thinking, this is going to be a leap here."
Chuck Knox, the Rams' steely head coach, called Youngblood into his office.
"He looked me down and gave me that Chuck Knox look and said, 'All right, it's your job, don't let me down.' It's my second year in the business and he's going, 'Don't let me down.' That was significant for me. That said he thought enough of my ability that I was going to be able to do the job for him."
Jones went into the Hall of Fame with the 1980 class. Youngblood followed in 2001.
"All those guys are awesome," Long said last season. "I was lucky enough to play with Leonard Little, who was just a great player. And when I changed my number to 91, I told him I was just renting the number. Greene was a 100-plus sack guy, Kevin Carter a 100-plus sack guy. Jack Youngblood and his legacy is his toughness along with his skill. I mean, it's just legendary. And Deacon Jones was a game changer.
"All those guys, just to be playing left end for the St. Louis Rams is a pretty cool history, especially when you put all the names together. It's impressive."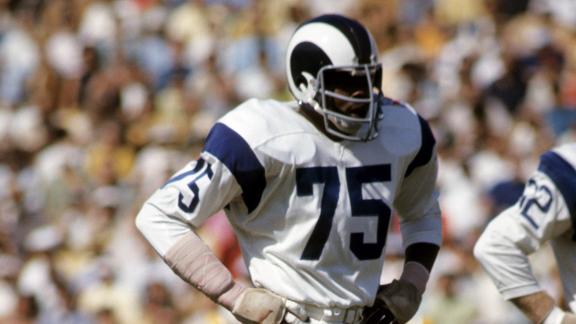 March, 21, 2012
3/21/12
1:10
PM ET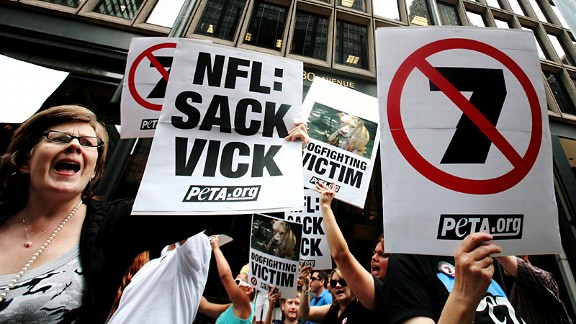 AP Photo/Bebeto MatthewsMichael Vick's arrest and imprisonment shocked the NFL and sent the Falcons reeling.
The most significant scandals in NFL history affected individuals and organizations alike. The nature of the allegations, the prominence of the individuals involved, the punishment meted out and the overall impact led us to single out the following five, realizing there were others worth strong consideration.
1. Michael Vick to prison.
Involvement in a dogfighting ring brought down one of the NFL's highest-profile, most dynamic quarterbacks in his prime. Vick was released and sent to prison, sending the
Atlanta Falcons
into turmoil. Vick owed nearly $20 million when he filed for bankruptcy in 2008 and the Falcons had to rebuild their franchise.
2. Saints bounties
. Offering cash payments for injuries inflicted on opponents
brought down the wrath from commissioner Roger Goodell
: Saints coach Sean Payton was suspended for one year, former defensive coordinator Gregg Williams was suspended indefinitely, general manager Mickey Loomis was suspended for eight regular-season games, and the team was fined $500,000 and lost two second-round draft picks (one each in 2012 and '13) for their participation in a bounty program.
[+] Enlarge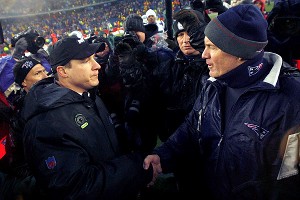 Jim Rogash/Getty ImagesThe New England Patriots haven't won a Super Bowl since cheating allegations cost them $750,000 and a draft pick.
3. Spygate allegations.
Cheating claims levied against the
New England Patriots
threatened to tarnish the legacy of a flagship franchise at the peak of its powers. Goodell determined the Patriots acted against league rules by videotaping opponents' hand signals. The NFL levied $750,000 in fines and revoked the Patriots' first-round choice in 2008.
4. Hornung/Karras gambling.
The NFL suspended Paul Hornung and Alex Karras for the 1963 season after both admitted to betting on NFL games. Hornung and Karras were both Pro Bowl players and Hornung was one of the league's biggest stars playing for the NFL's most iconic team: the
Green Bay Packers
. Commissioner Pete Rozelle reinstated both players in 1964, and Hornung wound up in the Hall of Fame.
Art Schlichter's one-year ban two decades later also deserves mention among player gambling scandals, but his standing in the league wasn't as strong at the time.
5. Eddie DeBartolo Jr. suspended.
The
San Francisco 49ers
' former owner remains a beloved figure in team lore. He was a finalist for the Hall of Fame this year. But his 1998 felony conviction for failing to report extortion relating to a Louisiana casino project produced a $1 million fine and a one-year NFL suspension. DeBartolo wound up selling the 49ers, precipitating a decade of futility for the organization.
July, 24, 2008
7/24/08
11:25
AM ET
Posted by ESPN.com's Mike Sando
| | |
| --- | --- |
| | |
| | Andy Lyons/ALLSPORT |
| | Ricky Watters rushed for 10,643 yards and caught 467 passes. |
Former 49ers and Seahawks running back Ricky Watters made NFL Network's list of the 10 best players not enshrined in the Pro Football Hall of Fame. The list includes only players who have been retired long enough to become eligible. Roger Craig didn't make the cut. Would you rank him ahead of Watters among all-time backs?
Watters was a terrific every-down player. He played and practiced with emotion and energy. He was exceptionally durable, at one point starting 116 consecutive games -- the longest streak for any running back who was active at the time (LaDainian Tomlinson leads current running backs with 48 consecutive regular-season starts).
Watters rushed for 10,643 yards and caught 467 passes. He ranks 14th in NFL history for yards from scrimmage. He respected the players who came before him and earned the respect of his peers. In 2000, his Seattle teammates named Watters the Steve Largent Award winner, presented to the Seattle player who best illustrates the spirit, dedication and integrity of the team.
NFL Network's list also includes Ken Anderson, Cris Carter, Bob Hayes, Alex Karras, Jerry Kramer, Jim Marshall, Ken Stabler, Steve Tasker and Derrick Thomas. Carter will almost surely enter the Hall of Fame in the near future. Hayes' supporters point to how he forced defenses to change their approach entirely to account for his speed.
I can think of a few Hall-eligible players from NFC West teams -- Craig among them -- who deserve strong consideration for enshrinement:
Seahawks: Cortez Kennedy was defensive player of the year on a 2-14 team that featured one of the worst offenses in NFL history. He was an eight-time Pro Bowl player. At his best, Kennedy could not be blocked.
Rams: Henry Ellard averaged nearly 17 yards per reception on 814 catches. He averaged 19.5 yards per catch while putting up more than 1,000 yards with Washington at age 35.
49ers: Craig topped 1,000 yards rushing and 1,000 yards receiving in the same season. He caught more than 566 passes and topped 8,000 yards rushing. The numbers only begin to explain how he played. The high-kneed running style helped him bull over defenders.
Cardinals: Help me out here. Larry Centers caught all those passes out of the backfield. Roy Green? There has to be someone I'm missing. Perhaps on defense.