January, 11, 2013
1/11/13
1:30
PM ET
»
NFC Final Word
:
Packers-49ers
|
Seahawks-Falcons
»
AFC
:
Ravens-Broncos
|
Texans-Pats
Five nuggets of knowledge about the Seattle Seahawks' divisional playoff game against the Atlanta Falcons on Sunday at the Georgia Dome:
Banking on Wilson:
Rookie quarterback
Russell Wilson
has 11 total touchdowns (eight passing, three rushing) against one interception in the Seahawks' past five road games, counting playoffs. He has the NFL's third-highest passer rating (104.7) and second-highest Total QBR score (87.1) in road games over that span (since Week 8).
The Falcons have allowed only six touchdown passes at home all season. They have picked off 12 passes in those games. Their QBR allowed at home (32.6) was second-best in the NFL this season (playing the NFL's easiest schedule surely helped).
Though Wilson outplayed the injured
Robert Griffin III
during Seattle's wild-card victory at Washington, his QBR score for that game (36.7) was his lowest since Week 7. It ranked 65th out of 95 QBR scores for playoff starters since the 2008 season. The quarterbacks responsible for the 30 lower postseason QBR scores -- Griffin among them -- went 3-27 in those games. Seattle probably needs more from Wilson to beat the Falcons.
[+] Enlarge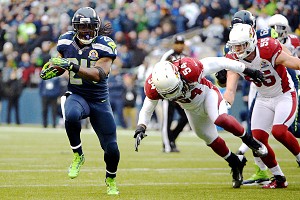 Kirby Lee/USA TODAY Sports With another 100-yard effort Sunday, Marshawn Lynch can make team history, tying Shaun Alexander for the most games with at least 100 yards in a season.
Beast Mode:
Seahawks running back
Marshawn Lynch
has reached 100 yards rushing in five consecutive games and 11 times overall this season. He needs one more 100-yard game to tie the franchise record
Shaun Alexander
set during Seattle's 2005 Super Bowl season.
Doug Martin
(142),
Cam Newton
(116),
LaRod Stephens-Howling
(127),
Alfred Morris
(115) and
Willis McGahee
(113) reached 100 yards rushing against the Falcons this season. The Falcons went 3-2 in those games.
Irvin in focus:
The Seahawks are counting on rookie first-round draft choice
Bruce Irvin
to take over for the injured
Chris Clemons
at the "Leo" position along the defensive line. The sack Irvin collected against Washington in the playoffs was his first since Week 14 and second in the Seahawks' past seven games. Irvin hasn't had a sack on the road since collecting two (plus a critical forced fumble) against Carolina in Week 5. Irvin has been building to this moment, however. He has played 57.3 percent of the defensive snaps since Week 14 after playing 39.5 percent of them previously this season.
Nice option to have:
Increased use of option plays has helped unleash the Seahawks' ground game since a Week 13 victory at Chicago. The Seahawks are averaging 155.2 yards rushing before contact over that six-game span, up from 85 per game prior to that. The Panthers had 21 carries for 120 yards and a touchdown on option runs in a 30-28 defeat against Atlanta in Week 4. Newton then posted a season-high 97.0 QBR score against the Falcons during a 30-20 victory in Week 14. He had two touchdown passes and a 72-yard run against Atlanta in that game. Overall, the Falcons allowed 30 carries for 218 yards and two scores on plays ESPN charted as zone reads, options and option pitches.
Late-game worries:
The Seahawks are riding a three-game road winning streak, but their defense hasn't been reliable during the final minutes of closely contested games away from home. That's a concern against the Falcons, who went 7-2 in one-score games this season. Ryan had four touchdown passes, zero picks and an 83.4 QBR score in the final two minutes of halves this season. That was up from 14 touchdowns with 11 picks and a 59.3 QBR score in those situations previously. Seattle's road opponents posted an 88.4 QBR score in fourth quarters this season, the highest allowed by any team this season and well above the average (55.1).
Late-game drama could be additionally nerve-wracking for Seattle given that regular kicker
Steven Hauschka
was placed on injured reserve with a calf injury. Veteran
Ryan Longwell
, 38, will be kicking in a game for the first time since the 2011 season. The Seahawks suffered a 30-28 home defeat against Atlanta last season when coach Pete Carroll opted for a 61-yard field goal try on fourth-and-8 with 13 seconds remaining. Seattle would presumably go for it if faced with a similar situation this time.
January, 6, 2013
1/06/13
11:40
PM ET
Five things to know about Sunday's Seattle Seahawks divisional-round playoff game against the Atlanta Falcons at the Georgia Dome next week:


1. Beast mode:
Seattle's
Marshawn Lynch
has reached 100 yards rushing in 11 games this season, counting the playoffs. He faces a Falcons defense that allowed 100-plus yards to Tampa Bay's
Doug Martin
(142), Arizona's
LaRod Stephens-Howling
(127), Carolina's
Cam Newton
(116), Washington's
Alfred Morris
(115) and Denver's
Willis McGahee
(113). The Falcons never had a running back with more than 103 yards in a game.
Michael Turner
had 103 against Carolina in Week 4 and 102 against Dallas in Week 9.
2. QB options:
The Seahawks have enjoyed great success with option runs featuring Lynch and quarterback
Russell Wilson
. They had 110 yards on 11 such carries during their wild-card victory over Washington. The Panthers' Newton had a 72-yard touchdown run during a 30-20 victory over the Falcons this season. He had 202 yards rushing against Atlanta this season, more than any other player gained against the Falcons.
3. Opposites:
These teams from the Southeast and Northwest have more than geography to differentiate them. The Seahawks have the second-youngest roster in the NFL, counting players on various reserve lists. The Falcons have the fifth-oldest roster. The Seahawks have the NFL's best strength-of-victory percentage (.534), meaning the teams they defeated had a higher winning percentage than the teams anyone else defeated. The Falcons played the NFL's easiest schedule. The Seahawks had the NFL's highest percentage of called running plays (49.8) this season. The Falcons had the seventh-lowest percentage of called runs (35.1).
4. Wilson cools off:
Seattle's rookie quarterback led the NFL in Total QBR (84.1) from Week 10 through the conclusion of the regular season. The 36.7 QBR score he posted against Washington in the wild-card round was his lowest in a game since a Week 7 defeat at San Francisco. That included a 9.7 QBR number on 17 drop-backs when the Redskins pressured with five or more pass-rushers, according to ESPN Stats & Information. The Falcons ranked fifth in QBR allowed (29.4) when rushing five or more defenders. They pressured on 29.3 percent of drop-backs, right near the league average.
5. Injury impact:
The Seahawks lost starting defensive end and leading pass-rusher
Chris Clemons
to a potentially serious knee injury Sunday. Clemons played 86.4 percent of the Seahawks' defensive snaps on his way to 11.5 sacks during the regular season. No other defensive lineman or linebacker on the team has played more than 62 percent of the snaps this season. Losing Clemons likely would force rookie
Bruce Irvin
into an every-down role, a big adjustment with consequences against the run.
January, 3, 2013
1/03/13
4:05
PM ET
Seattle Seahawks
running back
Marshawn Lynch
averaged 21.2 carries for 100.5 yards rushing per game through Week 10 this season.
His team had a 6-4 record to that point.
The Seahawks didn't need Lynch quite as much from that point forward. Quarterback
Russell Wilson
was assuming a larger role in the offense. Blowout victories over Arizona and Buffalo allowed the Seahawks to rest Lynch more than they might have otherwise.
As a result, Lynch averaged 17.2 carries for 97.5 yards per game from Week 11 through the regular season's end. The Seahawks posted a 5-1 record over that span. Lynch's yards per carry spiked late in the season partly because the read-option plays Seattle increasingly used proved difficult for opponents to solve.
Lynch finished strong, but Washington's
Alfred Morris
caught him for second in NFL rushing yards this season. Both backs will be on the field when Seattle visits Washington for a wild-card playoff game Sunday.
I've put together a chart showing production for Morris and Lynch from a few angles. It shows rushing stats against loaded box counts, meaning those when the defense had more players in the box than the offense had available to block them. We can also see how much running each back has done against nickel and dime defenses. Seattle likes to run its read-option plays from three-receiver personnel.
Morris averaged 18.2 carries for 88.1 yards per game through Week 10. He then averaged 24.4 carries for 117.1 yards per game for the rest of the season.
January, 2, 2013
1/02/13
11:53
AM ET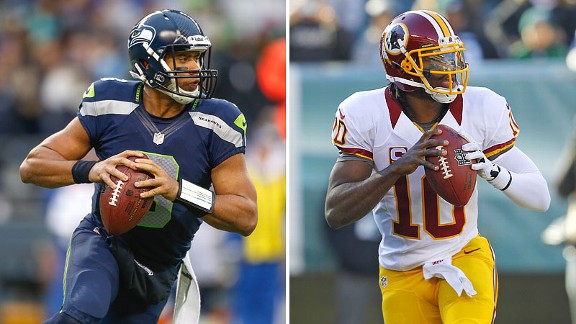 Getty ImagesThe playoff matchup involving rookies Russell Wilson and Robert Griffin III won't be lacking intrigue.
ESPN.com NFC East blogger Dan Graziano and NFC West blogger Mike Sando discuss this Sunday's playoff game between the Seattle Seahawks and the Washington Redskins at FedEx Field, in Landover, Md.
Sando:
Well, Dan, we meet again. It wasn't all that long ago that I was reduced to fly-on-the-wall status during a three-way discussion with our AFC South guy, Paul Kuharsky, over which quarterback --
Andrew Luck
,
Robert Griffin III
or
Russell Wilson
-- was looking like the offensive rookie of the year. That was before Week 11. Griffin and Luck were still seen as prohibitive favorites. Since then, all Wilson has done is go 5-1 as a starter with two road wins while leading the NFL in Total QBR and ranking second to his wild-card counterpart, Griffin, in NFL passer rating. This should be a showcase game for both.
Graziano
: Yeah, this year's NFL playoffs mark the death of patience, I fear, as those three rookie quarterbacks have led their teams into the playoffs and now people will expect one-year turnarounds all over the league. It seems these are a couple of pretty special cases, though. I was arguing Wilson for rookie of the year on TV last week on the grounds that his team has performed the best of the three, but that was merely a random tiebreaker I picked -- the idea that while Griffin, Wilson and Luck have all elevated their teams, Wilson has elevated his to the highest level. What amazes me about Griffin is that he has been the same guy from Week 1. I know Wilson had to work his way into his current level of excellence, while Griffin had one of his best games in the opener against the Saints and hasn't looked back. Even the past couple of weeks, as he plays on a bad knee, you see a level of maturity and confidence that just leaves you unable to believe this is a 22-year-old rookie. He makes the right throw and the right decision regardless of pain or dire circumstances, and while the knee does appear to be affecting him when he runs, it doesn't appear to affect the other key aspects of his game -- most notably operating this complex Shanahan offense from play to play.
Sando:
Yes, Griffin has been the same guy all the way through. I give the Redskins' coaches credit for having the flexibility to basically install the offense Griffin ran in college. That had to smooth the transition. How many Super Bowl-winning offensive coaches would do that for a rookie? Not many. Wilson had run one system at North Carolina State and another at Wisconsin before learning yet another in Seattle -- all while sharing practice reps with one or two veterans (we forget that incumbent starter
Tarvaris Jackson
(!) was on the roster for a while with Wilson and
Matt Flynn
). Once the season started, the Seahawks' coaches seemed to suddenly realize they had a rookie behind center. It was as though Pete Carroll's defensive background hit the override switch on all the preseason excitement. Seattle didn't really unleash Wilson for several weeks.
Graziano:
I think the interesting part of this game will be what the defenses decide to do to try to slow down these rookie quarterbacks. Washington's defense ended up ranked 28th in the league, but they're winning lately by forcing turnovers and getting sacks at a higher rate than they did earlier in the season. And defensive coordinator Jim Haslett has excelled at changing schemes week to week and sometimes even within games to confuse offenses. The blitz-heavy package they used against
Tony Romo
and the Cowboys on Sunday night was unlike anything they'd put on film all year, and it clearly confused the Cowboys, who never adjusted to it. I doubt Wilson can expect to see the same kind of defense Romo saw Sunday. The numbers seem to indicate that they'd be wise to blitz him, but having watched the Redskins for the last couple of months there's no way to predict what Haslett will come up with.
Sando:
The Seahawks led the NFL in fewest points allowed this season, but it didn't always feel that way. Their ability to generate a pass rush late in games has been a problem, particularly on the road. They aren't a heavy blitzing team. Sometimes I think they've been too conservative defensively late in games. They were leading late at Detroit and Miami, but broke down defensively in the end. The Seahawks also ranked only 24
th
in QBR against play-action passes, an area where Griffin averages an additional 5.0 yards per attempt (11.7). Seattle does have the defensive speed, however, to handle running quarterbacks.
Cam Newton
had his roughest outing of the season against Seattle. My thinking is that Griffin is going to have to beat this defense with his arm.
Graziano:
Griffin has been pretty lethal against the blitz, so the Seahawks probably are better off in coverage against him anyway. And he has beaten plenty of teams with his arm. Dallas on Thanksgiving comes to mind. I am intrigued about the matchups in the secondary, as
Pierre Garcon
and the Redskins' receivers are big and physical but don't often see the kind of big, physical corners the Seahawks have in Richard Sherman and Brandon Browner. (Who does?) The Redskins were 9-1 this year in games in which Garcon played (he missed six games with a foot injury), and his ability to win his matchups deep as well as on slants over the middle has added a great deal to the Washington passing game in the second half of the season. How will the Seahawks play him?
Sando:
I'm not anticipating any special plan for Garcon. Seattle played more zone than usual when holding
Calvin Johnson
to three catches for 46 yards, but the defense sprung leaks everywhere else. Seattle did not appear comfortable changing its style for that game.
Matthew Stafford
wound up having a career day on third down. Garcon is good, but I don't think the Seahawks will feel as though he's a scheme buster. They'll need to watch him on first down. Garcon has 66 percent of his receiving yards on first down. He has 13 catches for 337 yards -- that's 25-plus yards per catch -- from play-action throws on first down. Those types of plays haven't been pivotal against Seattle this season. The Seahawks have been more vulnerable, at times, against good slot receivers.
Santana Moss
might be of greater concern to Seattle.
Graziano:
Interesting. And what about the run game?
Alfred Morris
finished second in the league in rushing yards, and I know Seattle has a reputation as a tough run defense, though I see the Seahawks finished in the bottom half of the league in yards allowed per attempt. Morris and the Redskins' play-action passing game go hand-in-hand (obviously), but is he going to be able to find anything like the running room he found against Dallas the other night? Teams have had to back off a bit because of the threat of RG III as a runner. You mention the way they handled Cam Newton as a running quarterback, but Morris seems to add something Carolina didn't offer as a threat from the running back position in Week 5.
Sando:
The Seahawks ranked 30th in yards per carry allowed from Week 7 forward. They became vulnerable to trap runs against
Frank Gore
in Week 7. In my view, that game and perhaps another one at Miami were the only ones in which poor run defense played a meaningful role in a Seahawks defeat.
Adrian Peterson
had a monster game against the Seahawks, but that said more about Peterson than it said about Seattle. The Seahawks won that game by 10, anyway. I'd be surprised if Seattle's defense struggled against Morris the way Dallas' defense struggled against him. The Seahawks are so much healthier. I really liked the way Cincinnati defended the Redskins earlier in the year, cutting off the perimeter and delivering big hits. That is how Seattle will try to play.
Graziano:
Yeah, the game I'm looking at is the Monday night game against the Giants in Week 13, when Washington trailed 13-10 at the half and won 17-16. They couldn't stop
Eli Manning
and the Giants from moving the ball in the first half, but they totally changed their defensive game plan at halftime, increasing the pressure on Manning and playing more man-to-man coverage in the secondary. New York was able to contain Griffin but for a 46-yard run in the third quarter, but the Redskins stayed patient and won a close game. That patience is going to be the key. Washington, for the past month or so, has displayed a patience and maturity befitting a team that has been here before, and if that continues Sunday I think they have a chance to slug it out with Seattle and be in position to win it in the end. It'll be the toughest game they've played in quite a while (heck, we haven't even talked about
Marshawn Lynch
!), and it's likely to be a lower-scoring game than they're used to playing, but as long as the playoff stage doesn't freak them out, I anticipate they'll have a chance.
Sando:
Having covered the Seahawks for some time and knowing their playoff history, it's odd seeing them favored to win a road playoff game (something the team has not done since the 1983 season, by the way). That's how much of a game-changer Wilson has been. Seattle is a team without a glaring weakness. Not much about this team surprises me any longer. I feel as though the Seahawks have the healthier and hotter quarterback at this time. That could be the difference.
December, 31, 2012
12/31/12
12:34
AM ET
Five things to know about next Sunday's Seattle Seahawks-Washington Redskins wild-card playoff game at FedEx Field:


1. Rookie QB battle.
Seattle's
Russell Wilson
and Washington's
Robert Griffin
III are leading candidates for offensive rookie of the year. Wilson is healthier than Griffin. He has been hotter late in the season. Both start fresh in the playoffs. Both benefit from running backs with more than 1,500 yards for the regular season. The big question is to what degree Griffin can challenge the Seahawks' defense after suffering a knee injury late in the season and taking hits from Dallas in Week 17.
2. On the road again.
Seattle finished its regular season with an 8-0 record at home. The team was 3-5 on the road. Three of those defeats came against NFC West opponents in the first seven weeks of the season. The Seahawks have won their last two road games largely because zone-read plays have pushed their offense into another gear. Wilson leads the NFL in Total QBR on the road since Week 8. His 107.2 NFL passer rating on the road over that span ranks third behind
Matt Ryan
(113.9) and
Aaron Rodgers
(112.5).
3. Restored secondary.
Seattle welcomes back starting cornerback
Brandon Browner
from a four-game suspension this week. No one knows how well Browner will acclimate. He's eligible to rejoin the team Monday. Browner had three interceptions and three forced fumbles before serving his suspension. He was a Pro Bowl choice last season. At the very least, Browner restores welcome depth to the secondary. He and cornerback
Richard Sherman
(eight picks) form a formidable tandem at their best.
4. What a rush.
The Seahawks and Redskins both ranked among the NFL's top five in rushing yards this season. Redskins rookie
Alfred Morris
broke
Clinton Portis
' franchise single-season rushing record with 1,613 yards. He overtook Seattle's
Marshawn Lynch
(1,590) for second in rushing yards this season behind
Adrian Peterson
.
5. Big-play threats.
Golden Tate
and
Sidney Rice
have not been prolific wide receivers, but they have been big-play threats in critical situations. Rice caught the 46-yard game-winner against New England. Tate's disputed game-winner against Green Bay covered 24 yards. Tate set up the winning touchdown Sunday with a 44-yard reception in the final four minutes. The Seahawks finished the regular season with 11 receptions of at least 40 yards, tied for fifth-most in the NFL. That includes seven since Week 11, tied with Indianapolis for most in the NFL. The Redskins are close behind with five over that span.
December, 22, 2012
12/22/12
7:00
PM ET

A little secret about those running backs forced to run against stacked defenses play after play: They don't really exist.

Check out the chart. It shows 2012 rushing yardage leaders against loaded box counts (those featuring more defenders in the box than the offense has available to block them).

None of the leaders has more than 58 rushes against loaded boxes.

Minnesota's Adrian Peterson plays for a one-dimensional offense. Opponents seemingly must worry only about stopping him to beat the Vikings, right? It sounds good, but Peterson, despite nearing the 2,000-yard mark for the season, has carried against loaded boxes only 39 times. His other 250 carries came against more favorable number counts.

Peterson has 87 carries for 582 yards against eight or more in the box, but the Vikings had at least as many blockers available for some of those plays. San Francisco's Frank Gore ranks second to Peterson in carries (85) and rushing yards (279) against eight or more in the box. The 49ers favor heavier personnel groupings on offense, however. As a result, they often have blockers available for each of those defenders in the box.
October, 9, 2012
10/09/12
11:00
AM ET
NFC West teams lead the NFL in
shutting down quarterbacks
. They also lead the league in yards per rushing attempt allowed on called running plays.
By called running plays, I'm excluding quarterback scrambles. However, even if we included those plays, NFC West teams would have the lowest yards per carry allowed through Week 5.
Adrian Peterson
(3.4 per attempt vs. the NFC West),
Cedric Benson
(2.4),
DeMarco Murray
(3.7) and
C.J. Spiller
(3.4) have fallen well short of a 4.0-yard average against the division.
LeSean McCoy
(5.4),
Alfred Morris
(5.6) and
Marshawn Lynch
(5.0) are the only backs averaging at least 4.0 per attempt against the NFC West among the 15 players with at least 10 carries.
Seattle, San Francisco and Arizona are allowing 3.5 yards per carry or less. St. Louis is allowing 4.2 per attempt.
The chart from ESPN Stats & Information provides some context.