NFC West:

Alterraun Verner
October, 15, 2013
10/15/13
7:50
PM ET
SANTA CLARA, Calif. -- Once again, the
San Francisco 49ers
will be facing a dynamic young cornerback.
Verner
Tennessee Titans
cornerback
Alterraun Verner
is quickly turning into one of the best cornerbacks in the league. He has strong coverage abilities and already has four interceptions this season. Verner, 24, is a top reason why the Titans' defense has been strong this season.
That will be a challenge for the 49ers who don't have much in the passing game behind
Anquan Boldin
and tight end
Vernon Davis
. Last week, Boldin had to deal with Arizona cornerback
Patrick Peterson
. Boldin had three catches for 28 yards. However, the 49ers were able to get Davis loose. He had eight catches for 180 yards, which is tied for the third most receiving yards by a tight end in the NFL in the past 20 years.
The 49ers may have a problem if Verner locks down Boldin and the Titans are able to contain Davis. That will put pressure on receivers
Kyle Williams
and
Jon Baldwin
. Neither has demonstrated this season they can be a reliable, big factor in a game.
While facing a standout like Patterson didn't hurt the 49ers, it did in Week 2 at Seattle when
Richard Sherman
shut down Boldin and the 49ers couldn't find an answer in the passing game. It will be interesting which way this battle against Verner goes.
October, 11, 2013
10/11/13
12:00
PM ET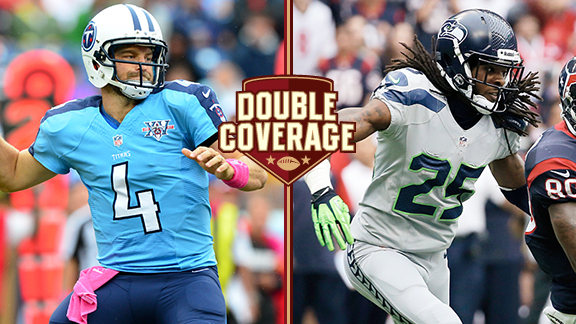 USA TODAY Sports, Getty ImagesBackup quarterback Ryan Fitzpatrick will have to face a stifling Seattle secondary and the league's best corner in Richard Sherman.
Sunday's game between the
Tennessee Titans
and
Seattle Seahawks
is a matchup between two winning teams coming off losses, and both are missing key players on offense.
Quarterback
Jake Locker
is out for the Titans. Both starting tackles --
Russell Okung
and
Breno Giacomini
-- are out for Seattle. Tight end
Zach Miller
could also sit.
The Seahawks have a 10-game home winning streak on the line, hoping to rebound after their first defeat of the season, 34-28 to the
Indianapolis Colts
.
The Titans hope to get a stagnant running game going and find some consistency with backup quarterback
Ryan Fitzpatrick
.
Paul, it looked like Fitzpatrick had a rough first outing for the Titans subbing for an injured Locker. Do you think Fitzpatrick will improve, and how difficult will it be for Tennessee to have success on offense while Locker is out?
Kuharsky:
Fitzpatrick is certainly capable of playing better than he did in the loss to Kansas City, when he had three very bad quarters and one good one. I'm not sure what the Titans can do to help him if they are unable to run the ball. If they can bring some balance with
Chris Johnson
(and maybe
Shonn Greene
, who's still trying to get back after knee surgery), it could be a lot less difficult. Fitzpatrick hardly has Locker's excellent speed, but he scrambled around pretty well against the Chiefs. With Locker in the first four games, the Titans didn't turn the ball over and overcame their deficiencies running the ball. Without him, they need Fitzpatrick to imitate the mistake-free youngster. But Fitzpatrick is more of a gunslinger than Locker and is streakier, and that's probably too much to ask.
Terry, the Titans pledged to be a great running team. It hasn't really panned out that way. Last time Johnson was in Seattle, he had a 2,000-yard season. What's the run defense going to be like?
Blount:
It's been all but impossible to run up the middle on the Seahawks. Defensive tackle
Brandon Mebane
is as strong a run stopper as there is the NFL, and it takes two blockers to handle 325-pound
Red Bryant
. If that fails, it's tough to get past middle linebacker
Bobby Wagner
. But Wagner probably won't play Sunday because of a high ankle sprain. Nevertheless, it's difficult to establish a running game on the Seahawks. Seattle is an aggressive outside pass-rushing team, so occasionally a back can get yardage outside, but not often.
Paul, Locker told us on the conference call Wednesday what a disappointment it is that he won't get to play this weekend in front of family, friends and University of Washington alumni who love him for all he did to help turn around the Huskies football program. He is a beloved guy here and a huge hero in this community. How is he viewed in Nashville?
Kuharsky:
Nothing close to that yet. People who have given him a chance know he's an eminently likable guy, a hard worker and a well-respected leader, but plenty of fans called talk radio over the offseason talking about why Fitzpatrick would be a better choice or how it should at least be a camp competition. Even after Week 2's overtime loss in Houston, when he overthrew a wide-open
Kenny Britt
on a crucial third-and-1 late in the game, there were calls for change. (It's a throw he's got to make.) The game-winning drive against San Diego showed people what he can do. Locker also had a fantastic two-plus quarters against the Jets, which seems to have done a lot to win more people over. In playing style and development arc, I think he is a lot like
Steve McNair
so far. If that holds true, impatient fans will wind up happy.
Terry, home field is viewed as such a giant advantage for the Seahawks. Can you give us a tangible feel for just how loud and crazy the atmosphere is there?
Blount:
In the San Francisco game, where the outdoor stadium decibel record was set at 131.9, it was so loud that it was difficult at times to even hear people talk in the enclosed press box. I know every team believes its stadium is one of the loudest, and I've been to most of them, but trust me, there is nothing like CenturyLink Field. It's deafening.
Paul, cornerback
Alterraun Verner
is off to an outstanding start this season with four interceptions and 11 passes defensed. Seattle cornerback
Richard Sherman
is viewed by some as the best corner in the NFL, but is Verner the most underrated?
Kuharsky:
He could have had another two picks last week on balls he didn't manage to haul in. Verner has been really good. The team wasn't sure what it had in him. The Titans knew they got a good football player out of UCLA three years ago. But as they revamped this offseason, with Gregg Williams joining the coaching staff and the Titans determined to get more aggressive, they figured a big increase in press-man coverage would move them away from Verner's strengths. They wanted
Tommie Campbell
, a faster and bigger guy to win the job. (Some wrote about how Campbell has some of what makes Sherman so good.) But Campbell didn't catch on and bombed in training camp, and Verner proved to be better. If
Coty Sensabaugh
hasn't recovered from his concussion for Sunday, Verner will start in base and move into the slot in nickel, with Campbell replacing him outside.
The Titans rush pretty well, and Verner is getting his hands on balls all over the field. Who has had the best success slowing
Russell Wilson
and how?
Blount:
Even though Seattle came back and won the game, the Texans had the most success because of their talented defensive front and all-everything defensive lineman
J.J. Watt
. Both Houston and Indianapolis took advantage of Seattle missing starters on the offensive line and teed off on Wilson on third down. Nevertheless, Wilson is the best I've ever seen making the most of a bad situation and finding the opening the defense gives him. Anticipating when Wilson will roll out and cutting off his running lanes is the key, but it is far easier said than done.
June, 6, 2013
6/06/13
4:00
PM ET
Using an early draft choice for an unusually young player can carry risks.
The upside: a potentially longer career window.
As noted
earlier Thursday, the
San Francisco 49ers
' Anthony Davis and the
Seattle Seahawks
' Earl Thomas are among three players to start all 48 games over the past three seasons before turning 24. Davis has already received a contract extension. Thomas is in line for one.
The chart breaks out all others with more than 35 starts over the past three seasons before they turned 24. Rolando McClain stands out as an exception for the wrong reasons. Most of the others have met general expectations.
That doesn't necessarily mean teams should rush out to draft especially young players. In some cases, it means exceptionally talented players were good enough to attract teams' interest in the absence of college seasoning.
Four of the players in the chart have achieved Pro Bowl and first-team Associated Press All-Pro status: Thomas, Pierre-Paul, Rob Gronkowski and Maurkice Pouncey. Thomas and Pouncey have also been second-team All-Pro choices.
April, 26, 2010
4/26/10
2:46
PM ET
NFC West teams made 15 trades involving 2010 NFL draft choices. I've consulted the
draft-value chart
and crunched numbers to see how the 49ers, Seahawks, Cardinals and Rams valued picks -- and players.
I'll conclude with trades made by the Seahawks (earlier:
Cardinals
,
Rams
,
49ers
). All five trades Seattle made involving 2010 picks also involved players.

Seattle Seahawks
Jets trade:
The Seahawks sent the 139th pick (36.5 points) to the Jets for the 236th pick (1.8 points) and running back Leon Washington.
Washington's value was 34.7 points, or about what the 143rd overall choice would be worth (the Jaguars used the 143rd choice for Central Arkansas linebacker
Larry Hart
).
The Jets used the 139th choice for Kentucky fullback
John Conner
. The Seahawks used the 236th pick for Arizona State defensive lineman
Dexter Davis
.
Titans trade:
The Seahawks sent the 104th (86 points) and 176th (22 points) to Tennessee for the 111th (72 points) and 185th (18.4 points) picks, plus running back LenDale White and defensive lineman Kevin Vickerson.
The deal valued White and Vickerson at a combined 17.6 points, equivalent of the 187th overall choice, which Houston used for Colorado state guard
Shelley Smith
.
The Titans used the 104th pick for UCLA cornerback
Alterraun Verner
. They used the 176th choice for Florida Atlantic quarterback
Rusty Smith
. Seattle used the 111th choice for Oregon cornerback
Walter Thurmond
and the 185th choice for USC tight end
Anthony McCoy
.
Pre-draft trades:
The Seahawks made three of them involving 2010 selections. They sent guard Rob Sims and the 213th choice (7.2 points) to the Lions for defensive end Robert Henderson and the 133rd overall choice (39.5 points). They traded the 40th pick (500 points) to San Diego for the 60th pick (300 points), quarterback Charlie Whitehurst and a 2011 third-round choice (worth an estimated 70 points). They also traded defensive end Darryl Tapp to Philadelphia for the 127th pick (45 points) and defensive end Chris Clemons.
The Seahawks used the 133rd choice, from Detroit, for Virginia Tech safety
Kam Chancellor
. The Lions used the 213th choice for North Carolina State defensive end
Willie Young
. The Chargers used the 40th pick to move up for Fresno State running back
Ryan Mathews
. The Seahawks used the 60th pick for Notre Dame receiver
Golden Tate
. They used the 127th pick for North Carolina defensive end
E.J. Wilson
.