NFC West:

Alterraun Verner
April, 10, 2014
Apr 10
10:00
AM ET
By
ESPN.com staff
| ESPN.com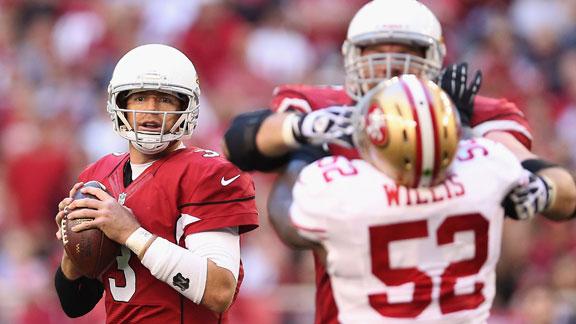 Catch us if you can.
That's a message the
Seattle Seahawks
could send out to the rest of the NFC West.
It is also something the
San Francisco 49ers
might say to the
Arizona Cardinals
and the
St. Louis Rams
. But the Cardinals and Rams might have a statement of their own: We're coming for you.
By almost everyone's estimation, the NFC West is the best division in the NFL. It includes a Super Bowl champion in Seattle along with a team in San Francisco that, arguably, came up one play short of reaching its second consecutive Super Bowl.
It also includes a team in Arizona that won 10 games, one of which was a victory at Seattle -- the Seahawks' only home loss in 2013. And there's a team in St. Louis that won two of its last three games to finish 7-9 while playing most of the season without starting quarterback
Sam Bradford
.
So the question heading into 2014 is whether the Cardinals and Rams are in position to catch the Seahawks and 49ers. Have Arizona and St. Louis closed the gap on what might be the NFL's two best teams?
The Cardinals have been active in free agency, signing cornerback
Antonio Cromartie
, offensive tackle
Jared Veldheer
, tight end
John Carlson
, receiver/kick returner
Ted Ginn
, running back
Jonathan Dwyer
and offensive lineman
Ted Larsen
.
Clearly, the competition in this division keeps getting better.
The four writers who cover the division for ESPN.com's NFL Nation -- Terry Blount in Seattle, Bill Williamson in San Francisco, Josh Weinfuss in Arizona and Nick Wagoner in St. Louis -- take a look at where things stand in the NFC West on four key topics. We also polled our Twitter followers to find how they viewed the issues.

The Cardinals have made significant moves in free agency. The Rams, aside from keeping Rodger Saffold, have mostly stood pat. Which is closer to the playoffs?
Terry Blount: This is a no-brainer for me. The Cardinals are a team on the rise with one of the NFL's best coaches in Bruce Arians. He took a 5-11 team and transformed it to 10-6 in one season. He was 9-3 at Indianapolis in 2012 while filling in for Chuck Pagano. Arizona was 7-2 in its last nine games and won three of the last four, with the only loss being 23-20 to the 49ers in the season finale. The Cardinals could become a serious challenger to the two-team stronghold of Seattle and San Francisco. However, I do believe the Rams will have a winning season if they can hold their own in the division games.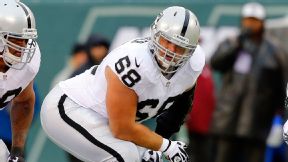 Nick Wagoner: It's hard to evaluate this without seeing what happens in the draft, especially with the Rams having two premium picks. Even then it would be unfair to judge right away. Still, I have to go with the Cardinals. They were trending up at the end of the season and patched a big hole with offensive tackle Jared Veldheer. Losing Karlos Dansby was a blow, but adding cornerback Antonio Cromartie to a talented stable at the position makes them better. The Rams, meanwhile, are clearly counting on a whole lot of in-house improvement and a big draft. Keeping Saffold was important (and lucky), but it seems risky to pin all hopes on a leap to the playoffs on a group of young players all making a jump at the same time.
Josh Weinfuss: Arizona is the easy answer, and that's not because I cover them. The Cardinals were 10-6 last season and the first team kept out of the postseason. All the Cardinals have done this offseason is fix deficiencies and plug holes. Their offensive line got markedly better with the addition of left tackle Jared Veldheer. Their wide receiver corps and kick return game were solidified with Ted Ginn, and they now have one of the best cornerback tandems in the league with Antonio Cromartie coming on board. General manager Steve Keim looked at what went wrong in 2013 and went to work on fixes. It should put the Cardinals over the playoff hump.
Bill Williamson: It has to be Arizona. The Cardinals were so close to making the playoffs last season. They would have likely been dangerous in the postseason too. I like the way this franchise is shaping up. It seems like it is well run and well coached. The roster is also getting deep. Carson Palmer will have to be replaced sooner or later, but the Cardinals are on to something. The Rams certainly have some nice pieces and are probably the best fourth-place team in the NFL, but they aren't close to matching what Arizona has going for it.
@joshweinfuss With the offseason the @AZCardinals have had I'd go with them. The rams are a solid offense away but AZ got the pieces needed.

- Joshua Bodrero (@JBodrero) March 25, 2014
---

The Seahawks and 49ers played for the NFC title in January. Any reason to believe either won't return to the postseason?
Blount: They were the two best teams in the NFL last season, and there's no legitimate reason to think they won't be among the best in 2014. Seattle has lost 10 players who were on the Super Bowl roster, but other than wide receiver Golden Tate, none of them were on the team's priority list to keep. The 49ers move into a shiny new stadium. The only question for San Francisco is the precarious relationship between coach Jim Harbaugh and team executives. Who knows what the future holds there, but it shouldn't matter on game day.
Wagoner: Aside from some debilitating injuries, it's hard to see how either team has taken a major step back. The Seahawks have lost some good players in free agency, but even those players seemingly already had replacements in place. Nobody does a better job of developing talent than Seattle. The Seahawks still have holes to patch on the offensive line and losing receiver Golden Tate is a blow, so there could be some hope the offense will regress. But the defense makes it all go, and it doesn't look like it's going to lose any of its most prized components. As for the Niners, they are the more likely of the two to take a step back, but it's hard to see them taking enough of one to fall out of the postseason. For most of their key free-agent losses they were able to quickly come up with a replacement as good or better than the player lost, and retaining Anquan Boldin says they are looking to make another run at the Super Bowl. Plus, they will have a fully healthy Michael Crabtree ready for the season. Until proven otherwise, these two teams remain the class of the NFC and probably the NFL.
Weinfuss: The only reason either of them won't make the playoffs in 2014 is because the Cardinals or Rams will take their place. The gap between the top and bottom of the NFC West has closed significantly this offseason, making the West much like the Southeastern Conference in college football; everybody will beat up on each other. It's likely the West, if it's anything like last season, can see three teams in the playoffs -- its champion and the two wild cards. If one of the teams between Seattle and San Francisco were not to make it, it's tough, but I think Seattle might slip. The Seahawks lost a significant part of their defensive line and will be going through a Super Bowl hangover. That's risky to deal with and still make the playoffs. On the other hand, San Francisco will be hungry from losing to Seattle in the NFC Championship Game.
Williamson: I believe these are the two best teams in the NFL. So it's difficult to fathom that either team won't find its way into the playoffs, barring major injuries. Arizona, though, could create an issue for the Seahawks and 49ers. The Cardinals are going to win a lot of games, so both Seattle and San Francisco have to be careful or things could get tricky. In the end, I can see all three teams making the playoffs. This is the reason this division is so intriguing and so fun: Every game is critical. There is just not much room for error. Look at the 49ers last year. They went 12-4, but a 1-2 start hamstrung them. They could never fully recover despite having a great overall regular season. The same intensity will be a factor in 2014 in the NFC West.
@TerryBlountESPN The Cards and Rams are pretty good. They'll be fighting for 2nd place behind the Seahawks.

- Danny ®" (@Dah_knee) March 26, 2014
---

Will Rams quarterback Sam Bradford come back strong from an ACL injury, and what effect will he have on St. Louis having its coveted breakthrough year?
Blount: I think Bradford will be fine as far as the ACL goes, but this is a make-or-break year for him in my view. Bradford was playing pretty well before his injury last year, but the verdict still is out whether he can be an elite quarterback. He enters this season with the best supporting cast he's ever had, but playing in this division with teams that emphasize physical defensive play makes it difficult to show improvement.
Wagoner: All indications from the Rams are that Bradford's rehab is coming along well and he's on schedule to make his return in plenty of time for the start of the regular season. He apparently had a clean tear of the ACL, but he has been rehabbing for a handful of months and should resume throwing soon. Bradford's healthy return means everything to the Rams' chances in 2014. Believe it or not, this is his fifth season in the NFL and, much like the team, this is the time to make some noise. The Rams attempted to open up the offense in the first quarter of 2013 with Bradford to miserable results. They switched to a more run-oriented attack in Week 5 and the offense performed better. Bradford also played better as the run game opened up play-action opportunities in the passing game. It will be interesting to see if the Rams choose to go a bit more balanced with Bradford at the controls or if they continue at the same run-heavy pace they played with backup Kellen Clemens. Either way, Bradford's contract has two years left on it. If he wants a lucrative extension, this is the time to prove he's worth it.
Weinfuss: Short answer, yes, Bradford will come back strong. Just look at how he started in 2013. He was on pace for a massive year statistically before he got hurt. If he can pick up where he left off, Bradford will return with a bang and show he's still one of the better quarterbacks in the league. As we've seen, a top-tier quarterback can be the difference between sitting idle in the standings and having a breakthrough year. With the talent that surrounds the Rams, with tight end Jared Cook, running back Zac Stacy and wide receivers Tavon Austin, Chris Givens and Austin Pettis, among others, Bradford may singlehandedly help close the gap between the Rams and the top of the NFC West.
Williamson: I have to be honest: I'm not a big Sam Bradford guy. I think he's just OK. Just OK doesn't cut it in this division, especially considering the defenses he has to play six times a season in the NFC West. He's serviceable, but he's not the answer. Given the state of this division, I cannot envision a scenario where Bradford is the reason the Rams become the class of the NFC West. I think they can get by with Bradford for the short term, but the Rams are going to have to start thinking about the future at this position much earlier than expected when Bradford was the No. 1 overall pick of the 2010 draft.
@nwagoner @Ryan_STL1 he's going to be the reason whether they go to the playoffs or not. If it doesn't happen this year it's time to give up

- Nick Green (@duttynick) March 24, 2014
---

If you had to start a team with either Seahawks QB Russell Wilson or 49ers QB Colin Kaepernick, whom would you choose?
Blount: You must be kidding. Give me Wilson every time, every day in every situation. Yes, Kaepernick is 5 inches taller than Wilson. Is there really anyone left who thinks Wilson's lack of height matters? Wilson also is at his best in pressure situations. He lives for it. And he is a more polished person on the field, and off it, than Kaepernick. That's not an observation. It's a fact. But this isn't a rip on Kaepernick. You would be hard-pressed to find any 25-year-old as polished as Wilson. The 49ers can win a Super Bowl with Kaepernick, and probably will soon. But if I'm starting a team, whether it is in football or almost any other life endeavor, I'll take Wilson without a doubt.
Wagoner: Wilson. For those of us covering other teams in the division, it's hard not to admire what he brings to the table. He presents himself as the consummate professional, and even opponents praise him for his work habits, intelligence and ability. He's already got the Super Bowl ring, and it's easy to see how he could add a few more. He's not all the way there in terms of his potential either, and it's probably safe to assume he's just going to keep getting better as his career goes along. That's nothing against Kaepernick, who is a unique talent in his own right, but there aren't many young quarterbacks in the league worth choosing over Wilson.
Weinfuss: Russell Wilson would be my pick, mainly because of his poise and maturity behind center. Colin Kaepernick is undoubtedly talented, but I get the sense he still has a lot of growing to do as a quarterback. He's tough to bring down, especially in the open field, but when he's pressured in the pocket, Kaepernick seems to panic and I wouldn't want that in a quarterback. I also think Wilson, despite his physical stature, is built to last. He's heady enough to stay out of harm's way, and his poise in the huddle will go a long way in leading a team.
Williamson: I'd take Kaepernick. I know it's a tough sell right now, since Wilson's team has beaten Kaepernick and the 49ers three of the past four times they've met, including the NFC title game, and the fact that Wilson has won a Super Bowl. I respect the value of Super Bowl wins and believe quarterback is the most critical position in sports. I'm sure I will smell like a homer with the Kaepernick pick. But moving forward, I just think Kaepernick has a higher ceiling. I think he can take over games more than Wilson can at a higher rate. Players built like Kaepernick and as athletic as Kaepernick just don't exist. He is special. He works extremely hard at his craft and is well coached. I'd take him, and I wouldn't look back. This isn't a knock on Wilson. He is proven and is going to be great. But if I'm starting a team, I'm taking Kaepernick, and I bet more general managers would agree than would disagree.
@BWilliamsonESPN Wilson. Controls the game & makes all the plays. Kaeps athletic advantage will fade overtime as Wilson's mental edge grows.

- HTB (@HoldenTyler) March 25, 2014
March, 11, 2014
Mar 11
9:00
PM ET
EARTH CITY, Mo. -- In the first hour of 2014 NFL free agency, more than 25 players agreed to or signed new contracts. The action came fast for offensive tackles and safeties while receivers and running backs waited.
Notable in their absence from the activity was the
St. Louis Rams
. The team made cornerback
Cortland Finnegan
's release official. And then ... crickets.
While it can be hard to discern what's real and what's not at this time of year, the Rams have been pretty open about not diving into the deep end of free agency this time around. They'd done it in the past two years with quick strikes for Finnegan and tight end
Jared Cook
but this time they said they wanted to let the market settle a bit.
And that's precisely what they did, at least on day one. The only player the Rams were known to have interest in and make a push for was Kansas City offensive lineman
Geoff Schwartz
. But the
New York Giants
apparently beat the Rams to the punch as Schwartz agreed to a deal and was on a plane to New York by Tuesday night.
Beyond Schwartz, various reports over the weekend also linked the Rams to Tennessee cornerback
Alterraun Verner
and Buffalo safety
Jairus Byrd
. ESPN NFL Insider Adam Schefter reported that Byrd is on his way to visit with the
New Orleans Saints
, who lost safety
Malcolm Jenkins
to Philadelphia earlier in the day. Much like the Rams, noticeable in his absence from mention was Verner.
Many expected Verner to come off the market right away but not only did he not find a new deal right away but as of Tuesday evening there had been no movement on that front. The Rams have interest but likely only if the price isn't at the level of corners who already have cashed in such Miami's
Brent Grimes
, Green Bay's
Sam Shields
and Indianapolis'
Vontae Davis
.
Beyond Verner, there are still some attractive corners left on the market, many of whom figure to land lucrative deals. New England's
Aqib Talib
, Denver's
Dominique Rodgers-Cromartie
and, of course, the pending situation centered on Tampa Bay's
Darrelle Revis
. San Francisco's
Tarell Brown
also remains on the market as a potential option who should come cheaper than the corners mentioned above.
As for safety and the offensive line, there was little time wasted in those positions drying up.
There wasn't much available in terms of the interior of the offensive line anyway but
Rodger Saffold
(Oakland), Schwartz, guard
Zane Beadles
(Jacksonville), guard
Shawn Lauvao
(Washington) and guard
Jon Asamoah
(Atlanta) were quickly targeted and signed. Tackles
Eugene Monroe
(Baltimore),
Jared Veldheer
(Arizona) and
Branden Albert
(Miami) also made their moves.
Pickings among offensive linemen are now exceptionally slim though Rams
Chris Williams
and
Shelley Smith
are still available. Multiple teams showed some level of interest in both.
The pool of safeties also evaporated quickly. Jenkins (Philadelphia),
Donte Whitner
(Cleveland),
T.J. Ward
(Denver),
Antoine Bethea
(San Francisco),
Mike Mitchell
(Pittsburgh),
Ryan Mundy
(Chicago) and
Louis Delmas
(signed with Miami on Monday) all relocated. Byrd and
Chris Clemons
remain unsigned but while Byrd visits the Big Easy, Clemons has the attention of Detroit and Pittsburgh.
All those moves leave a group that includes newly released options such as
Thomas DeCoud
and
Patrick Chung
, along with veteran
Ryan Clark
and lesser known players like Indianapolis'
Sergio Brown
.
Since the Rams didn't come out firing on day one, it's probably fair to expect them to continue to be patient in the coming days in hopes that prices will fall and they can find some relative bargains. A drop in price tag is inevitable but it remains to be seen what will be available when it happens.
March, 10, 2014
Mar 10
3:30
PM ET
We are still more than a day away from the official start of free agency set for Tuesday at 4 p.m. ET. We also are still in the "take much of what you hear with a grain of salt" mode. That applies here as well.

But until we get to the time where actual agreements can be reached and contracts can be signed, we'll still try to sort through what we're hearing. With that in mind, here are some thoughts from the free-agent trail (shoutout to Bills reporter Mike Rodak for the name).
• A big part of adding the three-day negotiating window for teams and agents representing upcoming free agents was finding a way for teams to put contingency plans in place. Reports over the weekend have indicated the Rams have interest in Tennessee cornerback
Alterraun Verner
and Buffalo safety
Jairus Byrd
. There have also been multiple reports indicating that offensive lineman
Rodger Saffold
won't be returning to the Rams. If nothing else, those tidbits should give the Rams enough knowledge to have a gauge on what it will cost to obtain high-priced players, such as Verner and Byrd, and whether they truly want to be bidders.
• On the Verner front, it looks like the competition is going to be tough. Minnesota and both New York teams have been prominently mentioned, and Verner spoke highly of the Jets and New England in an interview with Mad Dog Radio. But one league source said Monday morning that the price for Verner might not be as high as some expect. Green Bay cornerback
Sam Shields
got nearly $10 million in average annual value on a four-year deal, but it's important to note that teams have to overpay to prevent their own from hitting the market sometimes. I do believe the Rams have interest in Verner but only to a point. Last year, for example, the Rams wanted to get in the mix for receiver
Mike Wallace
, but the price quickly rose out of their range and they re-focused their money elsewhere.
• If the Rams don't chase and land Verner, there are still some solid alternatives on the market. The big names include New England's
Aqib Talib
and Indianapolis'
Vontae Davis
. Davis figures to land a sizable contract and Talib could too, so long as his medical profile checks out. One name worth monitoring among mid-level free agents is San Francisco's
Tarell Brown
, who would bring the added bonus of weakening a division rival without necessarily having to break the bank.
• Also, it's logical for the Rams to look to find offensive line help in free agency should Saffold depart. A league source indicated Monday that the Rams are among the teams to express interest in Kansas City offensive lineman
Geoff Schwartz
. Schwartz has versatility similar to Saffold and, like Saffold, is a better fit at guard. Schwartz also figures to be a hot commodity but could make sense as a Saffold replacement at a lesser cost.
• As for Byrd, it's unclear how deep the Rams' interest in him runs. Reports indicate he's going to command upwards of $9 million per season, which could also prove too rich for the Rams' blood.
• Whether the Rams jump out early in free agency will depend, like always, on the cost of players they covet. In the past two years, they haven't established a pattern of doing things one way or another. Last year, they went hard for tight end
Jared Cook
and had him wrapped up pretty early. Then, they had tackle
Jake Long
in for a visit, essentially held him hostage and finally signed him. In addition, they have a good track record when it comes to signing players who do visit St. Louis first.
And if the Rams aren't extremely active early on, it's important to remember there will be plenty of free agents to cash in big right away, but the meat of this free-agent market appears to be in the middle. There are plenty of good players after that first rush that could come much cheaper than the big names. Seattle was patient last year and scored big on short, relatively cost-effective deals for defensive linemen
Michael Bennett
and
Cliff Avril
. Patience is a virtue for a reason, and this year doesn't look like it will lack for quality free agents that can be had for mid-level deals or even on one-year "prove it" contracts.
March, 10, 2014
Mar 10
10:00
AM ET
Although nothing can be official until 4 p.m. ET on Tuesday, the past 24 hours have offered some interesting possible permutations for the
St. Louis Rams
' sojourn into the 2014 free-agent market.
Saffold
On Sunday, reports surfaced that the team's top priority, offensive lineman
Rodger Saffold
, is headed elsewhere. Whether that ultimate destination is Oakland, Tampa Bay or somewhere else, it looks almost certain he won't be back in St. Louis.
The St. Louis Post-Dispatch offered quotes from Alan Herman, Saffold's agent, saying Saffold would
not be returning
to the Rams. That story corroborates reports from earlier in the day in which the Baltimore Sun reported that Saffold is
likely headed
to the Raiders on a rich free-agent contract, though Tampa Bay remained in the mix.
Whatever Saffold's final destination, the Rams can at least begin working on alternate plans knowing he's out of the picture.
In the lead up to free agency, the Rams had repeatedly made it clear Saffold was the top target but also offered the sense that should Saffold depart, his money could be funneled somewhere else. That somewhere else could be spent on one of the league's top available defensive backs.
Headlining that list is Tennessee cornerback
Alterraun Verner
. League sources have confirmed that the Rams' interest in Verner is very real and with Saffold out of the picture, the Rams can probably find a way to work him on to the pay roll.
Make no mistake, Verner won't come cheap nor does he lack for suitors. Both New York teams, Pittsburgh, Detroit and Minnesota are also known to have expressed interest in Verner. Some believe the Vikings, in particular, will give strong chase.
After Green Bay signed cornerback
Sam Shields
to a
four-year, $39 million contract
with a $12.5 million signing bonus Saturday night, it became clear the market for top corners is going to be costly. The
Rams just parted ways
with
Cortland Finnegan
, who received a deal even bigger than that in 2012, which could give the Rams pause to spend that type of money again on another corner so soon.
Beyond the financials, Verner is an obvious fit for the Rams. Although he doesn't fit the profile of the press corner that many believe defensive coordinator Gregg Williams would covet, Williams clearly knows how to use him best after coaching Verner in his breakthrough 2013 season. Adding to the connections, Rams coach Jeff Fisher was in charge of the Titans when they drafted Verner in 2010.
At Williams' introductory news conference last month, he even mentioned Verner by name.
"It was fun to go back there and all of a sudden a guy that there wasn't a lot of like for Alterraun Verner when I walked in the building, he didn't do too bad this year, did he?" Williams said then. "He made his first Pro Bowl and there was a lot of people that were wondering whether he would even make the team."
Given the type of contract Verner will land in the next couple of days, it's safe to say his days of worrying about making a roster are long gone.
Elsewhere on the free-agent front,
as we mentioned Sunday afternoon
, there were reports that the Rams reached out to Buffalo safety
Jairus Byrd
over the weekend. It's unclear how much interest the Rams have in making a serious run at Byrd, however.
March, 9, 2014
Mar 9
1:30
PM ET
The three-day negotiating window for teams and free agents began in earnest Saturday, and along with it came the expected rumor and innuendo that will persist until players can actually put pen to paper at 4 p.m. ET on Tuesday.
Like every other team in the league, the
St. Louis Rams
were connected to a few of those free agents, though a phone call to an agent or two doesn't mean it's going to turn into a transaction when the market opens. Plenty of calls are made over the weekend, some turn into legitimate conversations about a contract while others are simply doing diligence.
Here is a look at what we know and what was reported in the first 24 hours of the negotiating window:
It hasn't happened yet but I still expect the Rams to release guard Harvey Dahl in the very near future. Much like with cornerback Cortland Finnegan, the move might wait until the day free agency begins, but it seems almost certain to happen. That would give the Rams about $15 million in salary-cap space (though only about $10 million would be available for free agency since they will have a draft class to sign).

[+] Enlarge

Don McPeak/USA TODAY SportsFree agent cornerback Alterraun Verner has ties to Rams head coach Jeff Fisher and defensive coordinator Gregg Williams.

As expected, the market for offensive lineman Rodger Saffold looks to be active. We already knew Arizona and Miami would have interest, and reports indicate both teams made contact with Saffold on the opening day of discussions. Other teams in need of offensive line help such as Tampa Bay, which released guard Davin Joseph and could use upgrades at tackle, could also be in the mix for Saffold.

The St. Louis Post-Dispatch reported that Rams guard Shelley Smith drew free-agent phone calls from four teams on Saturday. Smith was a spot starter for the Rams the past two seasons, but was once a coveted commodity when the Rams initially claimed him on waivers. He's not likely to break the bank, but there is a sense around the league that he might be something of a bargain.

Also coming from the "no surprise" department, the Rams reached out to representatives for Tennessee cornerback Alterraun Verneron Saturday. Verner is widely regarded as one of the best players on the market regardless of position, but is going to get a contract in line with that status. The Rams have obvious ties to Verner as head coach Jeff Fisher drafted him and defensive coordinator Gregg Williams helped coach him to his best season in 2013. While the Rams could probably find a way to make a contract work with Verner, whether they should pay the hefty price is a different issue. Green Bay's Sam Shields cashed in with the Packers on Saturday night with a four-year, $39 million deal with a $12.5 million signing bonus. Final details aren't known, but reports indicate he will make $21 million in the first two years. It's probably a safe bet that Verner will meet and exceed that number. And he has no shortage of suitors. The Tennessean reported Verner also received early interest from Minnesota, the New York Jets, the New York Giants, the Detroit Lions and Pittsburgh Steelers. ESPN Vikings reporter Ben Goessling offered a breakdown on the logical match between Verner and the Vikings.

If nothing else, it's clear the market for top cornerbacks is returning to 2012 levels when the Rams gave Finnegan a five-year, $50 million deal with nearly half paid out in the first two years.

The other name linked to the Rams on Saturday was another highly touted, high-priced defensive back -- Buffalo safety Jairus Byrd. NFL.com also reported the Rams inquired about Byrd on Saturday. Byrd has been another popular name amongst Rams faithful and, like Verner, would fill an important role as a veteran presence in the Rams' young secondary. Also like Verner, Byrd figures to break the bank. Considered the best safety available, it's fair to expect Byrd to land a contract worth about $10 million in average annual value.

So, what to make of all this before we get into the actual start of free agency? Not much, really. My belief all along has been that the Rams have prioritized keeping Saffold, and if that doesn't happen they could re-direct that money elsewhere, potentially to one of the "splashy" defensive backs on the market. In an ideal world, the Rams could keep Saffold and add a veteran in the secondary, but with prices likely to be through the roof, it's probably unlikely the Rams can bring Saffold back and add one of the top two defensive backs mentioned above.Based on early projection for what players like Byrd, Verner and Saffold could cost, it's possible the Rams could be spending money on a few mid-level free agents rather than one big-ticket item. In the meantime, it does no harm to kick the tires on some of the big names mentioned above and determine whether it's worth getting in the bidding or moving on to the next plan.
October, 15, 2013
10/15/13
7:50
PM ET
SANTA CLARA, Calif. -- Once again, the
San Francisco 49ers
will be facing a dynamic young cornerback.
Verner
Tennessee Titans
cornerback
Alterraun Verner
is quickly turning into one of the best cornerbacks in the league. He has strong coverage abilities and already has four interceptions this season. Verner, 24, is a top reason why the Titans' defense has been strong this season.
That will be a challenge for the 49ers who don't have much in the passing game behind
Anquan Boldin
and tight end
Vernon Davis
. Last week, Boldin had to deal with Arizona cornerback
Patrick Peterson
. Boldin had three catches for 28 yards. However, the 49ers were able to get Davis loose. He had eight catches for 180 yards, which is tied for the third most receiving yards by a tight end in the NFL in the past 20 years.
The 49ers may have a problem if Verner locks down Boldin and the Titans are able to contain Davis. That will put pressure on receivers
Kyle Williams
and
Jon Baldwin
. Neither has demonstrated this season they can be a reliable, big factor in a game.
While facing a standout like Patterson didn't hurt the 49ers, it did in Week 2 at Seattle when
Richard Sherman
shut down Boldin and the 49ers couldn't find an answer in the passing game. It will be interesting which way this battle against Verner goes.
October, 11, 2013
10/11/13
12:00
PM ET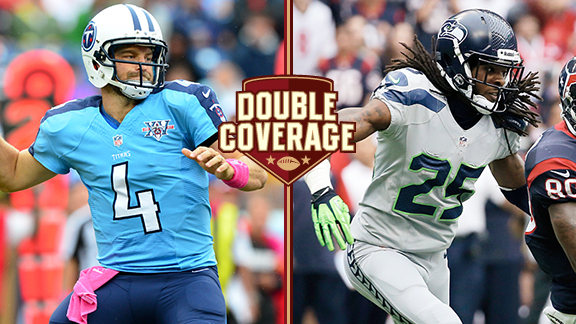 USA TODAY Sports, Getty ImagesBackup quarterback Ryan Fitzpatrick will have to face a stifling Seattle secondary and the league's best corner in Richard Sherman.
Sunday's game between the
Tennessee Titans
and
Seattle Seahawks
is a matchup between two winning teams coming off losses, and both are missing key players on offense.
Quarterback
Jake Locker
is out for the Titans. Both starting tackles --
Russell Okung
and
Breno Giacomini
-- are out for Seattle. Tight end
Zach Miller
could also sit.
The Seahawks have a 10-game home winning streak on the line, hoping to rebound after their first defeat of the season, 34-28 to the
Indianapolis Colts
.
The Titans hope to get a stagnant running game going and find some consistency with backup quarterback
Ryan Fitzpatrick
.
Paul, it looked like Fitzpatrick had a rough first outing for the Titans subbing for an injured Locker. Do you think Fitzpatrick will improve, and how difficult will it be for Tennessee to have success on offense while Locker is out?
Kuharsky:
Fitzpatrick is certainly capable of playing better than he did in the loss to Kansas City, when he had three very bad quarters and one good one. I'm not sure what the Titans can do to help him if they are unable to run the ball. If they can bring some balance with
Chris Johnson
(and maybe
Shonn Greene
, who's still trying to get back after knee surgery), it could be a lot less difficult. Fitzpatrick hardly has Locker's excellent speed, but he scrambled around pretty well against the Chiefs. With Locker in the first four games, the Titans didn't turn the ball over and overcame their deficiencies running the ball. Without him, they need Fitzpatrick to imitate the mistake-free youngster. But Fitzpatrick is more of a gunslinger than Locker and is streakier, and that's probably too much to ask.
Terry, the Titans pledged to be a great running team. It hasn't really panned out that way. Last time Johnson was in Seattle, he had a 2,000-yard season. What's the run defense going to be like?
Blount:
It's been all but impossible to run up the middle on the Seahawks. Defensive tackle
Brandon Mebane
is as strong a run stopper as there is the NFL, and it takes two blockers to handle 325-pound
Red Bryant
. If that fails, it's tough to get past middle linebacker
Bobby Wagner
. But Wagner probably won't play Sunday because of a high ankle sprain. Nevertheless, it's difficult to establish a running game on the Seahawks. Seattle is an aggressive outside pass-rushing team, so occasionally a back can get yardage outside, but not often.
Paul, Locker told us on the conference call Wednesday what a disappointment it is that he won't get to play this weekend in front of family, friends and University of Washington alumni who love him for all he did to help turn around the Huskies football program. He is a beloved guy here and a huge hero in this community. How is he viewed in Nashville?
Kuharsky:
Nothing close to that yet. People who have given him a chance know he's an eminently likable guy, a hard worker and a well-respected leader, but plenty of fans called talk radio over the offseason talking about why Fitzpatrick would be a better choice or how it should at least be a camp competition. Even after Week 2's overtime loss in Houston, when he overthrew a wide-open
Kenny Britt
on a crucial third-and-1 late in the game, there were calls for change. (It's a throw he's got to make.) The game-winning drive against San Diego showed people what he can do. Locker also had a fantastic two-plus quarters against the Jets, which seems to have done a lot to win more people over. In playing style and development arc, I think he is a lot like
Steve McNair
so far. If that holds true, impatient fans will wind up happy.
Terry, home field is viewed as such a giant advantage for the Seahawks. Can you give us a tangible feel for just how loud and crazy the atmosphere is there?
Blount:
In the San Francisco game, where the outdoor stadium decibel record was set at 131.9, it was so loud that it was difficult at times to even hear people talk in the enclosed press box. I know every team believes its stadium is one of the loudest, and I've been to most of them, but trust me, there is nothing like CenturyLink Field. It's deafening.
Paul, cornerback
Alterraun Verner
is off to an outstanding start this season with four interceptions and 11 passes defensed. Seattle cornerback
Richard Sherman
is viewed by some as the best corner in the NFL, but is Verner the most underrated?
Kuharsky:
He could have had another two picks last week on balls he didn't manage to haul in. Verner has been really good. The team wasn't sure what it had in him. The Titans knew they got a good football player out of UCLA three years ago. But as they revamped this offseason, with Gregg Williams joining the coaching staff and the Titans determined to get more aggressive, they figured a big increase in press-man coverage would move them away from Verner's strengths. They wanted
Tommie Campbell
, a faster and bigger guy to win the job. (Some wrote about how Campbell has some of what makes Sherman so good.) But Campbell didn't catch on and bombed in training camp, and Verner proved to be better. If
Coty Sensabaugh
hasn't recovered from his concussion for Sunday, Verner will start in base and move into the slot in nickel, with Campbell replacing him outside.
The Titans rush pretty well, and Verner is getting his hands on balls all over the field. Who has had the best success slowing
Russell Wilson
and how?
Blount:
Even though Seattle came back and won the game, the Texans had the most success because of their talented defensive front and all-everything defensive lineman
J.J. Watt
. Both Houston and Indianapolis took advantage of Seattle missing starters on the offensive line and teed off on Wilson on third down. Nevertheless, Wilson is the best I've ever seen making the most of a bad situation and finding the opening the defense gives him. Anticipating when Wilson will roll out and cutting off his running lanes is the key, but it is far easier said than done.
June, 6, 2013
6/06/13
4:00
PM ET
Using an early draft choice for an unusually young player can carry risks.
The upside: a potentially longer career window.
As noted
earlier Thursday, the
San Francisco 49ers
' Anthony Davis and the
Seattle Seahawks
' Earl Thomas are among three players to start all 48 games over the past three seasons before turning 24. Davis has already received a contract extension. Thomas is in line for one.
The chart breaks out all others with more than 35 starts over the past three seasons before they turned 24. Rolando McClain stands out as an exception for the wrong reasons. Most of the others have met general expectations.
That doesn't necessarily mean teams should rush out to draft especially young players. In some cases, it means exceptionally talented players were good enough to attract teams' interest in the absence of college seasoning.
Four of the players in the chart have achieved Pro Bowl and first-team Associated Press All-Pro status: Thomas, Pierre-Paul, Rob Gronkowski and Maurkice Pouncey. Thomas and Pouncey have also been second-team All-Pro choices.
April, 26, 2010
4/26/10
2:46
PM ET
NFC West teams made 15 trades involving 2010 NFL draft choices. I've consulted the
draft-value chart
and crunched numbers to see how the 49ers, Seahawks, Cardinals and Rams valued picks -- and players.
I'll conclude with trades made by the Seahawks (earlier:
Cardinals
,
Rams
,
49ers
). All five trades Seattle made involving 2010 picks also involved players.

Seattle Seahawks
Jets trade:
The Seahawks sent the 139th pick (36.5 points) to the Jets for the 236th pick (1.8 points) and running back Leon Washington.
Washington's value was 34.7 points, or about what the 143rd overall choice would be worth (the Jaguars used the 143rd choice for Central Arkansas linebacker
Larry Hart
).
The Jets used the 139th choice for Kentucky fullback
John Conner
. The Seahawks used the 236th pick for Arizona State defensive lineman
Dexter Davis
.
Titans trade:
The Seahawks sent the 104th (86 points) and 176th (22 points) to Tennessee for the 111th (72 points) and 185th (18.4 points) picks, plus running back LenDale White and defensive lineman Kevin Vickerson.
The deal valued White and Vickerson at a combined 17.6 points, equivalent of the 187th overall choice, which Houston used for Colorado state guard
Shelley Smith
.
The Titans used the 104th pick for UCLA cornerback
Alterraun Verner
. They used the 176th choice for Florida Atlantic quarterback
Rusty Smith
. Seattle used the 111th choice for Oregon cornerback
Walter Thurmond
and the 185th choice for USC tight end
Anthony McCoy
.
Pre-draft trades:
The Seahawks made three of them involving 2010 selections. They sent guard Rob Sims and the 213th choice (7.2 points) to the Lions for defensive end Robert Henderson and the 133rd overall choice (39.5 points). They traded the 40th pick (500 points) to San Diego for the 60th pick (300 points), quarterback Charlie Whitehurst and a 2011 third-round choice (worth an estimated 70 points). They also traded defensive end Darryl Tapp to Philadelphia for the 127th pick (45 points) and defensive end Chris Clemons.
The Seahawks used the 133rd choice, from Detroit, for Virginia Tech safety
Kam Chancellor
. The Lions used the 213th choice for North Carolina State defensive end
Willie Young
. The Chargers used the 40th pick to move up for Fresno State running back
Ryan Mathews
. The Seahawks used the 60th pick for Notre Dame receiver
Golden Tate
. They used the 127th pick for North Carolina defensive end
E.J. Wilson
.