October, 25, 2013
10/25/13
8:29
PM ET
TEMPE, Ariz. – Returning kickoffs isn't cut and dry anymore.
Ever since the NFL moved kickoffs up 5 yards to the 35-yard line in 2011, it's stopped being a catch-and-run job. It's evolved into a decision-making post that forces players to think fast because one wrong step could change the course of a game.
When
Arizona Cardinals
returner
Javier Arenas
fields a kick, he's instantly processing a handful of factors that determine whether he brings a kick out: How deep in the end zone is he? What was the hang time? How much penetration does the opponent already have? Can he get the kick back to the 20-yard line?
And, if that's not enough, Arizona special-teams coordinator Amos Jones wants Arenas to take other factors into consideration: How much time is on the clock? What quarter is it? What's the score? What's the wind like?
[+] Enlarge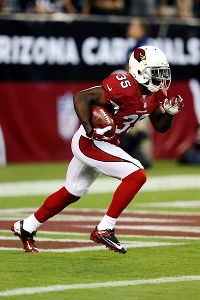 AP Photo/Paul SpinelliJavier Arenas returns a kick out of the end zone, something the Cards may not always want him to do.
It's a lot to process in about four to six seconds.
"The hang time won't allow the returner to be as successful because those guys have time," Arenas said. "When I catch the ball, they're damn near on the 30, 35. From where the ball lands, it may look like it can be brought out, but now you got to be super-smart in making [a] decision back there. You got to be accurate as well."
Arenas has learned his lessons the hard way.
Against St. Louis in Week 1, Arenas fielded his first kickoff as a Cardinal 6 yards deep in the end zone and decided to return it. He made it 14 yards before being stuffed at the 8-yard-line. Had he knelt for a touchback, Arizona would've started with the ball at the 20. Arenas' second return that game also began deep in the end zone. He managed 18 yards before fumbling.
As the season has progressed, Arenas' opportunities to return kicks have declined, partly because his decision-making has improved and partly because too many kickoffs are unreturnable. The Cardinals have been kicked to 37 times this season. Of those, 33 have landed in the end zone and 26 have been touchbacks.
Six of Arenas' eight returns have started inside the end zone, anywhere from 1 to 8 yards deep, and of those he returned just one past the 20.
However, the Cardinals may prefer Arenas not return any kicks. They've won the three games in which he hasn't had a return, and lost all four he has.
Since those two in Week 1, he's returned just six kicks in six games. They've all been calculated decisions, even though not all of them have given the Cardinals good field position. When he's broken loose, Arenas has showed his talent. Against New Orleans, Arenas got free from the 5-yard line for a 46-yard gain. But that doesn't happen often. Of his eight returns for 185 yards, just three, including the long one in New Orleans, gave Arizona the ball outside the 20. He hasn't returned any for a touchdown this season.
"I think the biggest thing there is, when a guy matches hang time and distance, you have to really put yourself in situations where you're gonna say, 'You know what? We're probably not going to bring that ball out.' And two times that's happened."
Arenas' opportunities are limited, but the one question that supersedes all others is this: Can he return it to the 20?
For kick returners, 20 is the magic number. Take the touchback, and the Cardinals need 80 yards for a touchdown. Risk the return – Arenas has been stuffed anywhere form the 8 to the 19 – and Arizona finds itself with a longer field ahead.
Jones said the decision is to play field position first and return it second.
"I've made my mistakes early in the season, bringing those balls that land in the middle of the end zone out but that has had a lot of hang time," Arenas said. "Now I get stuffed on the 10- or 15-yard line because they penetrate by time I got my hands on the ball.
"But if I feel I can really get it back to the 20, why not take that chance sometimes."
And Jones doesn't mind that. He knows Arenas is trying to make a play, but Jones said it's a double-edge sword. Jones won't harp on Arenas' bad decisions or poor returns, because he'll be the first person to slap Arenas on the helmet for a good run.
"You got to rely on his experience," Jones said. "You got to rely on his judgement."
Before he takes the field for kickoff, Jones grabs Arenas and gives him last-second instructions. Invariably, at some point Jones makes sure to tell Arenas to make smart decisions.
It's been frustrating at times for Arenas. He's seen at least once a game slapping the football with his hands after fielding a kick too deep to return. While Jones tries to stay calm, Cardinals coach Bruce Arians sees Arenas' frustration.
"And I see the frustration in me when he's brought it out and we didn't get it to the 20," Arians said. "He's been smart with it."
June, 5, 2013
6/05/13
4:35
PM ET
Recently hired Arizona Cardinals assistants Tom Pratt, 77, and Tom Moore, 74, stand out for their age in a young man's game.
Moore has given assurances that
age will not hold him back
, particularly after knee replacement surgeries restored his energy. Pratt has explained how
focusing on the present
makes the distant past less relevant.
The idea that age is only a number works both ways. How else to explain the news that Freddie Kitchens, the Cardinals' quarterbacks coach and one of the team's youngest assistants on staff, required heart surgery Tuesday?
Kitchens, 38, sat up in bed and showed a sense of humor hours after undergoing the surgery for a defective aorta,
coach Bruce Arians told reporters
Wednesday.
That seems like a positive sign for Kitchens, who was stricken by dizziness during organized team activities Tuesday. It's too early to know a longer-term prognosis. For now,
Moore will coach quarterbacks
as well.
Moore's status as a long-time NFL offensive coordinator and Arians' background as a quarterbacks coach puts the Cardinals in position to carry on from a coaching standpoint. Supporting Kitchens and his family through a difficult time is the immediate focus, of course.
February, 5, 2013
2/05/13
4:45
PM ET
A few thoughts after the Arizona Cardinals announced Bruce Arians' initial coaching staff for the 2013 season:

More resources: Former head coach Ken Whisenhunt had 16 assistants last season, three or four fewer than the NFC West norm. The number wasn't alarmingly low; New England has had the same number at various points. Arians has 20 assistants, counting four holdovers whose names I've bolded in the chart below.
OL committee: The Cardinals do not have an offensive line coach by title. With Arians calling offensive plays, coordinator Harold Goodwin will take the lead with the line. Larry Zierlein, the Pittsburgh Steelers' line coach for three seasons ending in 2009, is the assistant O-line coach.
Familiar name: Former Cardinals running back and return specialist Stump Mitchell will coach running backs. He spent nearly a decade on Mike Holmgren's staff in Seattle before following Jim Zorn to the Washington Redskins. He was then head coach at Southern University. Mitchell still holds the Cardinals franchise record for all-purpose yards (11,988).
Experience rules: Arians is a first-time NFL head coach, but his staff has veteran seasoning. Tom Moore, Tom Pratt, Zierlein, Rick Christophel and Nick Rapone each have more than 30 years of NFL and/or college coaching experience.
The chart compares the Cardinals' final staff under Whisenhunt to their current one under Arians.

NFC WEST SCOREBOARD
Friday, 8/22
Saturday, 8/23
Sunday, 8/24