NFC West:

Andre Wadsworth
June, 1, 2012
6/01/12
2:40
PM ET
If only the NFL's current labor deal had been in place when
Andre Wadsworth
,
Chris McIntosh
,
Michael Crabtree
and so many other rookies from current NFC West teams missed valuable training camp time.
Teams no longer must worry about draft choices failing to report on time while their agents hammer out complicated contracts. It's a huge relief for coaches in particular.
Only three NFC West draft choices remain unsigned with nearly two full months remaining before training camp.
Update:
For some reason, I mistakenly thought the Rams, like the Seahawks, had signed all their picks. That is not true, but several of them are signing or agreeing to terms. My apologies.
Receiver
Michael Floyd
(Arizona), receiver
A.J. Jenkins
(San Francisco) and cornerback
Jamell Fleming
(Arizona) will almost certainly sign in time. Seattle has all their rookies under contract. The Rams have
reportedly
reached
agreement
with fourth-rounder Chris Givens, fifth-rounder Rokevious Watkins and seventh-rounders Aaron Brown and Daryl Richardson.
This might seem like a roundabout way to get into an NFC West mailbag, but
Raymond from Oregon
gets the credit/blame for the idea.
"With the reports of some first-rounders signing, what team has signed all their 2012 draft class?" Raymond wanted to know. "I thought I saw that the Seahawks had all theirs signed, and yet I've heard no tracking or reporting on that."
There's little tracking or reporting because it's a given teams will have their choices signed when it matters.
---
Mouse from Denver
thinks Jim Harbaugh's recent comments are part of a master plan designed to create an us-against-the-world mentality.
"Harbaugh is playing the media and you guys don't even see it," Mouse writes. "Everyone has the Niners as an NFC favorite, and he doesn't like it. Bill Walsh used to create animosity between his team and the media all the time. Harbaugh is going to say and do things to make you dislike him and dislike the 49ers, and you will ridicule and criticize. It will keep them hungry and focused in training camp, and by the time the opener rolls around, the 49ers will be riled up by all the negative commentary."
Mike Sando:
That could be. Seems to me Harbaugh could accomplish the same thing without risking any credibility. What he said was obviously deliberate. There's no downside if the 49ers remain successful. If the team struggles -- and every team has a down season from time to time -- perceptions tend to matter more.
We know Harbaugh is highly invested in Smith and looking for ways to show his support. We know the organization showed interest in Manning and then signed Smith to a relatively modest contract, and that these actions showed the 49ers' support for Smith was conditional. We can safely assume other players in the 49ers locker room are watching to see whether Harbaugh believes in Smith as much as Harbaugh said he did last season.
As a former quarterback, Harbaugh should have a good feel for the position and everything that goes into playing it well. He might have felt his comments were what Smith and the 49ers' other players needed to hear at this point, for whatever reason. And if outsiders reacted with derision, sure, that could be a good thing for the 49ers as well.
---
Brian from Washington, D.C.
takes another tack on the Harbaugh comments. He raises questions about the 49ers' ability to handle success. He sees a coach (Harbaugh) and quarterback (
Alex Smith
) with chips on their shoulders, and he likes it, but ...
"As a big-time Niners fan, I love it, but it does make me worry about their ability to handle success/expectations," Brian writes. "Both Smith's unprompted mention of the Panthers/
Cam Newton
, and Harbaugh's unprompted re-hashing of the
Peyton Manning
drama have shades of worrying too much about what others are thinking, not just putting your head down, giving cliche responses to questions, and then proving your worth out there on the field.
"Now that they're a popular Super Bowl pick, after a decade without a playoff appearance, is this a storyline to watch? They're not the Steelers, Patriots, Giants, Packers. They're not used to this amount of scrutiny, having the bull's eye on their back."
Mike Sando:
It's definitely a storyline to watch, but nothing more at this point. Thoughts similar to yours have crept into my mind. I'm really undecided on it, but we'll be watching closely for signs that might indicate a pattern. Harbaugh's comments about Michael Crabtree's hands also carried some shock value. But we should also guard against reading too much into such things. How the team fares on the field might be totally unrelated. Beware the convenient narrative, right?
---
Ray from St. Louis
assures the NFC West community that there are indeed Rams fans "out here living and dying with our team" even though we don't hear from enough of them on the blog.
"We've got high hopes this year for
Sam Bradford
and a much improved 'D' under Coach Fisher," Ray writes.
Mike Sando:
I'm sure we have quite a few Rams fans lurking, just waiting to join the conversation when the team gives them something to talk about. It's been good to see the division improve, and it'll be even better if/when the Rams take a big step forward.
I like how the Rams have again become the youngest team in the NFL. They've loaded up on draft picks and decided the best way for a rebuilding team to develop young talent is to let that young talent play.
Former coach Steve Spagnuolo had little choice but to patch holes with veterans in an effort to save his job last season. Jeff Fisher faces none of that pressure. He's an established head coach entering his first year with the Rams. Now is the time to go young, and the Rams are doing that.
---
The chart shows all 2012 NFC West draft choices. Shading identifies those without contracts.
January, 31, 2011
1/31/11
12:40
PM ET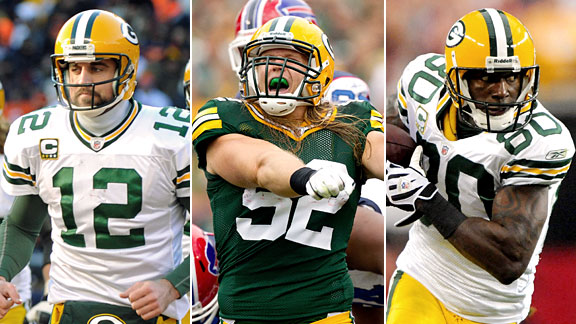 US PresswireGreen Bay's Aaron Rodgers, Clay Matthews and Donald Driver are all playing in Super Bowl XLV, but how might they have fit into the NFC West's draft plans?
DALLAS -- Every
Aaron Rodgers
touchdown pass and playoff victory makes the
San Francisco 49ers
look worse for drafting
Alex Smith
over Rodgers back in 2005.
A victory for Rodgers and the
Green Bay Packers
in Super Bowl 45 would only sanction additional mutilation of this rotting equine carcass.
Some criticism is justified, obviously, but with Rodgers and key Packers scheduled to make their Super Bowl media debuts Monday afternoon, another line of thinking occurred to me. The 49ers weren't the only ones to bypass Rodgers and other key players in this Super Bowl. Why should they absorb such a disproportionate amount of the blame?
The Green Bay players making Super Bowl media appearances Monday -- Rodgers,
Donald Driver
,
A.J. Hawk
,
Greg Jennings
,
Clay Matthews
and
Charles Woodson
-- all qualify for analysis and reflection.
Let's take a look at them through NFC West lenses, beginning in chronological order:
1998 Draft: Charles Woodson, CB, Michigan
Round:
First (fourth overall, by Oakland)
NFC West spin:
The Cardinals passed over Woodson to select defensive end
Andre Wadsworth
third overall. The decision seemed defensible at the time. Wadsworth was a freakish talent at a premium position, but chronic knee injuries prevented him from approaching his potential. Wadsworth underwent microfracture knee surgery after only his third NFL season. He never played again, despite a 2007 comeback attempt.
First-round selections in the division:
Cardinals (third overall): Wadsworth, DE, Florida State

Rams (sixth overall): Grant Wistrom, DE, Nebraska

Seahawks (15th overall): Anthony Simmons, LB, Clemson

49ers (28th overall): R.W. McQuarters, CB, Oklahoma State
1999 Draft: Donald Driver, WR, Alcorn State
Round:
Seventh (213th overall, by Green Bay)
NFC West spin:
Good for the Packers. They found a steal in the seventh round. Driver developed into a full-time starter in 2002, his fourth season. He has 698 career receptions. Driver reflects well on the Packers, but not negatively on anyone in the NFC West.
Seventh-round selections in the division (Seahawks did not have a pick):
2005 Draft: Aaron Rodgers, QB, California
Round:
First (24th overall, by Green Bay)
NFC West spin:
Only the Seahawks, who held the 26th choice that year, escape second-guessing for this one. To be fair, however, the Rams'
Marc Bulger
was coming off a breakout 2004 season in which he had thrown 21 touchdown passes while leading St. Louis to the playoffs. There was no reason for the Rams to target a quarterback in the 2005 first round. Rodgers might have wilted in St. Louis while the organization crumbled around him (a fate that might have awaited him in San Francisco as well). The Cardinals could have used a young quarterback to build around, but they signed
Kurt Warner
to a free-agent contract that offseason. Warner went 2-8 as a starter in 2005, but the Cardinals eventually went to the Super Bowl with him under center. Warner even edged Rodgers in the playoffs following the 2009 season.
First-round selections in the division:
49ers (first overall): Alex Smith, QB, Utah

Cardinals (eighth overall): Antrel Rolle, DB, Miami

Rams (19th overall): Alex Barron, T, Florida State

Seahawks (26th overall): Chris Spencer, C, Mississippi
2006 Draft: A.J. Hawk, LB, Ohio State
Round:
First (fifth overall, by Green Bay)
NFC West spin:
The 49ers in particular were monitoring this choice closely. They were picking sixth overall that year and trying to find weapons for their second-year quarterback. Tight end
Vernon Davis
, chosen sixth overall, is becoming a perennial Pro Bowl choice. Hawk was an all-rookie selection, but he has not played well enough overall to cause much second-guessing in NFC West circles. The Cardinals ultimately whiffed on a quarterback that year, but no one is telling them they should have drafted Hawk instead.
First-round selections in the division:
49ers (sixth overall): Davis, TE, Maryland

Cardinals (10th overall): Matt Leinart, QB, USC

Rams (15th overall): Tye Hill, CB, Clemson

49ers (22nd overall): Manny Lawson, OLB, North Carolina State

Seahawks (31st overall): Kelly Jennings, CB, Miami
2006 Draft: Greg Jennings, WR, Western Michigan
Round:
Second (52nd overall, by Green Bay)
NFC West spin:
The Cardinals and Rams passed on Jennings in the second round, but that was understandable. Both teams were already strong at receiver. Looking back, however, the Rams certainly would have gone in another direction. They whiffed on tight end
Joe Klopfenstein
six spots before the Packers took Jennings.
Second-round selections in the division (49ers traded their pick):
Cardinals (41st overall): Deuce Lutui, G, USC

Rams (46th overall): Klopfenstein, TE, Colorado

Seahawks (63rd overall): Darryl Tapp, DE, Virginia Tech
2009 Draft: Clay Matthews, OLB, USC
Round:
First (26th overall, to Green Bay)
NFC West spin:
This draft hurts. Surely the Seahawks and Rams could have put Matthews' pass-rush ability to use even if he didn't fit their schemes precisely at the time. Both teams passed on him. Worse, the Packers used an additional 2009 first-round choice, this one ninth overall, for another key contributor,
B.J. Raji
.
First-round selections in the division:
Hope you enjoyed the exercise. I'll be heading to the
Pittsburgh Steelers
' media session in the not-too-distant future, with plans to check back at the next opportunity.
March, 16, 2009
3/16/09
9:14
AM ET
Posted by ESPN.com's Mike Sando

Rob Rang of NFL Draft Scout has updated his 2009 projections. He sends Baylor tackle Jason Smith to the Rams, Wake Forest linebacker Aaron Curry to the Seahawks, Missouri receiver Jeremy Maclin to the 49ers and California center Alex Mack to the Cardinals. Rang: "Detroit's trade for veteran outside linebacker Julian Peterson essentially eliminated Wake Forest's Aaron Curry as a candidate to be the first pick of the 2009 draft. Georgia quarterback Matt Stafford may be able to seal up the top spot with an impressive performance at his March 19 pro day. His only remaining competition is with offensive tackles Jason Smith (Baylor) and Eugene Monroe (Virginia)." Rang thinks Stafford will go first because he doesn't think the Lions can bank on getting one of the other quarterbacks with the 20th overall selection.
Rob Staton of Seahawks Draft Blog analyzes Rang's latest mock projection for Seattle. Rang changed his projection to Aaron Curry. Rang: "Trading OLB Julian Peterson creates a gaping hole at the strong-side position in Seattle's defense. The Seahawks could plug Curry in immediately and, considering they'd be getting the player many believe is the draft's top talent at the fourth pick, the team would be getting optimum value." Staton: "Whether or not the Seahawks would draft Curry is more likely down to whether he'll still be on the board, with almost certain interest from both St Louis and Kansas City."
Also from Staton: Forget about Seattle drafting B.J. Raji.
Clare Farnsworth of the Seattle Post-Intelligencer says the Peterson trade wasn't made in response to any refusal to accept a pay cut. He says the deal got done because Cory Redding agreed to adjust his contract. In my view, Redding's willingness to rework his deal reflects an eagerness to leave the Lions. In the aftermath of the trade, sources have provided conflicting information as to whether Seattle asked Peterson to take a pay cut at all. Not that it matters at this point. The Seahawks won't have to carry his $8.8 million cap number for 2009.

David Fucillo of Niners Nation would be surprised if the 49ers drafted a quarterback in the first round this year. Fucillo: "So my question is this: Are the folks that are projecting Mark Sanchez or Matthew Stafford to the 49ers lazy, misinformed, some combination of that, or maybe something else? I realize it's not easy to research all 32 teams. However, when it comes to a first round pick, particularly a top 10 pick, a little knowledge is important."

3K of Turf Show Times unveils a two-round mock draft. Baylor's Smith and Connecticut cornerback Darius Butler go to the Rams. Curry and Missouri safety William Moore go to Seattle. Missouri receiver Jeremy Maclin and South Carolina tackle Jamon Meredith go to the 49ers. Connecticut running back Donald Brown and Utah defensive end Paul Kruger go to Arizona. Texas Tech receiver Michael Crabtree goes to the Bengals in this mock.

Revenge of the Birds' Hawkwind looks at the Cardinals' previous first-round draft choices, providing a terrific photo of Andre Wadsworth squeezing the air from a football. Hawkwind: "He was taken after Peyton Manning and Ryan Leaf, who both received hefty rookie contracts. As a result, he ended up holding out the entire training camp before the Cardinals signed him to a 6-year, $42 million contract, the day before the season opener. Wadsworth played all 16 games and recorded 5 sacks with 57 tackles that year. He followed up his rookie season with an injury-riddled next two years. He required 3 knee surgeries in that span and 4 in his career. He only managed 3 more sacks and played in only 22 games as well."
USA Today runs an interview transcript after speaking with Larry Fitzgerald about his offseason travel plans. He has a home in Cabo, but Fitzgerald says Buenos Aires is the best place he has visited. Fitzgerald: "I enjoyed the culture. The nightlife was a lot of fun, the food was great and the history was awesome. It really reminded me of Europe. The architecture reminded me of France but the nightlife and culture had an Italian feel. It's a great place. I would go back there in a heartbeat. I didn't learn how to tango. I was born with two left feet so dancing is not really my cup of tea."