August, 26, 2013
8/26/13
8:24
PM ET
EARTH CITY, Mo. -- The Rams moved closer to reaching the NFL-mandated 75-man roster Monday afternoon when they announced 11 cuts.
The team confirmed the release of four players we reported here yesterday in receiver
Andrew Helmick
, cornerback
Robert Steeples
, long snapper
Jorgen Hus
and kicker/punter
Brett Baer
.
Along with that quartet, the Rams also parted ways with quarterback
Timothy Jenkins
, receivers
Raymond Radway
and
Demetrius Fields
, linebacker
Joseph LeBeau
and tight end
Colby Prince
. Offensive lineman
Graham Pocic
also went with a waived/injured designation.
None of the cuts really came as a surprise given playing time and performance in the team's three exhibition games.
Of the group, Radway flashed the most potential in the preseason, coming up with three catches for 78 yards including a 53-yard touchdown catch in the opener against Cleveland. But it was the catch he didn't make in that game, a deep ball down the sideline that slipped through his fingers that may haunt him.
Radway tailed off a bit after that game and didn't play an offensive snap against Denver.
The Rams previously parted ways with tight end Cameron Graham, and running back
Terrance Ganaway
opted to leave on his own accord last week. They have two more moves to make to get to the required 75 by Tuesday afternoon.
August, 25, 2013
8/25/13
6:20
PM ET
EARTH CITY, Mo. - - Rams coach Jeff Fisher spoke to the media Sunday afternoon about the team's third preseason game and Denver and a variety of other topics.
Before moving on to this short week and Thursday night's game against Baltimore, let's wrap up the Broncos game and clean out the notebook.
Like the rest of the league, the Rams have to cut from 90 to 75 by Tuesday afternoon. They started the process Sunday but Fisher said the Rams don't plan to reveal those names until they have to. I've been able to confirm a handful of the cuts so far. The Rams released a pair of local products in receiver Andrew Helmick (Lindenwood University) and cornerback Robert Steeples (St. Louis native) as well as kicker Brett Baer and long snapper Jorgen Hus.
The Rams are switching into regular-season mode this week and will only be open for the early parts of practice Monday and Tuesday. That should at least allow for a glimpse of who is still around Monday afternoon if the rest of the names can't be tracked down before then.
Fisher was pleased with how his defense handled a difficult challenge against Peyton Manning and Co. in Denver, citing the work of young safeties Rodney McLeod and T.J. McDonald, in particular. I asked Fisher if McLeod has a chance to win the job outright from injured presumptive starter Darian Stewart (hamstring) and he didn't completely close that door despite offering a mild protest. "Typically guys don't lose their jobs because of injury but we'll just re-evaluate when Stew comes back," Fisher said. It would seem that the situation might work itself out on its own if Stewart doesn't get healthy but even if he does, McLeod is making a case to earn the job.
Asked about another position battle at left guard and Fisher offered that an announcement might be forthcoming this week. Chris Williams and Shelley Smith have been battling for that job but alternating each week. My sense is that Williams is ahead in the contest, particularly given Fisher's lukewarm response when asked about Smith after last week's game against Green Bay. Perhaps the situation will gain more clarity this week.
Fisher offered no updates, other than to say that more tests are being done, on the injury status of tight end Cory Harkey, who left the game and went to the locker room with an undisclosed ailment.
Fisher and the Rams were surprised by the amount of work they got from returning right tackle Rodger Saffold. Saffold practiced on a limited basis last week but ended up playing the entire first half against the Broncos. Fisher said the Rams planned to tie Saffold's playing time to quarterback Sam Bradford and were prepared to remove Bradford along with Saffold after a couple series. Saffold may get some extra work Thursday night because he still needs the reps on the right side.
Offensive tackle Joe Barksdale, who replaced Saffold when he was out, did not travel with the team because of an infection on his hand. Fisher said Barksdale is "fine" and expected to return to practice this week.
Still nothing settled or determined on the backup quarterback front. The Rams used Austin Davis, Kellen Clemens and Tim Jenkins against the Broncos. The battle is between Davis and Clemens but Fisher said nothing has been determined in that regard.
August, 10, 2013
8/10/13
8:10
PM ET
EARTH CITY, Mo. -- Working as the color analyst for Cleveland's preseason television broadcast, former Browns quarterback
Bernie Kosar
did not hold back with his observations and opinions during Thursday night's game against the
St. Louis Rams
.
Through the course of the broadcast, Kosar was regularly critical of the Rams, focusing much of his ire on the team's wide receivers and backup quarterback
Kellen Clemens
.
[+] Enlarge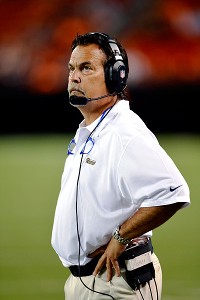 AP Photo/G. Newman LowranceJeff Fisher said he isn't fretting over the high amount of penalties that his Rams committed during the preseason.
Asked about it on Saturday, Rams coach Jeff Fisher first noted that he believes the Browns to be a "first-class organization" before making it clear he was none too pleased with Kosar's idea of color commentary.
"I guess I'm a little disappointed," Fisher said. "I feel bad for them that they had someone doing the broadcast who would feel the need to speak that way about players, specifically on our team, and coaches for that matter. I'm just surprised that Bernie has such a lack of respect for players and for this game. So I lost a lot of respect for him."
Kosar didn't waste much time in trashing the Rams, and did so repeatedly throughout the evening.
After an incomplete pass intended for
Tavon Austin
: "I really think that he didn't overthrow him and that Austin has to make that catch in the NFL. I see why Sam [Bradford] has been struggling watching how bad these receivers have been for him."
After
Nick Johnson
dropped a pass: "This is actually not a bad throw. These St. Louis receivers are horrible. That's a drop there."
When play-by-play man Jim Donovan asked Kosar what he'd think if he knew that some of the Rams receivers' parents were watching, Kosar said he "would be embarrassed."
Kosar then turned his attention from to receivers coach Ray Sherman.
"I'm checking through the itinerary here of guys and coaches to see who the receivers coach is to make sure I don't know who this guy is because he's not doing very good either," Kosar said.
[+] Enlarge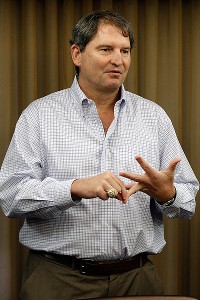 AP Photo/Mark DuncanA former quarterback, Bernie Kosar said particularly harsh things about Rams QB Kellen Clemens.
Kosar did offer praise to Rams quarterback
Sam Bradford
, but he didn't feel the same way about Clemens. In fact, many of Kosar's comments came off as though he held a personal vendetta of some sort against Clemens. When Donovan told Kosar, who had been asking for the use of a telestrator throughout the evening, that he might get one if he were on his best behavior, Kosar responded with a seemingly out-of-nowhere shot at Clemens.
"I must not be because the next quarterback in, me and him haven't done too well with each other, too," Kosar said.
Clemens wasn't in the game at the time.
Later, when Clemens entered the game, Donovan relayed a story about Clemens giving an autograph to Pope Benedict XVI. Kosar said he didn't think he'd ever want it, and then took another shot at Clemens.
"Bless me, Father, for I have sinned," Kosar said. "I have to watch him the whole fourth quarter."
On Saturday, Fisher said he didn't believe Kosar had studied the Rams well enough to be making such sweeping generalizations.
"I didn't think they were justified," Fisher said.
Some notes from practice: