NFC West:

Andy Robustelli
June, 1, 2011
6/01/11
8:45
PM ET
Andy Robustelli's passing
this week focused attention on the New York Giants teams he helped turn into champions.
Rightfully so.
[+] Enlarge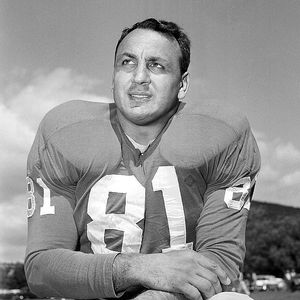 AP PhotoThe Los Angeles Rams went 8-3-1 with Andy Robustelli, but fell to 4-8 the next season when he went to the New York Giants.
I also
wondered
whatever would compel the Los Angeles Rams to trade such an outstanding player months after Robustelli helped them reach the 1955 championship game. The answer, that Robustelli wanted to be closer to his Connecticut roots, contrasted with current NFL norms. The world is much smaller in the age of easy communication and 6-hour flights between New York and Los Angeles.
Differences between then and now came into sharper focus Wednesday when I reached out to one of Robustelli's teammates on that 1955 Rams team.
Ron Waller, 78, went to the Pro Bowl as a rookie running back, although he was much more than that in an era of 33-man rosters and 12-game seasons.
Waller rushed for 716 yards and seven touchdowns, caught 24 passes, returned 14 punts and averaged better than 27 yards on his 17 kick returns. He went to camp as a running back, then left for three weeks to play defensive back under Curly Lambeau in the College All-Star Game (his team
beat the pros
). Upon returning to the Rams, Waller opened the season at receiver, only to switch back to running back when Elroy "Crazy Legs" Hirsch came out of retirement. Tom Fears was another Hall of Fame receiver on that team.
The smaller rosters of that era favored versatility over the specialization of the current NFL game.
Robustelli was one of the Rams' best defensive players back then. The defense fell off statistically once the Rams traded him to the Giants before the 1956 season.
"It was a great loss for us at that position," Waller said.
Blaming the Rams' slide from 8-3-1 with Robustelli in 1955 to 4-8 without him the next season, however convenient, would miss the bigger story. Quarterback Norm Van Brocklin
clashed
with coach Sid Gillman over which man would call the plays. Gillman benched Van Brocklin for most of the 1956 season. The Rams weren't the same.
"Van Brocklin, who has been known to run the same unsuccessful play three times simply to prove that it can work, does not take kindly to the strict sideline direction of the Paul Brown school of coaching,"
Tex Maule wrote
for Sports Illustrated in 1958, "and often Gillman's messages, via shuttling linemen, only irritated Van Brocklin."
Robustelli got out of Los Angeles at just the right time. He was 30 years old and would win six conference titles with the Giants by the time he played his final game at age 39.
Waller, much younger, didn't fare so well with Rams management. Attempts to parlay his early success into a better contract went nowhere.
"I went in to management -- we didn't have agents back in those days -- and told them I wanted $15,000 for my second-year contract," said Waller, who had earned $8,000 in salary with a $1,000 bonus as the 15th player chosen in the 1955 draft. "And the general manager, who was Pete Rozelle, believe it or not, said, 'Son, you gotta be in the league a long time before you ever make $15,000."
May, 31, 2011
5/31/11
6:47
PM ET
Your favorite NFL team would never trade one of its best players to satisfy the player's desire to join a team closer to home.
Unless, that is, your favorite team was the 1956 Los Angeles Rams.
Defensive end Andy Robustelli, who
passed away recently at age 85
, had won two championships in five seasons with the Rams when he asked the team to trade him, citing family reasons. The Rams complied.
The Associated Press story from July 29, 1956 put it this way:
"Coach Jim Lee Howell said Robustelli became available to the Giants because of the athlete's 'increasing reluctance to leave his Stamford, Conn., home and play on the West Coast.' Robustelli is the father of four."
The Rams netted a 1957 first-round draft choice from the Giants for Robustelli, a World War II veteran who was 30 years old at the time. They used the choice for receiver Del Shofner, who went to five Pro Bowls and earned a spot on the 1960s All-Decade team.
Robustelli's instinctive, heady play meshed perfectly with the defenses Tom Landry was running as the Giants' top defensive assistant at the time. The Giants won a championship in their first season with Robustelli. The Rams went 4-8 that year.
Robustelli played in six more NFL title games with the Giants on his way to the
Pro Football Hall of Fame
. And, thanks to the Rams, he didn't have to venture very far for training camp.
February, 24, 2010
2/24/10
2:00
PM ET
»
NFC Busts/Gems
:
East
|
West
|
North
|
South
»
AFC
:
East
|
West
|
North
|
South
»
Draft Watch
:
Biggest needs
(2/17) |
Busts/gems
(2/24) |
Schemes, themes
(3/3) |
Recent history
(3/10) |
Needs revisited
(3/17) |
Under-the-radar needs
(3/26) |
History in that spot
(3/31) |
Draft approach
(4/7) |
Decision-makers
(4/14) |
Dream scenario/Plan B
(4/21)
Each Wednesday leading up to the NFL draft (April 22-24), the ESPN.com blog network will take a division-by-division look at key aspects of the draft. Today's topic: Busts and late-round gems.
Arizona Cardinals

Gems:
With the 129th choice of the 1963 NFL draft, the Cardinals selected ... Jackie Smith, tight end, Northwestern State. Smith spent 15 seasons with the organization during a Hall of Fame career, earning him high standing on any list of Cardinals draft gems. Hall of Famer Larry Wilson, chosen 74th overall in 1960, also belongs in the conversation. More recently, the team found
Anquan Boldin
,
Aeneas Williams
,
Adrian Wilson
and
Darnell Dockett
outside the top 50 overall choices.
Busts:
Quarterbacks George Izo and Kelly Stouffer combined to play two games for the Cardinals, both by Izo, despite joining the team as top-five overall selections. Izo, the second player chosen in the 1960 draft, tossed 12 career touchdown passes with 32 interceptions, most for the Redskins. Stouffer, picked sixth in 1987, never signed with the Cardinals, missing his rookie season before landing in Seattle via trade. The Cardinals have whiffed on quite a few other players, but these two stand out.
San Francisco 49ers

Gems:
Jesse Sapolu
, Tommy Hart, Dwight Clark and Jerry Mertens earned Pro Bowl berths as position players despite being selected between the 239th and 289th overall choices in their draft classes.
Charles Haley
,
Terrell Owens
and
Joe Montana
were chosen between the 82nd and 96th choices.
Busts:
Quarterback
Alex Smith
(2005) and receiver Harry Babcock (1953) are the only players drafted first overall by the 49ers. Smith still has a chance to change his legacy, but so far it's not looking good. The 49ers whiffed on Steve Spurrier with the third overall choice in 1967.
Jim Druckenmiller
stands out as a memorable first-round disappointment in more recent years.
Seattle Seahawks

Gems:
Michael Sinclair
and
Michael McCrary
became Pro Bowl defensive ends after Seattle made them seventh-round choices in the early 1990s. Running back
Chris Warren
was a fourth-round find in 1990. Overall, though, the Seahawks haven't unearthed a long list of draft gems. Trading up in the second round to select three-time Pro Bowl linebacker
Lofa Tatupu
was an impressive move.
Busts:
Rick Mirer
(1993) and Steve Niehaus (1976) never lived up to expectations as the second overall choices in their draft classes. Ownership's decision to select quarterback
Dan McGwire
with the 16th pick in 1991 looks even worse when one considers that coach Chuck Knox wanted
Brett Favre
instead.
St. Louis Rams

Gems:
Finding defensive end Andy Robustelli with the 228th choice of the 1951 draft stands out as significant even though Robustelli spent much of his Hall of Fame career with the Giants. Larry Brooks, Harold Jackson and Drew Hill all went to Pro Bowls after the Rams drafted them 323rd overall or later. Pass-rusher
Kevin Greene
was a fifth-round find in 1985. The Rams found Hall of Famer
Jackie Slater
in the third round (1976).
Busts:
Terry Baker won the Heisman Trophy and played in the Final Four while at Oregon State, but that didn't do the Rams much good after they drafted the quarterback first overall in 1963. Baker played three NFL seasons without completing a touchdown pass. The selection of
Lawrence Phillips
with the sixth choice of the 1996 draft stands out as one of the team's worst draft decisions in more recent memory. As of 2009, Phillips was serving a 31-year prison sentence.