NFC West:

Anthony Gonzalez
March, 17, 2012
3/17/12
9:59
PM ET
Brandon Lloyd
's contract agreement with the
New England Patriots
makes official his long-anticipated departure from the
St. Louis Rams
.
Those wondering why the Rams did not name Lloyd their franchise player should know this: Lloyd is reportedly
getting $4 million per year
, less than half
the $9.515 million price
associated with the franchise tag for receivers this year.
The Rams and Lloyd valued one another less once Lloyd's preferred offensive coordinator, Josh McDaniels, left St. Louis for the Patriots following the 2011 regular season.
Lloyd visited the
San Francisco 49ers
before reaching agreement with New England, where he was expected to land all along.
The receiver market was already
picked over
heading into the weekend. The chart ranks by age receivers changing teams as unrestricted free agents this offseason.
New York Giants
free agent
Mario Manningham
visited the 49ers and Rams. His agent was
negotiating
with the Rams on Saturday, according to Paul Schwartz of the New York Post.
Manningham caught 39 passes for 523 yards and four touchdowns in 12 games last season, with 10 starts. He played more games and had better numbers in each of the previous two seasons.
The Rams are seeking playmakers to help quarterback
Sam Bradford
, but so far in free agency, their additions have included a center (
Scott Wells
), a defensive tackle (
Kendall Langford
) and a cornerback (
Cortland Finnegan
).
March, 15, 2012
3/15/12
11:43
PM ET
Wide receivers
Vincent Jackson
,
Pierre Garcon
,
Reggie Wayne
,
Robert Meachem
,
Eddie Royal
,
Laurent Robinson
,
Josh Morgan
,
Eric Weems
and
Harry Douglas
have found new homes after hitting the NFL's free-agent market.
Franchise tags essentially removed from consideration
Dwayne Bowe
,
Wes Welker
and
DeSean Jackson
.
Others, such as
Marques Colston
, re-signed before free agency.
Teams still searching for help at the position -- that would be pretty much everyone but Seattle in the NFC West -- are left with a picked-over group of free agents.
Jerome Simpson
,
Plaxico Burress
,
Brandon Lloyd
,
Legedu Naanee
,
Devin Aromashodu
,
Roy Williams
,
Mario Manningham
and
Early Doucet
are the only ones remaining to have played at least half of their team's offensive snaps during the 2011 season.
As the chart shows, Burress was particularly effective in the red zone for the
New York Jets
. He converted first downs 38 times in 45 receptions for the third-highest percentage among wide receivers with at least 40 receptions, according to ESPN Stats & Information.
Burress is also up there in age. He's among 12 available wideouts already in their 30s:
Hines Ward
(36), Burress (34),
T.J. Houshmandzadeh
(34),
Kevin Curtis
(33),
Patrick Crayton
(32),
Deion Branch
(32),
Rashied Davis
(32), Donte Stallworth (31),
Jerheme Urban
(31),
Bryant Johnson
(31), Lloyd (30) and Williams (30).
Of them, Lloyd has visited the
San Francisco 49ers
.
Nine more are 29 years old:
Greg Camarillo
,
Keary Colbert
,
Mark Clayton
,
Jerricho Cotchery
,
Roscoe Parrish
,
Michael Clayton
,
Courtney Roby
, Michael Spurlock and
Braylon Edwards
.
Still interested?
OK, let's check out 18 others, all younger than 29:
David Anderson
, Legedu Naanee, Devin Aroshamodu,
Donnie Avery
,
Anthony Gonzalez
,
Maurice Stovall
,
Derek Hagan
,
Mike Sims-Walker
,
Ted Ginn
Jr.,
Andre Caldwell
,
Steve Smith
, Doucet,
Brett Swain
,
Chaz Schilens
, Simpson, Manningham,
Devin Thomas
and
Kevin Ogletree
.
Schilens visited Arizona and San Francisco. Manningham visited the 49ers and the
St. Louis Rams
.
I've also broken down the available wideouts by drafted round:
First: Williams, Burress, Ginn, Stallworth, both Claytons, Johnson, Gonzalez and Edwards
Second: Avery, Thomas, Simpson, Smith, Parrish, Branch, Colbert
Third: Roby, Doucet, Hagan, Stovall, Manningham, Caldwell, Curtis, Sims-Walker, Ward
Fourth: Cotchery, Lloyd
Fifth: Legedu Naanee
Sixth: none
Seventh: Houshmandzadeh, Crayton, Schilens, Aromashodu, Anderson, Swain
Undrafted: Davis, Urban, Camarillo, Spurlock, Ogletree
Only a handful of the available receivers project as starters. None would qualify as an outright game-breaker.
The Rams in particular need playmakers, but in looking at what is available, how many would qualify as dramatically better than what they already have?
Austin Pettis
,
Brandon Gibson
,
Danario Alexander
,
Dominique Curry
,
Greg Salas
and restricted free agent Danny Amendola are their current wideouts.
March, 6, 2012
3/06/12
12:02
PM ET
Facebook friend Jonathan makes a simple request of the
San Francisco 49ers
: get
Mike Wallace
.

Wallace
"How valuable could the 30th pick be?"
he asks
.
This is the most enticing argument for chasing after a young, talented restricted free agent such as Wallace, who might qualify as the best deep-threat receiver in the NFL. NFC West fans might remember Wallace's 95-yard touchdown reception against Arizona last season, or his 53-yard reception against Seattle, or his 46-yarder against St. Louis.
Wallace would give the 49ers the deep-threat wideout their rotation has been lacking.
A few considerations:
Price: The 49ers would have to pay Wallace enough for two things to happen. One, Wallace would have to sign an offer sheet, forcing the 49ers to outbid any other suitors. Two, the deal would need to be structured so that Pittsburgh would not match it. The 49ers would then have to send their first-round choice, 30th overall, to the Steelers.
Fit: The 49ers have carefully identified which players in their locker room to hold up as leaders. Patrick Willis, Joe Staley and Vernon Davis have gotten lucrative long-term deals. Justin Smith and Frank Gore have also been highly paid. Smith is the perfect example of a free agent from another team who was worth the investment. The 49ers would have to feel good about how Wallace would react to a payday. Signing him affects dynamics at the position, putting Wallace over Michael Crabtree and the other receivers.
The pick: It's easy to discount the value of that 30th choice because so many draft choices fail to pan out. But that is why teams employ personnel departments. The 2009 first round was largely disappointing, but the Green Bay Packers nonetheless landed B.J. Raji and Clay Matthews. Tennessee stood pat at No. 30 and drafted Kenny Britt, who averaged 17.5 yards per reception with 15 touchdowns before suffering a season-ending knee injury early last season. Niner fans will point to the 2004 draft, when San Francisco took receiver Rashaun Woods at No. 31. But a look at receivers drafted from the 28th through 32nd picks since 2001 shows Woods was more exception than rule. Hakeem Nicks, Britt, Craig Davis, Anthony Gonzalez, Michael Jenkins and Reggie Wayne were the other receivers in that group.
The offense: Would the 49ers maximize their investment in a deep-threat receiver? Would Wallace open up their offense, taking them to another level? Or would the nature of the 49ers' approach and potential limitations at quarterback leave us wondering why Wallace's production had failed to carry over?
I'd have a hard time criticizing the 49ers if they made a strong play for Wallace. They need help at the position. Wallace is only 25 years old. Wallace is established and ascending.
It's true that receivers often disappoint, but very few in Wallace's position hit the market. The new labor agreement gives the best restricted free agents more freedom. This would seem to be a relatively low-risk proposition for the 49ers as long as Wallace's personality and work ethic checked out.
February, 20, 2012
2/20/12
2:43
PM ET
Mel Kiper Jr. is back

with his second 2012 NFL mock draft for the first round.
We discussed the first one about
a month ago
, summarizing Kiper's thoughts and supplementing them with my own.

This updated look works from Kiper's updated mock, beginning with the
San Francisco 49ers
, who hold the 30th overall choice.
30. San Francisco 49ers: Rueben Randle, WR, LSU
Kiper's give:
Randle could be a steal. This is a guy who, in a more dynamic passing offense, could have been far more productive. Obviously, the combine will tell us a lot, but Randle could be preferred over
Alshon Jeffery
of South Carolina, because he has the length, but will be a lot quicker into and out of his breaks because he's got a leaner frame.
Sando's take:
Jon Baldwin
,
Hakeem Nicks
,
Kenny Britt
,
Donnie Avery
,
Devin Thomas
,
Robert Meachem
,
Craig Davis
,
Anthony Gonzalez
,
Santonio Holmes
and
Roddy White
were the last 10 receivers drafted with the 25th through 35th picks. Kiper had the 49ers taking Jeffery in his first mock. That was before the 49ers' season ended with
Michael Crabtree
's single 3-yard reception accounting for all the team's production from the wide receiver position. While we should not assume the 49ers will take a wide receiver in the first round, neither should we outthink ourselves. The position provides a good starting point. San Francisco does have other options.
Josh Morgan
is returning from injury and could re-sign. Crabtree returns. The 49ers could also address the position in free agency.
March, 25, 2011
3/25/11
12:20
PM ET
Ken Whisenhunt is right when he says
Levi Brown
takes more criticism as a high draft choice than he would take as someone selected later in the process.
That's the way it works. The highest picks in a draft class should outperform their peers.
[+] Enlarge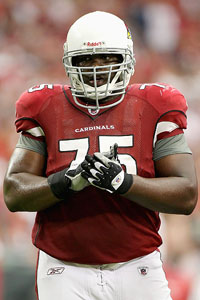 Christian Petersen/Getty ImagesLevi Brown, drafted fifth overall in 2007, can still become an "outstanding" player according to Ken Whisenhunt.
The
Arizona Cardinals
don't need anyone to remind them that they selected Brown over some All-Pro performers, including
Adrian Peterson
and
Patrick Willis
. But it's not as though Brown, a player with 56 consecutive regular-season starts, qualifies as a flat-out bust, either. He moved to left tackle from the right side last season and will stay there.
"He improved last year," Whisenhunt said this week from the NFL owners meeting in New Orleans. "As a left tackle, it's not an easy position to move from right tackle. He will continue to get better. He is a talented football player. The biggest thing he has struggled with is the consistency of his play. But a lot of times you are under the microscope more because you were the fifth pick in the draft."
I would rank Brown, chosen fifth overall in 2007, somewhere around 20th out of 32 first-round picks that year.
Brown has obviously or arguably outperformed the following first-round selections from 2007:
JaMarcus Russell
,
Jamaal Anderson
,
Ted Ginn Jr
.,
Amobi Okoye
,
Adam Carriker
,
Justin Harrell
,
Jarvis Moss
,
Aaron Ross
,
Reggie Nelson
,
Brady Quinn
,
Anthony Gonzalez
and Craig Davis.
Gaines Adams
, chosen fourth that year, passed away after Tampa Bay traded him to Chicago.
The following first-rounders from 2007 have obviously or arguably outperformed Brown:
Calvin Johnson
,
Joe Thomas
,
LaRon Landry
, Adrian Peterson, Patrick Willis,
Marshawn Lynch
,
Darrelle Revis
,
Lawrence Timmons
,
Leon Hall
,
Michael Griffin
,
Dwayne Bowe
,
Brandon Meriweather
,
Jon Beason
,
Anthony Spencer
,
Robert Meachem
,
Joe Staley
,
Ben Grubbs
and
Greg Olsen
.
"The reason we drafted Levi where we did was because we had him rated high enough to go in that position, but we also felt like we had to develop our offensive line and defensive line at that point, because that is where the most critical component of your team," Whisenhunt said. "That is the only way you are going to have a chance to compete. Levi has been a good player. He is often criticized, but I think that comes with being the fifth pick, and I don't understand how you evaluate offensive linemen, because they are not catching passes or running touchdowns in."
Whisenhunt said he thought Brown can and will become an "outstanding" player.
"Any time an offensive lineman gets drafted that high, especially in a fantasy football world where people want you to get dynamic playmakers, you are going to face some kind of criticism," Whisenhunt said. "I have to give Levi some credit. As tough as it's been, he hasn't let it affect him. He has continued to work and get better and I think this will be a big year for him. This is a chance for him to show that he can play this position very well."
October, 16, 2010
10/16/10
11:30
AM ET
Marc from Arizona writes:
This is what we have heard all season, that the 49ers have a lot of talent, but they keep shooting themselves in the foot. I would like to know what they mean by this. What talent are they talking about and how is it recognized? And, I suppose, what is the NFL's definition of talent? Because most talented people I know don't shoot themselves in the foot. They have actual results that make me recognize and go, "Hmmm that person is talented."
Mike Sando:
Fair question. Talent alone doesn't win games. Teams still need maturity, seasoning, smarts, coordination, coaching, etc. And any team with unsteady quarterback play will have a hard time realizing its potential.
The 49ers have had enough talent to amass more than 400 yards against New Orleans. They had enough talent to lead the
Atlanta Falcons
in the Georgia Dome in the final minutes. They had enough talent to pick off
Matt Ryan
late in that game. Largely the same team had enough talent to be leading a very good Minnesota team in the final seconds at the Metrodome last season. Largely the same team had enough talent to be leading the eventual AFC champion
Indianapolis Colts
in the fourth quarter last season.
I don't think anyone would say the 49ers accomplished those things by outcoaching their opponents or playing over their heads. Their players tend to possess quite a few of the "measurables" scouts value. Those attributes can put teams in position to win, but it takes more than that to win consistently.
For the sake of comparison and because you're from Arizona, go through the Cardinals' roster and tell me how many of their players would definitely start for the 49ers, position by position, based on talent.
Larry Fitzgerald
,
Steve Breaston
and
Deuce Lutui
would start for the 49ers based on talent, in my view.
Darnell Dockett
,
Adrian Wilson
,
Dominique Rodgers-Cromartie
and possibly
Kerry Rhodes
would start for the 49ers based on talent. How many others? There might be a few, but I think the 49ers' raw talent would hold up OK in most cases, and even better when held up against talent from other teams in this division.
---
Darryl from Ft. Riley, Kan., writes:
If A.J. Green or Jonathan Baldwin were available, would you agree with the Rams taking a wide receiver is the first round? I would think that they would do it seeing that we need a true No. 1 receiver. However, I just can't see the Rams taking one of these guys. Right now, I think we should draft based on best player available. Besides, we can get a receiver further on in the draft.
Mike Sando:
It's critical for the Rams to invest in weapons for Bradford. I'd be fine with them drafting a receiver or running back early. Coaches such as Mike Holmgren and Andy Reid have also demonstrated that offenses put together in the Rams' mold can succeed without top-tier talent at receiver. That is fine, but we also know top-tier talent beats lesser talent. The more talent they can put around Bradford, the better chance Bradford will have to make the Rams a championship contender.
Take a look at the Colts' draft strategy since selecting Peyton Manning first overall. Indy could have focused on building its defense, figuring Manning would make the offense better without significant reinforcements. Instead, the Colts have drafted three running backs, two wide receivers and a tight end with the 10 first-round choices they've used since the Manning selection. They drafted
Edgerrin James
, Reggie Wayne,
Dallas Clark
,
Joseph Addai
,
Anthony Gonzalez
and
Donald Brown
even though their defense needed more help most of those years. They also selected
Dwight Freeney
, and the Rams will need to add that type of pass-rush talent if the opportunity presents itself. Overall, though, they're wise if they build up the offense around Bradford.
---
Mister2 from San Jose writes:
Why are people going so crazy about the Niners' issues? They very easily could be 3-2 (like the Colts, Giants, Packers) with correction of only one thing -- turnovers. Not talent, not QB skill, not playmakers, not coaching -- just holding on to the ball. Isn't there any way to call out the media crazies that want to blame one person, or one coach without really giving the issues any thought? Can't we all just be a little more mature?
Mike Sando:
Turnovers have played a large role. Do they happen independent of other factors? Are they random? Or do teams with, say, protection issues tend to
throw interceptions against pressure
? It's a combination of factors. Throw in a tough early schedule, volatile and inexperienced leadership, issues getting plays into the huddle, etc., and bad things are going to happen.
---
Tres from Washington, D.C., writes:
Sando, come on, man. The end of
your article
on the Seahawks' offensive line is over-the-top petty. I understand the media has a job to do, and the Alex Gibbs-taught silence is kind of sophomoric, but really? You'd alluded to feeling jilted by them in an earlier blog post, but I let it pass; those last comments are just trifling. How much did you have to dig til you found the magic post-2002 holding call numbers? The work you do is good, and I understand why you need to skew toward the rest of the NFC West after covering the Seahawks for so long, but sometimes it comes across as just bitter.I wish you all the best, but that was just uncalled for.
Mike Sando:
The piece sought to make two points. One, perspectives from offensive linemen enrich the game. Two, if players as accomplished as
Steve Hutchinson
can follow NFL rules for media cooperation, other players shouldn't have any trouble doing so. In hindsight, the piece might have been better had the final sentence simply read, "Hey, if an all-time great such as Hutchinson can follow the rules, what makes these guys any different?" or something to that effect. I purposely included that penalty information at the end, not earlier, because I didn't want it to be the thrust of the piece. For some, though, it didn't matter.
This issue was different than most I cover because I have an obvious vested interest in the matter (I am treasurer of the Professional Football Writers of America, which has worked with the league to shape the media policy). I was sensitive to how people might react based on the self-serving nature of my viewpoint, but perhaps I was not sensitive enough. It's a discussion worth having and one I engaged through the comments section of that item. I'm the first to admit I can improve.
As far as the penalty information, that took five minutes of my time.
Every week I do an item on
penalties in the division
. ESPN Stats & Information has made available a file with every penalty called in every game since 2001. Some of the information from 2001 is incomplete, so I often sort the file to exclude that year. Also,
Ben Hamilton
and
Chester Pitts
made their NFL debuts in 2002. Back to the penalty file. I've set up pivot tables making it easy to filter penalties by team, position, penalty type, etc. I filter them in those ways every week. Offensive holding is a penalty I follow because the league has changed how it calls those penalties and that can affect scoring. I was surprised to see Hamilton and Pitts rank among the top two for most holding penalties since 2002, but I knew Hutchinson almost never incurred penalties. The goal was to illustrate contrast.
The NFL and the Seahawks stand firmly behind the policy these players were violating. Player contracts include clauses requiring compliance. I'm happy to see coach Pete Carroll enforce the rules.
---
Josh from El Paso, Ill., writes:
Hi Mike, I have
Justin Forsett
on my fantasy football team, and I'm debating two things: One, do I start Forsett, and two, should I start anybody against the Bears' defense? With
Marshawn Lynch
coming aboard, I'm almost certain that Lynch will get carries, thus hurting Forsett's value, but what are your thoughts? Thanks!
Mike Sando
: I would steer away from starting Seattle players at this point. If you are a Seattle fan, you'll be thrilled if they produce at a high level and that will offset any disappointment you might have from not having them in your lineup. But if you start them and the Seahawks' offense continues to struggle on the road, you might be kicking yourself.
---
Andy from Auckland, New Zealand writes:
Hi Mike, longtime reader, first-time questioner. How much difference do you think
Donovan McNabb
would have made to this 49ers team and how much of their problems be down to
Alex Smith
? Would Mcnabb have had the same troubles with communication to the sidelines that Smith has or thrown giveaway INTs? I think there's an argument to be made that despite all of the well-documented issues that Smith has had to face, he should now be showing much more than he is.
Mike Sando:
McNabb is better than Smith, which means the 49ers would be better with him at quarterback, in my view. I don't think we need to complicate the analysis much. Now, would McNabb struggle with some of the issues that have hurt Smith? Sure, but I think he would be better equipped to overcome them.
---
Garrett from Junction City, Kan., writes:
Hey Mike, Seattle seems like it's one of those cities that has a hard time bringing in "big" free-agent players for whatever reasons -- being a smaller media market or location. I have two questions. First, do you agree with that assesment? Second, do you think with Pete Carroll there, that might increase their chances in the future to get some "big" name guys in? I do know that some of it depends on if he has success at this level, but I would like your opinion because you're the expert and I like your blog. I read it every day. You're fair and look at things from all sides. Well, thanks!
Mike Sando:
Thanks, Garrett. I believe money ultimately talks in a high percent of these situations, but geography plays a role when other factors are relatively equal. There's no question in my mind the head coach can help to attract or repel marquee free agents. Everything I've learned about Carroll tells me he's the type of coach veteran players would appreciate. He believes in positive thinking, so he is not a screamer. He structures training camp in a way that prevents players from burning out. He's a laid-back guy. Those things have to appeal when veteran players seek new homes. Every case will be different, though, and some players will not want to move so far away from families on the East Coast or in the South.
---
Ron from Oklahoma City writes:
Don't you think it's a little unfair that
Sam Bradford
is getting criticism for his performance Sunday? Every throw was into an incredibly tight window, and made while under pressure. When watching the Rams, you never see receivers running wide open in the middle of the field like you do for, say, Dallas.
Mike Sando:
It could be unfair. It also probably reflects the respect Bradford has earned. People are already holding him to a high standard. The interceptions he threw came relatively late in the game. Bradford did drive the Rams down the field earlier. It's not his fault
Mark Clayton
got hurt and
Danny Amendola
fumbled inside the 10 when the game was still close.
---
Mike from Costa Mesa, Calif., writes:
Sando, admit it, if it had been known before the season started that Matt Leinart would be replaced as starter after the second exhibition game, that his replacement would only last four regular-season games and that an undrafted rookie would be the Cardinals' starting quarterback in Week 5, no way would you have guessed that Arizona's record going into the bye week would be 3-2. They may be doing it with mirrors, but somehow Ken Whisenhunt has gotten his team still believing and somehow pulling off what seems to me to be one of the most under-reported stories of this NFL season. Given all the challenges due to retirements, free-agent losses, etc., do you agree that if the Cardinals end up winning their division this year and getting into the playoffs for the third straight season, Whisenhunt is the hands-down coach of the year?
Mike Sando:
At 6-10? At 7-9? No on both fronts. If the Cardinals have a winning record, the case becomes a lot stronger. Either way, the weakness of this division will give people an out when deciding how much praise to throw Whisenhunt's way.
We should also realize that Arizona is a 32-yard
Sebastian Janikowski
field goal away from being 2-3. The victory over New Orleans was impressive even though there wasn't much sustainable about becoming the second team in NFL history to score 30-plus points without a rushing or passing touchdown.
Whisenhunt becomes coach-of-the-year material if
Max Hall
develops into a promising starter this season while leading the Cardinals to 9-7 or better. I feel safer framing it that way than using what the Cardinals have accomplished to this point as the basis for his candidacy.
August, 15, 2010
8/15/10
3:16
PM ET
INDIANAPOLIS -- Thoughts and observations after watching the
San Francisco 49ers
' backups help them grab a 20-10 halftime lead against the
Indianapolis Colts
in the 2010 exhibition opener for both teams:
We're midway through the third quarter of this game. I'll post again after heading down to the locker room after the game. Then it's back on the road to Rams camp just up the street (OK, about 240 miles up the street).