NFC West:

Anthony Spencer
March, 4, 2013
3/04/13
5:46
PM ET
The 2013 deadline for naming franchise players passed Monday without NFC West teams using the mechanism to protect against losing their unrestricted free agents.
Dashon Goldson
, the
San Francisco 49ers
' Pro Bowl safety,
tweeted his approval
.
Teams can begin negotiating with representatives for UFAs from March 9 before the signing period opens March 12.
Goldson, 49ers tight end
Delanie Walker
and
St. Louis Rams
receiver
Danny Amendola
are among the more notable NFC West players scheduled to hit the unrestricted market.
Goldson earned $6.2 million as the 49ers' franchise player last year. The labor agreement would have required the 49ers to increase that by 20 percent to $7.45 million if the team decided to name him its franchise player for a second consecutive season.
Without the franchise tag, Goldson is free to test the market for the second time as a veteran player. Last time, Goldson settled for a one-year, $2 million deal from the 49ers. This time, Goldson, 28, has Pro Bowls on his résumé. Will teams pony up?
The 49ers had the NFL's most expensive defense last season. Giving Goldson a 20 percent raise as a two-time franchise player would have been difficult philosophically in that context. The team was more interested in extending inside linebacker
NaVorro Bowman
's contract. Bowman signed an extension during the season.
San Francisco would like to retain Goldson and Walker. The tag value for Goldson ($7.45 million) and Walker ($6.066 million) lagged far behind what teams would have to pay franchise players at quarterback ($14.896 million), defensive end ($11.175 million), cornerback ($10.854 million) or wide receiver ($10.537 million). The 49ers' reluctance to tag Goldson and Walker could reflect their acknowledgement that difficult decisions must be made in the interests of long-term planning. Their reluctance also could reflect a line of thought that neither player is worth that much on a per-season basis.
Nothing would stop either Goldson or Walker from re-signing with the 49ers later in the process.
Amendola's situation in St. Louis
is one we discussed in detail previously. As the chart shows, Rams quarterback
Sam Bradford
was much more effective on third and fourth downs last season when Amendola was on the field. However, Bradford averaged slightly more yards per pass attempt across all downs when Amendola was off the field. That is not to suggest that the Rams would be better off without Amendola. Rather, it's fair to question whether Amendola would be worth the $10.537 million franchise price as a frequently injured player whose value could be built around third-down situations as a slot receiver.
NFL teams
named eight franchise players
Monday, down from 21 last season.
The list included
Buffalo Bills
safety
Jairus Byrd
,
Chicago Bears
defensive tackle
Henry Melton
,
Cincinnati Bengals
defensive end
Michael Johnson
,
Dallas Cowboys
defensive end-turned-linebacker
Anthony Spencer
,
Denver Broncos
tackle
Ryan Clady
,
Indianapolis Colts
punter
Pat McAfee
,
Kansas City Chiefs
tackle
Branden Albert
and
Miami Dolphins
defensive tackle
Randy Starks
.
The Colts' use of the tag for McAfee moves them past Seattle as the team that has used the franchise tag most frequently since the designation became available in 1993. Indianapolis (11), Seattle (10) and Arizona (nine) top that list, according to Jason Vida of ESPN Stats & Information.
February, 29, 2012
2/29/12
8:00
AM ET
The Washington Redskins have selected 33 college players in the first four rounds since 2000, their first draft with Daniel Snyder as team owner.
That is 10 fewer than any other team, 29 fewer than league-leading Tennessee and 17.6 fewer than the other 31 teams have averaged over the same period.
What better team than the Redskins to fork over premium draft choices to the St. Louis Rams in exchange for the second overall choice in the 2012 draft?

There is none.
Mike Jones of the Washington Post
says the Redskins "are prepared to" give the Rams two first-round picks, plus other selections, for the second overall choice in the 2012 NFL draft. Jones: "The Redskins believe (Robert) Griffin, who last fall won the Heisman Trophy after passing for 4,293 yards, 37 touchdowns and only six interceptions while leading Baylor to a 10-3 record, is worth that price."
Noted:
The Rams should pounce if the Redskins make such an offer formally, in my view. They would emerge with the sixth overall choice, which might be just as valuable to them as the second pick, given their commitment to Sam Bradford at quarterback.
Jim Thomas of the St. Louis Post-Dispatch
looks at the Rams' cornerback needs. Thomas: "By season's end, six of the 16 Rams players on injured reserve were cornerbacks. Among the top five cornerbacks from a year ago, Al Harris has retired, Justin King is an unrestricted free agent, and Ron Bartell (neck), Bradley Fletcher (knee) and Jerome Murphy (ankle) are coming back from season-ending injuries."
Also from Thomas
: a chat in which he repeatedly says the Rams are not trading Bradford.

Cam Inman of the San Jose Mercury News
passes along thoughts from 49ers cornerback Carlos Rogers after Ahmad Brooks' new deal. Rogers: "That's good. I'm happy for him. It's surprising, but get what you can get. He's a big-time player for this team."
Eric Branch of the San Francisco Chronicle
has this to say about Brooks: "Before the 2008 season, the nightlife-loving Brooks was waived by the Bengals after two disappointing years. His exit from Cincinnati made the former third-round pick and All-American at Virginia begin to re-examine his life and career."
Todd Archer of ESPNDallas.com
says the 49ers' deal with Brooks affects the Cowboys' negotiations with Anthony Spencer. Archer: "Using the same press box stats for fairness to compare the players, Spencer has 266 tackles, 21.5 sacks, one interception, 10 pass deflections and 10 forced fumbles in 53 starts. Brooks has 139 tackles, 20 sacks, one interception, nine pass deflections and seven forced fumbles in 24 starts."
Noted:
Stats for tackles are unofficial.

Brock Huard and Mike Salk
of 710ESPN Seattle debate whether the Seahawks should sign Mario Williams in free agency. Huard likes the match and thinks Seattle should make Williams a priority if the team does not invest heavily in a quarterback.
John Boyle of the Everett Herald
says Leroy Hill's career with the Seahawks is "almost certainly over" after the linebacker's most recent arrest.
Noted:
I think Hill's ability to command a lucrative deal has suffered more than his chances for returning to Seattle.

Kent Somers of the Arizona Republic
considers dynamics for the Cardinals relating to Peter King's report that at least two unnamed teams would be willing to add Peyton Manning and Reggie Wayne this offseason. Somers: "First, the two players are old, by NFL standards. Manning turns 36 next month. We all know of his neck and arm issues. Wayne is still a productive player but he turns 34 in November, and he wants to make a considerable amount of money. It's one thing for a team to invest heavily in Manning. Teams are willing to take gambles on quarterbacks because of the importance of the position."
September, 23, 2011
9/23/11
2:12
PM ET
Five things I noticed while watching the
San Francisco 49ers
during their 27-24 overtime defeat to the
Dallas Cowboys
in Week 2:
Andy Lee bails out this offense. Lee boomed long punts when field position was critical. His 45.7-yard net average on six punts was impressive. After Alex Smith took a sack on third-and-6 from the 49ers' 22-yard line, Lee forced the Cowboys to begin their next possession at their own 26. He pinned Dallas at its own 9 later in the quarter. A 58-yarder in overtime gave Dallas a longer field after Smith took another sack.
Sometimes, Smith had no chance. The sack he took on the first play of the second quarter stood out. This was a jailbreak situation, beginning right up the middle with center Jonathan Goodwin barely even delaying Josh Brent's rush. The play design put Smith in an even worse position under the circumstances. He faked the screen to Gore on the left side, then spun around to find Anthony Dixon on the other. Instead of seeing Dixon, Smith saw Brent, Anthony Spencer and Alan Ball. They were on top of him before he could react. Smith could do nothing but take the sack.
Sometimes, Smith looked instinctive. That was the case on the play Smith made after dropping a high snap from Goodwin and then gathering it on the run. Smith rolled hard to his right and was still running fast when he fired a pass 45 yards on a line to the end zone, drawing an interference penalty. I kept thinking back to the disastrous play Smith made against Philadelphia on a broken play last season. That one required rolling left, preventing Smith from making this type of play. He might not have been playing freely enough to make this throw, anyway
Sometimes, Smith looked shaky. We now know Smith suffered a mild concussion at some point during the game, mitigating criticisms. But a two-play stretch midway through the third quarter was a bad one for him. Tony Romo had been knocked out of the game. The 49ers led, 14-7, and had second-and-8 from their own 22. Smith rolled left and badly overthrew Walker for what should have been a first down. On the next play, Smith had time, but something wasn't right between him and tight end Vernon Davis. Smith threw inside the yard-line numbers to the right. Davis broke across the numbers to the outside. Ball picked off the pass. In general, quarterbacks need time to find tight ends open down the field. Smith did not have time consistently.
Yes, the 49ers play defense, too. The first four notes here all dealt with the special teams or offense. The defense was generally good, but the spectacular breakdowns in pass coverage swung the game against San Francisco. It was tough finding too much fault with cornerback Carlos Rogers. He tipped the pass that Tramaine Brock picked off, setting up the 49ers' go-ahead touchdown late in the third quarter. The 49ers have been playing without the injured corner Shawntae Spencer. Getting him back will presumably help. San Francisco went into the season feeling very good about its veteran additions at safety. I think they'll feel a lot better about those additions against opponents other than the Cowboys.
No mention of running back
Frank Gore
's struggles here. Two things to consider: The 49ers lost blocking tight end
Nate Byham
before the season. They have subsequently lost fullback
Moran Norris
.
March, 25, 2011
3/25/11
12:20
PM ET
Ken Whisenhunt is right when he says
Levi Brown
takes more criticism as a high draft choice than he would take as someone selected later in the process.
That's the way it works. The highest picks in a draft class should outperform their peers.
[+] Enlarge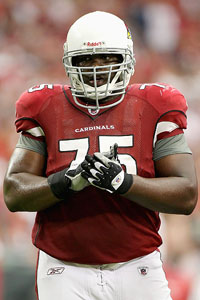 Christian Petersen/Getty ImagesLevi Brown, drafted fifth overall in 2007, can still become an "outstanding" player according to Ken Whisenhunt.
The
Arizona Cardinals
don't need anyone to remind them that they selected Brown over some All-Pro performers, including
Adrian Peterson
and
Patrick Willis
. But it's not as though Brown, a player with 56 consecutive regular-season starts, qualifies as a flat-out bust, either. He moved to left tackle from the right side last season and will stay there.
"He improved last year," Whisenhunt said this week from the NFL owners meeting in New Orleans. "As a left tackle, it's not an easy position to move from right tackle. He will continue to get better. He is a talented football player. The biggest thing he has struggled with is the consistency of his play. But a lot of times you are under the microscope more because you were the fifth pick in the draft."
I would rank Brown, chosen fifth overall in 2007, somewhere around 20th out of 32 first-round picks that year.
Brown has obviously or arguably outperformed the following first-round selections from 2007:
JaMarcus Russell
,
Jamaal Anderson
,
Ted Ginn Jr
.,
Amobi Okoye
,
Adam Carriker
,
Justin Harrell
,
Jarvis Moss
,
Aaron Ross
,
Reggie Nelson
,
Brady Quinn
,
Anthony Gonzalez
and Craig Davis.
Gaines Adams
, chosen fourth that year, passed away after Tampa Bay traded him to Chicago.
The following first-rounders from 2007 have obviously or arguably outperformed Brown:
Calvin Johnson
,
Joe Thomas
,
LaRon Landry
, Adrian Peterson, Patrick Willis,
Marshawn Lynch
,
Darrelle Revis
,
Lawrence Timmons
,
Leon Hall
,
Michael Griffin
,
Dwayne Bowe
,
Brandon Meriweather
,
Jon Beason
,
Anthony Spencer
,
Robert Meachem
,
Joe Staley
,
Ben Grubbs
and
Greg Olsen
.
"The reason we drafted Levi where we did was because we had him rated high enough to go in that position, but we also felt like we had to develop our offensive line and defensive line at that point, because that is where the most critical component of your team," Whisenhunt said. "That is the only way you are going to have a chance to compete. Levi has been a good player. He is often criticized, but I think that comes with being the fifth pick, and I don't understand how you evaluate offensive linemen, because they are not catching passes or running touchdowns in."
Whisenhunt said he thought Brown can and will become an "outstanding" player.
"Any time an offensive lineman gets drafted that high, especially in a fantasy football world where people want you to get dynamic playmakers, you are going to face some kind of criticism," Whisenhunt said. "I have to give Levi some credit. As tough as it's been, he hasn't let it affect him. He has continued to work and get better and I think this will be a big year for him. This is a chance for him to show that he can play this position very well."
June, 1, 2010
6/01/10
2:49
PM ET
Pressuring quarterbacks into poor decisions can sometimes have more value than sacking them.
The San Francisco 49ers'
Justin Smith
has long been a player whose value has transcended his sack totals. Simply watch him play from week to week and you'll see what a pain he can be even without ranking among the league leaders in sacks.
Football Outsiders has quantified those contributions and broken them out in
a recent Insider piece

by Aaron Schatz. The piece notes that most quarterbacks average significantly fewer yards per attempt when pressured. A few, including two quarterbacks on the 49ers' schedule last season --
Aaron Rodgers
and
Donovan McNabb
-- have suffered less dropoff than others when pressured. Without knowing the stats, I would put the
Minnesota Vikings
'
Brett Favre
in a similar category at times, and certainly when he threw the winning touchdown against San Francisco last season.
Schatz's piece shows Smith ranking tied for fifth in the league last season with what Football Outsiders calls adjusted hurries. Smith had 28.5, same as the Cowboys
DeMarcus Ware
and
Anthony Spencer
. No other NFC West player ranked among the top 17 players (each player on the list had at least 21). Former
Arizona Cardinals
defensive end
Antonio Smith
, now with the
Houston Texans
, made the list with 23. Smith also ranked seventh on a separate "No-Help All-Stars" list showing "the 10 players with the highest percentage of single-season hurries over their next-most productive teammates."
The
St. Louis Rams
'
Chris Long
ranked 10th on a separate list showing players who accounted for the highest percentage of their teams' hurries. Football Outsiders credited Long with 20.5 of the Rams' 89 hurries, or 23 percent.
Earlier:
Smith among
surest tacklers
; Smith
worthy as Pro Bowl choice
; Long among
pass-rush sleepers
; Long definitely
made strides
.
March, 31, 2010
3/31/10
1:00
PM ET
»
NFC History
:
East
|
West
|
North
|
South
»
AFC
:
East
|
West
|
North
|
South
»
Draft Watch
:
Biggest needs
(2/17) |
Busts/gems
(2/24) |
Schemes, themes
(3/3) |
Recent history
(3/10) |
Needs revisited
(3/17) |
Under-the-radar needs
(3/26) |
History in that spot
(3/31) |
Draft approach
(4/7) |
Decision-makers
(4/14) |
Dream scenario/Plan B
(4/21)
Each week leading up to the NFL draft (April 22-24), the ESPN.com blog network will take a division-by-division look at key aspects of the draft. Today's topic: History in that spot.

St. Louis Rams
The Rams' decision at No. 1 will likely come down to quarterback
Sam Bradford
or defensive tackles
Ndamukong Suh
and
Gerald McCoy
.
NFL teams have taken three quarterbacks first overall in the past five years.
Alex Smith
(49ers, 2005) has been mostly disappointing, although he has shown signs of progress lately.
JaMarcus Russell
(Raiders, 2007) is looking like a flat-out bust.
Matthew Stafford
(Lions, 2009) hasn't played long enough for anyone to know.
The Rams won't find much comfort in analyzing defensive tackles taken first overall lately. NFL teams haven't drafted one first overall since the Bengals selected "Big Daddy" Dan Wilkinson in 1994.
Nine of the last 15
top picks were quarterbacks. Four were linemen. One was a running back. One was a receiver.

Seattle Seahawks
The sixth overall choice is high enough for Seattle to select the top-rated player at one of the less important positions. That's what the Redskins did when they drafted safety
LaRon Landry
sixth in 2007 and what the 49ers did when they chose tight end
Vernon Davis
sixth a year earlier.
The alternative could be selecting the second-rated player at one of the marquee positions.
Andre Smith
(Bengals, 2009) was the second offensive tackle selected in his class.
Vernon Gholston
(Jets, 2008) was the second defensive end in his class, though he became a 3-4 outside linebacker in the NFL.
It's also possible the Seahawks could find the first offensive tackle or defensive end available at No. 6. The probably won't look for a cornerback that early. Adam "Pacman" Jones (Titans, 2005) was the last corner taken sixth overall.
The Seahawks also hold the 14th overall choice. Three of the last five players taken in that spot were defensive backs, including the Jets' sensational
Darrelle Revis
. The Bears found the third-rated tackle at No. 14 when they drafted
Chris Williams
in 2008, but Seattle probably will not have that option in this draft. Too many teams ahead of the Seahawks could be targeting tackles. It's one reason Seattle could take one sixth.
San Francisco 49ers

The 49ers could use an offensive tackle. The 13th overall choice hasn't been particularly lucky at the position. The Saints'
Jammal Brown
, chosen 13th in 2005, is the only offensive lineman selected in the spot since the Houston Oilers drafted Brad Hopkins in 1993.
Relatively few offensive linemen have gone between the 11th and 16th picks during that time.
The last four picks at No. 13: defensive end
Brian Orakpo
(Redskins, 2009), running back
Jonathan Stewart
(Panthers, 2008), defensive lineman
Adam Carriker
(Rams, 2007), defensive end
Kamerion Wimbley
(Browns, 2006). Orakpo and Wimbley are 3-4 outside linebackers. The 49ers could use another one of those.
San Francisco also holds the 17th overall choice. Guard
Steve Hutchinson
(Seahawks, 2001) was the last true star taken in that slot. More recently, defensive ends
Jarvis Moss
(Broncos, 2007) and
David Pollack
(Bengals, 2005) haven't panned out. Moss reportedly contemplated retirement amid struggles adapting to a 3-4 scheme last season. A neck injury forced Pollack into retirement before he had a chance to develop.

Arizona Cardinals
The Cardinals could use another linebacker and they could do much worse than finding a player as good as
Clay Matthews
, who went to Green Bay at No. 26 last year.
The 26th spot, which also produced potential Hall of Famers
Alan Faneca
and
Ray Lewis
years ago, hasn't been as kind to other teams recently.
Tackle
Duane Brown
(Texans, 2008), defensive end
Anthony Spencer
(Cowboys, 2007), defensive tackle
John McCargo
(Bills, 2006), center
Chris Spencer
(Seahawks, 2005) were 26th overall picks.
The Cardinals can't do much worse than the 49ers have fared at No. 26. San Francisco drafted tackle
Kwame Harris
(2006) and quarterback Jim Druckenmiller (1997) in that spot.
August, 31, 2009
8/31/09
7:15
AM ET
Posted by ESPN.com's Mike Sando
Thoughts and observations after watching the 49ers' exhibition game against the Cowboys on Saturday night:
The 49ers have made their cuts on the roster reduction to 75 players. Their final exhibition game is Friday at San Diego.