October, 16, 2012
10/16/12
12:40
PM ET
Tedy Bruschi
's chat for ESPNBoston.com includes his observations from the New England-Seattle game.
Among them: The former Patriots linebacker had
no problem
with
the trash talk
Seahawks cornerback
Richard Sherman
directed
Tom Brady
's way.
"The Seahawks' secondary had a huge day," Bruschi said. "There was trash-talking going on during the game, and when you win a game like that, you earn the right to talk some trash. If you're Seattle, you just shut down the highest scoring offense in the league and its quarterback was challenging you during the game. It's a little trash talking; I have no problem with it."
Sherman elaborated
during an appearance on NFL Network, noting that his comments stemmed from on-field interactions with Brady. Those included Brady looking up at the scoreboard, which showed New England leading, after Sherman's teammate,
Earl Thomas
, suggested he should have had a couple additional interceptions.
"I have great deal of respect for everything Tom Brady has done in his career, his Super Bowls, MVPs," Sherman told NFL Network. "He's a tremendous player, he's done a lot of great things."
ESPN's
Antonio Pierce
, former linebacker for the
New York Giants
and
Washington Redskins
, also had no problem with Sherman's comments. Pierce's thoughts appear in the video below.
September, 8, 2012
9/08/12
4:09
PM ET
The question was when, not if, the
St. Louis Rams
would reach a long-term agreement with middle linebacker
James Laurinaitis
.
It happened Saturday, one day before the Rams visit Detroit for their first regular-season game under coach Jeff Fisher.
[+] Enlarge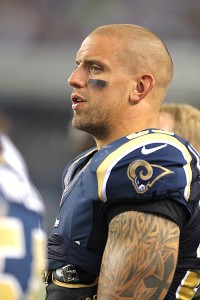 Matthew Emmons/US PresswireAfter extending the contract of James Laurinaitis, the Rams have locked up cornerstone players at every level of the defense.
The deal comes two days after division-rival Arizona re-signed
Daryl Washington
, another young and rising inside linebacker. We'll now have to see whether the
San Francisco 49ers
can work out something with
NaVorro Bowman
, an All-Pro at inside linebacker in 2011, before his deal expires following the 2013 season.
The Rams' deal with Laurinaitis locks into place building blocks at every level of their defense. They re-signed defensive end
Chris Long
following his 13-sack showing in 2011. They also used a 2012 first-round pick for defensive tackle
Michael Brockers
and a 2011 first-rounder for defensive end
Robert Quinn
.
Veteran
Cortland Finnegan
and rookie
Janoris Jenkins
are the building blocks in the secondary, where safety
Quintin Mikell
also remains signed for the long term.
Trumaine Johnson
is another rookie corner in the rotation.
Laurinaitis, a second-round choice in 2009, is signed through 2017,
according to ESPN's Adam Schefter
. Long, a first-rounder from the 2008 class, is signed through 2016.
The Rams have the NFL's youngest roster by average age. They also have leaders at every position on defense. Long will mentor Brockers and Quinn. Laurinaitis is the leader at linebacker (the team still needs young talent at that position, in my view). Finnegan will mentor Jenkins and Johnson.
"We have guys that are veterans and you are pairing them with young guys and I think that is important," Laurinaitis said from training camp last month. "You don't want just a young guy to be the biggest guy in a room. You want him paired with people so that he gets it: 'OK, this is how I show up, this is how I'm accountable, this is how I'm a pro, this is what's expected of me. I think it's important. They've done a great job of really filling this roster out."
Middle linebackers have flourished in the system Fisher and assistant head coach Dave McGinnis have installed.
London Fletcher
,
Antonio Pierce
, Mike Singletary and
Jonathan Vilma
are a few of them. Laurinaitis wants to be next.
"When you think of those players, you think very intelligent, very good leaders, guys who are durable and accountable," Laurinaitis said. "When the quarterback makes a check, the mike backer has to be able to make a countercheck and just have a feel for a football game.
"I relish that role, I relish that responsibility. I love the fact that the coach is going to say to me, 'If you see something on the field, you make the call. You're not going to be wrong, you're the one playing, you make the call.'
"And then maybe I make a bad check in practice, but it's not, 'Hey, you did the wrong thing.' It's, 'Hey, why did you make that call?' Well, I made it because I thought it was this. They say, 'Oh, well, why don't you look at this guy, he'll tell you it's pass, he'll tell you it's run.'
"It's an interaction. It's not just a 'we're right, you're wrong.' That is an inspiration to me. It's a big responsibility and I love it."
January, 19, 2012
1/19/12
11:07
AM ET
Let's give former New York Giants linebacker Antonio Pierce credit for suggesting a couple months back that the San Francisco 49ers would beat out New Orleans for the NFC's second playoff seed.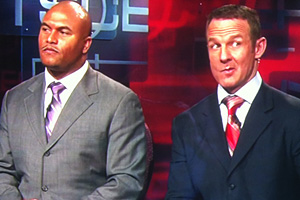 ESPN.comThis is how Merril Hoge reacted to Antonio Pierce suggesting the 49ers would get to 12-4 and be the No. 2 seed in the NFC.
Pierce's comments triggered a memorable reaction from fellow ESPN analyst Merril Hoge.
I'd forgotten about the
Pierce-Hoge exchange
until 49ers fans such as
@slder78
brought it up following the 49ers' 36-32 victory over the Saints in the divisional playoff round.
Pierce and Hoge were debating the 49ers' credentials right before San Francisco secured the No. 2 spot in ESPN's NFL Power Rankings heading into November.
Hoge flashed a classic eye roll when Pierce said he thought the 49ers would finish 12-4 (actual record: 13-3) and ahead of New Orleans. Hoge pointed to a weak NFC West as one reason the 49ers should not be taken too seriously. The 49ers were 6-1 at the time.
"I'm sorry, Merril," Pierce said. "I'm going to have to cut you off. They have only beaten one team in their division. The other five wins, outside their division. Tampa Bay, Detroit. They've played some good teams and put a smacking on them."
Hoge came around.
He picked the 49ers
to beat the Saints last week.
A look through Hoge's weekly 49ers picks shows he actually thought they would go 13-3. He picked against them only twice -- against the Giants and Pittsburgh Steelers -- after the 49ers got to 6-1.
October, 31, 2011
10/31/11
1:10
PM ET
The
San Francisco 49ers
went into Week 8 ranked fourth in
ESPN's NFL Power Rankings
.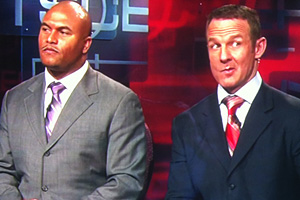 ESPN.comThis is how Merril Hoge reacted to Antonio Pierce suggesting the 49ers would get to 12-4 and be the No. 2 seed in the NFC.
They defeated the 24th-ranked
Cleveland Browns
. Top-ranked Green Bay did not play. Second-ranked New England lost at fifth-ranked Pittsburgh. Third-ranked New Orleans lost at 30th-ranked St. Louis.
The question: Should the 49ers move up to second? What about the Steelers?
ESPN's Merril Hoge rolled his eyes when Antonio Pierce suggested the 49ers would finish 12-4 and earn the No. 2 seed in the NFC playoffs. Hoge said he thought the 49ers would come up short against elite teams, including the Saints. He pointed to the weak NFC West.
"I'm sorry, Merril," Pierce said. "I'm going to have to cut you off. They have only beaten one team in their division. The other five wins, outside their division. Tampa Bay, Detroit. They've played some good teams and put a smacking on them."
I'm inclined to rank the 49ers second behind Green Bay this week. Would they beat the Steelers the way
Ben Roethlisberger
is playing right now? Would they have beaten New England, as the Steelers did Sunday? I'm not sure, but they're 6-1 overall, 3-0 on the road and own multiple victories over winning teams, including Detroit, Tampa Bay and Cincinnati.
May, 14, 2010
5/14/10
11:00
AM ET
Clayton from Seattle writes:
Mike, I keep hearing how the Seahawks still need to improve their defensive line, particularly at the end position. I was thinking that they could trade Leroy Hill for one of the Giants' ends. New York has four starting-caliber ends in Justin Tuck, Mathias Kiwanuka, Osi Umenyiora and rookie Jason Pierre-Paul. At linebacker, Antonio Pierce was released after hurting his neck and Danny Clark just signed with the Texans. They might need a linebacker. Do you think this could happen?
Mike Sando:
Hill is scheduled to earn $6 million in salary this season and he's likely facing an NFL suspension of some sort. Would the Giants or another team be willing to absorb that contract? Would Hill be willing to rework his contract? Those are the two primary questions I have when considering what value Hill might have in a trade.
Is Hill available? I would certainly think so. The Seahawks asked him to stay away from their offseason camps to this point. It's clear they are assessing their options at the position to determine whether they feel comfortable moving on without Hill.
As for the Giants, middle linebacker seemed to be their primary need in light of Pierce's demise. They drafted Nebraska's Phillip Dillard in the fourth round and it's looking like he could compete for the starting job. I just think the Giants would have been more aggressive in addressing linebacker to this point if they felt the position were one of great need. This could be a situation where the team likes its young talent better than outsiders like that talent.
Hill can be a good player, but he's not a middle linebacker. He wouldn't offset Pierce's departure. The writing is on the wall that Seattle wouldn't mind trading Hill. But would anyone take on that $6 million salary under the circumstances?
---
Mike from Costa Mesa, Calif., writes:
Hey Sando, love your blog. I read it every day to keep up with my Cardinals and events in the NFC West. It's the essential resource for any FAN-atic pining away for the start of another NFL season.
Just a note to encourage you to keep an eye on Andre Roberts, the Cards' third-round choice out of the Citadel. I will admit that I didn't know much about this guy before the draft, but after doing my online research, I think the Cardinals may have a potential Steve Smith on their hands. This is especially true since, in the Cardinals' lineup, Roberts is likely to be covered one-on-one (with Larry Fitzgerald and sometimes Steve Breaston getting double coverage), and by the opponents' weakest defender at that.
If Early Doucet fails to impress this year, I wouldn't be at all surprised to see Roberts as the No. 3 receiver by the end of the year. To tell you the truth, with the possible exception of Golden Tate, I believe the Cards may have landed the best receiver in the 2010 draft. In any case, we will have a pretty good idea if I'm right or not by the end of the upcoming season.
Mike Sando:
Thanks for the compliments, Mike. The Cardinals hope you're better at evaluating receivers than evaluating blogs. I'm always skeptical regarding rookie receivers. They tend to flash some abilities during training camp, but it's tough to make the production carry over to exhibition games, let alone the regular season.
Breaston caught eight passes as a rookie. Doucet caught 14 as a rookie. It's possible for Roberts to ease into this season and develop over time, so I wouldn't judge him too definitively after one season. It's a bonus if a rookie receiver provides the type of production Arizona got from Anquan Boldin (101 receptions in 2001) or Fitzgerald (58 in 2004).
---
Jay from Sacramento writes:
Mike, I noticed that the 49ers' new corner, William James, had a safety in last years Lions-49ers game. Anything from that game that made him stand out as a Mike Singletary type player? Enough to be so patient through the draft?
Mike Sando:
Nothing I recall. James did not have a safety in that game. He did tackle Frank Gore for a 1-yard loss at one point, but he also made the tackle after a 50-yard pass from Alex Smith to Michael Crabtree (see video
here
). Crabtree got James turned around early in his route and there wasn't safety help at any point. The play-fake was very effective.
---
Julian from Ridgecrest, Calif., writes:
First off, Sando, love your blog. Secondly, kind of a two-part question, I was just wondering if there have been any more developments with the approved L.A. stadium as far as getting a team to go there. And whichever team they get to play there (save 49ers or Rams), do you think there would be an impending division realignment for the NFC West or AFC West. The only reason I ask is because the Vikings and and 49ers haven't gotten their stadiums approved -- yet. With only six true West Coast teams (seven if you include Dallas), the addition of an L.A. team would bring the total eight. How do you see this all play out for the NFC West?
Mike Sando:
Any team other than the Rams moving to Los Angeles would make divisional realignment a logical step. If the Jaguars moved to L.A., why not move them into the NFC West, with the Rams joining the AFC South? The old 49ers-Rams rivalry in the NFC West doesn't really resonate in St. Louis, anyway. The Vikings would be a more interesting case because of their stronger rivalries with teams in the NFC North, but those rivalries wouldn't mean a great deal to the people of Southern California.
As for new developments, I've seen none. The people trying to bring football to Southern California have done a good job making noise over the years, but nothing meaningful ever seems to happen. That makes it tough to take the speculation too seriously.
February, 27, 2010
2/27/10
11:04
AM ET
INDIANAPOLIS -- The Rams dumped older players with over sized salaries as part of their roster overhaul last offseason.
The result was one of the youngest rosters in the NFL.
Coach Steve Spagnuolo, speaking Saturday at the NFL combine, said he would like to add some veteran seasoning to the Rams' roster in the coming months. The Giants had those types of players when Spagnuolo was defensive coordinator under Tom Coughlin.
"We had some vets that were kind of the work-ethic guys that taught the younger guys how to do it," Spagnuolo said.
The Rams had a few of those players last season, but they could use more throughout the roster.
"I think you really have to have a little bit of that mixture," he said. "Now, in my opinion, you can't just go out plucking guys out of the sky. You almost have to know that person and how they study film. I think that is huge."
I wouldn't count former Giants linebacker
Antonio Pierce
among the potential candidates. Pierce has to overcome serious injury concerns and the Rams already have identified linebacker
James Laurinaitis
as the young leader of their defense.
February, 16, 2010
2/16/10
3:21
PM ET
The
St. Louis Rams
got significantly younger over the past year. They also need to get significantly better and
Antonio Pierce
, a player Rams coach Steve Spagnuolo surely valued when they were together with the Giants, should tempt them.
Spagnuolo told reporters he hoped to speak with Pierce at some point,
the Rams said via Twitter
.
James Laurinaitis
is arguably the only starting-caliber linebacker under contract to the Rams for 2010.
Paris Lenon
, 32 and a stopgap at this stage, can become an unrestricted free agent.
David Vobora
,
Chris Chamberlain
,
Dominic Douglas
,
Larry Grant
and
K.C. Asiodu
are the other linebackers.
Pierce carries great appeal by comparison. But there were reasons the Giants parted with a player coach
Tom Coughlin lauded as a strong leader
. Injuries slowed Pierce recently. A bulging disc in Pierce's neck landed the linebacker on injured reserve last season.
Pierce, 31, was scheduled to earn $4.75 million in salary for 2010. Signing Pierce at a reasonable rate could make sense. But if you are Pierce and you know your career is winding down, why join a rebuilding team?
October, 21, 2009
10/21/09
12:19
PM ET
Posted by ESPN.com's Mike Sando
Matt Williamson of Scouts Inc. joined me Wednesday morning to discuss key issues in the NFC West. I'll lay them out, one per team, following the order of the division standings.
1. San Francisco 49ers (3-2):
What should we expect from
Michael Crabtree
and are the 49ers making the right decision to start him now?

Matt Williamson: I agree with it. I haven't seen him in practice, but he must be impressive. I thought he was the best player in the draft. I didn't have to try to sign him, sit down with him, know what kind of person he was, but from what I saw on tape in game situations, he was the best player available. He's an immense talent and probably already the second most talented player on their roster besides Patrick Willis, and they may be equal. He has a chance at some point to be their best offensive playmaker. Get him on the field. He's better than what they have had and the passing game hasn't been all that great.
Mike Sando: One question might be whether rushing him onto the field could lead to injuries.
Matt Williamson: I would bet there will be some fatigue for him. How many times has he run 40 routes in a game and blocked? You can try to do all that stuff in practice, but it isn't the same.
Mike Sando: What does Isaac Bruce have left? Are they making the right decision sitting down Josh Morgan?
Matt Williamson: In the long term, no. But they are a contender and they have as good a shot as anyone to win this division. There's a high trust factor with Bruce. Vernon Davis has improved, but he can still be erratic mentally and assignment-wise. They need somebody out there who can get 8 yards on third-and-7. I'm not sure how reliable Vernon Davis and Josh Morgan would be from that standpoint. When the quarterback gets in trouble, he knows where Bruce is going to be and he will not embarrass you. Morgan will see the field plenty, too, to spell Crabtree.
---
2. Arizona Cardinas (3-2):
What should we expect from Arizona on the road against the Giants? Can the Cardinals win that game?

Matt Williamson: Normally I would say no, but I'm really on the fence about it. Anquan Boldin would be a big loss if he is out. I think New York's defense is very good, but I thought New Orleans really exposed them over the middle of the field and that is why I mentioned Boldin. C.C. Brown was awful for the Giants. Their safety play and linebacker pass defense is poor right now, mostly because of injuries but also because Antonio Pierce and Chase Blackburn aren't good in coverage. The Cardinals do not have a great tight end, but Boldin and Fitzgerald can have success over the middle.
Mike Sando: Will Warner have time to throw?
Matt Williamson: I think they are at a massive disadvantage in pass protection. I would take the Giants for that reason.
Mike Sando: Arizona stopped the Giants' running game last season, but Eli Manning lit up their secondary.
Matt Williamson: That could happen again. I think they are going to have a hard time getting to Manning. I do not like their pass rush.
Mike Sando: Unlike Seattle in Week 6, the Giants will not be starting Kyle Williams at left tackle. Manning has taken only three sacks all season. He has 11 touchdowns, three interceptions and an 8.4-yard average per attempt.
---
3. Seattle Seahawks (2-4).
Seattle has lost twice at home already. Is it too early to write off this team?

Matt Williamson: I don't think so. A week ago, I kind of felt like they were going to win the division, and then their line got so exposed and nothing went well. They are already 2-4 with a lot of road games ahead of them. They are not the type of team that can afford to lose at home. And can Matt Hasselbeck really play 10 more games for you? I have some doubts there. Are they a contender? No. Are they a drag, either? No.
Mike Sando: Nine wins should be enough to win this division, I think. If that is the case, Seattle probably must win its remaining four games at home -- against Detroit, San Francisco, Tampa Bay and Tennessee -- plus half of its six remaining road games. A victory over Dallas in Week 8 would seem pretty much essential because it's a stretch to think Seattle will win at Minnesota, Arizona or Green Bay. Can the Seahawks beat the Cowboys?
Matt Williamson: I don't think Dallas is all that good, but I would certainly take the Cowboys right now based on what I have seen today. I don't know how well they can protect Hasselbeck and Demarcus Ware is a beast. If Sean Locklear comes back, he would still be at a disadvantage, but at least it would be more competitive. Seattle's run game isn't good enough, but when they are hot and can protect a little bit, they are good in the passing game. They could pick apart that Cowboys secondary. ... I know Lofa Tatupu is out, but David Hawthrone is not a terrible player. He has filled in OK. Aaron Curry is a stud in the making and I don't think Dallas is all that dangerous. I could see it being competitive. I would really worry about Seattle's offensive line against that defensive front.
Mike Sando: What is Seattle's long-term outlook?
Matt Williamson: They need to fix that running game and draft a lineman or two and I think they could be back in a big way next year.
---
4. St. Louis Rams (0-6):
What should we make of the Rams' decision to trade
Will Witherspoon
and their approach to rebuilding overall?

Matt Williamson: What was Witherspoon's contract situation?
Mike Sando: He had two years left. His deal was going to count $6.8 million against the cap in 2010.
Matt Williamson: That makes sense, then. That has to be the motivation, that they want him off the books. They are really happy with James Laurinaitis. If you look at the Giants' defenses, they never had a lot of money tied into linebackers. They were fourth- and fifth-round picks, journeymen. I don't disagree with that, especially running a 4-3. That is the place you can get bargains. It wouldn't shock me if they took that money and got a killer defensive end, using the Giants' formula of, 'Let's beat your tail up front with our defensive line.' "
Mike Sando: What about the receiver St. Louis got from the Eagles for Witherspoon?
Matt Williamson: Brandon Gibson? I watched him at the Senior Bowl and thought he was very ordinary. He is a physical kid, not real fast, not real special, not great movement skills. He is a bottom-of-the-roster guy. Maybe that is the best guy they could get.
Mike Sando: Are they handling the rebuild properly, dumping so many older players?
Matt Williamson: I think so. That makes it such a big project. That is the problem. It is not going to be overnight or one year. You probably still need to find the quarterback. And if you draft him, he still is not going to be ready for two years. And by then, what does Steven Jackson have left? Your best player might never be a factor when you're good. How long can Jackson play given his injuries and how much they run him into a wall? Will he be serviceable in three years? Will he be on the team in five?
What I don't have a great grasp of is, 'Where do they want to use their resources?' I have no problem with the Jason Smith pick, no problem with Laurinaitis. If you are going to get rid of Witherspoon, what are you going to do with it? If they harvest a bunch of defensive linemen, I'm cool with that. It's a terrific formula. Defensive linemen are gold. I tend to think Steve Spagnuolo thinks that as well.
February, 16, 2009
2/16/09
9:35
AM ET
Posted by ESPN.com's Mike Sando

VanRam of Turf Show Times looks at what Rams coach Steve Spagnuolo might like in a middle linebacker. Jeremiah Trotter and Antonio Pierce played for him in the past. VanRam: "The commonality between Pierce and Trotter is the instinct and tackling/pursuit ability commonly desired in a 4-3 middle linebacker. Trotter's style of play got him to four Pro Bowls, but didn't do anything to prolong his career. Pierce's style of play doesn't get him noticed in a defense marked by high sack totals, but his work made those sacks possible by taking away the run."

Matt Maiocco of the Santa Rosa Press-Democrat expects the 49ers' Jed York to take an aggressive approach to free agency in York's first offseason as team president. Maiocco: "He is going to want to create some excitement around the team before the draft, so perhaps we should expect the unexpected." I would like to know how the 49ers' favorable salary-cap situation compares to their cash situation given the tough economy and the resources spent pursuing a new stadium. Will the 49ers be as aggressive as they might like to be?
Matt Barrows of the Sacramento Bee lists free safety as the 49ers' top priority in free agency. He says Oshiomogho Atogwe, Jim Leonhard and James Sanders could interest the 49ers. The team could also give the recently added Jimmy Williams a look at the position. Dashon Goldson would be another consideration if he can stay healthy.

Scott Allen of Raising Zona thinks Karlos Dansby and other top players looking to stay with their teams should welcome the franchise player designation. Allen: "I get the fact that it would not allow that player to negotiate with other teams, but if he is serious about wanting to stay, then it shouldn't be a problem. He will be handsomely paid." Players tend to be more serious about getting paid than staying with the same team.

Shaun Dolence of 12th Man Rising revisits the Seahawks' 2005 draft class. Dolence: "Although this draft does verify some draft trends for Tim Ruskell (big schools, best available, high effort players, etc.), he does break on one tendency. Chris Spencer had declared early for the draft, and only started at center for one year at Mississippi. As we've seen in more recent drafts, Ruskell prefers players who've started, or at least contributed, throughout their collegiate careers. This was not the case for Spencer, who has yet to become the impact player the Seahawks envisioned when they selected him in the first round (insert Crabtree comparison here)."
December, 11, 2008
12/11/08
2:50
PM ET
Posted by ESPN.com's Mike Sando
A final-week voting surge for Anquan Boldin gave the Cardinals the two top finishers in NFC fan voting for the Pro Bowl at receiver.
Boldin didn't just creep up on the Redskins' Santana Moss during the final week of voting. He blew past him with 84,719 additional votes -- 147,459 to 62,740 -- to trail only teammate Larry Fitzgerald in final fan voting.
The surge gave Boldin 532,108 votes. Moss has 487,924. Fitzgerald led NFC receivers with 655,433 votes, easily the most votes for any receiver from either conference.
The league also considers coach and player voting in determining which players represent each conference in the annual all-star game.
Fan voting concluded this week. I'll summarize NFC West results after making available for download a spreadsheet showing the top five vote-getters from each conference at each position, plus the top 10 overall vote getters.
The Cardinals' Kurt Warner finished fifth in overall voting. Fitzgerald was seventh. A quick look at positions where NFC West players finished among the top five:
Thanks to the Redskins' strong showing in fan voting, the NFC East fielded 58 players among the top five at various positions.
The AFC North and AFC South were next at 28 apiece, followed by the AFC East (26), NFC North (20), AFC West (13) NFC South (11) and, finally, the mighty NFC West (6).
December, 2, 2008
12/02/08
6:13
PM ET
Posted by ESPN.com's Mike Sando
Cardinals receiver Larry Fitzgerald has passed teammate Kurt Warner for fifth in fan balloting among Pro Bowl candidates. Fan voting comprises one-third of the process. Voting continues for another week. Coaches and players vote thereafter.
Fitzgerald has moved from seventh to sixth to fifth over the last three weeks. Warner remains sixth in voting behind
Drew Brees
,
Brett Favre
,
Clinton Portis
,
Eli Manning
and Fitzgerald.
A quick look at NFC West players ranked among the NFC's top five vote-getters at their positions:
Quarterback: Warner remains third behind Brees and Manning.
Receiver: Fitzgerald remains first and teammate Anquan Boldin remains third.
Inside linebacker: The 49ers' Patrick Willis remains fourth behind London Fletcher, Brian Urlacher and Antonio Pierce.
Strong safety: The Cardinals' Adrian Wilson remains second behind Chris Horton.
Special-teamers: The Cardinals' Sean Morey remains fifth.
Voting continues here through Dec. 9. Players and coaches vote shortly thereafter. Each contingent comprises one third of the voting.
No Seahawks or Rams players rank among the top five at their positions. Which players not listed deserve strongest consideration? I would put Rams specialists Donnie Jones and Josh Brown on the list. Jones leads the NFL in gross and net punting. Brown has proven reliable from long range. Seahawks tackle Walter Jones remains among the best left tackles. Cardinals linebacker Karlos Dansby has made big plays. Niners return specialist Allen Rossum was enjoying a strong season until suffering an injury. Who am I missing?
November, 25, 2008
11/25/08
3:44
PM ET
Posted by ESPN.com's Mike Sando
MVP candidate Kurt Warner is moving up in Pro Bowl voting among fans, taking the eighth spot among all NFL players in the latest balloting.
Warner was not ranked among the top 10 as recently as last week. Teammate Larry Fitzgerald moved up from seventh to sixth over the same period.
No Seahawks or Rams players rank among the leaders. The Bengals and Lions are the only other teams without a single player ranked among the top five at his position. The 49ers have one player ranked among the top five at his position (a certain linebacker). The Cardinals have five.

A quick look at NFC West players ranked among the top five vote-getters:
Quarterback: Warner is third behind Drew Brees and Eli Manning.
Receiver: Fitzgerald is first and teammate Anquan Boldin is third.
Inside linebacker: The 49ers' Patrick Willis is fourth behind London Fletcher, Brian Urlacher and Antonio Pierce.
Strong safety: The Cardinals' Adrian Wilson is second behind Chris Horton.
Special-teamers: The Cardinals' Sean Morey ranks fifth.
Voting continues here through Dec. 9. Players and coaches vote shortly thereafter. Each contingent comprises one third of the voting.
November, 22, 2008
11/22/08
10:41
AM ET
Posted by ESPN.com's Mike Sando

Bill Coats of the St. Louis Post-Dispatch says Rams guard Richie Incognito tried to clarify remarks critical of fans. Coach Jim Haslett and the front office came to the fans' defense.
Bernie Miklasz of the St. Louis Post-Dispatch says the Rams owner Chip Rosenbloom will welcome his formerly estranged half-brother, Steve, to St. Louis for a ceremony honoring their late father.
Jim Thomas of the St. Louis Post-Dispatch says the Rams have taken steps to wear their 1999 throwback jerseys during the 2009 season.
Steve Korte of the Belleville News-Democrat says the Rams hope to contain Bears return man Devin Hester. Kicker Josh Brown and punter Donnie Jones are two of the best at their positions, setting up a competitive matchup.
Also from Korte
: Incognito used the term "come hither" in summoning reporters to his locker for a session designed to clarify barbs directed at fans.

Kent Somers of the Arizona Republic singles out pass protection as a key variable for the Cardinals against the Giants.
Mike Tulumello of the East Valley Tribune says an aggressive approach to defense has helped the Cardinals force more turnovers than any other team in the league.
Also from Tulumello: a look at running back J.J. Arrington.
Darren Urban of azcardinals.com also sees pass protection as a key variable for Arizona. The Giants' Antonio Pierce says he cares about quarterback hits, not sacks.

John Crumpacker of the San Francisco Chronicle says 49ers safety Michael Lewis faces a tough test against Cowboys tight end Jason Witten.
Matt Barrows of the Sacramento Bee says the 49ers' Allen Rossum ranks among the NFL's leading return men, but Rossum hasn't bothered to check the stats yet.
Matt Maiocco of the Santa Rosa Press-Democrat breaks down key matchups for the 49ers-Cowboys game. He expects Manny Lawson to cover Witten.
Also from Maiocco: says the 49ers have a 3-26 record since 2003 in games kicking off at 10 a.m. PT. They'll try to make it 4-26 against the Cowboys.

Jose Romero of the Seattle Times uses the term "Seahawks East" to describe the Redskins under first-year head coach Jim Zorn.
Clare Farnsworth of the Seattle Post-Intelligencer says the Seahawks aren't used to losing. Middle linebacker Lofa Tatupu hasn't suffered through a losing season in football since age 7.
Eric Williams of the Tacoma News Tribune says the Seahawks face a challenge this week with two games and one road trip in a five-day period.
Scott Johnson of the Everett Herald says the Seahawks' special teams have quietly improved after a rough start to the season.
NFC WEST SCOREBOARD
Thursday, 9/4
Sunday, 9/7
Monday, 9/8