October, 3, 2014
10/03/14
8:00
AM ET
One has been a league power broker, one wants to be.
And when the
Denver Broncos
and
Arizona Cardinals
get together Sunday afternoon in Sports Authority Field at Mile High, the Broncos (2-1) will try to knock some of the rough edges off while the Cardinals (3-0), one of just two teams to arrive to Week 5 undefeated, will try to show they are ready to be at the front of the line.
Cardinals reporter Josh Weinfuss and Broncos reporter Jeff Legwold take a look at the game.
Legwold:
At 3-0, how do the Cardinals see themselves? Upstart in NFC? Or team that believes it should have made the playoffs last year and is ready to take the next step to be in this postseason mix this time around?
Weinfuss:
If there's one thing the Cardinals don't see themselves as, it's an upstart team. That much was instilled in them by Bruce Arians last season. Especially after upsetting Seattle at home last December, this team believed it should've been in the playoffs. And with how they played in the second half of the season, it's hard to argue with them. But the Cardinals who returned this year learned a lot from last season's first half, most notably how important it is to win those early games. What they're doing now isn't a surprise to those who pay attention to this team, and a lot of it is a direct result of Arians' demeanor. His straight-shooting personality -- curse 'em out on the field but hug 'em off of it -- has rubbed off on everyone in the locker room. It has led to this team to believe it could win for the first time since Kurt Warner was here.
Speaking of learning from last year, what was the main thing the Broncos took away from last season's loss in the Super Bowl, and how have they used it in 2014?
Legwold:
The main thing GM John Elway took away was he wanted far better personnel on defense and some more receivers who could battle their way through physical play from defensive backs. The result was an offseason spending spree that reeled in
DeMarcus Ware
,
Aqib Talib
and
T.J. Ward
on defense to go with wide receiver
Emmanuel Sanders
. The Broncos also used a first-round pick in the draft on cornerback
Bradley Roby
and a second-rounder on wide receiver
Cody Latimer
. So, the 35-point loss certainly forced a roster makeover and for the holdovers it did provide plenty of incentive as they went through the offseason workouts. There is a feeling, after the overtime loss to the
Baltimore Ravens
in the divisional round of the 2012 playoffs followed by the Super Bowl blowout, of trying to finally close the deal this time around.
In terms of roster makeover, with all that has happened to the Cardinals' defense with the injuries, etc., how have they pushed themselves into the league's top five?
Weinfuss:
Nobody expected Arizona to be among the league's top five defenses this year after losing the likes of
Karlos Dansby
and
Daryl Washington
before the season and then
Darnell Dockett
during training camp and
John Abraham
in the first few weeks of the year. But credit must be given to the Cardinals' front office. The brain trust has done a good job of finding veterans who still have gas in the tank, such as linebacker
Larry Foote
and defensive lineman
Tommy Kelly
. But the biggest reason for the defense's success is defensive coordinator Todd Bowles. His single-gap scheme revitalized this defense last year and all he has been doing is adding wrinkles here and there to adjust to his personnel. For example, Arizona is running a lot of nickel and dime packages because it gets rookie safety
Deone Bucannon
on the field. For as good of an offensive mind as Arians is, Bowles is his equal on the defensive side.
Have the additions to the Broncos' defense been paying off? Or is it too early to see a difference? Do you think they'll be the difference between another ring and a consolation prize?
Legwold:
The new arrivals have all had impact in the season's early going. Ware leads the team in sacks (2.5), Talib has been every bit the No. 1 corner they hoped he would be and Ward is one of two players on defense who have played every snap in the first three games, having been used in a variety of roles. The Broncos have seen enough from Roby. They've tossed him into the deep end of the pool as the rookie and he has matched up with some of the league's front-line receivers. All of that said, however, the Broncos still haven't consistently shown the kind of play they'll need to hoist a trophy, particularly on third down. As linebacker
Von Miller
and cornerback
Chris Harris Jr.
, who both had ACL injuries last season, continue to work back to full speed, the Broncos should continue to improve. Also, linebacker
Danny Trevathan
, who was the team's leading tackler last season and who suffered a fracture on the top of his tibia in training camp, will play in his first game of the season Sunday. It will mean the Cardinals will be the first team to face the revamped defense with all of the starters in place.
Sticking to defense, Manning heads into this game with 499 career touchdown passes. Between the two of them, Cardinals' assistant head coach/offense Tom Moore and head coach Bruce Arians have seen many of those up close as former Colts assistants. To that end, with that kind of up-close-and-personal knowledge, how do you think the Cardinals will defend Manning and the Broncos' offense?
Weinfuss:
One thing the defense has stayed consistent on this week is that they don't want to tip their hand to Manning before the snap. With that being said, I think they'll blitz him constantly -- all three of his sacks this season have come off the blitz, which, I can imagine, was good news to Bowles. But they won't blitz Manning like they'll blitz other quarterbacks because he's so good at adapting so quickly. Arizona plans on giving Manning the same look every snap. But guys who have played Manning know he'll wait until the very last second to make a decision because the defense will have to show their blitz by then, but the Cardinals will try to hold their disguise as long as possible.
With Manning coming up on such a historic mark, has it been a distraction for this team in the sense of more non-football attention has descended upon them? Are they ready for Manning to pass Brett Favre so they can just get back to focusing on football?
Legwold:
One thing about this team is the swirl around them doesn't get to them very often. Last season they had Miller's suspension in training camp, John Fox's open-heart surgery during the bye week and five defensive starters on injured reserve by the time they were preparing to play in the Super Bowl. The Super Bowl loss may have been the first, and worst, time for the Broncos not to play to the level of a game's standing last season. Before the title-game blowout, they had handled everything that had come their way without losing their edge. This time around players here simply assume Manning will hit 500 and then go on and break the record through the natural course of things. The record is nice, but they want another shot at the title and, for the most part, they see whatever happens along the way as issues that must be dealt with to get that chance.
March, 6, 2014
3/06/14
8:00
AM ET
In an Insider piece, ESPN analyst, and former NFL general manager, Bill Polian gives
San Francisco 49ers
' cornerback
Tarell Brown
high praise.
Brown
Polian ranks Brown as the best cornerback in unrestricted free agency

. Polian gives Brown the nod over several top-notch free-agent cornerbacks such as
Vontae Davis
,
Dominique Rodgers-Cromartie
and
Aqib Talib
.
If just one NFL team agrees with Polian, the 49ers may be hard pressed to keep Brown. Cornerbacks are often paid at a premium price, so if Brown is coveted, he may be looking at a big contract.
Brown is one of the 49ers' free-agency priorities. CBS Sports reported the team is pushing to get a deal done before free agency starts next Tuesday.
Brown was a starter last year, but lost his job late in the season when he was hurt. However, he did regain it in the playoffs.
Brown would likely be a starter again if he re-signs. If not, the 49ers will get
Chris Culliver
back from a torn ACL. At the very least, he will be the nickel cornerback. They could also try to replace Brown in free agency with someone like Seattle's
Walter Thurmond
. In either scenario, the team will likely use an early draft pick at the position.
October, 24, 2013
10/24/13
12:00
PM ET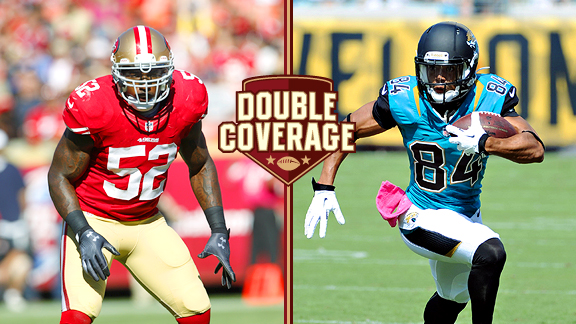 Getty Images, USA Today SportsPatrick Willis' 49ers meet Cecil Shorts' Jaguars in the second NFL game in London this season.
JACKSONVILLE, Fla. -- The
San Francisco 49ers
have righted the ship after a shaky start. The
Jacksonville Jaguars
are still sinking.
The teams going in opposite directions will meet Sunday in London's Wembley Stadium in the second of two NFL games being played in the United Kingdom this season.
The 49ers (5-2) have won four games in a row -- and scored at least 31 points in each of those games -- since starting the season 1-2. The Jaguars are 0-7 and are the first team since the 1984 Houston Oilers to lose their first seven games by double digits.
That makes Sunday's game look like a giant mismatch, yet the Jaguars were 28-point underdogs to the
Denver Broncos
two weeks ago but lost by only 16 points -- and trailed by just two at halftime.
ESPN.com Jaguars reporter Michael DiRocco and 49ers reporter Bill Williamson break down the matchup:
DiRocco:
The 49ers used the read-option the most they have all season against Tennessee in Week 7. Will that be a bigger part of the offense again as the season progresses?
Williamson:
Mike, I think it is going to be a week-to-week situation. The 49ers used the read-option seven times last week after using it a total of nine in the first six games. The 49ers saw they could exploit Tennessee's defense using it. I think we will see it again, but probably in more challenging games and only in certain situations, when the 49ers are confident it will work. We could maybe see it some in London, but I have a feeling it will be more like the first six weeks of the season.
Mike, if the 49ers do run a lot of read-option offense, do you think the Jaguars can handle it?
DiRocco:
Probably not. The Jaguars are last in the NFL in rushing defense (153.3 yards per game) and have given up a league-high nine rushing touchdowns. The defense's biggest problem against the rush is that it has given up a lot of explosive plays. Jacksonville has allowed an NFL-worst 10 rushing plays of 20 or more yards. Stopping the read-option is assignment football and the Jaguars' ends have not been as disciplined as needed. For example, Oakland's
Terrelle Pryor
ran for 50 yards in Week 2, including a 27-yard run in which the entire defensive front bit on the inside fake.
Bill, the Jaguars have had trouble with tight ends all season and now they face
Vernon Davis
. Who is the last team that's shut him down how?
Williamson:
Davis hurt his hamstring late in the Seattle game in Week 2. He was pretty well shut down in that game before getting hurt. He missed Week 3 against the Colts and then came back against the Rams. He's been good and he is healthy. If the Jaguars have trouble against tight ends, the 49ers will exploit it. Davis and quarterback
Colin Kaepernick
have a great chemistry going this season. The 49ers' coaching staff is great at exploiting weaknesses.
Mike, do you seeing this being a big problem for Jacksonville?
DiRocco:
Absolutely. Tight ends have combined to catch 42 passes for 401 yards and five touchdowns against Jacksonville this season. Depending on the defense called, the Jaguars will either have a safety or linebacker on the tight end. At times, the job has fallen to middle linebacker
Paul Posluszny
, who is very good against the run but not fast or quick enough in pass coverage. The Jaguars won't use the approach New England did against New Orleans standout
Jimmy Graham
-- the Patriots put their best corner,
Aqib Talib
, on him -- so I'd expect Davis to have chances to exploit some matchups with linebackers on Sunday.
Speaking of exploitation, the
Anquan Boldin
trade looked like a steal in Week 1. How is it regarded now?
Williamson:
Still, unabashed thievery. Sure, Boldin had 13 catches in the first week and a combined 21 catches in the following six. But the 49ers would be in trouble without Boldin. He had three circus catches at Tennessee and he's been the team's only reliable wide receiver with
Michael Crabtree
and
Mario Manningham
out. The 49ers would not be 5-2 without Boldin.
Mike, do you think the Jaguars will keep him in check Sunday?
DiRocco:
The Jaguars have done a solid job the past two weeks of playing umbrella coverage and making sure they don't give up deep throws. That does leave the short and intermediate routes open, though, and that's where Boldin thrives. He's a physical receiver and the Jaguars don't yet have the kind of personnel to match up with him. Coach Gus Bradley wants to build a secondary similar to the one he helped build in Seattle, which includes big, physical corners. The Jaguars still have work to do there, although rookie third-round pick
Dwayne Gratz
(5-foot-11, 201 pounds) is finally back from his high-ankle sprain.
.
December, 21, 2012
12/21/12
10:01
AM ET
The Total QBR scores for
Tom Brady
and
Colin Kaepernick
have changed slightly after the NFL made changes to the official play-by-play account from the San Francisco-New England game Sunday night.
The first change involved the interception return for 49ers cornerback
Carlos Rogers
against Brady with 8:02 left in the first quarter. The return was for 63 yards. It had been listed previously as a 53-yard return. Brady's QBR score for the week is now 57.0. Fifty is considered roughly average.
The other change involved a pass from Kaepernick with 7:39 remaining in the first quarter. The pass has been changed from one covering minus-5 yards to one covering zero yards. That means Kaepernick has 221 yards passing, not 216. It also means
Delanie Walker
has 34 yards receiving, and the Patriots'
Aqib Talib
gets credit for a 5-yard fumble recovery. That change upped Kaepernick's QBR score from 87.1 to 87.7.
Separately, the latter play should have been ruled as an incomplete pass,
the NFL determined
in its weekly officiating review. Walker did not possess the ball long enough to make a football move, as required by rules.
"This actually never went to review," Dean Blandino of the NFL office said. "The replay official confirmed it upstairs without bringing the referee over and that is a mistake."
The 49ers were driving deep in Patriots territory at the time.
December, 14, 2012
12/14/12
9:32
AM ET
Tedy Bruschi
and Mike Reiss of ESPNBoston.com have put together
a must-read preview
for the San Francisco 49ers' game against the
New England Patriots
.
One observation in particular from Buschi regarding 49ers quarterback
Colin Kaepernick
invited a closer look.
"If I'm the Patriots game-planning," he said, "I want to put Kaepernick in passing situations, especially outside the numbers. I wouldn't want to give him the running backs in the middle of the field, or the tight-end throws that make it easy on a quarterback.
"I want to make it tough on him, and I think having
Vernon Davis
and
Delanie Walker
, those are options you want to take away. You want him throwing to [Michael] Crabtree, [Mario] Manningham and [Randy] Moss outside the numbers."
Since becoming the 49ers' starter in Week 11, Kaepernick has completed 22 of 31 passes for 324 yards with one touchdown and one interception (102.1 NFL passer rating) when targeting wide receivers outside the yard-line numbers, according to ESPN Stats & Information. He has completed 10 of 12 passes for 118 yards with no touchdowns and no interceptions (107.6 rating) when targeting running backs and tight ends inside the numbers.
Those numbers appear quite strong, but they aren't all trending in a positive direction.
Kaepernick's rating drops to 82.9 when targeting wide receivers outside the numbers over the past three weeks. That period excludes Kaepernick's breakout performance against the
Chicago Bears
in Week 11. In that game, Kaepernick completed 5 of 6 attempts for 79 yards, one touchdown and a maximum 158.3 rating when targeting wide receivers outside the numbers. He has subsequently completed 17 of 25 attempts with an interception on those throws.
Opponents seem to be forcing Kaepernick into shorter throws recently. His passes traveled 10.2 yards past the line of scrimmage on average against Chicago. They have traveled 6.7 yards past the line of scrimmage on average over the next three games. The average was 7.5 yards for
Alex Smith
this season.
New England has allowed far fewer long pass plays recently compared to earlier in the season. Acquiring cornerback
Aqib Talib
could explain part of the improvement. Opponents have four pass completions of 30-plus yards over the Patriots' last five games. They had 12 over a four-game period ending in Week 6.
October, 7, 2011
10/07/11
10:20
AM ET
It's been a rough first four games for NFC West teams in the penalty department, and not just in
the tripping department
.
Officials have flagged teams from the division 153 times, assessing penalties covering 1,054 yards. The other divisions average 118 penalties and 835 penalty yards, according to ESPN Stats & Information. No division has as many in either category.
The totals count declined penalties.
The chart below shows all 14 NFL players with at least five declined and assessed penalties this season. Five of them play for NFC West teams.
On a side note, penalties for unnecessary roughness are on the rise, with 57 having been called through the first four weeks of the season. There were 25 through the first four games of the 2007 season. That number has risen to 37 (2008), 41 (2009), 53 (2010) and now 57.
I doubt players have gotten any rougher unnecessarily. Officials are likely calling these penalties more aggressively. Calls for unsportsmanlike conduct are also up. There have been 17 through four games this season, up from an average of nine at this point in the previous four seasons.
May, 14, 2011
5/14/11
1:21
PM ET
MoJo from Tucson
sees similarities between the 2008
Aaron Rodgers
and more recent versions of
Philadelphia Eagles
quarterback
Kevin Kolb
. Both were drafted as heirs to successful veterans. MoJo thought Rodgers struggled some in his first season as a starter. Kolb suffered from bad luck, getting injured. MoJo wants to know if I see any similarities as we continue to consider Kolb as a potential acquisition for the
Seattle Seahawks
and
Arizona Cardinals
.
Mike Sando:
I don't see a meaningful comparison here. The back story on Rodgers in Green Bay was that he instantly caught teammates' attention in practice. His talent was obvious.
Brett Favre
was better at that point, but Rodgers made it clear he had the talent to take over the job sooner rather than later. There's also a brashness to Rodgers that served him well in that situation. He wasn't going to disrespect Favre, but he wasn't going to worship him. Rodgers expected to play.
I don't know as much about Kolb. He seems to have an edge about him, too. But in his current situation,
Michael Vick
became the one with the more prodigious talent. There's no push from anyone to get Kolb onto the field. If the 2007 or 2008 version of Rodgers were in Philadelphia, I suspect he would be the unquestioned starter.
Also, Rodgers played quite well during his first season as a starter. He finished that 2008 season with 28 touchdowns and 13 interceptions. Favre struggled through an ultimately unsatisfying season with the
New York Jets
that year. His 2009 season with Minnesota was special, but it was also an exception to the norm in recent seasons. While Rodgers has consistently put up good numbers and even won a championship, Favre has thrown more touchdowns than interceptions in a season just twice since 2005.
Had Kolb been on the bench in Green Bay while Favre's career was winding down, I doubt the Packers would have moved as aggressively to make the change. Rodgers has the "it" factor. It's harder to tell whether Kolb measures up in that area, or as a passer.
---
Aaron from Redmond, Wash.,
wanted my thoughts on NFL commissioner
Roger Goodell's comments
to Seattle Seahawks fans regarding 10 a.m. PT kickoffs.
Mike Sando:
These are potentially significant comments in that Goodell has previously dismissed West Coast teams' concerns about early kickoffs. This time, the commissioner said the matter is "something we've got to try to find a way to deal with" amid challenges related to broadcast schedules. Let's consider this to be a starting point in a conversation long overdue from West Coast teams' perspectives.
---
Neil from Jackson, Miss.,
says
St. Louis Rams
offensive coordinator Josh McDaniels' reputation as a pass-oriented coach stems from the success McDaniels' quarterbacks have enjoyed, not from any aversion to the ground game. Neil says he's a Saints fan and he has seen how effectively a balanced offense can benefit the passing game. He expects the Rams to use running back
Steven Jackson
to the extent necessary to make quarterback
Sam Bradford
look good.
Mike Sando:
That's a good way to put it, Neil. I raised
the subject
with AFC West blogger Bill Williamson on Friday afternoon while we were sharing a ride to the airport in Hartford from our annual meetings in Bristol. Williamson noted that selecting running back
Knowshon Moreno
was McDaniels' first draft-related decision as
Denver Broncos
coach. McDaniels' personnel decisions did not work out so well, and Moreno hasn't met expectations. But that isn't as relevant as the fact that McDaniels valued the ground game enough to take a running back in the first round.
---
Kualla83 from Phoenix
wonders why ESPN's Rick Reilly rated Arizona Cardinals cornerback
Dominique Rodgers-Cromartie
so low in his
recent redrafts
. Kualla83 acknowledges that Rodgers-Cromartie suffered through a rough 2010 season, but he has also seen Rodgers-Cromartie's speed facilitate spectacular plays in coverage. He'd still take Rodgers-Cromartie first among the cornerbacks selected in that 2008 draft class.
Mike Sando:
Reilly made Rodgers-Cromartie the seventh cornerback drafted in 2008. That is too low, in my view. He put
Tracy Porter
,
Aqib Talib
,
Brandon Flowers
,
Terrell Thomas
,
Brandon Carr
and
Antoine Cason
ahead of "DRC" in this redraft.
This is feeling like a pivotal season for Rodgers-Cromartie. The Cardinals used the fifth overall choice in the draft for a cornerback. Rodgers-Cromartie has taken quite a bit of criticism. Getting slapped around by Reilly on a redraft should not go unnoticed, either.
I think the Cardinals will find out a great deal about Rodgers-Cromartie this season.
March, 30, 2011
3/30/11
9:12
AM ET
The
Arizona Cardinals
went into the 2008 NFL draft needing a cornerback.
It's increasingly clear they made the right choice in
Dominique Rodgers-Cromartie
even though the one-time Pro Bowl choice is coming off a disappointing 2010 season.
The problems Rodgers-Cromartie experienced in coverage and in tying for the NFL lead with 15 penalties last season appear trivial compared to the off-field issues affecting the corner Tampa Bay selected four spots later in the first round.
Aqib Talib
's future in the NFL appears shaky now that Talib is facing
a likely charge for a second-degree felony
. The incident stands as a troubling setback for a player who appeared to have
made strides off the field
.
Talib's situation sent me back through the 2008 draft for a look at the first 10 cornerbacks selected. The Cardinals fared relatively well in making Rodgers-Cromartie the 16th overall choice, but they'll expect a more focused effort from him this season. Adding defensive coordinator Ray Horton, a former NFL cornerback, has the potential to help.
March, 15, 2011
3/15/11
12:45
PM ET
Free safety
Earl Thomas
generally impressed during his rookie season with the
Seattle Seahawks
.
His range was obvious. He was a willing tackler. He showed an ability to make plays on the ball.
There were times when Thomas went for big plays at the expense of sound coverage, but overall, he looked like the player Seattle thought it was getting with the 14th overall choice in the 2010 draft.
Thomas picked off
Philip Rivers
twice, including once deep in Seahawks territory to preserve a victory. He picked off
Drew Brees
and
Sam Bradford
in the end zone. Thomas finished the season with five interceptions and he probably should have had nine; Football Outsiders counted four dropped picks for Thomas, one behind league leaders
Aqib Talib
,
Sean Smith
and
Derrick Johnson
.
As Paul Kuharsky
notes
, Football Outsiders defines a drop as a ball that hit the defender "right in the hands or chest" as opposed to mostly out-of-reach balls glancing off fingertips.
The chart shows Thomas' game-by-game interception totals. He was on pace for 12 interceptions through Week 4 and eight interceptions after making his final pick of the season in Week 11. His five picks ranked tied for ninth in the NFL and third among rookies behind New England's
Devin McCourty
(seven) and Cleveland's
Joe Haden
(six).
Related:
Mark Sanchez
benefited from dropped picks
more than other quarterbacks benefited
; and the
Miami Dolphins
' defense let
19 potential picks
slip through their hands.