NFC West:

Arnold Schwarzenegger
August, 6, 2010
8/06/10
9:45
PM ET
[+] Enlarge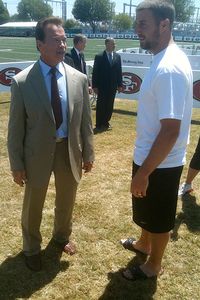 Mike SandoCalifornia Gov. Arnold Schwarzenegger met with QB Alex Smith and 49ers officials.
My budding career as a photographer produced this fine image of San Francisco 49ers quarterback Alex Smith meeting California Gov. Arnold Schwarzenegger following practice Friday.
Schwarzenegger met with the quarterback, 49ers officials and other players during a stop at team headquarters centered around a speech to the Bay Area Council.
But I know you can come up with a better caption than that. Fire away in the comments.
August, 6, 2010
8/06/10
5:12
PM ET
SANTA CLARA, Calif. -- A few thoughts on the San Francisco 49ers after watching them practice in pads Friday morning at team headquarters:
Ted Ginn Jr.'s revival, should it happen, is going to be a process, not something that happens overnight. After lighting up the practice field with multiple big plays Thursday, he dropped a couple easy passes Friday. He's playing fast, however, and making the right adjustments as he becomes more comfortable in the 49ers' system. Alex Smith and Vernon Davis told me they think Ginn can make a big difference for them this season. Ginn did make a nice play settling into what appeared to be zone coverage before catching a low pass while almost lying on the ground.
Ginn wasn't the only player dropping passes. There were too many of them Thursday. Anthony Dixon and Davis also dropped balls. One player I haven't seen drop passes: Michael Crabtree, one of the smoothest players on the team. I'm told he dropped one a couple days ago.
First-round choice Anthony Davis showed good effort in diving to push blitzing free safety Reggie Smith past the quarterback. Smith was lined up too wide and he was too quick for Davis to block him cleanly, but the rookie did everything he could, and he was effective. Ray McDonald gave Davis some trouble with a powerful bull rush.
Late in practice, Smith found Davis for a roughly 40-yard touchdown pass during a period when Smith and inside linebacker Patrick Willis get to call the plays. The rapport between Davis and Smith is something I'll be exploring in greater detail. Safety Dashon Goldson was the closest defensive back to Davis at the end of the play, but it wasn't clear whether he had the initial coverage. Davis generally exploits linebackers.
Outside linebacker Parys Haralson fared well against improved second-year tackle Alex Boone in pass-rush drills. They went against one another on three consecutive plays. Haralson won to the inside on the first rush (although the guard or center might have helped Boone if this had been a game situation). Haralson jumped offside on the second rush. He then came at Boone strong enough to draw illegal hands to the face.
Offensive line coach Mike Solari was paying attention to details during a live session simulating game situations. He kept telling players to keep their feet behind the sideline to avoid a penalty even though this was only practice.
California Gov. Arnold Schwarzenegger met with Smith, 49ers officials and other players during a stop at team headquarters centered around a speech to the Bay Area Council. The governor's security detail fit stereotypes with blue suits, dark glasses and earpieces. They combed the grounds throughout the governor's visit and I was grateful they didn't tackle me when I raised my iPhone to take the photos.
Various memebers of Ed Hochuli's officiating crew visited practice and showed a rules-related video to players (and reporters, separately). One new rule prevents players from protesting calls too demonstrably, but the rule is not yet backed by a penalty. Players will merely receive warnings. That could change upon further review.
Linebacker Scott McKillop had what the team called successful surgery to repair a torn ACL and ruptured patella tendon in his left knee.
The 49ers have a special-teams practice Friday afternoon. I'll be back for both of their practices Saturday before heading to Seattle for a visit to Seahawks practice Sunday, followed by a couple days at home and a few more days watching the Seahawks. Then it's off to St. Louis for an extended look at the Rams beginning Aug. 14.
May, 24, 2010
5/24/10
9:51
AM ET

Len Pasquarelli of ESPN.com
says only the Bills used more starting offensive linemen than the Seahawks last season. That included four starting left tackles. Pasquarelli: "Most coaches and players surveyed this week agreed that, although athletes are better now on the line, overall offensive line play has waned. More than any other unit, an offensive line demands cohesiveness. But rarely do the same five players stay together long enough to achieve the necessary mesh." Every team in the NFC West could have more than one new starter on its offensive line this season. Arizona and Seattle generally had very good continuity up front when winning the last six NFC West titles.
Eric D. Williams of the Tacoma News Tribune
checks in with Seattle cornerback Marcus Trufant, who is eager to bounce back from an injury-affected season. Trufant: "I feel like I've got a lot to prove. And I want to come out, and I want to do better for my team. I felt like I not only let myself down, but I let my team down by coming back and not playing at the level that I know I can play at. So I'm just here to do the best for my team, and to help the team out as best as possible." Trufant should be much better this season. A back injury sidelined him last offseason and into the regular season. He then tried to assimilate into a new system during the season.
Also from Williams
: a photo from Trufant's recent community event.
Doug Farrar of Yahoo.com
looks at how Seattle's new defense hopes to generate a pass rush. Farrar: "(Pete) Carroll got great sack seasons out of Chris Doleman in San Francisco and Willie McGinest in New England before he went to USC. For the Trojans, the most obvious beneficiary of the position was Clay Matthews."

Darren Urban of azcardinals.com
says the Cardinals are trying to develop young quarterbacks John Skelton and Max Hall. Urban: "(Quarterbacks coach Chris) Miller said mental makeup becomes crucial. Some players can play right away for a bad team and eventually make it work. Troy Aikman was terrible as a rookie for a one-win Cowboy team, but overcame that. So too did Steve Young after being battered in Tampa Bay. Others -- like Miller's Oregon brethren Joey Harrington and Akili Smith -- never developed." The Cardinals did not select a quarterback in their first three drafts under coach Ken Whisenhunt. The need became much greater once Kurt Warner retired with one season remaining on his contract. Warner recently reiterated that he has no plans to come out of retirement.

Jim Rodenbush of the St. Louis Post-Dispatch
says the Rams' Jason Smith was happy to be back on the field for recent practices after suffering through a concussion-shortened rookie season. Smith: "It feels really good being with the team. Obviously, at the end of last year, I wasn't able to be with them. For me, it feels great to be able to come out here and pull on this jersey for the Rams. I'm glad that we're focused on a new season."
Howard Balzer of the St. Louis Post-Dispatch
says the NFL should be more proactive in settling the Rams' ownership situation. Balzer: "With training camp around the corner and the first overall pick in the draft to be signed, it's time for the NFL to make a decision. It shouldn't be that difficult. There are only three options here, it seems: Change the cross-ownership rules; keep the rules and allow (Stan) Kroenke to do whatever he wants with transferring ownership of his teams; or keep the rules and tell Kroenke he's out of luck, that family ownership won't fly."
Also from Balzer
: Rams safety Oshiomogho Atogwe will probably hit the market. Balzer: "One team to keep an eye on is the San Francisco 49ers. Atogwe's rehabilitation is believed to be taking place in the Bay Area, and he has been dating the daughter of 49ers coach Mike Singletary for at least the last year."
Bill Coats of the St. Louis Post-Dispatch
says the Rams are hoping one of their young players can emerge as Steven Jackson's backup this season. Chris Ogbonnaya played very well against the Cardinals in Arizona late last season, I thought. More on that in a bit.

Matt Maiocco of CSNBayArea.com
says during a chat he expects Anthony Davis to start at right tackle in Week 1. Maiocco: "My guess would be that Anthony Davis starts. But, for the short term, it probably won't be the worst thing in the world if Snyder is in there. Let's face it, Davis is going to struggle some as a rookie. He'll experience ups and downs, no question. The 49ers have to be prepared to give up a little and ride the rollercoaster at the beginning with the result being a better player down the road."
Also from Maiocco
: a player-by-player look at the 49ers' offense, with this note about Alex Smith coming out of recent practices: "He threw the ball OK. He made some very nice deep and intermediate passes. He was off-target on some of his shorter throws. But the biggest development of the week was Smith's outward confidence and control of the team's protections. On Tuesday, he stood at the line of scrimmage and had the full attention of his teammates as he recited all of the adjustments the offense had to be prepared to make depending on the different possible defensive looks. That is something O.C. Jimmy Raye said Smith could not have done a year ago -- even during the season."
More from Maiocco
: a player-by-player look at the 49ers' defense featuring these thoughts on rookie Taylor Mays: "He lined up with the third team defense at safety. He played more of a strong safety over the course of the four days, but was also seen playing deep in coverage, too. He did not see a lot of action come his way. On Thursday, he was isolated on the left deep half and looked smooth in his backpedal, then he flipped his hips and turned right. Mays was right there as Smith completed a deep route to tight end Joe Jon Finley. It was one of those plays that the coaches have been telling the defensive backs to let the receivers catch, rather than making a play on the ball (or the man) and running the risk of injury. With pads on and against an enemy defender, Mays would've been in position to make a play on the ball or deliver a big hit."
Matt Barrows of the Sacramento Bee
says punter Andy Lee plans to report to the 49ers for practices beginning June 7. Lee has missed voluntary sessions recently while his wife is expecting the couple's first child.
Phillip Matier and Andrew Ross of the San Francisco Chronicle
say the 49ers are spending millions on a campaign to get a stadium built in Santa Clara. Matier and Ross: "The Niners' political team is led by Republican strategist Steve Schmidt, who managed both Arnold Schwarzenegger's 2006 gubernatorial bid and John McCain's 2008 presidential campaign, as well as local consultants Ed McGovern and Jude Barry. They also have a full-time campaign manager overseeing a paid staff of five and scores of volunteers."