March, 11, 2014
3/11/14
8:00
AM ET
Free agency starts at 4 p.m. ET (1 p.m. PT) Tuesday.
It is clear the
San Francisco 49ers
' plan of attack will be to sign their own top free agents. They secured their top free-agent priority, receiver
Anquan Boldin
, last week. Their other targets are safety
Donte Whitner
, cornerback
Tarell Brown
and kicker
Phil Dawson
. Dawson and Brown both may get quick action on the open market.
If any of these players leave, the 49ers will likely have to go find a replacement in some form. Let's take a look at who they may be:
Safety
Possible free-agent options:
Mike Mitchell
(Panthers),
Malcolm Jenkins
(Saints),
James Ihedigbo
(Ravens).
Summary:
The free-agent market is thin, and, in my opinion, signing Whitner is, by far, the best option. If not, one of the above-mentioned players could be a suitable, but not equal signing. If Whitner's market doesn't get crazy, the 49ers need to try to keep him. In-house potential replacements are
C.J. Spillman
and
Craig Dahl
, but neither are considered top options.
Cornerback
Possible free-agent options:
Nolan Carroll
(Dolphins),
Antonio Cromartie
(released by Jets),
Champ Bailey
(released by Broncos),
Walter Thurmond
(Seahawks),
Asante Samuel
(released by Falcons),
Antoine Cason
(Cardinals),
Charles Tillman
(Bears),
Captain Munnerlyn
(Panthers).
Summary:
Replacing Brown may be easier than replacing Whitner. There are a ton of decent cornerbacks. Carroll is one of the players the 49ers have checked in on. If the 49ers lose Brown, they could wait out the market and get a decent player or two here. A wild card could be
Darrelle Revis
, who reportedly either is going to be traded or released, as soon as this week, by Tampa Bay. He will likely be pricey but if something crazy happens, perhaps the 49ers could get involved.
Kicker
Possible free-agent options:
Steven Hauschka
(Seahawks),
Adam Vinatieri
(Colts),
Josh Brown
(Giants),
Dan Carpenter
(Bills).
Summary:
There are some decent kickers available, but I think Dawson is the best fit and I expect him to be back. If not, any of these kickers could be the fix. Just a guess, but I don't think it gets to that point.
March, 10, 2014
3/10/14
11:00
AM ET
Bill Barnwell of Grantland.com offers a tidy, thumbnail plan for the
San Francisco 49ers
in free agency.
Below is Barnwell's plan and my thoughts on it:
Estimated Cap Space:
$10,021,111
Likely Cuts
: CB
Carlos Rogers
Who They Should Keep
: CB
Tarell Brown
, K
Phil Dawson
Rogers
Rodgers-Cromartie
Who They Should Sign:
CB
Dominique Rodgers-Cromartie
, CB
Asante Samuel
, S
Louis Delmas
Did you know the largest cap hit on the 2014 San Francisco 49ers belongs to, of all people, Rogers? The 49ers would clear $5 million off their cap by releasing Rogers, a move likely to occur despite San Francisco's relative lack of depth in the secondary. Signing the younger, more talented Rodgers-Cromartie makes more sense, with Samuel filling in as depth and Delmas replacing the departing
Donte Whitner
. The Niners are sufficiently deep elsewhere to stay out of free agency, although they will certainly sneak in after a couple of weeks if they see a bargain lurking unsigned.
My take:
What sticks out to me is the Rodgers-Cromartie thought. If the 49ers can get him, they should jump at it. He would be an upgrade and a fine fit for the defense. But I think he could get a big deal somewhere. I think Whitner is a better player than Delmas, and the 49ers should concentrate on keeping him. But if Whitner's market is too high, then Delmas could be a solid replacement.
December, 2, 2011
12/02/11
1:27
AM ET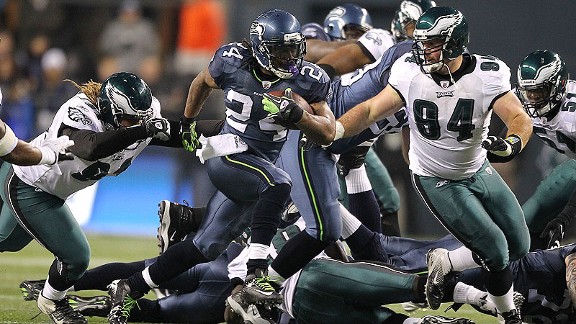 Otto Greule Jr/Getty ImagesMarshawn Lynch's fourth 100-yard game in his past five further helped his case for a new contract.
SEATTLE -- The last time the
Seattle Seahawks
shelled out top dollar for a running back,
Shaun Alexander
went into Ceased Mode. The former MVP took the money and couldn't find anywhere to run. He was finished within a couple of years.
That cautionary tale came to mind Thursday night when
Marshawn Lynch
shifted into Beast Mode during the Seahawks'
31-14 victory
over the
Philadelphia Eagles
at CenturyLink Field.
The raw numbers Lynch is posting -- 148 yards against the Eagles, his fourth 100-yard game in five weeks -- are enough to justify a new contract once his current deal expires in the spring. But it's how Lynch produces that makes him less dispensable than the typical running back. His running style is the very foundation of the offense coach Pete Carroll has vowed to build around.
"When you see effort like that from Marshawn, you can't help but give it your all," center
Max Unger
said.
Take that inexplicable 15-yard touchdown run in the first quarter.
Lynch ran right, disappeared into a crowd and emerged face to face with the end zone. On first glance, it appeared Lynch must have torn through the Philly defense with bolt cutters and a blow torch. Replays showed that wasn't the case. It wasn't even clear whether a defender touched him.
"I couldn't figure it out myself," Eagles defensive end
Trent Cole
said. "When he popped out, I didn't know who had the ball."
Teammates' explanations for what happened were nearly as entertaining as the run itself.
"I don't know what happened," fullback
Michael Robinson
said. "My nose started bleeding, man. I hit, my nose bled, I looked up, he scored and I'm getting ready for kickoff. That is how it happens."
This, from right guard
Paul McQuistan
: "I think they just pirated on us [slanting to the inside] and then we kind of caught it in the wash and he just squirted out, just made his way through there like he does, so it was great."
Whatever happened in there, Lynch showed the determination that is defining his career in Seattle. His puzzling refusal to discuss that play or anything else was the only disappointment afterward.
So, Marshawn, on the first touchdown run, can you describe what happened in there?
Lynch: "Offensive line played a helluva game,
Tarvaris [Jackson]
did a helluva job managing the game, we came out victorious, everybody is happy. Now we're on to our break. Thank you. I appreciate it. Excuse me."
With that, he was gone. No one got in his way, either.
What to make of Lynch and what he might become in Seattle?
No back is likely to approach the sheer production Alexander provided during the most successful seasons in franchise history: 1,500 yards and nearly 20 touchdowns per season for five years ending with Seattle's 2005 Super Bowl season. But it's safe to say which back opposing secondaries would prefer to see coming their way.
"They want nothing to do with Marshawn coming through there," left guard
Robert Gallery
said.
Lynch appears headed for a 1,200-yard season with double-digit touchdowns, numbers that could spike if Lynch sustains his latest production. The team lost left tackle
Russell Okung
to a potentially serious pectoral injury late in the game Thursday night. Running lanes might narrow without Okung, but as Lynch has demonstrated repeatedly, he requires only a little room to wedge his way through a defense.
When the Seahawks acquired Lynch from Buffalo last season, they also acquired the contract he signed as the 12th overall choice of the 2007 draft. That deal ran through 2012, but the final year voided. That means Lynch will hit the market this coming offseason unless the Seahawks use the franchise tag on him or the sides reach an agreement on a new deal.
It's not too early to consider the possibilities. As always, shelf life is the leading concern for running backs.
Alexander was 28 years old and had 2,005 career touches when the Seahawks signed him to a deal paying him $15 million in the first year. He turned 29 before the next season, started only 20 more games and never exceeded 896 yards rushing in a season.
Lynch will turn 26 before next season. He'll have about 1,300 touches at that point in his career. It's tough to know what Lynch's aggressive running style will mean for his longevity. The Seahawks need to keep him around as long as he's running the way he did Thursday night.
If the 15-yard run confounded, the 40-yarder Lynch broke for another touchdown had a revelatory feel. Eagles cornerback
Asante Samuel
appeared to have the angle on Lynch, but he couldn't catch him. Lynch, listed at 5-foot-11 and 215 pounds, ran at closer to 240 pounds late last season. He's a power back, but not a slow one. And his receiving skills, on display during a 20-yard touchdown reception against Washington last week, are probably underrated.
Robinson, the Seahawks' fullback, drew on his days with San Francisco, where he blocked for
Frank Gore
.
"They both are dynamic, they both can run, they can block, they can catch," Robinson said. "And people don't realize it, but Marshawn has hands, man. In college, he ran bubble screens and everything. The man can catch the ball. They are very similar. Marshawn runs a little bit harder -- you know, more physical, he's bigger. They are both great backs, and it's been an honor to play with both of them."
With Lynch pounding away on the ground, Jackson completed 13 of 16 passes for 190 yards. The Seahawks played Carroll's brand of football. They forced turnovers, they protected the football, they picked their spots in the passing game and they ran it.
Lynch, who entered the game leading the NFL in yards after contact since Week 9, surely widened the gap.
"Every carry he gets is like his last carry," Jackson said.
November, 14, 2011
11/14/11
9:34
AM ET
Before
John Skelton
led the
Arizona Cardinals
' winning touchdown drive Sunday, I was prepared to say his mistakes would make it easier for the team to welcome back
Kevin Kolb
to the starting lineup on the merits.
Skelton did make critical, nearly devastating mistakes against the
Philadelphia Eagles
in Week 10. He also tossed three touchdown passes and emerged with his fourth victory in six starts since last season, 21-17 at Lincoln Financial Field. He tossed the tying fourth-quarter touchdown pass in a second consecutive Cardinals victory. He did enough to raise questions about which quarterback is best positioned to help the team win right now, even if Kolb's contract requires the team to play him eventually.


Dan Bickley of the Arizona Republic
explored those questions while offering thoughts on the move to acquire Kolb. Bickley: "Surely, some fickle fans will bemoan the acquisition of Kolb, wondering why the team had to make a costly trade with Skelton already on the roster. That's just silly. Had the Cardinals not pursued Kolb,
Larry Fitzgerald
wouldn't have signed a contract extension, and likely would be wearing a Vikings uniform next season. Think of the $10 million bonus they paid Kolb as a license to keep one of the better wide receivers in football."
Noted:
Sounds like the Cardinals might need to give Kolb's injured toe another week to recover.
Kent Somers of the Arizona Republic
says Skelton showed mettle against the Eagles. Somers: "If Skelton was ever going to melt under pressure, it would have come Sunday. He was up and down like a student pilot practicing landings. Eagles cornerback
Asante Samuel
returned an interception 20 yards for a touchdown in the second quarter. Another Skelton pass sailed into Eagles' hands in the fourth quarter. The resulting field goal gave the Eagles a 17-14 lead."
Noted:
The focus outside Arizona will center on how bad the Eagles have become. That is a legitimate storyline. That isn't the Cardinals' problem. Kolb is their problem in the short term. They've won two in a row without him after going 1-6 with him in the lineup. The level of opposition has played a role, as has an improving defense. But this season almost cannot be a success for the Cardinals without Kolb showing he was worth Arizona's investment.
Also from Somers
: Fitzgerald amazes with another terrific catch.
More from Somers
: He predicts Skelton will start against the 49ers. Somers: "My best guess? This victory gives the Cardinals the luxury of not rushing Kolb back on a sore toe. He hasn't practiced in two weeks. And he wasn't playing well when he was practicing. Just a guess, but I bet Skelton starts in San Francisco with Kolb as the backup. Then Kolb makes his return at starter the following week, in St. Louis."
Darren Urban of azcardinals.com
passes along a telling stat: "The Cardinals had given up 41 plays of 20 or more yards in the first seven games. The last two? Five combined. The Eagles had two today, after notching 45 in their first seven games."
Noted:
Big plays on offense were once the Eagles' specialty. Not having
DeSean Jackson
was a factor for them Sunday, but overall, the Cardinals did a good job defensively.
Also from Urban
: Coach Ken Whisenhunt sees progress on defense. Whisenhunt: "They are making progress, no question. (The Eagles) are a scary bunch, and our guys did an unbelievable job on them. We had guys all over the place making plays. … They are starting to get it."
October, 27, 2011
10/27/11
12:15
PM ET
The
San Francisco 49ers
made very few waves during the free-agent signing period.
Cornerback
Nnamdi Asomugha
was the biggest name available, and the 49ers had a clear need at the position. I even made
an air-tight case
for San Francisco making a play for him.
The 49ers' general manager, Trent Baalke, later explained why the team has been so careful in free agency over the past few seasons. He said the 49ers wanted to reward their own players, as reflected in deals for
Patrick Willis
,
Vernon Davis
and
Joe Staley
. The organization was also reluctant, in general, to dramatically change the dynamics within the locker room by throwing out of whack the financial pecking order.
The 49ers' thinking came to mind when
Philadelphia Eagles
cornerback
Asante Samuel
recently
ripped management
for playing "fantasy football" with players. Samuel said he had no problem with the team signing Asomugha and acquiring
Dominique Rodgers-Cromartie
, even though both players played his position. He said he was most upset by the team's efforts to trade him. But the acquisitions were obviously related to the trade efforts.
Samuel might be the only player in the Eagles' locker room upset by the situation. Asomugha has been one of the best players at his position in the NFL. It's not like the Eagles overpaid for a marginal player. But the 49ers came out fine at cornerback by signing
Carlos Rogers
to a one-year deal, and they didn't risk dynamics in the locker room.
That air-tight case for signing Asomugha has leaked momentum amid the 49ers' 5-1 start, particularly given how well the team has played on defense.
July, 30, 2011
7/30/11
8:30
PM ET
Nate Clements
' departure to the
Cincinnati Bengals
erases another cornerback from the
San Francisco 49ers
' list of options.
Antonio Cromartie
remains available.
Asante Samuel
could be
available by trade
.
The 49ers had released Clements in a long-anticipated move to avoid absorbing a massive hit to their salary cap. Bringing back Clements at a reduced rate was an option until Saturday.
Our free-agent tracker
for Insider subscribers lists available corners. Most of the higher-profile ones are off the market.
I'll be at 49ers camp beginning Monday and am anxious to get a better feel for the situation while there.
In the meantime, I'm heading back to the Seahawks' second practice of the afternoon. In accordance with new rules limiting how frequently teams can practice in pads, Seattle is holding a walk-through session without any contact. Players are wearing no pads. They're not even wearing helmets. In fact, players are going through drills wearing ball caps. I've never seen anything like it during an NFL training camp.
April, 19, 2011
4/19/11
1:05
PM ET
Current NFC West cornerbacks
Dominique Rodgers-Cromartie
(2009),
Marcus Trufant
(2007) and
Nate Clements
(2004) have been to Pro Bowls over the years.
None appeared on the 10-man ballot I submitted for ESPN.com's positional power rankings. The chart shows my ballot. AFC South blogger Paul Kuharsky has
the overall results
.
Rodgers-Cromartie would have made my list a year ago. He tied for the NFL lead with 15 penalties in 2010, up from two the previous season. Consistency was a problem.
Trufant started last season strong, but his play mirrored his team's play. Injuries struck the defensive front seven, sidelining
Red Bryant
,
Colin Cole
and
Brandon Mebane
. The ankle injury Trufant suffered against San Diego early in the season played a role. He is 30 years old and coming off a season in which he suffered two concussions during a 56-day period.
The 31-year-old Clements, like Trufant, started all 16 games last season. The 49ers' pass defense struggled, however, and Clements will not return to the 49ers under terms of his current contract. The team is expected to draft a cornerback this year.
Sizing up my ballot:
I asked Matt Williamson of Scouts Inc. to look at my ballot. His take: "The top two are far and away the best. And overall this list looks quite good. I would move up Flowers four or five spots. I think I would put Tramon Williams over his teammate, Charles Woodson. Antoine Winfield might be a little low as well.
Joe Haden
and Devin McCourty were equally good as rookies. Actually, I might even like Haden better. I am also pretty high on
Vontae Davis
. Asante Samuel just doesn't tackle or play the run. I would move him down some."
Name to keep in mind:
Ron Bartell
. The
St. Louis Rams
' corner earned one vote from our eight panelists, with Kuharsky ranking him 10th. Bartell defends the ball well. He tackles well. He supports the run. He has tremendous size for the position at 6-foot-1 and 206 pounds. Bartell can take the next step by making impact plays. He has no interceptions over the last two seasons. Top corners Darrelle Revis and Nnamdi Asomugha also have few picks recently, but the playmaking ability they showed earlier in their careers made opponents wary. Bartell has not made that happen.
November, 17, 2009
11/17/09
3:28
PM ET
The Cardinals' starting safeties are in contention to represent the NFC in the Pro Bowl.
Adrian Wilson
ranks first in fan balloting among strong safeties.
Antrel Rolle
ranks second behind the Saints'
Darren Sharper
among free safeties.
Those are among the revelations upon looking at Pro Bowl balloting through Monday. Voting is ongoing
here
.
Among the other highlights, with emphasis on the NFC West:
The Rams' Jackson should rank higher among running backs. The Cardinals'
Kurt Warner
has a chance to move up if he stays hot.
January, 14, 2009
1/14/09
1:04
PM ET
Posted by ESPN.com's Mike Sando
Pointing to turnovers as a key variable can be a cop-out in place of real analysis. Not so with the Eagles and Cardinals heading into their matchup in the NFC Championship Game.
The Cardinals turned six Carolina turnovers into 23 points in the divisional round. They picked off Jake Delhomme five times. A week earlier, they picked off Matt Ryan twice and returned a fumble for a touchdown. Arizona has 37 points off turnovers in the postseason.
During the regular season, the Cardinals led the NFL in opponents' fumble recoveries with 17, a sign that they hit hard, strip the football well and pounce on it when the ball is free. Two plays against the Panthers demonstrate this point:
In Week 8, Karlos Dansby sacked Delhomme, stripped the ball and recovered it all in one continuous motion.
In the playoff game, Antonio Smith pulled off the same trick in more spectacular fashion. He beat his man with a spin move and swung his hand down on the ball in one motion. He fell on the ball right away.

Both turnovers came deep in Carolina territory. Both led to quick touchdowns for the Cardinals.
The Eagles are also opportunistic. Cornerback Asante Samuel has seven postseason interceptions, tied with Rodney Harrison for the most among active players. Philadelphia picked off Kurt Warner three times when the teams played in November.
September, 7, 2008
9/07/08
9:23
AM ET
Posted by ESPN.com's Mike Sando
Matt Maiocco of Instant 49ers wonders if Alex Smith will attempt another pass for the 49ers.
Also from Maiocco: Mike Martz's offensive plan against the Cardinals has the 49ers' offensive players giddy heading into the opener against the "unsuspecting" Arizona defense.
Lowell Cohn of the Santa Rosa Press-Democrat says he doesn't know whether the 49ers are good, bad or middling. He also doesn't know whether or not Mike Nolan can coach.
Bob Padecky, also of the Press-Democrat, shares stories about former 49ers offensive lineman Larry Allen. The imposing Allen intimidated opponents but froze up when asked to address 9-year-olds about the perils of substance abuse. A fun read.
Matt Barrows of the Sacramento Bee confirms Chris Mortensen's report about Smith, the 49ers' backup quarterback, having a fractured shoulder.
Also from Barrows: A Cardinals-49ers scouting report with keys to the game.
Tom FitzGerald of the San Francisco Chronicle says Smith told the Chronicle his shoulder felt "fine" Thursday. That changed Friday.
Paul Gutierrez of the Sacramento Bee takes a look at J.T. O'Sullivan and other quarterbacks from little-known college football programs. A dozen current NFL starters fit the description.
Daniel Brown of the San Jose Mercury News says the time has finally come for O'Sullivan to take the field as the 49ers' starter. But the QB considers this a step, not a culmination.
Kent Somers of the Arizona Republic takes a closer look at Cardinals quarterback Kurt Warner. Larry Fitzgerald: "There is no indecisiveness with him. You know exactly what he wants you to do, and you know if you get that look [from the defense], the ball is going is going to be where he told you it was going to be."
Mike Tulumello of the East Valley Tribune quotes Warner as saying the Cardinals' offense is "light years" ahead of where it was early in his Arizona tenure.
Danny O'Neil of the Seattle Times looks at matchups from the Seahawks-Bills game. He expects the Seahawks to remember Marcus Stroud from their 2005 opener at Jacksonville, although none of Seattle's interior offensive linemen started that game.
Also from O'Neil: The Seahawks were 1-4 in the Eastern time zone last season, one reason they failed to clinch home-field advantage in the playoffs.
Jerry Brewer of the Seattle Times describes receiver Nate Burleson as a Seahawks player willing to take risks thanks to a big-play mentality.
Frank Hughes of the Tacoma News Tribune says Burleson questioned himself during a rough start with the organization. The Seahawks are counting on Burleson to lead a young group of receivers into Buffalo.
Dave Boling of the Tacoma News Tribune outlines a few key areas for the Seahawks heading into the regular season. He breaks down the running game, Matt Hasselbeck, tight end John Carlson, the offensive line, the defensive tackles and special teams.
Jim Thomas of the St. Louis Post-Dispatch checks in with Rams running back Steven Jackson, who knows it's time to produce after signing a new contract.
Also from Thomas: Rams-related notes heading into the season, including how receiver Keenan Burton draws inspiration from his jersey number.
And this from Thomas: He gives the Rams' pass defense the edge against the Eagles' pass offense.
Bill Coats of the St. Louis Post-Dispatch says Rams running back Antonio Pittman has worked hard to improve. He wanted to earn coaches' and teammates' trust.
Also from the Post-Dispatch: Torry Holt feels great physically heading into his matchup with the Eagles and cornerback Asante Samuel.
July, 23, 2008
7/23/08
9:57
AM ET
Posted by ESPN.com's Mike Sando
Kent Somers of the Arizona Republic doesn't expect first-round choice Dominique Rodgers-Cromartie to sign in time for rookies to report today. Cardinals GM Rod Graves has apparently had a hard time connecting with Rodgers-Cromartie's agent, who has multiple first-round clients. But Graves thinks a deal can be completed quickly. While players are expected to check in for camp between 1 p.m. and 5 p.m. this afternoon, the Cardinals do not practice until Friday morning. That gives them time to work out an agreement.
Matt Maiocco of the Santa Rosa Press Democrat says the 49ers face more questions than ever heading into camp. He addresses 10 issues/subjects: the QB situation, Mike Nolan's job status, Mike Martz, Justin Smith, Vernon Davis, Patrick Willis, Frank Gore, leadership minus Bryant Young, o-line continuity and the NFC West. Maiocco advises fans to brace for speculation that retiring Seahawks coach Mike Holmgren will wind up with the 49ers. I know this about Holmgren: Independent of what happens in San Francisco, he still has the GM itch. He perked up when the Dolphins gave Bill Parcells millions to oversee the rebuilding process in Miami.
Jim Thomas of the St. Louis Post-Dispatch explains why the Rams are bucking the trend of holding training camp at team headquarters. Coach Scott Linehan wants to change things up after a 3-13 season. Linehan also wants to train in cooler weather, figuring the team can get more done near Milwaukee. He'll get no argument here. Last summer, the Rams' camp was the least comfortable camp I attended while checking in with the Bears, Colts and Titans. Linehan also advocates the team-building aspects of training off-site. The Rams need all the team-building they can get after a season in which frustrations boiled over.
Kevin Lynch of sfgate's Niners Insider wonders what Mike Nolan meant when he mentioned a camp battle between Arnaz Battle and Ashlie Lelie. The 49ers have entered each of the last five seasons with an average of six receivers on their roster, most in the NFC West during that time. They have 10 right now. Bryant Johnson, Battle, Lelie, Isaac Bruce, Jason Hill and rookie sixth-round pick Josh Morgan have name recognition. Robert Jordan, Dominique Zeigler, Cameron Colvin and Jerard Rabb do not. Jordan, the former Cal star, does have a profile in the Bay Area.
Scott Rabalais of the Baton Rouge Advocate checks in with former Cardinals and Rams defensive back Aeneas Williams, who explains how Gill Byrd demonstrated true mentorship early in his career. "A mentor is not your friend," Williams said. "A friend will love you the way you are. A mentor will love you too much to let you stay the way you are." At Byrd's urging, Williams changed his fundamental approach to the cornerback position. Rabalais notes that Williams becomes eligible for the Hall of Fame in 2009. The eight-time Pro Bowl choice and 1990s all-decade team member picked off 55 passes.
Reuben Frank of the Burlington County Times catches up with Eagles defensive coordinator Jim Johnson, who is already bracing for a Nov. 27 battle with Larry Fitzgerald, Anquan Boldin and the successor to Bryant Johnson. "More teams are using three wides on first down, and we're going to match up," Johnson said. "When we play the Arizona Cardinals, they have three great wide receivers, so we'd probably start out in nickel." Hence the need for three proven corners in Asante Samuel, Sheldon Brown and Lito Sheppard.
Cam Inman of the Contra Costa Times implores Nolan to name Alex Smith the 49ers' starting quarterback. Inman also urges Nolan and the 49ers to stop using former offensive coordinator Jim Hostler as a scapegoat for what went wrong last season. That sounds like a good idea. Coaches secure in their standing generally do not need to point fingers in public. Plus, it's bad form. Hostler was in a tough spot last season as a first-year coordinator for a team with serious issues, including injuries at quarterback. It's not his fault the 49ers hired him. Was he supposed to decline the opportunity on grounds he needed more seasoning?
Clare Farnsworth of the Seattle Post-Intelligencer says the Seahawks are hopeful that rookies Lawrence Jackson and John Carlson will sign in time for the first practices of camp Friday. The Seahawks have had their share of training-camp contract disputes over the years, and in this case the process hit a snag while an arbitrator settled differences between the NFL and its players. Reporting dates aren't nearly as important as practice dates. Getting Jackson and Carlson signed by Friday is the important thing.