NFC West:

Atiyyah Ellison
September, 2, 2014
Sep 2
8:00
AM ET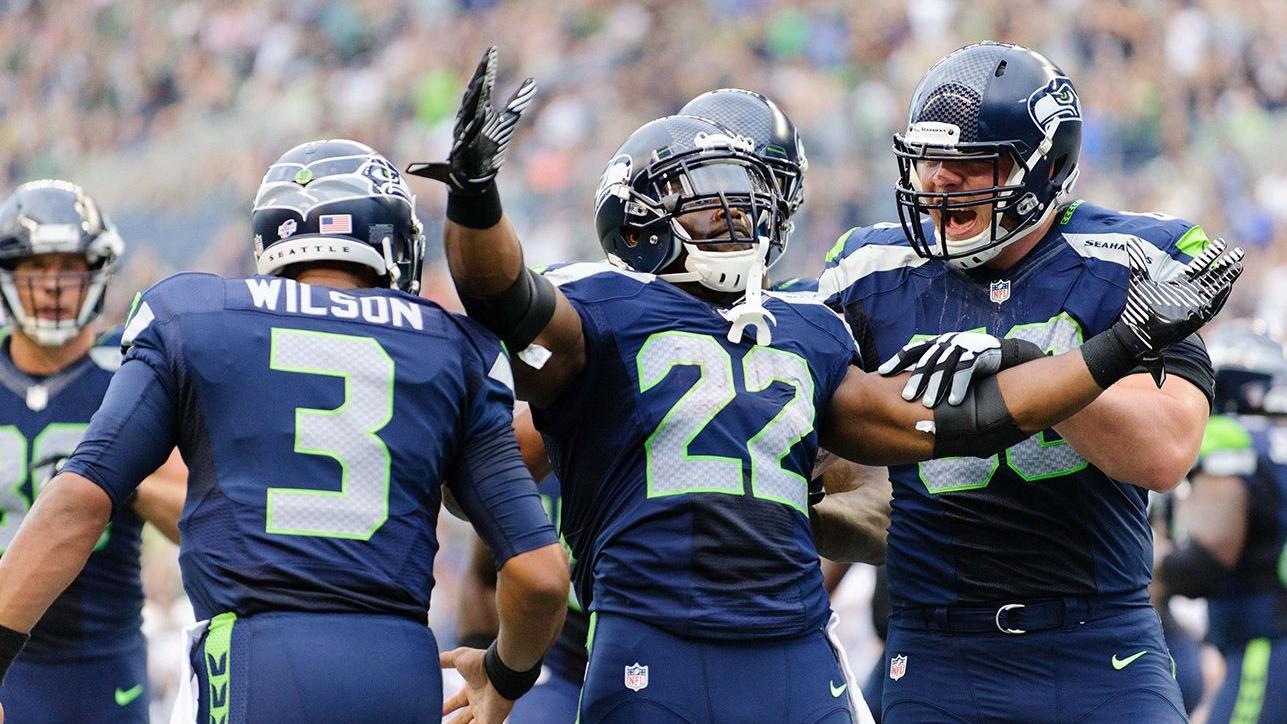 ESPN.com
Seattle Seahawks
reporter Terry Blount makes his game-by-game picks for the 2014 season.
Week 1: Green Bay Packers
All the pregame hype will center around the so-called Inaccurate Reception, the controversial Hail Mary catch by Golden Tate two years ago that won the game over the Packers at Seattle on a Monday night. Tate has moved on to Detroit, but the Seahawks now have too many weapons for the Packers to stop, no Hail Mary required. Prediction: Win
---
Week 2: at San Diego Chargers
The Chargers better hope they play a lot better than they did in the preseason game at Seattle, a 41-14 victory for the Seahawks on Aug. 15. San Diego will play better, but not good enough to beat a much better team. Prediction: Win
---
Week 3: Denver Broncos
The Broncos and their fans got a tiny bit of meaningless Super Bowl revenge in the preseason opener with a 21-16 victory over the Seahawks in Denver. Enjoy it while it lasts, boys. Repeating that outcome in Seattle is not an option. Prediction: Win
---
Week 5: at Washington Redskins
Traveling coast to coast to play on the road for a Monday night game is a tough task against any NFL opponent, and even tougher against quarterback Robert Griffin III. But the Seahawks catch a break in this one by coming off a bye week with plenty of time to prepare and be fresh for the journey. Prediction: Win
---
Week 6: Dallas Cowboys
Cowboys owner Jerry Jones gave Seattle a little bulletin-board material last month when he said the Seahawks were to blame for the increase in penalty flags during the preseason. There won't be near enough flags against Seattle for the Cowboys to win this one. Prediction: Win
---
Week 7: at St. Louis Rams
Any division game in the NFC West is a rugged battle. The Rams have a defensive line that gave the Seahawks problems a year ago. But they aren't strong enough overall to beat Seattle, even at home in their out-of-date dome. Prediction: Win
---
Week 8: at Carolina Panthers
The Seahawks were fortunate to win the season opener at Charlotte a year ago. That Panthers team was better than this one, but back-to-back road games against very physical defensive teams will end the Seattle winning streak. Prediction: Loss
---
Week 9: Oakland Raiders
Coming off their first loss of the season and returning home against an outmanned opponent, is there any doubt? Prediction: Win
---
Week 10: New York Giants
The Seahawks easily defeated the Giants 23-0 last year in New Jersey, a dress rehearsal for their Super Bowl victory at the same location -- MetLife Stadium. The Seahawks won't need a rehearsal to roll past the Giants in this one. Prediction: Win
---
Week 11: at Kansas City Chiefs
This likely will be a low-scoring game between two strong defensive teams. Odds are against any team that has to try to win by matching its defense against the Seahawks' D. Prediction: Win
---
Week 12: Arizona Cardinals
The last time the Cardinals played at CenturyLink Field was last December when they handed the Seahawks a 17-10 loss. That won't happen again unless the Seahawks get caught looking ahead to the 49ers game. The Seahawks don't look ahead. Prediction: Win
---
Week 13: at San Francisco 49ers
It's a Thanksgiving night, national TV game in the 49ers' shiny new stadium against the hated Seahawks. If San Francisco can't win this one, its time as a championship contender is over. Prediction: Loss
---
Week 14: at Philadelphia Eagles
This is the toughest part of the season for the Seahawks with back-to-back road games against likely playoff contenders. But the 10 days between games will help and be enough of a cushion to keep Seattle from losing two in a row. Prediction: Win
---
Week 15: San Francisco 49ers
This is a game that could decide which team wins the NFC West. No way the Seahawks lose to the 49ers twice in three weeks, especially not in front of a rabid full house of 12s. Prediction: Win
---
Week 16: at Arizona Cardinals
The Cardinals probably will be fighting for a playoff spot, and the Seahawks already will be in at 12-2. That difference will be just enough for Arizona to win at home in the same stadium where the Seahawks will win the Super Bowl a few weeks later. Prediction: Loss
---
Week 17: St. Louis Rams
For the second consecutive year, the Rams close the regular season in Seattle. And for the second consecutive year, the Seahawks will beat them without much trouble. Prediction: Win
---
Predicted Record: 13-3
August, 31, 2008
8/31/08
7:37
PM ET
49ers eligible for
practice squad
Pos.
Current Status
Kentwan Balmer
DL
53-man roster

Jason Hill
WR
53-man roster

Josh Morgan
WR
53-man roster

Chilo Rachal
OL
53-man roster

Reggie Smith
DB
53-man roster

Cody Wallace
OL
53-man roster

Thomas Clayton
RB
Practice squad

Dominique Zeigler

WR
Practice squad

Atiyyah Ellison
DL
Practice squad

J.J. Finley
TE
Practice squad

Louis Holmes
DL
Practice squad

Larry Grant
LB
Practice squad

Joe Toledo
OL
Practice squad

Jay Moore
LB
Injured Reserve

Brian de la Puente
OL
Claimed by Chiefs

Robert Ortiz
WR
Waived
D.J. Parker
DB
Waived
Chris Patrick
OL
Waived
Jerard Rabb
WR
Waived
Ricky Schmitt
P
Waived
Markus Curry
DB
Waived
Cameron Colvin

WR
Waived

Posted by ESPN.com's Mike Sando
The 49ers' practice squad began to take shape when the team signed six players released Saturday.
San Francisco carried only five defensive linemen and five receivers on its 53-man roster. Those are low figures.
The defensive-line number reflects Justin Smith's status as an outside linebacker. Still, the 49ers signed two defensive linemen to their practice squad. A third released defensive lineman, LaJuan Ramsey, does not have practice-squad eligibility.
The chart shows every 49ers player with practice-squad eligibility.
The 49ers will presumably add to their numbers at receiver. Cam Colvin appeared to be a candidate for the practice squad, but the 49ers did not sign him immediately.
The team described veteran receiver Ashley Lelie, released Saturday, as a potential injury risk. Carrying him on the opening-day roster would have forced the 49ers to guarantee his salary. It's unclear if San Francisco might re-sign him heading into Week 2. The 49ers might not want him now, but can they find anyone better?
Losing Brian de la Puente probably hurt a little, but the 49ers had to keep second-round choice Chilo Rachal and fourth-rounder Cody Wallace. De la Puente started an exhibition game at guard for the 49ers this summer, but he was undrafted, so he goes.
Update: The 49ers added Joe Toledo to their practice squad Monday, Sept. 1, Chrissy Mauck of 49ers.com notes.
August, 29, 2008
8/29/08
12:30
PM ET
49ers eligible for
practice squad
Pos.
Probable Status
Kentwan Balmer
DL
Keeper
Jason Hill
WR
Keeper
Josh Morgan
WR
Keeper
Chilo Rachal
OL
Keeper
Reggie Smith
DB
Keeper
Cody Wallace
OL
Keeper
Larry Grant
LB
Keeper
Thomas Clayton
RB
Likely cut
Cameron Colvin
WR
Likely cut
Markus Curry
DB
Likely cut
Brian de la Puente
OL
Likely cut
Atiyyah Ellison
DL
Likely cut
Joe Jon Finley
TE
Likely cut
Louis Holmes
DL
Likely cut
Jay Moore
LB
Likely cut
Robert Ortiz
WR
Likely cut
D.J. Parker
DB
Likely cut
Chris Patrick
OL
Likely cut
Jerard Rabb
WR
Likely cut
Ricky Schmitt
P
Likely cut
Joe Toledo
OL
Likely cut
Dominique Zeigler
WR
Likely c
ut
Posted by ESPN.com's Mike Sando
The chart shows each of the 49ers' players with practice-squad eligibility, according to the team.
Practice-squad rules can be confusing, and exceptions sometimes apply to relatively experienced players.
I've categorized each player based on his perceived likelihood of earning a spot on the 53-man roster. Those are rough characterizations. Teams still have not made decisions. It's conceivable that a player listed as a "keeper" could face his release.
As noted: Rosters spots are serious business for NFL players lacking job security. For some, the next 30 hours or so will determine whether they'll earn $17,352.94 per week or whatever the real world pays.
The minimum NFL salary is $295,000. Players get paid in 17 installments, one for every week they spend as a paid member of the organization.
NFL teams must trim rosters from 75 players to 53 players by Saturday afternoon. Teams can establish eight-man practice squads beginning Sunday. Practice-squad players earn a minimum of $5,200 per week during the regular season and playoffs.
Once a player signs with a practice squad, he can practice with the team. He becomes eligible to play in games only if a team signs him to its 53-man roster. Practice-squad players are free to sign with any team's active roster at any time during the season.