January, 29, 2013
1/29/13
1:07
PM ET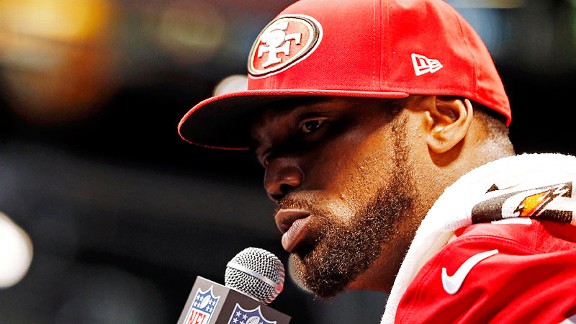 Derick E. Hingle/USA TODAY SportsThe 49ers' Randy Moss doesn't lack self-confidence during Tuesday's Super Bowl media day.
NEW ORLEANS -- One day after
San Francisco 49ers
coach Jim Harbaugh
took on President Barack Obama
, receiver
Randy Moss
challenged
Jerry Rice
's status as the NFL's greatest receiver.
Wait, weren't the AFC champion
Baltimore Ravens
supposed to be the big talkers during Super Bowl week? They're multiple-syllable underdogs at this point.
Moss stole the show at Super Bowl media day by declaring himself the greatest receiver of all time.
"I think I'm the greatest receiver to ever do it," Moss said. "Because I think back when Jerry was playing -- and no disrespect to Jerry Rice, because he's arguably the greatest -- but for me to be able to go out here and change and revolutionize the game from a single safety to a Cover 2 safety and dropping three guys deep and dropping four guys deep and still be able to make it happen? That is why I really hold my hat on that, that I really feel in my heart and in my mind that I am the greatest receiver to ever play this game."
If Rice had the greatest career of any receiver in NFL history, which seems indisputable based on longevity and raw numbers, Moss at his best was arguably the most feared.
Moss was faster. I think he was more athletic. If both receivers were to line up on opposite sides of the formation while in their prime, defenses would face a dilemma. I think they would fear Rice more on shorter and intermediate routes. I think they would fear Moss more on deeper routes.
Rice benefited from beginning his career under Bill Walsh and spending most of it with either
Joe Montana
or
Steve Young
throwing passes to him. That doesn't diminish his achievements, in my view.
Rice dominated. He reached 1,000 yards receiving 14 times. Moss did it 10 times. Rice scored at least nine touchdowns in a season 12 times. Moss did it nine times. Each had nine seasons with at least 10 touchdowns. Rice had four seasons with at least 1,500 yards. Moss had one. Rice had six seasons with at least 1,400 yards. Moss had four.
Moss also played with a couple of Hall of Fame-caliber quarterbacks in
Tom Brady
and
Brett Favre
, but the years he spent with them were exceptions, not the norm.
Brad Johnson
,
Randall Cunningham
,
Jeff George
,
Daunte Culpepper
,
Todd Bouman
, Spergon Wynn,
Gus Frerotte
,
Kerry Collins
, Andrew Walter,
Aaron Brooks
,
Matt Cassel
,
Vince Young
,
Alex Smith
and
Colin Kaepernick
have also thrown passes his way.
To this point, Rice's status as the greatest has been pretty much assumed. Those with a strong grasp of league history might acknowledge Don Hutson's achievements as unique. However, Rice is an overwhelming choice as the best receiver in NFL history.
An ESPN.com panel
featuring Raymond Berry, Boyd Dowler, Mike Holmgren, Ken Houston,
Warren Moon
,
Keyshawn Johnson
and Ted Thompson voted Rice first and Moss second in anonymous voting five years ago.
"Jerry Rice, he's so obvious, it scares me," Dowler said at the time.
January, 28, 2013
1/28/13
6:30
PM ET
NEW ORLEANS -- Looks like Jim Harbaugh needed less than 24 hours to get the hang of this Super Bowl media thing. The
San Francisco 49ers
' coach was a star Monday.
[+] Enlarge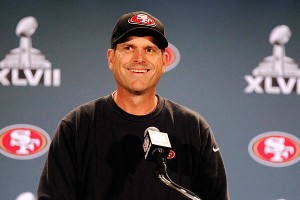 Tyler Kaufman/USA TODAY SportsSan Francisco 49ers coach Jim Harbaugh laughs at several of the questions asked of him during Monday's news conference in New Orleans.
Harbaugh, sometimes master of the awkward moment during his two-year run as 49ers coach, became master of Super Bowl ceremonies during an entertaining 20-minute session at the team hotel. He was at his best after Fox Sports' Nancy Gay asked Harbaugh a serious question about health dangers associated with football. She noted that President Obama recently questioned whether he would want a son to play the game.
"I have a four-month-old son, Jack Harbaugh, and if President Obama feels that way, then there will be a little less competition for Jack Harbaugh when he gets older," Harbaugh replied, stirring the room into laughter.
Great answer, and Harbaugh wasn't finished.
"It's still early," Harbaugh continued. "Jack is five months old but he's a really big kid. He's got an enormous head. We don't have a 40 time on him yet, but his wingspan is plus-one. As soon as he grows into that head, he's going to be something. It's early, but expectations are high for young Jack."
The answer revealed where Harbaugh stood on the matter. It also revealed a lighter side that Harbaugh used to his advantage throughout this session.
Harbaugh feigned injury to his pride when a reporter innocuously used the word "necklace" to describe the rope from which Harbaugh hangs a pen during games.
"Well, I take great offense that you call it a necklace," Harbaugh said. "It's a whistle. It's a coach's whistle that coaches have long worn. Every coach should have a whistle. It would be hard to go down to practice without a whistle."
Harbaugh beautifully captured his former college coach, Bo Schembechler, when asked about the University of Michigan legend's influence upon him as a coach.
Harbaugh had called Schembechler right after becoming a head coach for the first time, at the University of San Diego. From the top, Schembechler made Harbaugh take an oath to old-school football before the conversation continued.
"Jimmy, tell me you are going to have a tight end that puts his hand on the ground on every snap, tell me you will have a fullback who lines up directly behind the quarterback, and a halfback in the I-formation," Schembechler said, according to Harbaugh.
Of course it would be that way.
"Good," Schembechler said, according to Harbaugh. "Then congratulations on getting the job."
May, 16, 2009
5/16/09
10:42
AM ET
Posted by ESPN.com's Mike Sando

Bernie Miklasz of 101 ESPN radio checks in with Rams coach Steve Spagnuolo. The new coach has found a home in the Lafayette Square area and has checked out some of the local parks. He's been to a playoff hockey game. He's hung out with Tony LaRussa some. Spagnuolo on the youth movement in St. Louis: "When Billy [Devaney] and I originally spoke, it was one of the minor things we looked at. You certainly don't let good players go out of the building regardless of age. Billy and I both do feel it is important to have some young legs. You don't want to be too old, as they say. A mixture of both is the best way to do it. I know in New York we had some young legs, but we certainly had some key veterans and they weren't all starters. They were just guys that knew how to be pros."

The 49ers' Web site provides a transcript for a Nate Davis interview. Davis says he learned to throw the ball without aligning his fingers across the laces to facilitate quick passes in high school and middle school. Davis: "It helps me with the quick throws. You catch it [out of the shotgun] and throw it, take a snap and throw it. That's where it helps me."
Vinnie Iyer of Sporting News lists the 49ers' Josh Morgan ninth and the Rams' Donnie Avery 10th among second-year players "on the spot" this season. Iyer: "He looks like a sixth-round steal, and with [Michael] Crabtree having the chance to start right away on the opposite side, it would allow Morgan to use his speed and 6-0, 219-pound frame to burn No. 2 corners in single coverage." We'll have to see how the 49ers use these players. Both need to play, I think, but both are also split ends. Perhaps they will work together in three-receiver personnel groupings.

Clark Judge of CBSSports.com says the Seahawks' season hinges on Matt Hasselbeck's health. Protecting Hasselbeck must be the top priority on offense. Judge: "[Jim] Mora couldn't have made it clearer: If you're looking for reasons to believe Hasselbeck is winding down you won't find them on the practice field. Mora said the quarterback has gone through every drill, taken every snap he's supposed to take and made every throw he's expected to make -- all without a hitch. Of course, this is May, and Hasselbeck hasn't gone through six weeks of training camp and four months of games, which is why Mora will stay away from predictions. Nevertheless, the early prognosis for Hasselbeck -- and for the Seahawks -- is good."
Danny O'Neil of the Seattle Times thinks it's unfair to blame Shaun Alexander's rapid decline wholly on the fat contract Alexander signed after the 2005 season. I would agree, but I don't think the contract helped matters, either.
Brian McIntyre of Scout.com thinks the 49ers' recent signings of draft choices should help set the market for other picks, including Seahawks picks. Scott McKillop's signing bonus was for $192,500. Ricky Jean-Francois' bonus was for $43,000. Both figures come from Matt Maiocco.
Eric D. Williams of the Tacoma News Tribune thinks the Seahawks should not follow Mike Lombardi's advice. Lombardi suggested trading Deion Branch for Thomas Jones. Williams: "I don't believe Hawks general manager Tim Ruskell is willing to give up on Branch yet, particularly after the way Branch played at the end of last season. Further, I think Ruskell understands that things can go south quickly with a few injuries at receiver, and will keep Branch around because of his play-making ability and added depth because he doesn't want to go through what happened in 2008 again. I also believe Duckett has enough quickness to be effective in the offense." Do zone-blocking teams need to invest heavily in running backs?
John Morgan of Field Gulls gives the Seahawks a "C" grade at quarterback, the same grade Turf Show Times' VanRam gives for the Rams at the position. Cgolden gives the Cardinals an "A" grade while Fooch gives the 49ers a "B" grade. Would you rather have Shaun Hill and Alex Smith or Hasselbeck and Seneca Wallace?
BillT of Seahawk Addicts reacts to my item about how the Seahawks have 36 of their own draft choices and all came from BCS programs. No NFL team has more of its own BCS draft choices on its roster. For the record, other teams do have more of their own draft choices overall. The Colts have 44, most in the league.

Jim Cross of KTAR radio in Phoenix met President Obama during a recent stop in Arizona. The president informally invited Kurt Warner to shoot some hoops with him at the White House. Warner: "I'll definitely be there."
Darren Urban of azcardinals.com gives the edge to Warner and Larry Fitzgerald in a mythical 2-on-2 game against the president and his aide.
More from Urban: Increases in salary-cap space will not change teams' plans in most cases.
Kent Somers of the Arizona Republic says the Cardinals should have about $6.2 million in salary-cap space after the increases.
January, 24, 2009
1/24/09
9:32
AM ET
Posted by ESPN.com's Mike Sando

Richard Obert of the Arizona Republic says the Cardinals are hoping to prove the new president wrong. Barack Obama is taking the Steelers.
Bob McManaman of the Arizona Republic dusts off a reference to Dean Martin and Jerry Lewis in describing the comedic charms of Cardinals offensive linemen Lyle Sendlein and Deuce Lutui.
Max Jarman of the Arizona Republic looks at Cardinals memorabilia sales.
David Mackall of the Arizona Republic checks in with Cardinals guard Reggie Wells, whose parents have gone to great lengths in watching their son play.
Richard Obert of the Arizona Republic looks at the Cardinals' penchant for trick plays. Coordinator Todd Haley concedes that the "Philly Special" might not work a second time.
Also from the Republic: a notebook leading with an item on Dominique Rodgers-Cromartie.
Kent Somers of the Arizona Republic provides an injury update from Cardinals practice Friday. Travis LaBoy is practicing on a limited basis. J.J. Arrington remains on the sideline.
Darren Urban of azcardinals.com says Cardinals running back Tim Hightower has benefited from an unlikely background in ballet.
Also from Urban: Cardinals defensive end Bertrand Berry finally enjoys success with Arizona.
More from Urban: Adrian Wilson's jack-in-the-box celebration is one of several the Cardinals have planned, just in case.
Scott Bordow of the East Valley Tribune traces the Cardinals' improvement to Michael Bidwill's arrival as team president in 2002.
Mike Tulumello of the East Valley Tribune looks at Rod Graves' role in building the Cardinals.

Niners general manager Scot McCloughan says the team hopes Alex Smith can compete with Shaun Hill to become the 49ers' starting quarterback. McCloughan: "I still believe Alex Smith is going to be a good quarterback in the NFL and if we can have him back competing with Shaun, we'd love to do it."
John Crumpacker of the San Francisco Chronicle isn't sure what to make of the 49ers' interest in Dan Reeves and Hue Jackson as potential offensive coordinators. Crumpacker: "With his sixth and seventh candidates interviewed, Singletary is either exercising due diligence in his search for a coordinator or is struggling to find someone compatible with his vision for the 49ers' offense."
Kevin Lynch of Niner Insider says hiring Jackson, now with the Ravens and formerly with the Falcons and Bencals, would "open the door to troubled but talented players such as Ocho Cinco, [Michael] Vick and to lesser extent [T.J.] Houshmandzadeh."
Matt Maiocco of the Santa Rosa Press-Democrat traces Reeves' candidacy to former 49ers coach Mike Nolan. Maiocco: "When Mike Nolan was named 49ers head coach in 2005, there were rumblings he might bring along his mentor, Dan Reeves, to assist him. Nolan is gone, but Reeves accepted a surprise invitation Friday to visit the 49ers team headquarters and discuss the offensive-coordinator position with new coach Mike Singletary."
Matt Barrows of the Sacramento Bee says Singletary couldn't find a more old-school coordinator than Reeves.

Clare Farnsworth of the Seattle Post-Intelligencer questions whether the Seahawks will keep two kickers for the long term. General manager Tim Ruskell says Olindo Mare will be back. The plan -- "right now," Ruskell said -- is for Brandon Coutu to return as well.
John Morgan of Field Gulls explains why he likes the Seahawks' hiring of Tim Lewis to coach the secondary. The fact that Lewis brought Charles Godfrey to Carolina helps.

Jim Thomas of the St. Louis Post-Dispatch says special-teams coach Al Roberts is one of the assistant coaches not coming back to the Rams. Strength coach Dana LeDuc and quarterbacks coach Terry Shea also will not return. Thomas: "Some holdover assistants who are still being considered for jobs are scheduled to meet with new offensive coordinator Pat Shurmur and new defensive coordinator Ken Flajole over the next few days."
Also from Thomas: a chat transcript that says the Rams do not have anyone negotiating contracts at the moment.