July, 21, 2011
7/21/11
11:48
AM ET
NFL rosters have traditionally allowed for 1,696 players during the regular season and 2,560 the rest of the time. That figure would spike to 2,880 if the new labor agreement sets 90-man roster limits, as reports have suggested could be the case.
Hundreds more players have filled practice squads and stood by as free agents, ready to sign when an opportunity presents itself.
Not all those thousands of players think alike. Not all agree with
Bart Scott
's contention that eliminating twice-daily padded practices from training camps will make football "
more soft
" in the name of extending careers (Tim Cowlishaw and Mike Wilbon take up the matter in the accompanying video). I happened to discuss the matter with
Seattle Seahawks
running back
Justin Forsett
on Tuesday. He supported the players' push to secure concessions from owners on this issue.
"I think they've done a great job trying to protect the players and increase longevity," Forsett said. "Most of the guys have been playing football for a while. Banging takes its toll. When the lights are on, guys will step up and perform. If anything, guys will be more fresh."
Softer or fresher? A little of both? Neither? It's tough to say.
NFL teams were already cutting back on full-contact camp practices.
The
Arizona Cardinals
listed seven days of two-a-day practices on their 2010 camp schedule, but they weren't hitting in both practices. The
St. Louis Rams
listed eight days of two-a-days last year. Again, there wasn't always hitting in those sessions. The
San Francisco 49ers
listed 14 days of two-a-days over a slightly longer period, with some of those sessions marked for lighter special-teams work featuring only some players.
Two years ago, the Rams and 49ers held particularly intense hitting sessions under defensive-minded head coaches seeking to establish tougher identities through hitting. Both teams' coaches backed off some last summer. The Rams'
Steven Jackson
lauded the changes. There was nothing "more soft" about him.
"They are not taking out every padded practice," said Forsett, speaking before Scott's comments came to light. "We're not going to be there in shorts and a hat every day. When we're out there and it's time to bang, we are going to do it right."
Seahawks coach Pete Carroll gave players a full day off between padded practices last summer.
"I've been blessed with coaches who understand that you have to take care of the players' bodies, especially Coach Carroll," Forsett said. "We have a great coach who understands player safety."
March, 3, 2011
3/03/11
12:00
PM ET
The
San Francisco 49ers
had grand plans for
Michael Crabtree
when the gifted Texas Tech receiver fell to them in the 2009 NFL draft.
Those plans took a detour when a contract dispute kept Crabtree away from the 49ers well into his rookie season. Now, another kind of dispute -- the one between the NFL and its players -- could block Crabtree and every other player from getting the offseason work they need to approach their potential.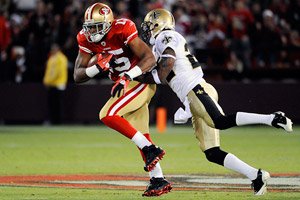 Thearon W. Henderson/Getty ImagesMichael Crabtree and the 49ers are one example of a team that would be hurt by a lockout.
The 49ers, sensitive to rules discouraging organized interaction between players and coaches during the labor dispute, have already shut down the informal coaching that often takes place this time of year. No meetings, no passing out playbooks, no hands-on instruction and possibly no shot at installing the new schemes that come with having a new staff. It figures to only get worse. An expiring labor agreement and potential lockout could wipe out offseason conditioning programs, minicamps and training camps, leaving teams scrambling if a deal does come together in time for the regular season.
NFL offseasons traditionally produce winners and losers, but this one threatens to produce only losers of varying degrees. Crabtree and the 49ers, both coming off a disappointing 2010 season, rank among the more vulnerable parties:
Cleveland, Denver, Carolina and San Francisco hired new head coaches from outside their organizations. These teams are starting over.

Tennessee, Oakland, Dallas and Minnesota promoted head coaches from within. These teams are transitioning.

Six of the eight teams with new head coaches have unsettled quarterback situations. Make it seven if you're not convinced Jason Campbell will start in Oakland.

Six of the eight teams with new head coaches are breaking in new coordinators on both sides of the ball. Dallas and Cleveland have no offensive coordinators.

Nine of the 24 teams with returning head coaches are breaking in at least one new coordinator on offense or defense.

Add it up and you have 17 teams, more than half the league, breaking in a new head coach and/or at least one coordinator. Two of the other teams, Miami and Washington, are figuring out their quarterback situations.
There's still time for the NFL and its players to strike a deal that would allow teams to prepare sufficiently for the 2011 season. But with the labor agreement set to expire Thursday night, let's take a closer look at four additional situations of note. (
Update:
The NFL and the players' union
agreed to a 24-hour extension
to the CBA on Thursday afternoon.)
October, 9, 2009
10/09/09
12:54
PM ET

Posted by ESPN.com's Mike Sando
The item on
Rush Limbaugh's potential Rams ownership stake
generated relatively little heat on the blog.
NFL players
Mathias Kiwanuka
and
Bart Scott
left little doubt
where they stand
during interviews with the New York Daily News.
Kiwaunuka: "He can do whatever he wants, it is a free country. But if it goes through, I can tell you where I am not going to play. ... I am not going to draw a conclusion from a person off of one comment, but when it is time after time after time and there's a consistent pattern of disrespect and just a complete misunderstanding of an entire culture that I am a part of, I can't respect him as a man."
Scott: "What he said (about Donovan McNabb) was inappropriate and insensitive, totally off-base. He could offer me whatever he wanted, I wouldn't play for him. ... I wouldn't play for Rush Limbaugh. My principles are greater and I can't be bought."
This is all a little speculative because the Rams haven't been sold and we're not sure if the group featuring Limbaugh as a potential minority owner will emerge as the leading candidate. But if it does happen, the majority owner would be wise to tackle such perceptions directly.
The Rams will have a hard enough time attracting free agents without veteran players swearing off St. Louis based on resistance to one of the owners.
February, 27, 2009
2/27/09
11:47
AM ET
February, 24, 2009
2/24/09
5:34
PM ET
Posted by ESPN.com's Mike Sando
Thanks to those who dropped by the NFC West chat this afternoon. You can jump directly to my portion of the transcript here.
As I looked at the list of free agents, sorted by grade, I noticed how many of those free agents already knew their fates for 2009. There simply aren't many premium free agents to discuss heading into the signing period.
Thirteen of the projected top 20 free agents will not become unrestricted free agents Friday. The seven still scheduled to hit the market: Albert Haynesworth, T.J. Houshmandzadeh, Ray Lewis, Kurt Warner, Bart Scott, Jason Brown and Chris Canty.
The Seahawks, Rams and Cardinals would be better with Brown at center. Houshmandzadeh would make sense for NFC West teams other than the Cardinals, but the Rams need fewer players in their 30s, not more of them. And I question whether Houshmandzadeh would want to join a rebuilding organization after years with the Bengals.
August, 25, 2008
8/25/08
11:44
AM ET
Posted by ESPN.com's Mike Sando
The Rams' offense made progress in the team's third exhibition game, a 24-10 victory over the Ravens on Saturday night.
Yes, the Ravens rested some starters, but Ray Lewis, Terrell Suggs and Bart Scott were among the Baltimore defenders playing. The Rams were without Steven Jackson, but they still opened the game with a 10-play drive to a field goal.
A note on each of the nine plays before Josh Brown's 37-yard field goal gave the Rams a 3-0 lead:
First play. The Rams are serious about using their tight ends in the running game. Randy McMichael sealed off Ravens linebacker Jarret Johnson to spring Antonio Pittman for a 16-yard gain.
Second play. Right guard Richie Incognito pulled to the right side and smacked Scott during Pittman's 5-yard run. A nice play by Incognito.

Third play. McMichael and fellow tight end Joe Klopfenstein sealed the right side for another Pittman run, this one good for 8 yards. Again, the tight ends are active in the run game for St. Louis. Getting Anthony Becht healthy will make this group better.

Fourth play. Receiver Drew Bennett isn't running away from defenders. Bennett thought cornerback Frank Walker interfered with him on a 30-yard timing lob up the right side of the field. Whether or not Walker interfered, he was all over Bennett. The pass fell incomplete.

Fifth play. Remember the block Incognito put on Scott during the second play of this drive? I wonder if Incognito remembers it after Ravens linebacker Ray Lewis de-cleated him on this second-and-10 running play. Incognito pulled to his right again, but Lewis hammered him under the chinstrap on his way to Pittman. The play gained 1 yard.

Sixth play. Bulger can count on finding Torry Holt for short gains on inside moves. An offside penalty had turned third-and-9 into third-and-4 for the Rams. Bulger's quick pass beat the pass rush as Holt, lined up wide left, led his defender inside. The ball was on Holt's back shoulder, but the TV commentators were right in saying Bulger can dial-up this play almost at will.
Seventh play. Bulger and Bennett still aren't on the same page. They weren't close to connecting on this quick first-and-10 pass attempt toward the right sideline. McMichael, lined up on the right side in pass protection, held up against Suggs' initial punch. The ball was gone before Suggs had time for a follow-up move.
Eighth play. Suggs beat McMichael and left tackle Adam Goldberg to disrupt Pittman's rushing attempt.
Ninth play. Bulger lined up in the shotgun on third-and-10, a pass protector on each side. McMichael tried to push a blitzing Lewis upfield, but Lewis was relentless. The linebacker flushed Bulger from the pocket, turned upfield and sacked him.
This was an effective first drive for the Rams with a couple of exceptions. An inability to make plays with Bennett as the intended receiver short-circuited this drive. The same issues marked the Rams' previous exhibition game against San Diego.
Rookie receivers Donnie Avery and Keenan Burton combined for eight receptions, 128 yards and a touchdown later in the game. Are they ready to contribute as rookies?