September, 5, 2012
9/05/12
9:15
AM ET
Steve Young
's winning touchdown pass to
Terrell Owens
in the 1998 postseason stands above all
San Francisco 49ers
memories against the
Green Bay Packers
.
It can't fully overshadow the Packers' regular-season dominance in the series, however.
Any 49ers fan should find the chart appalling.
The Packers have won the last nine regular-season meetings between the teams, scoring at least 30 points in five of them.
Losing at Green Bay in Week 1 this season would saddle the 49ers with 10 consecutive defeats in a regular-season series for the third time in franchise history, according to ESPN Stats & Information. The team lost 13 in a row to the Baltimore Colts from 1962-68. It lost 10 straight to the Los Angeles Rams from 1970-75.
The last time San Francisco claimed a regular-season victory over Green Bay was Nov. 4, 1990.
Joe Montana
was the 49ers' quarterback,
Brett Favre
was in college,
Aaron Rodgers
was 6 years old and Bart Starr was the Packers' all-time passing yardage leader. Also that day, a 26-year-old
Jim Harbaugh
was completing 14 of 23 passes for 213 yards, one touchdown and a 105.9 NFL passer rating for Chicago during a 26-6 victory at Tampa Bay.
Enough is enough.
February, 8, 2010
2/08/10
11:15
AM ET
The Colts' loss to the Saints prevented
Peyton Manning
from joining seven other quarterbacks with undefeated Super Bowl records in multiple starts.
The chart shows those seven quarterbacks, including 49ers great Joe Montana (4-0).
The Steelers'
Ben Roethlisberger
, 2-0 as a Super Bowl starter, has the best chance of joining Troy Aikman in the 3-0 club, which once featured
Tom Brady
.
Terry Bradshaw (4-0), Montana and Aikman held a significant advantage over more recent Super Bowl quarterbacks. Each played before salary-cap implications prevented their teams from stockpiling talent. The cap was in place while Aikman was playing, but the Cowboys weren't affected as much until later in the decade.
February, 8, 2010
2/08/10
8:40
AM ET

Bernie Miklasz of the St. Louis Post-Dispatch
says the Rams "clearly have interest" in Eagles quarterback Michael Vick. Coach Steve Spagnuolo was more outspoken than usual in offering praise for Vick. Miklasz: "I've heard that Rams' assistant coaches have been calling their counterpart in Philly to get info on Vick. The Rams need a quarterback. The mobile Vick could give them a perimeter game and a deep-pass threat. Vick has said he wants to start but is willing to accept a backup role with the Eagles again in 2010." Picking up Vick was an excellent move by the Eagles. They'll get value for him if they can work out a trade. In the meantime, he helped them win games in 2009. The Rams do need to find a cheaper alternative to Marc Bulger, whose salary jumps to $8.5 million in 2010. An uncapped year would make it easier for the Rams to release Bulger, whose deal would otherwise count $6 million against the salary cap in 2010 if the team cut him.

Matt Maiocco of the Santa Rosa Press-Democrat
says 49ers greats Jerry Rice and Steve Young would love to help out the team's current players. Young plans to call quarterback Alex Smith. Rice said he would help if 49ers coach Mike Singletary called him. One complication: The 49ers' current offense is vastly different from the one Rice and Young ran years ago.
Also from Maiocco
: a transcript of a conference call featuring former 49ers owner Eddie DeBartolo Jr., who plans to assist his nephew, 49ers president Jed York, on efforts to build a stadium in Santa Clara. DeBartolo: "All I'd like to see is a stadium built. And wherever it can be built at the right place for the right amount of money. The fans of the 49ers deserve it. I don't want to go back and revisit the Candlestick fiasco. But somewhere, some place, the Bay Area fans deserve a first-rate stadium. Wherever it can be done and where it can be done best, I'm for it."

The Associated Press
says recently retired Cardinals quarterback Kurt Warner has won the Bart Starr Award. AP: "Warner and his wife, Brenda, established the First Things First Foundation in 2001, working with sick children and single parents, plus sending care packages to military personnel serving overseas. The couple is also involved in other charities, including the Make-A-Wish Foundation and the Special Olympics."
Darren Urban of azcardinals.com
says Russ Grimm will have his former offensive line coach, Joe Bugel, present him for enshrinement in the Pro Football Hall of Fame. Bugel also coached for the Cardinals, from 1990-1993. Bugel: "Russ was one of the most complete football players, and people, I ever coached. He was the leader by example. He wasn't a loudmouth. He just came to work every day. (The Hall of Fame) is a well-deserved honor."

Greg Johns of seattlepi.com
says the Seahawks know nothing about any potential retirement plans involving Walter Jones. Johns: "There is little doubt that Jones is either at or very near the end of his outstanding career and a decision is looming. If this is it for Big Walt, the man will be in the Hall of Fame in five years, as soon as he is eligible."
Danny O'Neil of the Seattle Times
says Jones' agent, Roosevelt Barnes, could not confirm whether Jones was serious about retiring. O'Neil: "Jones sought to return last season in training camp, but his knee was still hurting. He underwent arthroscopic knee surgery during training camp, sought to return again in September. The knee remained too sore, though, and his recovery was compromised by the fact he can not many anti-inflammatory medications because of a kidney condition diagnosed when he was a rookie with the team."
January, 15, 2010
1/15/10
11:56
AM ET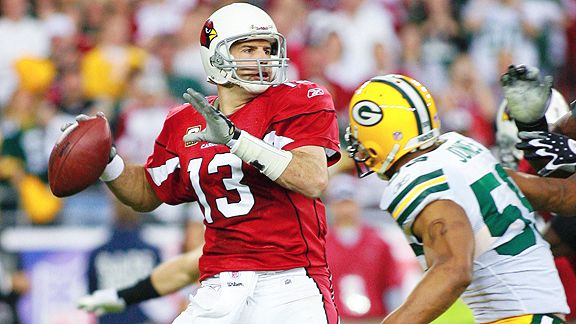 Chris Morrison-US PRESSWIRE
Arizona quarterback Kurt Warner is making a strong case to get into Canton.
Arizona Cardinals
coach Ken Whisenhunt announced a fateful decision Aug. 30, 2008.
Kurt Warner
had beaten out
Matt Leinart
as the starting quarterback. It was big news at the time.
"If you look at just our (2007) season where we ended up playing three (quarterbacks), I think it is a pretty high percentage that Matt is going to play this year at some point for us," Whisenhunt said heading into that 2008 season.
At that stage of his career, Warner was still convincing coaches he could limit turnovers well enough to make all those touchdown passes matter more. Though he had led the NFL in touchdowns over the second half of the 2007 season, he was still breaking free from a five-year period featuring 27 touchdowns, 30 interceptions and questions about his viability.
Seventeen months since Whisenhunt chose his starting quarterback, Warner has helped his coach
rank among the greats
in postseason winning percentage. Counting playoffs, Warner has thrown 72 touchdown passes with 31 interceptions and a 23-13 starting record over the past two seasons.
Instead of debating whether Warner should start over Leinart, the more relevant question has become whether Warner deserves Hall of Fame induction once his career is finished. The case is getting stronger by the week.
An updated look at his Canton credentials:
1. Longevity.
The great quarterbacks had staying power. Warner has played in 124 regular-season games, about 60 fewer than the average for the 14 quarterbacks enshrined over the last 25 years. This is one of the few categories where Warner doesn't measure up.
On the other hand, Roger Staubach played only seven more games. Like Warner, he was an elite big-game quarterback. No one questions Staubach's Hall of Fame credentials. And Warner, playing in a pass-happy era he helped christen, certainly has better stats.
2. Production.
Here is where Warner's relatively short game log works to his advantage. He has put up Hall of Fame-caliber numbers in less time than players already enshrined. His offenses in St. Louis scored 526, 540 and 503 points in consecutive seasons, setting a standard that holds up well across any era.
Of those 14 quarterbacks enshrined since 1985, none could match Warner in completion percentage, yards per attempt or yards per game. Steve Young is the only one with a higher passer rating than Warner. Dan Marino is the only one with more 300-yard games (Warner has 52, twice as many as Jim Kelly, who played in 36 additional games).
3. Postseason success.
Only Bart Starr (104.8) has a higher postseason passer rating than Warner (104.6) among NFL quarterbacks all time. Warner closed the gap to within a couple tenths of a rating point with his five-touchdown, zero-interception performance against the Packers in the wild-card round.
Warner has averaged 312.3 yards per postseason game, most in league history. And unlike the other four players in the top five on that list, Warner has won a Super Bowl. He has played in three of them, posting the three highest yardage totals in the game's history.
Joe Montana,
Tom Brady
, Terry Bradshaw, John Elway,
Brett Favre
, Troy Aikman and Staubach are the only quarterbacks with more postseason victories than Warner.
Warner, with a 9-3 record in postseason, needs two more victories to match Aikman and Staubach on the all-time list. Beating the Saints in the divisional round Saturday would move Warner out of a tie with Starr (9-1),
Donovan McNabb
(9-7) and Kelly (9-8) for sole possession of eighth place on the list.
Warner has passed for at least 365 yards in half his 12 playoff starts. No other quarterback has hit that mark more than three times in postseason (
Peyton Manning
). Warner owns three of the 23 postseason performances in which a quarterback threw at least four touchdown passes (Montana, Manning and Daryle Lamonica each did it twice).
4. Unique legacy.
Warner's rise from supermarket shelf stocker to Super Bowl hero gives his legacy another dimension. Leading two previously dormant franchises to the Super Bowl also separates Warner from the typical Hall of Fame candidate.
Not many Hall of Famers would lose jobs to
Marc Bulger
and a young
Eli Manning
before working feverishly to beat out Leinart. A thumb injury doomed Warner in St. Louis. The Giants and Cardinals weren't going to leave a first-round choices on the bench (Warner's passer rating with New York, by the way, was higher than any Manning posted until this season).
It's been a strange career for Warner, no question.
"Regardless of how it happened, I just think Kurt has done things that I don't know anyone else has done," Young told Bernie Miklasz during a
recent radio interview
.
It's tough to write the history of the game without sharing Warner's remarkable story.
January, 10, 2010
1/10/10
11:00
PM ET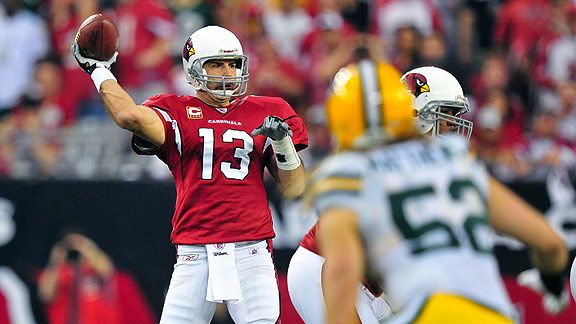 Chris Morrison/US PresswireKurt Warner completed 29 of 33 passes for 379 yards and five touchdowns against the Packers.
GLENDALE, Ariz. -- The
Green Bay Packers
didn't know whether to blitz
Kurt Warner
or sit back and cover his receivers.
Not that it mattered.
That's what made the latest round of Warner retirement talk seem so utterly ridiculous Sunday.
Warner, retire?
The NFL should retire Warner's lucky No. 13 jersey after the 38-year-old legend completed 29 of 33 passes for 379 yards and five touchdowns during the
Arizona Cardinals
'
51-45
victory in one of the league's greatest games.
"Kurt Warner was lights out," Packers coach Mike McCarthy said.
Warner took a victory lap around University of Phoenix Stadium after
Karlos Dansby
's overtime touchdown ended the game. Warner waved goodbye to fans, then noted that it was his final home game of the season -- not necessarily of his career. The Cardinals can't play another home game this season even if they beat New Orleans in the NFC divisional round.
"Everybody, relax," Warner said.
Relax for another week, anyway. A trip to New Orleans awaits, and if the Cardinals lose, that could be the end for the only quarterback besides
Peyton Manning
and
Joe Montana
with six 300-yard passing games in the playoffs.
"I never want to make an emotional decision," Warner said. "I think it's easy to do, whether it's after a game like this to say, 'Ah, gosh, I'm going to play forever,' or after a bad game just say, 'Ah, I'm done.' "
Forever looked like the favorite Sunday.
Warner, facing a Green Bay defense that ranked among the NFL's top five in multiple categories, finished with more touchdown strikes than incomplete passes. He made
Early Doucet
look like
Anquan Boldin
. Playing often with rookies in the backfield and the untested Doucet subbing for the injured Boldin, Warner proved he could win a playoff shootout without having multiple future Hall of Famers for a supporting cast.
The Cardinals led 14-0 before Fitzgerald caught a pass.
Steve Breaston
finished with seven receptions for 125 yards and a TD. Doucet caught six passes for 77 yards and two scores. Fitzgerald overcame the slow start to catch six for 82 and two TDs.
"What more is there to say about Kurt?" Cardinals coach Ken Whisenhunt said.
Let Fitzgerald answer that one.
"When Kurt is playing at that kind of level, seeing the field and being able to diagnose what the defense is doing to him, getting the ball out of his hands so quick, he's hard to deal with," the receiver said. "He's a special player, Hall of Fame-caliber."
The case against Warner for Canton always hinged on the fact that
Marshall Faulk
,
Torry Holt
and
Isaac Bruce
were on his side, or that Fitzgerald and Boldin were on the other end of his passes. Warner was the best player on the field Sunday, making zero mistakes. He finished with a 154.1 rating (158.3 is perfect).
Warner couldn't miss even when he tried. The pass Fitzgerald caught for an 11-yard touchdown came after Warner tried to throw away the ball while Packers defensive lineman
Cullen Jenkins
bore down on him. Jenkins roughed up Warner on the play, affecting the throw just enough to give Fitzgerald a chance.
Green Bay entered the game having limited opposing quarterbacks in the middle of the field, holding them to a 69.7 rating between the yard-line numbers, third-best in the league, according to ESPN Stats & Information. Warner completed 21 of 22 passes in this area -- that's 95.5 percent -- for 289 yards and five TDs.
Warner made the Packers pay on the outside as well. The fourth-quarter pass he arced over cornerback
Tramon Williams
for a 26-yard gain to Steve Breaston along the right sideline appeared indefensible. Warner's 17-yard touchdown strike to Breaston two plays later broke a 38-38 tie.
"He is one of the best playoff quarterbacks of all time," Whisenhunt said. "We thought going into today that would be an advantage for us."
The Packers'
Aaron Rodgers
was nearly as good, and better for stretches after overcoming a shaky start. But Warner was the only quarterback without a turnover.
Only Joe Montana,
Brett Favre
and Dan Marino have more postseason TD passes than Warner. No quarterback has averaged more yards per postseason game. Warner upped his career postseason passer rating to 104.6, second only to Bart Starr's 104.8. Montana ranks third at 95.6.
Warner, retire?
"We're not going there," Fitzgerald said. "Kurt's coming back. He's going to probably come back for another four or five years. That's the rumor around here. We're going to ride with that."
Expect Warner to come back unless the Cardinals win the Super Bowl. He's competitive and knows he could regret walking away too soon. He took some time to consider retirement last offseason, only to sign a two-year extension. At the time, he viewed the signing as a two-year commitment.
"I don't think you ever want to stay too long, but you never want to go out before it's time," Warner said. "The hard part is trying to figure that out, but right now it's about another playoff game. It's about New Orleans and then we'll go from there."
Warner's teams are 9-3 in playoff games.
Anyone care to bet against him next Saturday?