November, 20, 2009
11/20/09
4:09
PM ET
OK, I've heard back on a few inquiries regarding potential fines stemming from Week 10 games involving NFC West teams.
Looks like we had some pretty good damage.
Seahawks at Cardinals
Bears at 49ers
By the way, the Bears'
Mark Anderson
did not incur a fine for striking the 49ers'
Chilo Rachal
after
Frank Gore
's fumble. That one
generated some interest
on the blog previously.
November, 13, 2009
11/13/09
1:56
PM ET
Referee Ron Winter and crew called 24 penalties, assessing 19, during the 49ers' 10-6 victory over the Bears on Thursday night.
Did they miss a flagrant one?
"I haven't seen any other columnists mention it, and it's extremely blatant," shane_esu writes in the comments section of
this item
.
Indeed, at the 2:48 mark of
this NFL.com video
, the Bears'
Mark Anderson
appears to punch the 49ers'
Chilo Rachal
in the head area. Rachal was trying to pull Anderson from a pileup following
Frank Gore
's fumble. Anderson took offense. He stood up, wheeled around and threw the punch. Niners tackle
Adam Snyder
saw the punch and appealed to an official, but there was no call.
It's important to give Anderson the benefit of the doubt here. We know the Bears' defensive linemen hold themselves to a higher standard. None of them had
punched an opposing player
in four days.
November, 13, 2009
11/13/09
12:42
AM ET
Jason Paradise and Floyd Hanson of ESPN Stats & Information just passed along some telling stats from the 49ers'
10-6 victory
over the Bears:
Quarterback Alex Smith completed 15 of 19 passes for 98 yards and an 88.2 rating on passes that traveled 10 yards or less. He completed 1 of 4 passes for 20 yards, one interception and an 8.3 rating on passes traveling longer than 10 yards. I think the 49ers had concerns in protection. They also played not to lose.
Only seven of Smith's 23 pass attempts traveled farther than 5 yards downfield. He completed two of them for 29 yards.
Smith completed 9 of 11 passes for 71 yards and a 93.6 rating from the shotgun.
Frank Gore averaged 8.1 yards per carry running outside and 1.5 yards per carry running between the tackles.
November, 13, 2009
11/13/09
12:01
AM ET
Thoughts and observations following the 49ers'
10-6 victory
over the Bears in Week 10: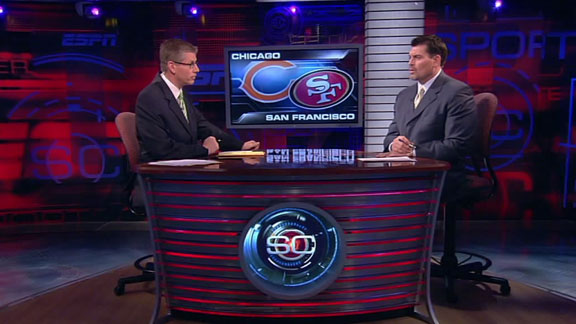 November, 12, 2009
11/12/09
11:27
PM ET
The 49ers seem to have lost the spark quarterback
Alex Smith
provided in his first couple games after replacing
Shaun Hill
.


They still have
Frank Gore
and a tenacious defensive front. That combination was enough to beat a slumping Bears team, and for that the 49ers owe no apologies. This was a must-win game for San Francisco and the 49ers found a way to win it.
There was some thought among 49ers fans that the team should have made a push to acquire
Jay Cutler
from the Broncos. The way the Bears' passing game played Thursday night -- with Cutler tossing five interceptions, including one on the final play -- validated for at least one night the 49ers' decision to install a more conservative offense.
This was an ugly game all the way around. I would blame the offensive lines as much as I would blame the quarterbacks. The Bears were more aggressive offensively because they had Cutler, but it cost them. The 49ers played it safe for the most part, making them frustrating to watch, but they won the turnover battle and that was the difference.
This game also demonstrated how overrated sacks can be when evaluating 3-4 defensive ends. The 49ers'
Justin Smith
dominated for stretches, creating problems for Cutler. And when the Bears lost left tackle
Orlando Pace
late in the game, Smith capitalized. Smith and nose tackle
Aubrayo Franklin
controlled the line of scrimmage.
Manny Lawson
also played a strong game.
It was barely enough to beat a mediocre team that gave away the football five times and finished with more penalty yards than rushing yards. The 49ers will have to play better to beat good teams. That they managed to snap a four-game losing streak was all that counted in the short term.
The 49ers, now 4-5, can get to .500 by beating the Packers in Green Bay next week. Their defensive front should be able to dominate that matchup.
Aaron Rodgers
almost certainly will not throw five interceptions. The 49ers will need more from their passing game and offensive line. That much hasn't changed.
November, 12, 2009
11/12/09
10:09
PM ET
Aug. 12:
The 49ers badly want
Dashon Goldson
to give them needed speed and playmaking ability at free safety. I thought the 49ers might name him the starter a year ago. They went with veteran
Mark Roman
instead. Now there's no doubt. Goldson is the starter.
Nov. 12:
Goldson's interception against the Bears'
Jay Cutler
gives the 49ers possession while leading Chicago, 7-3.
November, 12, 2009
11/12/09
9:56
PM ET
49ers quarterback
Alex Smith
entered Thursday night with the highest red zone passer rating in the NFL among players with at least 10 attempts.
He had completed 8 of 11 passes for 55 yards, four touchdowns, no interceptions and a 123.1 rating, according to ESPN Stats & Information.
The Bears'
Jay Cutler
, already picked off in the red zone Thursday night, entered this game with the NFL's sixth-worst passer rating in the red zone this season. Cutler had completed 23 of 45 passes for 126 yards with nine touchdowns and three interceptions in the red zone, good for a 69.0 rating.
November, 12, 2009
11/12/09
9:33
PM ET
How else would the 49ers' offensive coordinator have
thought to call
that first-down running play from three-receiver personnel?
Frank Gore
's 14-yard touchdown run from that personnel group has given the 49ers a 7-0 lead against the Bears. I know, I know. It was technically a 2-minute situation. But with the 49ers taking over at the Chicago 14, time was not a factor. The 49ers could have run from heavier personnel.
That was only the seventh time all season the 49ers have run the ball from three-receiver personnel.
Update:
On first down, that is. And one of those seven was a scramble.
November, 12, 2009
11/12/09
3:37
PM ET
The Wall of Fame stood firm in Week 9, taunting the NFC West masses.
With the 49ers and Bears kicking off within hours, it's time for the Wall to welcome new challenges in Week 10.
For a spot on the Wall, simply predict outcomes and scores correctly for the following Week 10 games involving NFC West teams:
Bears at 49ers
Saints at Rams
Seahawks at Cardinals
The fine print:
Those submitting predictions for "
You called it
" must pick the winner correctly for their scores to be considered. Scoring is easy to calculate. The difference between a 20-17 prediction and a 31-14 outcome would be 14 points. We would calculate this by adding the difference between 20 and 31 to the difference between 17 and 14.
The Wall of Fame presently features:
November, 12, 2009
11/12/09
2:35
PM ET
Ten consecutive Pro Bowls and a Hall of Fame career with the
Chicago Bears
left 49ers coach Mike Singletary understandably wistful heading into the Bears-49ers game Thursday night.
Did I say wistful?
Sorry about that. Meant to say wishful, as in hoping the reunion talk might just go away.
"It is the next game on the schedule," Singletary told Bay Area reporters, leaving it at that.
The 49ers need to win a game and Singletary, now 8-9 as head coach after four consecutive defeats, isn't in the mood for reminiscing. His team has fallen to 3-5, two games behind the Cardinals in the NFC West race. Reliving old Bears memories isn't going to fix an inconsistent offense or patch defensive wounds opened by the Titans'
Chris Johnson
.
"The Bears will always be a team that I love," Singletary told Chicago-area reporters via conference call. "So many friends, family, memories."
Singletary faced the Bears at Soldier Field twice as an assistant, first with the
Baltimore Ravens
in 2005 and again with the 49ers in 2006. The Bears won both games.
"The first time I played the Bears when I first got to San Francisco, coming to Soldier Field, with all the excitement, it was a bit overwhelming," he told Chicago-area reporters. "I'm glad this is not the first time I'm playing the Bears because that would be tough. Now that I've played them a couple of times, it's just a matter of going out and competing against a good football team."
Singletary labors to stay a step ahead of his emotions. It's an ongoing battle. When the 49ers lost narrowly at Houston in Week 7, Singletary needed extra time to gather himself. He pushed back his postgame news conference until after players were finished with their media obligations.
The 49ers' most difficult defeat of the season -- at Minnesota in Week 3, when
Brett Favre
's heroics in the final seconds gave the Vikings a
27-24 victory
-- produced the type of impassioned rant made for NFL Films.
"Stop looking at the floor!" he yelled at players in an otherwise silent locker room. "We didn't steal anything, we didn't do anything wrong, OK? We're going to get better. We are going to get there. We will see them again -- in the playoffs!"
Perhaps not without a victory over the Bears.
The emotions that fueled Singletary during his playing career and helped make him a Bears legend have turned him into a captivating figure and the face of the 49ers.
"We want winners!" he famously said last season, producing one of several sound bites that have played into various marketing plans.
And yet Singletary seems to occasionally be weary of being the dominant NFL storyline in San Francisco. He knows what it represents in the bigger picture: a failure by his team to overshadow him. He looks forward to a time when his players command the focus through their achievements. He realizes that cannot happen until the team starts winning.
I think that partly explains why Singletary hasn't embraced his Bears legacy heading into his first game against Chicago as an NFL head coach.
He wants winners, yes, but right now he needs one win to break a four-game slide.