October, 8, 2013
10/08/13
5:00
PM ET
Observations on the
New Orleans Saints
offense after reviewing the tape of their 26-18 victory over the
Chicago Bears
in Week 5:
Great protection:
This was probably the best performance to date by the Saints' offensive line in pass protection. Quarterback
Drew Brees
was sacked twice, but one of those came on a miscommunication with the snap. The other came when defensive tackle
Nate Collins
broke through between guard
Jahri Evans
and center
Brian De La Puente
in the first quarter. Brees took one more big hit later on a completed throw (when end
David Bass
beat right tackle
Zach Strief
). And he was hurried on a couple throws. But for the most part, he had tons of time to stand in the pocket and make his decisions.
[+] Enlarge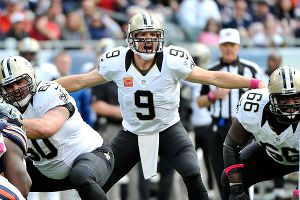 Rob Grabowski/USA TODAY SportsDrew Brees had plenty of time to make decisions behind his line against the Bears, resulting in a few shots downfield.
Usually, that resulted in a check-down because of the Bears' zone coverage. Twenty-five of Brees' 29 completions Sunday traveled 10 yards or less in the air, according to ESPN Stats & Information. But Brees did have time to take a few shots deep down the field.
Evans healing:
Evans specifically had his best game since he began dealing with a hamstring injury in Week 2. He had two negative plays on the opening drive -- first getting spun around to blow up a screen pass, then the Collins sack. But after that, Evans looked much closer to his usual self. He looked especially spry getting down the field on
Pierre Thomas
' 25-yard screen pass touchdown before halftime, springing Thomas with a block on Bears linebacker
Lance Briggs
.
Guard
Ben Grubbs
also had a great block on that screen pass and an impressive performance overall after he struggled in the run game a week earlier.
Running stronger:
Watching the tape, I was surprised the Saints wound up with only 66 rushing yards on 28 carries (a 2.4-yard average). In general, they were vastly improved over weeks past, starting with several nice-sized gains in the first quarter. They also converted a handful of runs on third-and-1 and fourth-and-1.
The total average was hurt by four more negative runs, including a loss of six yards by Thomas late in the first quarter. But almost all of those were the result of great individual efforts by Briggs. He found holes to slip through unblocked on both the 6-yard loss and a later 2-yard stuff. Briggs also beat fullback
Jed Collins
on two other big-time run stuffs. There weren't many instances of offensive line breakdowns like we've seen in previous weeks.
Thomas
Thomas steps up:
Thomas had several outstanding highlights on the day. His touchdown on the screen pass was obvious (the play was well-designed and well-timed, but Thomas made a nifty cutback to the inside). Thomas also delivered a great stiff-arm against linebacker
D.J. Williams
to score on a 2-yard swing pass in the second quarter. But his best play might have come when he made Williams whiff on a fourth-and-1 conversion late in the second quarter. Williams broke through the line unblocked and had a beat on Thomas three yards behind the line of scrimmage. But Thomas dipped and made him miss before running through traffic to convert.
Brees not bad, either:
Brees was pretty outstanding himself -- but that was obvious even before breaking down the play by play. His 38-yard throw deep to tight end
Jimmy Graham
down the left sideline in the second quarter was particularly gorgeous, dropped right in between safeties
Major Wright
and
Chris Conte
. A deep incomplete pass to receiver
Robert Meachem
in the end zone in the second quarter was also perfectly placed. But Conte got a hold of the back of Meachem's jersey, which may have been enough to disrupt his route. Not blatant pass interference, but it could have been called.
Unsung hero:
One more player who shined even more on the tape was Collins, who became more valuable than usual because of the Saints' ball-control game plan. Collins had a career-high three carries for 11 yards and a career-high four receptions for 17 yards. Fox analyst
Troy Aikman
joked, "He's not overlooked today. He's gotten more coverage in this broadcast than probably his entire career. So way to go Jed Collins, you're a rock star."
Burning Briggs:
As good as Briggs was against the run, the Saints burned him twice. They got him to jump offsides on a critical fourth-and-1 play in the fourth quarter (confirming later that they were never going to snap the ball). They also got him to bite on a double fake in the second quarter, allowing Graham to gain 29 yards down the middle. Brees faked a quick pass to his left, then faked a handoff to Thomas, which got Briggs running toward the line of scrimmage while Graham slipped behind him.
Slipping up:
The Saints survived despite several costly slips on the thick, soft grass at Soldier Field. Thomas slipped and fell on a potential touchdown run in the first quarter, forcing the Saints to settle for a field goal. And receiver
Marques Colston
slipped one yard short of the first-down marker on a third-down reception later in the first quarter. Sproles also slipped twice early, once on a run and once trying to get open when Brees was looking his way on a passs route.
Lucky bounce:
The Saints were proud of themselves for avoiding turnovers after preaching all week about how good the Bears are at taking the ball away -- especially cornerback
Charles Tillman
. But Tillman actually did force a fumble that wasn't immediately recognized on the stat sheet. He punched the ball out of Thomas' hands after a screen pass in the second quarter. Fortunately for the Saints the ball bounced right back up to Thomas. ... Brees was also lucky to hang on to a shotgun snap he wasn't expecting in the second quarter. As Brees said after the game, the ball has been bouncing the Saints' way more this year than last year.
September, 15, 2011
9/15/11
11:06
AM ET
NFL officials flagged
Seattle Seahawks
left tackle
Russell Okung
three times in 10 games last season.
Okung
They matched that total against Okung in the 2011 opener at Candlestick Park.
The high total confirms in my mind the thinking that Okung wasn't quite up to speed in his first game back from an ankle injury. He was also facing a very strong
San Francisco 49ers
defensive front featuring
Justin Smith
, who had two sacks. One penalty was declined. Another was offsetting.
Facing the
Pittsburgh Steelers
in Week 2 will present similar challenges (insert Bill Leavy joke here). Even though the Steelers struggled in their opening-week defeat at Baltimore, their defense was instrumental in drawing three penalties against the Ravens' offensive line. Officials flagged center
Matt Birk
, guard
Ben Grubbs
and tackle
Bryant McKinnie
for holding in that game.
Officials flagged Okung for holding (twice) and a false start. Okung's three penalties last season were for false starts, with two coming during the second half of a 34-18 home defeat against Atlanta in Week 15.
The first chart shows three-year totals for NFC West teams, according to ESPN Stats & Information. Totals count declined penalties.
The
Oakland Raiders
have the most during that time with 320, counting a league-high 17 in Week 1. The 49ers rank sixth with 260, followed by the
Arizona Cardinals
(254) and
St. Louis Rams
(254). The Seahawks are 15th with 234. The Falcons (176),
Indianapolis Colts
(177) and
Jacksonville Jaguars
(184) have the fewest.
Officials have flagged NFC West teams 999 times, more than they've flagged teams from any other division. AFC East teams have drawn the fewest (828).
.
The second chart shows NFC West individual leaders for 2011. Officials have flagged five players from the division more than once.
.
March, 25, 2011
3/25/11
12:20
PM ET
Ken Whisenhunt is right when he says
Levi Brown
takes more criticism as a high draft choice than he would take as someone selected later in the process.
That's the way it works. The highest picks in a draft class should outperform their peers.
[+] Enlarge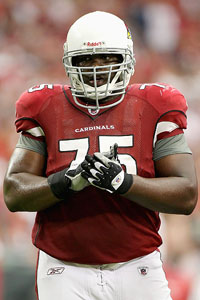 Christian Petersen/Getty ImagesLevi Brown, drafted fifth overall in 2007, can still become an "outstanding" player according to Ken Whisenhunt.
The
Arizona Cardinals
don't need anyone to remind them that they selected Brown over some All-Pro performers, including
Adrian Peterson
and
Patrick Willis
. But it's not as though Brown, a player with 56 consecutive regular-season starts, qualifies as a flat-out bust, either. He moved to left tackle from the right side last season and will stay there.
"He improved last year," Whisenhunt said this week from the NFL owners meeting in New Orleans. "As a left tackle, it's not an easy position to move from right tackle. He will continue to get better. He is a talented football player. The biggest thing he has struggled with is the consistency of his play. But a lot of times you are under the microscope more because you were the fifth pick in the draft."
I would rank Brown, chosen fifth overall in 2007, somewhere around 20th out of 32 first-round picks that year.
Brown has obviously or arguably outperformed the following first-round selections from 2007:
JaMarcus Russell
,
Jamaal Anderson
,
Ted Ginn Jr
.,
Amobi Okoye
,
Adam Carriker
,
Justin Harrell
,
Jarvis Moss
,
Aaron Ross
,
Reggie Nelson
,
Brady Quinn
,
Anthony Gonzalez
and Craig Davis.
Gaines Adams
, chosen fourth that year, passed away after Tampa Bay traded him to Chicago.
The following first-rounders from 2007 have obviously or arguably outperformed Brown:
Calvin Johnson
,
Joe Thomas
,
LaRon Landry
, Adrian Peterson, Patrick Willis,
Marshawn Lynch
,
Darrelle Revis
,
Lawrence Timmons
,
Leon Hall
,
Michael Griffin
,
Dwayne Bowe
,
Brandon Meriweather
,
Jon Beason
,
Anthony Spencer
,
Robert Meachem
,
Joe Staley
,
Ben Grubbs
and
Greg Olsen
.
"The reason we drafted Levi where we did was because we had him rated high enough to go in that position, but we also felt like we had to develop our offensive line and defensive line at that point, because that is where the most critical component of your team," Whisenhunt said. "That is the only way you are going to have a chance to compete. Levi has been a good player. He is often criticized, but I think that comes with being the fifth pick, and I don't understand how you evaluate offensive linemen, because they are not catching passes or running touchdowns in."
Whisenhunt said he thought Brown can and will become an "outstanding" player.
"Any time an offensive lineman gets drafted that high, especially in a fantasy football world where people want you to get dynamic playmakers, you are going to face some kind of criticism," Whisenhunt said. "I have to give Levi some credit. As tough as it's been, he hasn't let it affect him. He has continued to work and get better and I think this will be a big year for him. This is a chance for him to show that he can play this position very well."
April, 26, 2010
4/26/10
11:21
AM ET
The 49ers' draft should give them three of their own first-round draft choices on the offensive line.
No other team in the league figures to line up with as many of its own first-rounders on the offensive line this season. Seattle is the only other team with three of its own first-round offensive linemen on its roster, but that will change when
Walter Jones
announces his retirement, probably this week.
The Rams have first-round choices
Jason Brown
and
Alex Barron
, plus
Rodger Saffold
, the first player chosen in the second round of the 2010 draft. But Saffold wasn't a first-round choice and Barron might not fit into the Rams' long-term plans for the line.
All three 49ers first-rounders --
Joe Staley
,
Anthony Davis
and
Mike Iupati
-- were drafted in 2007 or later. Not counting San Francisco, only the Ravens (
Michael Oher
,
Ben Grubbs
) and Browns (
Alex Mack
,
Joe Thomas
) have even two such players.
Seattle briefly had three of its own first-round offensive linemen on its roster in 2005, but center
Chris Spencer
never started in the same line as
Steve Hutchinson
and Jones.
49ers fans can expect to see Staley remain at left tackle, with Iupati working his way into the lineup at left guard and Davis taking over for
Adam Snyder
at right tackle. The 49ers will talk about players having to earn their jobs, but they did not draft Davis or Iupati to have them sit on the bench. Staley started all 16 games as a rookie after the 49ers made him the 28th overall choice in 2007.
The 49ers expect lots from new offensive line coach Mike Solari, so it's an upset if Davis and Iupati do not start in Week 1. With Seattle last season, Solari got second-rounder
Max Unger
into the lineup right away. Unger started 16 games.
The 49ers should have five of their own draft choices starting on the offensive line. Center
Eric Heitmann
was a seventh-round choice in 2002. Right guard
Chilo Rachal
was a second-round choice in 2008. Even the players Iupati and Davis could beat out --
David Baas
and Snyder -- were 49ers draft choices.
December, 22, 2009
12/22/09
9:37
AM ET

Jim Thomas of the St. Louis Post-Dispatch says
the Rams' already shaky depth is depleted. Coach Steve Spagnuolo: "Yeah, slowly but surely. Anybody have any eligibility left? We're pretty banged up. The list is long. But it just gives another guy an opportunity. I know it sounds like a cliché, but it does. It gave some guys an opportunity [against Houston]. And that'll happen again this Sunday."
Also from Thomas
: The Rams have claimed defensive end James Wyche off waivers from the Jaguars.
More from Thomas
: The Rams placed tight end Daniel Fells on injured reserve. Meanwhile, the team still wasn't saying which player would start at quarterback Sunday.
Bryan Burwell of the St. Louis Post-Dispatch
says the Rams would be best served staying in position to hold the No. 1 overall draft choice. Burwell: "With only two weeks to play in the regular season, the Rams have, without tampering with the integrity of the game, moved one step closer to locking down the all-important first pick in the draft (let it roll off your tongue easily: N-dom-Ah-ken Suh ... N-dom-Ah-ken Suh ... N-dom-Ah-ken Suh), and that is a very good thing."
Jim Rodenbush of the St. Louis Globe-Democrat
says the Rams do not have a timetable for Leonard Little's return from injury.
Steve Korte of the Belleville News-Democrat
says Spagnuolo isn't interested in losing just to maintain the No. 1 draft choice.

Clare Farnsworth of seahawks.com
says snapper Kevin Houser remained hospitalized with a collapsed lung. Veteran Jeff Robinson will replace Houser.
Jose Miguel Romero of the Seattle Times
says Seahawks coach Jim Mora lobbied for Mike Holmgren's return to the team. Mora: "It's no secret that I'm a Mike Holmgren fan, and I was an advocate of him coming back, to the point that I made my feelings known to the people that make those decisions," Mora said. "I'm probably as disappointed as anybody that he's decided to reject our offer and go onward. I don't know all the particulars. I just know that I absolutely have great regard for Mike Holmgren."
Greg Johns of seattlepi.com
says Mora e-mailed Seahawks CEO Tod Leiweke on Friday, expressing support for Holmgren.
Eric D. Williams of the Tacoma News Tribune
says Holmgren never contacted Mora during the process. Mora: "That's not Mike's style."
Dave Boling of the Tacoma News Tribune
says the Seahawks should probably give Mora another season to prove himself. Boling: "I think Mora -- heck, anybody -- deserves a shot at a second season. But whomever is hired to make that decision might have an entirely different perspective, especially if the nosedive grows even steeper."
Matt Pitman of 710ESPN Seattle
points to Steve Keim and Eric DeCosta as preferred candidates to lead the Seahawks' football operation. Pitman: "DeCosta also is a guy who understands the importance of using the draft to land long-term solutions on the offensive line, something the Seahawks must address in the upcoming draft. He found center Jason Brown, a three year starter in Baltimore, in the fifth round. Guard Ben Grubbs, one of the best in the AFC, was a late 1st round selection (29th pick). He found tackle Jared Gaither in the supplemental round of the '07 draft. But the thing I like about him most is that he's not a 'defensive guy' (which we heard about Tim Ruskell and uh, how'd that work out) or an 'offensive guy.' DeCosta's resume shows he is a guy that has an uncanny eye for talent throughout a draft, and can put together moves and trades to immediately improve his football team the very next season with solid drafting."
Dave Wyman of 710ESPN Seattle
says fixing the Seahawks will take much more than Holmgren or any one person could accomplish. Wyman: "It's never one guy or one thing that makes a team bad or makes a team good. As brilliant as Mike Holmgren is, he's not the panacea for all of this team's ills. As talented as Jake Locker is, he's not necessarily the answer either. It's never one guy and it's never one move. It's a team game. Something that big money contracts and fantasy football has taken us away from. We don't need a 'football czar' to make this team all better. We don't need a 1st round superstar quarterback to make this offense work. There is no football genius out there that's going to make the perfect personnel moves and the perfect play calls. We need an organization and a team and yes even a fan base that is willing to work hard, work together, be patient and be positive."
John Morgan of Field Gulls
looks at Keim's record in Arizona. I would not blame him for the team's selection of Levi Brown. The coaching staff wanted a tackle. I'm pretty sure the scouts would have preferred Adrian Peterson.

Bob McManaman of the Arizona Republic
says the Cardinals could get Will Davis back from injury this week. They need depth at linebacker.
Also from McManaman
: The Cardinals still have a shot at a higher playoff seed. Whisenhunt: "The No. 2 seed is obviously a powerful incentive, to be able to get that bye week. Who knows what can happen? There are a lot of things that would have to fall into place. I think it's more important that we continue to try and improve and get on a hot streak going into the playoffs."
Kent Somers of the Arizona Republic
says Mike Gandy's future with the Cardinals is in doubt. That was the case even before Gandy required hernia surgery. Somers: "Gandy is in the last year of his contract and is making $5 million. If he goes on IR, as expected, he'll be the first starter placed there in the last two years. There's a good chance Gandy has played his last game with the club. It's questionable if the Cardinals will pay him close to that on a new contract. I suppose Levi Brown could move from the right side to the left, but it's hard to say that Brown has proven he could make that move look seamless."
Darren Urban of azcardinals.com
says Whisenhunt isn't concerned about the Cardinals' passing game. Whisenhunt: "We have to continue to get better and get polished up. Sometimes it's not as easy as you want it to be."
Revenge of the Birds' Andrew602
looks at key performances from the Cardinals' victory at Detroit.

Matt Barrows of the Sacramento Bee
says the 49ers are not discouraging rumors linking them to a London game in 2010. Team president Jed York: "I would certainly think we're a candidate just with being in an older stadium. We haven't been approached and it's not something we're seeking out."
Matt Maiocco of the Santa Rosa Press-Democrat
says the 49ers need to stay the course in the name of continuity. Maiocco: "A lot of people want to see changes. They want to see heads roll when a club fails to meet their own expectations. But I think the best thing the 49ers can do is maintain continuity. And that includes quarterback. Do I think Alex Smith is an above-average NFL starting quarterback? Right now, I'd say he's not. But I do believe he is their best option for 2010. I think Smith will continue to improve every season for a while, as long as he remains in an unchanged system. He has improved every season that did not include a trip to injured reserve."
Also from Maiocco
: He does not expect big changes.
Howard Mintz of the San Jose Mercury News
wonders what would happen if voters rejected the 49ers' stadium proposal for Santa Clara.
Henry Schulman of the San Francisco Chronicle
says 49ers coach Mike Singletary apologized to Smith for challenging the quarterback on some throws. Upon reflection, Smith was better than Singletary thought Sunday.

NFC WEST SCOREBOARD
Friday, 8/22
Saturday, 8/23
Sunday, 8/24