May, 30, 2014
5/30/14
8:00
AM ET
RENTON, Wash. -- Here are a few observations on the defense from the first day of organized team activities (OTAs) this week for the
Seattle Seahawks
, along with some comments from coach Pete Carroll.
The media's only access was Tuesday, but a few things stood out:
Whoa Mayowa:
I think those 15 pounds guard
James Carpenter
lost were transferred over to defensive end
Benson Mayowa
, and that's a good thing. Bigger and stronger (possibly 265 now) is just what was needed for Mayowa to step up and make an impact as a Seahawks pass-rusher.
He was really active in the Tuesday practice and looks up to the challenge he will face from rookies
Cassius Marsh
and
Jackson Jeffcoat
, along with
Greg Scruggs
, who is healthy again after missing last season with a torn ACL.
Scruggs gets praise from Carroll:
Speaking of Scruggs, he had an interception on Tuesday and played with a lot of intensity.
"He's really determined," Carroll said. "He's worked so hard through this offseason. He's ready to go physically. It's been a long haul for him. I feel really good about him being back out with us.
"It seems like he's been a part from this for so long. I think he's ready to max it out and he's going to get a great chance to be a big part of it. Our expectation is he will be a factor right there in the rotation."
Toomer the boomer:
Linebacker
Korey Toomer
stood out in the rookie minicamp and kept it up on Tuesday in the first OTA. He had a stop in the backfield and another at the line of scrimmage on a run up the middle. Toomer was playing inside and outside, and looked good in both spots. After spending his first two years on injured reserve, it's obvious why the Seahawks kept him around.
A battle at defensive tackle:
Brandon Mebane
has one defensive tackle spot locked down, but Carroll mentioned three players who are in the mix for the DT spot -- returning starter
Tony McDaniel
and 2013 rookies
Jesse Williams
(who missed last year with a knee injury) and
Jordan Hill
.
"I'm excited to get Tony re-signed and get him back here," Carroll said. "He had a very good year for us in doing the stuff that we wanted him to do. I think he comes in here trying to own that 3-technique spot. That's what he came here to do. I was really proud that he was able to accomplish that, but guys are nipping at his heels here.
"Jesse Williams will be back out in the next couple of days and working with Jordan Hill. Those guys are battling for that spot. It's going to be really competitive and it's going to take a long time to figure that out. There's no rush. We'll have to get into pads and through the preseason before we really know what's going on with that."
Injuries a small concern:
Two of these three are on defense, so I'm listing them here as a group. Not having strong safety
Kam Chancellor
(hip surgery), right tackle
Russell Okung
(toe surgery) and outside linebacker
Malcolm Smith
(ankle surgery) on the field was noticeable to everyone.
All of them are expected back for training camp, but no one knows for sure until it gets here. All three men are key players for the Seahawks.
September, 4, 2013
9/04/13
5:00
AM ET
The
Seattle Seahawks
had 11 draft picks in 2013, but only one of them is likely to get much playing time in the season opener at Carolina.
Back-up tight end
Luke Willson
, a fifth-round selection from Rice, will be on the field in Seattle's two-tight sets and probably have a few passes thrown his way after his impressive showing in the preseason.

But other than Willson, don't look for much action from the other draft picks. That's a big difference from a year ago.
As a rookie,
Russell Wilson
started every game at quarterback. Middle linebacker
Bobby Wagner
started 15 of 16 regular season games at middle linebacker.
J.R. Sweezy
started the season opener at guard.
First-round pick
Bruce Irvin
played in every game at defensive end and led all NFL rookies with eight sacks. Running back
Robert Turbin
played in all 16 games as the backup to
Marshawn Lynch
.
The verdict is out on the 2013 draft choices, but it's clear they won't contribute as much as some of the 2012 picks did at the start of the season.
Three seventh-round picks in 2013 -- offensive linemen
Ryan Seymour
and
Jared Smith
, along with linebacker
Ty Powell
, were placed on the practice squad.
Here's a rundown on the other seven 2013 draft choices:
However, the Seahawks are likely to receive meaningful contributions this weekend from two undrafted rookies.
Benson Mayowa
, a defensive end from Idaho, is expected to see significant playing time Sunday after an impressive preseason when he had 3.5 sacks. And
John Lotulelei
, an outside linebacker from UNLV, probably will see some action backing up
K.J. Wright
.
August, 31, 2013
8/31/13
8:28
PM ET

Most significant move:
Moving defensive end
Chris Clemons
off the PUP list and onto the 53-man roster. Clemons, who led the team with 11.5 sacks last year, has been recovering from offseason ACL surgery and has not practiced. But placing him on the active roster means the Seahawks believe he'll be ready to play sooner than the sixth game of the year.
But the Seahawks still added some insurance on the defensive line by sending Jacksonville a conditional draft pick for defensive end
D'Anthony Smith
.
Winfield retires:
Seattle Seahawks
coach Pete Carroll sent out a tweet Saturday saying veteran cornerback
Antoine Winfield
has decided to retire. Winfield, 36, was signed as a free agent in the offseason. He likely would have been released had he not opted to retire. Winfield was a victim of numbers in what may be the deepest secondary in the NFL.
Defensive tackle deletions:
The Seahawks surprisingly cut five defensive tackles, including veteran
Clinton McDonald
and second-year player
Jaye Howard
. That must mean the coaches are confident that starters
Brandon Mebane
and
Tony McDaniel
(groin injuries) will be OK this week and be ready to play for the opener. It also means they think rookie
Jordan Hill
's shoulder injury is not as serious as first thought.
What's next:
Watching some of these players -- possible fullback
Michael Robinson
, tight end
Sean McGrath
, safety
Winston Guy
, cornerback
Ron Parker
and defensive tackles McDonald and Howard -- get picked up by other teams. Look for the Seahawks to try to add rookie
Chris Harper
, a fourth-round draft choice, to the practice squad if no one claims him.
Two QBs only:
Seattle released
Brady Quinn
, so they will go with two quarterbacks -- starter
Russell Wilson
and backup
Tarvaris Jackson
.
They made it:
Wide receiver
Stephen Williams
and rookie defensive end
Benson Mayowa
, the two biggest surprises of the preseason, both made the 53-man roster. Williams suffered a concussion in the final preseason game, so his status for the opener at Carolina is unknown.
Seahawks cuts:
FB: Michael Robinson. QB: Brady Quinn. DT:
Sealver Siliga
,
Michael Brooks
,
Dewayne Cherrington
, Clinton McDonald and Jaye Howard. WR
Phil Bates
, Chris Harper,
Bryan Walters
and
Arceto Clark
. TE: Sean McGrath,
Cooper Helfet
and
Darren Fells
. DB: Winston Guy and
DeShawn Shead
. G:
Rishaw Johnson
and
Ryan Seymour
. CB: Ron Parker. LB
Ty Powell
Retired:
CB Antoine Winfield.
Note:
LB/DE
Bruce Irvin
is on the suspended list for the first four games.
August, 29, 2013
8/29/13
6:44
PM ET
SEATTLE -- With one last warm-up before the regular season, here are four things to watch -- and one you won't get to watch -- Thursday night in the
Seattle Seahawks
game against Oakland.

The Seahawks pass rush:
Hopefully, there is one to watch. Oakland has one of the worst offensive lines in the NFL. If Seattle can't get to the quarterback in this game, it's time to worry. And they'll have to do with backups. Defensive ends
Chris Clemons
and
Cliff Avril
won't play. Neither will defensive tackles
Brandon Mebane
,
Tony McDaniel
and
Michael Bennett
.
Clemons and Avril probably won't play next weekend in the season opener at Carolina. So it is increasingly important to watch
Benson Mayowa
and
O'Brien Schofield
to see if they can continue to shine as pass-rushers.
Ty Powell
, a hybrid linebacker/defensive end, also will see some time as a down rusher.
Penalty flags:
Just keeping the yellow flags under double figures and less than 100 yards would look decent at this point. The Seahawks haf 14 penalties for 182 yards last week in the 17-10 victory at Green Bay. Seattle has 354 yards on 34 penalties in the three preseason games.
"We just want to be really disciplined with our offense and make sure we're not getting any penalties,'' quarterback
Russell Wilson
said Tuesday. "That's our No. 1 focus."
Coach Pete Carroll has harped on this for the past two weeks.
"We have to show progress before we head into the opener in terms of getting out of our own way," Carroll said. "We have to comply and we're a little out of compliance. The guys know. They don't want to play like that. They just have to make better decisions."
Pass blocking:
The Seahawks offensive line struggled to stop the blitzing Packers last week. That has to improve, along with cutting down on holding calls and false starts.
James Carpenter
finally will get back on the field at guard, which could help. This is a good line overall, especially in run blocking. But a better showing on pass plays needs to happen tonight.
Bubble boys:
No team in the NFL has tougher roster cuts to make than the Seahawks. The depth on this team is extraordinary and the coaches have difficult decisions to make after this game.
Some players need to shine to earn a spot. Receiver
Stephen Williams
probably already has done so, but one more good game wouldn't hurt. Rookie receiver
Chris Harper
needs to step up. Will the Seahawks keep three fullbacks --
Michael Robinson
(who won't play tonight) rookie
Spencer Ware
and
Derrick Coleman
?
The toughest cuts will come in the secondary, where some of the backups could start for many NFL teams. Cornerback
Ron Parker
needs a good game. So does
Winston Guy
and
DeShawn Shead
. The coaches really like rookie linebacker
John Lotulelei
, but is there room for him?
No Matt Flynn:
Some Seattle fans probably were looking forward to seeing quarterback Matt Flynn play against his former Seahawks teammates, but Flynn will watch from the sideline because of a sore arm.
He's probably got a few other sore places considering he's been sacked seven times in the preseason. Flynn hasn't played well, so it's possible he could lose out on the starting-job competition for the second consecutive year.
Terrelle Pryor
will start against Seattle. He's much better at running and avoiding the rush than Flynn, which is important with the Raiders porous offensive line.
August, 28, 2013
8/28/13
4:35
PM ET
Eleven days before the season opener, injuries are starting to become a concern for the
Seattle Seahawks
.

Chris Clemons
and
Cliff Avril
, the projected starters at the defensive end spots, probably won't be ready for the opener at Carolina on Sept. 8. Starting fullback
Michael Robinson
, recovering from a virus, also may not play in the opener.
The Seahawks already know defensive end/linebacker
Bruce Irvin
won't play the first four games because of a suspension, reportedly for PEDs.
Two other starters -- defensive tackle
Brandon Mebane
and receiver
Sidney Rice
-- won't play Thursday night against Oakland in the final preseason game. Defensive tackle
Tony McDaniel
, a possible starter at the 3-technique spot, also won't play Thursday because of a groin pull.
Mebane suffered a groin injury in practice Monday. Coach Pete Carroll hopes Mebane and McDaniel will be ready for the opener.
Carroll said Rice will play in the opener, but had an unusual comment: "He'll be ready unless there is a setback next week at practice again."
A setback again? When was the first practice setback? Rice flew to Switzerland four weeks ago for a 20-minute platelet-enriched plasma treatment on his knee. But he later returned to practice and didn't show any problems. He has not played in the preseason.
The biggest concern for the Seahawks is the defensive line. Defensive tackle
Michael Bennett
also won't play Thursday because he having a procedure done on an injured toe. Carroll expects Bennett to play in the opener.
Rookie defensive tackle
Jordan Hill
is out with a shoulder injury and fellow rookie defensive tackle
Jesse Williams
is on injured reserve with a knee injury.
The Seahawks hoped to shore up their pass rush this season, but two key cogs are iffy in Clemons and Avril. Clemons, who led Seattle with 11.5 sacks last year, still is recovering from off-season ACL surgery.
"He's making great progress," Carroll said of Clemons. "We have a big decision to make there."
The decision is whether to place Clemons on the reserve/ physically unable to perform (PUP) list or to place him on the 53-man roster. If Clemons goes to the PUP list, he can't play until Week 6. Either way, it's doubtful he plays in the opener.
Avril, Seattle's top free-agent acquisition in the offseason for the defense, has a hamstring injury and hasn't played in the preseason. His status for the opener is tentative at best.
"As of this morning he's feeling better and we're hoping he will be able to go next week," Carroll said. "But we won't know until we get there."
Even if Avril does play, how effective will he be after missing so much time?
On the bright side, starting tight end
Zach Miller
will play Thursday and guard
James Carpenter
also will see action in the Oakland game.
"It's necessary for him to get out there and play again,'' Carroll said of Carpenter. "He was really making some progress and missed a couple of weeks here, so it will be great to get him out."
But the injury problems, especially on the defensive line, are worrisome. The Seahawks may have to rely on two players who weren't part of the picture a month ago -- free agent defensive ends
Benson Mayowa
and
O'Brien Schofield
.
Both have looked good in the preseason, especially Mayowa, an undrafted rookie from Idaho. He has 2.5 sacks and 10 total tackles in three preseason games. Schofield, who played for the
Arizona Cardinals
the previous three seasons, has a sack, force fumble and fumble recovery in the preseason.
If needed, starting defensive end
Red Bryant
can move inside and play tackle. Bryant has seen quite a bit of action inside during the preseason.
August, 26, 2013
8/26/13
1:24
PM ET
RENTON, Wash. -- Summer fun for the
Seattle Seahawks
is almost over, so what stood out?
Training camp has officially ended, cuts are coming and the final preseason game for the Seahawks is Thursday night at home against Oakland.
[+] Enlarge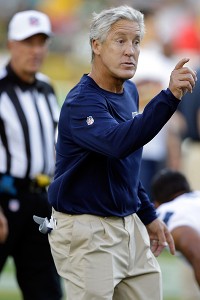 AP Photo/Tom LynnPete Carroll's Seahawks will have to work on cutting down the penalties after a preseason chock full of them.
Here's a quick look at some of the high, lows and truly unusual moments over the last month.
Best surprise on offense:
Receiver
Stephen Williams
. He's been nothing short of spectacular. The former Arizona Cardinal leads all NFL receivers in the preseason with 186 yards on six receptions, including three long touchdowns and four catches of 20-plus yards. At 6-5, 210, the lanky Williams has long arms and has shown the ability to out-leap defenders for tough catches down the sidelines.
Best surprise on defense:
Defensive end
Benson Mayowa
. The undrafted rookie from Idaho has stood out at practice and in the games with his quickness and ability to rush the passer. At 6-3, 255, he was a long shot to make the team when training camp started. Now he appears to be a shoo-in. He has 10 tackles in three games and 2.5 sacks. He also has five quarterback pressures and a fumble recovery.
The humble celebrity:
Quarterback
Russell Wilson
, of course. This town is in a Wilson frenzy. Probably not since the heyday of Ken Griffey Jr. has any athlete captured the heart of the city like Wilson. But Wilson's growing status as an NFL celebrity reaches far beyond the Pacific Northwest. He was the cover for ESPN The Magazine's NFL preview issue and recently was featured in GQ Magazine. In Russ We Trust is the hottest slogan in Seattle, but Wilson takes it all in stride and handles his popularity with quiet dignity.
Biggest disappointment:
Losing receiver
Percy Harvin
before he got started. The 67 million-dollar man was Seattle's biggest off-season acquisition, the dynamic receiver who could give the Seahawks' offense its one missing piece as a game-breaker and consistent deep threat for Wilson. But a torn labrum required hip surgery that will keep him off the field until at least late November. How can you miss what you never had? The Seahawks will find out soon enough.
Best moves for a big man:
Defensive tackle
Clinton McDonald
, all 6-2, 300 pounds of him, showing off his popping dance moves to the music during a walk-through practice. Maybe he can earn a spot on "Dancing With The Stars."
Fat man in some little shorts:
OK, he's not really fat, just big, but I kept thinking of the old "Tommy Boy" line by Chris Farley every time guard
John Moffitt
walked on the practice field in the shorts that looked like he was ready to play a 1975 NBA game. I wonder if he is wearing mini-shorts now in Denver, and what
Peyton Manning
has to say about it if he is?
Cuts all teams will watch:
Those will come in the Seattle secondary, a spot where two or three of the back-ups could start for most NFL teams. The Seahawks literally are three-deep at all four spots. The reductions among the defensive backfield will be some difficult decisions for the Seattle coaches, but other teams probably are salivating waiting to see which of these DBs hits the waiver wire.
Most disappointing draft pick:
Chris Harper
. The fourth-round pick from Kansas State just hasn't done anything to stand out, other than being big and strong at 6-1, 235.
If at first you don't succeed:
It took two tries over 24 hours, but Moffitt ended up in Denver after first being traded to Cleveland. That deal was voided when the Browns had concerns over a previous knee injury. Apparently, the Broncos were OK with that, shipping defensive tackle
Sealver Siliga
to Seattle for Moffitt within minutes to the deal falling through with Cleveland.
Yellow Seahawks:
Not yellow, as in cowardly lion. Yellow as in penalty flags. It's been a sea of yellow for the Seahawks in the first three preseason games -- 34 penalties for a whopping 354 yards. But Seattle managed to win all three games and has outscored its opponents 88-30. Coach Pete Carroll isn't happy about it and knows this trend has to end.
Don't call me ChrisTEEN:
It appears the Seahawks have done it again with an early draft pick that had many experts shaking their heads. Seattle didn't have a pick until late in the second round. When the pick came, it stunned many observers to see the Seahawks take a running back, not exactly a weak spot for the team. But Texas A&M's
Christine (pronounced KRIS-ton) Michael
, has looked sensational. Michael leads the NFL is preseason rushing yards with 186 yards on 27 carries in two games for a 13.5-yard average, including a 43-yard TD run at Green Bay.
Swiss timing:
Receiver
Sidney Rice
flew across one continent and one ocean to get a knee treatment that took 20 minutes. Hey, whatever works. Rice had a platelet-enriched plasma procedure (whatever that is) on his knee, something that isn't done in the U.S. He returned two days later and has looked fine on the practice field, but hasn't played yet in the preseason.
Two plays, two TDs and 213 yards:
You could watch a thousand NFL games and not see this happen again. The Seahawks have a 107-yard touchdown (
Jermaine Kearse
's kickoff return) and a 106-yard TD (
Brandon Browner
's fumble recovery in the end zone) in the first half of the Denver game Aug. 17.
People everywhere:
It was a training camp festival every day at the Virginia Mason Athletic Center. The Seahawks had 2,500 tickets available for each practice at camp and they sold them all. Heck, they probably could have sold 10,000 each day if they had the space at the V-MAC. The Seahawks' facility is one of the most picturesque settings in the NFL, sitting on the eastern banks of Lake Washington. There's a hill overlooking the field and the lake where fans sit to watch practice. It was packed every day.
August, 24, 2013
8/24/13
11:36
AM ET
Penalties, lots of penalties, haven't kept the
Seattle Seahawks
from winning in the preseason.
Seattle now has an unimaginable 34 penalties for 354 yards in the first three games, but the Seahawks won each of them. That includes a
17-10 victory
Friday night at Green Bay when the Seahawks were flagged 14 times for 182 yards.
[+] Enlarge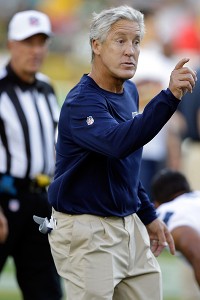 AP Photo/Tom LynnPete Carroll's Seahawks were penalized 14 times for 182 yards on Friday against Green Bay.
It looks worse when you realize coach Pete Carroll made the penalty problems his main point of emphasis entering the Green Bay game. Instead of getting better, it got worse.
"There were a lot of distractions in the game with 180 yards of penalties,'' Carroll said. "It's hard to deal with, and we are focused on cleaning that up. You never want to give your opponent anything, and we gave them 180 yards. That's makes it difficult to win."
The Seahawks won anyway. Here are a few observations from the game:
1. The defense does it again:
Seattle's defense has allowed only 30 points in the first three preseason games, and only three touchdowns, one in each game.
Tony McDaniel
looked good in his first start at defensive tackle, stuffing the middle and posting two tackles along with one pass defensed.
Sealver Siliga
, the defensive tackle Seattle acquired last week when guard
John Moffitt
was traded to Denver, had a strong first game with the Seahawks. Siliga had two tackles, including a sack.
2. Wow Mayowa:
The man on defense who continues to stand out is rookie free agent
Benson Mayowa
, a defensive end from Idaho. Mayowa's quickness makes it seem like he's everywhere on the field. He had four tackles Friday night, including one tackle behind the line. Mayowa had a quarterback hit and a fumble recovery.
Maybe his most impressive play Friday came when Green Bay had a 31-yard gain. Running back
Alex Green
got around the left end and was off to the races down the sideline, but Mayowa ran him down from behind.
Mayowa (6-3, 255) was a longshot to make the team when training camp started. Now he appears to be a lock. He has 10 tackles in three games and 2.5 sacks. He also has five quarterback pressures.
3. Big-play Williams:
Lanky receiver
Stephen Williams
, another man fighting for a roster spot, now has three long touchdown receptions in the first three games, one in each game.
Williams (6-5, 210) had a 42-yard touchdown catch Friday, pulling the ball away from the defender at the goal line on a pass from
Brady Quinn
. Williams came close to another long touchdown Friday on a play that could have been called interference on Green Bay defender
Brandon Smith
.
With
Percy Harvin
out until at least late November, it seems unimaginable now that Seattle wouldn't keep Williams as a deep threat with the height to out-leap defenders for the ball.
4. One tough Aggie:
Christine Michael
, Seattle's second-round draft choice from Texas A&M, had his best game of the preseason, rushing for 97 yards on 11 carries. Michael (5-10, 220) has shown a knack for breaking tackles and hitting the hole quickly at the line of scrimmage.
Seattle rushed for 166 yards on 27 carries (a 6.1-yard average) against the Packers.
6. The penalty culprits:
The running game looked strong despite a bad night for the Seahawks' offensive line. It allowed four sacks and was penalized five times for holding. Starting right
J.R. Sweezy
was penalized three times in the first half -- two for holding and once for a personal foul.
The bottom line is the Seahawks managed to get the job done despite all the miscues and yellow flags. But that isn't likely to continue in the regular season unless the team cleans up its act.
August, 21, 2013
8/21/13
4:58
PM ET
RENTON, Wash. -- The Seahawks continue to stockpile defensive lineman, adding two more in the past two days. Seattle now has 11 defensive lineman who were not with the team one year ago.

The
John Moffitt
trade, which took two tries (first to Cleveland, that was voided, then to Denver the next day) resulted in Seattle acquiring Broncos defensive tackle
Sealver Siliga
.
The Seahawks also added defensive tackle
Dewayne Cherrington
, a rookie free agent from Mississippi, after releasing kicker Carson Wiggs on Monday.
Siliga, 6-2 and 325 pounds, is in his second season out of Utah. He had two assisted tackles against the Seahawks in the preseason game Saturday night at Seattle. Siliga already was at practice Wednesday.
"A true pro in the way he worked,'' defensive coordinator Dan Quinn said of Siliga. "You could see his strength right away."
Cherrington (6-3, 335) played college football at Richmond. Cherrington was not drafted, but signed with New England as a free agent before being released last week.
Both Siliga and Cherrington are longshots to make the 53-man roster, but the Seahawks coaches are trying to make sure they don't come up short with the players on the defensive front.
The others who are new this year include
Cliff Avril
,
Tony McDaniel
,
Michael Bennett
,
O'Brien Schofield
,
Martin Parker
and
Michael Brooks
(veteran players who were signed and brought in), draft choices
Jordan Hill
and
Jesse Williams
, and rookie free agent
Benson Mayowa
.
Obviously, some of these men will be gone when cuts are made to get down to the 53-man roster (and eight possible practice squad players) before the regular season begins.
But a few of the newcomers have stood out, especially Mayowa and Schofield. Mayowa, a rush end from Idaho, has 2.5 sacks and four quarterback pressures in the first two preseason games.
Schofield, a fourth-year player from Wisconsin, has a sack, a forced fumble and a fumble recovery. Schofield knocked the ball out of quarterback
Brock Osweiler
's hands and recovered it in the backfield in the Denver game last weekend.
"We started him at linebacker and then moved him back to Leo (rush defensive end)," Quinn said of Schofield, who played three seasons for the
Arizona Cardinals
. "He's doing well."
Hill, a third-round pick from Penn State, also has looked strong at defensive tackle. He's in the running for the starting spot at the 3-technique defensive tackle, a spot vacated when Seattle lost
Alan Branch
to free agency in the offseason. Quinn said no decision had been made there, but McDaniel and
Jaye Howard
probably have the best chance of earning the first-team spot.
Avril and Bennent, two proven pass-rushers, and McDaniel, a defensive tackle in his eighth season, were the biggest off-season acquisitions on defense. Bennett has played both tackle and defensive end. Avril has yet to get in a game, and missed most of training camp with a hamstring injury. He also missed mini-camp and OTAs with a foot injury, but the Seahawks are counting on him to be a major contributor this season.
It was clear after the 2012 season that the Seattle coaches wanted to upgrade the defensive front and improve their rush. With defensive end
Chris Clemons
still recovering from off-season ACL surgery and defensive end/outside linebacker
Bruce Irvin
suspended for the first four games, the Seahawks are trying to ensure they have enough quality depth to make an improvement in that area.