NFC West:

Best teams ever 2010
June, 24, 2010
6/24/10
10:00
AM ET
Notable players:
LT
Walter Jones
, LG
Steve Hutchinson
, C
Robbie Tobeck
, RB
Shaun Alexander
, QB
Matt Hasselbeck
, FB
Mack Strong
, MLB
Lofa Tatupu
, RCB
Marcus Trufant
, WR
Bobby Engram
, WR
Darrell Jackson
, WR
Joe Jurevicius
[+] Enlarge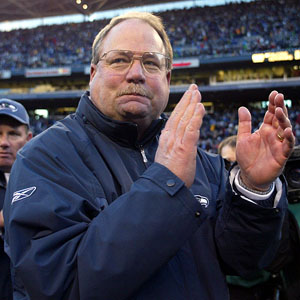 AP Photo/John FroschauerMike Holmgren's 2005 Seahawks were the only team in franchise history to make the Super Bowl.
Analysis:
The 2005
Seattle Seahawks
were the only team in franchise history to win more than 12 regular-season games. They were the only Seahawks team to appear in a Super Bowl, the only one to lead the NFL in points per game or to place more than two offensive linemen in a Pro Bowl.
This was the best team in franchise history by the critical measures. It had a Pro Bowl-caliber quarterback, the best offensive line in the NFL, the league MVP at running back and a defense that played its best where it mattered -- in the red zone. Rookie middle linebacker Lofa Tatupu brought direction to a defense lacking leadership.
Coach Mike Holmgren always said he needed his best players to be at their best for a team to approach its potential. This team had that, but clutch contributions from role players sent the 2005 squad on its way.
Receiver Joe Jurevicius added toughness at receiver while catching 10 touchdown passes, offsetting injuries to Darrell Jackson and Bobby Engram.
On defense, backup cornerback
Jordan Babineaux
made a season-altering play by picking off
Drew Bledsoe
with 14 seconds remaining during a 13-10 victory over the
Dallas Cowboys
in Week 7. Seattle had lost two of its first four games that season. Beating the Cowboys heading into the bye was important, but the matter in which Seattle won the game proved transforming.
"My hope is that every time you can win a game like this where it looked a little grim for a while but they you pull it out, it really helps you down the road," Holmgren said afterward. "It really helps your confidence. Organizations need to win games like this at some point."
The Seahawks had tied the score with 46 seconds remaining on Hasselbeck's 1-yard touchdown pass to backup tight end
Ryan Hannam
(after another backup, receiver
Jerheme Urban
, made a 22-yard reception at the 2-minute warning). Babineaux returned Bledsoe's pass 25 yards, getting out of bounds in time for
Josh Brown
to kick the winning field goal as time expired.
Most impressive win:
The 2005 team was at its dominant best during a 34-14 victory over the
Carolina Panthers
in the NFC title game.
Advanced chemistry:
Teams release injured backups regularly without repercussions, but veteran players protested when management released Urban instead of placing him on injured reserve following a foot injury in November. Urban had made an impression on teammates while catching seven passes for 151 yards. Management gave in to Seattle's veteran leadership, rescinding Urban's release and placing him on IR. The unusual move reflected the strength of the Seattle locker room during a special season.
Honorable mention
1984:
This was the only team in franchise history to rank among the NFL's top five in points scored and points allowed. Kenny Easley was the NFL's defensive player of the year. Steve Largent and Daryl Turner combined for 22 touchdown receptions. Defensive ends
Jeff Bryant
and Jacob Green combined for 27.5 sacks.
1983:
Other Seattle teams had better regular-season records, but the 1983 team recorded two playoff wins, including an upset shocker in Miami. The 2005 Seahawks were the only other Seattle team with more than one victory in the same postseason.
2007:
Losing Hutchinson during the previous offseason hurt, but Hasselbeck set a career high with 28 touchdown passes.
June, 24, 2010
6/24/10
9:30
AM ET
Notable players:
QB
Joe Montana
, QB
Steve Young
, WR
Jerry Rice
, WR
John Taylor
, RB
Roger Craig
, FB
Tom Rathman
, TE
Brent Jones
, G
Guy McIntyre
, FS
Ronnie Lott
, OLB
Charles Haley
, DE
Pierce Holt
, DE
Kevin Fagan
, OLB Keena Turner, LB Matt Millen.
[+] Enlarge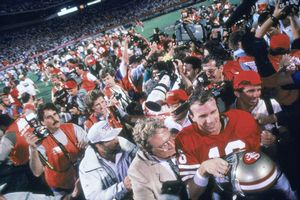 Andy Hayt/Getty ImagesJoe Montana and the 49ers were at the height of their success during the 1989 season.
Analysis:
The
San Francisco 49ers
had multiple teams worthy of consideration as the best in franchise history. I'll take the one that outscored its opponents 126-26 during the postseason, including 55-10 over the
Denver Broncos
in the Super Bowl. Denver led the NFL in scoring defense that season.
The 1989 team featured the 49ers' offense at the peak of its powers.
Joe Montana averaged 9.1 yards per attempt with 13 starts that season. The figure for three-game starter Steve Young -- 10.9 yards per attempt -- was even more ridiculous.
Drew Brees
set a career high at 8.5 yards per attempt last season.
Tom Brady
's average was 8.3 during his historic 2007 season.
Dan Marino
was at 9.0 in his 1984 career season. None could match the 49ers' top two quarterbacks during this special season.
This was the first 49ers team of the 1980s without Bill Walsh, but offensive coordinator Mike Holmgren was still there, as were nearly all of the team's iconic offensive players from the decade. Tight end Brent Jones emerged as a starter. Roger Craig topped 1,000 yards rushing. Fullback Tom Rathman caught 73 passes. Montana set a career high for passer rating at 112.1, completing 70.2 percent with 26 touchdowns and eight interceptions. Rice caught 17 touchdown passes while averaging 18.1 yards per reception.
The defense was typically overlooked except by those forced to play against it.
John Elway
completed only 10 of 26 passes for 108 yards and two interceptions against the 49ers in the Super Bowl.
"Their defense doesn't get enough credit," Broncos coach
Dan Reeves said
afterward. ''I can't say enough about them.''
Walsh later regretted retiring. This team made it easy to see why.
Most impressive win:
Having already touched on the Super Bowl victory, let's focus on the victory that delivered the NFC West title to San Francisco that season. Montana passed for 458 yards, including 286 to receiver John Taylor, and the 49ers twice overcame 17-point deficits to edge the division-rival Rams, 30-27, on the road.
Transcending Walsh:
This 49ers team became the only one in NFL history to win back-to-back Super Bowls with different head coaches. The change from Walsh to George Seifert might have actually helped this team, at least for a season. The offensive-minded Walsh left the defensive-minded Seifert with a veteran offense trained to function at a high level without much big-picture help. Holmgren took the best of what Walsh taught him and made it even better with his own tweaking. In that sense, the 1989 team might have gotten the best of what Walsh and Holmgren had to offer. Montana was also at his best. He never enjoyed a finer season.
Honorable mention
1984:
This was the team that knocked off Marino in the Super Bowl after the quarterback shredded defenses for a then-record 48 touchdown passes. This was a great 49ers team with a franchise-best 15-1 record, but the best group in 49ers history needed to include Rice, I thought. He arrived the next year.
1994:
Proponents of this team will point to a defense featuring
Deion Sanders
,
Rickey Jackson
,
Ken Norton
,
Merton Hanks
,
Eric Davis
,
Tim McDonald
,
Bryant Young
and others. They'll point to Young's record six touchdown passes against the
San Diego Chargers
in the Super Bowl.
1948:
Let's save some recognition for one of the early 49ers teams. This one outscored opponents by more than 17 points per game on its way to a 12-2 record. Frankie Albert put up modern-day numbers with 29 touchdown passes, 10 interceptions and a 102.9 rating.
June, 24, 2010
6/24/10
9:15
AM ET
Notable players:
QB
Kurt Warner
, RB
Marshall Faulk
, WR
Isaac Bruce
, WR
Torry Holt
, LT
Orlando Pace
, WR/PR
Az-Zahir Hakim
, DE
Kevin Carter
, DE
Grant Wistrom
, DT
D'Marco Farr
, CB
Todd Lyght
.
[+] Enlarge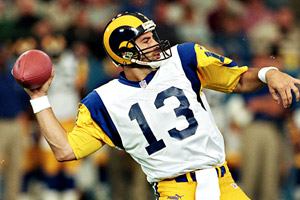 Tom Pidgeon/Getty ImagesKurt Warner threw for 4,353 yards and 41 touchdowns during the 1999 season.
Analysis:
The 1999
St. Louis Rams
were tied with the
Tennessee Titans
in the final minutes of the Super Bowl.
Conventional wisdom called for a clock-killing drive to the winning field goal, but convention didn't appeal to the 1999 Rams. They had shrugged off losing their starting quarterback during the preseason. They had knowingly backed Warner without much evidence to suggest he would succeed. They passed the ball first when tradition called for establishing the run. They pushed the ball downfield when West Coast schemes were favoring shorter timing throws.
And so with the 2-minute warning approaching in a 16-16 game, the Rams went deep to Bruce for a 73-yard touchdown. The aggressiveness came with a price when the Titans, armed with plenty of time, moved within a yard of the tying touchdown. But the Rams won their way -- defiantly and with an offense few teams in NFL history could challenge for pure multidimensional flair.
The only team in Rams history to win a Super Bowl gets my vote for best team in franchise history. The 1951 version also won an NFL title, but that team finished the regular season with an 8-4 record. It played only one postseason game. Chuck Knox's Rams of the early 1970s were very good. John Robinson had some solid Rams teams in the 1980s. The 2001 Rams had a chance to be the best in franchise history, but the 1999 team separated itself by becoming the only Rams team to win a Super Bowl.
Dick Vermeil was coach of the year. Warner was MVP and Super Bowl MVP. Faulk was offensive player of the year.
This was a team of signature players and also signature plays:
Ricky Proehl's dramatic juggling catch to beat the Tampa Bay Buccaneers in the NFC title game (he hadn't caught a touchdown pass all season);

Bruce's daring 73-yard touchdown grab in the Super Bowl;

Mike Jones' game-saving tackle of the Titans' Kevin Dyson at the 1-yard line as time ran out in the Super Bowl.
Most impressive win:
For years the Rams had watched the
San Francisco 49ers
dominate them and the NFC West. That's what made the Rams' Week 5 victory over the 49ers so meaningful that season. Bruce caught four touchdown passes during a 42-20 victory as the Rams improved to 4-0. Fans wanted to believe after a 38-10 victory over the
Cincinnati Bengals
a week earlier. The blowout against San Francisco provided validation (no one knew the 49ers would finish with a 4-12 record that season).
Return to sender:
Offense wasn't the only way the 1999 Rams found the end zone. Hakim averaged 10.5 yards per punt return with one touchdown.
Tony Horne
averaged 29.7 yards per kickoff return with two touchdowns. The Rams scored seven touchdowns on interception returns and one more on a fumble return.
Honorable mention
2001:
The Rams rebuilt their defense and made another run to the Super Bowl.
Tom Brady
and the
New England Patriots
kept St. Louis from winning another title and challenging for the title of best team in Rams history.
1973:
First-year head coach Chuck Knox turned around the Rams quickly, leading them to a 12-2 record with No. 1 rankings in total offense and total defense. John Hadl tossed 22 touchdown passes with 11 interceptions in his only full season as the Rams' starter.
1951:
The Rams won a championship for Los Angeles thanks to Bob Waterfield, Norm Van Brocklin and Elroy Hirsch. Four-time Pro Bowl fullback Dan Towler averaged 6.8 yards per attempt.
June, 24, 2010
6/24/10
9:00
AM ET
Notable players:
Charley Trippi, Elmer Angsman, Paul Christman, Pat Harder, Stan Mauldin, Chet Bulger, Billy Dewell, Mal Kutner, Boris "Babe" Dimancheff, Jeff Burkett, Marshall Goldberg
[+] Enlarge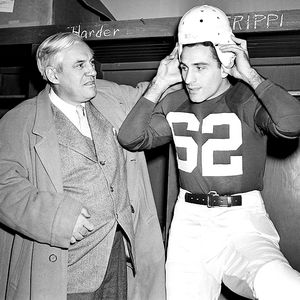 AP PhotoCharley Trippi, right, signed a four-year contract to play for Jimmy Conzelman before the season began.
Analysis:
The Pro Football Hall of Fame describes Jimmy Conzelman as a "newspaper publisher, playwright, author, orator, actor" -- and the only head coach to win an NFL championship with the Cardinals. (The team was based in Chicago from 1920-59. It played in St. Louis from 1960-87.)
Conzelman's brilliance as a coach shined through before and during the Cardinals' 28-21 victory over the
Philadelphia Eagles
in the 1947 NFL championship game. Conzelman initially refrained from reporting the Eagles for illegally filing down their cleats to better cope with the icy conditions at Comiskey Park. Conzelman instead reported the Eagles on a player-by-player basis, and only after Philadelphia had made significant gains. Officials wiped out the gains and penalized the Eagles, forcing players to leave the field to replace their equipment.
The Cardinals had addressed the footing issue by changing into sneakers before the game. Angsman scored twice on 70-yard runs. Trippi scored on a 44-yard run and 75-yard punt return.
Conzelman's resourcefulness reflected his varied background. His playing career included stints with Decatur, Rock Island, Milwaukee, Detroit and Providence. He had even owned the Lions for a couple of seasons in the 1920s, supposedly paying $100 for the franchise before returning it to the league. He retired as a player in 1930 and returned as a coach a decade later. But his record in three seasons with the Cardinals was only 8-22 when he stepped away following the 1942 season. The Cardinals brought back Conzelman four years later and he rewarded them by winning 27 of 37 games, counting playoffs and the only league title in franchise history.
The 1947 season produced tragedy in addition to triumph. A plane crash killed punter Jeff Burkett as he tried to rejoin the team following an appendicitis. Charles Bidwill, the team's owner since 1933, had died in April before the season.
Most impressive win:
The 1947 team needed a victory over the
Chicago Bears
in the final regular-season game to win the Western Division title. The Cardinals picked off Bears quarterback Sid Luckman four times in the 30-21 victory, but the offense might have provided the most important contribution. Christman's touchdown pass to Dimancheff on the first play of the game set a winning tone for the Cardinals. Dimancheff had missed every practice during the week while tending to his expectant wife, preventing him from practicing a play Conzelman was eager to run. No matter. The Cardinals isolated Dimancheff against Bears linebacker Mike Holovak, a speed mismatch Dimancheff used to his advantage.
Free-spending Cardinals:
The team landed Trippi before the season with a four-year contract worth a then-staggering $100,000. Trippi had been a Maxwell Award winner and Rose Bowl MVP at the University of Georgia, which retired his No. 62 jersey after a college career that later
landed Trippi a spot
on ESPN's list of 25 greatest college players. The move helped put the Cardinals over the top in 1947. Trippi ranked second on the team that season with 641 yards from scrimmage.
Honorable mention
2008:
The Cardinals came within a defensive stop of winning the Super Bowl against Pittsburgh after
Kurt Warner
found
Larry Fitzgerald
for the go-ahead touchdown pass late in the game. This team delighted in disproving skeptics and redefining an organization known for decades of futility.
1948:
A defeat in the championship game prevented this Cardinals team from challenging and probably overtaking the 1947 team as the best in team history. The 1948 team went 11-1 during the regular season as Trippi became a bigger threat.
1975:
Coach Don Coryell produced an 11-3 record thanks to an offense featuring Pro Bowl players in quarterback Jim Hart, receiver Mel Gray, running back Terry Metcalf, fullback Jim Otis and offensive linemen Dan Dierdorf and Conrad Dobler.