October, 6, 2011
10/06/11
3:38
PM ET
Sometimes an NFL coach will gloss over an opponent's weakness.
Minnesota Vikings
offensive coordinator Bill Musgrave took a more direct approach when asked about attacking the
Arizona Cardinals
' young cornerbacks entering Week 5.
"We definitely have a plan to throw on those guys," Musgrave told reporters in Minnesota. "We want to get some balls airborne in their direction. Both their guys are young and talented, but we feel confident with our receivers matching up with them."
Arizona's
Patrick Peterson
and
A.J. Jefferson
have struggled at times. The safety play hasn't been perfect in support, either. And the Cardinals' pass-rush issues play into the situation quite a bit, too. All things considered, though, Arizona will probably go into this game most concerned about slowing running back
Adrian Peterson
.
The chart shows 2011 stats for Vikings quarterback
Donovan McNabb
based on how far his passes traveled past the line of scrimmage. The deep ball hasn't been a strength to this point.
March, 3, 2011
3/03/11
12:00
PM ET
The
San Francisco 49ers
had grand plans for
Michael Crabtree
when the gifted Texas Tech receiver fell to them in the 2009 NFL draft.
Those plans took a detour when a contract dispute kept Crabtree away from the 49ers well into his rookie season. Now, another kind of dispute -- the one between the NFL and its players -- could block Crabtree and every other player from getting the offseason work they need to approach their potential.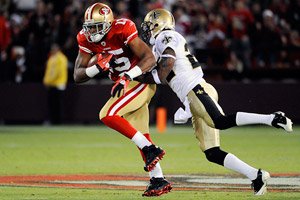 Thearon W. Henderson/Getty ImagesMichael Crabtree and the 49ers are one example of a team that would be hurt by a lockout.
The 49ers, sensitive to rules discouraging organized interaction between players and coaches during the labor dispute, have already shut down the informal coaching that often takes place this time of year. No meetings, no passing out playbooks, no hands-on instruction and possibly no shot at installing the new schemes that come with having a new staff. It figures to only get worse. An expiring labor agreement and potential lockout could wipe out offseason conditioning programs, minicamps and training camps, leaving teams scrambling if a deal does come together in time for the regular season.
NFL offseasons traditionally produce winners and losers, but this one threatens to produce only losers of varying degrees. Crabtree and the 49ers, both coming off a disappointing 2010 season, rank among the more vulnerable parties:
Cleveland, Denver, Carolina and San Francisco hired new head coaches from outside their organizations. These teams are starting over.

Tennessee, Oakland, Dallas and Minnesota promoted head coaches from within. These teams are transitioning.

Six of the eight teams with new head coaches have unsettled quarterback situations. Make it seven if you're not convinced Jason Campbell will start in Oakland.

Six of the eight teams with new head coaches are breaking in new coordinators on both sides of the ball. Dallas and Cleveland have no offensive coordinators.

Nine of the 24 teams with returning head coaches are breaking in at least one new coordinator on offense or defense.

Add it up and you have 17 teams, more than half the league, breaking in a new head coach and/or at least one coordinator. Two of the other teams, Miami and Washington, are figuring out their quarterback situations.
There's still time for the NFL and its players to strike a deal that would allow teams to prepare sufficiently for the 2011 season. But with the labor agreement set to expire Thursday night, let's take a closer look at four additional situations of note. (
Update:
The NFL and the players' union
agreed to a 24-hour extension
to the CBA on Thursday afternoon.)
January, 19, 2011
1/19/11
11:41
AM ET
The NFL's busiest time of year -- known as the offseason -- will transform every NFC West team in significant ways.
The moves made Tuesday continued a transformation that began with the
San Francisco 49ers
replacing Mike Singletary with Jim Harbaugh.
We've seen the
Arizona Cardinals
fire their defensive coordinator. We've seen the
Cleveland Browns
hire
St. Louis Rams
offensive coordinator Pat Shurmur as their head coach. We've seen the Rams replace Shurmur with Josh McDaniels. We've seen the
Seattle Seahawks
fire offensive coordinator Jeremy Bates, hire Tom Cable as offensive line coach and remake other staff positions.
And it's still only January.
Five quick thoughts on matters lingering from Tuesday:
McDaniels and the money. Reported issues over money, whatever they were, did not doom the deal. Jim Thomas of the St. Louis Post-Dispatch indicated the sides had been $200,000 apart, and that McDaniels had separately sought $2 million per season from Minnesota. The settlement McDaniels worked out with the Denver Broncos removed him from their books, meaning there would be no salary offset for McDaniels' next employer. If the Broncos were still paying McDaniels, the Rams could have paid a modest wage to him and Denver would have been responsible for the difference between what the Rams were paying and what the Broncos still owed.
Seattle's involvement a bit murky. The Seahawks' hiring of Cable to coach their offensive line supports suspicions that McDaniels was never a serious candidate in Seattle. Whether McDaniels was using Seattle for leverage with the Rams is tough to know. But it's illogical on multiple fronts to think Seattle would have hired both Cable and McDaniels, or that the team turned to Cable only after missing out on McDaniels. That isn't how business gets done. The deal with Cable was surely in the works longer than the few hours that McDaniels emerged as a candidate.
Cable might have affected Bates. Let's stick with the idea that Seattle had its mind set on Cable for some time. This would make sense because the Seahawks lost their offensive line coach, Alex Gibbs, before the season. They had plenty of time to consider replacements. Cable and Gibbs worked together in Atlanta, so there would be some carryover. Cable and Bates never worked together. Adding Cable, who brings a strong personality and his own ideas, would have affected Bates. Could they have coexisted? How would Bates' strong personality and old-school demeanor fit with a line coach who allegedly punched out an underling in Oakland?
Robert Gallery-to-Seattle makes sense. The Seahawks need help at guard. Cable coached a pretty good one, Robert Gallery, in Oakland. Gallery can become a free agent after this season. Gallery was known to like Cable. Signing Gallery would make sense for Seattle and it could be easier with Cable on staff.
Arizona's inactivity is conspicuous. The Cardinals need a defensive coordinator. They are not, by all accounts, interviewing candidates at this time. That suggests they're waiting for a candidate from a team still in the playoffs. Coach Ken Whisenhunt's connections to Pittsburgh suggest the Steelers might be that team. Hiring the right coordinator is what matters. The timing is a secondary issue. But if this process doesn't go well for Whisenhunt, it's a significant setback for him and for the team.
Who replaces Bates? The Seahawks interviewed Minnesota Vikings assistant Darrell Bevell as a potential quarterbacks coach. Reports suggest Atlanta Falcons quarterbacks coach Bill Musgrave could land in Cleveland with Shurmur. Cable's hiring suggests the Seahawks will continue to favor zone blocking tactics. The Seahawks pretty much have to hire around Cable, it seems. Might Cable, as assistant head coach/offensive line, serve as a sort of running game coordinator? So many questions, so few answers. But it's early.
On a side note, Mary Kay Cabot of the Cleveland Plain Dealer says Browns quarterbacks coach Carl Smith could be
a candidate for an unspecified job with the Seahawks
.
January, 18, 2011
1/18/11
3:58
PM ET
OK, now we know the
Seattle Seahawks
have been
speaking with Josh McDaniels
about becoming their offensive coordinator.
Hiring the former New England assistant and Denver head coach would help explain why the Seahawks fired Jeremy Bates after one season as coordinator. The Seahawks' interest might also explain why talks between McDaniels and the
St. Louis Rams
hit a snag
.
Ten quick thoughts on the matter:
The Rams' job could be more appealing. The Rams have Sam Bradford. The Seahawks do not. Bradford has the ability to help his next coordinator become a head coach. McDaniels has already been a head coach. He wants to be one again. Aligning himself with Bradford seems like the smart move for the long term. Not necessarily, though. More on that below.
The Seahawks' job could be more lucrative. ESPN's Chris Mortensen cited a source saying the Rams were taking a "conservative fiscal approach" to talks with McDaniels. It's easy to see why. Rams coach Steve Spagnuolo is reportedly working under a four-year, $12 million contract. The head coach's salary sets the bar for what top assistants can reasonably earn. Seattle's Pete Carroll earns significantly more than Spagnuolo, so the ceiling could be higher for assistants in Seattle.
McDaniels could be using Seattle. Let's say McDaniels knows Bradford is his ticket to becoming a head coach again. Let's say he wants to leverage a better deal from the Rams. Dancing with the Seahawks could help him get more from the Rams. But money does tend to talk in these matters.
The Rams have other options. Brad Childress is still in the running, as Mortensen noted. Also according to Mortensen, the Rams have inquired about assistants Darrell Bevell (Minnesota Vikings) and Bill Musgrave (Atlanta Falcons). The Seahawks are interviewing Bevell for their opening as quarterbacks coach. Bevell is the Vikings' offensive coordinator, but Minnesota has let him explore other opportunities.
This is good for NFC West rivalries. One NFC West team hiring a big-name candidate away from another NFC West team sets up a compelling storyline within the division. Carroll's old Pac-10 rivalry with new San Francisco 49ers coach Jim Harbaugh added another dynamic to the Seahawks-49ers rivalry. Having McDaniels coaching against a team he spurned would add another one.
Seattle has to be the leading candidate. It's tough to envision the Seahawks firing Bates without having a contingency plan in place. The team must feel confident in its ability to land a suitable replacement.
Carroll could help repair McDaniels' image. Everyone knows McDaniels can coach, the thinking goes. His reputation took a hit on multiple fronts during his tenure as Broncos coach. The low-keyed, cheery Carroll might be in better position than the more regimented Spagnuolo to offer McDaniels the space and latitude he needs to repair his image.
Seattle might offer more staff flexibility. The Seahawks are without a quarterbacks coach. They lost offensive line coach Alex Gibbs just as the regular season was beginning. McDaniels might have an easier time putting together a staff to his liking if he joined the Seahawks, particularly if that "conservative fiscal approach" were a problem in St. Louis.
Losing McDaniels to a division rival would sting. Bernie Miklasz might have been right when he said the Rams needed to move quickly on a coordinator once Pat Shurmur left to join the Cleveland Browns. Having Seattle enter the picture gave McDaniels an option that wasn't immediately available to him until the Seahawks lost in the playoffs.
Week 17 is proving pivotal in retrospect. Life might be different for the Rams if they had defeated the Seahawks in Week 17 and then upset New Orleans in the divisional round, as Seattle did. Shurmur would have been busy coaching the Rams. It's possible the Browns would have gone in another direction.
Lots to think about here, and we have more going on within the division. The 49ers are
making staff moves, too
.
May, 11, 2009
5/11/09
11:35
AM ET
Posted by ESPN.com's Mike Sando
| | | |
| --- | --- | --- |
| NFL QB Coach | Team | NFL Passing Yards |
| Ken Anderson | PIT | 32,838 |
| Jim Zorn | WAS | 21,115 |
| Chris Miller | ARI | 19,320 |
| Wade Wilson | DAL | 17,283 |
| Frank Reich | IND | 6,075 |
| Matt Cavanaugh | NYJ | 4,332 |
| Alex Van Pelt | BUF | 2,985 |
| Bill Musgrave | ATL | 402 |
| Tom Clements | GB | 77 |
| Mike McCoy | DEN | 0 |
Kurt Warner loves football, but not enough to dive into coaching once he retires as a player. The hours are too long, Warner told Darren Urban, a the quarterback has other priorities.
It's tough convincing millionaire athletes to work 80-hour weeks for a fraction of what they earned as players. Warner will pocket $19 million in salary and signing bonus this year, considerably more than an entire NFL coaching staff earns in a season.
Most former NFL quarterbacks coaching the position played before huge salaries proliferated (see chart). I remember a prominent offensive lineman informing his team upon retirement in the late 1990s that he would be willing to serve as an assistant for $400,000 a year. The team tried not to laugh. The player never went into coaching.
Warner's new position coach, Chris Miller, is one of the more accomplished former NFL quarterbacks coaching the position. I counted 10 former NFL passers coaching quarterbacks. The figure includes Redskins head coach Jim Zorn, who oversees the position. The Broncos' Mike McCoy spent one game as the 49ers' third quarterback in 1997.
Another 14 NFL quarterbacks coaches played the position in college, including the Seahawks' Bill Lazor (Cornell), the Rams' Dick Curl (Richmond) and the 49ers' Mike Johnson (Akron).
Ken Zampese (Bengals), Kyle Shanahan (Texans) and James Urban (Eagles) were college receivers. The Saints' Joe Lombardi, grandson of Vince, was a college tight end. The Chargers' John Ramsdell was a college running back. The Patriots' Bill O'Brien and the Vikings' Kevin Rogers were college linebackers. The Lions' Jeff Horton did not play in college.
The Chiefs do not list a quarterbacks coach, but offensive coordinator Chan Gailey, once a quarterback at Florida, is overseeing the position.
January, 9, 2009
1/09/09
11:50
AM ET
Posted by ESPN.com's Mike Sando
Hannan from Hershey, Pa., writes: Hey Mike, I've been reading your blog and I had this wacky thought for next year. What if the Seahawks switched to a 3-4 scheme with Jim Mora Jr.? Think about it, we have Kerney on one end, Jackson/Tapp on the other. We can let R. Bernard walk in free agency, I think Mebane has earned a starting job. J. Peterson can be our pass rushing OLB, while Hill (he must be resigned), Tatupu, and another ILB to be named (possibly DD Lewis) can stop the run. It's a crazy and bold idea, but to me it makes sense.
Mike Sando: The Seahawks are looking at coordinator candidates with 3-4 backgrounds, but Jim Mora will run the defense. His background is with the 4-3.
This sets up the possibility of at least running hybrid-type schemes or having the flexibility to use some 3-4 fronts and packages. I see no advantage in making a full conversion to a 3-4, based on the personnel and based on Mora's background.
Patrick Kerney and Darryl Tapp aren't nearly as big or physical as the typical 3-4 defensive ends. Brandon Mebane might be able to play the nose, but the rest of it would be a stretch on a full-time conversion, in my view.
Running a hybrid defense sounds good in theory, though I would rather have a defense play one style effectively than two styles less effectively.
---
Rich from Bellevue, Wash., writes:
Heya, Mr. Mike. About the Cards-Panthers game this weekend. Everyone is talking about how the Cardinals' defense will have to match its intensity and discipline and all from last week in order to have a chance this week. But is that really realistic? How much of last week's heroic defensive effort was due to intensity and discipline, and how much was due to them having a "tell" that let them anticipate the snap? Since they won't have that against Carolina, how much of a chance do they really have to match up?
Mike Sando: The Cardinals' ability to get a jump off the snap helped but was not necessarily the difference in that game against the Falcons. More broadly, though, I do think it's unrealistic to expect the Arizona defense to have the same energy level for a full game, minus the home crowd. But we shall see.
January, 7, 2009
1/07/09
10:59
AM ET
Posted by ESPN.com's Mike Sando
The Seahawks are moving closer to filling out Jim Mora's staff, starting with new coordinators on both sides of the ball. The team has advised several existing assistant coaches to look for jobs, an indication that Seattle expects its new coordinators to make staff changes.
Given that new head coaches often hire former associates, I wanted to provide a list of the assistants Mora worked with during his tenure as the Falcons' head coach from 2004 through the 2006 season.
I'll break down his former assistants by how many years each assistant spent with Mora in Atlanta. The list will provide context for names that could arise in the coming days and weeks.