NFC West:

Bill Rentmeester
September, 2, 2014
Sep 2
8:00
AM ET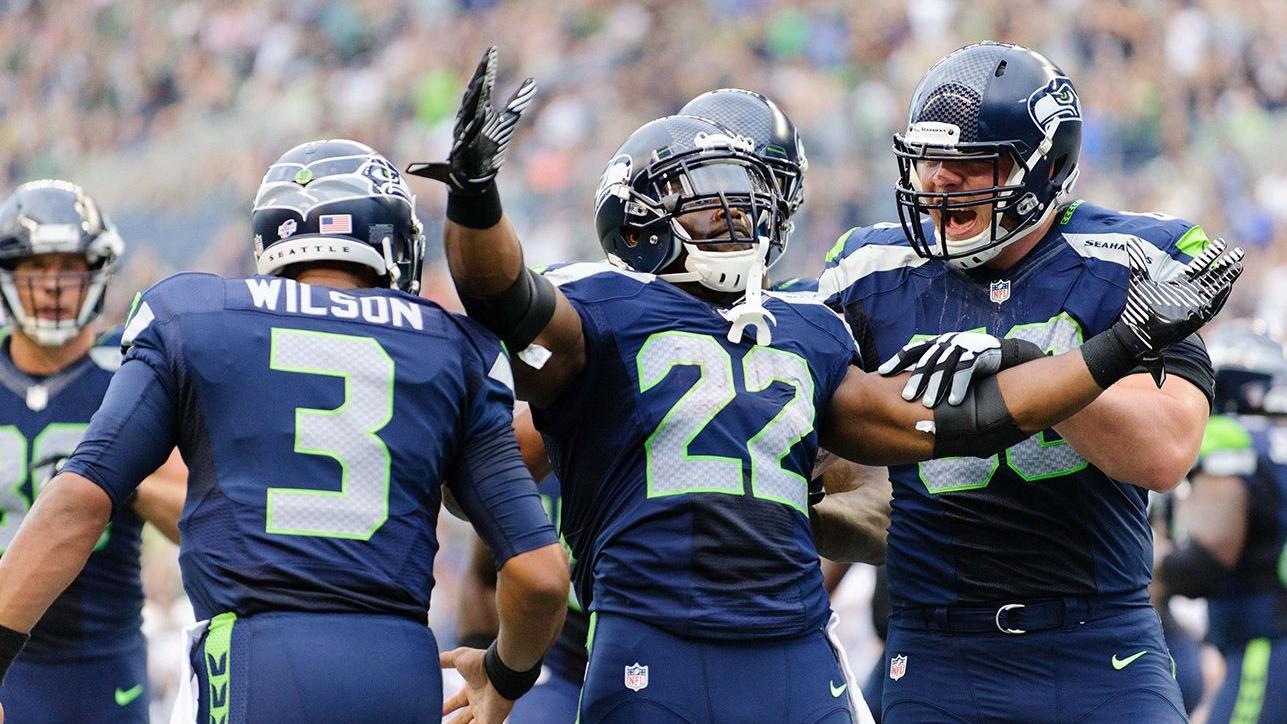 ESPN.com
Seattle Seahawks
reporter Terry Blount makes his game-by-game picks for the 2014 season.
Week 1: Green Bay Packers
All the pregame hype will center around the so-called Inaccurate Reception, the controversial Hail Mary catch by Golden Tate two years ago that won the game over the Packers at Seattle on a Monday night. Tate has moved on to Detroit, but the Seahawks now have too many weapons for the Packers to stop, no Hail Mary required. Prediction: Win
---
Week 2: at San Diego Chargers
The Chargers better hope they play a lot better than they did in the preseason game at Seattle, a 41-14 victory for the Seahawks on Aug. 15. San Diego will play better, but not good enough to beat a much better team. Prediction: Win
---
Week 3: Denver Broncos
The Broncos and their fans got a tiny bit of meaningless Super Bowl revenge in the preseason opener with a 21-16 victory over the Seahawks in Denver. Enjoy it while it lasts, boys. Repeating that outcome in Seattle is not an option. Prediction: Win
---
Week 5: at Washington Redskins
Traveling coast to coast to play on the road for a Monday night game is a tough task against any NFL opponent, and even tougher against quarterback Robert Griffin III. But the Seahawks catch a break in this one by coming off a bye week with plenty of time to prepare and be fresh for the journey. Prediction: Win
---
Week 6: Dallas Cowboys
Cowboys owner Jerry Jones gave Seattle a little bulletin-board material last month when he said the Seahawks were to blame for the increase in penalty flags during the preseason. There won't be near enough flags against Seattle for the Cowboys to win this one. Prediction: Win
---
Week 7: at St. Louis Rams
Any division game in the NFC West is a rugged battle. The Rams have a defensive line that gave the Seahawks problems a year ago. But they aren't strong enough overall to beat Seattle, even at home in their out-of-date dome. Prediction: Win
---
Week 8: at Carolina Panthers
The Seahawks were fortunate to win the season opener at Charlotte a year ago. That Panthers team was better than this one, but back-to-back road games against very physical defensive teams will end the Seattle winning streak. Prediction: Loss
---
Week 9: Oakland Raiders
Coming off their first loss of the season and returning home against an outmanned opponent, is there any doubt? Prediction: Win
---
Week 10: New York Giants
The Seahawks easily defeated the Giants 23-0 last year in New Jersey, a dress rehearsal for their Super Bowl victory at the same location -- MetLife Stadium. The Seahawks won't need a rehearsal to roll past the Giants in this one. Prediction: Win
---
Week 11: at Kansas City Chiefs
This likely will be a low-scoring game between two strong defensive teams. Odds are against any team that has to try to win by matching its defense against the Seahawks' D. Prediction: Win
---
Week 12: Arizona Cardinals
The last time the Cardinals played at CenturyLink Field was last December when they handed the Seahawks a 17-10 loss. That won't happen again unless the Seahawks get caught looking ahead to the 49ers game. The Seahawks don't look ahead. Prediction: Win
---
Week 13: at San Francisco 49ers
It's a Thanksgiving night, national TV game in the 49ers' shiny new stadium against the hated Seahawks. If San Francisco can't win this one, its time as a championship contender is over. Prediction: Loss
---
Week 14: at Philadelphia Eagles
This is the toughest part of the season for the Seahawks with back-to-back road games against likely playoff contenders. But the 10 days between games will help and be enough of a cushion to keep Seattle from losing two in a row. Prediction: Win
---
Week 15: San Francisco 49ers
This is a game that could decide which team wins the NFC West. No way the Seahawks lose to the 49ers twice in three weeks, especially not in front of a rabid full house of 12s. Prediction: Win
---
Week 16: at Arizona Cardinals
The Cardinals probably will be fighting for a playoff spot, and the Seahawks already will be in at 12-2. That difference will be just enough for Arizona to win at home in the same stadium where the Seahawks will win the Super Bowl a few weeks later. Prediction: Loss
---
Week 17: St. Louis Rams
For the second consecutive year, the Rams close the regular season in Seattle. And for the second consecutive year, the Seahawks will beat them without much trouble. Prediction: Win
---
Predicted Record: 13-3
September, 10, 2009
9/10/09
10:55
AM ET

Posted by ESPN.com's Mike Sando
The tough decisions teams face in reducing their rosters to 53 players sometimes aren't so tough.
"The 49ers released Kory Sheets!" loses some of its drama when Sheets quietly re-signs to the 49ers' practice squad after none of the other 31 NFL teams submit a waiver claim for him.
I've gone through the initial NFC West cut lists -- those players released at the 53-man deadline -- to see which ones have returned to their teams or caught on elsewhere.
The chart shows results for San Francisco.
The 49ers' initial cut list featured only one vested veteran, cornerback Eric Green. The other 19 players had practice-squad eligibility and the 49ers brought back six of them in that capacity.
The remaining 14 players are unsigned.
Offensive lineman Jacob Bender had a tryout with the Seahawks. The Jets showed interest in tight end Bear Pascoe, only to receive another tight end via waivers.
Sheets impressed during the preseason, but the 49ers were stacked at running back with
Frank Gore
and
Glen Coffee
. They valued the versatile
Michael Robinson
far too much to carry a rookie runner on their 53-man roster in his place.
September, 6, 2009
9/06/09
11:12
AM ET

Posted by ESPN.com's Mike Sando
NFL teams can begin forming eight-man practice squads once released players clear waivers this afternoon.
Every player the 49ers released on the reduction to 53 players -- minus cornerback
Eric Green
-- possesses eligibility for the practice squad. Tackle Alex Boone, guard Matt Spanos, fullback Brit Miller, defensive lineman Khalif Mitchell and running back Kory Sheets could make sense as options. The team will presumably keep one of the tight ends it released, Bear Pascoe or J.J. Finley. Cornerback Terrail Lambert could provide another option.
Some 49ers fans have expressed to me surprise over Sheets' release in particular. The depth San Francisco enjoys at that position made Sheets' release likely.
We likewise should not be surprised if backup running back
Glen Coffee
plays sparingly as a rookie. Like Sheets, Coffee showed promise during the exhibition games. But with offensive coordinator Jimmy Raye having already committed to
Frank Gore
as the workhorse back, there won't be many carries left over.
As long as Gore is healthy and his usually productive self, I think Coffee would have to break long runs when given opportunities to siphon significant carries in the No. 2 role.
September, 5, 2009
9/05/09
5:40
PM ET

Posted by ESPN.com's Mike Sando
Biggest surprise:
The 49ers kept only four running backs, two tight ends and eight offensive linemen on the initial cutdown to 53 players, suggesting the team will consider adding players at those positions. This is a power running team, after all.

The decision to release both
Bear Pascoe
and
J.J. Finley
was a bit of surprise. One of them was expected to serve as the third tight end. Undrafted free agent
Diyral Briggs
earned a spot at linebacker, edging out
Jay Moore
. Fullback
Brit Miller
, running back
Kory Sheets
and receiver
Dominique Zeigler
had made positive impressions with fans, but none enjoyed strong roster security. Their releases were not surprising in that context. Coach Mike Singletary had said the 49ers faced few significant roster decisions heading into the final exhibition game. The team did not cut any big-name players.
No-brainers:
The 49ers' cut list ran 20 deep and also featured tackle
Jacob Bender
, tackle
Alex Boone
, receiver
Dobson Collins
, defensive end
Pannel Egboh
, cornerback
Eric Green
, guard
Kyle Howard
, cornerback
Terrail Lambert
, defensive lineman
Khalif Mitchell
, receiver
Maurice Price
, fullback
Bill Rentmeester
, linebacker
Justin Roland
, offensive lineman
Matt Spanos
, tackle
Joe Toledo
and linebacker
Mark Washington
.
What's next:
The 49ers could use a veteran offensive tackle after
Marvel Smith
retired. They will presumably scan the waiver wire for a fullback. The team will also likely want to add a third tight end.
September, 3, 2009
9/03/09
10:00
AM ET

Posted by ESPN.com's Mike Sando

Kent Somers of the Arizona Republic
says Cardinals backup quarterback Matt Leinart suffered a shoulder injury against the Packers while throwing for 360 yards in the second half.
Paola Boivin of the Arizona Republic
says analysts aren't buying into the Cardinals this season, although ESPN's Chris Berman likes Arizona on simple grounds. Berman: "When you can score 30 points a game against most teams, that's a nice thing to have in your hip pocket."
Darren Urban of azcardinals.com
makes a 53-man roster projection for the Cardinals. He puts tackle Oliver Ross on the bubble. My overall impression of Ross was favorable when he subbed for Mike Gandy at left tackle against the Packers.
Revenge of the Birds' Hawkwind
wonders if there's still a small chance Beanie Wells could challenge Tim Hightower for the starting job at halfback in Arizona.

Kris Anderson of 49ers.com
profiles pass-rusher Parys Haralson.
Kevin Lynch of Niner Insider
checks in with cornerback Shawntae Spencer, a veteran surprise for the 49ers this summer.
Matt Maiocco of the Santa Rosa Press-Democrat
still thinks Michael Crabtree will sign with the 49ers before the regular-season opener, though he's less sure than before.
Also from Maiocco
: Cornerback Nate Clements explains recent preseason struggles by saying he's working on weaknesses in his game. Also, coach Mike Singletary challenged players following a poor practice session.
Matt Barrows of the Sacramento Bee
says the evidence points to Dre Bly starting at right corner even though defensive coordinator Greg Manusky says Spencer and Tarell Brown are still competing.
Tim Kawakami of the San Jose Mercury News
hasn't seen enough from Shaun Hill, Crabtree or Manny Lawson to think the 49ers have solved their problems.
Daniel Brown of the San Jose Mercury News
said during a chat that 49ers general manager Scot McCloughan isn't impressed by the crop of veteran free-agent tackles. The 49ers want to see which tackles teams release on the reduction to 53 players.
David Fucillo of Niners Nation
makes another 53-man roster projection. He wonders what Maiocco meant when he suggested the 49ers would add a fullback not currently on the roster. Translation: The 49ers will probably sign a veteran fullback from the pool of players available following the reduction to 53 players. There simply weren't many fullbacks available when the 49ers decided to give linebacker Brit Miller a try at the position. They added Bill Rentmeester when he came available, but they'll consider other options.

Danny O'Neil of the Seattle Times
points to the Seahawks' depth at defensive end to explain why the team moved Michael Bennett to defensive tackle.
Also from O'Neil
: a look at position battles still undecided heading into the Seahawks' final exhibition game. Defensive line tops the list.
Eric D. Williams of the Tacoma News Tribune
looks at the race between Seahawks kickers Brandon Coutu and Olindo Mare.
Also from Williams
: a look at Bennett's conversion to defensive tackle. Williams: "Bennett has stepped up his game in his first year as a pro. He's recorded two sacks and four tackles for loss in three preseason games for Seattle, and is solidly in the conversation" for a spot on the initial 53-man roster.
John Morgan of Field Gulls
sees Ben Obomanu and Courtney Taylor competing to be the Seahawks' fifth receiver.

Jim Thomas of the St. Louis Post-Dispatch
says the Rams must clear 21 roster spots by Saturday. Running back Samkon Gado: "I was talking to my roommate [Phil Trautwein], who is a rookie. And I just told him if you're going to play in this league, you've got to be prepared to be cut. I've been cut I think six or seven times in five years. It's just the nature of the beast. You do the best that you can. And a lot of times, it's not really up to you. It's not really how well you played or how poorly you played. It's just there's not a need for you. So I think the best thing to do is just continue working hard. There's going to be someone out there who has a need for you, and I think I'm a wonderful example of that."
Also from Thomas
: Five things to watch in the Rams' final exhibition game of the 2009 season. Thomas: "Teams traditionally keep four defensive tackles. The Rams have five bona fide roster candidates in Adam Carriker, Gary Gibson, Clifton Ryan, Darell Scott and Hollis Thomas. Who's the odd man out? And should 2007 first-round pick Carriker, who's on the second-team defense coming off an ankle injury, be worried?"
Turf Show Times' VanRam
wonders if Eagles receiver Reggie Brown could be in the Rams' plans.
Tim Klutsarits of examiner.com
outlines five things to watch when the Rams face the Chiefs in their final exhibition game. Cornerback play tops the list after St. Louis traded Tye Hill.
August, 27, 2009
8/27/09
5:55
PM ET
Posted by ESPN.com's Mike Sando

The Seahawks' decision to sign 31-year-old Edgerrin James and confer upon him "complementary" status behind "workhorse" Julius Jones showed what the team thought about its quality depth at running back: not a great deal.

The move upgraded the position, in my view, because James is better suited than was T.J. Duckett to step into the lineup on a full-time basis if needed.

But the Seahawks still might be chasing the rest of the NFC West at the position.

James' signing provides an opportunity to size up the position across the division.

I ranked each team's situation at running back in my mind before calling Matt Williamson of Scouts Inc. to talk through each situation. He felt more strongly than I did about ranking the Rams' situation No. 1, ahead of the 49ers' situation. We agreed on ranking the Cardinals' running backs third, ahead of the Seahawks' backs.

Rankings and explanations follow:


1. St. Louis Rams


Current backs: Steven Jackson, Samkon Gado, Antonio Pittman, Kenneth Darby, Chris Ogbonnaya, Mike Karney (FB), Jerome Johnson (FB)


Williamson's take: "Adrian Peterson is the best back in the league and I would probably give the No. 2 honor to DeAngelo Williams right now, but then Steven Jackson is right there -- if healthy, of course. I think he'll get a ton of touches there. They are installing more of an Eagles-type offense. He'll be a bigger, badder version of Brian Westbrook and catch a lot of balls. He will also be the focus of every defense and there could be a greater chance of injury. Karney is a little more athletic than some of the pure straight-ahead hammer blockers. He has had injury problems, too."


My take: The 49ers' overall depth at running back appeals, but Jackson is unquestionably a special player athletically, more so than any back in the division. Special traits always appeal to the scout, which might explain why Williamson was quick to rank the Rams' running backs ahead of those in San Francisco. From my perspective, the Rams' situation at running back might be best in the division while it lasts. I question whether Jackson can hold up for a full season. The drop-off from Jackson to the next guy -- whoever it might be -- will be more dramatic than elsewhere in the division. That's another reason I'm a little nervous about ranking the Rams' running backs No. 1.


2. San Francisco 49ers



Current backs: Frank Gore, Glen Coffee, Michael Robinson, Kory Sheets, Moran Norris (FB), Bill Rentmeester (FB), Brit Miller (FB)


Williamson's take: "I like Gore as well. I would say he is more of the fifth- to 10th-best back in the league. I do not think his skills are as impressive as Jackson's skills. He is also going to be a jack-of-all-trades and get a ton of touches, but his job will be a little easier because I think their passing game will be more respectable than St. Louis' passing game. Of the fullbacks, I like Norris probably the best in the division. He will help Gore's cause. I don't think that is a determining factor one way or another, though."


My take: Gore has shown signs of wearing down late in seasons. He could be at additional risk as the team commits more fully to a run-oriented power scheme. But his toughness and running style earn him high marks. He's enjoying a sensational summer and offensive coordinator Jimmy Raye has said Gore will matter more than the quarterback. All signs point to Gore revisiting the production level he enjoyed during the 2006 season. And with Coffee breaking out in the preseason, the 49ers appear better protected than the Rams if their starter gets hurt.


3. Arizona Cardinals



Current backs: Tim Hightower, Beanie Wells, Jason Wright, LaRod Stephens-Howling, Chris Vincent, Dan Kreider (FB), Tim Castille (FB), Reagan Maui'a (FB)


Williamson's take: "James is more proven than Hightower, but Hightower is cheaper. I don't think he is a special player at all. He has had a better preseason than I expected, but he does not bring any special quality to the table. He is not an extremely powerful player, he is not going to wear down defense, his pass-catching skills are ordinary, he is not a make-you-miss guy and he is not a speed player. Wells has the most talent of any back in Arizona or Seattle."


My take: Cutting James and adding Wells is like moving money from a savings account into something riskier. James was never going to pay off big at this stage of his career. Wells has the talent to complete an already productive offense, but it's tough to believe he'll be healthier in the NFL than he was in college. I know he didn't miss many games at Ohio State, but he's already missed a bunch of training camp. The burden of proof is on Wells at this point. Hightower has been more productive in the preseason because he has taken the opportunity seriously. He looks leaner and quicker than he was last season. The Cardinals can get more from this position by resisting the temptation to throw so frequently.


4. Seattle Seahawks


Current backs: Julius Jones, Edgerrin James, Justin Forsett, Devin Moore, Owen Schmitt (FB), Justin Griffith (FB), Dan Curran (FB), David Kirtman (FB)


Williamson's take: "I don't trust Jones to carry the load. I probably like him better than Hightower, though. I don't like him as a No. 1, but I don't know if either team has a No. 1 right now. Wells has the best chance. Jones is a complementary player, a gets-what-is-there kind of back. I don't think he is a great receiver or anything. He is not tremendously powerful or elusive. Justin Forsett is probably the most intriguing back between Arizona and Seattle. With Edgerrin James, I don't have a lot of faith in him. One thing people don't understand about his game, though, is that he is a great pass-protection back. He will be used more out of the backfield than he was the last couple years, especially with Seattle's offensive line being shaky. He can grind out some yards and could be good in the red zone."


My take: The Seahawks haven't targeted the position early in the draft recently and it shows. Paying Shaun Alexander all that money a few years ago set back the position. The team wasn't going to immediately invest as much in a replacement. Jones and James are both very good in pass protection, though, and I think that will help the offense more than the running stats will show. This looks like a pass-first team on paper. We'll find out whether the zone blocking scheme can manufacture production. Having the same five offensive linemen for more than a week or two would certainly help. Forsett has been the Seahawks' most impressive back this summer.
August, 22, 2009
8/22/09
10:56
AM ET
Posted by ESPN.com's Mike Sando
I'll be trading notes with AFC West blogger Bill Williamson on Saturday night. He lives in California and will be watching the Raiders-49ers game. I live in Washington and will be watching the Broncos-Seahawks game.
NFL Network replays the Raiders-49ers game Sunday night. I'll give that game a close look at that time. A few things I'll want to see:
Alex Smith's command. Smith doesn't need to carry himself with Johnny Unitas' swagger. He does need to demonstrate command of the offense and situations in general. Is he the man when he's in the game? Is he decisive? From a technical standpoint, Smith needs to show better touch on short passes. He missed a screen to Glen Coffee last week.
Hard feelings. The 49ers dominated and taunted the Raiders when the teams practiced together during the week. Can the 49ers sustain their domination, or were they too excited about a routine practice?
The pass rush. The 49ers didn't win many individual pass-rush matchups in their exhibition opener. A sack or two from Manny Lawson would help dispel fears that the 49ers haven't done enough to upgrade in that area.
Signs of life at receiver. I was looking to see something from Jason Hill in the opener. There wasn't much to see. With Brandon Jones out, what do the 49ers have beyond Isaac Bruce, Josh Morgan and Arnaz Battle? Micheal Spurlock has made an impression.

The fullbacks. Linebacker-turned-fullback Brit Miller scored two touchdowns against the Broncos last week. That will not be enough for Miller to earn a roster spot. The 49ers need their fullbacks to block in the run game and pick up blitzes in pass protection. Newly signed Bill Rentmeester has the edge in experience. Moran Norris is the starter. Which fullback should the 49ers keep as a backup?
Dashon Goldson and the secondary. The 49ers picked off three Kyle Orton passes last week despite very little pass rush, a very good start for a group that did not force enough turnovers last season. The decision to replace free safety Mark Roman with Goldson seemed overdue. Let's see if Goldson's athleticism stands out.
Anything else you'll be watching for in this game? The local CBS affiliate in San Francisco is carrying the game. NFL Network replays it at 10 p.m. ET Sunday.
August, 21, 2009
8/21/09
11:29
AM ET
Posted by ESPN.com's Mike Sando
The quarterback race between Shaun Hill and Alex Smith commands much 49ers-related attention.
The race for the No. 3 job behind them deserves some attention. Veteran Damon Huard has a 15-12 record as an NFL starter. He provides value as an experienced backup. The team also wants to develop fifth-round rookie quarterback Nate Davis.
What to do?
Davis is a project. He will not help the 49ers this season. The question becomes whether another team would sign him to its 53-man roster if the 49ers waived Davis and tried to sign him to their practice squad.
As noted, NFL teams selected 19 quarterbacks in the fifth round from the 2000 through 2008 drafts. Eighteen earned opening-day spots on 53-man rosters as rookies. The Steelers' Omar Jacobs was an exception in 2006, the year Ben Roethlisberger opened on the bench following a motorcycle accident.
The factors that pushed down Davis in the draft -- notably a learning disability that the 49ers see as overstated -- still exist. If teams fear Davis might struggle to learn their system -- and for the sake of this discussion, it doesn't matter if such fears are justified -- the 49ers might have an easier time getting
Davis onto their practice squad.
What would you do?
The chart shows all 31 current 49ers players with eligibility, arranged by position. I left first-round choice Michael Crabtree off the chart because he has not signed with the team.
NFL teams must reduce rosters from 80 to 75 players Sept. 1. They must reduce to 53 players Sept. 5. They can begin forming eight-man practice squads Sept. 6 at noon ET.
As the NFL puts it:
After 12 noon, New York time, clubs may establish a practice squad of eight players by signing free agents who do not have an accrued season of free-agency credit or who were on the 45-player active list for less than nine regular-season games during their only accrued season(s). A player cannot participate on the practice squad for more than three seasons.
The 49ers also face dilemmas at other positions, including what to do at receiver while Crabtree and Brandon Jones are not available, but that third quarterback race stands out.
August, 17, 2009
8/17/09
1:42
PM ET
Posted by ESPN.com's Mike Sando
The 49ers' roster appears most interesting at running back and receiver.
The more I think about how much the 49ers want to pound the ball on offense, the more I see them keeping two fullbacks on the Week 1 roster.
Zak Keasey's broken forearm prevents him from becoming part of the equation early, and it's tough to see a team waiting two months for a backup fullback to get healthy. Enter Bill Rentmeester. Formerly of the Chargers, Rentmeester offers what preseason touchdown machine Brit Miller does not: experience at fullback. For the sake of this roster exercise, I'll pencil in Rentmeester for Week 1.
The numbers at receiver figure to swell while the team waits for Brandon Jones to heal and Michael Crabtree to sign and get ready to contribute.
| | | | | | | | | | |
| --- | --- | --- | --- | --- | --- | --- | --- | --- | --- |
| San Francisco 49ers Week 1 Roster Counts since 2003 | QB | RB | WR | TE | OL | DL | LB | DB | ST |
| Fewest | 3 | 4 | 5 | 2 | 8 | 5 | 6 | 7 | 2 |
| Most | 4 | 7 | 7 | 4 | 10 | 9 | 8 | 11 | 4 |
| Average | 3.2 | 5.2 | 5.8 | 3.2 | 8.8 | 7.2 | 7.3 | 9.3 | 3.0 |
| Currently on roster | 4 | 8 | 12 | 4 | 14 | 9 | 12 | 14 | 4 |
The chart provides a framework for how many players the 49ers might keep at each position heading into the regular-season opener against the Cardinals.
Here's a quick look at which 49ers players I might keep on the cutdown to 53 players (I made one change, moving Cody Wallace into the group of offensive linemen at Joe Toledo's expense):
August, 16, 2009
8/16/09
6:32
PM ET
Posted by ESPN.com's Mike Sando
The 49ers waived running back Thomas Clayton following his knee injury Friday night. Waived/injured was the formal designation, the team announced, which means Clayton will likely land on injured reserve once he clears waivers. Clayton has a torn ACL, the team said.
Also, fullback Zak Keasey is expected to miss eight weeks after suffering a broken forearm. The team has signed fullback Bill Rentmeester. I do not have a scouting report on Rentmeester. Do you? Update: He was with the Chargers. Big special-teams contributor in college at Wisconsin.