September, 2, 2014
Sep 2
8:00
AM ET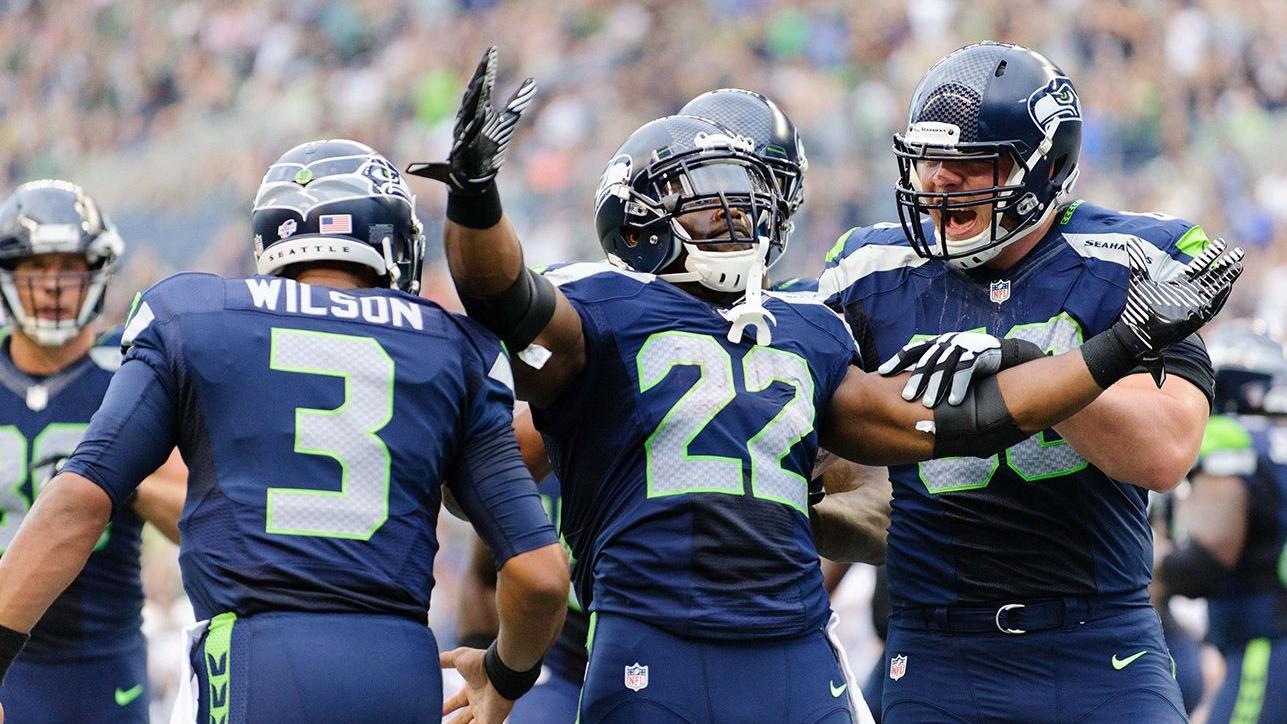 ESPN.com
Seattle Seahawks
reporter Terry Blount makes his game-by-game picks for the 2014 season.
Week 1: Green Bay Packers
All the pregame hype will center around the so-called Inaccurate Reception, the controversial Hail Mary catch by Golden Tate two years ago that won the game over the Packers at Seattle on a Monday night. Tate has moved on to Detroit, but the Seahawks now have too many weapons for the Packers to stop, no Hail Mary required. Prediction: Win
---
Week 2: at San Diego Chargers
The Chargers better hope they play a lot better than they did in the preseason game at Seattle, a 41-14 victory for the Seahawks on Aug. 15. San Diego will play better, but not good enough to beat a much better team. Prediction: Win
---
Week 3: Denver Broncos
The Broncos and their fans got a tiny bit of meaningless Super Bowl revenge in the preseason opener with a 21-16 victory over the Seahawks in Denver. Enjoy it while it lasts, boys. Repeating that outcome in Seattle is not an option. Prediction: Win
---
Week 5: at Washington Redskins
Traveling coast to coast to play on the road for a Monday night game is a tough task against any NFL opponent, and even tougher against quarterback Robert Griffin III. But the Seahawks catch a break in this one by coming off a bye week with plenty of time to prepare and be fresh for the journey. Prediction: Win
---
Week 6: Dallas Cowboys
Cowboys owner Jerry Jones gave Seattle a little bulletin-board material last month when he said the Seahawks were to blame for the increase in penalty flags during the preseason. There won't be near enough flags against Seattle for the Cowboys to win this one. Prediction: Win
---
Week 7: at St. Louis Rams
Any division game in the NFC West is a rugged battle. The Rams have a defensive line that gave the Seahawks problems a year ago. But they aren't strong enough overall to beat Seattle, even at home in their out-of-date dome. Prediction: Win
---
Week 8: at Carolina Panthers
The Seahawks were fortunate to win the season opener at Charlotte a year ago. That Panthers team was better than this one, but back-to-back road games against very physical defensive teams will end the Seattle winning streak. Prediction: Loss
---
Week 9: Oakland Raiders
Coming off their first loss of the season and returning home against an outmanned opponent, is there any doubt? Prediction: Win
---
Week 10: New York Giants
The Seahawks easily defeated the Giants 23-0 last year in New Jersey, a dress rehearsal for their Super Bowl victory at the same location -- MetLife Stadium. The Seahawks won't need a rehearsal to roll past the Giants in this one. Prediction: Win
---
Week 11: at Kansas City Chiefs
This likely will be a low-scoring game between two strong defensive teams. Odds are against any team that has to try to win by matching its defense against the Seahawks' D. Prediction: Win
---
Week 12: Arizona Cardinals
The last time the Cardinals played at CenturyLink Field was last December when they handed the Seahawks a 17-10 loss. That won't happen again unless the Seahawks get caught looking ahead to the 49ers game. The Seahawks don't look ahead. Prediction: Win
---
Week 13: at San Francisco 49ers
It's a Thanksgiving night, national TV game in the 49ers' shiny new stadium against the hated Seahawks. If San Francisco can't win this one, its time as a championship contender is over. Prediction: Loss
---
Week 14: at Philadelphia Eagles
This is the toughest part of the season for the Seahawks with back-to-back road games against likely playoff contenders. But the 10 days between games will help and be enough of a cushion to keep Seattle from losing two in a row. Prediction: Win
---
Week 15: San Francisco 49ers
This is a game that could decide which team wins the NFC West. No way the Seahawks lose to the 49ers twice in three weeks, especially not in front of a rabid full house of 12s. Prediction: Win
---
Week 16: at Arizona Cardinals
The Cardinals probably will be fighting for a playoff spot, and the Seahawks already will be in at 12-2. That difference will be just enough for Arizona to win at home in the same stadium where the Seahawks will win the Super Bowl a few weeks later. Prediction: Loss
---
Week 17: St. Louis Rams
For the second consecutive year, the Rams close the regular season in Seattle. And for the second consecutive year, the Seahawks will beat them without much trouble. Prediction: Win
---
Predicted Record: 13-3
August, 8, 2009
8/08/09
9:03
AM ET
Posted by ESPN.com's Mike Sando

Nick Wagoner of stlouisrams.com recaps Steve Spagnuolo's emotionally draining day, which included attending Jim Johnson's funeral. Spagnuolo: "It was very soothing for me to see all of the people that showed up. I can't tell you the overwhelming display of love for Jim Johnson in Philadelphia today. There were more people coming back there that hadn't been there in a long time. It was one of those days where everybody gets together and you mourn a friend and a family member."
Jim Thomas of the St. Louis Post-Dispatch wasn't surprised when Rams tackle Alex Barron opened the scrimmage with a false-start penalty. Thomas: "First-round draft pick Jason Smith is still having trouble blocking Leonard Little on the pass rush. But working with the starting offense, Smith made a nice block on what would've been a touchdown by Steven Jackson."
Steve Korte of the Belleville News-Democrat says Leonard Little, Chris Long and James Hill consistently got pressure during 2-minute drill.
Also from Korte: a refresher on NFL rules changes as officials visit Rams camp.
Turf Show Times' Hetfield72 files a detailed report from the Rams' scrimmage. He thought the interior offensive line appeared strong.

Dan Brown of the San Jose Mercury News says Brandon Jones' injury and Michael Crabtree's absence opens the door for 49ers receiver Dominique Zeigler. Teams tend to need their depth at receiver as injuries prevail throughout the course of camp.
49ers guard David Baas blogs about his foot injury. Baas: "It's just a minor setback and it won't take that long. I've been through this before so I always come out ahead in the end. It's no big deal and I've been going to all of the meetings and so I'm still around my teammates."
John Crumpacker of the San Francisco Chronicle says the 49ers practiced in shorts for the first time since camp opened. Also, coach Mike Singletary says he "hates" to see Jones injured after a strong start to camp.
Matt Barrows of the Sacramento Bee charted receiver snaps during 11-on-11 drills to see which ones were getting the most reps without Jones or Crabtree. The results: Josh Morgan 15, Arnaz Battle 14, Michael Spurlock 14, Jason Hill 12, Dominique Zeigler 10, Maurice Price 3, Mark Bradford 3 and Dobson Collins 2. Isaac Bruce had the afternoon off.
Darren Urban of azcardinals.com sizes up the most exciting part of any training camp practice, at least to me: one-on-one pass-rush rills. The accompanying photo of Bryan Robinson apparently attempting to decapitate Lyle Sendlein says it all. Also, injured fullback Dan Kreider returned to practice.
Revenge of the Birds' Andrew 602 predicts a fast start for the Cardinals despite a projected home loss against the Colts early in the season.
Matt Maiocco of the Santa Rosa Press-Democrat says the 49ers added a 3-second clock to help quarterbacks get a feel for when the ball should be thrown. Maiocco: "Neither quarterback is separating himself in the QB competition. Hill was much better in the morning session, and Smith won the afternoon. Smith completed 12 of 15 passes in the recently completed practice. Hill was 7 of 11 with an interception by Parys Haralson off a tipped pass at the line of scrimmage."
Also from Maiocco: an assessment of the situation at receiver. Maiocco: "Jones and Crabtree represent the 49ers' biggest offseason investments. And now there are legitimate concerns about when either will be available to make contributions."

Kent Somers of the Arizona Republic
says he thinks the Cardinals are deeper on the offensive line than any team Ken Whisenhunt and Russ Grimm have coached since 2001, according to Whisenhunt. Somers lists five backups Whisenhunt likes. Teams generally keep no more than four backup offensive linemen, however.
Also from Somers: Beanie Wells did some light running Friday. He could be back from a sprained ankle early next week.
More from Somers: High winds in Flagstaff prompted Whisenhunt to hold for kicker Neil Rackers.
More still from Somers: Kurt Warner revisits a theme he touches upon from time to time, assessing how the pressure to succeed can become draining.

Clare Farnsworth of seahawks.com says basketball great Bill Russell addressed the team at Jim Mora's request. Russell was sitting in the lobby at Seahawks headquarters when I left following practice Thursday night. He looked good.
Chris Sullivan of Seahawk Addicts provides an in-depth report from the Seahawks' practice Friday night. Sullivan: "Ben Obamanu is doing a fantastic job of reminding everyone why he was the favorite to get real playing time in 2008 before he broke his shoulder. He looks very good in every aspect of the game. Great hands, good feet, a decent block or two, and crisp routes."
John Boyle of the Everett Herald says Deion Branch was back at practice for the Seahawks on Friday night, but T.J. Houshmandzadeh scored the most points -- thanks to an extended autograph session with fans.
Tim Booth of the Associated Press says a few thousand people sat through rainy conditions to watch the Seahawks practice at
Husky Stadium. Houshmandzadeh made an impression on Huskies defensive back Quinton Richardson.
Danny O'Neil of the Seattle Times visits with Seahawks rookie Nick Reed as part of an overview from camp. Reed says he's a fan of "Butch Cassidy and the Sundance Kid."
Dave Boling of the Tacoma News Tribune says injuries raise concerns for the Seahawks, again. Boling: "The vision of a sore-backed Walter Jones walking gingerly onto the field, and the absence of Marcus Trufant and top draft pick Aaron Curry, added to sundry infirmities and potential manpower shortages, are enough to give pause to even those watching through the rosiest of glasses."

NFC WEST SCOREBOARD
Thursday, 9/4
Sunday, 9/7
Monday, 9/8