January, 30, 2013
1/30/13
12:00
PM ET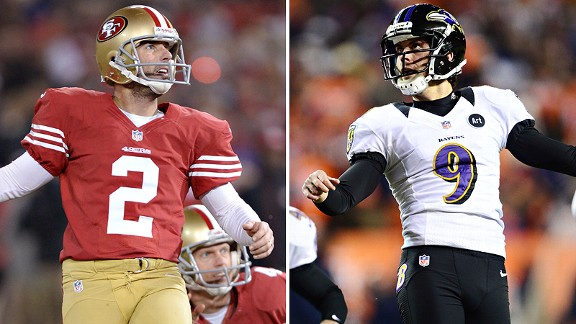 USA TODAY SportsRavens rookie kicker Justin Tucker, No. 9, has outperformed 49ers veteran David Akers.
NEW ORLEANS -- Field goal tries have decided two of the 11 most recent Super Bowls and four of them overall.
San Francisco 49ers
fans could do without such a finish in Super Bowl XLVII after their team's kicker,
David Akers
, missed 10 of his 19 tries from at least 40 yards this season.
Not that the 49ers' opponent in this Super Bowl has sailed through the playoffs on the strength of its special teams. The
Baltimore Ravens
have their own issues in that area.
NFC West blogger Mike Sando and AFC North counterpart Jamison Hensley have covered most of the other angles heading into this game. Can they pull off an item dedicated solely to special teams or will this one bounce off the upright? You decide.
Sando:
Ravens fans probably don't want to hear about Akers' struggles. They're still recovering from
Billy Cundiff
's missed field goal in the playoffs last season. But as I've watched the 49ers and Ravens advance through the playoffs, special-teams issues have been impossible to overlook. Here we have the Ravens, led by a former special-teams coach, allowing 104-yard and 90-yard returns for touchdowns in a close game at Denver. And here we have the 49ers, with big bucks invested in special-teams coach Brad Seely, hoping against hope that Akers can make routine field goals. Are we overreacting here, Jamison?
Hensley:
Not an overreaction at all, Mike. It's kind of been a curse with Ravens head coaches. Brian Billick could never get the offense on track when he was in Baltimore after coordinating the highest-scoring offense at the time in Minnesota. The same goes for Harbaugh, who has to be irritated by the critical breakdowns on special teams after spending most of his NFL career coordinating that area of the game. It was worse for the Ravens last season, when they allowed three touchdowns on special teams.
Sando:
I remember one of them well. Arizona's
Patrick Peterson
returned a punt 82 yards for a touchdown in Baltimore. Cleveland's
Josh Cribbs
and the New York Jets'
Joe McKnight
also did the return-game scoring honors against the Ravens last season. It was the Broncos'
Trindon Holliday
with that 104-yard kickoff return and 90-yard punt return this postseason.
Hensley:
John Harbaugh thought the problem was fixed. The Ravens didn't allow a special-teams touchdown in the regular season and didn't allow even one yard on a return of any kind in the wild-card playoff game against Indianapolis. But lapses on special teams nearly cost the Ravens in the AFC division playoff game, where they gave up those touchdowns to Holliday. The Ravens still express confidence in their coverage teams and they have veteran experience there with
Brendon Ayanbadejo
,
Sean Considine
and
James Ihedigbo
. Still, those errors have to be in the back of the Ravens' minds.
Sando:
The 49ers have had their own special-teams adventures, of course. We all remember Kyle Williams' miscues dooming San Francisco to defeat in the NFC Championship Game one year ago. You might also recall
Ted Ginn
Jr. struggling to field the ball in the rain against New England this season. Ginn was a consistent threat in 2011, but not so much this season. He did have a 20-yard punt return against Atlanta in the NFC title game this year. Ginn has six career return touchdowns, three apiece on punts and kickoffs. He is a player to watch on special teams in this matchup. Playing the game indoors removes weather as a concern -- big for returners.
Hensley:
The Ravens actually had Ginn in for a visit this offseason because they were looking to upgrade at returner. They finally decided he was too much of a risk considering his injury history. Baltimore was lucky in landing
Jacoby Jones
. A week after the Texans released Jones, the Ravens signed him to a two-year, $7 million deal. He has been an electric returner for the Ravens, earning a trip to the Pro Bowl this season that he didn't make. Jones is the only player in NFL history with two kickoff returns of at least 105 yards in a career. And he did it in one season. The other big pickup made by the Ravens this offseason was kicker
Justin Tucker
, an undrafted rookie who beat out Cundiff this summer.
Sando:
Ah, yes, Cundiff. The 49ers signed him to compete with Akers before the playoffs got going. That is how desperate they had become after Akers made only 11 of his final 18 tries of the regular season. Akers, Cundiff and Green Bay's
Mason Crosby
were the only qualifying kickers making less than 70 percent of their field goal tries during the regular season. Counting the playoffs, Akers has made only 9 of 19 tries from 40-plus yards. He bounced one off the upright against Atlanta, making that game the 49ers' first under Jim Harbaugh without at least one made field goal.
Hensley:
While the decision to go with Tucker over Cundiff proved to be the right one, it was still a gutsy call by Harbaugh back in the end of August. The Ravens went from Cundiff, a Pro Bowl kicker in 2010, to Tucker, an undrafted rookie out of Texas. They went from Cundiff, who had converted 89.9 percent of his kicks inside the 50 over the past two years (53-of-59) and led the NFL in touchbacks, to Tucker, who had never kicked in a regular-season game.
Sando:
How the mighty have fallen. Akers set an NFL record for made field goals in 2011. He and Cundiff were both Pro Bowlers recently.
Hensley:
Tucker has surpassed expectations. He connected on 90.9 percent of his field goals (30-of-33) in the regular season, which was the second-best mark by a rookie kicker in NFL history. Tucker also has been clutch with three game winners, including a 47-yarder to win the AFC divisional playoff game in double overtime. Another strength of the Ravens is at punter, and the 49ers can say the same thing.
Sando:
I think
Andy Lee
is the best punter in the NFL. And while there's no truth to the adage that special teams comprise one-third of the game, there's no question field position can matter a great deal in a game between evenly matched opponents. So can last-second field goals. And if this game comes down to one of those, the Ravens have to like their chances.
January, 11, 2013
1/11/13
11:45
AM ET
»
NFC Final Word
:
Packers-49ers
|
Seahawks-Falcons
»
AFC
:
Ravens-Broncos
|
Texans-Pats
Five nuggets of knowledge about the San Francisco 49ers' divisional playoff game against the Green Bay Packers on Saturday at Candlestick Park:
Season of change:
These are not your 2011 49ers. The three players most instrumental in San Francisco's divisional victory over New Orleans last season --
Justin Smith
,
Alex Smith
and
Vernon Davis
-- enter this game on different terms. Justin Smith will try to play through a triceps injury that has sidelined him for three weeks and will require surgery in the offseason. Alex Smith gave way to
Colin Kaepernick
as the starting quarterback in Week 11. Davis, who caught 10 passes for 292 yards and four scores in the playoffs one year ago, has six catches in his past six games. Kicker
David Akers
, who set an NFL record for field goals last season, struggled enough recently for the team to sign
Billy Cundiff
. Who are these 49ers, anyway? Tune in Saturday to find out.
[+] Enlarge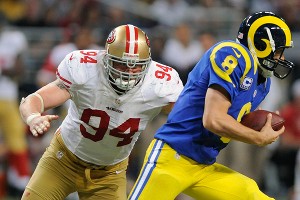 Jeff Curry/USA TODAY Sports The 49ers are welcoming back Justin Smith from injury this week. Will he be near full strength?
Just in time:
Justin Smith appears to be critical to the 49ers' defense. The team allowed 4.5 yards per play with him on the field and 5.1 per play without him this season. Opponents took a sack once in every 14.8 drop-backs with Smith on the field compared with once every 26.8 drop-backs without him. The 49ers forced a turnover every 41.2 plays with Smith and every 57 plays without him. Without Smith contributing at a high level, the 49ers will have a tougher time pressuring QB
Aaron Rodgers
with four-man rushes.
Something has to give:
Rodgers had 22 touchdown passes and only three interceptions on the road this season. The 49ers' defense has allowed seven touchdown passes while picking off six passes at home. San Francisco held Rodgers,
Tom Brady
and
Drew Brees
far below their usual Total QBR scores this season. In the divisional round last season, New Orleans' Brees completed 40 of 63 passes (63.5 percent) for 462 yards and four touchdowns, with two picks and three sacks against San Francisco. His NFL passer rating (93.5) and Total QBR score (63.1) were good, but the Saints still lost.
Not much of a rush:
The 49ers are facing a Packers team that went all season without producing an individual 100-yard rusher. The 1981 49ers were the last team to win a Super Bowl without having a 100-yard rusher during the regular season. The 1970 Baltimore Colts and 1966 Packers also won Super Bowls without one. 49ers RB
Frank Gore
hasn't hit 100 yards rushing in a game since doing so against Seattle in Week 7. He has eight 100-yard games over the past two seasons, but none after Week 8. Gore averaged 5.6 yards per rush in the playoffs last season, but he got only 29 carries in two games.
Watching for Woodson:
The 49ers must watch for Packers safety
Charles Woodson
, who is returning from a broken collarbone. Green Bay has been about 50 percent more likely to blitz with a defensive back when Woodson is on the field. Kaepernick has completed 13 of 20 passes for 158 yards (7.9 per attempt) with no touchdowns or picks when opponents rush at least one defensive back. Former starter Alex Smith had a higher NFL passer rating (116.0 to 89.2) and QBR score (82.0 to 65.3) against DB pressure during the regular season. Smith led the NFL in completion percentage (73.0) against all forms of added pressure, completing 11 of 12 such attempts against Green Bay in Week 1. Kaepernick is at 57 percent completions against five or more pass-rushers.
ESPN Stats & Information contributed to this item.
January, 10, 2013
1/10/13
6:25
PM ET
This is the most I can recall analyzing kicking situations heading into playoff games, but the additional attention is warranted under the circumstances. Here we go.
Neither the
San Francisco 49ers
nor
Seattle Seahawks
can feel as confident as they once did regarding the jobs their kickers will do in divisional-round games this weekend.
David Akers
will proceed as the 49ers' kicker after withstanding a challenge from the recently signed
Billy Cundiff
, coach
Jim Harbaugh
announced Thursday. That is no shock. Cundiff had an even lower percentage while kicking for Washington this season.
If the 49ers are going to risk losing a game because of their kicker, they might as well do it with Akers, who has made important kicks for the team -- including a record-tying 63-yarder against Green Bay in Week 1.
Ryan Longwell, who last kicked in an NFL game for Minnesota in 2011, will make his Seahawks debut in Atlanta after the team placed
Steven Hauschka
on injured reserve.
The first chart at right shows regular-season field-goal percentages by distance. One column shows percentages for all games played indoors. The other column shows percentages for games played outdoors on natural grass, as the case will be for Akers and Packers counterpart
Mason Crosby
on Saturday.
Longwell kicked indoors regularly while with the Vikings. He'll get to do so again for the Seahawks in the Georgia Dome. If Seattle advances, Longwell would then kick at San Francisco or on the road against his first NFL team, the
Green Bay Packers
. Both play outdoors in potentially difficult conditions.
Accuracy rates drop significantly from about 45 yards and longer for attempts outdoors on grass. I'll be watching to see whether coaches opt to go for it when facing manageable fourth-down distances while stalled between roughly the opponent's 28- and 38-yard lines.
Akers' percentages have been down this season. For a while, the decline was related mostly to Akers having fewer chances from close range, a reflection of improved play in the red zone. His accuracy from 50-plus yards also dropped from what had been an unusually high level in 2011.
As the season has progressed, Akers' struggles have become more pronounced. His percentage from 40-44 yards jumps out in the chart showing his stats from last season to this season. Those are kicks NFL teams expect to make.
Back in a bit with something unrelated to kickers.
January, 8, 2013
1/08/13
6:00
PM ET
NFC West playoff teams keep adding kickers.
The
Seattle Seahawks
are adding former Green Bay and Minnesota kicker
Ryan Longwell
as insurance for the injured
Steven Hauschka
, ESPN's Ed Werder
reports
.
Longwell and Seahawks general manager John Schneider were with the Packers together until Longwell signed with Minnesota for the 2006 season. Longwell made 22 of 28 field goal tries for the Vikings last season. He is 38 years old and grew up in Oregon before playing at the University of California.
The chart shows Longwell's accuracy percentages for 2011 on field goals by distance.
The Seahawks could need Longwell to kick against the
Atlanta Falcons
in a divisional playoff game Sunday if Hauschka's calf injury limits him too severely.
Elsewhere in the NFC West, San Francisco recently added kicker
Billy Cundiff
to compete with
David Akers
.
January, 8, 2013
1/08/13
10:11
AM ET
The guys at numberFire, fresh off projecting all wild-card winners correctly, use
their latest Insider piece

to project a Seattle-San Francisco matchup in the NFC Championship Game.
Their projection model has the Seahawks beating Atlanta and the 49ers beating Green Bay by a combined four points.
Seeing such close final scores brought to mind the kicking issues affecting the Seattle-Atlanta and San Francisco-Green Bay matchups in the divisional round this weekend.
Seattle kicker
Steven Hauschka
has a strained calf. Punter
Jon Ryan
subbed for Hauschka on a kickoff during the Seahawks' wild-card victory over the
Washington Redskins
. Seattle won that game by 10 points. A closer finish might have complicated decisions on whether to attempt a field goal from various ranges.
The Seahawks aren't sure how well Hauschka will be able to perform against the Falcons.
The 49ers and Packers might be better off with an injured Hauschka, who made 88.9 percent of his field-goal tries during the regular season, than with their current kickers. San Francisco's
David Akers
and
Billy Cundiff
joined the Packers'
Mason Crosby
at the bottom of the NFL's rankings for field-goal accuracy this season.
Akers was 35th out of 37 qualifying kickers with a 69.0 percentage. Crosby (63.6) and Cundiff (58.3) rounded out the rankings.
The chart shows field-goal percentages by distance for NFC West kickers and their opponents in the divisional round. The 49ers have not yet announced which kicker will take the lead against the Packers.
"We have a leader in the clubhouse and we'll see how it goes," 49ers coach Jim Harbaugh told reporters.
Akers made field goals from 25, 37 and 41 yards during the 49ers' 36-32 victory over New Orleans in the divisional round last season.
January, 5, 2013
1/05/13
11:02
PM ET
Five things to know about the San Francisco 49ers' divisional-round playoff game against the Green Bay Packers at Candlestick Park next week:


1. Full circle.
The 49ers opened their regular season with a 30-22 victory over the Packers at Lambeau Field. They jumped to leads of 10-0 and 23-7 before the Packers made the game close with
Randall Cobb
's disputed 75-yard punt return for a touchdown.
Alex Smith
completed 20 of 26 passes for 211 yards with two touchdowns, no turnovers, a 125.6 NFL passer rating and an 83.5 Total QBR score. Smith completed 15 of 16 passes when targeting wide receivers. That's a high bar to clear for Smith's replacement,
Colin Kaepernick
.
2. The Kaepernick dynamic.
The Packers faced option plays and zone-read plays only twice during the regular season, the lowest figure in the NFL. They allowed minus-1 yard on these two plays. The 31 other teams faced an average of 14 such plays for 87.5 yards during the regular season. Green Bay's inexperience defending these plays could work to the 49ers' advantage if they unleash an option or zone-read package. Kaepernick had a 50-yard gain in the fourth quarter on a designed run against Miami. He had a 50-yard scramble against St. Louis, also in the fourth quarter. The Packers allowed 187 yards on 24 scrambles this season.
3. Don't forget Gore.
Frank Gore
carried 16 times for 112 yards against the Packers in Week 1. Gore and
Adrian Peterson
were the only running backs to top 100 yards rushing against the Packers in a game this season.
Marshawn Lynch
had 98 yards on 25 carries for Seattle against the Packers in Week 3. No one else had more than 84 yards against Green Bay. Gore had six rushes for 72 yards and a touchdown running outside the tackles.
4. Fatigue factor.
The 49ers needed the bye week to rest. They rely upon a smaller number of defensive players to log a higher percentage of the snaps, putting them at risk for fatigue. That was a problem for the 49ers when New England had 90-plus offensive plays against San Francisco in Week 15. Green Bay had 61 plays against San Francisco in Week 1, a typical number. The Packers possessed the ball for 70 or more plays in games against Tennessee (76), Minnesota (73), Chicago (71), Arizona (70) and Houston (70). For the 49ers, nine players participated in at least 90 percent of the defensive snaps this season. The figure would have been 10 if Pro Bowl defensive end
Justin Smith
hadn't missed the final two-plus games.
5. Kicking games in focus.
The 49ers and Packers have the three kickers with the lowest field goal percentages for the 2012 regular season.
Billy Cundiff
, signed by the 49ers as insurance amid
David Akers
' struggles from 40-plus yards, made a league-low 58.3 percent of his field goal tries this season (7 of 12). Green Bay's
Mason Crosby
was at 63.6 percent, the second-worst rate. Akers made 69 percent. Those three were the only qualifying kickers below 70 percent for the 2012 season. Akers' 63-yard field goal at Lambeau in the opener was a highlight for the 49ers that day. Seems like five years ago.
January, 2, 2013
1/02/13
10:00
AM ET
Falling
1. Cardinals leadership.
Coach Ken Whisenhunt and general manager Rod Graves lost their jobs following Arizona's second 5-11 season in the past three years. Their inability to upgrade the quarterback position was the No. 1 reason for their demise. Having a head coach with a background on offense should have translated to better play at the position.
2. David Akers, 49ers kicker.
Akers missed wide left from 40 and 44 yards during the 49ers' 27-13 victory over Arizona in Week 17. His numbers are down from 40-plus yards. The situation has gotten bad enough for the 49ers to consider other kickers. They signed
Billy Cundiff
this week.
3. Beanie Wells, Cardinals RB.
Wells went into Week 17 saying he would be auditioning for the 31 other teams. Whisenhunt responded by leaving Wells on the bench against San Francisco. Wells, a first-round pick in 2009, had been expected to stabilize the offense upon returning from injury Nov. 25. He finished the season without averaging more than 3.9 yards per carry in a single game.
4. Patrick Peterson, Cardinals CB.
Peterson's stock should be rising after his selection to the Pro Bowl. However, he had a rough game against San Francisco's
Michael Crabtree
. Peterson had issues against the 49ers earlier in the season as well. He pointed to injuries after this one. "I went into the game with a nagging injury that kind of fell over into the game," he told reporters in Arizona. Peterson did not finish the game.
Rising
1. Highly drafted WRs.
The 49ers'
A.J. Jenkins
is excused from this discussion after dropping a pass and finishing his rookie season with zero receptions. Crabtree joined Seattle's
Golden Tate
and Arizona's
Michael Floyd
in putting up big numbers in Week 17. Those three totaled 19 receptions for 443 yards and three touchdowns on 27 targets. Each averaged better than 20 yards per reception. All three were high draft choices over the past few seasons.
2. Rams' pass protection.
Barry Richardson
,
Shelley Smith
,
Scott Wells
,
Robert Turner
and
Rodger Saffold
get some credit for allowing zero sacks over the Rams' past two games. Line coach Paul Boudreau got more than anticipated from this patched-together unit. Seattle collected zero sacks against the Rams on 43 drop backs.
Chris Clemons
did have a fumble-forcing sack converted to an incomplete pass through replay.
3. Snubbled players.
Seahawks cornerback
Richard Sherman
played at a Pro Bowl level all season, including when he picked off
Sam Bradford
's final pass Sunday to secure a 20-13 Seattle victory. He was nonetheless left off the Pro Bowl team this season, settling for first-alternate status. 49ers tackle
Anthony Davis
and Seahawks defensive tackle
Brandon Mebane
also failed to earn Pro Bowl honors despite playing at a high level during various parts of the season. Both appeared to play well in Week 17.
4. Franchise QBs.
Colin Kaepernick
, Bradford and
Russell Wilson
each passed for at least 250 yards while combining for a 70.8 Total QBR score for their teams in Week 17. They combined for five total touchdowns with just one interception. Wilson averaged 13.2 yards per pass attempt. Kaepernick averaged 9.9.
January, 2, 2013
1/02/13
8:00
AM ET
David Akers
' performance as the San Francisco 49ers' field-goal kicker has gone from
misunderstood
to unacceptable -- so unacceptable that the team signed free-agent kicker
Billy Cundiff
as insurance.
This doesn't feel like an upgrade.
Akers has made 20 of 23 attempts (87 percent) from inside 40 yards this season. Cundiff had nearly as many misses (two) on 17 fewer attempts from that range while with Washington this season.
Akers has made only 7 of 13 tries from 40 to 49 yards. He made 6 of 11 such kicks last season. Cundiff has made 3 of 4 such attempts this season. Not much to go on.
There aren't enough meaningful tries from 50-plus yards to compare the kickers' performances from that range this season. Akers has made 2 of 6 such attempts after hitting 7 of 9 last season. Cundiff has missed from 57 and 62 yards, his only attempts from 50 or longer.
The 49ers had to do something to address their kicking situation. Perhaps Cundiff will show them enough in practice to inspire confidence. This isn't the time of year to be auditioning kickers, but at least the 49ers, with a first-round playoff bye, have some time.