September, 19, 2011
9/19/11
8:32
AM ET
The first full-contact goal-line session of
Arizona Cardinals
training camp arrived amid some anticipation.
I stood along the back of the end zone and watched the offense push around the defense convincingly.

My take then
: "Defensive coordinator Ray Horton should know by now he's not in Pittsburgh any longer."
My take now:
After two games, Horton really knows he's not in Pittsburgh. And just to be sure of it, Horton will have to watch the Steelers' defense during its Week 2 shutout against Seattle while preparing to face the Seahawks in a Week 3 game at CenturyLink Field.
Dan Bickley of the Arizona Republic
says former Cardinals coordinators Clancy Pendergast and Billy Davis must be feeling some vindication after watching the Cardinals' defense allow more than 900 yards in the first two weeks of the season.
Noted:
I had similar thoughts watching the
Washington Redskins
amass 477 yards during a 22-21 victory against Arizona on Sunday. Not that the defense necessarily would have performed any better with Pendergast or Davis.
Kent Somers of the Arizona Republic
says former Cardinals running back
Tim Hightower
took credit for baiting his former team into a 15-yard penalty early in the game. Hightower called it knowing which buttons to push. Hightower: "I'm trying to think of all the adjectives that I could use right now that are coming to mind. Happy. It feels great. I tried to tell myself all week that this was just another game, but it wasn't. It meant a lot to me. I wanted this one really bad."
Also from Somers
: The Cardinals are entering a critical stretch of seemingly winnable games, but their defense has to play better. On
Kevin Kolb
, whose 73-yard scoring pass to
Larry Fitzgerald
put Arizona ahead, 21-13: "I can see why coaches wanted Kolb. He can make all the necessary throws. He's tough. And he understands leadership. He takes more than his share of the blame for losses and other failures. That throw to Fitz and the hit he took? I don't see how anyone could watch that and think Kolb's not suited to be a good starter."
Noted:
The challenge for Kolb is playing aggressively without taking too many chances. Kolb agreed Sunday that this is a line he walks.
February, 9, 2011
2/09/11
3:15
PM ET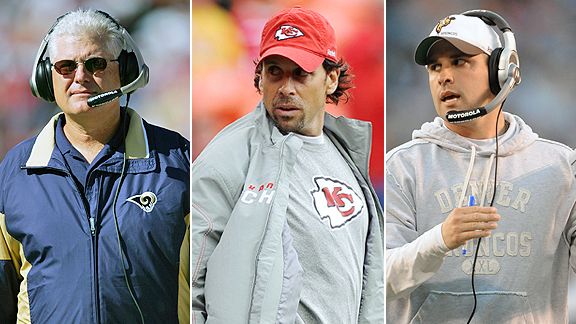 US PresswireThe NFC West's recent coordinator turnover has included Mike Martz, Todd Haley and Josh McDaniels.
Those over-the-counter drug commercials filled with hope, sunshine and a long list of potentially disastrous side effects come to mind when NFC West teams hire coordinators these days.
Ray Horton, fresh off a Super Bowl appearance and a successful run as the
Pittsburgh Steelers
' secondary coach, should be thrilled to have
emerged as a favorite
to run the
Arizona Cardinals
' defense.
Becoming a coordinator for the first time stands as a career achievement, particularly for someone such as Horton, who has invested more than 25 years as an NFL player and position coach.
But if the NFC West were living under the same guidelines pharmaceutical companies must follow, the Cardinals would punctuate their interview with Horton by listing the primary side effect associated with the job: quick unemployment.
High rate of turnover
NFC West teams have employed 22 coordinators since 2008. Horton would make it 23.
Only four NFC West coordinators are returning from last season.
Two -- Russ Grimm and Mike Miller in Arizona -- divide responsibilities for the running and passing games, respectively. They work under an offensive-minded head coach, Ken Whisenhunt, who has frequently handled the play calling. The division's two other returning coordinators -- St. Louis' Ken Flajole and Seattle's Gus Bradley -- are defensive coordinators under defensive-minded head coaches.
Since 2008, NFC West teams have fired six coordinators. They have decided against retaining five left over from previous staffs. They have lost two to head coaching jobs and allowed another, Greg Manusky in San Francisco, to make a lateral move while the new head coach, Jim Harbaugh, pursued others for his staff.
Four NFC West coordinators are heading into their first season on the job, with Horton potentially becoming the fifth.
The situation in Arizona
Whisenhunt has sought to transfer the Pittsburgh model to Arizona since leaving the Steelers to become the Cardinals' head coach before the 2007 season. Grimm, who coaches the offensive line and running game while serving as assistant head coach, came along with him from Pittsburgh.
[+] Enlarge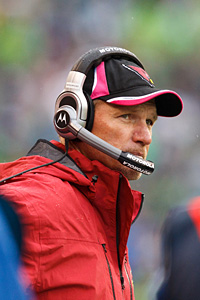 Jason O. Watson/US PresswireCardinals head coach Ken Whisenhunt is searching for another defensive coordinator.
The Cardinals have twice tried and failed to land Steelers linebackers coach Keith Butler as their defensive coordinator. They interviewed Todd Bowles, the assistant head coach and secondary coach for the
Miami Dolphins
, before the Super Bowl. They reportedly reached out to
Green Bay Packers
assistant head coach and linebackers coach Winston Moss.
But it's the Pittsburgh model they want to establish in Arizona.
Whisenhunt's background on offense makes him ideally suited to oversee that side of the ball. That offensive background also makes him more reliant on his defensive coordinator to run the defense. Hiring the right defensive coordinator can be critical for an offensive-minded head coach. That is the case here.
Don't forget the players
Horton's immediate boss in Pittsburgh, defensive coordinator Dick LeBeau, likes to dispel the notion that he's some sort of defensive guru devising novel schemes to outwit less resourceful opponents.
LeBeau provided one of my favorite quotes from Super Bowl week when a reporter asked how he manages to disguise his defenses.
"That's easy," LeBeau said. "You just get
Troy Polamalu
in your backfield and he'll move around and disguise anything you want to do. Usually it works when he's doing it."
The Steelers have dynamic players at outside linebacker, a position critical to making a 3-4 defense succeed. The Cardinals have gotten old at the position without developing suitable replacements, one reason Bill Davis lasted only two seasons as coordinator.
"The bottom line is always going to be who is playing for you and how good are they," LeBeau said, "because they are the ones, in the final analysis, who are going to go out there and make your defense successful."
Horton's credentials
Whisenhunt and Grimm can tap into their own playing careers when relating to players. I've always sensed that Whisenhunt valued that part of the coaching equation.
Neither of the Cardinals' previous two coordinators under Whisenhunt played in the NFL. Horton, a second-round draft choice in 1983, played six seasons for Cincinnati and four for Dallas, transitioning from cornerback to free safety. Being a former player isn't enough by itself, obviously, but Horton's playing career could make him more credible initially.
And for the first time, Whisenhunt would have a defensive coordinator versed in the Steelers' scheme and mindset.
Horton's background coaching the secondary, as opposed to linebackers, further distinguishes him from his immediate predecessor. It also distinguishes him from most coordinators running a 3-4 scheme under offensive-minded head coaches, a distinction I find relevant because defensive-minded head coaches tend to oversee that side of the ball.
Arizona was among eight NFL teams that went into the 2010 season with an offensive-minded head coach and a defensive coordinator running a 3-4 scheme. Six of the eight defensive coordinators had backgrounds coaching linebackers. One, Romeo Crennel in Cleveland, traced his coaching roots to the defensive line. The Packers' Dom Capers was the only one with a background in the secondary, although he had been a head coach twice before joining Green Bay.
Three-four schemes rely heavily on blitz combinations featuring linebackers. Horton's background coaching the secondary wouldn't preclude him from knowing the ins and outs of linebacker blitzes. At the least, he might approach the defense a little differently than a former linebackers coach might.
"He's been around the game a lot and he's won a Super Bowl as a coach and as a player," Polamalu said of Horton. "He's had so much to do with the success that we've had as a secondary."
January, 25, 2011
1/25/11
9:28
AM ET

Matt Maiocco of CSNBayArea.com
says 49ers linebacker Patrick Willis is putting together a Hall of Fame career. Maiocco: "Writers from around the country vote for the All-Pro team. There are many of the same writers who also vote for the Hall of Fame, so it only stands to reason that Willis is taking some significant strides early in his career toward eventually being honored in Canton, Ohio. After all, the great Ronnie Lott made first-team All-Pro six times in his career -- and just once in his first five seasons in the league." Willis is definitely heading down a Hall of Fame path. It's reasonable to think he could perform at a similar level for another five or six seasons.
Eric Branch of the Santa Rosa Press-Democrat
says Willis is the first player in 49ers history to earn All-Pro honors in each of his first four seasons. Branch: "Since 2004, Willis is one of just three Niners to earn All-Pro honors and one of two named to the first team. Running back Frank Gore was a second-team selection in 2006 and punter Andy Lee earned first-team honors in 2007 and was a second-team selection last year. The last Niners position player besides Willis to earn first-team All-Pro honors was linebacker Julian Peterson in 2003. Tight end Vernon Davis and defensive tackle Justin Smith were the only other players to earn All-Pro votes Monday after the Niners' 6-10 season."
Matt Barrows of the Sacramento Bee
checks in with former Stanford defensive linemen for insights into Vic Fangio's coaching. Barrows: "(Sione) Fua said that when Fangio first arrived, he showed them films of NFL defenses he had coached, especially the Ravens defense. Fangio was a special assistant to Ravens coach John Harbaugh before joining Jim Harbaugh at Stanford in 2010."
David White of the San Francisco Chronicle
says 49ers general manager Trent Baalke is in his element at the Senior Bowl. White: "Deep inside, Baalke will forever be a field-level scout, and has been since the day he made the career change from high school athletic director in North Dakota to regional scout with the Jets 14 years ago. Some scouts socialized and schmoozed at the South team's practice Monday. Not Baalke. He stood on the sideline, often alone, eyes fixed on a receiver getting around a jam at the line of scrimmage, a left tackle getting leverage on a pass rusher, a cornerback breaking up a seam pass."

Doug Farrar of Sportspress Northwest
says the Seahawks can help themselves with the right evaluation at the Senior Bowl. Farrar: "Like Earl Thomas, left tackle Russell Okung proved the value of Seattle's 2010 draft by providing key option that could be in place for years. But between Sean Locklear and Stacy Andrews, the right tackle spot is anything but defined, and Okung's repeated ankle issues show an increased need for depth. There are several tackles in this senior draft class. So far, Wisconsin's Game Carimi has been the most impressive. Carimi occasionally played too upright to be an effective pass blocker during his collegiate career, but work in that area has been evident. Colorado's Nate Solder must transcend many technique issues, but there's potential there. Derek Sherrod of Mississippi State and Anthony Constanzo of Boston College are also worth watching this week."
Jerry Brewer of the Seattle Times
says the Seahawks can learn from the Packers' and Steelers' Super Bowl runs. Brewer: "It's rare that a champion makes a trade for a Drew Brees. It's rare that a defense is so dominant that it can win with a Trent Dilfer merely managing the game. But it's not rare to draft a franchise quarterback, even when you don't have a top-10 pick. The Seahawks need to re-sign Matt Hasselbeck and use this draft to figure out a quarterback succession plan. It has worked amazingly for Green Bay, with Rodgers stepping in for future Hall of Famer Brett Favre."
Eric D. Williams of the Tacoma News Tribune
has this to say during a chat: "I don't think Donovan McNabb is an upgrade over Matt Hasselbeck. But I think a key will be money and years. How much money Hasselbek wants and how much security. I don't know if Seattle would be willing to sign Hasselbeck to a three-year, $30 million deal." That would be approaching the average Kurt Warner commanded after leading Arizona to the Super Bowl following the 2008 season.
Dave Boling of the Tacoma News Tribune
explains why he thinks Seattle needs to re-sign Hasselbeck. Boling: "If you end up letting him go, you'd better find a better alternative. Even if you like somebody in what appears to be an unimposing pool of free-agent talent, it might be months before you settle this critical issue. Meanwhile, there definitely will be a market for Hasselbeck, perhaps even among division brethren, who could quickly alter the competitive balance with a veteran quarterback. If you can sign him for a reasonable cost for a couple of years, you can draft a prospective replacement and let him be groomed by Hasselbeck."

Kent Somers of the Arizona Republic
says the Steelers' advancement to the Super Bowl further delays the Cardinals' search for a defensive coordinator. Somers: "Ken Whisenhunt is expecting to interview other candidates this week in Mobile, Ala., site of the Senior Bowl. He has declined to reveal their names. It is possible Whisenhunt could hire a coordinator before the Super Bowl, but that seems doubtful at this point. He admires Dick LeBeau and has wanted to use a similar defensive system in Arizona. It's been nearly three weeks since Whisenhunt fired coordinator Bill Davis, so replacing Davis quickly was not a priority. After firing his two previous coordinators, Whisenhunt knows he has to find the right person for the job this time. Four other teams -- the Titans, Raiders, Broncos and Eagles -- are searching for defensive coordinators."
Aaron Wilson of National Football Post
says former Cardinals secondary coach Teryl Austin is the favorite to land the same job with the Ravens. Austin spent last season as defensive coordinator at the University of Florida.

Nick Wagoner of stlouisrams.com
looks ahead to the Rams' 2011 schedule. Wagoner: "Because of the NFL's scheduling rotation, the Rams will play all members of the NFC East and AFC North Divisions in addition to the usual home and home series within the NFC West. Additionally, the Rams will meet their division doppelganger within the NFC for the North and South divisions. On paper, at least, it appears the Rams will face one of the league's most daunting schedules in 2011. Of course, a lot changes from year to year so teams expected to be major challenges might struggle and teams expected to be ripe for the picking could be greatly improved."
Brian Stull of 101ESPN St. Louis
says the Rams should consider adding Braylon Edwards during the offseason.
August, 23, 2010
8/23/10
9:50
AM ET

Bob McManaman of the Arizona Republic
examines the relationship between receiver Larry Fitzgerald and cornerback Dominique Rodgers-Cromartie. Fitzgerald: "I don't think there's a cornerback in the NFL as athletically gifted as he is. He's the best athlete I've gone against since I've played in the NFL. It's hands down, not even close." Both players enter the 2010 season coming off knee injuries. Rodgers-Cromartie has bounced back better than I might have expected. Fitzgerald expects to return for the regular-season opener.
Also from McManaman
: The Cardinals head to Tennessee, site of their memorable 2009 regular-season defeat. McManaman: "And then there's Cardinals defensive coordinator Bill Davis, who remembers every last morbid detail of the Titans' stunning 20-17 come-from-behind victory in Week 12 last season. It was so gut-wrenching for Davis, he still has nightmares about it. And the Tennessee game doesn't even haunt him as much as Arizona's playoff performances in a narrow victory over the Green Bay Packers and a loss to eventual Super Bowl champion New Orleans Saints." It's a big season for Davis and the Cardinals' defense. The offense probably will not score as many points. The margin for error could shrink on defense.
Darren Urban of azcardinals.com
pays tribute to former Cardinals (and Rams) receiver Johnny Bailey, who passed away from pancreatic cancer at age 43. Little-known fact from the Cardinals' media guide: Steve Breaston's punt-return touchdown against the Steelers in 2007 was the team's first since 1993, when Bailey returned Reggie Roby's punt 58 yards for a score against the Redskins.
Also from Urban
: The Cardinals brace for three games in 11 days.

Cam Inman of Bay Area News Group
offers 10 observations from the 49ers' game against the Vikings on Sunday night. Inman: "Rookie tailback Anthony Dixon continues to impress. And not just by scoring the 49ers' lone first-half touchdown. On the sideline, Dixon looked at full attention as (Frank) Gore and running backs coach Tom Rathman mentored him."
Matt Maiocco of CSNBayArea.com
says the 49ers were not happy with their running game against the Vikings. Not having Gore or even Brian Westbrook was a big factor.
Matt Barrows of the Sacramento Bee
looks at 10 players who were "on the bubble" heading into the 49ers' exhibition game Sunday night. On Travis LaBoy, who enjoyed a strong game against the Vikings: "Based on the first three weeks of training camp, it's hard to see LaBoy making the team. The fourth OLB must be rugged enough to contribute on special teams. LaBoy missed the most of the team's practices with a concussion. The 49ers also are wary of a foot injury that cost LaBoy the 2009 season. However, he still has three preseason games to make an impression."
Phil Barber of the Santa Rosa Press-Democrat
says Alex Smith was sharp for the 49ers. Barber: "Smith's performance was a big step up from the first game. He completed 9 of 13 passes for 88 yards, for a solid passer rating of 88. And the fact that he did it without Crabtree, (Vernon) Davis and Gore says something of his ability to improvise."
Lowell Cohn of the Santa Rosa Press-Democrat
says Smith needs to be a little less nice, or maybe a lot less nice. True, Smith might be better off if his personality had a sharper edge. The most important thing, however, is for Smith to be himself. Faking an edge isn't going to work.
David White of the San Francisco Chronicle
checks in with Patrick Willis following the linebacker's big hit on Brett Favre. Willis: "He's a wise old vet. I guess he was like, 'This is a little too much for me right now just coming back.' I guess a lot of people thought he shouldn't have played. I was happy to be out there myself."

Clare Farnsworth of seahawks.com
says Leon Washington could get the start for Seattle at running back in the team's third exhibition game. Julius Jones and Justin Forsett have each started on game to this point. Coach Pete Carroll: "We decided that somewhere months ago about how we were going to do this in the first couple of games. Just give these guys a chance to compete, and that's exactly what we're doing. There's a good chance that Leon will start next week, and we'll see how he does in that role. That's what our plan was, to give these guys a chance to go with the first group and show us what they've got."
Brian McIntyre of scout.com
calls T.J. Houshmandzadeh, Golden Tate and Deon Butler "locks" to earn roster spots at receiver for Seattle.
Danny O'Neil of the Seattle Times
says the Seahawks' first-team offense looks better with Mike Williams as part of the group. O'Neil: "In the exhibition opener against Tennessee, Seattle used T.J. Houshmandzadeh, Deion Branch and tight end John Carlson in the slot in a three-receiver formation. That lineup that didn't threaten the defense outside. Williams changed the dynamic of that group. He caught four passes against Green Bay in the first half, as did Houshmandzadeh, and Seattle scored touchdowns on two of its first three possessions."
Eric D. Williams of the Tacoma News Tribune
sizes up Seahawks rookie Dexter Davis, who has made an impact as a pass-rusher.
John Morgan of Field Gulls
lists Matt Hasselbeck, Jon Ryan, Marcus Trufant and Mike Williams among "big winners" in the second week of the Seahawks' exhibition season. Aaron Curry? Not so much. Perhaps Curry really does need Lofa Tatupu by his side.

Jim Thomas of the St. Louis Post-Dispatch
says Sam Bradford will start for the Rams on Thursday night if A.J. Feeley's injured thumb remains a problem. Bradford on his performance against the Browns: "Obviously, I'd like to have had a couple more completions out there. I felt like we struggled a little bit early. I felt like once I settled down, I made some smart decisions. I felt like for the most part, I was in the right place with the ball."
Also from Thomas
: The Rams signed former Missouri receiver Danario Alexander, releasing 2009 fifth-round choice Brooks Foster. Thomas: "Rams general manager Billy Devaney said the team is realistic about what to expect right away. Today marks Alexander's first practice since January, when he suffered his most recent knee injury in a Senior Bowl practice. So he'll be playing catch-up."
Bill Coats of the St. Louis Post-Dispatch
says the Rams' poor tackling against the Browns stood out to coach Steve Spagnuolo. Coats: "After watching the game film, Spagnuolo put together a clip of five or six tackles that he said were executed perfectly. He plans to highlight those when he meets with his defense today."
Also from Coats
: The Rams need more from their backup running backs. Kenneth Darby was probably most impressive among them Saturday night.
Bryan Burwell of the St. Louis Post-Dispatch
saw improvement from the Rams' offensive line Saturday night.
Steve Korte of the Belleville News-Democrat
says Spagnuolo wasn't happy after the Rams scored only six points off five Cleveland turnovers.
August, 2, 2010
8/02/10
9:17
AM ET

David White of the San Francisco Chronicle
says the 49ers know training camp is about to get much tougher after a non-contact session Sunday. Linebacker Takeo Spikes: "It gets 200 percent tougher times 200. We know that. No video games tonight. No extra-long conversations with the old lady on Skype." Also, nose tackle Aubrayo Franklin has yet to report for practice. He remains unsigned.
Taylor Price of 49ers.com
checks in from practice and makes this observation: "Three of the 49ers main free agent acquisitions all found themselves involved on one play on Monday, as cornerback Karl Paymah made a nice pass breakup on backup quarterback David Carr's deep ball down the left sideline intended for wide receiver Ted Ginn Jr."
Also from 49ers.com
: a transcript from coach Mike Singletary's interview.
Phil Barber of the Santa Rosa Press-Democrat
says the 49ers are not worried about Franklin's conditioning because the veteran nose tackle has set a high standard on that front.
Matt Barrows of the Sacramento Bee
noticed Taylor Mays working with the second-team defense in 49ers camp, a jump in status for the second-round choice. This is the time to find out how ready Mays might be to step into a more prominent role. Also from Barrows: "A couple of injured players made their returns. Receiver Brandon Jones got a lot of work at receiver as well as punt returner. Cornerback Will James, meanwhile, made his 49ers debut. He played in the third-team defense opposite rookie Phillip Adams. The first four cornerbacks were Nate Clements, Shawntae Spencer, Karl Paymah and Tarell Brown. The 49ers opened camp with zero injuries."
Daniel Brown of the San Jose Mercury News
says the 49ers eased into training camp. That's no surprise given that the team wasn't originally planning to practice until Monday. The session Sunday sounded like a prelude. Brown: "Even the mighty nutcracker drill was rendered toothless. Offensive-line coach Mike Solari explained the drill in epic detail -- it took 14 minutes -- before players walked away without so much as a shoulder bump. Such was the nature of the first day of training camp — a dress rehearsal on grass. The Sunday session was not on the original schedule. Coach Mike Singletary added it recently after deciding the team needed one final chance to review things in slow motion."
Mark Purdy of the San Jose Mercury News
expects big things from 49ers receiver Michael Crabtree.

Kent Somers of the Arizona Republic
says there's lots of competition among the Cardinals' offensive linemen.
Also from Somers
: Dominique Rodgers-Cromartie dominated in practice Sunday even though he said he wasn't 100 percent physically. Larry Fitzgerald: "DRC likes to mix it up. Our goal is to motivate each other and to push each other."
More from Somers
: Greg Toler will have to earn the starting job at cornerback opposite Rodgers-Cromartie. Somers: "Trumaine McBride continues to run with the first team at right cornerback, ahead of Greg Toler. McBride's edge right now is experience. He's played in 33 NFL games, while Toler played in 13 last season. In athletic ability, coaches compare Toler to DRC. They are similar in other ways, too. Like DRC, Toler needs to learn what it takes to be a successful pro, said coordinator Bill Davis. That means developing consistent study habits and focusing on every single play. Like DRC, Toler's concentration tends to come and go. That's not unusual for a young player, and it doesn't seem as if coaches are down on Toler, a fourth-round pick in 2009. But they do think he has great ability and will be disappointed if he doesn't show it this season."
Darren Urban of azcardinals.com
says Arizona is taking things slowly with rookie linebacker Daryl Washington. Urban: "Rookies have to earn their playing time, however, especially with this coaching staff. When (Karlos) Dansby and Darnell Dockett were drafted back in 2004, then-coach Dennis Green immediately dropped them into the starting lineup. Both eventually proved to be very good players, but they never had to prove themselves worthy. Washington does. So he sits as a third-stringer for now, even though the Cardinals are trying to figure out exactly what they are going to do at inside linebacker. On the outside, they are set, with veterans Joey Porter and Clark Haggans entrenched."

Greg Johns of seattlepi.com
says the Seahawks held out Aaron Curry from practice after the second-year linebacker suffered from headaches following a collision Sunday. Coach Pete Carroll: "He got dinged a little bit yesterday. We just wanted to make sure he's OK. He should be fine. It's nothing serious, but he had some headaches today so we just wanted to rest him."
Danny O'Neil of the Seattle Times
says Leroy Hill isn't working with the Seahawks' starting defense. O'Neil: "Maybe Seattle is preparing itself for the reality that it will face in the season opener as Hill has already been suspended for that game for violating the league's policy on substance abuse. But maybe, it's also a sign Hill is an afterthought for the Seahawks at this point just one year after the team designated him their franchise player and then subsequently signed him to a long-term contract. Is Hill part of Seattle's plan for the future? His absence for most of this offseason and his place on the depth chart make it a legitimate question." There's a good chance 2010 will be Hill's final season in Seattle.
Dave Boling of the Tacoma News Tribune
offers a few thoughts on the Seahawks as they open training camp.
John Morgan of Field Gulls
expects Golden Tate to continue returning punts for the Seahawks, a role Tate has handled in practices so far. On offense, the Seahawks put Tate in motion.

Jim Thomas of the St. Louis Post-Dispatch
says Jacob Bell and Chris Long scuffled during a physical Rams practice that also featured a huge hit. Thomas: "Larry Grant, who has opened camp as a starting outside linebacker, leveled fullback Mike Karney during a live tackling drill, with Karney losing his helmet in the process. (It may have been a little payback because Karney had been throwing bodies around up to that point as a blocker.)"
Also from Thomas
: Rams general manager Billy Devaney sounds optimistic. Devaney: "The only way I can say it is the players are (ticked) off still from last year. You want to say forget last year, and last year's over. But let me tell you, this isn't any fun. I know it isn't any fun for our players or anybody in this building to hear all the time: worst team in the NFL, 1-15, lowly St. Louis Rams. If that doesn't (tick) you off, or get you motivated in the offseason, then we have the wrong kind of guy. There's a lot of motivated people here to get this thing going and start winning football games."
Also from Thomas
: Sam Bradford's next challenge is living up to a contract that could pay him $86 million.
Bill Coats of the St. Louis Post-Dispatch
says Danny Amendola and Mardy Gilyard are competing to return punts for the Rams. Amendola was very good in that role last season. Coats: "The 5-foot-11, 186-pound Amendola was signed off Philadelphia's practice squad in Week 3 last season. He wound up leading the NFL in kickoff returns (66), kickoff-return yardage (1,618 yards) and total return yards (1,978). All three of those marks were franchise records, as was his combined kick and punt returns (97). Overall, Amendola averaged 24.5 yards per kickoff return and 11.6 yards per punt return."
Sean Jensen of the Chicago Sun-Times
says former Rams and 49ers receiver Isaac Bruce has worked closely with the Bears' Devin Hester.
Also from Jensen
: Bruce is working with the Bears as a minority coaching intern under Mike Martz, his former coach in St. Louis and San Francisco.
Steve Korte of the Belleville News Democrat
says Rams defensive end James Hall remains diligent at age 33, showing up 2 hours early for practice Sunday.
July, 30, 2010
7/30/10
3:50
PM ET
The question in the headline seems misplaced given popular perceptions about the team that subtracted
Kurt Warner
,
Anquan Boldin
,
Karlos Dansby
,
Antrel Rolle
and others.
But all is not lost for the two-time defending NFC West champion Cardinals.
It'll take a team effort for Arizona to pull off another division title, just as it took one to complete this blog entry -- the fourth and final one in
our series
asking whether NFC West teams have improved this offseason. Facebook friend Barrett came through with the portion of our analysis focusing on offense. Branden, a Facebook friend I've tailgated with before Cardinals games, joined fellow Cardinals fans Jack and Jacob in filling out the remaining categories. I'm pleased by the final result and hope you find it thought-provoking.
Thanks to all the others who
answered the call
. My only regret was not being able to use them all.
Quarterback
Barrett:
It's
Matt Leinart
's time to prove capable of leading an NFL team from behind center. If he falters,
Derek Anderson
will be waiting to show that he can return to his Pro Bowl form from 2007 -- when he had targets such as
Kellen Winslow
Jr. and
Braylon Edwards
. Fifth-round rookie
John Skelton
may have the physical attributes Ken Whisenhunt looks for in a quarterback, but he remains a project. Verdict: worse.
Sando:
Max Hall
is another rookie quarterback to watch on the Cardinals' roster. I hear they like what they've seen so far. I also think Leinart can outperform the low expectations his critics have set for him. But there's no getting around the obvious here. The Cardinals were better at quarterback when they had Warner.
Running back
Barrett:
In a pass-oriented offense,
Beanie Wells
and
Tim Hightower
combined to rush for 1,391 yards and 15 touchdowns, but they also fumbled the ball nine times and lost six of those. Both backs are looking to get even more carries this season, with
Jason Wright
and
LaRod Stephens-Howling
perhaps having an increased opportunity to get touches over last season (combined nine attempts for 32 yards last season). Verdict: same.
Sando:
This group should only improve as Wells gets more seasoning and the Cardinals give him more opportunities. The knock on him coming out of college was that he was soft. Cardinals players challenged Wells to prove doubters wrong. Wells responded by running tough and running hard. The prime-time game against the
New York Giants
comes to mind. I think Wells can take it to another level.
Wide receiver
Barrett:
Even with Boldin being traded away to the Ravens,
Larry Fitzgerald
will still be a top receiver.
Steve Breaston
is no stranger to lining up as the No. 2 in Boldin's absence.
Early Doucet
showed what he is capable of during last season's playoff run. Now, let's see if he can produce similarly over the course of a full season.
Andre Roberts
is an excellent draft pick for depth to compete with
Onrea Jones
at the No. 4 spot and I expect him to spell Breaston for punt-return duties. However formidable this receiving corps still seems, the Cardinals will miss what No. 81 brought as a player, competitor, teammate and leader. Verdict: worse.
Sando:
The Cardinals somehow won a higher percentage of games recently when Boldin did not play. I agree they'll miss the toughness he brought. Boldin might have helped an inexperienced quarterback such as Leinart more than he helped Warner. Breaston brings more speed to the offense. Depth is certainly worse without Boldin, but it was also apparent Boldin might be declining some. I'll agree with your general assessment.
Tight end
Barrett:
Anthony Becht
,
Ben Patrick
and
Stephen Spach
are all back from last season, plus
Dominique Byrd
. Tight ends caught a whopping 23 passes for the Cardinals last season. It seems their primary function in Whisenhunt's offense is to offer run blocking and an occasional check-down. However, this may change ever so slightly as the focus shifts to a more balanced attack. Verdict: same.
Sando:
If there's an upgrade, it comes from having Patrick for a full 16 games. He missed the first four last season while serving an NFL suspension. Once Patrick returned, the Cardinals felt more comfortable using two tight ends. Wells had good success running from some of these double-tight personnel groupings. I think we could see more of those now that Warner is gone and the team has fewer front-line options at wide receiver.
Offensive line
Barrett:
With the free-agent additions of
Alan Faneca
and
Rex Hadnot
, starting quality and depth are already improved on a unit that has seen more postseason action in the past two seasons than any other offensive line in the NFL. This lessens any blow the line might take if an overweight
Deuce Lutui
does not return. There's also a second-year man by the name of
Herman Johnson
who just might be big enough to take over his spot. Verdict: better.
Sando:
Faneca is a huge name and I think he's got something to prove after the
New York Jets
dumped him. The word among NFL people is that Faneca has fallen off significantly and he could be a liability. The leadership and toughness he brings will have value, but how well can he play at this stage? I do not know. The Cardinals have in recent seasons stressed the importance of continuity on the offensive line. They'll have new people in three or four of the five starting spots, so the continuity is gone. Throw in a new starting quarterback and there's a lot of work to do. This group is better on paper based on the additions, but I'm not sure it'll be more effective (although the shift to more of a power running game could play to the strength of these linemen, something to keep in mind).
Offense overall
Barrett:
Whisenhunt has always geared his offenses to the players' strengths. With key losses in Warner and Boldin and the acquisition of Faneca, it sure looks like the Cardinals are shifting toward a more balanced attack. But one thing is for certain, and that is the quarterback cannot be expected to produce the way Warner did. Verdict: worse.
Sando:
You're right about Whisenhunt and his staff. They'll rise to the challenge and give the Cardinals their best chance to succeed on offense. The running game should be strong. They'll play to Leinart's strengths as well. But the points will be harder to come by and that'll make it tougher for the Cardinals to win games. The offense will be different and less prolific.
Defensive line
Branden:
The line up front starts and ends with the performance of
Darnell Dockett
. He has become more of a leader this offseason and his play on the field already speaks for itself.
Calais Campbell
has made many lists as one of the breakout players in the league. Whisenhunt has brought many of his rookies along slowly, so
Bryan Robinson
will most likely start at nose tackle, but rookie
Dan Williams
should get plenty of time and I expect him to take over the starting role by midseason. Depth-wise,
Alan Branch
and
Gabe Watson
are in make-or-break seasons, and while Branch showed more ability and versatility last year in his time at defensive end, they will have to step up to strengthen depth at the position.
Kenny Iwebema
is a serviceable backup and special-teamer. Verdict: better.
Sando:
It'll take a while for Williams to hit stride, but his addition can only improve what was already a pretty good situation for Arizona. Having the pressure on Watson and Branch can only help. It's tough for 3-4 defensive ends to get much notice, but Arizona has two of them worth our praise.
Outside linebackers
Branden:
There has been talk about the age of
Clark Haggans
and
Joey Porter
. Both are 33. While they will start, expect to see plenty of others in special situations -- including
Will Davis
, who played well last year as a rookie until suffering a knee injury.
Cody Brown
is practically a rookie and needs to contribute to help this position. Others at the position include
Mark Washington
and CFL star Stevie "Shakespeare" Baggs. Are they better as a unit than last year? Questionable.
Bertrand Berry
and
Chike Okeafor
performed average last year, and I'm not sure how much Porter has left. Verdict: same, but young guys need to step up.
Sando:
Someone pointed out to me that Porter and Haggans are younger than Berry, but it's small consolation for Arizona. You're right about the young guys needing to step forward. I could see Porter getting close to double-digit sacks even though Matt Williamson of Scouts Inc. thinks Porter has declined dramatically. Others have said Porter collected "cheap" sacks in recent seasons. Cheap ones are better than none at all. This group probably isn't going to decline dramatically. It wasn't all that great last season. Okeafor is out of the league, after all, and Berry retired.
Inside linebacker
Branden:
Losing Karlos Dansby will be difficult to overcome because he was a jack of all trades. However, I'm not as high on him as many others were -- Dansby had no Pro Bowls -- and I'm glad the Cardinals did not overpay for him. The addition of
Paris Lenon
as a stopgap and the drafting of
Daryl Washington
should help somewhat, but the injury to
Gerald Hayes
is a major issue. This group is thin and I believe the Cardinals will look to add a veteran when cuts are made. Verdict: worse.
Sando:
There's little getting around the problems Arizona faces at this position. We can talk about the defensive line being strong enough to cover somewhat, and that might be the case once Williams develops at nose tackle, but we're not fooling anyone in the meantime. The Cardinals tried to sign
Keith Bulluck
, but they lost him to the New York Giants. They also claimed
Alex Hall
off waivers, but the Giants beat them to the punch on that one, too, thanks to a higher waiver priority. Expect Arizona to keep monitoring the waiver wire here.
Cornerback
Branden:
Dominique Rodgers-Cromartie
is a Pro Bowler, so that helps with one side of the field.
Bryant McFadden
, traded back to Pittsburgh this offseason, was not much help on the other side last year, but he fared well in run situations.
Greg Toler
has the physical tools to be a good corner, but he is raw and needs to show his ability this preseason.
Michael Adams
is a special-teamer and the others, including
Trumaine McBride
, are OK backups. The Cardinals generally bring multiple safeties on the field in passing situations, so depth isn't a huge concern, but it's a valid question. The performance of this group hinges on DRC's ability to stay healthy and Toler's performance. Verdict: same or better if Toler steps up.
Sando:
The Cardinals aren't afraid to make changes, that's for sure. They could have stuck with McFadden, but his contract was a little steep for what they were getting in return. Whisenhunt seemed quite strong in his praise for Toler and he generally isn't wrong on these things. There's potential for this group to drop off, though. At least McFadden was a known quantity. The Cardinals take pride in developing young players and they'll need to be right on Toler to justify their decisions at the position.
Safety
Branden:
Adrian Wilson
is one of the five best safeties in the league, and it is a shame more people don't realize that. I think
Kerry Rhodes
will actually be an upgrade over Rolle as he knows where he is supposed to be, while Rolle was just learning the free safety position. I think Rolle has the potential to be better in the long run, but the starting tandem should be fine. Second-year man
Rashad Johnson
needs to step up and perform to the high praise from college coach Nick Saban. He just seemed lost last year.
Matt Ware
is a solid backup and plays well in passing situations.
Hamza Abdullah
is also a decent backup. Verdict: same, with the ability to be better in passing situations.
Sando:
I've found informed fans to be a bit overly critical of safeties. I'm not saying that's the case with Branden, but there's definitely a feeling among some Arizona fans that Rolle was overrated and Rhodes will actually provide an upgrade. I don't really see it athletically or for the long term, but acquiring Rhodes showed the Cardinals had a plan once Rolle's contract forced their hand. The Cardinals seem encouraged by what they're seeing from Johnson recently. I heard nothing positive about him last season. Re-signing Ware stood out as an underrated move. He's had some value as one of the first defensive backs off the bench.
Defense overall
Branden:
The Cardinals had more than 40 sacks last season and I think they can achieve that number again this year with their defensive line and some contribution from the outside linebacker position. I'm concerned about their inside linebackers' ability to stop the run, but again, I think much of that hinges on their ability to penetrate up front. The secondary has a chance to be very good, but I'm not sold. This was not a spectacular unit last year as evidenced by their giving up 90 points in two playoff games. They are more acquainted with the scheme and I think Billy Davis is a good defensive coordinator, but he will have to get creative again this year. The offense will not be scoring 50-plus points this year, so this unit will have to perform well for ...
Sando:
Branden's evaluation cut off there for some reason, but that's OK. We've got a deep roster of contributors and I'll lean on them for the rest of this exercise. The last point Branden raised was the one I wanted to touch upon in this space. It'll be tougher getting to 40 sacks again with fewer points on the board. It'll be easier, in theory, for the other team to stick with its running game. That appears problematic for Arizona given the issues at inside linebacker. But if Hayes can return in September, perhaps the Cardinals can stabilize the middle of their defense. They're fortunate to have such a terrific box safety in Wilson. I'll now turn to Cardinals fan Jack for the section on special teams.
Special teams
Jack:
I'm very excited about the special teams of the Cardinals, actually. Stephens-Howling performed quite well as a rookie returning kicks, and he should do even better this year now that he has his feet wet. Breaston didn't do well returning punts last season, so the Cardinals need to make a change, particularly with Breaston as the No. 2 receiver. I hope Andre Roberts gets a shot. As for the kickers, I hope that
Jay Feely
will be more consistent than
Neil Rackers
.
Ben Graham
was great last season, and I expect the same from him this year. Verdict: better.
Sando:
Rackers did some great things during his tenure in Arizona, but seeing him line up in the clutch was enough to make even non-fans nervous for him. Kicker is one position where teams can plug in free agents pretty easily, so Arizona could be fine with Feely. Stephens-Howling is already one of the best special-teams players in the league. He deserves Pro Bowl consideration. Cards fan Jacob is on deck with a look at the coaching.
Coaching
Jacob:
What more can be done by Whisenhunt? He is a proven winner and has taken this Cardinals franchise to heights never before imagined. Russ Grimm is widely considered one of the best head-coaching candidates. People will bang on the fact that the cardinals play in the NFC West and have been inconsistent at times throughout the year. However, they are 4-2 in the playoffs under Whisenhunt with both losses to the Super Bowl champions. Winning in the playoffs comes down to game plans, managing the emotions of the game and players -- and that is where Whisenhunt excels. His best coaching job will be showcased this year if the Cardinals can capture another division title. Verdict: same or better.
Sando:
I'm sure Whisenhunt is relishing the challenge. The Cardinals are being counted out prematurely. Whisenhunt will probably get the most from them. The coaching staff will deserve high praise if Leinart develops into a winning quarterback. Whisenhunt's Arizona legacy is largely established. He can only help it this season. With that, we go back to Jack for the final two sections.
Schedule
Jack:
I'd love to see the Cardinals take advantage of playing the AFC West this season. They still do have some tough games, though, most notably against Dallas, San Diego, Minnesota and New Orleans. Still, if they don't get eight or nine victories out of this schedule, it will be a disappointment.
Sando:
Three of the first four games are on the road. The fifth game is at home -- against the Super Bowl-champion
New Orleans Saints
. Welcome back to the lineup, Matt Leinart. Finishing the season against Dallas and San Francisco gives the Cardinals an opportunity to gain ground in the NFC, but neither game will be easy.
Final thoughts
Jack:
I want so badly to say the Cardinals are better than the 49ers. They can be, but they'll have to prove it. Perhaps the Cardinals' best chance is to take advantage of an easy schedule and snag a wild-card spot. I believe they'll get eight or nine victories, though. I hope for more.
Sando:
The Cardinals won 10 games last season with more talent. It's reasonable to expect them to slip back into the 8-8 range. That's where I see the Cardinals finishing and it'll be no shock if they fail to reach .500 for the first time under Whisenhunt. This is a transition year. They'll find out whether Leinart is their quarterback and if they win more than eight games along the way, or even if they avoid a losing season, I'd consider 2010 a success.
January, 24, 2010
1/24/10
7:45
AM ET
The Seahawks offered offensive line coach Mike Solari a chance to stick around as tight ends coach.
Solari passed, instead joining the 49ers in the same job he held with Seattle.
The Rams offered assistant offensive line coach Art Valero a contract extension,
according to Jim Thomas of the St. Louis Post-Dispatch
. Valero declined, instead joining the Seahawks -- presumably in the same job he held with St. Louis.
Other NFC West coaches with experience on more than one staff within the division: Rams defensive coordinator Ken Flajole (Seahawks); Cardinals secondary coach Teryl Austin (Seahawks); 49ers tight ends coach Pete Hoener (Cardinals); 49ers offensive coordinator Jimmy Raye (Rams); 49ers receivers coach Jerry Sullivan (Cardinals); Cardinals defensive coordinator Billy Davis (49ers); Rams offensive line coach Steve Loney (Cardinals); Rams secondary coach Clayton Lopez (Seahawks); Seahawks tight ends coach Pat McPherson (49ers); Seahawks defensive line coach Dan Quinn (49ers); and Rams offensive quality control coach Andy Sugarman (49ers).
Seahawks linebackers coach Ken Norton Jr. played for the 49ers. Seahawks secondary coach Jerry Gray played for the Rams.
August, 16, 2008
8/16/08
1:43
PM ET
Posted by ESPN.com's Mike Sando

Moore
A few readers asked why the 49ers would release Brandon Moore, their leading tackler from 2006. Moore quickly signed with the Cardinals, a move former Raiders executive Mike Lombardi hailed in a passage for the National Football Post:
Brandon Moore, the former San Francisco 49er, is a good signing for the Arizona Cardinals. He has nice size and fits what they do defensively. They will bring every combination of linebackers blitzing. He had 6.5 sacks in 2006 for the 49ers. He is best when he can be the fifth rusher, not one of the four rushers. Some players are better when they can fit into the rush and use their size and power to create an advantage.
Moore is probably a better fit for the Cardinals because former 49ers assistant Billy Davis is now on the staff in Arizona. Moore was at his best when Davis was with San Francisco. Perhaps Davis can find ways to best utilize what Moore offers. The Scouts Inc. profile on Moore says, in part:
He is fluid enough and has enough foot quickness and agility to get the job done, but does not look real explosive or fast. He is inconsistent when it comes to hand use and does not shed or escape blocks as quick as you'd like. ... He gets enough depth in his drops, but does not show great route awareness and does not get a great jump on the ball. He has been a quality special teams player.
A veteran NFC scout also provided mixed reviews when I asked him about Moore: "He lacks quick twitch movement and speed. Limited against the run due to late reactions. Struggles to slip contact. A thumper as a tackler when he has the target in his path, but gets isolated in space." Moore helps the Cardinals' depth, in other words.